Today it is impossible to imagine life without notes on your phone. Notes are used to record various ideas, important reminders, and other important details. If you are a fan of writing down notes often, then you probably faced a problem when it is difficult to find notes.
Personal Knowbase is a freeform keyword-based information manager for Windows. Build a personal knowledge base of your notes, messages and ideas. It is an ideal tool for organizing research notes, various archives, and ideas. A particular attractive advantage of the app is the ability to store and index notes using keywords. This is easy and quick access to all your notes.
What is more, take care of your contacts on your phone using the contact management apps.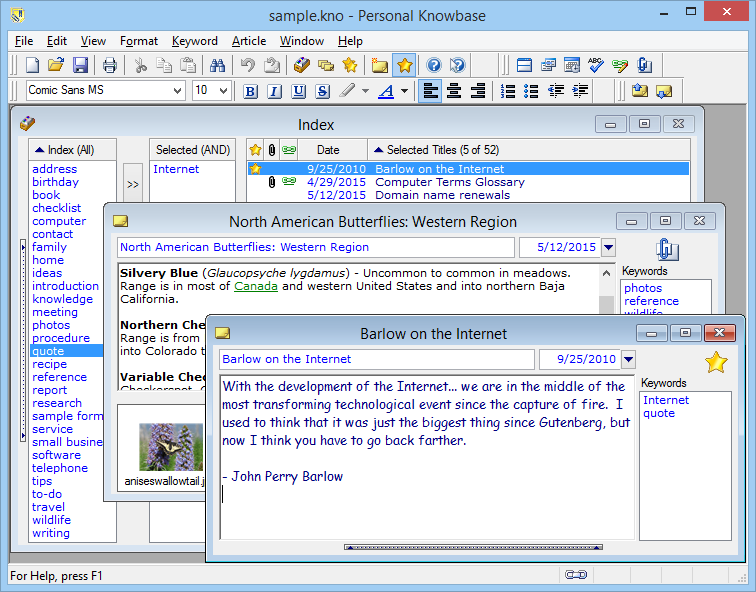 The appearance of the software is a classic window with additional functions. The top line of the program displays the name of the note, date, and time. In the right column, you can see the keywords by which you can make a request and find the desired note.
Personal Knowbase has a support system. Many users may have questions or problems. Compose your question and send it to the support specialists and they will definitely answer you. The developer's website will allow users to get acquainted with more detailed information and principles of work.
Simple classic design, intuitive interface, and easy operation will allow users to immerse themselves in the work environment and discover important moments.
In addition, the tool offers support for exporting notes to Cardfile, HTML, RTF, and text, and allows users to easily edit any note right in its main window. Users can define a set of keywords for each note or article. Personal Knowbase includes bookmarking support, which is another useful way to find articles.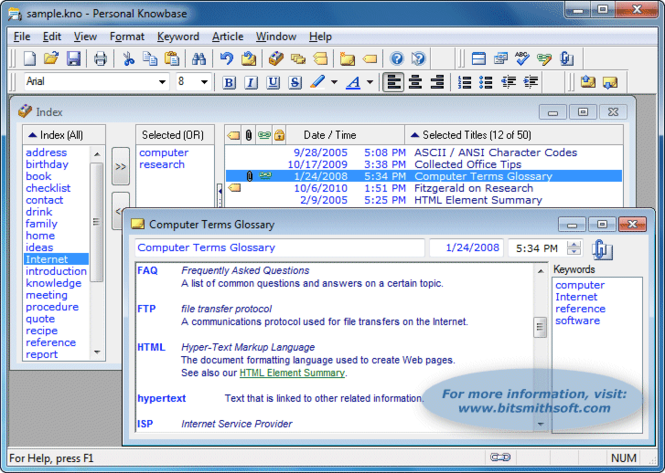 A clean, lightweight, and accessible interface will allow everyone to master the principle of work. The easy control system and the flexibility of the system will allow people to focus on the work environment.
And when you want to take a break from your working life and find out something new you can explore the general knowledge apps – check them out and you will discover lots of useful information.
Personal Knowbase is an app designed specifically for those users who need to manage a vast database of articles and notes, keeping them organized with keywords and bookmarks at all times. What's more, users can include hyperlinks as well as email addresses in their notes. Convenience and accessibility are what Personal Knowbase stands for.