Do you like taking photos? Do you want to take a picture of every moment? Polaroid photos are a great opportunity to preserve memories for life. They are small and comfortable.
A polaroid camera is expensive. No need to spend large amounts. Download one of the apps on this list. These are great polaroid apps. They will allow you to take polaroid photos for free.
Take thousands of photos. Many apps also have excellent photo edits. You can immediately edit the photo, add effects. Then print the photos and paste them into the photo album.
You can also make a garland from a photograph. It is beautiful and will make your home cozy. Enjoy taking millions of photos. There is a list of the best polaroid frame apps for Android and iOS. Try them all or choose only one.
You may also like: 11 Best Background Remover Apps for Android & iOS
VNTG | Vintage Photo Cameras
This app will help you take polaroid photos. You don't need to buy a polaroid. Just download this app. You will get nostalgia. The app will allow you to choose different borders for your photos. You can choose the size and resolution of the photos. Take the best moments of your life. Use vintage and colorful texture. The app has a lot of filters.
Filters can completely change your photos. They will make them brighter or more fabulous. It all depends on your imagination. You can edit your photos directly in the app.
This is a great photo editor. Use thousands of frames for your photos. By downloading this app you will get a good photo gallery. You can create albums from your best moments in life.
You have a great opportunity to make the tone of photos. You can capture every moment of your life. Resize photos, add filters. You don't need to have a polaroid camera to take polaroid photos.
Just download this app. It is especially suitable for beginner photographers. The app has been downloaded more than 1 million times. Let your smiles stay forever in your photos!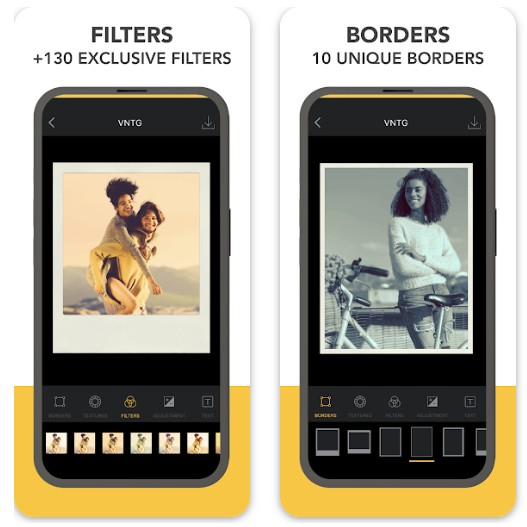 You may also like: 9 Best split pic apps for Android & iOS
Super 16 | Vintage 16mm, 8mm Film Cinema Camera
At a glance, this app might seem quite ordinary, but indeed it's extremely popular on Google Play. VNTG is a simple and lightweight app that helps users to turn their photos into vintage ones. And of course, in this app, you will find the effect that adds the Polaroid frames to pictures.
You just need to upload the picture to the app, and then choose one of the frames from the categories. Overall, the editing process is quite classic. And by the way, when you apply the Polaroid frame to a photo, you can regulate the size of the borders manually. After that, it is super cool to print the edited photo.
The only possible drawback of this app is that sometimes it doesn't save pictures to the gallery.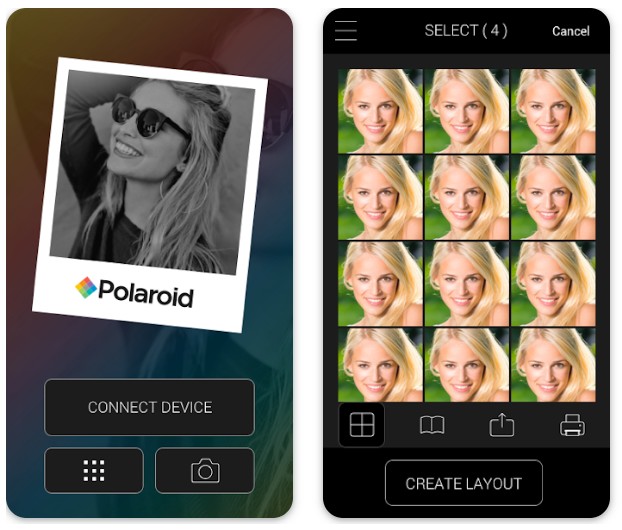 Polaroid Originals
This great app catches shadows and takes nice polaroid photos. Shadows are an important component of polaroid photos. The app has a news feed. You will be offered ideas for creating photos.
You will also receive tips and advice on how to take a perfect photo. Come back to the 70s and 80s. This is a great way to remember the youth. The app has a portrait mode.
You can use the app as a camera. You can set a timer. You can choose the time of the timer. This is convenient when you photograph yourself. Create an entire polaroid photo album. You can put into it all the best moments of your life. Use the app as a photo editor. You can change the characteristics of the photo. Get inspired every day!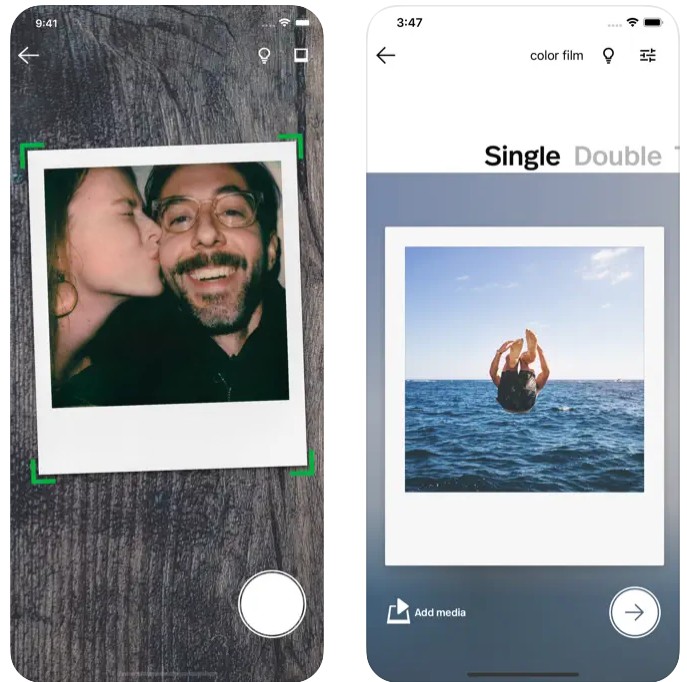 StoryLab – insta story art maker for Instagram
Are you looking for a polaroid photo app? Here it is. It will allow you to take different types of polaroid photos. Take great moments with this camera.
You can print your photos and paste them into a photo album. The app has over 200 collages and layouts. You have a huge choice. You can become an Instagram artist. All layouts can be personalized. If you are an Instagram blogger this app is especially for you.
You will find different styles of frames and layouts. It all depends on your imagination. Try to create your own layouts. This app will help you create the perfect Instagram story. Your subscribers will like them. The app also supports video. You can even create a polaroid video.
Share it on your social networks. Add stickers to your photos to make them funnier. You can change the background color or add a photo as a background. Add some nice text. Make the world happy. The app has been downloaded more than 1 million times!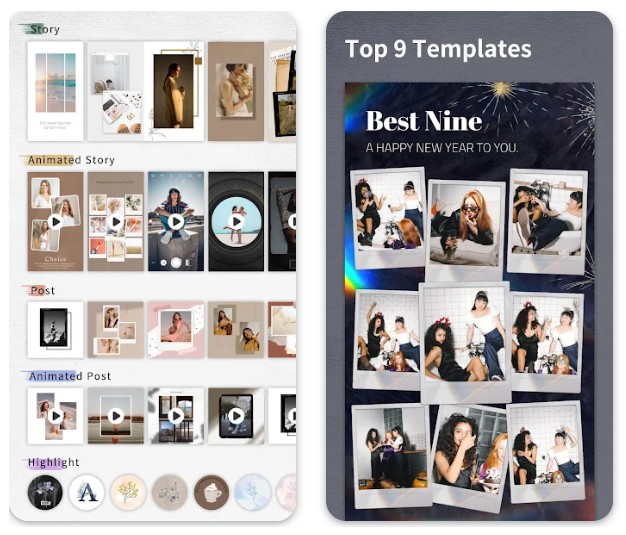 MolyCam – Retro Effects Camera
Captured the most valuable moments with this app. You can create polaroid photos. A wide variety of retro filters are waiting for you. You can return the feeling of the old time.
Add bright filters to create warm photos. The app has a lot of frames and layouts for collages. You can choose what you need. The app is free. You can buy additional filters. Don't worry. The app has many free filters and effects.
The app has a nice design. You will enjoy the modern and user-friendly interface. The app is frequently updated. Developers are adding new features. Use the app as a photo editor.
You can resize photos, add stickers and highlights. You can create the perfect photo. Don't forget to share it with your friends on social networks. Your friends will be amazed.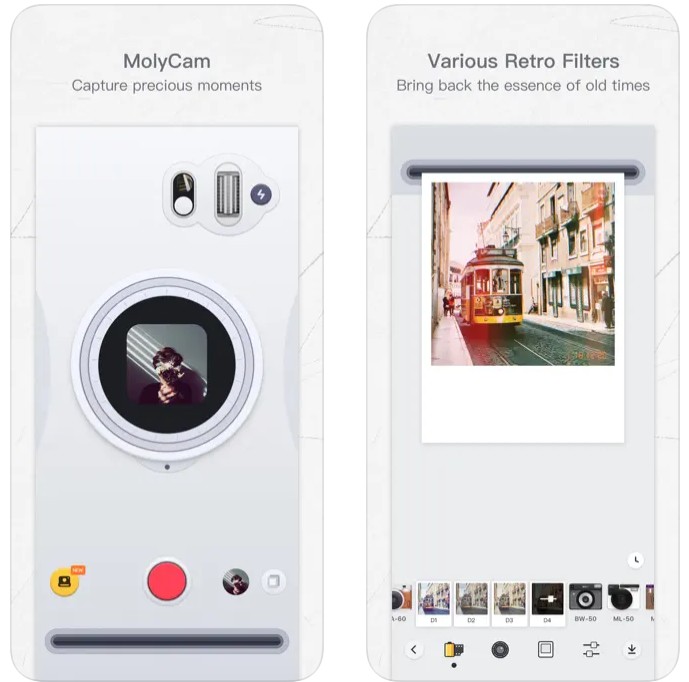 You may also like: 11 Free Apps to Blur Faces on Photos (Android & iOS)
InstaMini
Are you familiar with those cute little cameras? They work like the classic Polaroid camera and make the pictures of the same format. This app, InstaMini, will be your this small cute camera in your gadget, it will allow you to frame your photos as if you would take them on Polaroid or mini camera.
In fact, InstaMini is a very simple app, with a minimal set of functions for the photo editing. Considering the polaroid frames, you can add it while editing photos and take pictures using the camera in the app.
The only thing is that the interface of the app is quite obsolete and for downloading more than 10 pictures a month you will have to buy the premium account.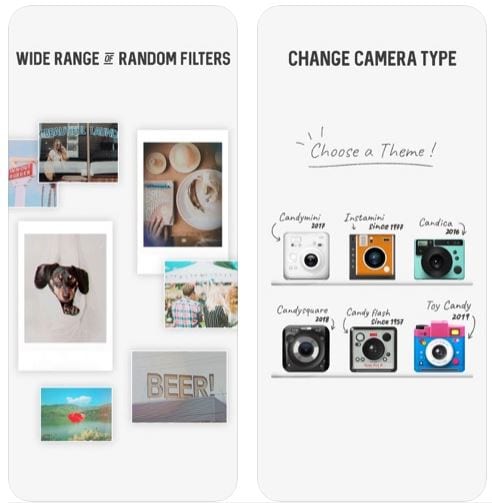 Nichi
Nichi is quite a curious app that came to us from the Japanese market. In Nichi you will find intricate and interesting frames and layouts for your pictures.
The prevailing colors are pastel so all the fans of polaroid photos will definitely appreciate that. By the way, in the Japanese language, the word "nichi" means your daily life – so this app is also created to help you to record your daily life.
To put any pic into the polaroid frame here is literally a few clicks. You can choose whether you want to do that on the pinboard or separately. What is more, you can add filters to your photos to make them look more old-fashioned. Considering the background of the layout, you can choose various colors for it as well.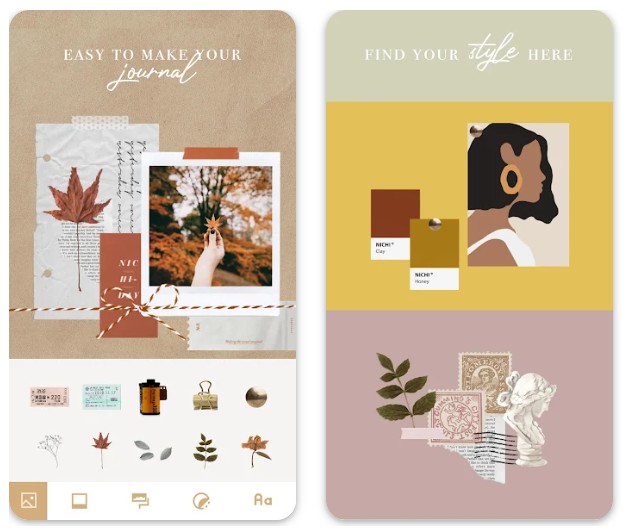 mySquare – Instant photos, vintage filters
This simple app allows you to take polaroid photos. Take a photo in the app itself and start editing it. You can also select a photo from the gallery. Select a polaroid frame. Choose its color.
You can add a description. Write the date the picture was taken to remember this beautiful moment forever. You can adjust the text. Choose a font. Change the color of the text. Add cute stickers.
The design of the app is beautiful. The interface is modern and intuitive. You won't get confused. The app doesn't take up much space on your smartphone.
It weighs only 7.5 MB. The app has its own gallery. You can create online photo albums. Share photos with your friends. They will be amazed at the beauty of the photo. You will have a lot of polaroid photos.

Polaroid Vintage Photo Editor
For those who are looking for more simple apps that add Polaroid frames to pictures, this is an excellent choice because it focuses on Polaroids effects only.
Developers promise that if you take a picture using Polaroid Vintage then no matter of your device, any photo will be looking like it was taken with the usage of the famous camera.
Some basic editing features are also available:
crop pictures
add text to pictures
zoom in and out pictures
add stickers and filters to your photo to look more like Polaroid
What is more, all the pictures edited in the app will be saved in its cloud storage and later can be accessed from any device. Overall, this simple app works quite well, but sometimes it crashes on some devices which ruins its reputation a little bit.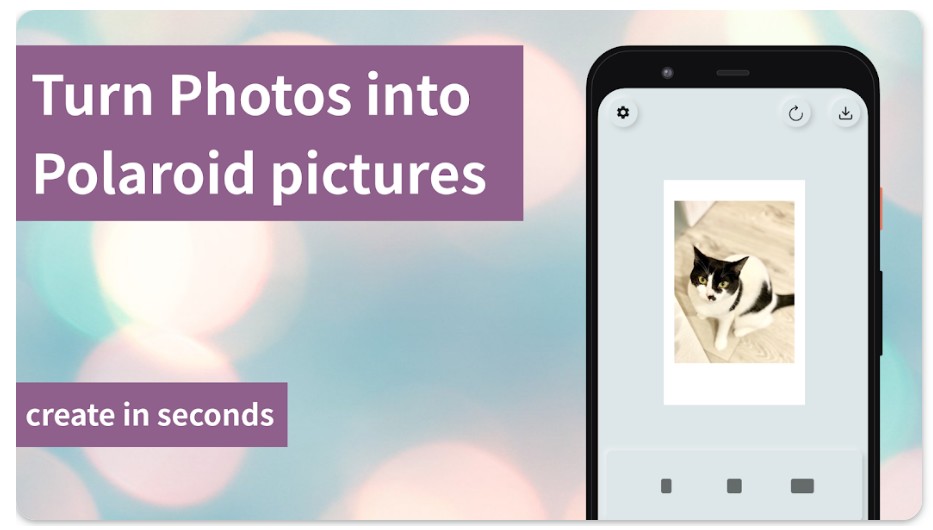 Dazz Cam – Vintage Camera
This is an app that aims to replicate the look and feel of old film cameras.
There is a function that lets people to edit their pictures and make them look quite older. You can add film grain, light leaks, and vignettes to your photos, giving them a vintage look.
Additionally, Dazz Cam allows you to apply filters to your photos to achieve different moods and tones. It is also possible to adjust the orientation and contrast of your photos, adding more control over the final result.
The app lacks in-app tutorials, so some users may find it difficult to navigate the various settings. Also, some users have reported bugs, such as the app crashing or failing to save photos into your gallery.
If you are a fan of vintage cameras or want to add character to your photos, this app is worth trying. However, if you are looking for a more polished and intuitive editing app, Dazz Cam may not be for you.
Advantages:
Replicates vintage camera effects.
It is possible to add characters to photos.
Drawbacks:
Minimalistic user interface.
Lacks in-app tutorials.
Limited filter customization.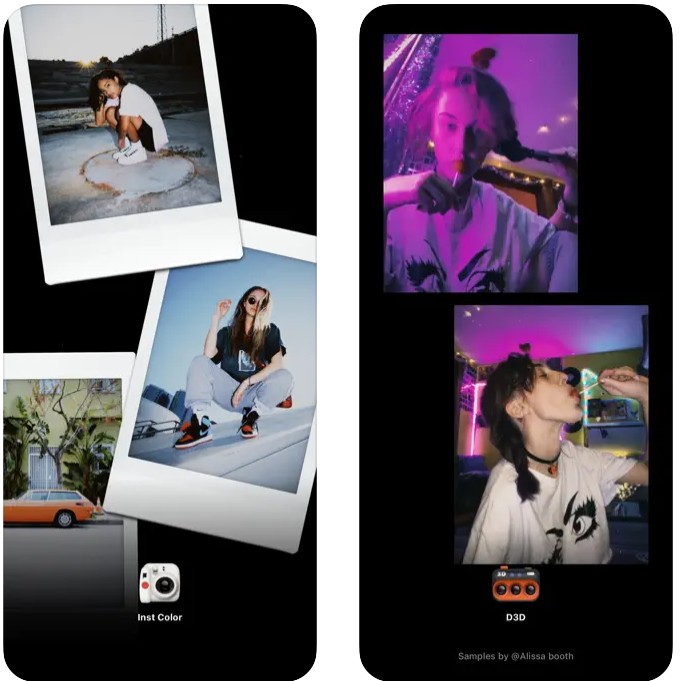 You can also check: 9 Best Witchy Photo Editing Apps For Android & iOS
Lomopola Cam Vintage
Lomopola is a software that allows users to apply retro-inspired filters to their photos.
Users can select existing photos from their camera roll and then use one of the app's many filters. The app's filters are reminiscent of the classic Lomo camera, with vibrant colors and high contrasts.
There are also some basic editing instruments, such as crop, brightness, and contrast adjustment.
While the app's filters are impressive, it is not without flaws. Some users have reported issues with the app's stability, with occasional crashes or slow loading times.
Also, the app can be somewhat frustrating to use, with some users struggling to find the desired filter or tool.
Lomopola is a decent app that can add a unique touch to your photos. It is not perfect, but it's worth trying if you're looking for a different photo editing experience.
Advantages:
Retro-inspired filters.
Vibrant colors.
Basic editing tools.
Drawbacks:
Dated UI design.
Occasional stability issues.