We are used to thinking that pregnancy is a precious moment only for women. But what about men? For many dads, the pregnancy is almost as exciting and nerve-racking as for their soulmates! Moreover, men should also be educated about pregnancy so they could also be great parents for their children. The apps down below will help with that.
And if you are in this together and want to learn more about pregnancy, you can discover the article about the Best pregnancy apps for Android & iOS – they will be a great help in this special period!
Daddy Up
Daddy Up is the absolute leader when it comes to dads and pregnancy.
This app informs fathers-to-be about their pregnant wife and developing baby. This app has become the most trusted safe haven when it comes to the best pregnancy apps for dads-to-be.
The app has over 100,000 downloads and is designed to help dads cope with pregnancy in a fun and interactive way. It also has various features such as meeting planners and checklists, as well as diaries that record the stories of thousands of fathers from around the world.
If you've recently become a dad or have another baby in the family, Dad in the Know is the men's guide to pregnancy.
Daddy Up includes:
weekly pregnancy tracker
baby size comparing
customizable checklist for daddy
logbook
Contraction counter
A baby announcement you can share
Thanks to the wise words of experienced dads who have been down this road, Daddy Up is a handy tool for dads-to-be, with more fun and less trivia about women's virtues. The only small drawback of this app is that the interface design is a little obsolete, but the whole conception is amazing.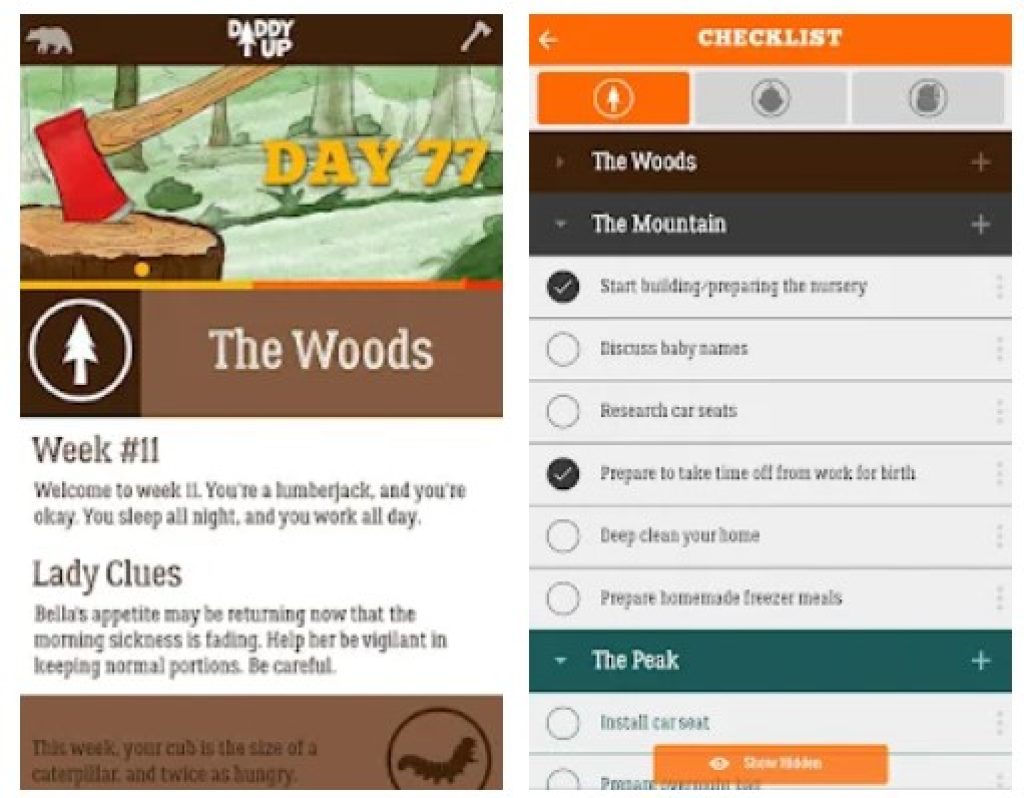 You may also like: 7 Best Pregnancy & Baby Birthday Announcement apps
Contraction Timer
With this app, you can easily time and track the contractions. A simple interface with one button to start and stop the contraction timer. It clearly indicates the duration of each contraction as well as the interval between them.
The app is also extremely useful for expectant mothers in full-term pregnancy during contractions and contraction. Childbirth is an extremely stressful process, and Contraction Timer will help daddy determine the timing of a pregnant woman's contractions and deliver her baby.
To start the timer, just press a single button, and to stop the timer, press any part of the screen. The Contraction Timer app will take care of the rest! The app is designed to keep track of the time, duration, and frequency of contractions.
You can also use this app to record the intensity of the contraction. Visual clues allow you to quickly assess the situation and take appropriate action.
Notes can also be added to each contraction and displayed next to the timing of the contraction in order to quickly remember important aspects.
For clarity, this app has reports and graphs to show averages and trends. These graphs will show whether your contractions are increasing or decreasing over time, and allow you to decide when you should go to the hospital.
The Contraction Timer remembers all the data and what period of contraction you are currently in. So you can go from one app to another to distract yourself during and between contractions.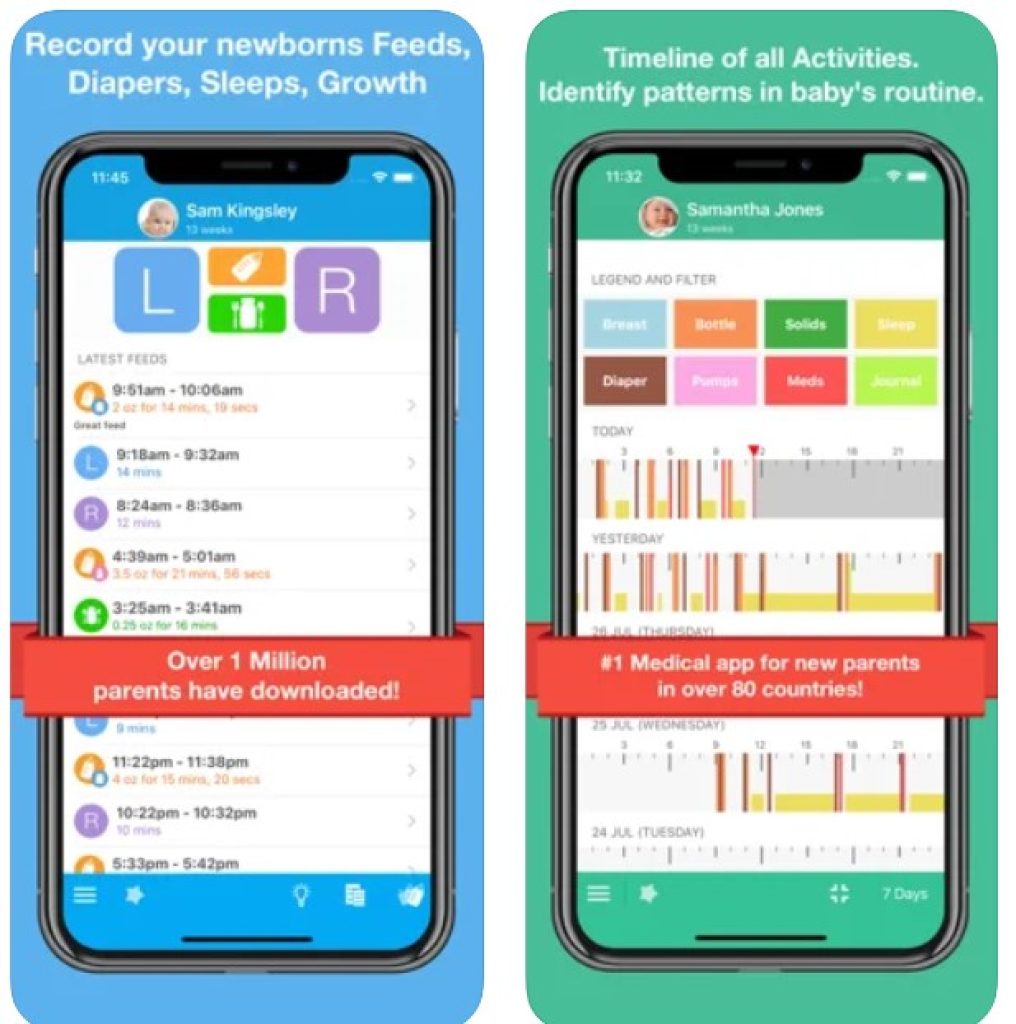 Newborn Baby Timer
Reminder software for baby dads – helps you manage how much time has passed since your baby went to sleep, had breakfast, or had a bath. The timer allows parents to set a reminder for each activity so they don't miss a feed or medication.
The baby timer is much more than just a device to look after your newborn. It has:
A sound system: The sound system makes several types of "white noise" to help soothe your newborn. The white noise generator includes normal white noise, thunder, rain, and sea wave noise.
LED Flashlight: Turn the camera on your phone into an LED torch. This is very handy to find objects in the dark. The torch is especially handy if you drop your dummy under the cot in the middle of the night.
Soft alarm signal: As the baby may get frightened, the Baby Timer reminds young parents with a gentle tune that it's time to pay attention to the child.
The Baby Timer has four different alarms including a lullaby, soft piano music, and a classic techno rhythm to gently wake you up in the middle of the night and remind you that it's time to feed your newborn.
Color-changing night light: Use this device to turn the baby's room into an oasis of gentle light. With the colored wheel, you can choose from a variety of pretty colors, allowing your baby to sleep and to see through the soft light.
Perhaps the best thing about this device is that it is easy to handle. You can even give it to grandparents and nannies, and they will know exactly what to do and in what order. One significant drawback of the app, except the plain interface, is lots of ads.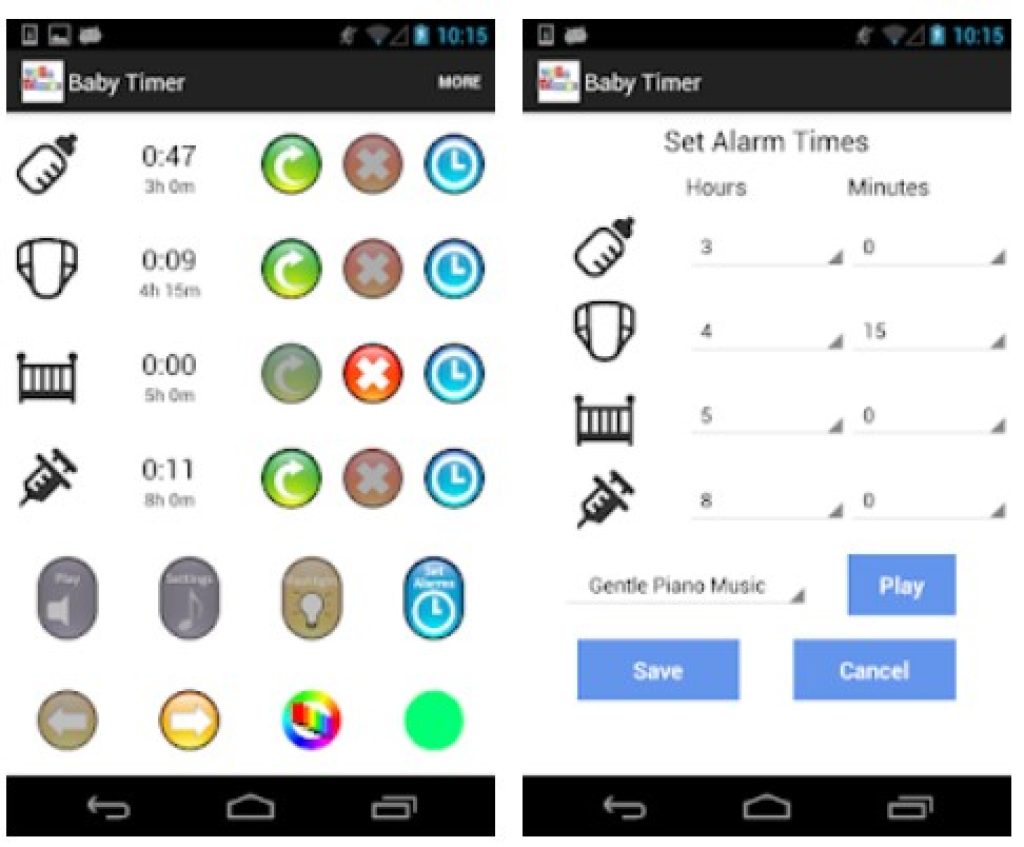 What to Expect
The maternity app and baby tracker were chosen by more than 15 million parents.
What to Expect, the world's most famous and trusted brand specializing in pregnancy and parenting offers a pregnancy app to help you prepare for parenthood and follow your day by day and week by week.
All you have to do is enter your due date, and if you're not sure, you can also use the pregnancy date calculator built into the app – how convenient!
According to your gestational age and baby's day, you'll receive information on your baby's development, as well as expert articles, tips, interesting videos, and more. The What to Expect app gives you your own, personalized timeline.
By becoming a user of this app, you can join a close-knit community of parents and get lots of support from active and caring groups.
You'll also benefit from this app after giving birth, with regular updates on his development and growth, as well as expert advice on everything from postpartum treatment and feeding to sleep schedules and developmental milestones.
This app also includes:
A pregnancy tracker by week, which details your baby's development according to gestational age and helps you understand how the body is changing
Child development guides by week and month, including sleep schedules, milestones, feeding tips and more.
Useful daily tips that take into account what stage of pregnancy, postpartum or parenting you are in
A handy ovulation calculator to keep track of period and the most fertile time you are trying to get pregnant
A photo journal that allows you to capture growing tummy (and anything else you want!)
A Feeding Tracker, which will allow you to time your baby's feedings, track them in one place, and record their feeding history so you can easily spot patterns in your baby's eating habits.
Thousands of medically accurate articles as well as stories from real parents and parents-to-be on all aspects of pregnancy and parenting, from the 'trying to get pregnant' stage to babyhood.
Funny Chinese gender predictor that will guess the gender of your baby
All content provided by What to Expect is accurate, up-to-date and regularly reviewed by the What to Expect Medical Council and other pregnancy and parenting experts.
It complies with the latest evidence-based medical information and generally accepted medical recommendations, including Heidi Murkoff's What to Expect book.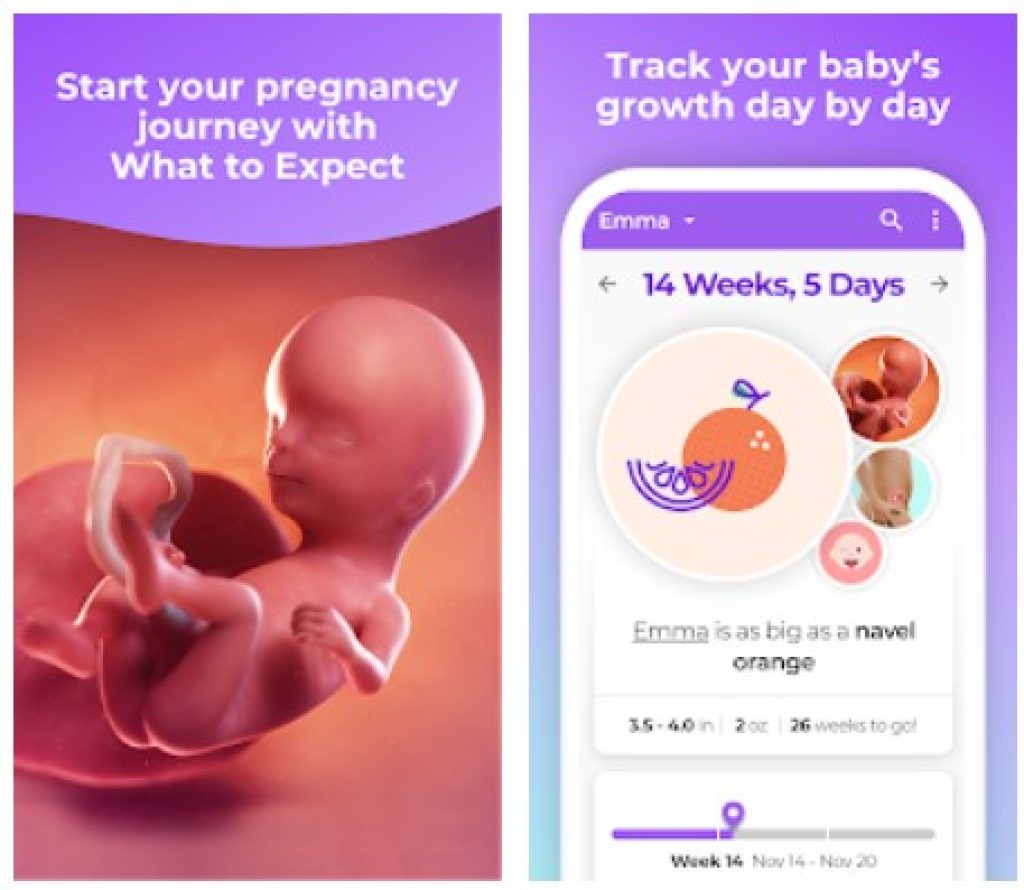 You may also like: 9 Best Contractions Timer Apps for Android & iOS
Super Dad
If you are becoming a father for the first time or will become one again, this app is the perfect companion to accompany you from the moment you find out until the postpartum period.
This app contains expertly tailored information on pregnancy, childbirth, feeding, nappy changes, relationships, bathing, weaning, and baby development, as well as an interactive pregnancy schedule, birth timer, and checklist for pregnancy, birth, and postpartum.
The information in the Super Dad App is presented with an element of humor and from a father's perspective, making it very easy to digest. This app for aspiring fathers encourages you to make smart decisions that will save you money, time, and stress.
This app for aspiring fathers also offers easy and quick photo sharing, so you can spend more time with your kids and less time on your phone, making this particular advert easy. Use reliable sources of information, including but not limited to the World Health Organisation.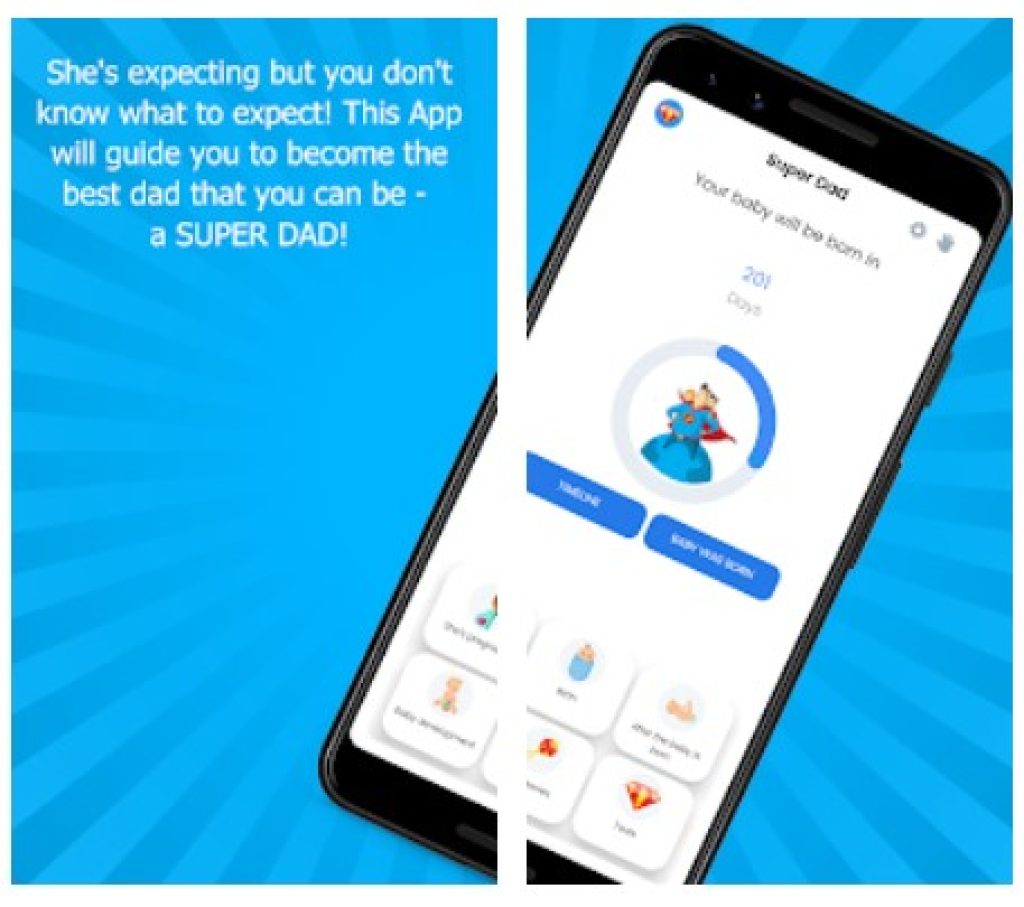 Baby Sparks
BabySparks is curated by experts in the field of child development, which is why it has become popular with young parents around the world.
BabySparks is useful because it offers different types of activities according to the developmental stages of children up to the age of three. Using this app, you get a personalized development program with adaptive technology that takes into account all of your child's specific needs.
In the first years of life, a child's brain creates more than one million new neural connections every second. Also, in those years, the constant reinforcement of a large scale of positive experiences promotes good brain development.
The BabySparks program, which provides different developmental games every day, helps you do the right things at the right time and in the right way. And the best part is that the basis of every activity is play and quality time with your child.
BabySparks provides a daily program of activities that develop different important areas of development. For example, language, cognition, fine motor skills, sensory skills, and self-care. This is facilitated by short educational videos for each activity.
The BabySparks library also includes learning resources for parents, such as hundreds of searchable articles on child development and parenting by category or theme. You can keep track of your child's milestones with personalized reports and graphs.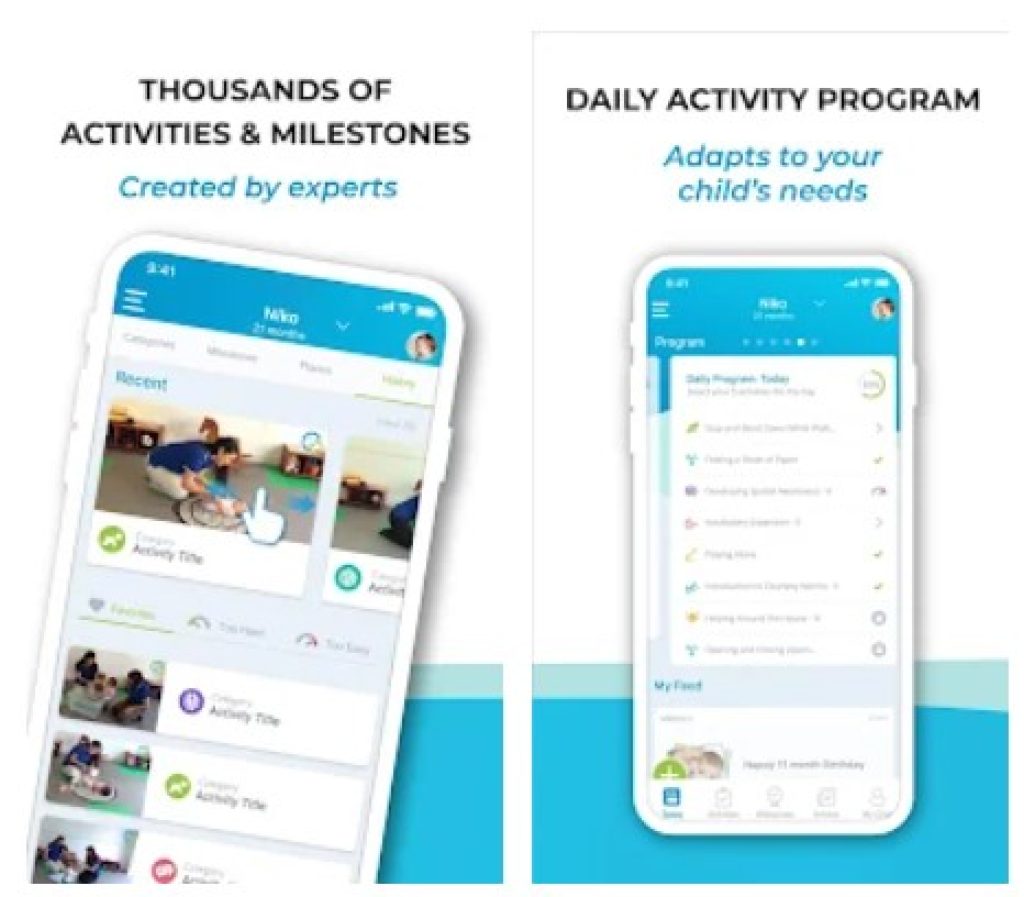 Pregnant Dad
This app informs dads-to-be about their unborn children and the condition of their pregnant partner. The app firstly received overwhelming popularity in Australia, and then spread around the world.
As well as information on your baby's growth and development, you'll also get various tips and tricks to help you know how to get through these important 9 months without any nervous breakdowns.
Divided into four weekly lessons, the material contains all the most important information for men. These tips will also help you to make your partner and yourself feel comfortable.
The app also includes a birth date calculator based on the date of conception. But that's not all. The app includes various interesting additional features.
For example, you can find out your baby's zodiac sign and also calculate the date of birth not just for one child, but also for twins, triplets. You can also share information about your baby's development via various social networks.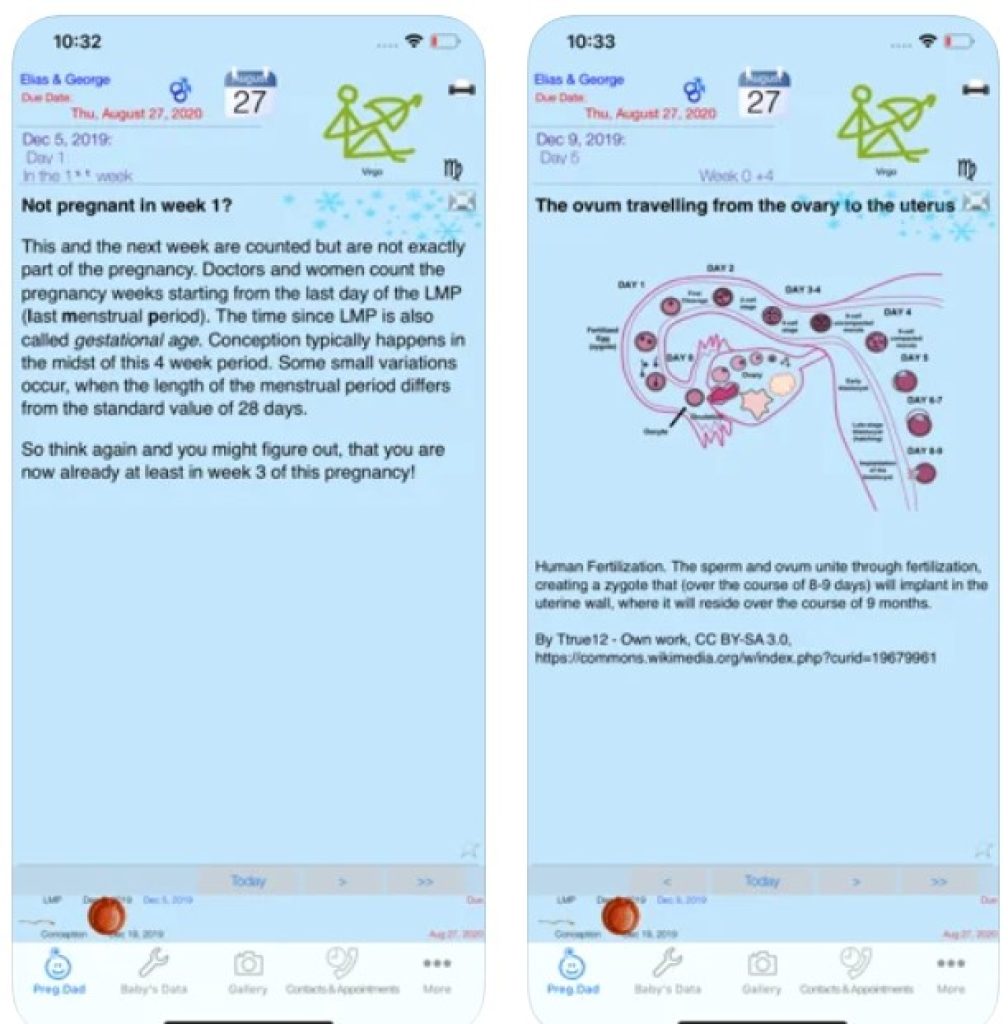 ProDaddy
With this app, you can immerse yourself in preparing for future fatherhood. The ProDaddy team provides you with a different topic each week, which you will learn in an entertaining way. Each lesson takes no more than three minutes to complete than you would normally spend hours learning.
ProDaddy also provides advice on a daily basis. These tips include answers to frequently asked questions from expectant fathers, even if you haven't had a chance to ask them yet. The text is structured in a way that is easy to understand and remember, in a humorous way.
But if you absorb information instantly and want to delve deeper into learning, ProDaddy provides you with a more detailed breakdown of complex topics.
The app doesn't stop there either! Each week you will be able to track your child's size, weight, and functional development, in a convenient format.
The app also features a shop with links to the products you need for a comfortable pregnancy. Thanks to the information you have learned, you will be able to sort them out for yourself and order all the essentials.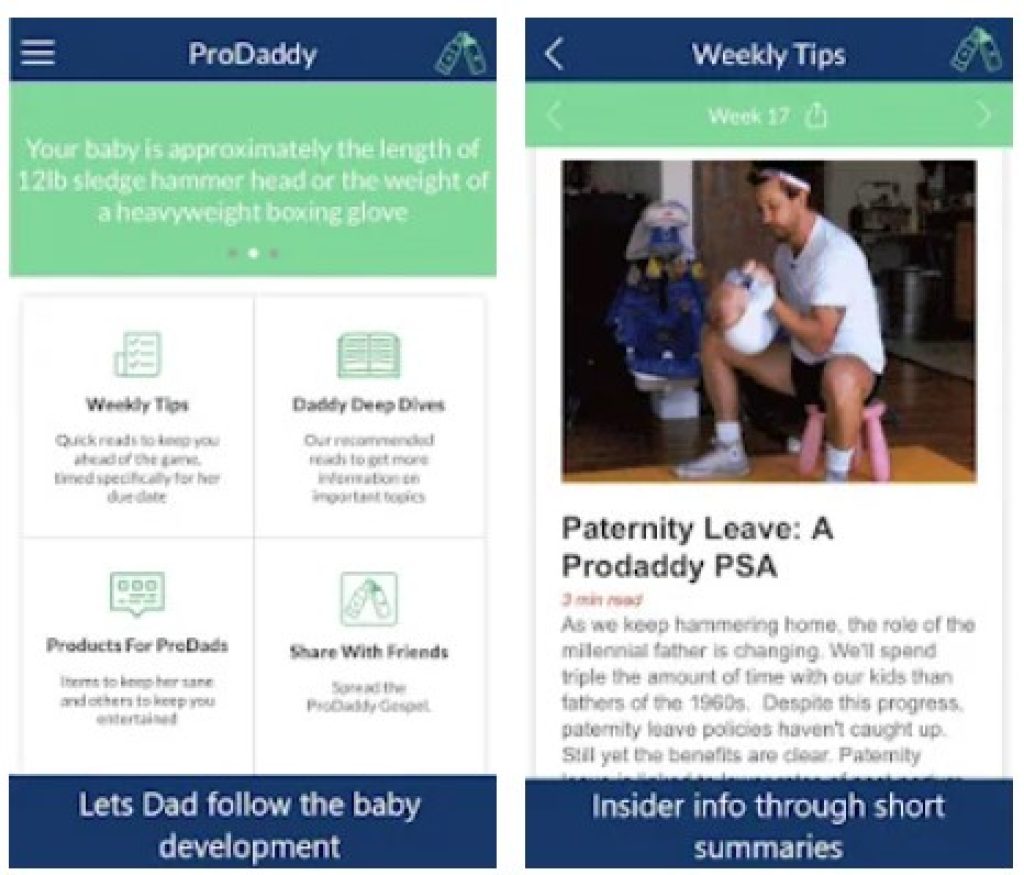 You may also like: 9 Free Screen Time Apps for Parents (Android)
The Big Daddy
Oxford University has published research proving that men who have taken an active part in their partner's pregnancy are not only committed fathers but also help their partner-in-law to get through the period comfortably, without stress or health problems.
The Big Daddy app is designed to help you do just that. And it was created by a man who is not only a daddy but a medician as well. So all the information provided in the app you can safely trust! It contains doctor-tested articles, ranging from preparing the right menu to recognizing the first signs of labor.
With this app, you will be able to follow your baby's development on a weekly basis throughout the nine months of pregnancy. You will also be able to visualize your baby's growth with custom comparisons.
Another important plus of this app is reliable information. And it's presented in a format of interesting facts that you'll quickly absorb and remember for a long time. The app also has a built-in contraction timer.