Pregnancy is a hard but happy and inspiring period, when you are waiting for an amazing thing to come. To pass this time easily, you have to keep many things in mind, such as your diet, track your visits to a doctor, do exercises to strengthen your body, and other important things.
By the way, if you want your physical shape to remain ok, check 7 Best Pregnancy Workout Apps.
For sure, the number of these things is overwhelming. This is why feel free to delegate some of the options to a good pregnancy application! In this list, there are options for iOS and Android.
Expectful: Wellness for Moms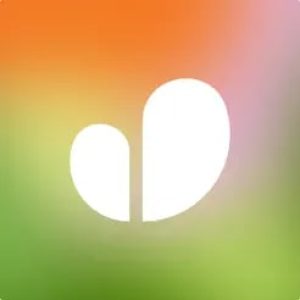 This is one of the best apps you can download for your pregnancy period. It combines all the functions you might need – tips for women, meditations, diets, trackers, due dates, and notes.
Even though every pregnancy experience is unique, in Expectful, you will find the best practices that can help you no matter what type of challenges you might face. For sure, this application can't replace a real specialist, but may serve as a good supplementary.
Here are the best features of Expectful:
Use the birth calculation option. It will allow you to find out the most accurate date when your baby will come to the family.
Try meditations. We know that pregnancy might be hard at times. You can have troubles falling asleep or suffer from pain. In this case, meditation can help you feel calm and more relaxed.
Connect with the best experts. Sometimes you might need to get a piece of advice from the people whom you trust. Professionals wrote the info you see in this section. What is more, it was double-checked before adding it to the app.
Learn more about pregnancy. The more you know, the better your pregnancy will be, because you will know about the processes that take place inside your body. There are numerous courses you can enroll for. They consist of pre-recorded videos, enabling you to watch them when you have time.
The application is free of charge. There are some additional options available through the subscription. However, the basic features are enough to track your pregnancy and make your journey to motherhood easier.
The app is available on the App Store and Google Play.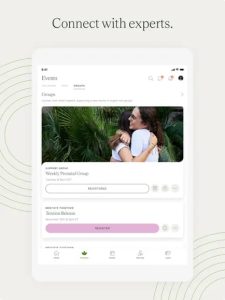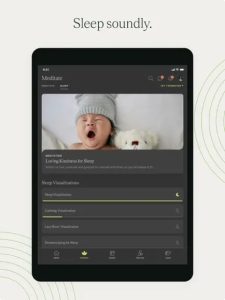 You may also like: 9 Best Pregnancy Apps for Dads
Pregnancy and Due Date Tracker
This app is less universal than the previous one. It is actually a calendar that helps you to keep track of all the events connected to your pregnancy, such as your visits to specialists, your thoughts, as well as the problems you might face.
The UI is quite simple, so you can focus on what matters to you.
Let's look at the best features you will see in Pregnancy and Due Date Tracker:
Get information about your pregnancy progress. Every week you will see a new article about it, enabling you to know what is going on inside you and what you need to pay attention to.
Write your notes. You might have some questions, doubts, or just thought you want to keep. You can do it right in the app!
Collect all the data about your condition. You can use it later when you visit your doctor.
Create To-Do lists. It will help you not to forget about visits to a doctor, or any other part of your daily routine.
Get some tips about your diet. It is vitally important to stick to a healthy diet, and the app will tell you what exactly you can eat and which products you should avoid.
Synchronize Pregnancy with the Health app you already use. It is fast and secure.
The app has many positive reviews. Most users say the Pregnancy app is simple to start with.
Both Android and iOS users can download this application for free.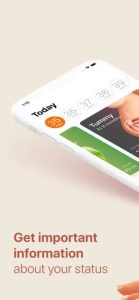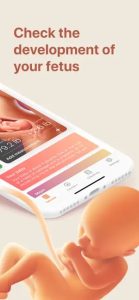 The Bump – Baby Tracker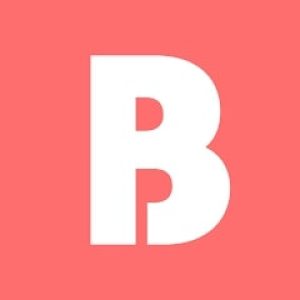 If you are looking for a good pregnancy calculator and a baby tracker, The Bump is what you need. It has a smart interface, as well as simple navigation. And it also looks so beautiful, especially a 3D of the baby!
However, let's start with some other options that are also important and might be useful during your pregnancy:
Use the app as a planner. You can count down the days before the big date when a baby is going to join the family. You can also plan your visits to a doctor.
Calculate when the baby is going to be born. What is more, you can also calculate other things providing the app with the symptoms you have. It works easily – just add a symptom and check the tips.
See how your baby is looking. Yes, you can do it now! Just tell the app how long you have been pregnant, and the Inside The Bump function will build a 3D model of your baby! The model looks truly realistic.
Explore a large catalog of things you can buy for your baby. For instance, you might buy some diapers or clothes in advance. For sure, there are good discounts.
The developers update their product quite often, adding new stuff to it. It means you will find new features or articles every time you open The Bump.
The Bump is available on the App Store, as well as Google Play. Most options are free.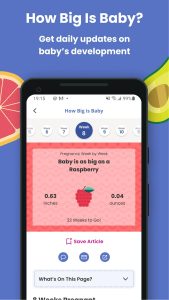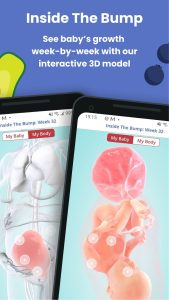 Hello Belly: Pregnancy Tracker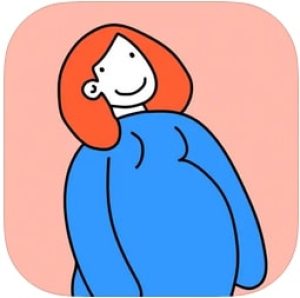 Here comes another great and universal pregnancy application. It combines an impressive number of options, including a calculator and a planner.
The UI is also pretty simple. You don't need to spend time trying to understand how the service works.
Why should you give Hello Belly a try? Well, here are the best features you will explore at no cost:
Enjoy great checklists. When you are pregnant, you have so many things to do! It is impossible to memorize everything, and you don't have to. Just use checklists for your daily routine.
Try meditations and yoga. Most doctors recommend doing it to make your journey to motherhood easier and more relaxed.
Read tips about your diet. For sure, this option can't replace a real doctor, but it might help as well. Every day you will be given a tip about what food you need to eat today and how it will help you.
There are also some tips for future daddies, meaning it's not for women only. There are tips about what they should do in various situations to help the mom go through this challenging period.
Hello Belly is available at no cost with most of its functions. What is more, the app isn't too big, it requires 80 MB of memory only.
The app will track some data about your location, purchases, and some other details, but it won't be linked to you.
Get it now on the App Store or Google Play and make your pregnancy an amazing experience.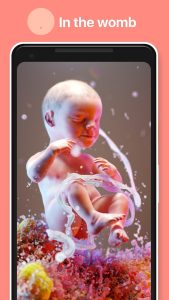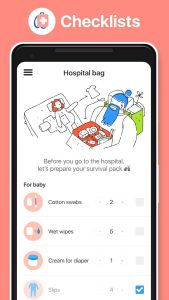 Pregnancy Tracker – Sprout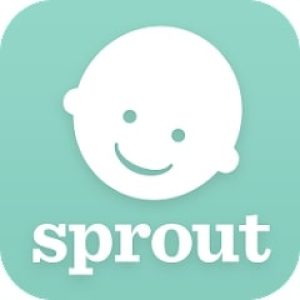 This application is more about visual content than calculation. However, it will give you the timeline of your pregnancy and provide you with 3D pictures of your baby.
The UI is friendly but the navigation might seem strange at times. The interface is a bit old-fashioned, though. Now let's concentrate on the features you will get in Sprout:
Create

a personalized timeline

of your pregnancy. It will help you to see the whole process and future steps.

Keep

information about your appointments with a doctor

. The option will help you not to miss your regular visits.

Write notes

about your pregnancy. You can use them later when you pay a visit to a specialist.

Track your weight. These metrics are also quite important to track. You need to give the app your weight before the pregnancy and after it.
This pregnancy tracker helps you control and visualize the process. There are many free options. However, there is also a trial period so you can try all the premium features at no cost.
By the way, if you are worried about your diet and you want to stick to a healthy lifestyle, read 9 Best Pregnancy Diet Apps.
You can get Sprout on the App Store, as well as Google Play.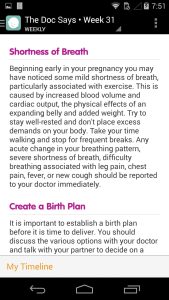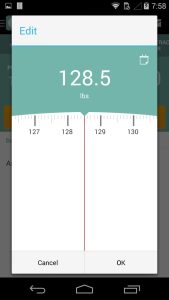 Totally Pregnant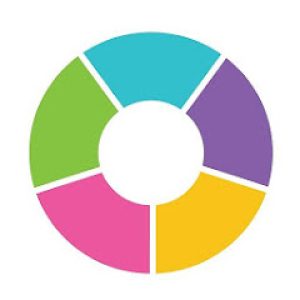 This is another nice multi-functional application for tracking your pregnancy. The developers of Totally Pregnant know pretty well how overwhelmed you might be. This is why they tried to create a simple service with powerful options, enabling you to delegate some of the options to it.
Here is what you can do in Totally Pregnant:
Calculate when the baby is going to be born

. For sure, we can't guarantee 100% accuracy, but in general, the calculations are pretty precise.

Eat the right food

. The app will give you precious tips on what you can eat and get vitamins from.

Try meditations

. Sometimes things might get too hard. In this case, make sure you try meditations. They will help you to be less emotional and stay calm when things don't go as expected.

Take classes online

. It isn't enough to stick to a healthy diet and do yoga. You also need to know enough about what is going on with your body.

Create a birth plan. For sure, the real process might go a bit differently, but planning helps you to get ready.
Totally Pregnant has a pretty serious bug, though. Sometimes the app might just shut down unexpectedly. Hopefully, this error will be fixed soon.
You can get the application on the App Store or Google Play.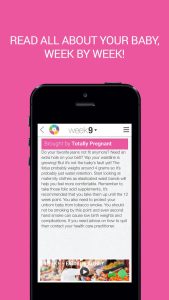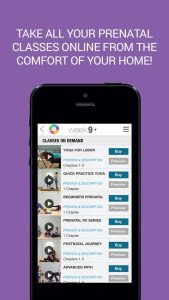 Pregnancy + | Tracker App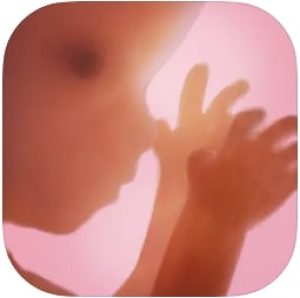 If you always wanted a good pregnancy app with personalized content and a supportive community, this is what you need to download on your phone.
This app will allow you to plan your pregnancy and stick to your schedule. Let's see how it will work:
Create your

pregnancy calendar

. You can mark the most important days, such as your visits to a doctor or anything else. There is an option of attaching notes to it as well.

Check informative

pregnancy guides

. If it is your first pregnancy, then you might feel a bit confused in some situations. Don't worry, you will find all the answers in these guides.

Make sure you try a

Due Date Calculator

, it allows you to know when to expect your baby.

Take a photo of your bump and make a collection of these pictures it will serve you as

a pregnancy album

.

Search for the name of your baby. This is a crucial thing you might do in advance.
For sure, this is a part of all the options available in Pregnancy+. Download the application on Google Play or the App Store to explore more.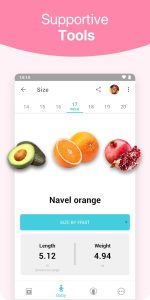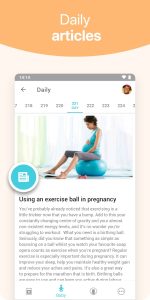 Pregnancy & Baby Tracker WTE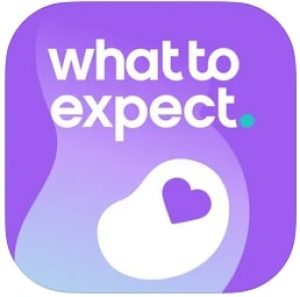 This is an application that helps you to track your baby's growth and plan your pregnancy. The app is famous for its colorful pictures, cool 3D models, and great tips for moms-to-be.
Let's take a closer look at the best options provided by Pregnancy & baby Tracker:
Do you want to know how your baby looks right now? Then open a

week-by-week pregnancy tracker

! It will show you the size of your baby.

Get daily tips

. All of them were written by professionals, so you can fully rely on them.

Create

personalized checklists

not to forget about important things, such as drinking water or visiting your doctor.

Enjoy

a close-knit community

of moms-to-be! If you need support or a piece of advise, you can always count on them.
Please note the app will need numerous permissions to function well. There is hardly any way of avoiding it.
Pregnancy & Baby Tracker is available on the App Store for free.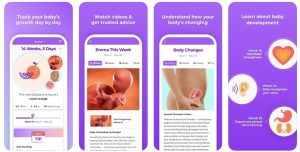 You can also check: 7 Best Pregnancy & Baby Birthday Announcement apps