A sweet little mobile game, Pride Space Chicken, is a fantastic way to pass the time. With its simple yet addictively fun gameplay, this game has become my new go-to for those moments when I have a few minutes to spare. Crucially, it's more than just a fun game: as suggested by the name and the rainbow colour scheme, it celebrates the LGBTQ+ community and the power of diversity.
You may also like: 15 Free Physics Based Games for Android & iOS
Pride Space Chicken is all about testing your luck and reflexes in the most charming way. As soon as you start playing, you'll be greeted by an adorably cute astronaut chicken, and trust me, it's hard not to fall in love with this little character. The game combines the thrill of chance with quick reflexes, making it an engaging experience that you won't want to put down.
The rules are straightforward, which adds to the game's appeal. The objective is to keep the astronaut chicken moving colourful blocks and avoiding obstacles along the way. To navigate the chicken, you'll tap the screen, making it flap its wings and rise.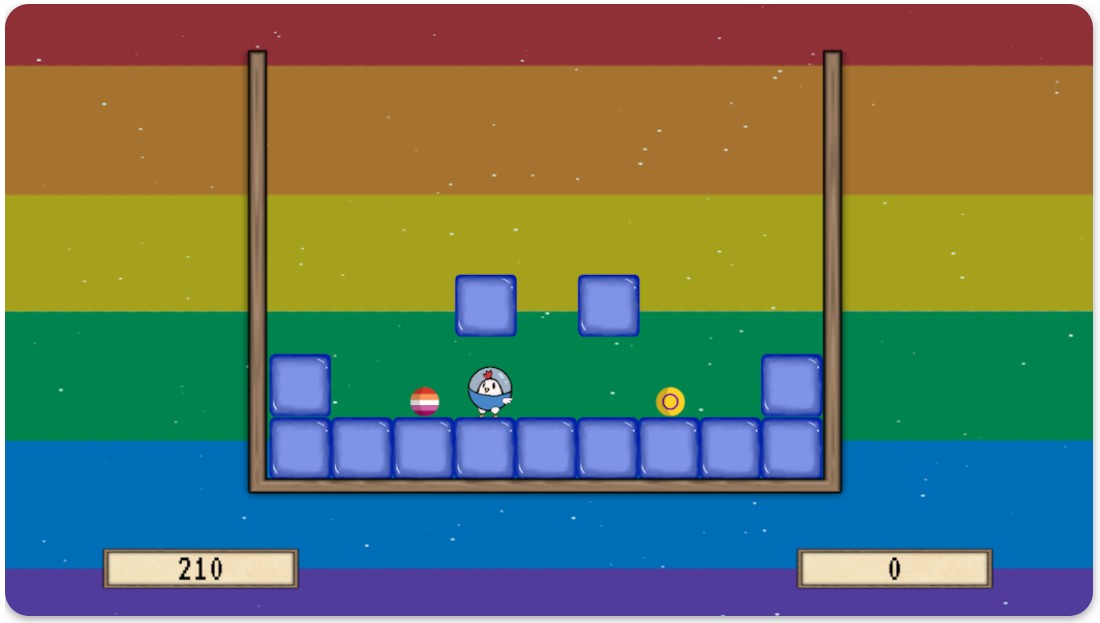 Visually, the game is simple yet pleasant. The screenshots speak for themselves – it's colourful and appealing. The cute astronaut chicken and the vibrant space setting create an atmosphere that's both fun and engaging.
What makes Pride Space Chicken truly shine is its pick-up-and-play nature. The short rounds and simple controls make it accessible for players of all ages.
Additionally, the game keeps you motivated to beat your own high score, which is a clever way to keep you coming back for more. Each playthrough is a chance to improve and master your skills, adding an element of competitiveness.
You may also like: 7 Best Frogger Games for Android & iOS
Pride Space Chicken is a delightful and quirky mobile game that takes players on a colourful and humorous adventure through outer space. This game offers a refreshing blend of arcade-style gameplay and tongue-in-cheek humour that's both entertaining and light-hearted.
In the game, you control a courageous chicken astronaut who embarks on a mission to save the galaxy from a band of mischievous aliens. Your task is to guide the chicken through various levels filled with obstacles, enemies, and puzzles. The gameplay involves navigating your chicken through space, avoiding hazards, collecting power-ups, and defeating alien foes.
The standout feature of Pride Space Chicken is its charming and whimsical art style, which adds to the overall enjoyment of the game. The hand-drawn graphics and vivid colours create a visually engaging experience that's both fun and visually appealing.
While the game offers plenty of challenges, it maintains a playful and light-hearted tone throughout, making it suitable for players of all ages. The controls are intuitive, and the game's progression keeps you engaged and eager to see what hilarious surprises await in the next level.
If you're in the mood for a space-themed game that doesn't take itself too seriously and provides a healthy dose of humour along with entertaining gameplay, Pride Space Chicken is a perfect choice. It's an enjoyable mobile game that brings a smile to your face as you navigate your fearless chicken through the cosmos.
You may also like: 7 Best Princess Games for Android & iOS
In conclusion, Pride Space Chicken is a very nice little mobile game. It's cute, it's fun, and it's a fantastic way to spend your spare moments. Whether you're waiting for a friend or just need a quick gaming fix, this game has got you covered.