If you are tired of the usual games, then the party RPG will suit your taste. Wasteland Punk – Your character leads a squad of assassins and mercenaries in a world that survived the apocalypse and the destruction of civilization. The solar explosion destroyed all sources of electricity on the planet, artificial intelligence devices went out of order.
When you first start Wasteland Punk you will see an abandoned location with a bar. By clicking on it, you will see that there are 3 characters in it. Spike, Phoenix, and Patcher. Improve the capacity of the bar to accommodate more recruits. Below, after launch, you can see 4 icons that are responsible for certain functions. Settings, ratings, and more.
Check also the survival game apps for Android and iOS.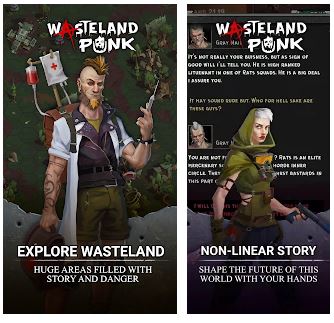 Wasteland Punk has a support system. Many users may have questions or problems. Compose your question and send it to the support specialists and they will definitely answer you. The developer's website will allow users to get acquainted with more detailed information and principles of work.
Moreover, Wasteland Punk includes a simple bright design, intuitive interface, and easy controls that will allow users to immerse themselves in the work environment. The goal of the game is to create a squad of 4 people to explore an abandoned location. Visit different locations to upgrade your level and the level of your team. Users can craft new weapons in the workshop. Complete missions successfully and get rewards.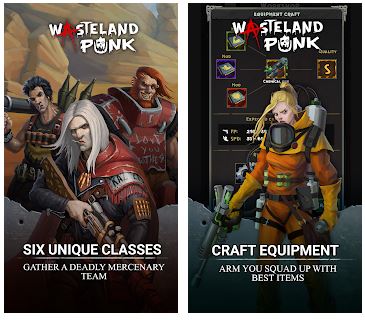 And if you like all that survival apocalypse theme we can also recommend you play zombie games.
Wasteland Punk is simple and intuitive to operate and does not require any specific skills to play the game. Mastering the process is not difficult. In general, this is a game with beautiful and unique graphics in which you have to become the leader in the world of the world apocalypse. An interesting plot with a large map will allow the user to fully immerse themselves in the game system.