Puddle Hopping is a quiz in which you have to test your knowledge on 9 different topics in an easy way. The game does not require registration and there is no advertising. After the screensaver, the users are immediately greeted by the main menu, where they can choose from 4 types of games: strings, clues, buckets, and rooms.
Another useful way of memorizing new information is flashcards. You can explore the list of Free Flashcard Apps to find more similar activities.
The theme of all four games is also selected there: art, composers, eras and extinctions, Europe 1340 to 1519, literature, movies, museum, nature, science. Each of the four games is unique.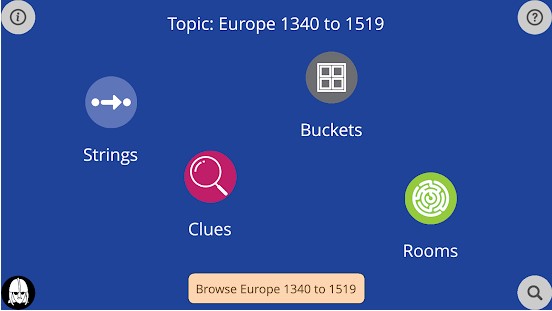 In strings, you need to arrange the objects in the correct chronological order. In clues, select the event or object corresponding to the hint.
Buckets is a screen divided into 4 sections, where each section has its own theme, and in the middle, there are circles with certain images corresponding to one of them, the circles (for each there is a detailed description) must be placed in the correct section, creating the largest cell.
Rooms represent several rooms in which there should be a certain circle. Based on the hints you need to place each circle in the right room. There is a timer in all games, so it is important not only to solve all the puzzles correctly but also to do it as quickly as possible. Each time the game starts, the order, as well as objects and events change.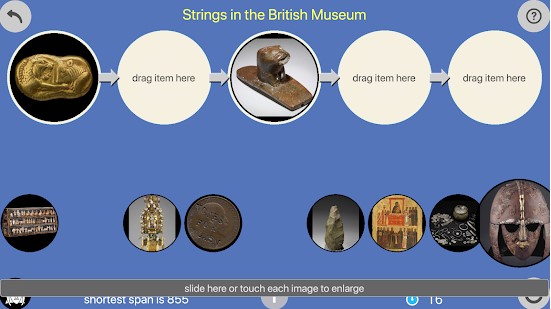 The game has a simple and minimalistic style, the pictures are high-quality and easy to read. Optimization is good – Puddle Hopping does not require a powerful device. Each of the four quizzes will not take much time but will challenge and help brighten up the time well.
Check also the list of the best apps to help you with homework – this way you will be done with different types of quizzes so much faster!
You will also learn a lot of new and interesting facts. Puddle Hopping can be recommended to children and schoolchildren as teaching material and to broaden their horizons.