Are you looking for a new entertaining game for your babies? In this case, we have to bring your attention to the excellent tool – Virtual Pet app.
Now we are going to find out why this app is so special.
Virtual Pet is an educational game that is developed for mobile phones and tablets. The game is not very popular on Google Play, but it has lots of useful features.
Want to discover more virtual pet games? Then click here.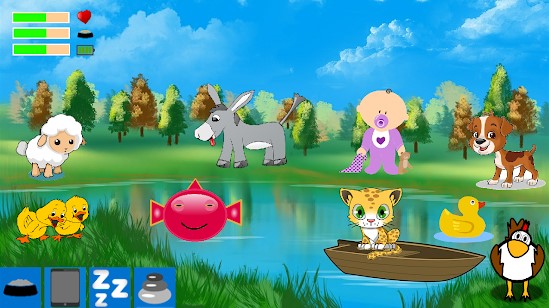 First of all, we have to mention that this app does not take up much storage space – it weighs just 40M. So, we can surely say that you will install it in a few seconds!
But what is the major point of this game?
In Virtual Pet, your task is to take care of your fish and make it happy. So, the players will have to feed a fish, put it to sleep, play with it, or play animal sounds.
The fish lives in a lake in a forest and it has lots of animal friends – for example, rooster, dog, cat, sheep, donkey, duck, chick, and a baby.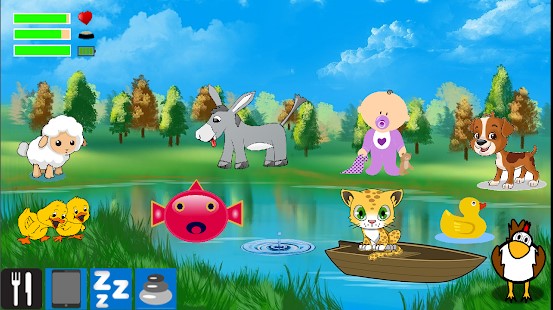 The fish loves listening to music and becomes happy only after hearing the sounds from animals and a baby.
As for the app's interface, it is very convenient to manage. Additionally, we were impressed by the colorful app's design that offers pleasurable use. Simple navigation, bright graphics, and pleasant sounds – all these things are waiting for you in Virtual Pet app! The majority of users are fully satisfied with this application, as there is not any negative feedback.
And for all the pet lovers out there we prepared a special list of apps about pets.
All in all, Virtual Pet is truly worth downloading. This is an ideal tool for all babies and small children. We have not found any significant disadvantages of this app. So, we advise all the parents to hurry up to try it – maybe this is your option!