What can possibly be better than taking your mind off daily troubles by solving a good-old trivia? Not so many things, right?
Luckily, there are lots of quiz games for Android and iOS in 2023 that will test your education while keeping you entertained. All these games are challenging and addictive, so get ready to spend a couple of evenings solving endless quizzes.
You may also like: 7 Best Flag Quiz Games for Android and iOS
We've gathered together the 16 best games in that category you may try. Take a look!
Quizizz
Let's start with an app that lets you educate yourself while playing.
The app lets you solve quizzes solo or with a group of people. It's widely used in classrooms and offices around the globe to gather people over educational activities. The app covers a wide compilation of quizzes on multiple topics. You may search via categories or keywords, along with some filtering options.
There are quizzes related to school programs, social quizzes, pop culture ones, and more. As you're solving a quiz, the app keeps track of right and wrong answers, along with your overall stats. Then, you'll get to track how your knowledge improves with time.
You'll also get to view the answers for all the questions needed, so no need for googling. As for the group sessions, the app lets you set create classes for passing quizzes and surveys. It may seem like it's a fully educational app, but there are plenty of fun quizzes waiting for you here. It's also fully free with no sub-packs, which is great.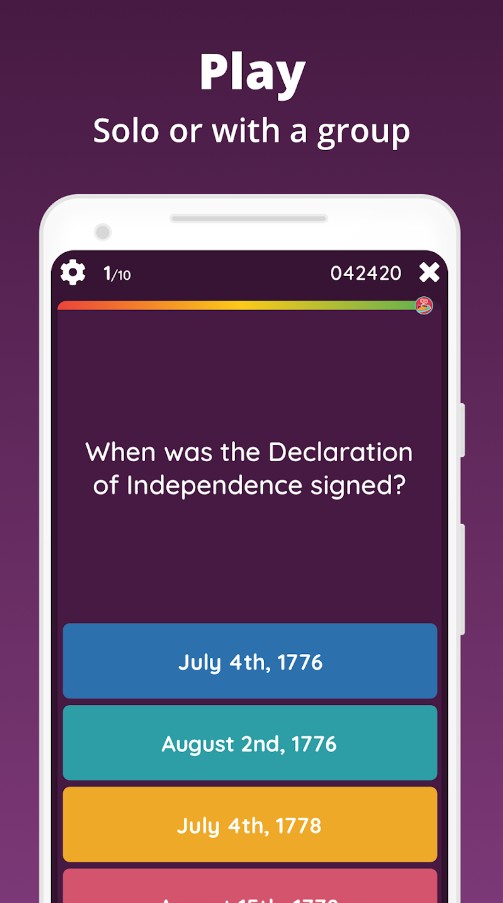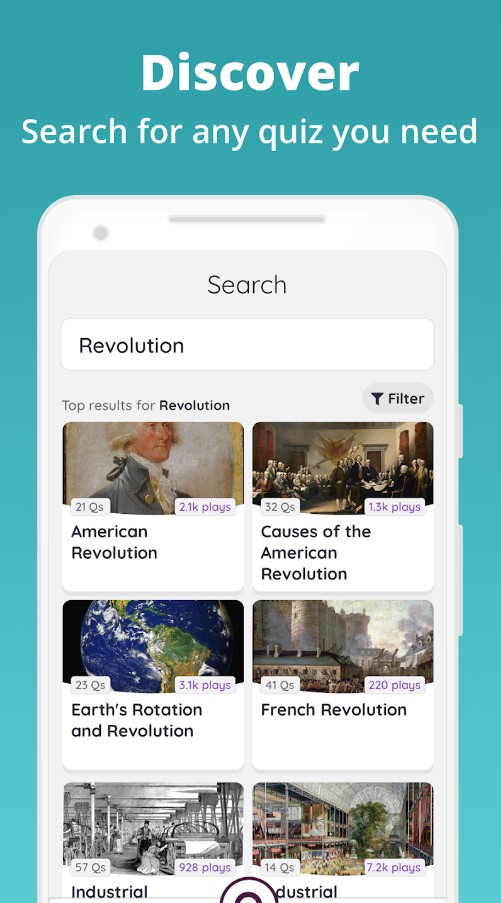 You may also like: 9 Best Guess The Country Games for Android & iOS
TRIVIA STAR
This game is a classic representation of a trivia genre.
Whatever you've expected from a trivia game is included in this one—no doubt. It's an absolute must-have for all the quiz heads out there, as the game over a massive compilation of questions in plenty of categories. As it always is, the game runs on increasing difficulty techs, so the questions will get harder with time.
Besides, the game has a built-in timer, and you'll have to solve the queries before the clock stops. As for the questions, there are over 60 categories for now and the new sets of queries are added regularly. There are such categories as general knowledge, celebs, sport, music, logos, science, history, and much more.
The game also includes a hint system, so if you'll get stuck on some questions—just use coins to get a tip and pass it. You'll get some welcoming coins for installing the game, and there are also daily bonuses for it. The game has both online and offline modes, so you can enjoy it at any time.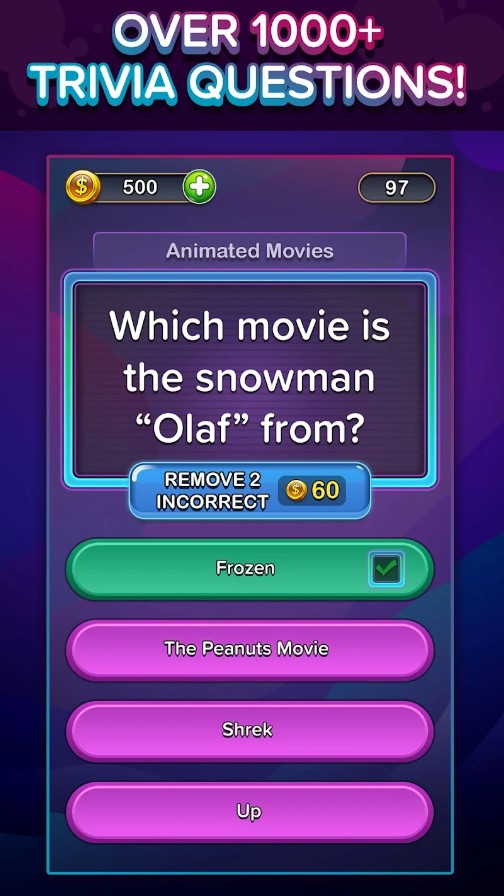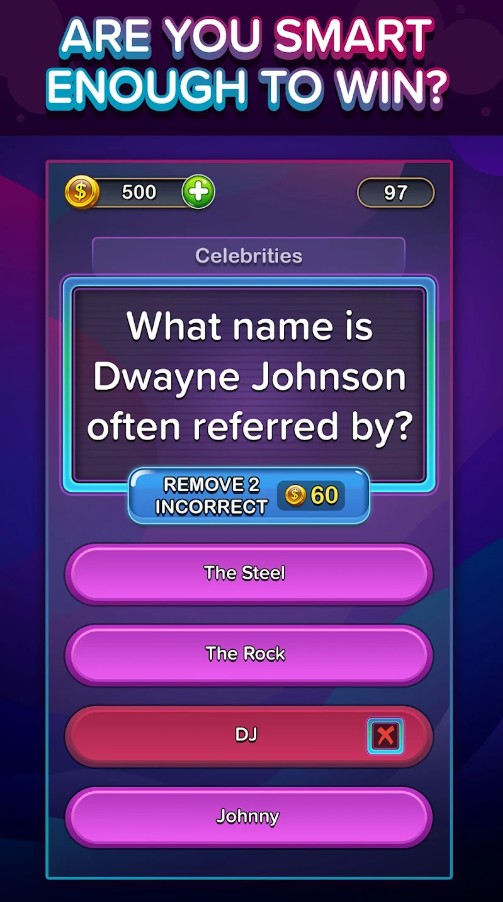 Quiz Planet
It's a dynamic quiz that lets you stand against your pals and random players.
The game comes with a multiplayer mode that lets you compete with worldwide players. Herewith, you may set the game to lets you contest with people from your country if needed. You may also battle with a mate to see who is smarter. As you'll go through the queries, you'll rank up your exp and get to face top players.
The game covers a massive collection of queries in over 19 categories. To be more precise, there are such packs as history, geography, politics, nature, animals, fashion, movies, brands, art, games, and more. For now, there are already over 10K rounds, and more is yet to come.
Herewith, the game comes with a timer, so you'll need to think fast and answer before the time runs out. The game runs on an increasing difficulty system, so the sessions will get more complicated. The good news is that you'll get to buy hints to get you through the hardest questions of all.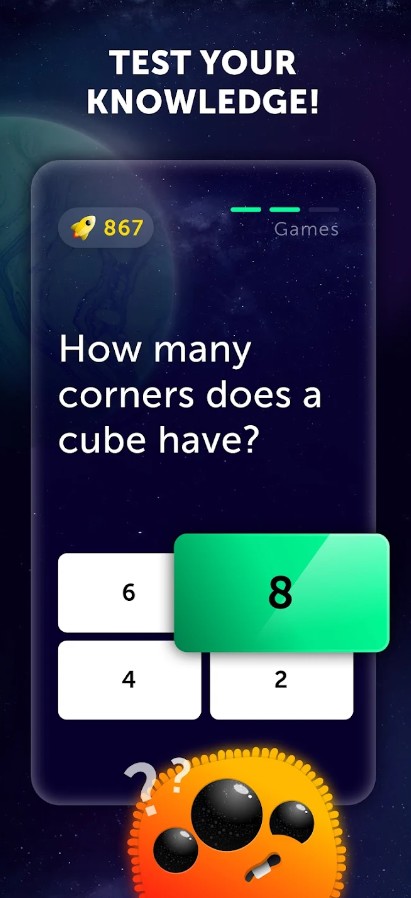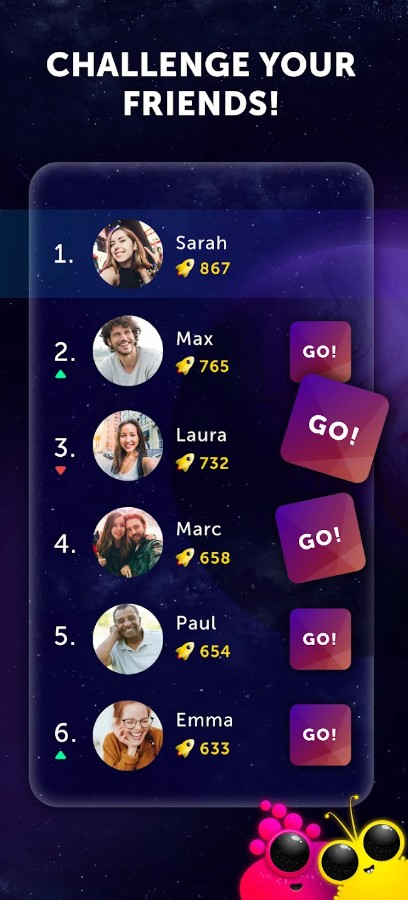 General Knowledge Quiz
As its name suggests, this game will test how erudite you really are.
The tricky thing about this game is that it covers plenty of categories, but doesn't let you pick one. Thus, if you're only good at sport or history—high chance you'll struggle with this one, but who doesn't want a challenge. The rules are quite simple and very similar to the world-known TV Show Who Wants To Be A Millionaire.
You'll need to answer 15 questions to win 1 million euros. Of course, we're speaking of in-game coins, but the prize is just an extra motivation here. It may sound simple, but the questions will get more and more complicated with time. The app covers such categories as music, science, pop culture, beauty, sport, and more.
The new question packs are added regularly, so you won't run out of material. The good news is, that the game doesn't limit your time, so you can solve at your pace. Besides, there's a hint system that will save you if you'll get stuck on something. There's also a multiplayer mode, so you can compete with other users.


Kahoot
This is an engaging trivia that will keep your brain busy for a while.
Sooth to say, this game can be used for more than just entertainment purposes. It works pretty well for schools and offices as well. That's because you won't only get to pass pre-made quizzes, but create your own ones from scratch. It's getting done easily, and it will take a couple of minutes to come up with a quiz.
The app already covers thousands of quizzes you may pass alone or with friends. The categories vary from science and history to some specific aspects of pop culture. There are no timers, so you may solve the surveys at your pace.
You may also join the quizzes hosted live—there are plenty of translations dedicated to various topics. Plus, you can make a study league with your pals to see who will solve the Kahoot first. All the surveys are free, but a paid sub pack will give you access to reclusive materials.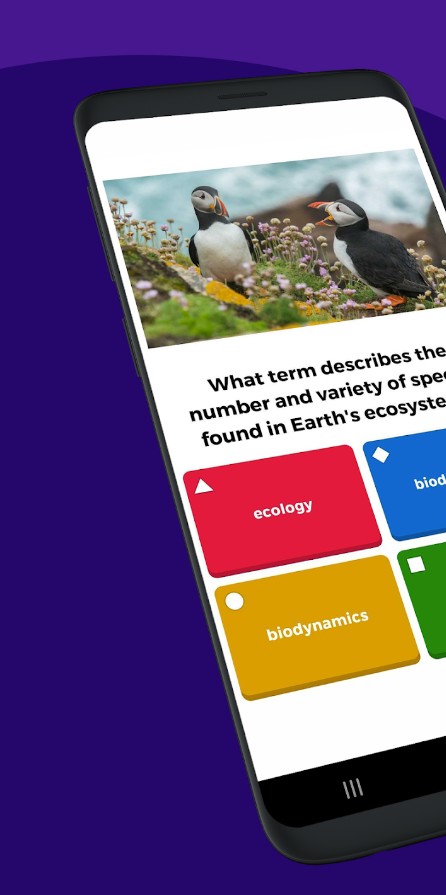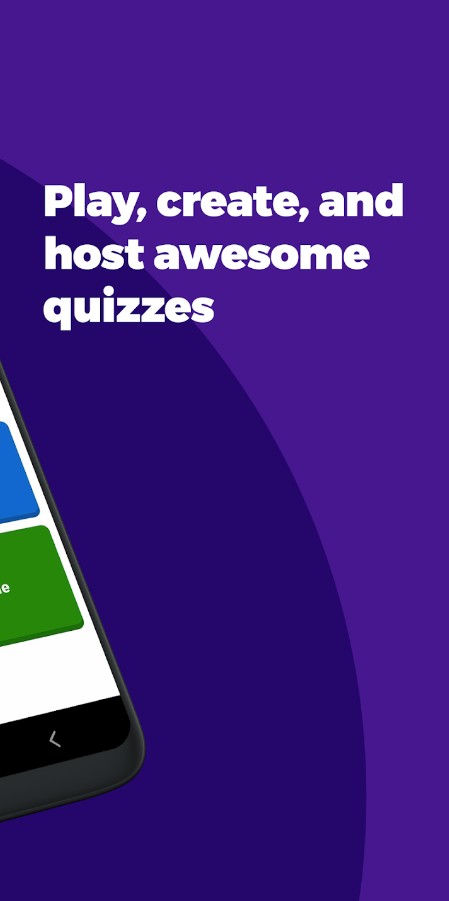 Erudite
Erudite offers much more than the typical quiz app. While it challenges your knowledge with a wide range of trivia questions, it also provides a variety of mini-games to keep your experience fresh and exciting. These mini-games add a layer of fun and diversity to your trivia adventure.
One of the standout features of Erudite is its diverse range of categories. From history and science to sports and pop culture, there's something to pique the interest of every trivia enthusiast. Whether you're a history buff or a movie fanatic, Erudite offers a category that suits your passion.
So, I can say that it stimulates your brain, enhances your knowledge, and sharpens your memory. Erudite is an ideal way to challenge yourself, learn new facts, and even compete with friends in friendly trivia battles.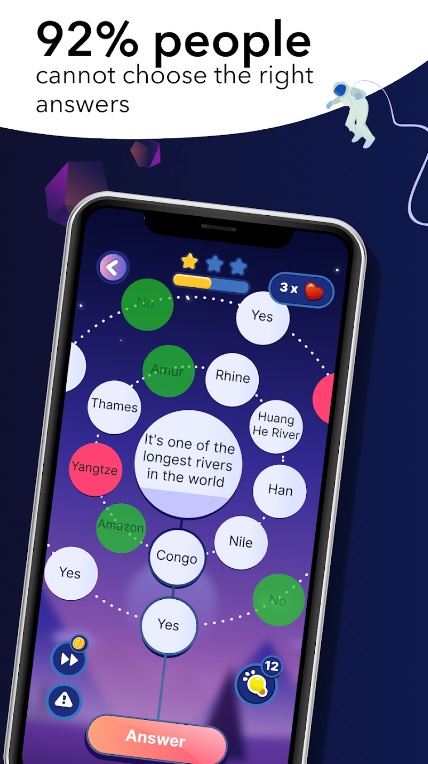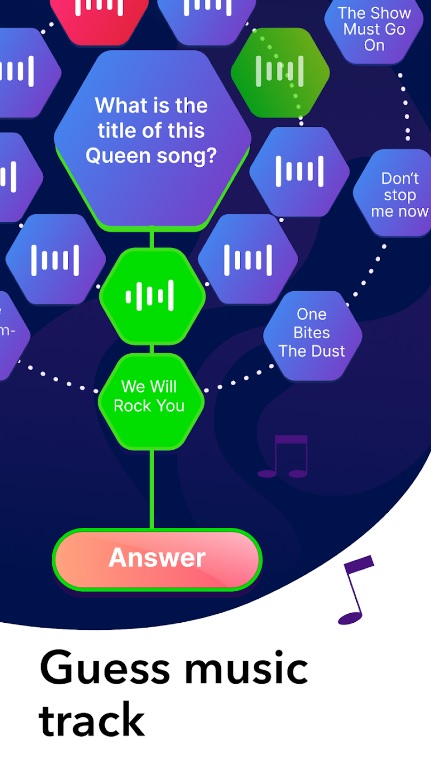 Quizoid
This is the game that lets you test your knowledge.
For now, the game already covers over 7K of questions, and more are added regularly. The unique thing here is there are some reclusive quizzes, that are extremely fun to pass. For instance, there's a full-on quiz about 2020 with all the covid-related topics. The game runs offline, so you can enjoy it at any time.
Overall, there are over 10 categories of quizzes such as entertainment, science, space, movies, fashion, food, and all that. The game also comes with three modes, so you won't get bored. The classic one lets you answer as many questions as possible, trying to beat up your own score.
Then, there's a mode that gives you a 20-questin test that will be rated by your average. Plus, there's a mode with a 60-secs timer where you need to think quickly. Some modes allow you to use hints, while others leave you face to face with your knowledge. You may regulate the difficulty levels if needed—there are 6 options to pick from.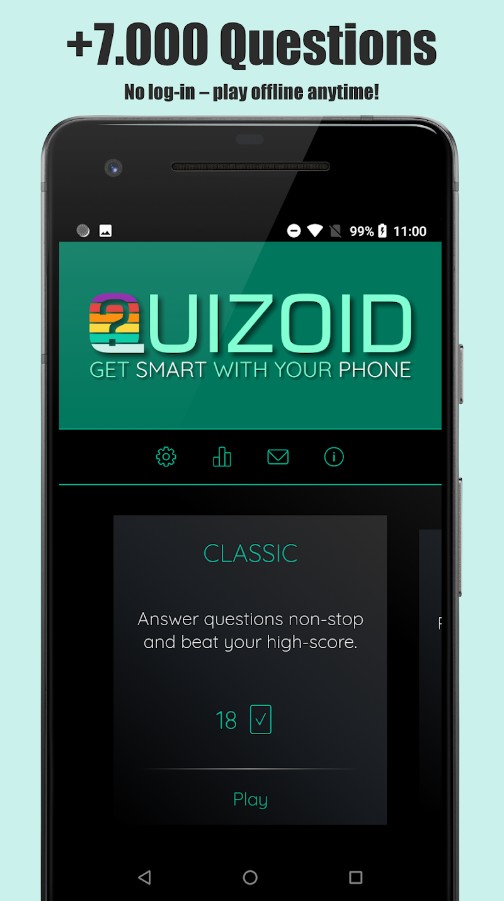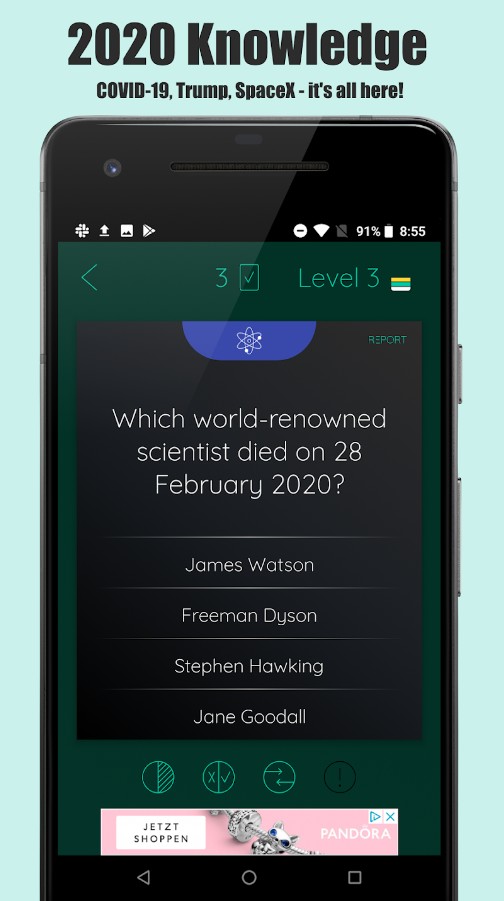 Crossword Quiz
Crossword Quiz doesn't just offer a single puzzle experience. It boasts a wide range of categories, making it suitable for everyone, whether you're a sports aficionado, a movie buff, or a history enthusiast. This variety ensures that you'll always find a category that piques your interest.
Within this wordplay wonderland, you'll discover a treasure trove of engaging puzzles. Solve crossword clues, unscramble anagrams, and even put your visual recognition skills to the test with emoji-based challenges.
The app's creative approach to crosswords keeps the gameplay fresh and exciting. It's a perfect choice for those looking to have fun while sharpening their mental acuity.
The benefits of Crossword Quiz extend beyond entertainment. It's an excellent way to expand your vocabulary, improve your problem-solving skills, and challenge your memory.
Finally. this game can be a fantastic tool for enhancing your knowledge in various categories while having a great time.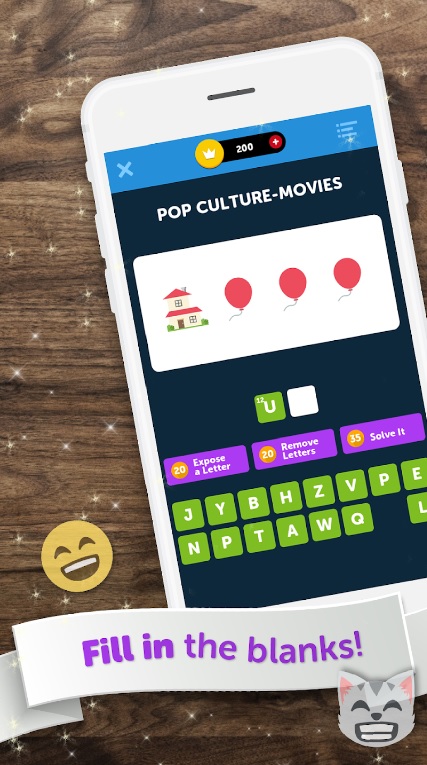 Check also: 9 Best Games Like Family Feud For Android & iOS
Logo Game
Moving on to a narrowly themed quiz game that will latest your brand knowledge.
As you may guess by the name, you'll need to guess brand logos here. Some trivia matches include these types of queries, but this one is fully dedicated to them. For now, it already covers over 2K logos for you to guess, and more are added every week. There are over 50 lvls based on the increasing difficulty system.
Besides, there are extra special levels for multiple countries that contain some local brands. It needs to be said, the game may seem simple cause this is a multiple-choice find of the quiz. In other words, you'll just need to pick the answer and not write it. The game runs offline, so you can load it at any time.
The game comes with a hints system, but all the hints require an in-game coin. You'll get some coins at the begging of the game and will get more for the right replies. You may also get a bonus for asking your pals to play.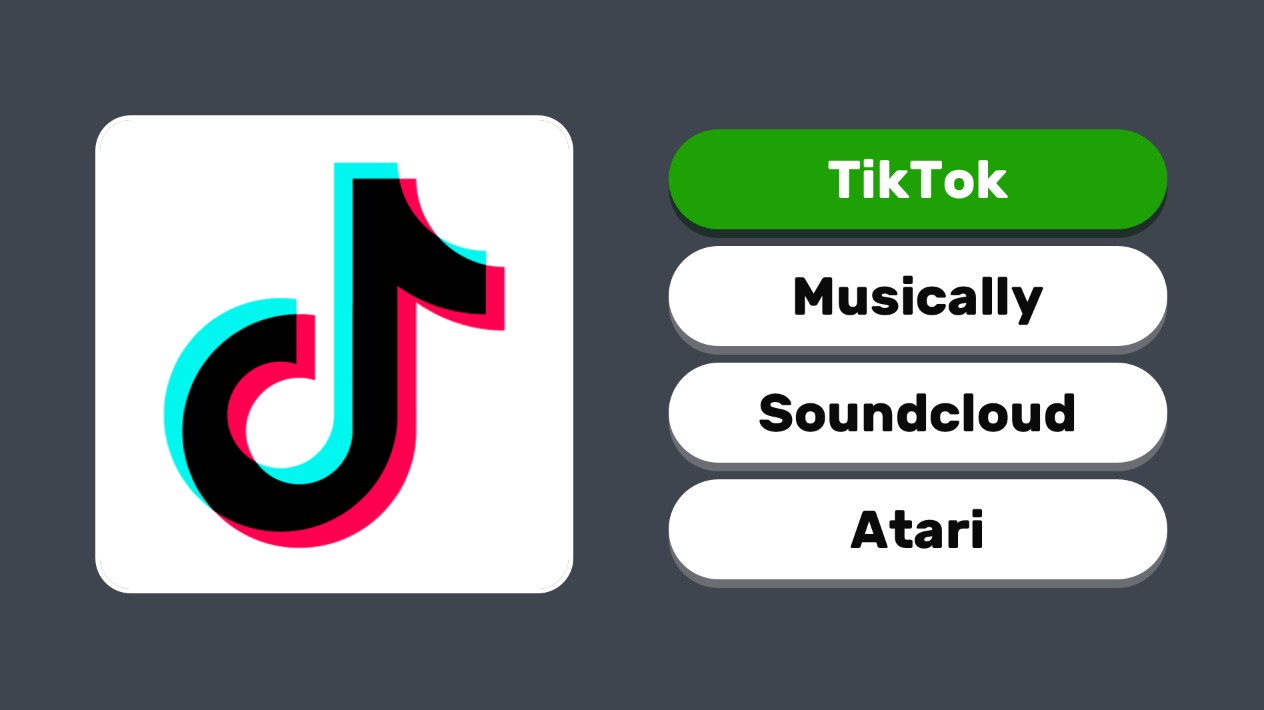 SongPop 2
The name of this game fully speaks for itself. It's a music trivia where you'll need to guess songs and artists.
It's a multiplayer quiz, so you can go online and contest with users from all over the globe. You may also invite your mates for a music duel to check out who is the smartest. The game includes tracks from all the styled—from pop to metal, so there's smth for everyone.
For now, the app contains over 100K music clips from top artists that you will need to guess. The types of questions are different—some need to guess the same of the song, others the artists, and all that. Sometimes you will even need to guess the release year, but that's a next-level of difficulty.
There's also a solo mode where you can practice music knowledge. You may also create custom playlists that will be turned into a quiz for your pals. There are also plenty of pre-made playlists you may use for quizzes, and the app can automatically find users with the same music taste.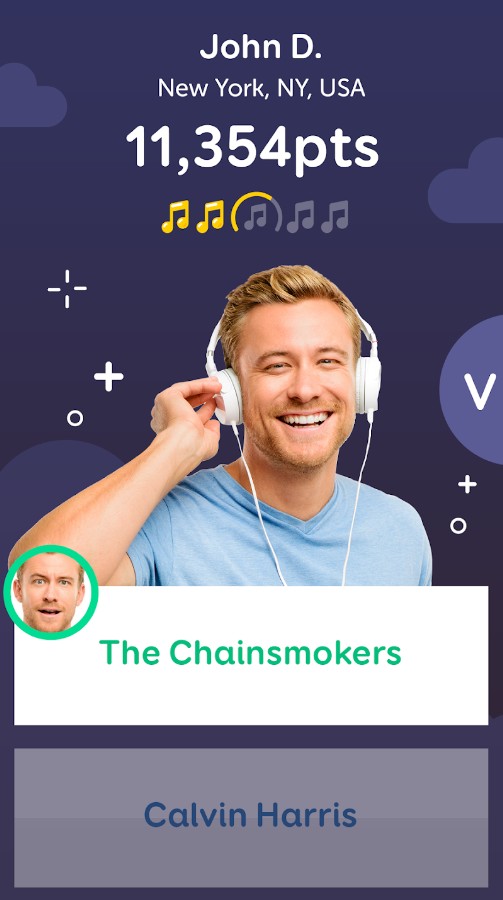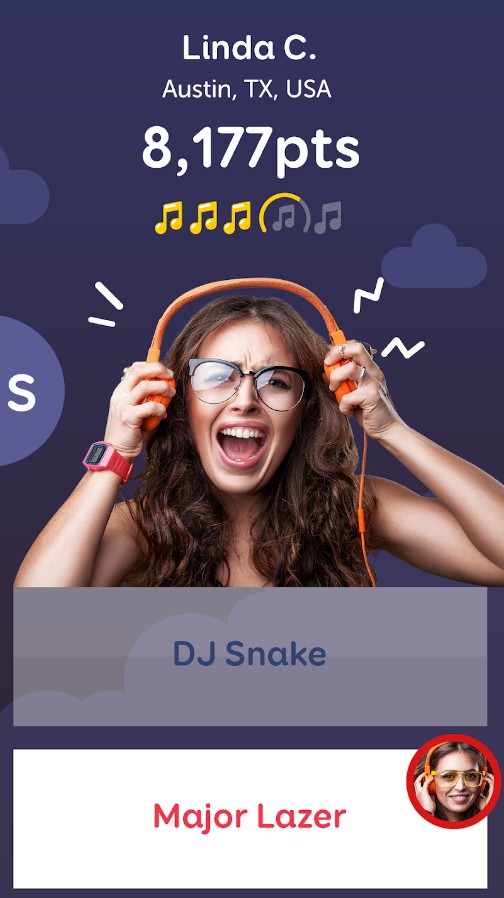 Quiz Of Kings
Quiz Of Kings is all about testing your knowledge and wit. Your mission is to answer trivia questions correctly, accumulating points and climbing the leaderboard. With a diverse range of topics, including sports, history, and pop culture, there's something to pique the interest of every player.
You can challenge your friends or compete against other players in real-time quiz battles. This social element adds an exciting competitive edge to the game, making it even more engaging. 
It encourages learning and curiosity, helping you expand your knowledge in various fields. Moreover, it fosters a sense of healthy competition and camaraderie as you challenge friends and meet fellow quiz enthusiasts.
Finally, I think Quiz Of Kings is an ideal choice with its range of games, multiplayer challenges, and educational value.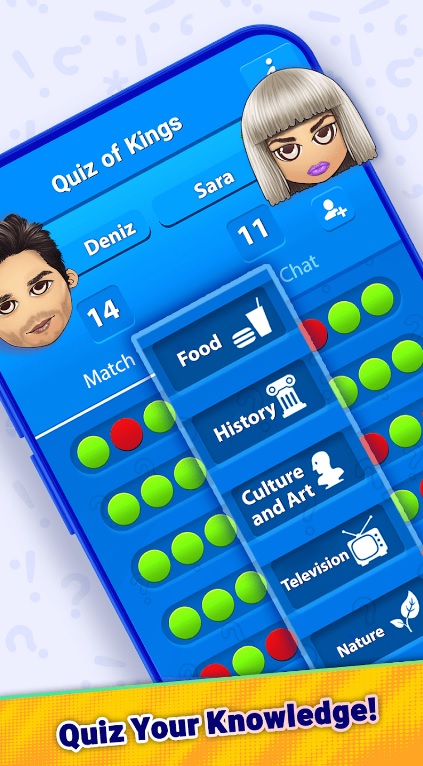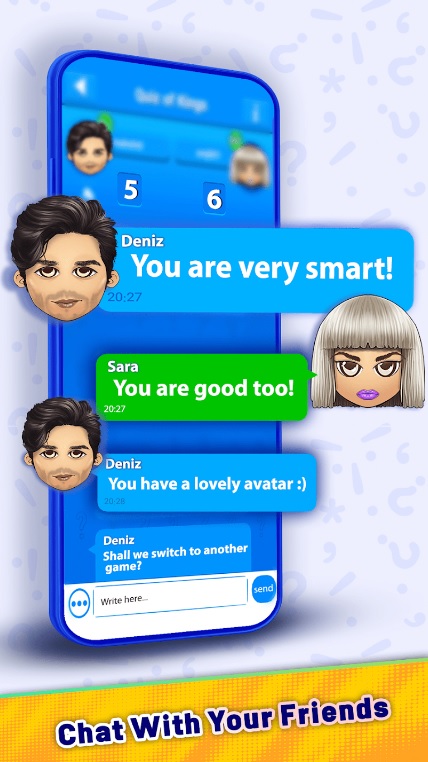 100 PICS Quiz
100 PICS Quiz game promises a fun and challenging experience that will put your knowledge and observational skills to the test.
At its core, 100 PICS Quiz is all about guessing the right answers. You'll be presented with an image, and your task is to guess the word or phrase associated with it. This gameplay mechanic adds an engaging twist to traditional quizzes and keeps you coming back for more.
What makes 100 PICS Quiz truly exciting is its extensive range of games and categories. With over 100 quiz packs and thousands of puzzles, you'll find a diverse array of topics to explore, from animals and food to famous landmarks and movie scenes.
It challenges your memory, improves your vocabulary, and broadens your knowledge in various subjects. It's an excellent tool for learning new facts and honing your problem-solving abilities while having a blast.
All in all, I strongly recommend you this quiz game for people who are looking for mental stimulation. With the help of 100 PICS Quiz you will learn a lot of new facts.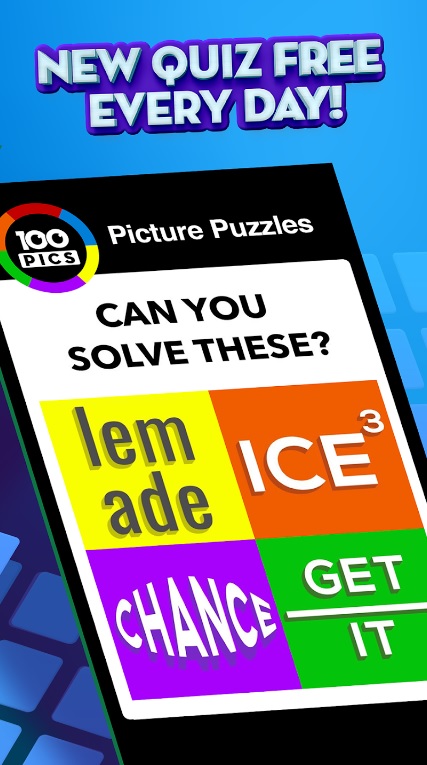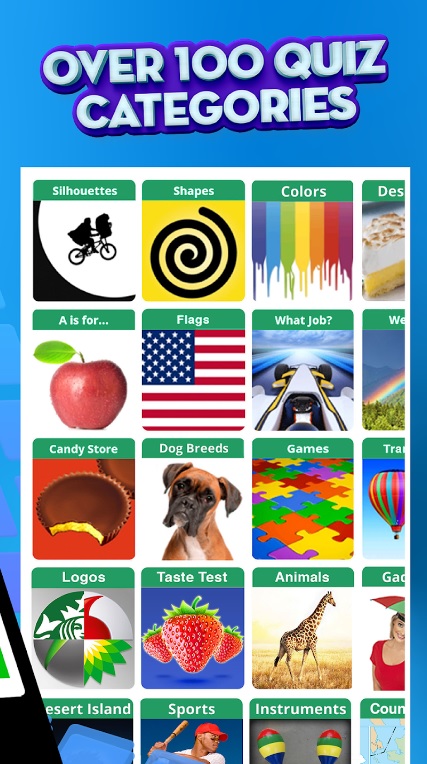 Trivia Crack 2
This is one of the most well-known trivia apps on the market.
If you want to sharpen your mind while having a great time—this one is for you. It's an engaging and colorful game with tons of queries to test your skills. The game covers such categories as art, science, movies, sport, beauty, and more. Herewith, you may rather solve questions from one topic or go for a mix.
You may also compete with friends to find out who is the smartest one. All the tests happen in real-time, so there's no time for cheating. The rules are quite simple—the player who'll get more questions wins.
The game covers some hints that may help you on your way, but it will cost you some points to get more. Besides, there are plenty of extra mini-games that let you earn bonuses and hints. You may also participate in missions to claim special prizes.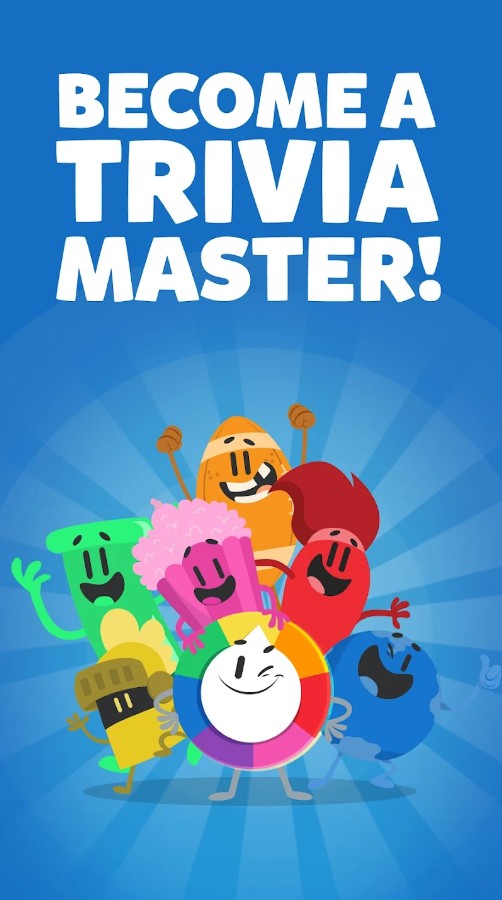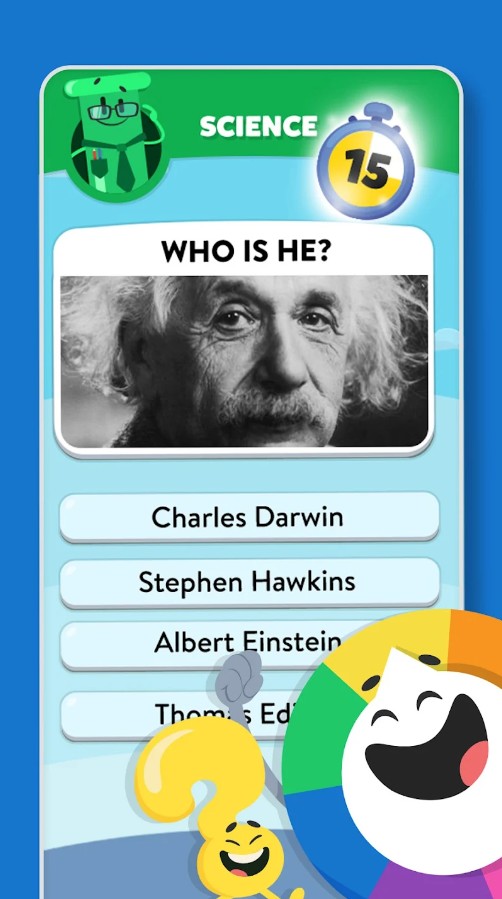 QuizzLand
This game lets you educate yourself while playing.
The game overs thousands of questions on different topics, and it's one of the best options for general knowledge resting. There are such categories as science, art, sport, nature, animals, books, movies, pop culture, and more.
You'll get to see all the responses to the questions you've got wrong, so nothing is being left unspoken here. The majority of rounds come with answer points, so there's always a chance to answer right. The amount of lvls is practically unlimited, so you'll be busy for a long time.
You may rather play solo or compete with your pals. You'll get points for correct answers, and these points can later be exchanged on hints and all that. Plus, you'll also have 3 lives for each level. There are also several difficulty lvls you get to customize if needed.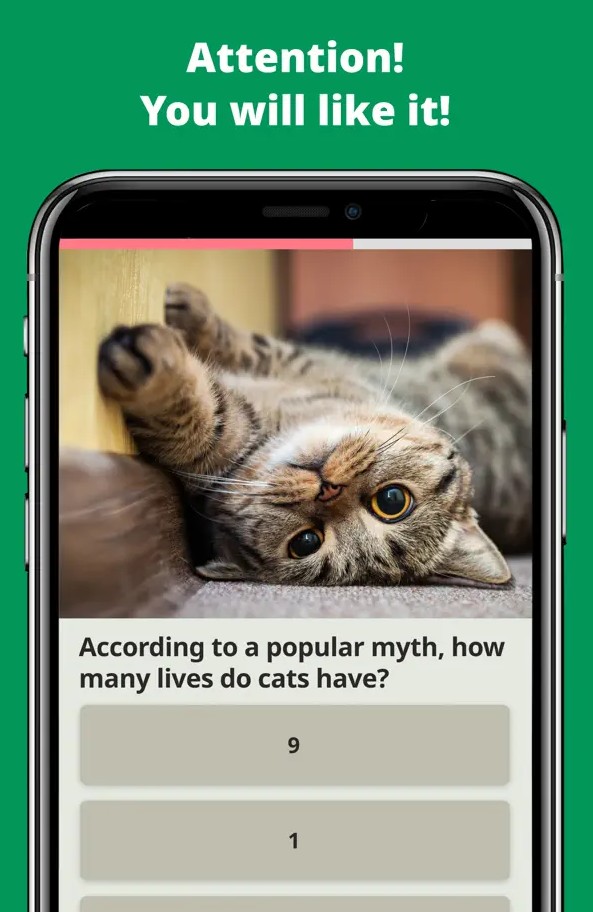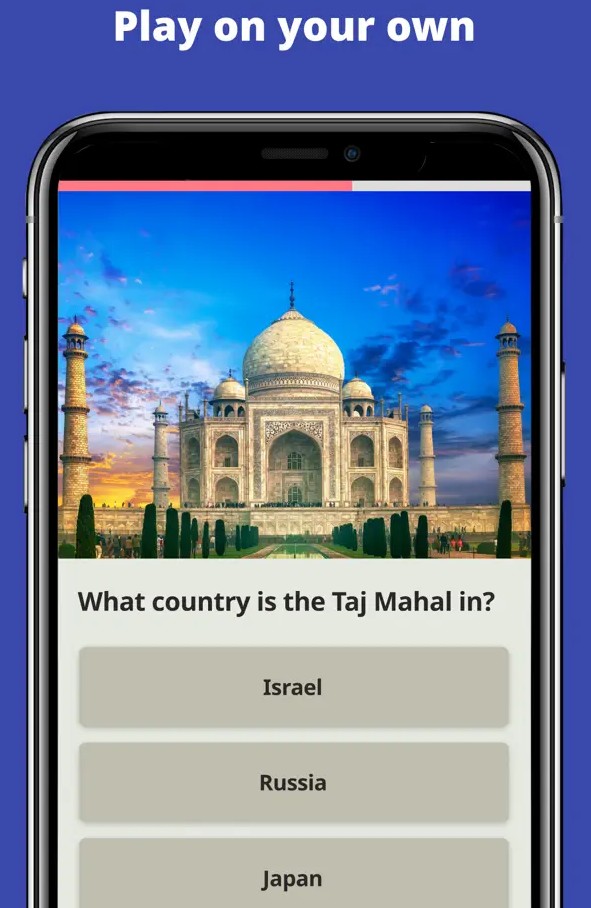 TRIVIA 360
It's a brain game that will test your knowledge level.
The game overs plenty of questions in different categories—from science to TV Shows, so there's smth for everyone. Plus, all the quizzes are sorted by concept, and you can pick the one you like most. The new question packs are added regularly, so you won't run out of material.
For instance, there are games with multiple-choice answers, the ones where you need to say if the quote is true or not, the flag quiz, geography riddles, and more. You may rather solve them all individually or go for a mix. The game comes with hints that will help you to move on from the toughest questions out there.
The game has a multiplayer mode, so you can stand against random users if required. In case you're not in a competition mood, you can always play solo to master your skills. There's also a leaderboard with the world's best players—it's time for you to climb it up.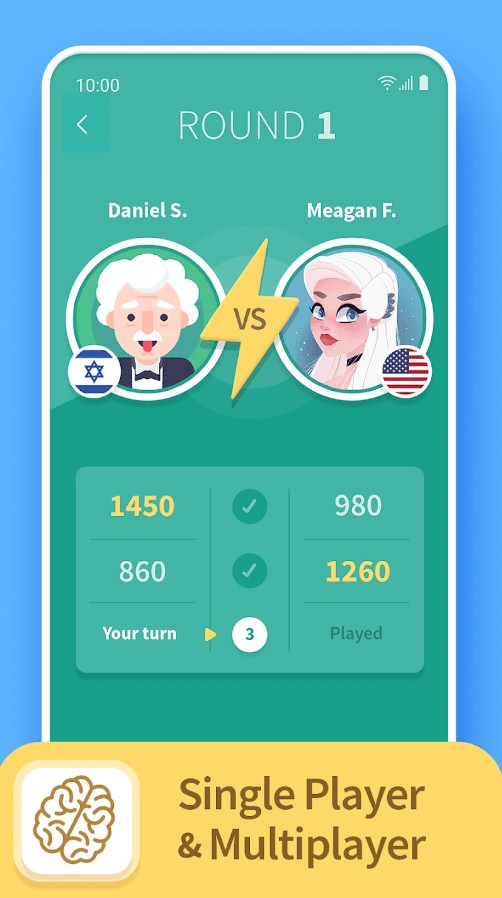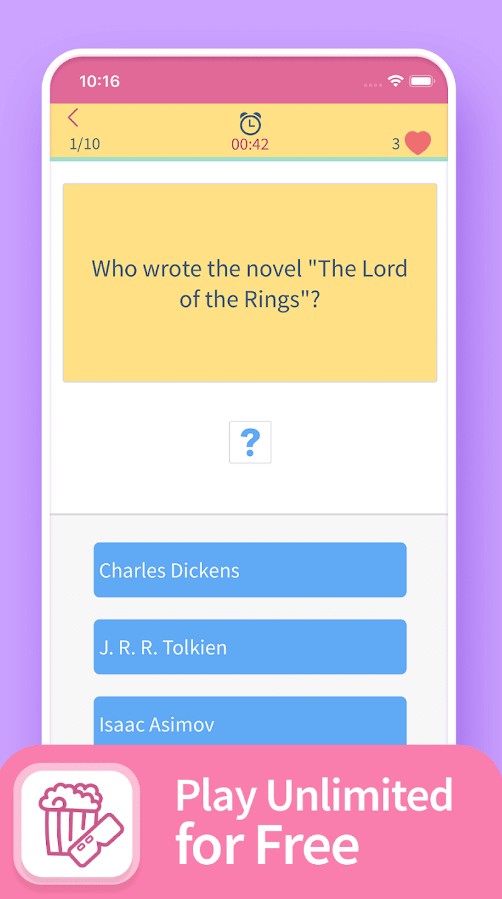 You may also check: 6 Best Games Like Wheel Of Fortune For Android & iOS
Big Questions Quiz
And lastly, we have a challenging quiz that tests your language knowledge.
If you wanted to learn or improve your English—this is your chance to do it in an entertaining way. The game is fully based on Oxford uni content and its top language learning pros. Your knowledge will be tested via text, pics, and audio. Plus, some questions will need you to record your speech.
The app covers 16 topics of questions—from numbers and time to travel, techs, science, and more. Thus, even if you're just starting to learn English, you'll be able to cope with it. Herewith, you get to adjust the difficulty level to match your skills.
The game runs offline, so you can use it at any time required. But if you're in a competitive mood, you may also contest with other users from around the world. There are no ads, and n paid sub packs, so it's a pure treasure.