Whiteboards are becoming more and more popular every year. Online or distance learning simplifies the teaching process without compromising the quality and level of knowledge. Whiteboards have many advantages over regular blackboard.
You can erase records at any time without leaving any traces. You can add pictures or visuals. Thousands of whiteboard apps have been developed. If you are an educator then you should definitely try these apps.
We have prepared a list of the 7 best real-time whiteboard apps for you. Read our review carefully and choose the best app.
If you want interactive whiteboard apps, check out this article.
LiveBoard Interactive Whiteboard App
This app will help you overcome timing and distance. You will be able to conduct lessons and seminars wherever you are. You will be able to work in real-time. This means there will always be feedback to you.
Communicate with students using chats and voice messages. The app will allow your students to feel their presence in the classroom. No matter where they are, they will no longer miss important knowledge. You will have complete control over the drawing, writing, and chat settings.
You can take your lessons to the next level. LiveBoard has a group division function. You can teach classes for several groups of students at the same time. Apply visualization techniques by adding pictures. The app supports all photo formats.
You can also turn your lessons into presentations. This will help you convey knowledge to students even more accurately. If you are a tutor, then this app will facilitate your work several times.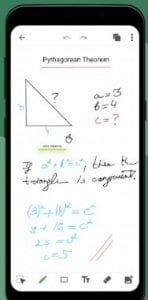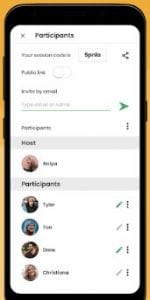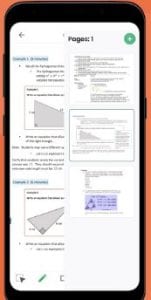 Record your lesson on video using the app and send it to students who were unable to attend. You can also broadcast live with social media and video holdings. Add multiple PDF pages to your whiteboard. Highlight lines right in the online tutorial.
You will be able to see a list of all the people who are present in your class. The app is 16MB. It has been installed over 1 million times. try it and you will be one of the 1 million people who have downloaded LiveBoard.
You may also like: 11 Free Whiteboard Animation Apps for Android & iOS
Explain Everything Whiteboard
Do you want to improve the performance of your students? This app will help you do this. You can expand your capacity with a real-time whiteboard. Your activities will no longer depend on time and distance.
Add media files directly from Google Drive or other clouds. You can script your lesson and the app will automatically include your voice messages when the time is right. Look at the list of participants in the session. Invite guests and experts using the link. Teach binary lessons with other professors.
Moreover, you can manage the group chat. Customize the message frequency and exclude unnecessary words. Share your webinar with students who were unable to attend. They will be able to watch your online lesson on the whiteboard and remember all the important information.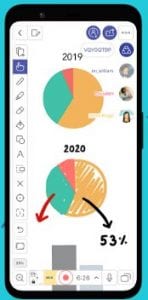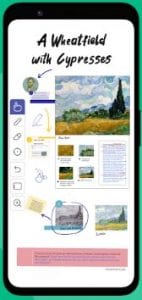 Whiteboard images do not lose quality. A high-resolution whiteboard with zoom in and out options awaits you. The app has a lot of creative tools for teaching the lesson. Your students will look forward to your new classes.
Collaborate with other teachers. You can add videos up to 60 seconds! This is a great opportunity to diversify the educational process.
The app is approximately 200MB. It all depends on the model of your device. All documents and PDF files are optimized. It means that the app will not spoil the contents of the files.
Miro: online collaborative whiteboard platform
Miro is an innovative whiteboard app that combines all the useful tools and features for quality lessons. One of the advantages of this app is the ability to brainstorm. Share the whiteboard with your colleagues or partners and you can take notes and add pictures together.
You can also chat using voice messages. Visualize your idea. The whiteboard in your pocket won't help you solve many problems. You can work remotely without wasting time on the road. Choose a tool for writing words.
The app has a large selection of brushes, pencils, and pens. Make your meetings public. Share the invitation link on your social networks and wait for new members.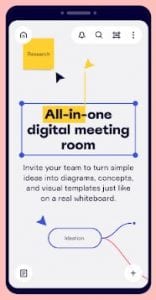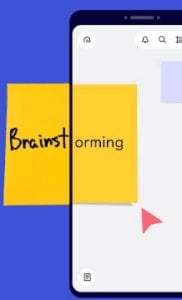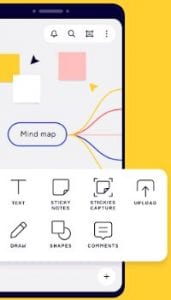 Edit text, change font, and size. Create a digital discussion room for important topics. The app is suitable not only for teachers and professors but also for any meetings. You can add whiteboard sticky notes.
It doesn't matter how far apart you are. This app will help you quickly and smoothly solve all crucial issues. The app will notify you of all updates. It has been installed over 500 thousand times. Download it and join a large community of time managing people.
Microsoft Whiteboard
Microsoft has created a great whiteboard app too. Your team will be able to create ideas, work, and communicate even if you are very far from each other. The multi-touch function works great.
The app will automatically recognize the shapes that you draw. All participants can edit the notes on the whiteboard. You can disable this feature. All of your work is saved to the cloud, so you don't have to worry about losing it.
Add pictures and graphics to visualize your idea. Collaborate with experts or teach tutorials. If you work in an educational center this app will allow you to expand your clientele. Start working remotely!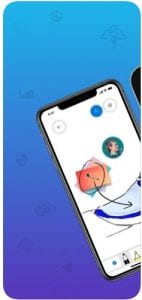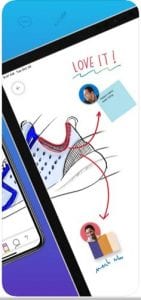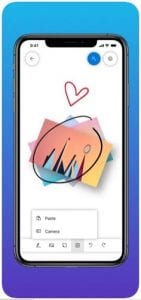 Sync the app with other devices for more comfortable work. The whiteboard will diversify your activities and make the learning process more interesting. This app is suitable for absolutely everyone.
You can have lessons, meetings, hang out with friends, and more. The possibilities of the app are endless. It takes more than 200MB, but at the same time, it has a huge amount of functionality and tools.

You may also like: 11 Best Writing Apps for iPad
Whiteboard – Draw Paint Doodle
This whiteboard app is more suitable for lessons. It is convenient to teach lessons because of the many useful tools. It has basic drawing tools. Use your fingers to paint. The app supports a multi-touch function.
You can customize the interface in the settings. Make it comfortable for you and your students. All records and pictures can be saved to the gallery. You can change the size and brightness of the brush.
Choose a color to paint. The app has thousands of shades. Insert pictures and art to visualize information. Your activities can become even more interesting with media files. The app supports video and audio.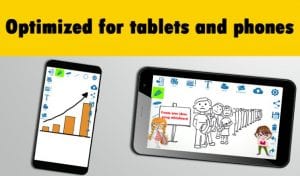 If you have children you can use this app as an educational tool. Let your kids draw in the app. Children's mode will remove all unnecessary things. The app has unlimited undo and redo.
Select the orientation of the screen. It is more convenient to use a horizontal orientation on the tablet. The app has been installed over 500 thousand times. Join thousands of users and let the white gloss make your life easier.
ShowMe Interactive Whiteboard
ShowMe is a standard whiteboard app. You can record live tutorials and share them on social media right away. The app does not have a complicated menu. Add the image to the whiteboard. It will take a few seconds.
You can quickly switch from drawing mode to erasing mode. The app has no screen recording limit. You can work at any pace. Conduct distance interactive lessons. The app will automatically save all your notes as soon as you finish.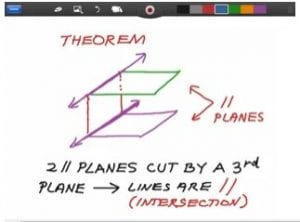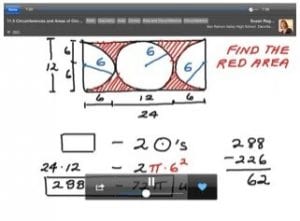 Use the app to explain any subject from geometry to chemistry. You can attach private messages or photos to the whiteboard for comfortable work. Create charts and graphs.
Mute your microphone while streaming if you have problems. ShowMe is a free whiteboard app. You can purchase premium options to expand your options.

Whiteboard
Are you an aspiring artist? Let the world know about you. This app will help you share your creativity. This is a great whiteboard in real-time. You can draw sketches online. Create your account and share your drawings. Get likes and comments.
Convey your personality through your drawings. You will be surprised by a large number of drawing tools. Thousands of colors and shades are waiting for you. Select a brush. Each brush has its own drawing property.
You can undo your action if you make a mistake. Wipe everything off the whiteboard with just one touch. You can save your drawings and also share them using social networks.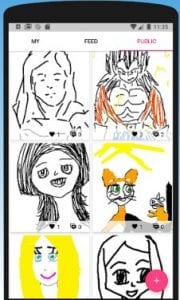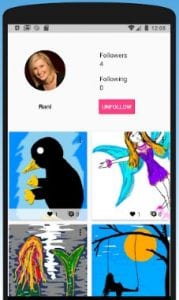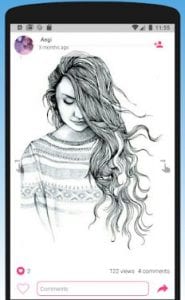 The app supports multiple screen orientations. It is suitable for both smartphones and tablets. Play live while you draw. Get advice from professional painters.
If your battery runs out and your phone turns off, don't worry. Your drawing will not be lost. The app has automatic saving every minute. Change the background color to better match your drawing or tone. The app has over 1 million members. It takes only 11MB. Try it and show your artistic talents.
You may also like: LetterSchool — Learn to Write! app review