If you are going to make a roof of your own house, you may find it difficult to calculate the number of materials you will need. IF you buy more than necessary you cant sell it after that or return back to the store. If you buy less you may not find the same material.
Calculation and estimation is a crucial part of any construction or renovation. In case f you are a roof specialist by yourself and have never heard about roof measuring apps have a look at this article where we are going to introduce you to the list of 5 best roof measuring apps for Android and iOS.
Roof Calculator
Roof calculator for iOS is an advanced helper for workers and house owners. The app is free to download thus it can be very useful to try even. If you need to calculate the roof size and its quite difficult because of their not standard sizes. This app will suit those who want to renovate their house and first of all the roof. Because it requires to buy asphalt shingles or metal sheets.
The interesting thing about this app and maybe the handiest is the ability to estimate the potential costs required to buy different materials to construct the roof. The app will analyze the size and the shape and will calculate the total square. After that, it will extract prices for different materials like shingles,  metal or rubber for flat roofs.
Of course, prices are approximate and depend on each shop. But you can at least see the amount of money you will need just to buy material excluding other costs.
To estimate squares and prices need to add roof slopes, house-ground dimensions, roof difficulty, tear off existence, number f floors, and chimney existence. If you have already tried to make a roof by yourself and found it too difficult you can find a roofer in your area directly through the app. Just set the criteria like roofing materials, timeframe, work requirements.
You will like also:  Top 10 scientific calculator apps for Android & iOS
Roof Calculator PRO
An officially paid version of the previous app that mostly oriented on contractors. Without a shadow of a doubt, it consists of vaster features and it reflected in the price. However, professional workers, the managers shouldn't find the price exorbitant at all. It works similarly.
The user provides roof details to make further calculations. However, unlike the other free app, this one has a huge number of different roof characteristics. For example, it can be mentioned how many chimneys the roof has, whether it has skylight flashing or ice and water barriers.
Type of roof shingles and number of floors. So as you can see, many details can be added.
Moreover, it's not just the main roof cover material that can be calculated through the app. Roofers can calculate underlayment trim, roof vents, nails.
In the end, roofers can estimate preliminary costs and send them to clients directly through the app as a quotation.
The app can be estimated everything that is necessary to start working on the roof. Labor costs and material costs for the total price that will give an outlook on the whole expenditure. Roofers can send such details proposals to clients.
The app costs $20.

Roofing Calculator Plus
Roofing Calculator Plus is an easy app with simple functionality and not a complicated interface. The developer of the app was obviously thinking more about the features of the app than about its design.
There is no design. But maybe pro roofers and house owners do not need it. What do they need is it calculate roof size to buy materials.
Usually, it requires writing the pitch only and the app extracts you other data like the length of the common rafter, length of the hip, angles of bevels including rafter ridge and hip.
Moreover, the calculator saves your 5 previous calculations. Thus you may avoid repetitions of your actions. The app allows you to share your calculations through e-mail social media.
This roofing calculator is uncluttered with annoying adds may because the app is paid by default.

Roof Bid Helper
Roof Bid Helper app for both platforms Android and iOS was created by a real roof specialist who has been working with roofs for many years. Having a huge experience he has decided to share some knowledge with others and working on this app he was pursuing the same goal – to help people.
The app should help other roofers, or house owners or insurance companies to make measurements. Based on the slope of the roof and length of roof elements the app can calculate total squares, hip /ridge, rake, hip, waste, valley. The final goal of making these measurements is to find total squares of the rood you are renovating.
This number will help you to buy materials and if you are a roofer it also will help you to evaluate your work. As long as different sizes and rood complexity determine the final fee of your work.
When open the calculator, simply add all the data you have. even if you have raw numbers of roofing dimensions. Undoubtedly you need to add details like slopes, rakes, ridges, hips, valleys.
All the hard work of calculating squares the app will do for you. Of course, the number will not be exact. There are some deviations, but the approximate number will give you an insight into what amount of material you must buy.
In any case, even we calculate something buy ourselves there is always excessive material left.
Pitch Gauge
Pitch Gauge is an app for your smartphone or tablet created to help you measure the roof before starting to work. Some roofs look so complicated and previously it was required to climb up using the ladder and hang somewhere up there trying not to fall.
How many people falling from roofs is secret statistics. But I can ensure you that they are many and many of them had broken different parts of their bodies even though it wasn't that high.
Nowadays not just professional roofers but house owners can use such apps thanks to their developers. Thus they can save time, simplify their work and save their bones. No need to use roller anymore.
Take your phone, install Pitch Gauge, by the way, it's free to download, point your phone's camera on your roof and measure its size.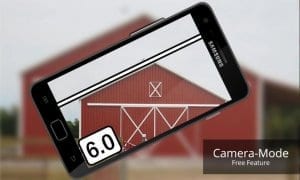 It's extremely easy. Firstly, align the screen line with the line of your roof to measure the slop. The app will calculate the pitch number and will display the number in the corner of the screen.
This way you can measure all slopes if they differ one from each other, in case you have a big house with different sections of the roof and section for the fireplace.
The app relies on the phone accelerometer, thanks to manufactures they have built-in this device into modern phones. However, holding the phone in our hands can result in less accurate measurements.
This way you can place your phone against the slope rafter. It will give you more accurate numbers.
Despite only slope measurements, the app can help you to define the whole roof size with measurements of each side. The app has a calculator where you need to fill the length of the roof, width, pitch and cut the level of the roof.
In the output, you will have a total number of squares required to make a roof and to buy material. As long as the roof calculation is much harder than just floor measuring, this app is a great help.
There are Android and iOS versions that are a bit different from each other. Both go with adds and in-app purchases.
You will also like: 13 Best time calculator apps for Android & iOS