Nothing better than sitting naked in a hot and humid room with strangers just to sweat like you never thought you could.
Visiting the sauna, steam bath, or infrared room is not only relaxing but can also have health benefits. It is important to maintain the correct interval mode.
These best sauna tracker apps will help you with this. By the way, apps to check room temperature are also a great option for sauna lovers.
SaunaControl
The app allows you to track time, duration, temperature, and sauna type for each session that you spend inside a hot room.
You'll then get statistics on the average temperature, humidity, and duration of your sessions. As well as the average number of sessions per week and month.
This app is for pretty much everybody who enjoys the sauna, steam bath, infrared, or hammam.
Especially those who plan to use the sauna a certain number of times per week or month. For them, this app is the go-to tool to track their sauna sessions.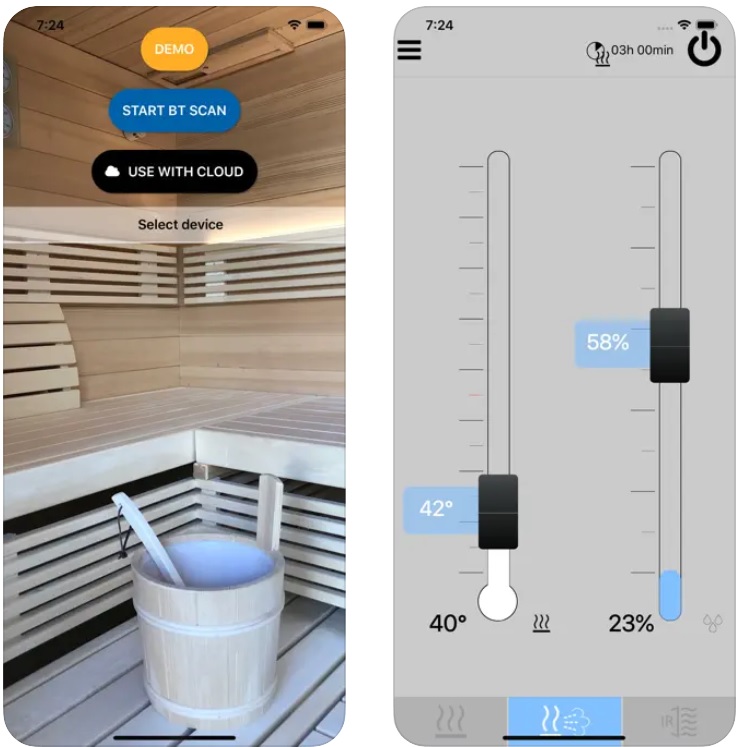 You can also check: 17 Best Time Tracking Apps for Android & iOS
Sauna
The Sauna app is your digital companion for tracking your sauna, steam bath, and infrared sessions. Sauna allows you to easily capture all the important details of your sessions like:
Sauna Type
Temperature
Humidity
Duration
Aufguss
Cold Shower / Plunge
The Sauna app also gives you insights into your sauna habits by appealing statistics so you can see whether you sweat as often as you would like to.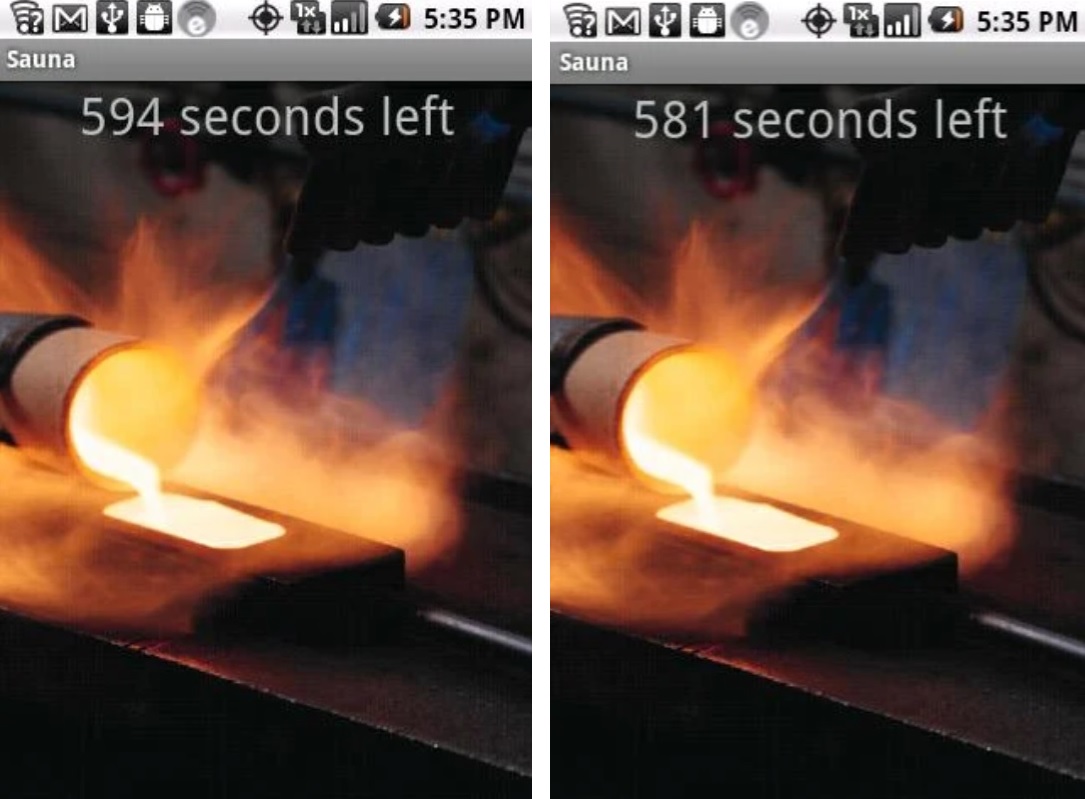 Visual Timer
It is an application with a clean and minimalistic interface that allows you to quickly start the countdown. Slide your finger over the dial, setting the interval, and press the start button.
Visual Timer allows you to create arbitrary pre-settings by adjusting the duration of the countdown and the color of the timer.
This is useful, for example, for visiting the sauna by different people. You can also control the program from the notification curtain.
In the application options, you can choose the direction of the arrow, assign sounds to the timer, or enable the night mode.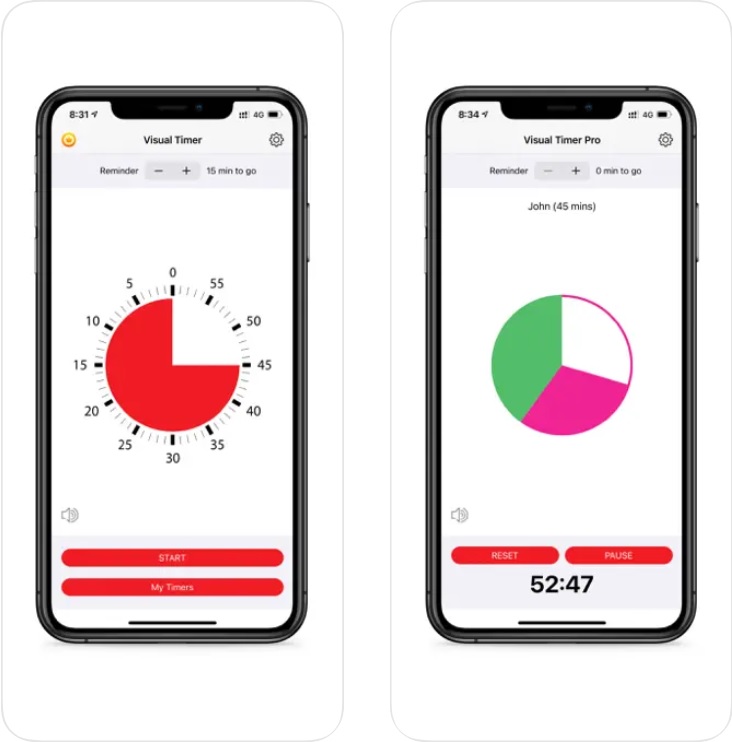 Timer Plus
This application is designed for sauna lovers. Timer Plus allows you to effectively alternate between heat and cold sessions.
The application also has a tobacco timer, round timer, and stopwatch for runners. Besides, nothing prevents you from creating your own time meters, if you stick to a non-standard training program.
Timer Plus has a very bright, contrasting interface, with which it is easier to watch for minutes without looking at the long screen gadget.
Besides, in the settings of the application, you can find several options. They allow you to interact with the timer without taking your smartphone.
For example, Timer Plus knows how to flash a flash or the screen of the device, warning you when the next session is over, as well as notify you by voice.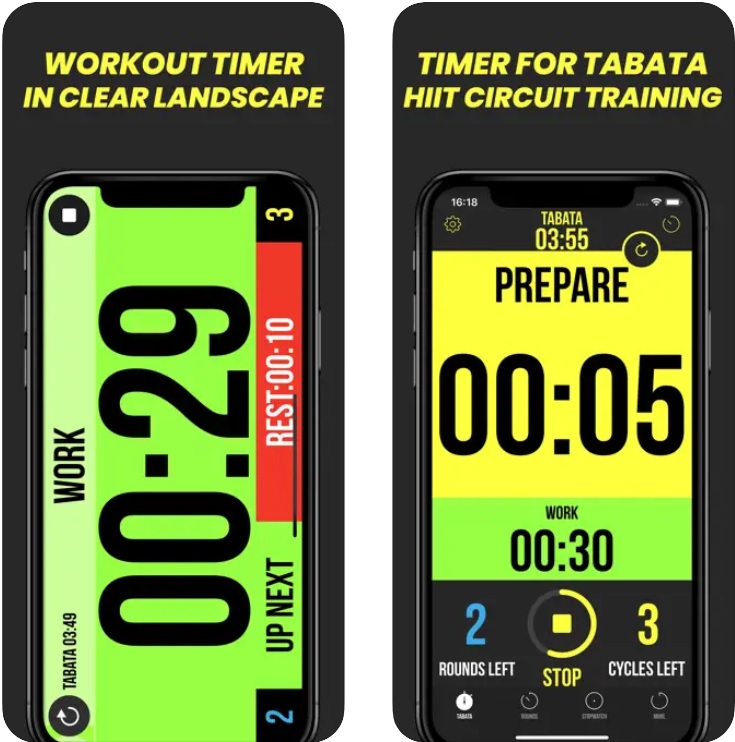 You can also check: 11 Free Apps to Measure Body Temperature (Android & iOS)
Minimalist Pomodoro Timer
This timer will surely appeal to those who like the Pomodoro technique. The application works on a simple and clear principle. The user starts the timer, counting from 25 minutes to zero.
The minimalistic design in dark and white tones is striking to the eye. It is possible to disable any distractions – Internet, calls, and vibrations
The program can be controlled by comfortable movements of your fingers on the screen.
In this case, the duration of the working session and breaks can be adjusted independently.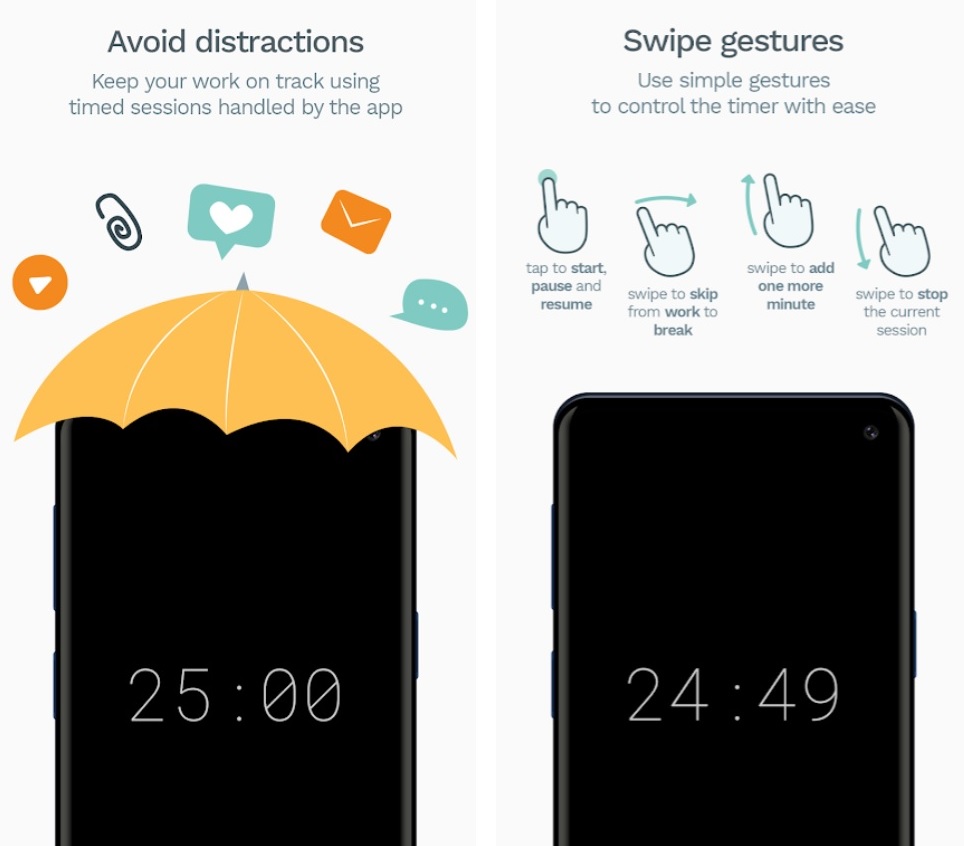 HoursTracker: Time tracking
HoursTracker is a useful app that allows you to track your work hours and earnings.
You just need to add your work hours, break time, and hourly rate, and the app does the rest. It allows you to track your earnings based on the hours you have worked, including overtime and taxes.
The app also lets you customize your work schedule, add multiple jobs, and set reminders for upcoming shifts.
One of the drawbacks of HoursTracker is that the free version of the app comes with ads, which can be annoying for some users.
HoursTracker is a good app for anyone looking to track their work hours and earnings. Its simple gameplay nuances and customization options make it easy to use for anyone, and its popularity speaks for itself.
Advantages:
Easy to use.
Customizable work schedule.
Tracks earnings based on hours worked.
Drawbacks:
Contains ads in the free version.
May experience occasional crashes.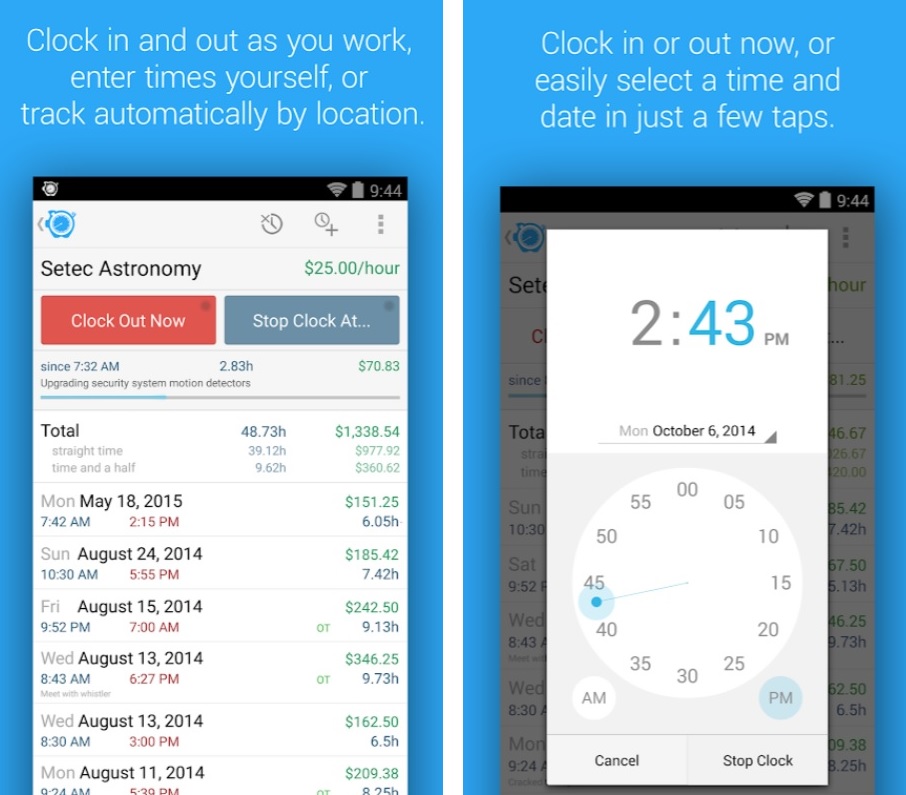 You can also check: 13 Best time calculator apps for Android & iOS
HotLog – Sauna Session Tracker
It is a useful tool for individuals who frequently use saunas to keep track of their sessions and monitor their progress over time.
Upon opening the app, users can log in to their account or create a new one. Once logged in, users can start tracking their sauna sessions by inputting details such as the temperature, duration, and humidity levels.
The app also offers the option to add notes to each session, allowing users to track their progress and make adjustments to their sauna routine.
One of the most impressive aspects of the Hotlog app is its visual appeal. The graphics are sharp and sleek, with a modern design that is both pleasing to the eye and easy to navigate.
The app's use of color-coded icons and visual graphs makes it easy to understand the data being presented and provides users with an instant overview of their sauna performance.
If you're someone who takes their sauna sessions seriously and wants to keep track of their progress, Hotlog is worth considering. With its ease of use, attractive design, and helpful features, it is sure to become an essential tool for anyone looking to optimize their sauna experience.
Advantages:
User-friendly interface
Detailed data tracking
Sleek and attractive design
Drawbacks:
No data export option
Difficulties syncing across multiple devices