Quite recently a computer or laptop was the main tool of a graphic designer. But technology is rapidly developing and there are alternatives, with the help of which designers can realize their ideas. Today, a smartphone or tablet is relatively inexpensive, it's not "elite" devices. Manufacturers are releasing entire smartphone lines for users with small incomes, a smartphone is no longer something unavailable.
Also check: 12 Best animation apps for Android & iOS
With the advent of the Android operating system, a real application ecosystem has appeared. With these applications, you can literally do everything, so it's no surprise that there are special Android applications for designers.
Many of these applications are powerful enough and functional, their appearance allowed designers to create whatever location they are. No more need to keep the idea in your head or sketch on paper: all you need is to get a smartphone out of your pocket, download the right application and start working. In this article, we offer to your attention 20 free Android applications for designers of 2017.
Infinite Design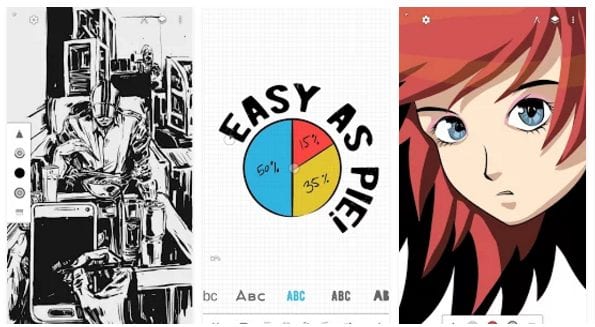 The newly released Infinite Design application is designed to work with vector graphics. With this application, graphic designers and web developers can create projects of any complexity using a smartphone or tablet running on the Android OS. This is not just a vector editor, the application allows the designer to create even three-dimensional images, all the functionality necessary for this is here.
In addition, Infinite Design has a number of innovative features, such as endless canvas, logical operations, grids and much more. The designer can add various effects when editing contours and control the process using the improved Pen Tool.
Price: free with in-app purchases
Adobe Photoshop Express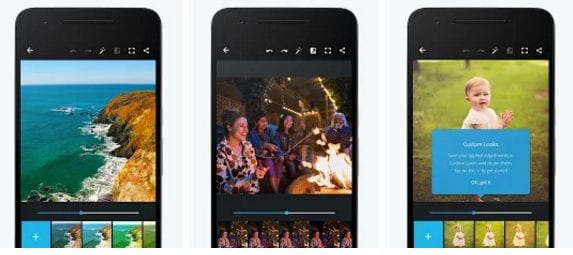 Looking for a good photo editing application? With Photoshop Express, you can easily correct the exposure and contrast on your photos, as well as crop the picture and impose special effects. The application is equipped with various image processing functions, so you can easily enjoy all the features of Photoshop on your mobile device based on Android. In comparison with the version for the desktop, the application, of course, presents fewer possibilities, but there are all the necessary functions.
Properties:
* Application management via a touch screen.
* Easy implementation of vignetting and "aging" of the snapshot.
* The app is completely free!
Edit and share photos from everywhere! You can access your photos and videos directly through your free account at Photoshop.com. Next, you can easily share photos with family and friends.
Price: free
PicsArt Photo Studio & Collage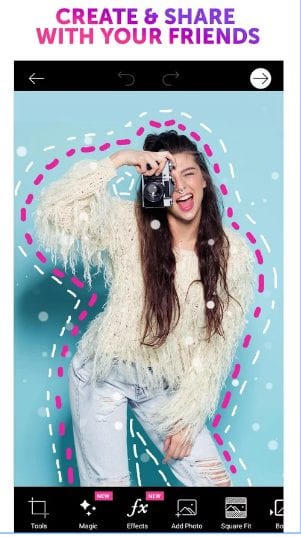 Picsart is an excellent program for processing graphics and creating a design. The wide possibilities of the application will give scope for your creativity – this is the creation of collages, and great artistic effects, from aging photos to PopArt, comics, and HDR. Thousands of designers have already used PicsArt: in it you will find hundreds of photo filters, layouts for collages and such powerful editing tools as the mode of overlaying, cropping images, adding text and much more.
PicsArt is rapidly expanding the capabilities of mobile technology and opens opportunities to the world that have not been available before.
Price: free with in-app purchases
Camera MX – Photo, Video, GIF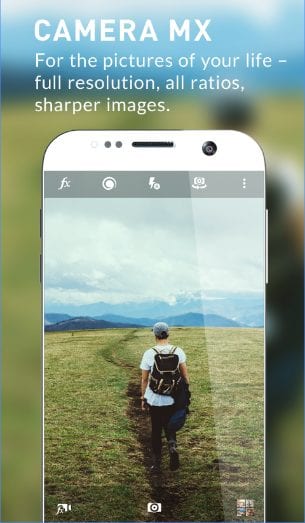 The application developed by Appic Labs Camera MX is designed for creating and editing photos and video content. This app became one of the most useful Android apps for designers. A distinctive feature of this application is the function of Live Shot, which allows you to save a few seconds of the image before fixing it. But popularity to this application brought unique sets of effects, among which the effect of rotation, color rendering, contrast control and cropping video.
Price: free with in-app purchases
ArtFlow: Paint Draw Sketchbook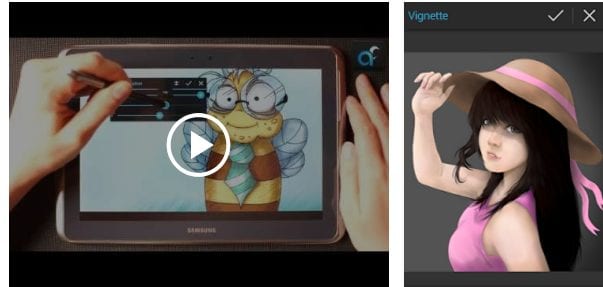 Artflow is one of the best drawing applications. The application was created to replace traditional notebooks and albums and was originally developed for smartphones running on Android OS. In Artflow there are over 70 brushes and there are all necessary tools for work. With the help of the application, you can create both simple sketches and complex graphic works.
The application has a friendly interface, which makes it accessible to all categories of users. The application can be launched if an eight-year-old child suddenly wanted to paint, while Artflow can be used by experienced designers, implementing their ideas. With the application, you can create files with a maximum resolution of 4096×4096 pixels, which makes it attractive enough for professionals.
Price: free with in-app purchases
AutoCAD 360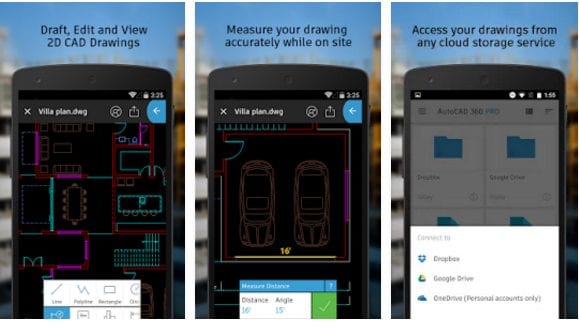 AutoCAD is one of the most useful Android applications for designers. This is an Android version of the same software package for desktop computers.
The mobile application AutoCAD 360 has many functions and tools. Of course, many functions of the program have been removed for using on smartphone-class devices, but with its help, you can fully open to view, edit and forward DWG files. For this purpose, you can use email, Bluetooth, WiFi or any other application capable of transmitting data. Of course, you will not create Complex projects with AutoCAD 360, but for basic methods of work, the program is quite suitable.
A convenient interface and many useful features greatly simplify the process of creating drawings. The application is highly specialized, it does not have many drawing tools, but everything is there. Still, AutoCAD 360 is "sharpened" for the design and all the functionality is designed to make it possible to create drawings of any complexity in the application.
Price: free with in-app purchases
Adobe Illustrator Draw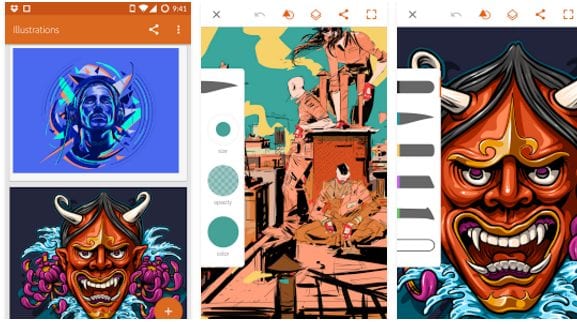 The creation of Adobe, the Illustrator Draw application is a powerful vector editor working on the mobile operating system Android. Using the application, the user can easily create complex vector illustrations. The editor has an intuitive interface with convenient touch controls. The application has 5 built-in brushes, with which you can create quick sketches. In addition, Illustrator Draw supports the most advanced drawing tools, such as Adonit Jot Touch, Adobe Ink, Apple Pencil, etc.
With the help of the application it is possible to implement even the most complex ideas, creating contours takes minimum time, Draw has many effects, one design project can include up to 10 layers, and there is also the possibility of importing photos.
Price: free
Color Pop Effects Photo Editor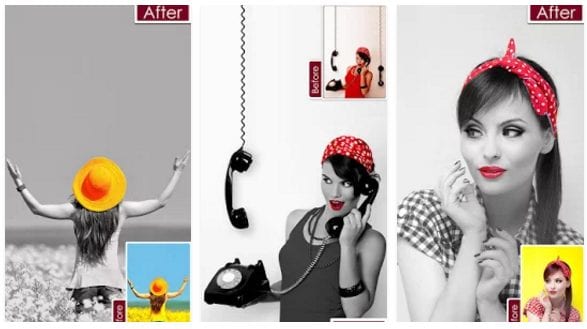 The idea of adding a bit of color to a black and white image is far from being new. With the advent of the application Color Pop Effects, the process of creating such illustrations has become much easier. The application has a powerful functionality, there are opportunities for panning and zooming, the user can use undo and redo, adjust the brush size and control the opacity. There are many ways to accurately color the fragments of the illustration, in addition, the created image can be shared with users of social networks – the picture can be shared without leaving the application.
Price: free
Type: Rider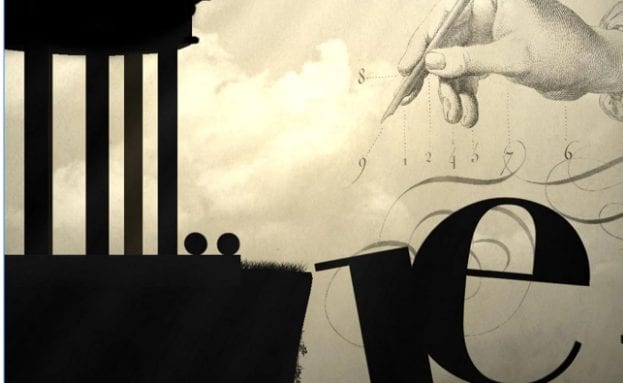 If the designer is a beginner but wants to know more about typography and fonts, then he should install the Type: Rider application on his smartphone or tablet. This is a very useful application that will make the learning process more interesting. In fact, Type: Rider is a game that helps the user to get acquainted with the history of typography, learn a lot about fonts and various symbols.
Price: free with in-app purchases
Adobe Photoshop Lightroom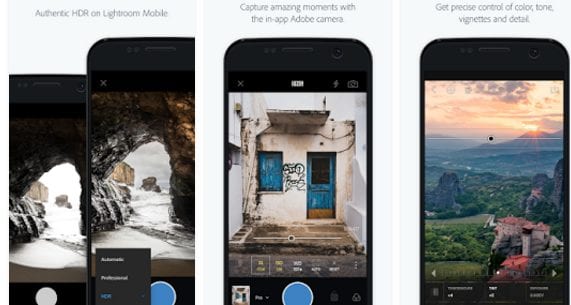 This program is created for professional photographers. Adobe Photoshop Lightroom is a graphical program from Adobe.
The advantage of this program is that it can work with photos in the format JPG, PSD, RGB, RAW, and others. In addition, this program can perform a number of functions: it creates a slide show, it can be used as a cataloger, and most importantly – the program Lightroom is an excellent editor. Thanks to the function of the cataloger, you can quickly find those pictures that you need, as well as combine them into groups and mark those pictures that you need. Each photographer tries to reduce his time for processing photos. The program Lightroom is designed for this. How does this happen? Virtually all photos need to be processed automatically. For example, lighten. This program can automatically produce a template processing that does not require monitoring.
Price: free
Color Touch Effects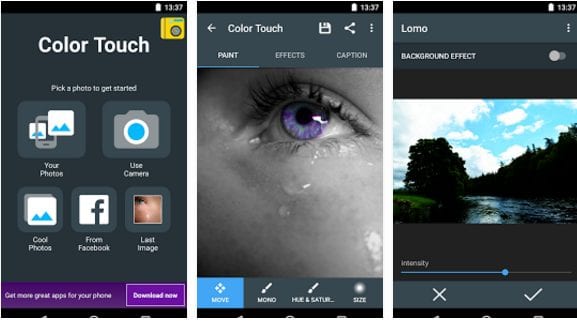 This is an innovative Android app for designers. Color Touch Effects allows you to change the color of images and apply cool effects. You can select an image, convert a photo to black and white, or apply a sepia effect.
Price: free with in-app purchases
Design Dimensions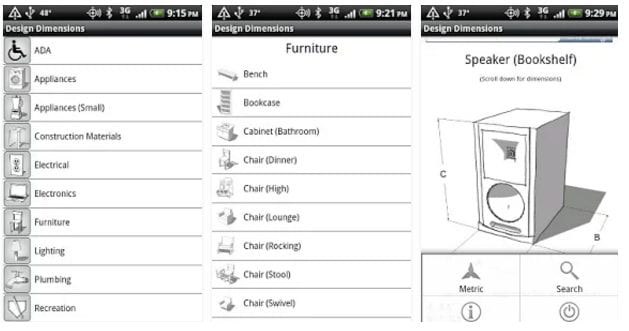 Using Design Dimensions, you can find that now you can easily view hundreds of illustrations and images in order to find exactly what you need.
This application contains thousands of models with exact dimensions, among which it's easy to navigate, what makes it really useful for everyday use.
Price: free
Autodesk SketchBook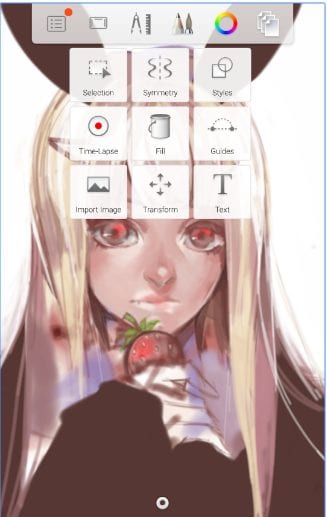 It is one of the most recent applications that will turn your smartphone into a real workstation. A set of high-quality markers, digital pencils, and an excellent user-friendly interface will help Android users create real masterpieces. This application is a favorite among many artists, designers, and illustrators.
Properties:
* Advanced layering and brush settings.
* Ability to change the display density level of the selected tool.
* Professional application with a full set for creating sketches and sketches.
Price: free with in-app purchases
Color Grab (color detection)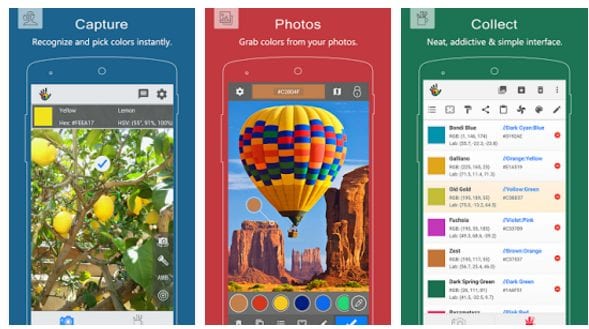 Color Grab (color detection) on Android is a professional solution for designers and artists that will help with color recognition.
Color-Grab allows you to select, detect and recognize colors with the camera. It is noteworthy that the program supports the most common color models, is able to mix colors, and also provides various options for exporting to third-party editors.
The user interface has a modern design. The main menu consists of several tabs that allow you to capture color from the camera, as well as analyze already finished images. Here export functions, and the built-in mixer, and even the option of instantly setting the color on the desktop.
Color Grab (color detection) – this is an indispensable tool for Android, which will be interesting for designers and artists.
Price: free
Color Pal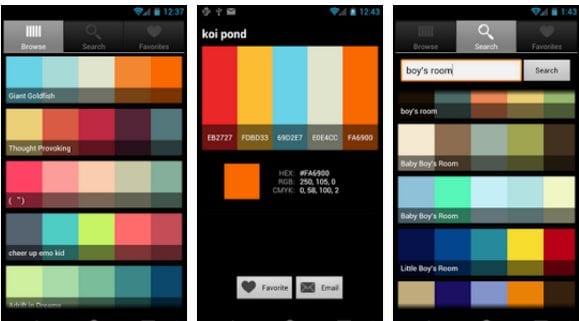 Can not choose a color palette? Color Pal is one of the best available applications on the Android market, which is a perfect tool for selecting a color palette. You can easily expand the color palette by selecting additional colors. Under each color, you will be able to designate the code in several formats: RGB, CMYK or in hexadecimal.
Properties:
* Color palettes can easily be saved to favorites or sent by email to your customers or friends.
* Ability to go to similar color palettes.
Price: free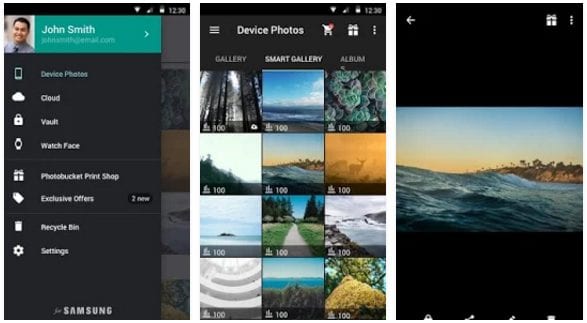 Now you will have access to your photo album Photobucket from anywhere if you have your Android-based smartphone handy. You can log into the album through a special application Photobucket Mobile. It is important for each designer or developer to have an access to a personal album in order to download or upload photos and illustrations.
Properties:
* Album management Photobucket
* Ability to copy URLs to images and then post them on the Internet.
Price: free with in-app purchases
ES File Explorer File Manager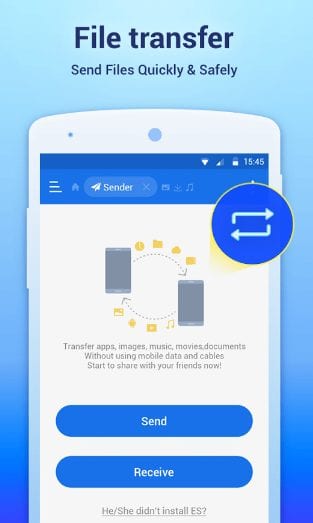 You can control your sketches and images with this Android application, as it greatly simplifies the process of transferring files from your mobile device to your PC, and vice versa. This is probably the best application for managing files.
Properties:
* A file manager that allows you to work with files on your mobile device and on your PC at the same time.
* Integrated ZIP archiver
* Ability to select and send multiple files at once.
Price: free
PhotoShake!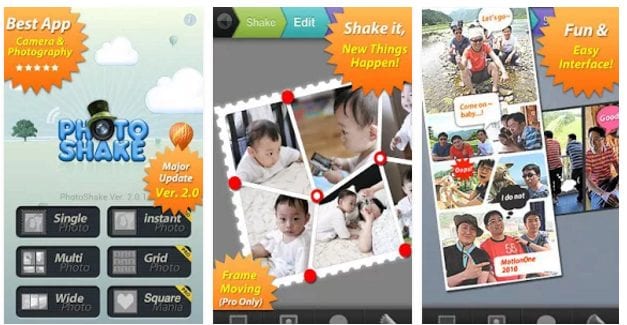 With PhotoShake, you can combine one or more photos to create impressive new images. PhotoShake is a photo editing program that you can use to share photos with family and friends through social networks.
Prosperities:
*Support for 6 different themes
*High-quality photos
*Ability to edit and move photos
*Ability to save photos to your device
Create beautiful collages, using ready-made templates. Share photos, or save a finished photo on your device.
Price: free
iDesign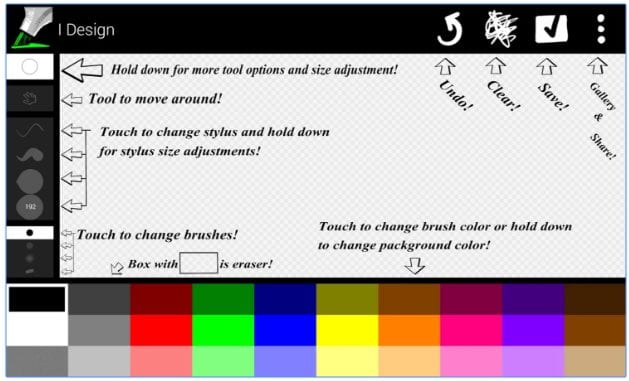 If you need an application that emphasizes on design and drawing, iDesign will be the perfect solution for you. It will allow you to create high-quality illustrations and drawings. One of the advantages of the application is that as a tool you can use not only the stylus but also your own finger. But, in fact, iDesign has many features, including layering, smooth zooming, iCloud support and much, much more.
Price: free
Fresco Paint Pro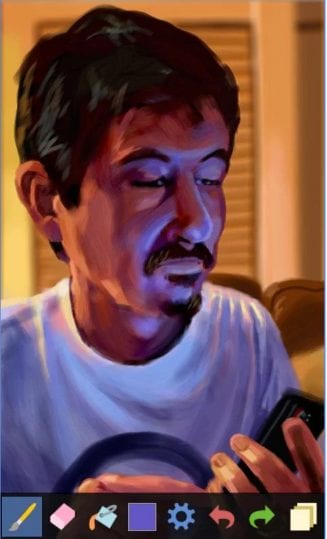 As the name implies, the Fresco Paint Pro application is designed to create a digital painting. This is one of the best graphic editors for drawing, which can be installed on smartphones with Android OS. What is available: the ability to create 4 layers, there are 12 pre-installed brushes and 21 filters. The application allows users to have a real drawing experience. Also, designers can share images that they post on Facebook, Twitter or Dropbox.
Price: free
Today, a rare designer does without mobile devices. They help us to be always in touch, to follow what is happening in the world and in design. However, a mobile device can be even more useful if you install some applications on it that will help you in your work and creativity. Our today's material was about such applications. We hope that the post was useful for you. Be inspired and create!