At present, to draw a colorful poster or a bright booklet does not present any complication for the advanced user, since there is a huge number of graphic editors and specialized utilities. It is widely believed that to create a poster you need to have "special" knowledge and skills in graphic editors. However, after getting acquainted with our selection of applications you can completely change your mind. Everyone can create posters in these simple and compact applications.

Canva
Poster+
Is it possible to make a quality poster and banner using only a mobile phone? The answer is – yes, it is only necessary to install a special application Poster+, which will be a salvation for everyone who wants to be a graphic designer, without resorting to the services of third-party specialists and not finishing art school.
Any blog, newspaper or website will look much more professional and decent if you learn how to create posters or posters using the application Poster+.
Learning to work with this mobile application does not require significant effort and time, you can even not understand it at all, but only do posters using a personal photo template.
What is Poster+?
The mobile application meets the user with a huge selection of ready-made posters, among which everyone can find their own, taking into account personal preferences. Here are the best posters, once created in the US by good designers. It is worth noting that in this archive posters of excellent quality are stored.
Using the Poster+ mobile application, you can do various experiments with text – and change the font size, and change the color, and choose a different font.
The user should not forget about the need to put a personal photo on the selected poster. You can use the special Camera button or load a photo from an existing album using the Photo Albums button.
Entertainment with Poster+
After choosing a poster, writing a text and placing a photo, you just have to be entertained. The poster can be passed through various filters to try different styles of billboard design – and vintage, and theatrical, and many other styles.
With the mobile application Poster, you can now print high-quality posters and make the surrounding city more beautiful.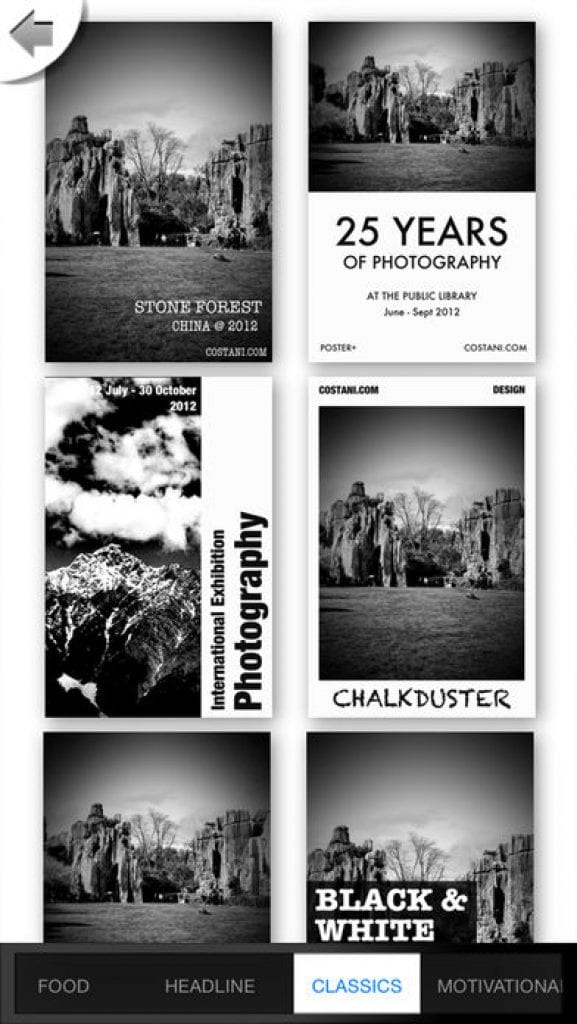 Over
Poster Maker & Poster Designer
Make your photos more attractive by adding a frame or a mirror effect. A wide range of frames, borders, scaling, the ability to choose both your photo and the standard background – all this can turn a regular picture into a colorful poster.
Different types of fonts will allow you not just to create a quote, but whole designer art. Templates of your choice, unique touches will transform your photos beyond recognition, so it will be difficult to distinguish whether this poster is made by a professional or ordinary user.
Save your masterpieces and share them with your friends. The application is constantly updated and new features are added.
April – Poster Maker
Do you want to create really unique photos? Then make them a real masterpiece using this application. You can combine photos with each other, and create an album for yourself, the location of photos depends only on your desire, so the application itself will offer you some figures. In addition, it is quite easy to do, and you can literally choose the right photos on the move, and remove those that are not needed. Now you can create posters with your image easily and simply!
PosterLabs
Cover Photo Maker & Designer
Excellent photo designer, which is preferable to use for social networks. The application includes several useful functions, including the use of various filters. Here you will find about 200 textures that have a tuning function, as well as 80 fonts. With these tools, you can give your photos a completely different look. So, you will not find identical posters from other users.
To your photo or poster you can add an unlimited number of fonts and textures, accordingly, your photo can have any size. The main display contains advanced filter categories, which makes it easier to find a newbie. A free application means advertising but it's not intrusive.
Use this application and change your photo beyond recognition!
PostWrap
The application can transform ordinary text into colorful posters. You will not be able to add any photo over the text, but it will not be difficult to print the text on the photo. Decorate your page in social networks or present an unusual gift to your loved ones.
Capabilities:
Create posters with or without background.
Wide choice of texts.
Automatic drawing up of posters by the program.
Add not only a font but also effects, colors, etc.
Customize the text at the discretion of the user.
Unlimited amount of text on the poster.
Create your own font.
Download additional fonts.
Save your poster and share it with your friends.
An extensive color palette.
Poster Maker
Do you want to convert your posts into advertising posters quickly? Then download the Poster Maker application. Just a few clicks and a presentable poster is ready!
With this application, you can decorate the status, quote, send an original greeting or wish.
At your choice, there is a wide range of attractive gradients and backdrops, 88 fonts, as well as 365 decorative and design components and different categories of posters.
Unite, mix, create!
Notegraphy
Notegraphy – an interesting service for Android, which was developed by the same company. Decorate your own notes and quotes of famous people!
Capabilities
This service allows you to arrange text notes and quotes with the best design templates. It is enough to choose only the variation that you like and save the result. The service offers 25 original templates, which are presented in several color solutions. Thanks to the built-in social network, you can share quotes in the news stream and view the work of your friends. The application is distributed on a free basis and does not contain advertising.
Interface
The main menu is implemented as a miniature personal page that displays published notes and a list of subscribers. You can invite your friends directly to the main menu and view their quotes in the news feed. The editor is extremely minimalistic and contains only the necessary graphic elements. So, all 25 templates are displayed at the bottom of the screen, which is very convenient and does not require additional knowledge.
The result
Notegraphy is an interesting service that has no visible drawbacks. Registration of notes takes place in a few simple clicks, and a wide selection of templates will please even the most demanding users.

Photo Posters
With this application, you can create posters of 8 suggested types: from birthday to party. Choose a category and style of the poster and create! You can edit the text so that your posters look even steeper!
Baby posters – here you can make an unforgettable birthday of the child or another significant event of the baby.
Graphic posters – suitable for graduates. Share the joy of graduation, create a stunning poster and let this day remain forever in your memory.
Wedding layout – invitations, engagement ads and much more is available in this category. Make your wedding unforgettable.
Posters for parties – here you can also draw up invitations to your party, they will be bright and exciting.
Posters for sale – let people know about discounts or promotions in your store.
Posters about finding people – post a photo of the missing person missing, create and print a poster. So you will definitely speed up the search.
In addition, the application includes posters with celebrities, photo posters with a grid and much more.