At present, to draw a colorful poster or a bright booklet does not present any complication for the advanced user, since there is a huge number of graphic editors and specialized utilities. It is widely believed that to create a poster you need to have "special" knowledge and skills in graphic editors.
However, after getting acquainted with our selection of applications you can completely change your mind. Everyone can create posters in these simple and compact applications.
Make your art process even more faster and easier with these free wall art visualizer apps.
Poster Maker With Name and Image
Poster maker is a good-quality designing app. It doesn't require its users to possess any designing skills and the steps are rather intuitive.
The first step is to choose a background by clicking "Background" on the bottom right corner. If you wish to upload your photo instead of picking one from the given ones, press the "Photo" button.
Then, you will see all the editing options on the bottom of the screen. Press "Add Text" and you will be able to pick the font, size, and color of your text; you can place the text wherever you want and rotate it as well.
If you push the "Sticker" button various stickers will pop up to put on your poster. What's more, you can edit those stickers and put any text you want on them as well. "Effect" lets you adjust the brightness of your poster.
The interface is appealing and real simple.
The app is updated often enough so all the bugs are fixed and users' suggestions are taken into consideration. If you have any concerns email the developers on dktechnologies5223@gmail.com.
This is a great app if you want to make a good poster for your family and friends but if you need something more professional then this might not be the best option. It is also free for everyone to use!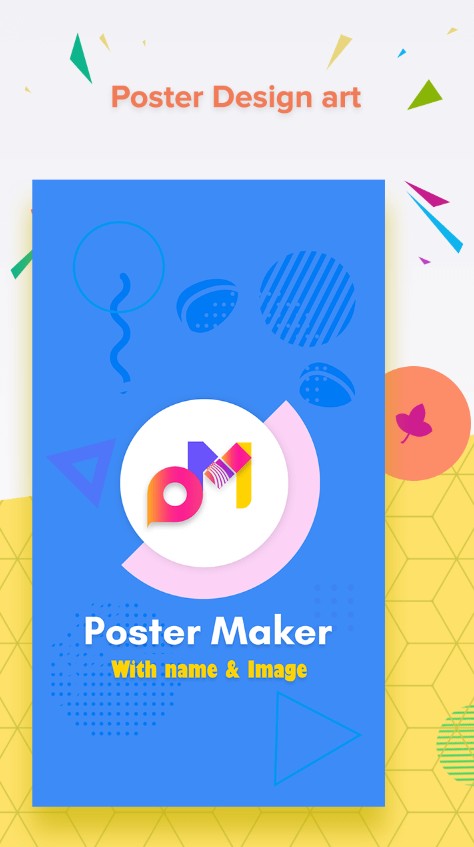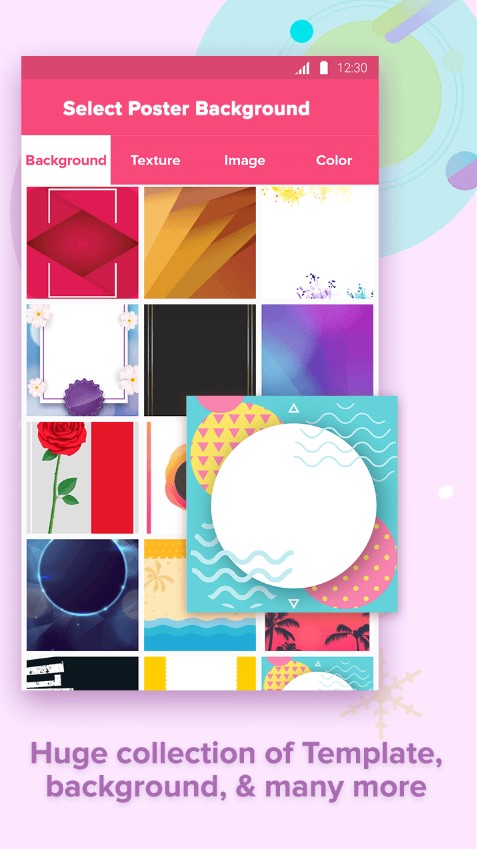 You may also like: 11 Best Banner Maker Apps for Android & iOS
Poster+
Is it possible to make a quality poster and banner using only a mobile phone? The answer is – yes, it is only necessary to install a special application Poster+, which will be a salvation for everyone who wants to be a graphic designer, without resorting to the services of third-party specialists and not finishing art school.
Any blog, newspaper or website will look much more professional and decent if you learn how to create posters or posters using the application Poster+.
Learning to work with this mobile application does not require significant effort and time, you can even not understand it at all, but only do posters using a personal photo template.
What is Poster+?
The mobile application meets the user with a huge selection of ready-made posters, among which everyone can find their own, taking into account personal preferences. Here are the best posters, once created in the US by good designers. It is worth noting that in this archive posters of excellent quality are stored.
Using the Poster+ mobile application, you can do various experiments with text – and change the font size, and change the color, and choose a different font.
The user should not forget about the need to put a personal photo on the selected poster. You can use the special Camera button or load a photo from an existing album using the Photo Albums button.
Entertainment with Poster+
After choosing a poster, writing a text and placing a photo, you just have to be entertained. The poster can be passed through various filters to try different styles of billboard design – and vintage, and theatrical, and many other styles.
With the mobile application Poster, you can now print high-quality posters and make the surrounding city more beautiful.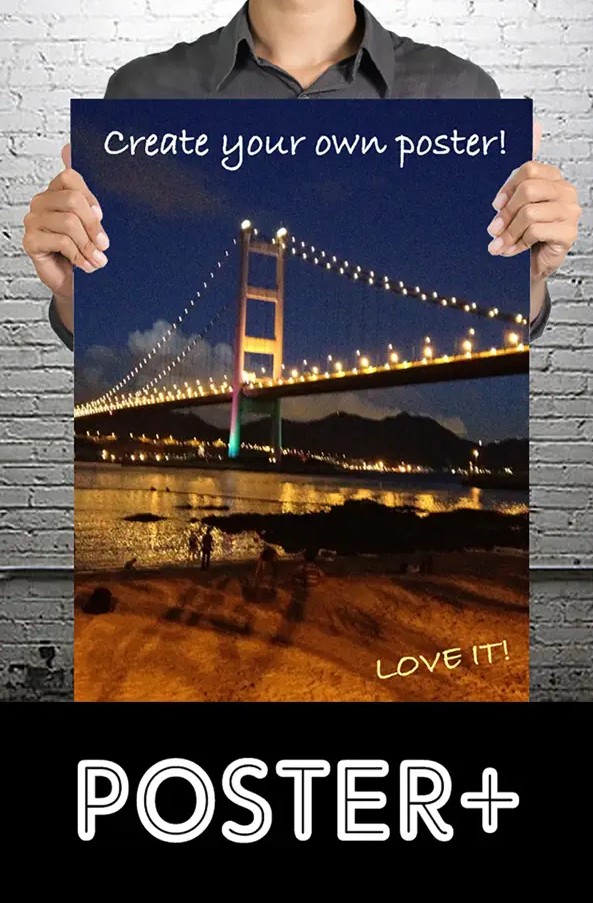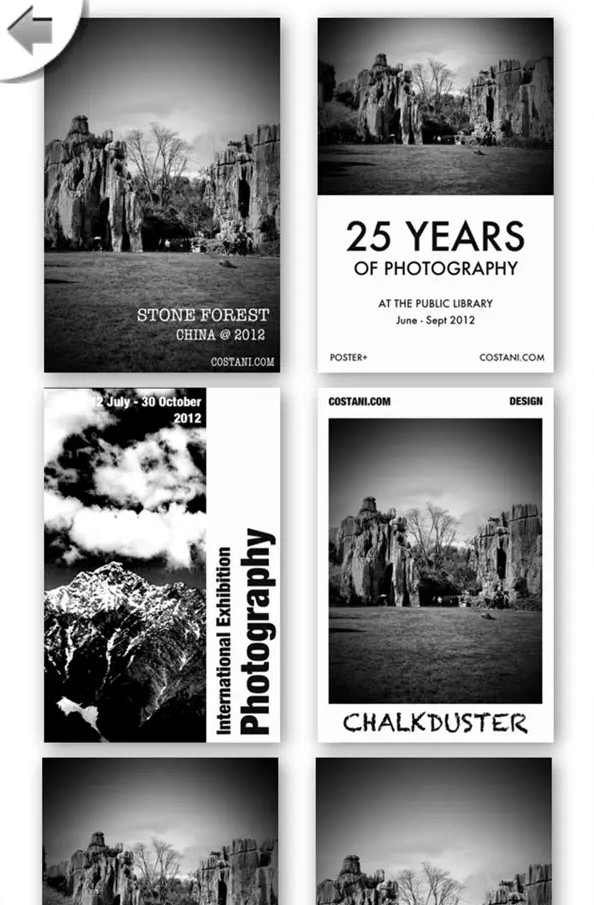 Poster Maker, Flyer, Banner Maker, Graphic Design
This app is an editing app of good value.
The first step is to select a template. There are over 50,000 of them so you will be able to find the one you need. They are also distributed by themes, which will make your search easier. There is a little searching engine in the app as well.
Type in the theme you need and get appropriate posters in a few seconds. The templates are of different sizes and you can choose a flyer, poster, card, or banner.
To edit your text press the "Text" button on the bottom left corner, and a new window will pop up.
It has the option to change the font, color, and size of the text. What's unique is that you can also adjust the opacity of your text or put a little shadow on it. When you press "Sticker" numerous stickers, like "sale", "best price", "special offer" will appear.
When you are done you can choose whether to save your poster on your phone, SD card, or share it on social media.
Even though the developers say that the app is completely free in the description, it turns out that there are in-app purchases.
If you don't have any skills in graphic design this app will suit you well because of all the templates provided and the easy interface. It is regularly updated; new features are added and bugs are fixed.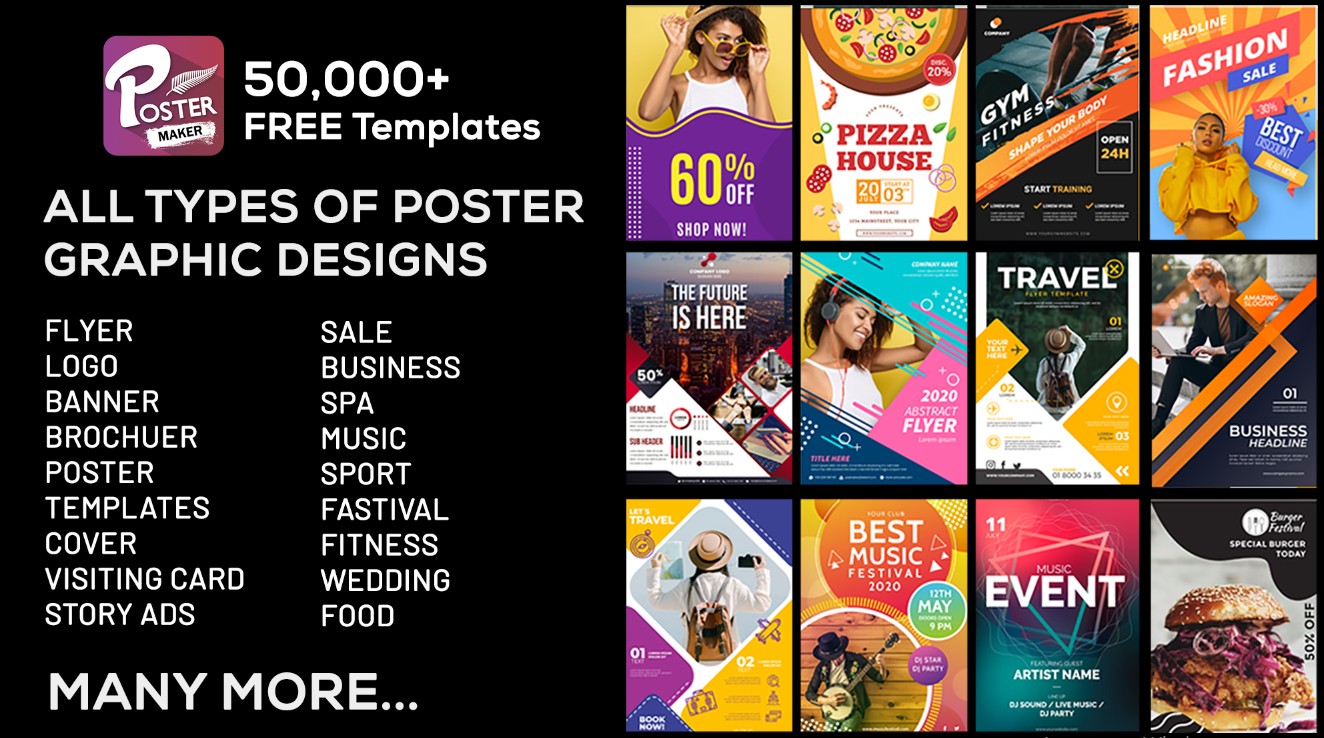 Poster Maker & Poster Designer
Make your photos more attractive by adding a frame or a mirror effect. A wide range of frames, borders, scaling, the ability to choose both your photo and the standard background – all this can turn a regular picture into a colorful poster.
Different types of fonts will allow you not just to create a quote, but whole designer art. Templates of your choice, unique touches will transform your photos beyond recognition, so it will be difficult to distinguish whether this poster is made by a professional or ordinary user.
Save your masterpieces and share them with your friends. The application is constantly updated and new features are added.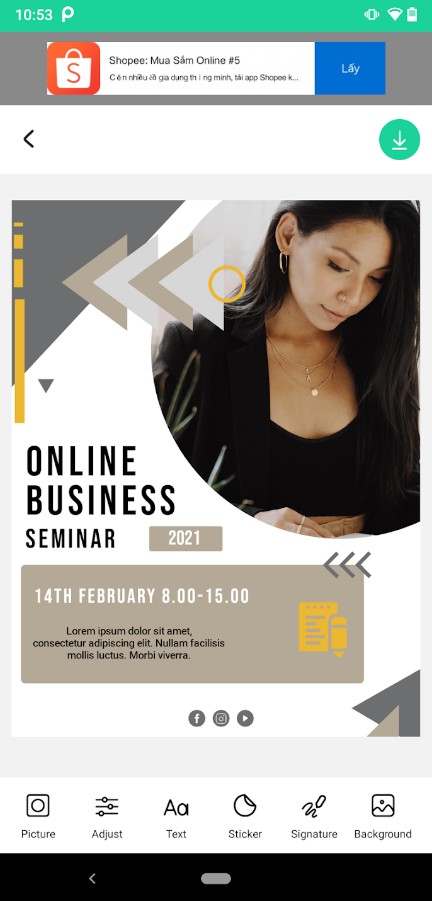 April – Poster Maker
Do you want to create really unique photos? Then make them a real masterpiece using this application.
You can combine photos with each other, and create an album for yourself, the location of photos depends only on your desire, so the application itself will offer you some figures.
In addition, it is quite easy to do, and you can literally choose the right photos on the move, and remove those that are not needed. Now you can create posters with your image easily and simply!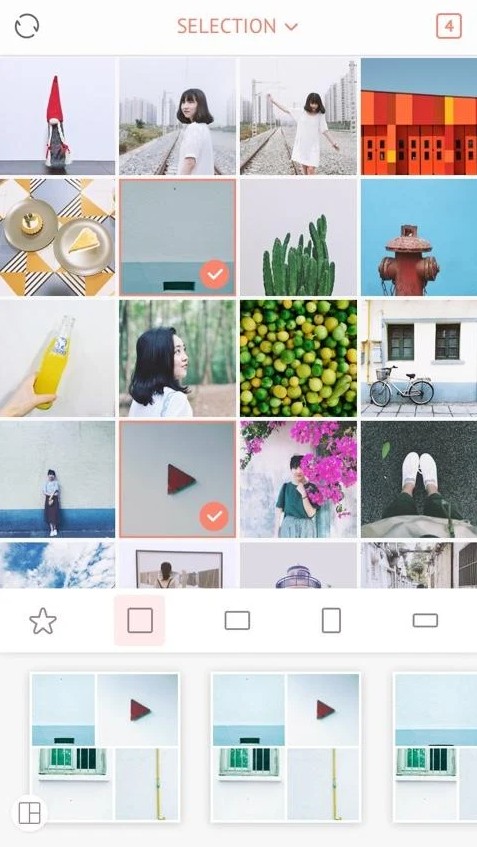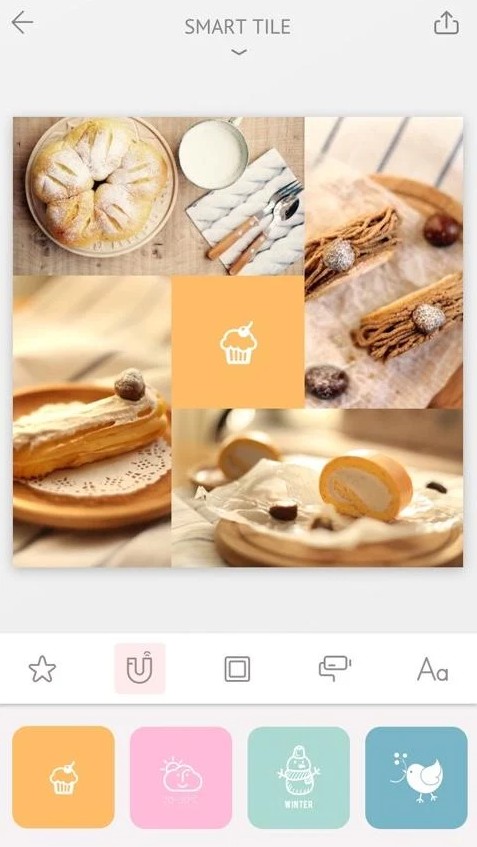 Poster Maker, Flyer Maker
Poster Maker is a good-quality app that doesn't require users to be tech-savvy to create appealing flyers.
When you first open the app it will ask for permission to use your photo gallery and storage, which you will have to give if you want to use the app.
Firstly, choose the template you wish to work with or upload a picture of your own from the gallery. Then you can customize your template by changing colors, adding pictures, texts of different fonts and sizes, and editing your logo. Add shapes and stickers to enhance your flyer.
You can also see exemplary posters and get some inspiration from those.
After you are done you have the option to either export your poster to PDF or share it on social media.
For so many features this app is rather lightweight, weighing only 10Ms.
The app is often updated, so there are no bugs at all. It is easy to reach the developers with any concerns, just email to help.graphicdesigntool@gmail.com and you will get a reply within a couple of days.
Overall it's a great app to use that doesn't require you to have any special skills to create posters and it's also free which is always a plus.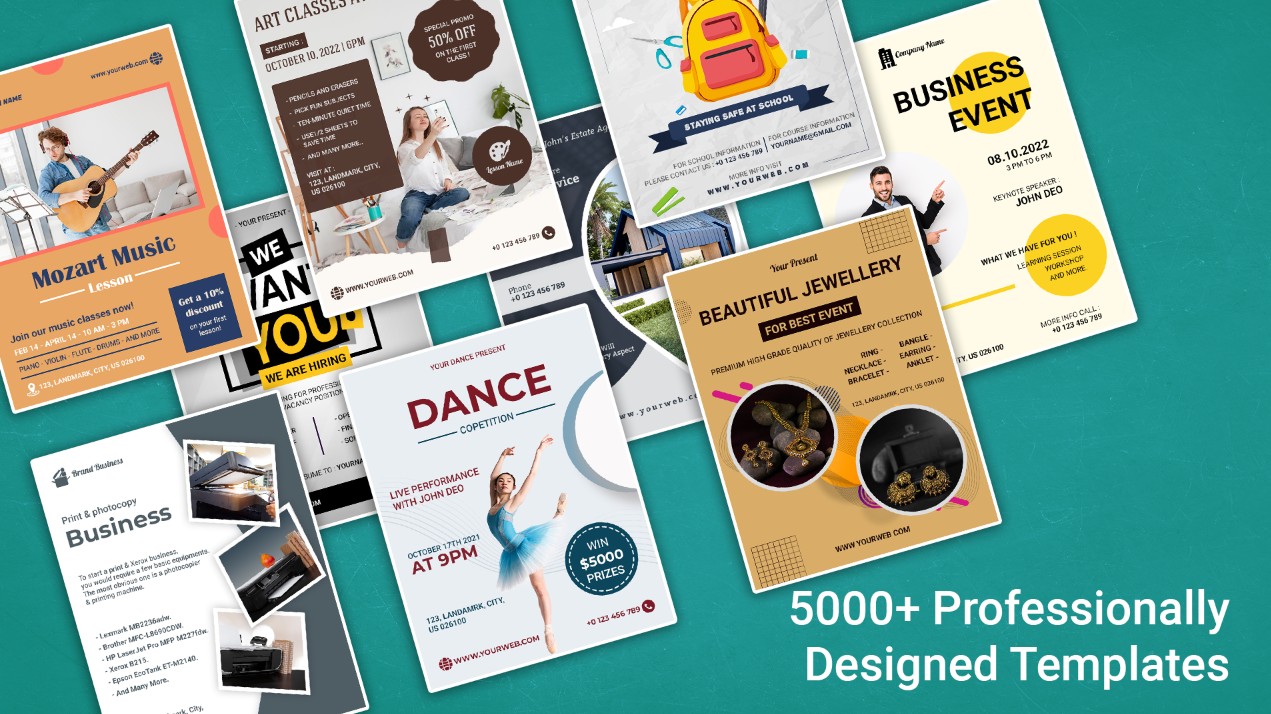 You may also like: 12 Free Photo Overlay Apps for Android & iOS
Cover Photo Maker & Designer
Excellent photo designer, which is preferable to use for social networks. The application includes several useful functions, including the use of various filters. Here you will find about 200 textures that have a tuning function, as well as 80 fonts.
With these tools, you can give your photos a completely different look. So, you will not find identical posters from other users.
To your photo or poster you can add an unlimited number of fonts and textures, accordingly, your photo can have any size. The main display contains advanced filter categories, which makes it easier to find a newbie. A free application means advertising but it's not intrusive.
Use this application and change your photo beyond recognition!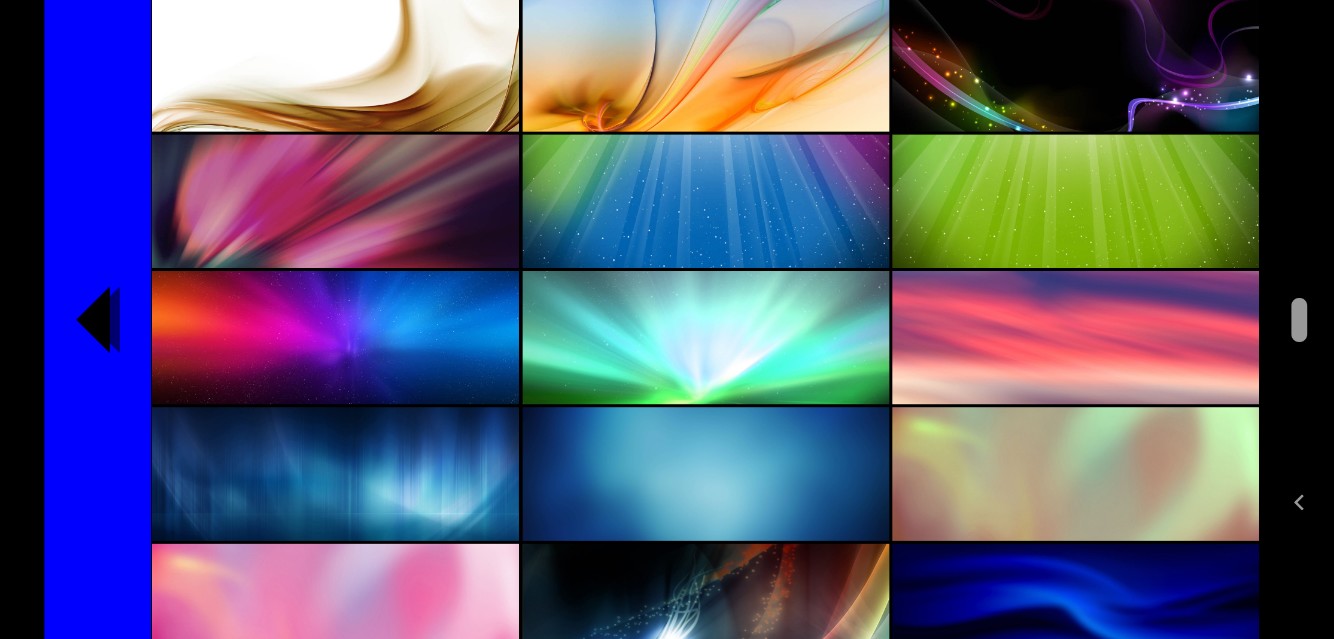 PostWrap
The application can transform ordinary text into colorful posters. You will not be able to add any photo over the text, but it will not be difficult to print the text on the photo. Decorate your page in social networks or present an unusual gift to your loved ones.
Capabilities:
Create posters with or without background.
Wide choice of texts.
Automatic drawing up of posters by the program.
Add not only a font but also effects, colors, etc.
Customize the text at the discretion of the user.
Unlimited amount of text on the poster.
Create your own font.
Download additional fonts.
Save your poster and share it with your friends.
An extensive color palette.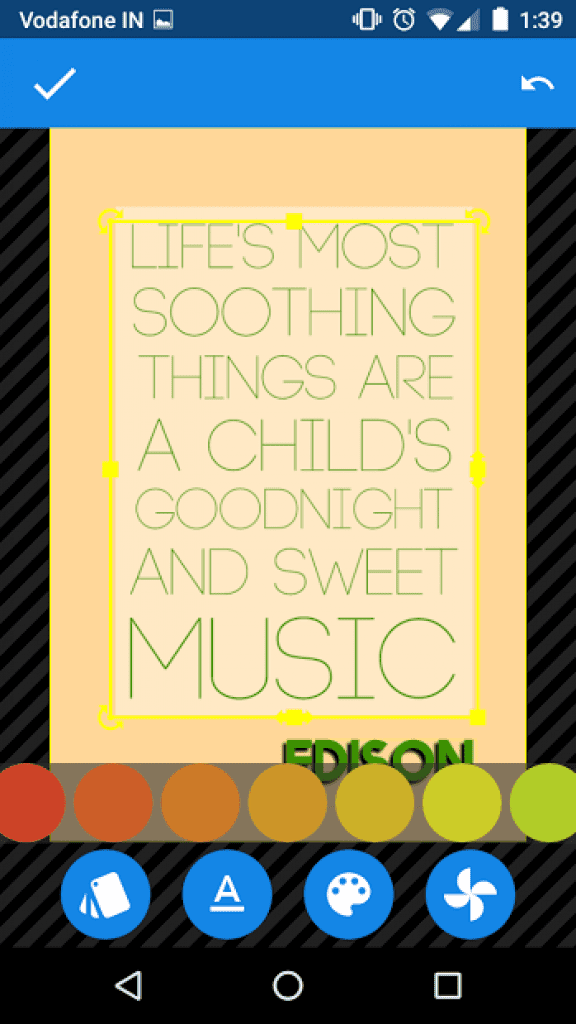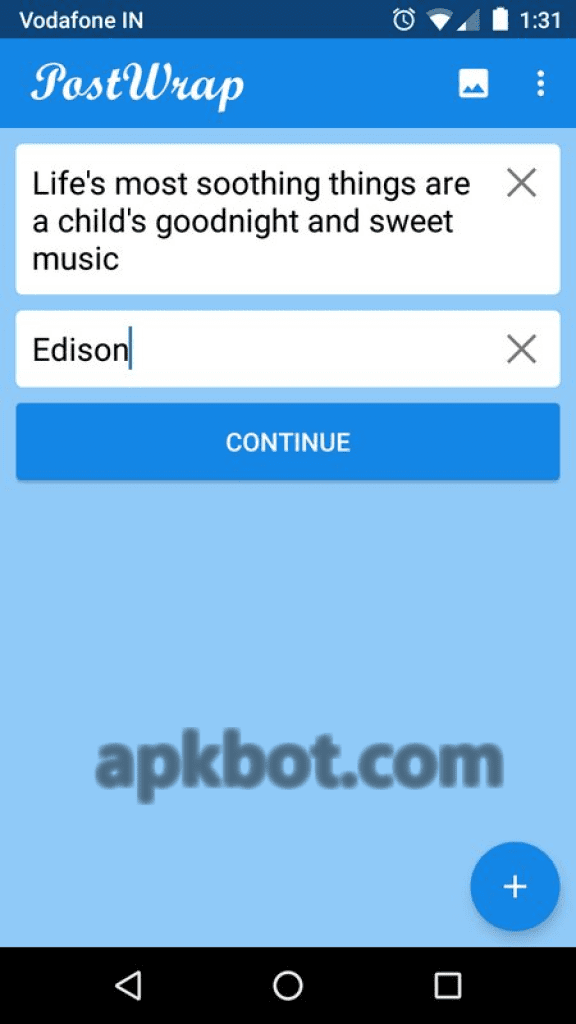 Poster Make Flyer Creator
Do you want to create fabulous posters, banners, or invitation cards just in a few clicks? In this case, we have to advise you to try Poster Make Flyer Creator. Now let's read more about its features!
The application comes with over 1000 poster templates dedicated to multiple themes – e.g. Valentine's Day, Christmas, Business poster design, etc.
Once you have launched this tool, you will be transferred to the menu page containing the following sections:
Create
My Edit
Readymade
My Save
If you want to launch the creating process, you should select the first section. Thereafter, you will have access to the extended library of layouts. You can also use the embedded search bar to find a necessary poster in a few seconds.
When you have selected the favored one, you can customize an appropriate size, write text, apply stickers, add special effects, and set a background. The app also contains a handy management tool that allows users to set the poster in the right place.
Moreover, you can also download your picture from the media library or instantly make a picture via the built-in camera. In this tool, users can also customize a great variety of editing features – e.g. shadow, opacity, etc.
Moving on, Poster Make Flyer Creator features a quite straightforward interface, that's why you will not need any professional skills to find out how everything works there.
The application contains a free version. However, if you want to have access to additional features, you can purchase a subscription at a quite accessible price.
We have to admit that all the provided designs and templates are presented in top-grade quality and impressive graphics which is certainly an excellent bonus out there.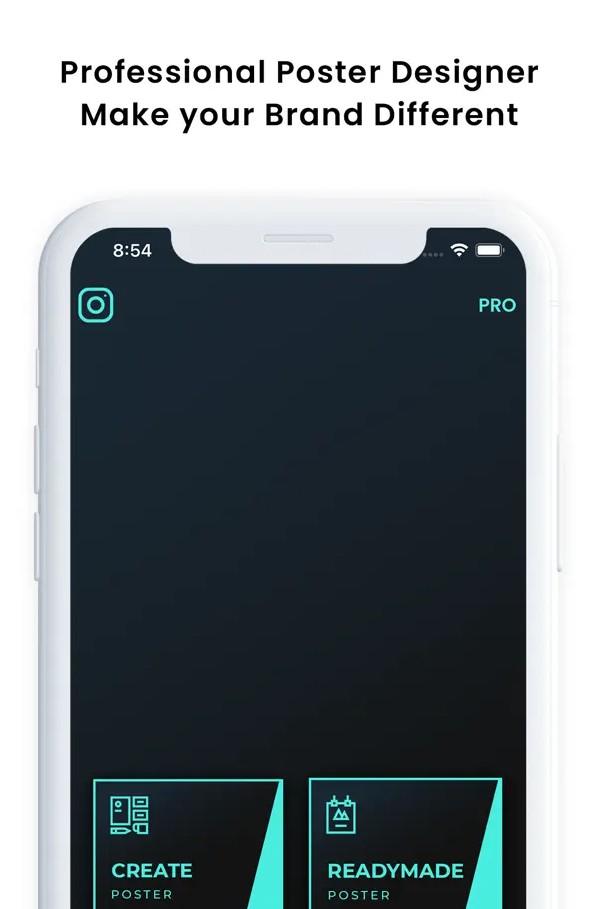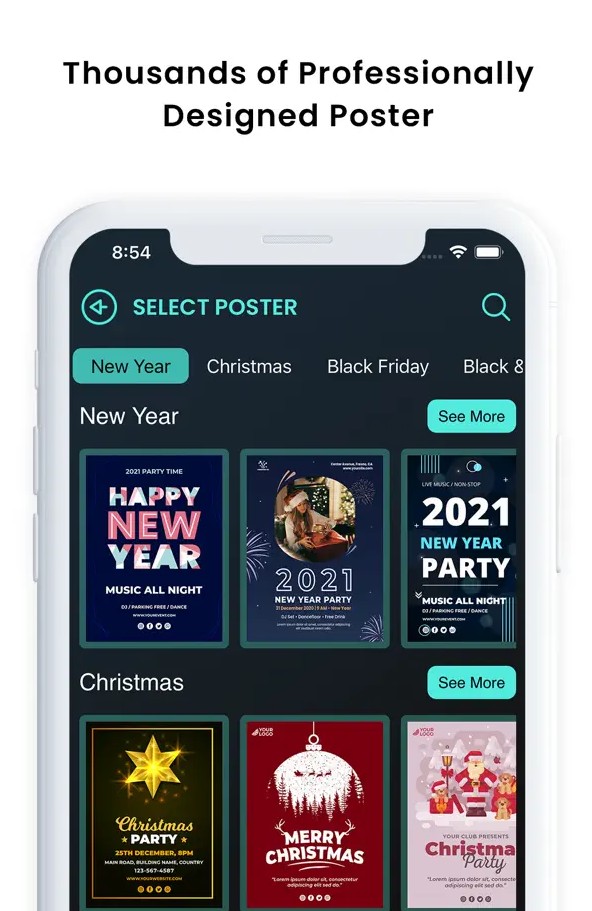 Poster Maker, Flyer Maker
An app that allows you to create unique posters in a few minutes. There are more than a thousand ready-made templates.
The platform is intuitive to use, there is no need for a designer's education. It simplifies poster creation with a large number of templates, design projects and tools.
The app will be useful for professional designers, businessmen and students. You no longer need to work in complex software.
It is possible to prepare a flyer for marketing and advertising work. All products will be tailored to the brand. This is sure to attract a new target audience. It is also possible to create a flyer with an entertainment purpose as an invitation to a holiday or party.
Working in the app is only possible with an Internet connection. There is a paid version that makes premium designs available. Also, a subscription gets rid of annoying ads.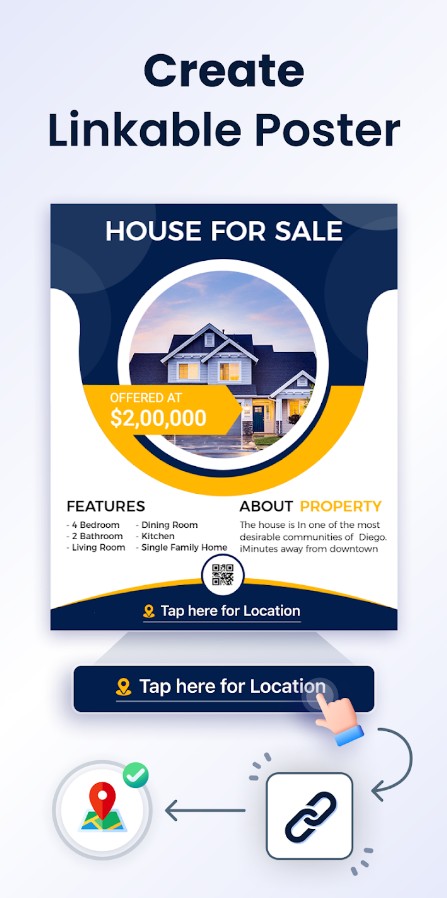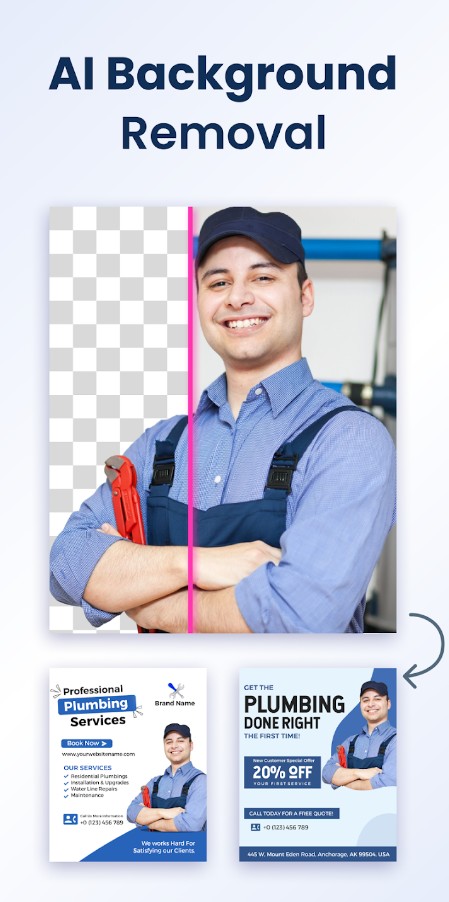 Flyers, Poster Maker, Design
With this mobile app designing flyers, booklets, and posters will no longer be a problem. Invent high-quality paper products with this service without outsiders.
The app displays more than 10 thousand templates of all kinds. Make a striking advertisement for your business, design an educational project, or invite your acquaintances to an important meeting or outing.
You're sure to find a layout that's right for your occasion. You'll have the perfect brochures and posters in just a few simple steps.
Choose a layout, specify a background, and decorate the flyer with stickers and text in any format. Make changes, edit, and save the finished version in excellent quality. Share your success with your subscribers on social networks and messengers. With this app, even the most complex tasks will be up to you.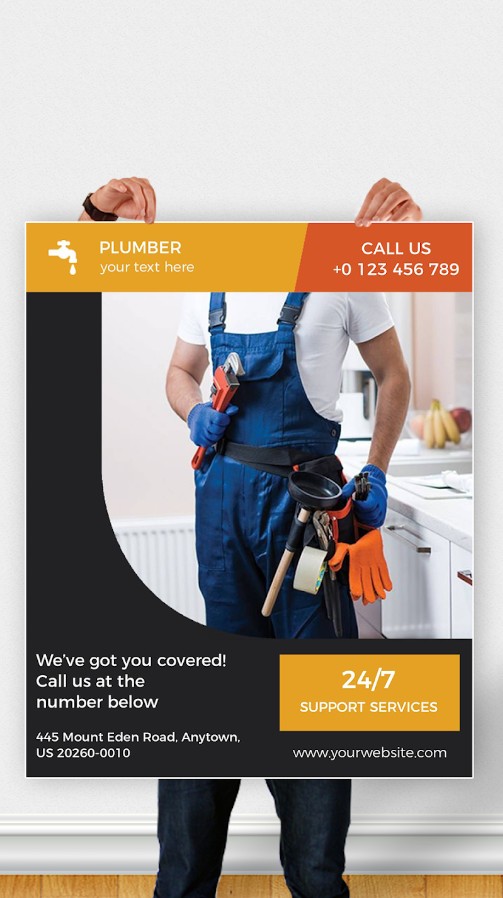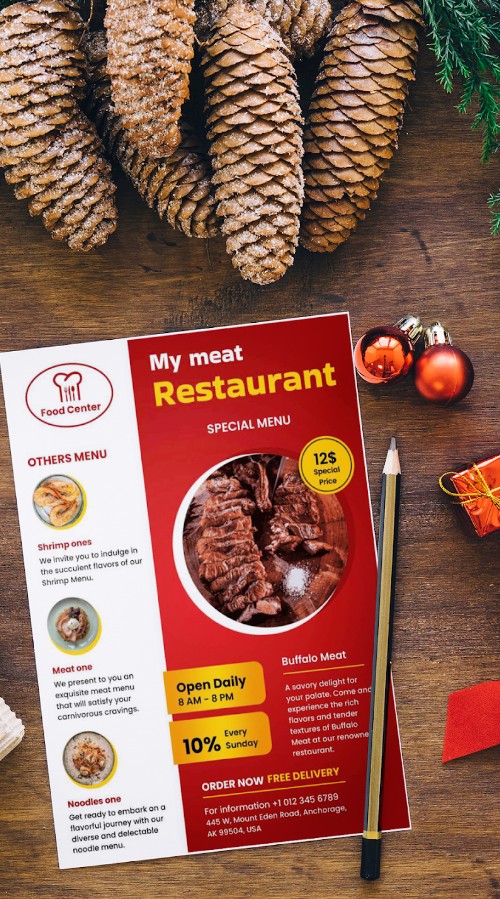 You may also like: 11 Best apps that translate pictures (Android & iOS)
7Lemon: graphic design, poster
7Lemon is one more digital tool that claims to turn you into a design whiz, allowing you to create posters, flyers, and all sorts of graphical goodness with ease. Although it's not making headlines in the design world, I felt like I should try it.
It's been designed for folks who want to jazz up their social media, create eye-catching posters, or even design a logo without wrestling with complex software.
With this app, you can create Instagram and Facebook stories, posts, logos, flyers, and more. In my case, it was reliable enough: no crashes, no issues. It's quite straightforward to use: you can dive right in and start creating.
There are over 10,000 templates available, as well as hundreds of fonts. Backgrounds and stickers are part of the package, too. Basic editing is available such as resizing, background removal, photo grids, frames and watermarks, and so on.
As for memory, it's not going to feast on your phone's storage. It's pretty lightweight.
The app is free, with optional in-app purchases.