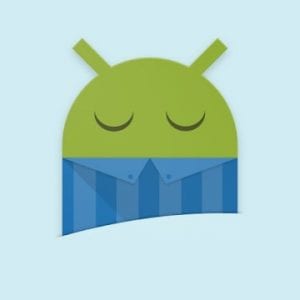 Sleep as Android is one of the well-known sleep control applications. Its main functions are recording noises while you sleep, viewing statistics, alarm management, and smart waking. Besides, the program knows how to detect and prevent snoring, gives tips to help make sleep more effective.
Alarm clock
The peculiarity of this application, in comparison with the standard alarm clock, is the following. The waking does not take place at a precisely defined time, but at the most optimal moment between sleep cycles. If you wake up during a cycle, the efficiency of sleep is significantly reduced, while waking up between will allow you to rest better.
Besides scheduling, you can also set a specific wake-up mode – more or less loyal. Additionally, you can specify the "duration of the nap".
In case you do not wake up definitively, Sleep as Android includes a wake-up check. It works in the following way: it gives you the task you need to solve to turn off the signal. It can be a number entry from a picture, a simple arithmetic example, a shake, or other variants of varying complexity.
Sleep Tracking
Before you start recording, you can set the desired settings – for example, to enable recording of sleep noise, anti-snoring. Anti-snoring is rather curious and in some cases probably a useful option. The phone vibrates when the noise threshold is reached and warns you that it is desirable to sleep quieter.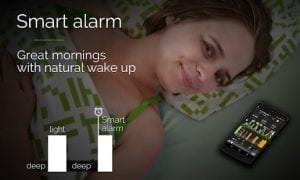 After waking up, you stop tracking and record the readings. Optionally, you can specify rating – that is, sleep impressions – and categories.
Categories allow you to clarify the state shortly before sleep: alcohol intake, stress, a bad mood, and much more.
All this is valuable not only for keeping a kind of diary but also for detailing the statistics and advice provided by the program.
Statistics
As a result, the Sleep as Android chart will show the sleep cycles where you can tell the difference:
– deep sleep: during this period, the smallest number of movements are performed
– gentle sleep: when there are more movements
– REM sleep (quick sleep): a period during which dreams are most often taken place
Accordingly, the user can understand how complete the dream was. Of course, the data presented is simplified. Here you must take into account that the statistics are based on the accelerometer readings: the more movements, the "easier" the dream. Still, the obtained data are quite enough for research.
When choosing an actigraphy graph, it is also easy to see such indicators as lack of sleep, deep sleep cycles. You can divide the data by days, tags, categories, and make notes.
Besides, you can listen to records of noises – that is, sounds produced during sleep. In this case, you need to make sure in advance that the recording will be made during the tracking.
Extra features
The last thing to note is the various add-ons that can be installed in Sleep as Android. Extra sleeping sounds (Lullaby Addon), backup (SleepCloud Backup), binding to Pebble, Android Wear gadgets, and much more.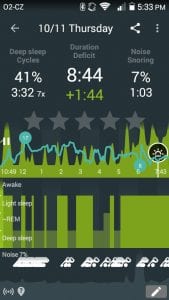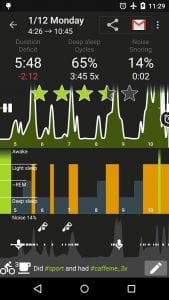 Sleep as Android is one of the unconditional favorites among sleep applications. Clear interface, the most complete set of features, detailed statistics, including audio recordings. Also, the application extracts all the useful things from sleep, as far as possible using a non-specialized mobile device. Besides, Sleep as Android can be used as a flexibly customizable, adaptable alarm clock.
You may also like: 11 Best Sleep Tracking Apps for Android & iOS