Energy is one of the most important things in the world. With energy, you can create something new, use the benefits of civilization and much more.
Solar energy is one of the youngest types of the energy industry and has not yet acquired a huge number of specialists and consultants. That's why people who would like to install solar panels at home have to figure it out on their own.
Even though the payback period of solar panels is quite long, this way you help the environment and turn those resources into energy that are almost inexhaustible.
Especially since it is easy to get solar energy almost anywhere in the world. We have tried to find for you the 11 best applications for solar panels, which will help you not only to install the panels correctly but also competently operate them in the future.
Solar Panel Installation
In order to get a solar panel, you'll need a little understanding of the subject. As we said, there are not that many specialists.
It will probably be difficult for you to even find a master who will connect and assemble the whole system for a reasonable amount of money. In this case, you will be helped by the Solar Panel Installation application, which will tell you everything about this system.
Inside the application, you will get complete diagrams, and panel installation schemes. With more detailed study it will be easy to understand how the batteries and panels themselves are connected.
This is all schematically presented, but you can still easily figure it out using the instructions. All images are provided in HD format, so you can see even the smallest details of the design.
All schemes are divided into categories and have their own purpose: for example, a separate scheme of connection of solar panels and the inverter, as well as controllers and all wiring.
Solar Panel Installation will provide the user with a complete overview of how the system will work properly. Of course, the developers warn that it is better to hire specialists when installing, but if you still want to understand the topic yourself, it is a great option.
You may also like: 11 Best tape measure apps for Android & iOS
Solar Tilt
After you have installed the entire solar panel system, the first question that comes up is: how do you use them? We all know and have heard that panels should absorb solar energy, but how do they do it?
In order to set up the entire system as efficiently as possible, you'll need to constantly change the angle of the batteries – the energy you get as a result depends on it.
The Solar Tilt application is designed to help you calculate the tilt angle. All calculations are based on the information and position – latitude, date or even season.
If multiple units are at your disposal, you can manually change the position and the date to determine the tilt angle. You can do this even when GPS is not available.
You can also use your device as a conveyor, measuring the current tilt angle and its proximity to the desired angle. For example, you can adjust the panel so that the line on your smartphone and the tilt line match.
Solar Tilt takes into account both the information about seasonal tilt angles and their dependence on the current weather in your region.
Solar Panel Simulator for PV System 3D
If you want to see what the entire solar panel installation will look like beforehand, you will need to simulate it. If you are not an engineer or 3D designer, then it will be very difficult to do so.
There are many details to consider when modeling that you may or may not even know about. Solar Panel Simulator for PV System 3D application was developed for such people, which will take into account all the nuances.
Here you can simulate a complete ready-made system for any location convenient for you.
Using your smartphone, you should view all the directions available for your chosen location, select the position of solar panels and compare the results with the ideal calculations.
With Solar Panel Simulator for PV System 3D, you will be able to see how all the energy will be generated and how it will affect your yield. The application automatically calculates the amount of time needed for the entire system to pay for itself.
For perfect calculations, it is required that your smartphone has a magnetometer and a gyroscope. So you can get all the necessary parameters that are calculated in real-time. Perfect savings are available to you right now.
Optimal Tilt Angle for PV System by NRG Labs
Would you like to get as much energy as possible for your solar panel system? In this case, you may need the application Optimal Tilt Angle for PV System by NRG Labs.
Sounds like a catchy name, doesn't it? As you understand it, this utility determines the most optimal PV angle, which will allow you to avoid losses in power production.
Optimal Tilt Angle for PV System calculates the correct orientation and optimal tilt angle for you, both for a certain time of day and for the average day. Your project will be carefully protected and will not be in danger because the amount of energy you receive will be maximized.
By the way, if you are unable to change the tilt angle of panels for a long time, Optimal Tilt Angle for PV System can calculate the optimal weekly or even monthly tilt angle for you.
Such calculations are made depending on the position of the whole installation. Once in place, you will be able to use the built-in inclinometer, which will help you adjust the tilt angle.
As you can see, this is the most important parameter that determines the operation of the entire system and the amount of energy it will bring.
Simulation and calculation are based on calculating the maximum energy yield from each angle – that's why you can know the best (i.e. average) tilt angle for a long period of time.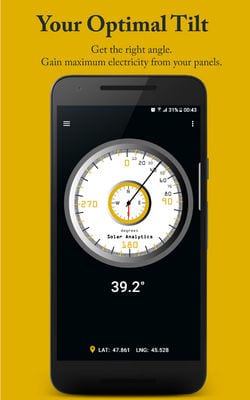 SOLARPE PV Photovoltaic Solar Energy
Since solar energy is now the most inexhaustible and free source of energy, you can use it with minimal expense and maximum efficiency.
All this energy will be generated by a self-contained photovoltaic system, which requires precise settings and certain parameters of operation. SOLARPE will instruct you how to properly design, install and run the entire solar panel system.
Here you will be able not only to find out the tilt that your panels need but also to check what it is at the moment. Depending on the orientation, SOLARPE will calculate the optimal angle and help you set up all the batteries.
To avoid any shadows that could affect your work, you will have to arrange all the panels according to the instructions and according to the diagram or distance between them.
You can calculate individual parameters for each component included in the solar energy production system. They are recognized based on the load on a given component as well as the number of days of autonomous operation.
A simple application interface will not confuse you with its functions, but SOLARPE will make all your calculations much easier.
SolarCT
SolarCT can be noted as one of the brightest and most stylish solar applications. It has a bright interface, and all buttons, sections, and categories have either small illustrations or convenient designs.
SolarCT accurately calculates the requirements individually for your PV system and gives you an overview of all possible and convenient options.
It should be noted that some functions are currently declared by the developers, but are either being created or under development.
Thus, we tell you not only about the available features but also the potential of the application. With each new update, something is added and improved, so in time SolarCT will become one of the best services in its field.
Step by step you will be able to calculate the requirements that your solar panels need at the moment. This can be the orientation and tilt angle, as well as the amount of time they can sustain.
You will know both the energy consumption and the amount of energy received. SolarCT will remind you of the moment when you need to change the tilt angle or change the position of the whole system.
Want to know how much energy you will get in a certain amount of time? SolarCT will even help you in these calculations.
My Solar Panel
In order to start your own investment in PV systems, you should find out how reasonable this investment will be. For this purpose, there is a special application My Solar Panel, which can give you comprehensive advice on your benefits.
You will know the results that the solar panel system will have depending on the location, configuration, and other parameters. Once you have all the data, it will be much easier to make a decision about your investment.
My Solar Panel allows you to design your own photovoltaic panels and other equipment needed to operate the system. Each configuration is designed according to your requirements, parameters, and capabilities.
Do you have a free space close to your home? Find out how much it will cost you to install a complete power generation system, and how beneficial and profitable it will be for you.
The application will help you to install and constantly change the system. My Solar Panel will calculate the annual energy production, costs and optimal parameters for the panels' position.
You enter the parameters you want for the solar panel yourself – for example, the number of solar panels, the payback period and a comparison of the cost of standard energy and the solar panel. Optimize all costs and then your system will bring you maximum benefit.
iSolar – Install solar panel
iSolar is the ideal application for people who have no idea how to control solar panels. That is, for example, you already have such a solar installation or you just got the opportunity to work with it.
However, you do not have the necessary knowledge, skills, and abilities to change their position, calculate energy and even how to start the work process. That's when you'll need iSolar.
Once installed, you will no longer have problems with various settings and similar things. iSolar calculates the orientation, tilt angle and position of the panels for users based on the season and current weather in the region.
All data is taken from GPS, so you will need to give the application access to this feature. Now your photovoltaic panels will always be in the right position!
Of course, it's worth mentioning that iSolar is simple in its interface and has nothing remarkable, but you will get the right functionality. But what else do people need when they are just starting to work with solar panels?

Lumos: Sun and Moon Tracker
In order to set up your panels correctly, you need to know not only the season and weather data but also the sun and moon cycle. They have their own "clock", which is independent of the next day's temperature that you saw in the weather forecast.
It is worth watching these cycles separately as long as you expect to get the maximum amount of energy and benefit from your solar panels.
Lumos shows you the position of the moon and the sun using augmented reality technology. This way you can visualize the future and present position of the moon and the sun, which is displayed with regard to the phases of the moon.
The map that Lumos works on also shows you where the sun will be for a certain period of time. The calendar shows the user the time of sunset and sunrise, allowing you to plan the time of the entire system start.
To ensure that your panels do not interfere with each other, we recommend that you take a look at the shadows section. Here you will find the length and position of the shadows of objects at a certain time – this will help you calculate the optimal position of the panels.
Take notes directly in the application, and then you can easily and quickly navigate the necessary changes for your PV system.

You may also like: 11 Cool Solar System/Astronomy apps (Android & iOS)
My Solar
My Solar is an application for those people who already use solar panels but can't always control the system themselves. You can use it even when you are in the house and your PV system is somewhere far away.
You will need to connect My Solar to your installation and subscribe to Solar Analytics to get started. These simple steps will give you all the information you need on your smartphone in the future.
With My Solar, you'll find out what the performance of your power system is, as well as how much power you use and how much you get.
For those people who use solar panels not only for themselves but also sell extra energy, the application allows you to track the energy sold and spent.
My Solar displays complete data on system startup, its operation, and troubleshooting. Every time a problem occurs, you'll receive an instant alert and you can react instantly.
My Solar analyzes your personal PV system and tells you when it will be most effective to turn on the most energy-consuming devices. Want to pump up your pool, water the entire lawn or do a major cleaning? Take a look at My Solar when it's the best time of day for this kind of activity.
SolarEdge Monitoring
Wherever you are and whatever you do, SolarEdge can always give you up-to-date information about the status of your system. The application allows remote monitoring, using only your mobile device.
Sure, you will first need to connect your smartphone to a PV system, but you will only need to do this once when installing the application.
Your PV system does a lot more work than you think! You can share this data and boast to your friends that your home runs exclusively on solar energy. Of course, the main function of SolarEdge is monitoring.
The application monitors your energy production and can even make some predictions. You will see what the indicators depend on – for example, what the weather is like in your solar panel area at the moment.
Monitoring can be done not only for the entire installation but also for individual parts and modules. This way you can understand how to optimize the panels and much more.
Shaded areas, outdated panels, mismatching modules, and other errors can become visible to you at this stage. With SolarEdge you will be able to assess the real performance of your system and decide how to improve it.
From installation to the correct angle setting, all these applications will help beginner enthusiasts in their intentions. Even if you want to simply calculate how much this eco-friendly and affordable energy will cost you, you can do it with your smartphone.
How long have you wanted to install solar panels in your home and switch to self-sufficiency? In that case, you will definitely need at least a few of the applications we have found. Especially since solar panels help you avoid power outages!