Every modern girl cares for every part of her body. And nails are no exception. This trend in the beauty industry has become so popular that modern technology could not get around it.
The choice of varnish color and manicure design sometimes becomes very difficult. This is due to the fact that we can not accurately imagine how it will look on our nails.
But, there are many interesting apps that will help you to try different nail colors. Use this list to select the best application for this purpose.
You may also like: 7 Free beauty salon games for Android & iOS
WANNA NAILS
WANNA NAILS is an application for designing your nails. Now you can really see how this or that color of varnish will look on your nails.
The application helps to determine which color of nail polish to buying. Just take a photo of your hand and start applying new nail polish colors. Then you need to adjust the virtual nails to fit your own.
The application WANNA NAILS has options for the finished manicure. You will also receive everything for independent creativity. All colors of nail polish, pattern templates, stickers, the shape of nails.
Here you create a nail design with one touch. To create patterns and stickers, you can select a ready-made template. Separately, the application has a section of training video manicure lessons. They are quite interesting and informative. Here you will find out what subtleties exist in creating a manicure.
This free application has a nice design and diverse functionality. It will help you not to make a mistake in choosing the perfect design. Can't decide on an unusual step? Try it here.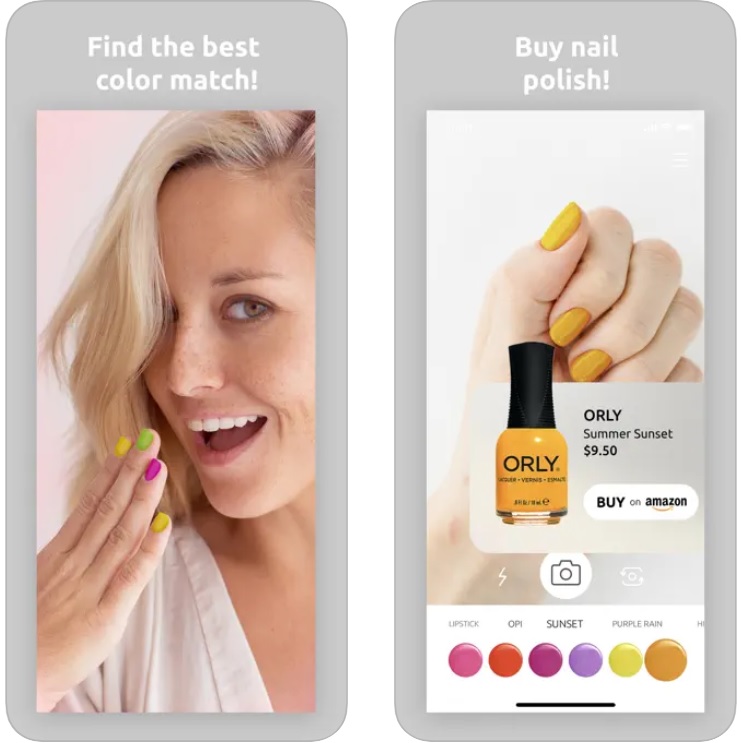 You may also like: 12 Free makeup apps for Android & iOS
YouCam Nails
The YouCam Nails app is your virtual nail salon where you can choose the perfect nail polish color for yourself. Change the shape of nails, add interesting stickers and patterns. You will receive a unique design of manicure.
Use ready-made templates. Here they are collected a huge number. You can also create your own manicure design and add it to the templates. This will help you reuse it if you want.
You can not dare to the bright design and a new form? Then try changing your nails in the photo. This approach will appear to every girl who loves something new and unusual.
To use the application YouCam Nails you need to photograph your hand. You can also use a ready-made hand layout. In this case, you must adjust the layout to fit your parameters.
Application YouCam Nails features:
more than 65 colors to create a unique design
over 25 various patterns
more than 50 stickers
several forms of nails
personalization image nail design
video training
easy use
share created designs on social networks
a choice of 20 ready-made templates for instant transformation
Instructions for using Nail Design:
take a picture of your hand with nails (or use the layout of the hand in the application)
apply varnish
edit the shape of nails, add stickers and patterns
select photo background, add photo effects
save the result
you can send an image to social networks
The app YouCam Nails is available for iOS and Android devices.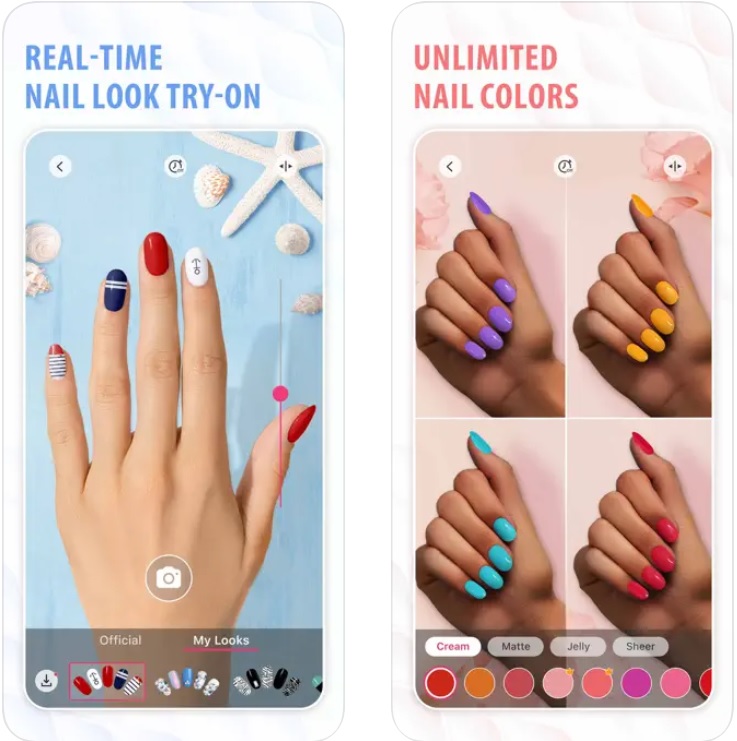 Nail Salon: Manicure Girl Game
The Nail Salon: Manicure Girl Game app will give you the opportunity to experiment with your nails. You can paint your nails in any color you like. This is useful to do before going to the nail salon. Such training will save you time and help you try everything on yourself.
How to use this application? Everything is very simple. First, you need to photograph your hand. Open the camera in the application Nail Salon: Manicure Girl Game. Then place your hand in a special frame. The app will recognize your hand. It will be able to recognize your characteristic features.
This will help to better apply manicure to your nails. Next, you need to choose your skin color. This will be needed if the application Nail Salon: Manicure Girl Game did it incorrectly. If you want to change the shape, you can do this after creating the photo. Choose any form you like from the five available. Then select any varnish you like.
You can color all nails at once or each separately. Now you can decorate your nails. For this, various patterns and stickers are available in the application Nail Salon: Manicure Girl Game. You can even add some inscription or drawing.
The finished photo can be edited and beautifully designed. Choose your favorite background and favorite photo effects. You can share the finished result with your friends.
To do this, add your account to the application Nail Salon: Manicure Girl Game from any social network. This is a completely free application that has a large number of features. Download it and use them all.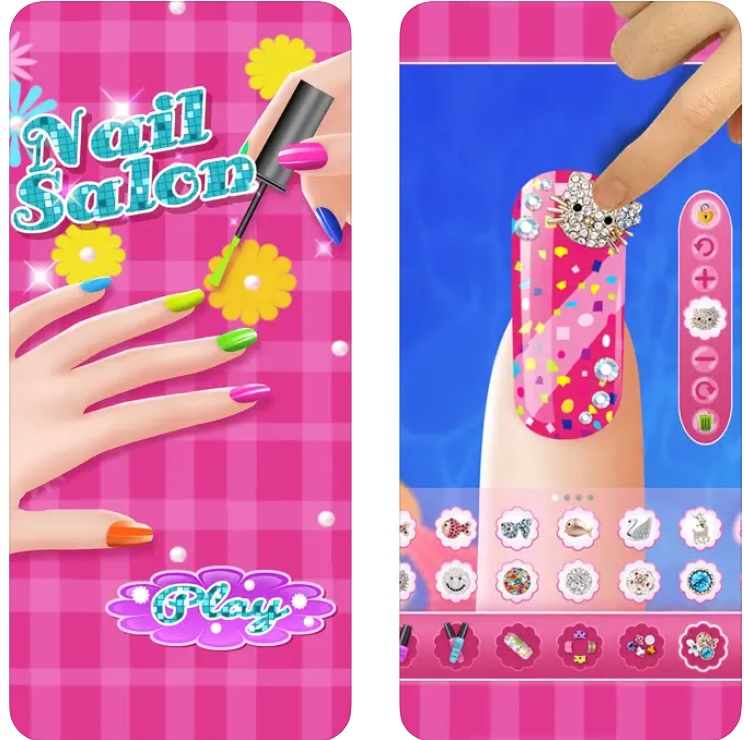 OPI NAIL STUDIO
Using the OPI NAIL STUDIO application, you can paint your nails in any available color. Here you will find a wide variety of patterns and interesting patterns.
Use stickers to create a unique design. You can use ready-made templates that are stored in the application gallery. All layers can be applied with one touch. For example, you can apply color and then add patterns. Experiment with style and design. Now you do not need to take risks and try something that you may not like.
Here you will find more than 100 colors and shades of varnish. This will help you create a unique design and base for a manicure. Choose from over 30 sets of different patterns and stickers. Want to put an image of a flower or animal on your nail? Do this with a couple of touches.
You can also choose from 5 forms of nails. You can save the finished design in templates or favorites. In the future, they can be reused. Interesting video tutorials can help you with the manicure. Here you will learn how and with what devices it is best to do a neat manicure.
What colors and shades are in fashion now. What stickers and patterns can be used and how to glue them on nails. You will learn this and much more by watching special video tutorials in the app.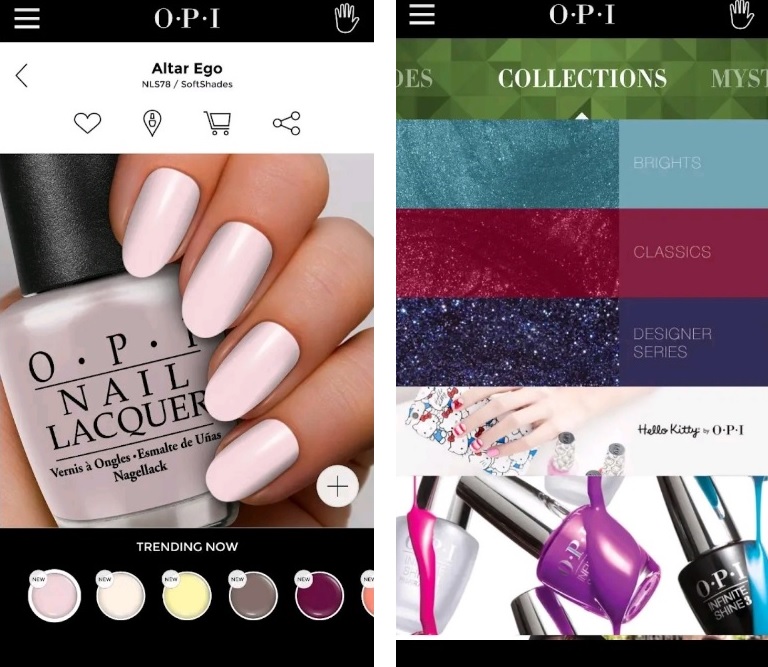 NailMatch: Nail Polish Matching for any Color
It is not easy for all girls to choose the color of a new manicure. The NailMatch: Nail Polish Matching for any Color app helps you experiment with color choices. You need to photograph your arm or leg and try on different colors of manicure.
Experiment with color matching or combinations depending on lighting, skin color, and style. Computer vision algorithms ensure the naturalness of colors and shades. The application NailMatch: Nail Polish Matching for any Color neatly applies the selected color to your nails in augmented reality.
You just need to put your hand in the "field of view" of the application. Then apply various varnishes to your nails. Millions of shades, textures, adornments, combinations, and styles. You can create like a real artist. In this case, you do not need to spend money on varnish, if you are not sure about it.
Thanks to the capabilities of AR, you will not only see how the applied varnish will look on the nails. You can also see how the varnish reacts to lighting after it dries.
The application NailMatch: Nail Polish Matching for any Color is designed as simple and intuitive to use as possible. If you cannot choose a varnish, then share the result with your friends. You can do this using your account on any social network or messenger.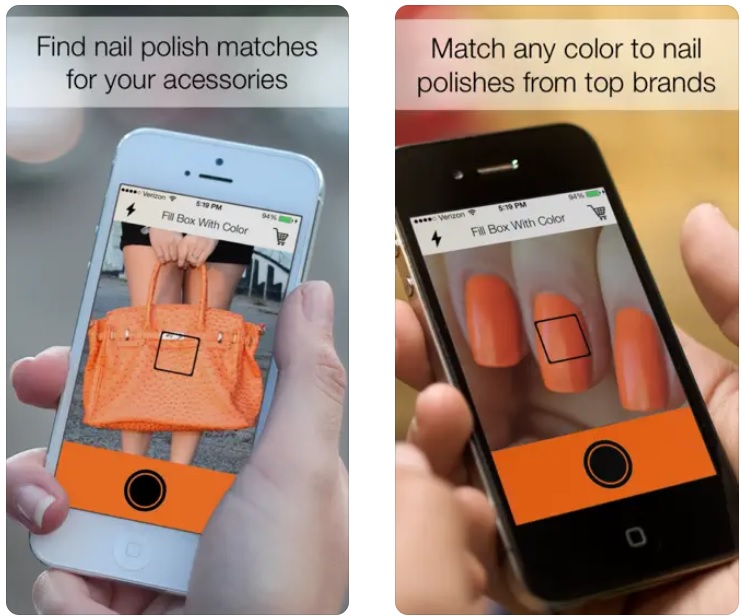 You may also like: 17 Best Online Shopping Apps for Android & iOS
Nail Polish & Hair Color Cam
Nail Polish & Hair Color Cam is a mobile application designed for iOS devices that allows users to experiment with different nail polish and hair colors in real-time using augmented reality technology.
The app features a wide range of colors and shades for both hair and nails, and users can select and preview different colors on their own face or hand, giving them an idea of how the color would look on them.
The app works by using the camera on the user's device and overlays the selected colors onto their live video feed. Users can adjust the opacity of the colors and even take photos of themselves with their new hair or nail color and share them on social media.
One potential disadvantage of the app is that it requires a device with a camera and may not work as well on older devices. Additionally, some users have reported that the color accuracy is not always reliable, and the app can be glitch at times.
Some dissatisfied comments from users include complaints about the app crashing, slow loading times, and inaccurate color representation.
Many users have also reported positive experiences with the app and find it to be a fun and useful tool for trying out new hair and nail colors without committing to a permanent change.
Application features:
Opportunity to try on a new image
Try on and see if the color suits you or not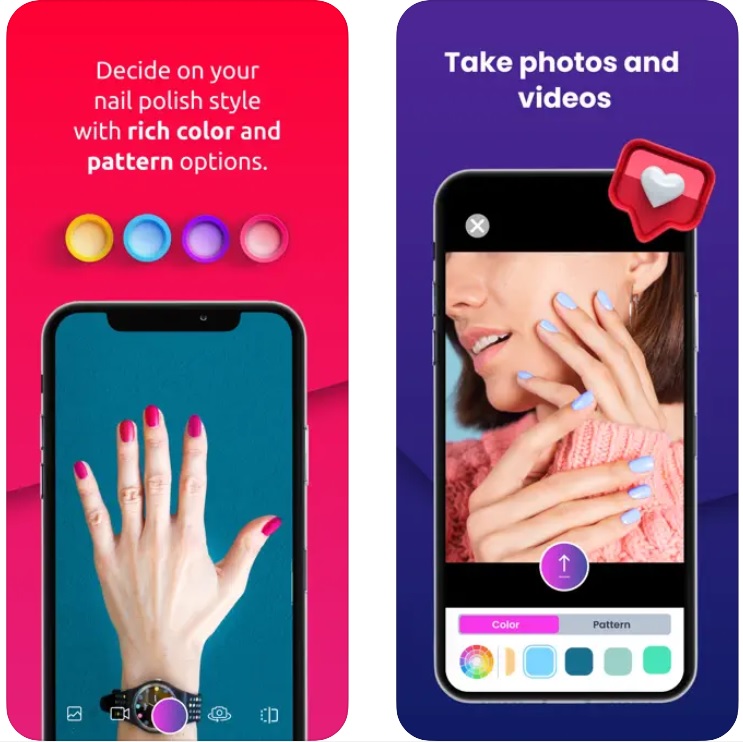 Lacquergram
This app is not that popular yet, but it has a much better interface than many other apps on this list. The reason for that is it was released quite recently on the market, so it is only evolving in this category.
However, here you can find the most diverse information about the nail polish and also try various nail colors on your fingertips.
Here you can also create your wishlists about the nail polishes and add various colors of it to your favorites. And, you can share your opinions about different nail lacquers with other users – about absolutely any brands you want.
Find out from others, which brands are the best and which brands you better avoid if you don't want to just waste your money.
What is more, the app in fact gives you the chance to find any type of nail color that you want.
If you want something for Christmas – just type in the search bar "Christmas color" and the app will show you all the colors related to the topic of this holiday. You can type in even the craziest names – for sure there will be something that will be found.
Here are just some brands that you can find in the app: OPI, Essie, China Glaze, Zoya, Orly, CND, Alessandro. This is just the small part of the whole list and you can find the full one in the app.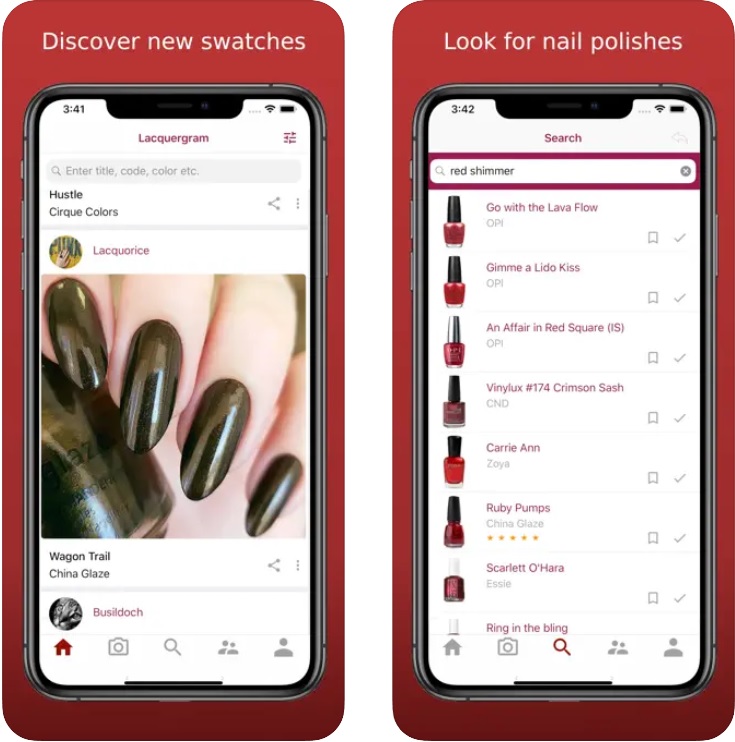 Nail Art – Color by Number, Nail Polish Coloring
The Nail Art – Color by Number, Nail Polish Coloring application uses the most modern technologies so that you can "try on" a new color of varnish. Augmented reality is very popular. That is what is used in this program.
The application Nail Art – Color by Number, Nail Polish Coloring reads the image of your hand from the camera of the phone. It applies the selected varnish color to your nails. So you can experiment with various designs. To start using, position your hand so that it fits into a special frame in the photo.
Here you can also see what shades are now in fashion and which brands are most often used by other people. So, many brands present their varnishes in this application.
You can choose the color here and now. If you like it, then you can order or buy this varnish in any specialty store. Thanks to the capabilities of this app, you can see how the selected varnish will look after drying.
You can turn the finished result into a photo and save it to the gallery of your mobile device. Besides, you can send this image to your friends using social networks or messengers.
This free application has a nice design and diverse functionality. You can easily save your time. Be prepared for change and don't be afraid to experiment.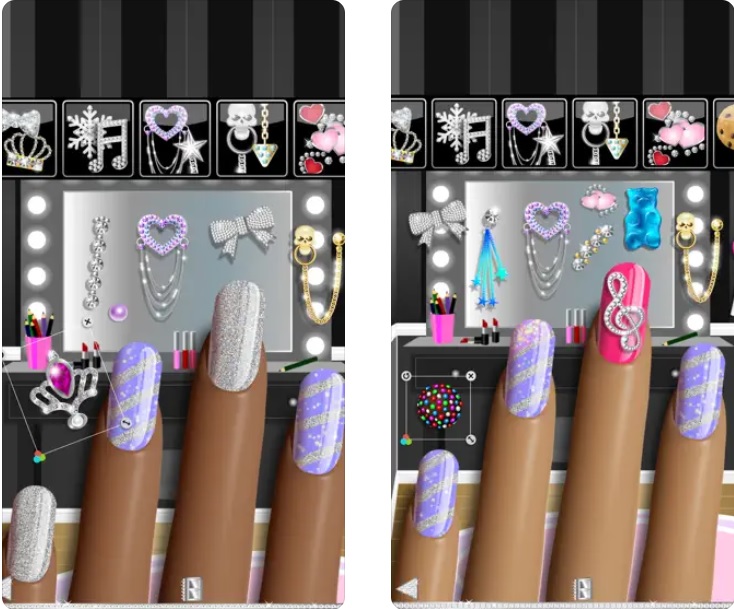 You may also like: 11 Free Apps That Let You Try Different Haircuts for Android & iOS
Nail art Nail Polish
Nail art Nail Polish is a mobile game that allows you to practice your manicure skills by creating a virtual manicure and pedicure.
You can choose from a variety of nail shapes, colors and designs to create a unique nail design. The app also includes nail care tools such as cuticle trimming and nail filing.
Once the user has completed their design, they can save it to their device or share it with their friends on social networks.
The principle of Fashion Nail Salon app is to provide users with a fun and creative way to practice nail art. The app is designed to be easy to use and has intuitive controls and instructions.
One of the potential drawbacks of the app is that it may not be as realistic as some users would like. Since this is a virtual game, nails and drawings may not look as authentic as they do in real life. Also, some users are reporting errors or crashes while using the app.
Some dissatisfied comments on the app included complaints about the limited number of nail shapes and designs available, as well as the lack of options to customize skin tones or hand shapes.
Some users have also found the app to be too repetitive or boring after using it for a long period of time.
Application features:
Allows you to unleash your creativity
Come up with new manicure designs
Practice manicure