Checking your own health is incredibly important. Unfortunately, it is not always possible to see your personal physician regularly and check absolutely all your health indicators.
Hearing, vision, touch, and other sensory levels are constantly changing, so you just need to monitor them. If you are really worried about this, you can also make a short diagnosis yourself.
We think you have noticed that your smartphone or smartwatch regulates all of your performance. Your smartphone knows how many steps you have taken in a day, and how well you slept at night, and can even monitor your heart rate with a bracelet.
What if we told you that your smartphone could also help you with your hearing? If you already have problems with your hearing or are just beginning to have them, you can track them with your smartphone. We have found the 9 best hearing test apps for iOS & Android.
Mimi Hearing Test
Not all applications have medical proof of performance and efficiency. Mimi Hearing Test is a certified service that has been a popular tool for testing people's hearing for several years.
The app is available for both iOS and Android, so you will have no limitations on your device. All the tests will take you less than 10 minutes and the results are truly reliable.
The Mimi Hearing Test is a hearing adjustment curve based on psychophysics. These technologies were introduced only recently, so you get a unique test. Throughout the test, you will determine how well you can distinguish between the tones of sounds in a standard environment.
You don't have to calibrate the sound – whether you use headphones or speakers. Also worth mentioning is the Mimi Hearing Test application interface, which is modern and technologically advanced enough to be trusted by users.
From the very beginning, you create your own Hearing ID, on which your tests will be conducted in the future.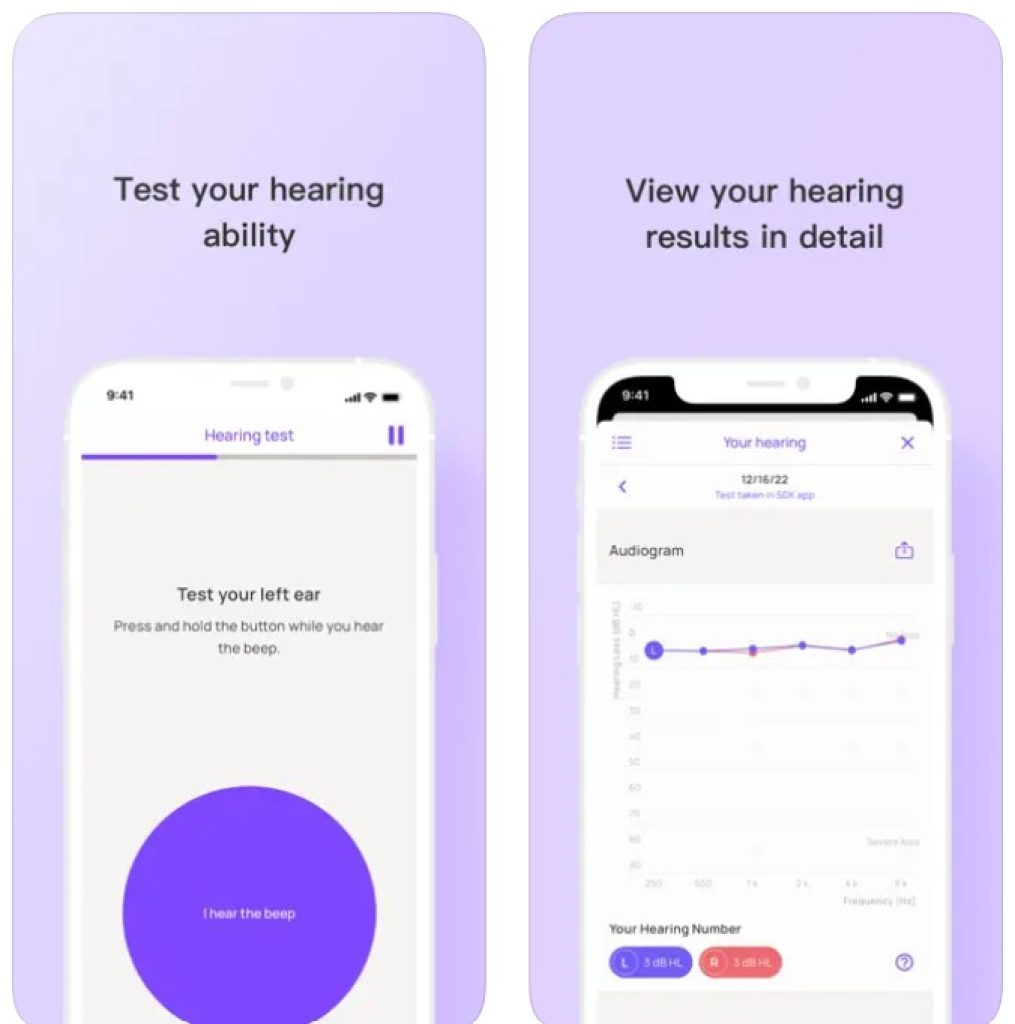 You may also like: 12 Best Heart Disease Apps (Android & iOS)
uSound by Samsung – Hearing Test
In order to create a truly high-quality and correct product, uSound has teamed up with Samsung technology giant. Together, they have created a special application that will test you for hearing loss for free.
In order to perform an initial diagnosis, all you need are headphones and your device. You will be invited to listen to some sounds and answer questions about them.
At the moment, uSound Hearing Test is a technological tool that allows you to keep in touch with your doctor. You will be able to get an initial online consultation and further find out if you really need to see a specialist in person.
If you need any treatment and problems are detected, you will, of course, need to get a complete diagnosis from your doctor. With the uSound Hearing Test, you will receive an initial hearing test and will be able to immediately assess risks to your health and senses.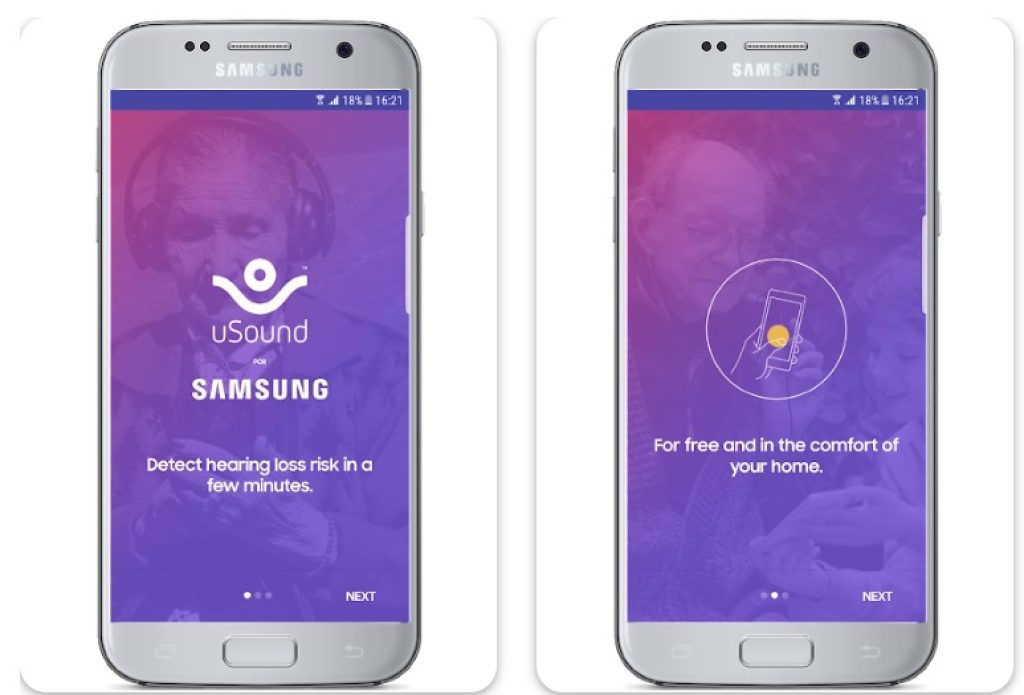 You may also like: How to balance sound in headphones on Android & iOS
Listening device, Hearing Aid
Hearing aids are often associated with people with something painful – like prostheses or other devices. Listening device, Hearing Aid is an alternative to a familiar hearing aid which, when used with a headset, can partially replace it.
If you realize that you are starting to hear worse or have been having trouble hearing for a long time, it is worth trying out an app. Of course, it is best to visit a hearing care professional, but if this is not possible, there are other options.
Listening device, Hearing Aid makes an initial diagnosis of your hearing. It only takes 3 minutes for a professional hearing check and then the application automatically adapts to your hearing.
If you want to change something, you will have the opportunity to choose the best amplification or noise modes. If you want to use a wireless headset as a headphone, it is worth noting that there may be slight delays.
Also, one of the advantages of Listening device, Hearing Aid is that if you don't hear something, an automatic recording will allow you to listen to the replica again.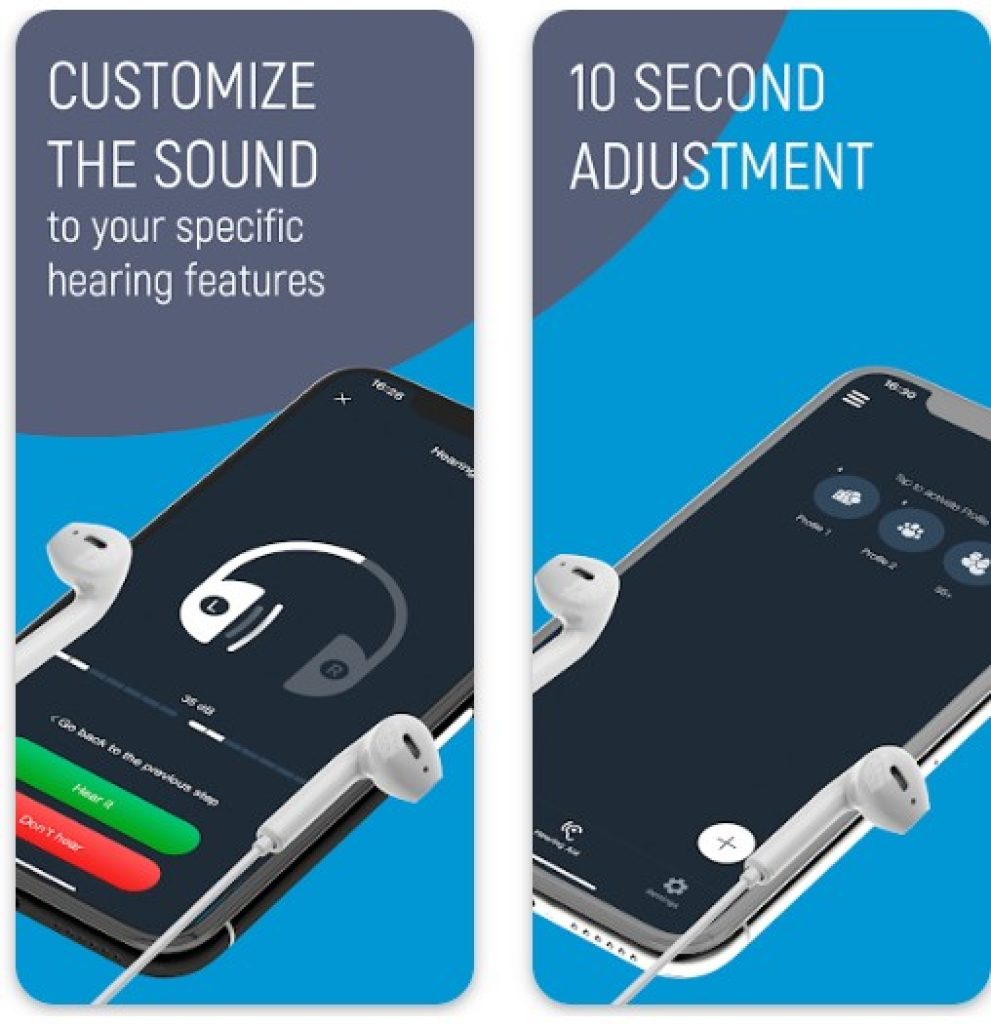 Hearing Test by e-audiologia.pl.
If the design of your application and its technological feasibility is important to you, then the Hearing Test by e-audiologia.pl will not impress you very much. All the work of the application is presented in the form of accurate graphs reflecting your performance at different frequencies.
There are also only a few buttons on the start page, which are responsible for all the functionality of the test. The Hearing Test by e-audiologia.pl is adapted to several languages, so you can understand everything that will be written on the screen.
The application features Tonal Audiometry, which is one of the main methods for examining and diagnosing hearing. It consists of listening to sound at different sound frequencies and marking observations in the application.
Based on these observations, the Hearing Test by e-audiologia.pl will draw conclusions about your hearing loss. In order to start the test, you will first need to calibrate your device to the correct frequencies – or you will need to use a given calibration with certain factors.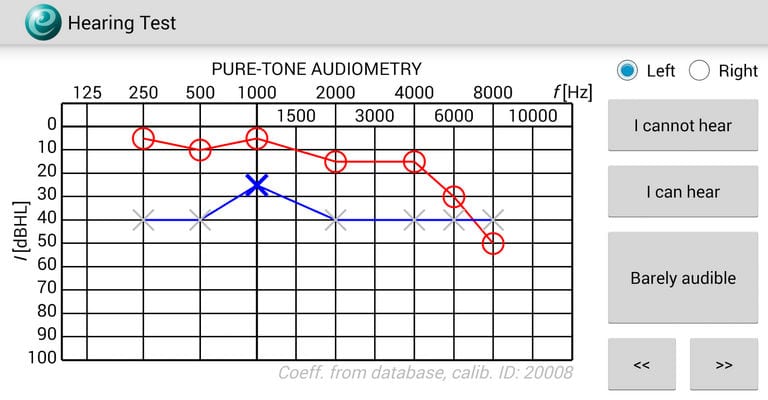 Petralex
Petralex is another hearing aid that may appear on your smartphone. There is no need to register or pay for a permanent subscription – you can use the application absolutely free and without advertising.
In order to try it in action, a regular headset will be enough – the headphones can be both wired and wireless. The latest technology will allow you to improve your hearing or at least check if you really need it.
When installing the application, you will need to take an initial test to adjust Petralex to your hearing. All the work is done with two ears at once – so if you are used to using only one earpiece, the results can be inaccurate.
As with any hearing aid, Petralex adapts to the environment and the current background noise level. There are 4 different amplification modes in total and you can choose from them.
But if you need more advanced help and functionality, you can purchase a premium subscription. It amplifies the sound of the built-in players, regulates noise reduction, and much more.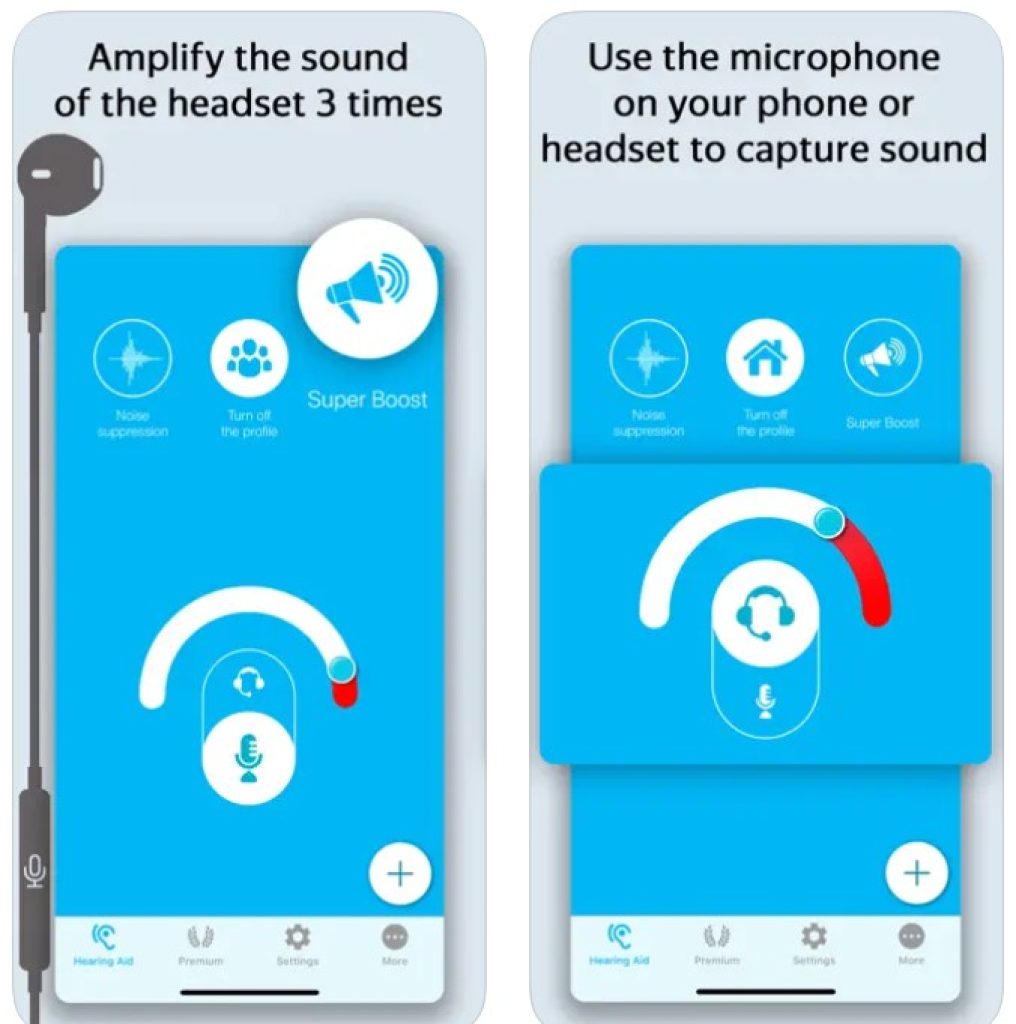 Signia App
Excellent minimalistic design, as well as an effective test – this is what the Signia Hearing Test is all about. This application is designed exclusively for hearing test, so you can quickly and easily see your performance and results.
The test has been developed by audiological experts, so you can rest assured that it is scientific. In total, the Signia Hearing Test presents 9 tests per ear, which will then form your average score on all indicators.
The test is a background noise in which you will need to detect some words. This is based on the fact that people with hearing loss cannot detect speech in noisy environments.
All words are imaginary, so in the Signia Hearing Test, it doesn't matter which language you are speaking. Your task is to select the words you "heard" from the choices on the screen.
After each of your choices, your ears will adjust the noise so you can get more accurate information. The Signia Hearing Test is no substitute for your official diagnosis – but you can understand if you have a problem.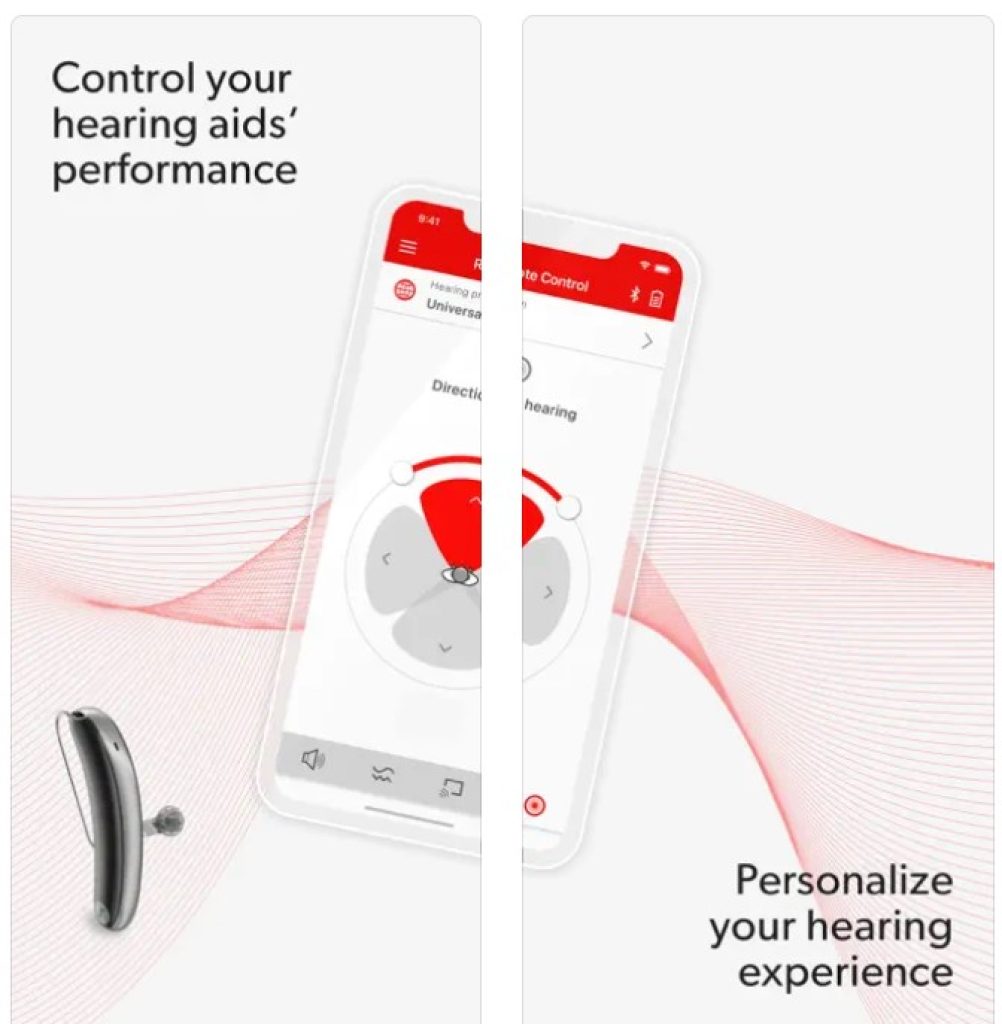 hearWHO
HearWHO is designed to provide easy access to hearing tests for people worldwide. The app is completely free and allows users to test their hearing in the comfort of their own homes.
The app uses scientifically proven technology to conduct hearing tests. It works by playing a series of tones at different frequencies and volumes, which the user listens to through headphones or earbuds.
The user is then prompted to indicate if they can hear the sound or not. The app uses this information to generate an audiogram, which can be used to assess the user's hearing ability.
HearWHO has been tested extensively, and the results have been found to be accurate and reliable. The app is also easy to use, making it accessible to people of all ages and technical abilities.
HearWHO is an important tool for identifying hearing loss early on, which is critical for preventing further damage and improving quality of life. It is recommended that users seek further evaluation from a healthcare professional if they suspect they may have hearing loss.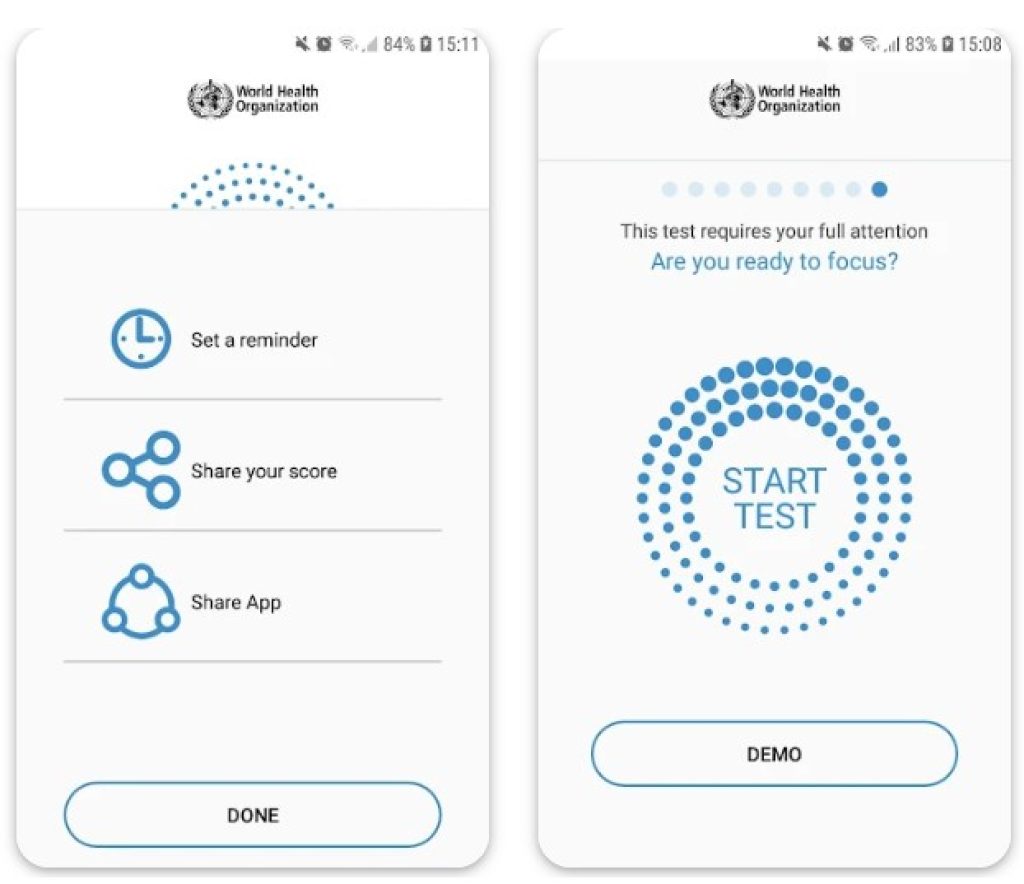 You may also like: 5 Best Health insurance apps for Android & iOS
AudioCardio Hearing & Tinnitus
This app claims that it will help users to improve their hearing ability through targeted sound therapy. AudioCardio uses personalized soundscapes to stimulate the user's inner ear, which can help to improve hearing acuity and reduce the risk of age-related hearing loss.
Audio Cardio's hearing tests are conducted by playing a series of sounds at different frequencies and volumes, which the user listens to through headphones or earbuds.
The app then generates a personalized sound therapy program based on the user's test results. This program is designed to target specific areas of the user's hearing ability, with the goal of improving overall hearing health.
The effectiveness of Audio Cardio's sound therapy program has been tested extensively, with positive results. Users have reported improved hearing acuity, reduced tinnitus symptoms, and increased overall quality of life.
The app is also recommended for people who have been diagnosed with age-related hearing loss, as it can help to prevent further damage and improve overall hearing ability.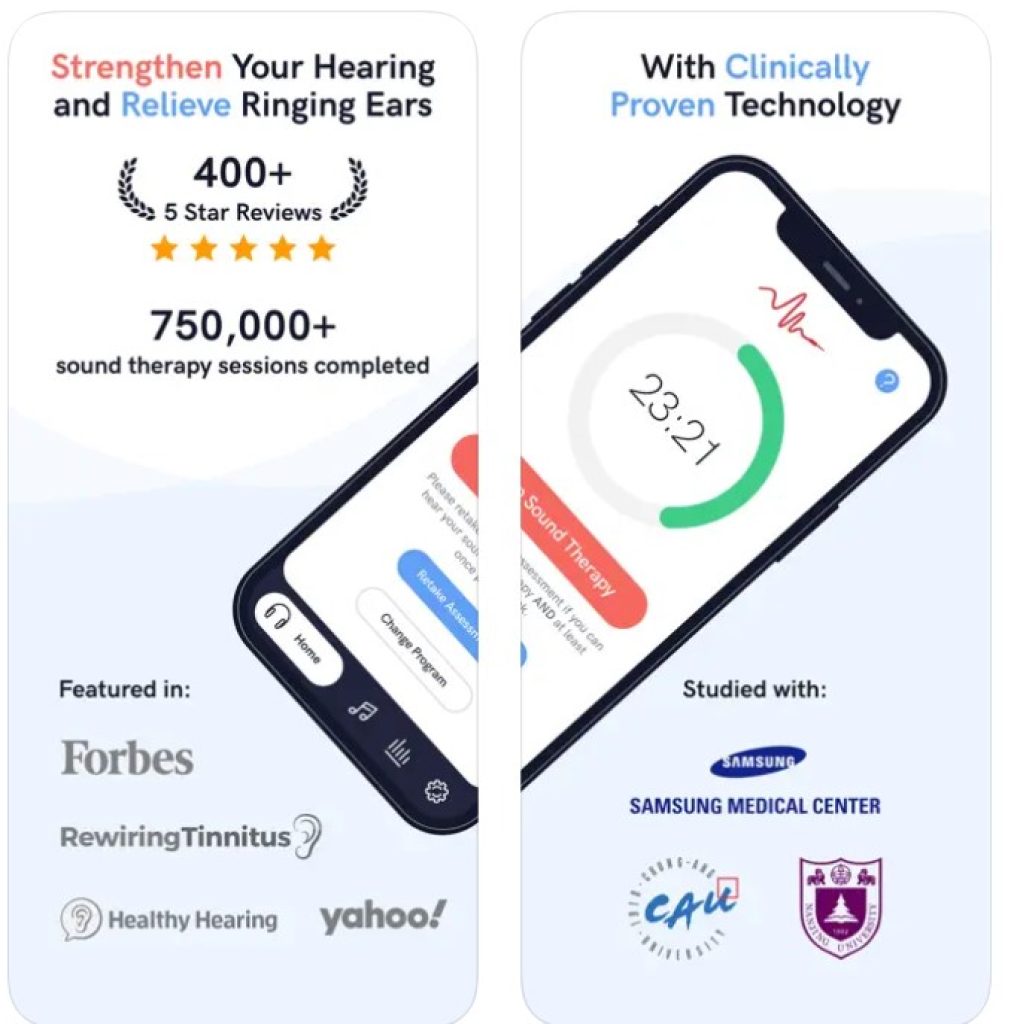 Tonal Tinnitus Therapy
Deafness is not always limited to weak hearing. One common phenomenon is tonic noise in the ears, which is also uncomfortable. The Tonal Tinnitus Therapy application can help you in this case.
The application adjusts the 4 tones of sound in the therapy – two above and two below. During the therapy, you reproduce all these therapeutic tones and check how well you can hear them.
You can change these tones during the therapy and you can also play them in the background when your smartphone screen is turned off.
If you really have a problem with the tone, this therapy is recommended for several hours per day. Tonal Tinnitus Therapy will show you how much time you have already listened to today.
No one guarantees immediate results – some users have noticed improvements as early as 1-2 days after the start of therapy, and some have taken months.
To begin with, you will be able to test a trial period of Tonal Tinnitus Therapy and then decide if you really need to work with tone.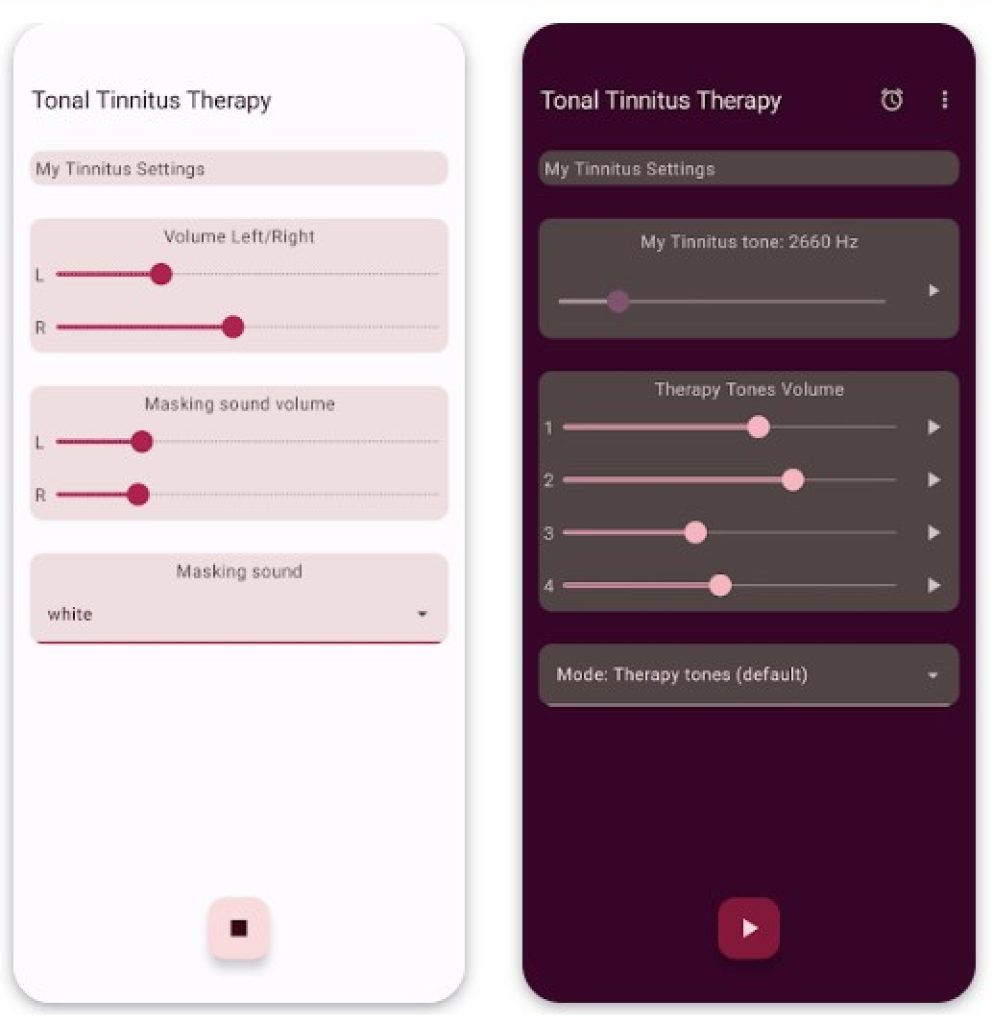 Hearing Test H4
Hearing Test H4 was developed to help users test their hearing ability and provide them with personalized sound amplification. The main idea of the app was that any type of user would be able to handle the app controls.
Here the hearing tests are conducted by playing a series of tones at different frequencies and volumes, which the user listens to through headphones or earbuds. The app then generates an audiogram based on the user's test results, which can be used to identify any hearing loss or deficiencies.
The app also provides personalized sound amplification, which can help users hear better in different environments. You can adjust the amplification settings based on their specific needs, such as reducing background noise or enhancing speech.
It's really difficult to analyze the effectiveness of the app based on the user's reviews since there are none. But we conducted our own tests and can say that at least the app contains the features it claims to perform.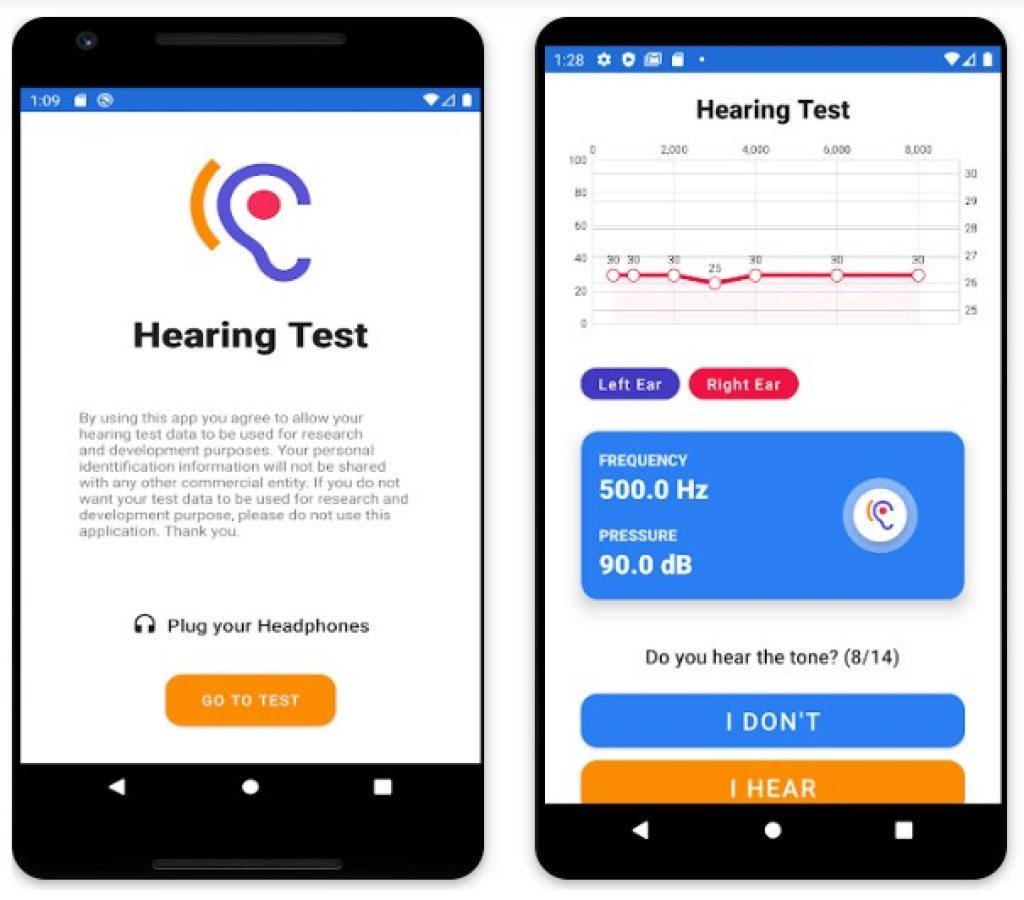 You may also like: 11 Free Voice Recognition Apps for Android & iOS
Axil Hearing Test
At first sight, it seems like this is an extremely simple app, but in fact, it has an extremely user-friendly interface that will take you no time to handle. It was developed so all people of all ages could access the app.
The app conducts hearing tests by playing a series of tones at different frequencies and volumes, which the user listens to through headphones. The user then indicates if they can hear the sound or not. Based on the test results, the app generates an audiogram, which can be used to assess the user's hearing ability.
The app's interface is easy to handle for the elderly. The app has a clear and simple design with large buttons, making it easy for the elderly to use without confusion. The app also provides clear instructions on how to conduct the hearing test, ensuring that users can easily navigate through the test.
Overall, we would definitely recommend checking Axil Hearing Test if you are looking for a good test hearing app that is versatile enough.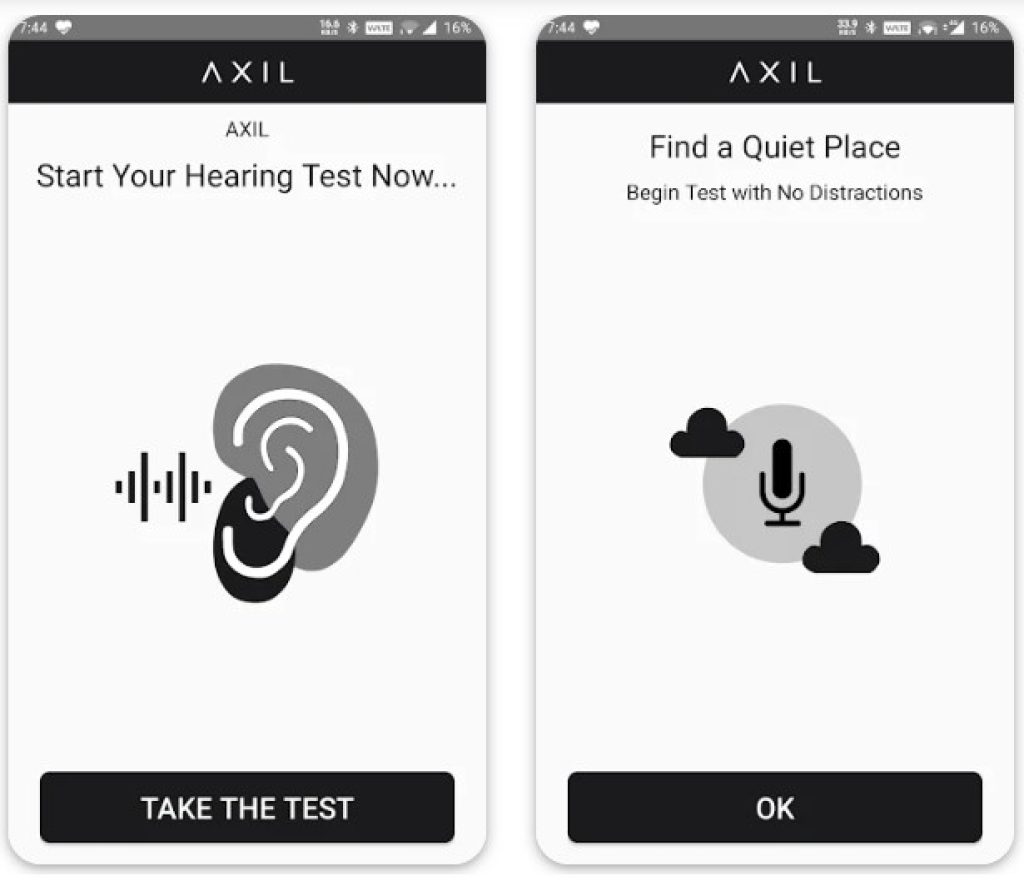 Of course, no one can guarantee you an incredibly accurate diagnosis without a specialist. But if anything starts to bother you, you can do the preliminary test yourself without a doctor's visit.
If you are not satisfied with the result or you still have doubts about it, then you will need to go to the doctor. With your smartphone, you will get at least an idea of how your hearing is doing.
Either way, our team recommends regular visits to all hearing care professionals – especially if you have complaints or concerns.