The software that has earned user recognition and world awards is the Sticky Password app! This app is an irreplaceable assistant in our daily life, which reliably remembers and stores your personal data on your devices.
What is more, if you don't want anybody to track your GPS location – you can use the fake GPS location apps.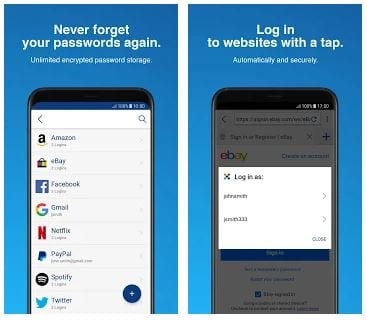 It is based on leading encryption technologies to ensure complete privacy. When you first start the Sticky Password, you are given a short description of the features. You need to log in using your email and a master-password, which provides extra security. It takes about a minute.
And if you have that kind of super jealous boyfriend\girlfriend who still wants to explore your phone even with a password you can calm them down by creating a fake conversation on your phone.
All storage data is in folders in front of you. The plus sign at the bottom of the screen allows you quickly create new bookmarks. You have access to settings, browser, password generator, synchronization, and lock the screen at the top of the screen. The functions are designed in detail with maximum user benefit.
1. The app performs great as a password manager. It keeps all your logins and passwords of your social networks and favorite websites and offers auto-complete options to avoid typos and provide fast access.
2. The app has the ability to analyze old and weak passwords and generate strong unique variants. You can set the password length and other settings.
3. It works in any popular browser and operating platform and can store an unlimited number of your accounts.
4. You can easily create private notes where you can store texts, passport data, licenses, and other important documents.
5. A digital vault is available to you due to you can safely store business card and credit card data and make a payment in one click.
Synchronization and backup functions, a priority support are available in the Premium version. But you can use it for free for 30 days.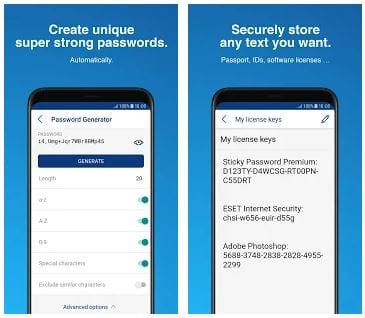 And to be fully secured, use the software to hide apps on your phone.
The product stands out by the high security, fast creation and fast access to data, stability of operation, and, of course, a user-friendly interface. Developers are always ready to answer your questions. The Sticky Password app will definitely make your online life easy. Highly recommend!