Suppose you have old or unwanted smartphones lying around at home. In that case, you have a fantastic opportunity to turn them into a CCTV camera, streaming server, or streaming device, as well as a webcam for your computer using just one software!
And who knows maybe you will catch something funny on camera and then want to post it on YouTube? By the way, you should check out our article about the apps that allow you to download videos from there.
CamON Live Streaming is a free application that will turn your Android smartphone into a camera, significantly saving on buying a new one.
Note: If you are going to use your Android device to connect to a computer, it does not have to be an old and useless one. You can use your usual smartphone when you need a computer webcam.
Launch the CamON Live Streaming application. In the lower-left corner, you can see camera parameters: its resolution, bitrate, scale, FPS. If you want to change them or other parameters, then go to the Settings icon top right.
And if you're tech-savvy enough, you can even make this stream play live on YouTube and play it in the background. Check out the apps that will assist you with that.
In the first three sections of the application settings, there are the camera image parameters. Here you can change the image's orientation from the default horizontal to vertical, set a different resolution up to the maximum supported by the camera, enable autofocus, enable night mode, select a different FPS, etc.
Attention! The application implements the connection of the gadget camera to the computer only via the local network. It implements such a connection with the assistance of a special driver program installed to your computer. If you plan using your device's camera as a webcam, connect both the gadget and the computer to the same local network.
CamON Live Streaming's capabilities for using an Android device as a surveillance camera are immense. CamON Live Streaming successfully captures motion in the frame, thanks to which it successfully implements an alarm system. Also, there is a night vision function. CamON Live Streaming.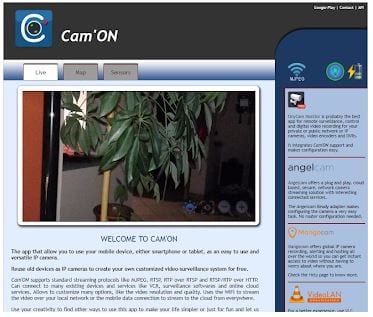 If at the moment you're tired of trying to control your own life, you can relax by watching the best Korean shows.
To sum up, CamON Live Streaming is definitely unique for its ability to adjust various camera settings in terms of free use! This app perfectly realizes the project of giving a second life to unnecessary Android-gadgets – obsolete or partially damaged. CamON Live Streaming amazes with the variety and possibilities of its functions, and absolutely everyone should try it!