Do you need to tune your musical instrument accurately and quickly? You definitely have to download the Strobe Tuner Pro app! All settings will be on your phone or tablet! The main feature of this app that is shows the real stroboscopic effect on your device.
If you want to get the better sound in everything, you should also read our article about the best auto-tune apps.
The app was tested with many different musical instruments, it is suitable for guitar, violin, bass, ukulele, viola, cello, or banjo, you can choose the needed one in the settings menu. Also, it allows quick access to instrument switch settings.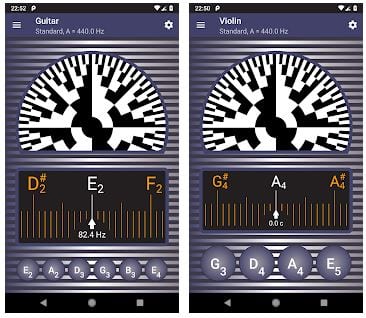 We are sure that even an amateur can tune a musical instrument with ease, and if you are a professional, you will appreciate the convenience of the app, high quality, and high accuracy. The app has a built-in function of the chromatic tuner to detect the frequency of the tone played on your instrument and shows it on the chromatic scale.
Rest assured, the adjustment is very accurate, you will tune the string to ideal. To make the adjustment more precise, you can use the strobe tuner. It guarantees extreme accuracy due to the set of a position of the strobe pattern. The slower the strobe moves, the more precisely the instrument is tuned.
Probably, if you like music editing you like video editing as well. In order to improve the quality of your videos and add the music to them in the best way, we recommend using these apps.
We recommend using the first-start tutorial and built-in help to tune your instrument better. You can also tune by ear. You need to play reference tones using the buttons at the bottom of the screen.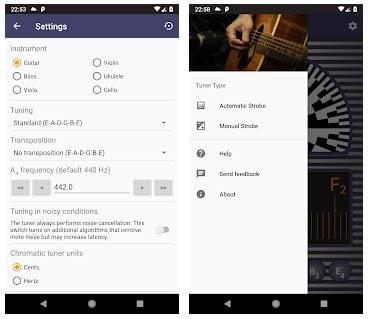 The app settings are really advanced, and the interface is user-friendly. It has a concert pitch frequency setting, can change note naming to English, European, Solmization, has a temporary adjustment of the concert pitch according to the accompanying instrument, has noise cancellation, which works even with a metronome switching on.
Do you publish your music on TikTok? If so, check out the apps to gain more followers.
The color themes are provided for better perception. Download the Strobe Tuner Pro app, and you will want to play your musical instrument as quickly as possible!