15 best Sudoku apps for Android & iOS
Says that Sudoku is the Rubic's cube of the 21st century. And there are no doubts about it. The motherland of Sudoku is not Japan as many people worldwide think, but it is the result of thousands of hours of hard-working achieved by several scientists and ordinary people.
But the game first appeared exactly in Japan in 1984 where it was given the name "Sudoku," which is short for a longer expression in Japanese – "Sūji wa dokushin ni kagiru" – which means, "the digits are limited to one occurrence."
Sudoku continues to be highly popular in Japan, where people buy over 600,000 Sudoku magazines per month. As for previous versions, the prototype of modern sudoku was created even 2000 years ago in China!

It is a perfect game in any way. First of all, there is a gigantic benefit to people's health, especially for brains. Do you know that sudoku not only develops logical thinking, it appeals to people's innate sense of order; some people said that they became very satisfying because of filling out those empty squares on the Sudoku grid.
And, what is more important, there are a lot of benefits for patients suffering from Alzheimer's disease or related disorders from Sudoku. It makes them think a lot, gives a hope to get out of the illness and live a normal life.
Nowadays there are a lot of ways for solving sudoku from ordinary magazines with hundreds of sudoku to pocket mobile sudoku and online games based on traditional rules and that kind of thing. If you are sudoku lover, please, stay with us and we will show you 15 best sudoku apps for android & IOS.
By the way, if you in searching for different logical games, fortunately, you are in the right place. Visit some of our posts on this theme. 15 Best crossword apps for Android & iOS. I think, no words need here.  Crossword is an immortal trend all the time, especially if you can take it everywhere.
What is more, I recommend you to look at 20 Best apps to learn Japanese for Android & iOS. So why not if Japan is a very ancient and beautiful country. It will be a good benefit for you to know a few Japanese words or phrases.
Sudoku  by genina.com
Sudoku puzzles are highly addictive, playing the same old kind would somehow still bore you in one way or another. Everybody can find his cup of tea, because of the ability to choose from 4 different levels of difficulty. Even a beginner can try himself in finding a solution for sudoku.
What is more, the app has several important features, which without this game wouldn't be such exciting. For example, the developers took care of hints and tips. They don't give you the answer but gives you some hints to make you think logically.
Moreover, if something goes wrong and you are got out from the app, the auto-save mode will return you to the place you had stayed. Unlimited Undo and Redo, don't speed up and look at numbers carefully.  Other good features are the ability to submit results and track progress online, observing top scores, and history.
When you realize that you are ready for taking part in a competition, just go to the section real-time competitions and find your competitor. Apart from, you face with nice design and friendly-to-use interface.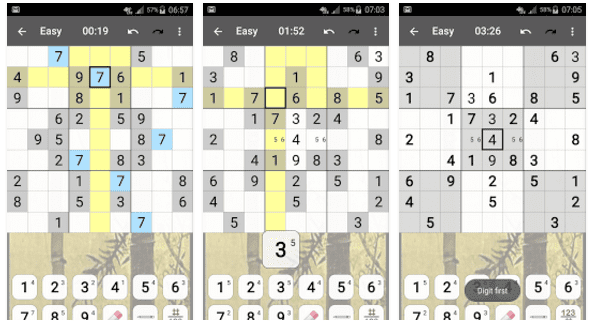 You may also like: 11 Free Apps for the Periodic Table of Elements
Sudoku by Brainium Studios
This app has achieved good results, according to the statistics. It shows that the app has been installed by approximately 10 million people all over the world. As for its rating, people rated Sudoku quite highly- up to 4.7 stars out of 5.
Let's talk about its features. First of all, I want to notice, that if you don't have any vision about how the game is played, don't be afraid and install this app. Inside there are most advanced tools to perfect your sudoku solving skills.
For those who just want to relax there are one or to simple levels, from two to 3 levels of middle and high extension of difficulties.
The hints don't just give you the answer, they help you learn the "why" behind the answer. This feature will help you learn all the techniques you need to solve Sudoku puzzles whether you're a complete novice playing your first game, or you've progressed all the way to expert difficulty.
What is more, such features as Unlimited Undo/Redo; Auto-Fill Notes Option; Auto-Clear Notes Option, and Auto Error-Checking Option make you be sure that nothing will let you down.
Sudoku by Volcano Entertainment
Volcano Entertainment team did all their best to turn your sudoku solving into a pleasant process of relaxation. Sudoku by Volcano Entertainment provides you with an endless collection of masterfully crafted puzzles and perfect features in addition.
First of all, choose the most fittable level for your skills, there are eight various levels of difficulty. Moreover,  Unlimited Undo/Redo, auto-Fill Notes Option, and an ability to measure your progress and track the best strategy.
Like in other sudoku apps, the hints not only give you the answer but explain why the answer is what it is
Another point is friendly to use interface and nice design with an ability to change and choose themes, change a type of numeral: Roman or Chinese. What is more, use the mode "Nighttime" when you playing in the dark, so your eyes don't feel the pressure.
Sudoku world
Sudoku World is the classic sudoku game. The objective is to fill a grid with digits so that each column, each row, and each of the regions contains all of the digits from 1 to the number of the grid size.
4 different levels of difficulty allow you to try yourself in solving up to 8000 stages! Now Challenge mode is also available: it includes random issues, time limit, maximum difficulty, and the absence of any hints. Do you suppose it is up to you? Try and find out?
The Sudoku puzzles in this app can be played in either landscape or portrait mode and if you are left-handed, you can still enjoy playing the puzzles in landscape mode with great comfort and ease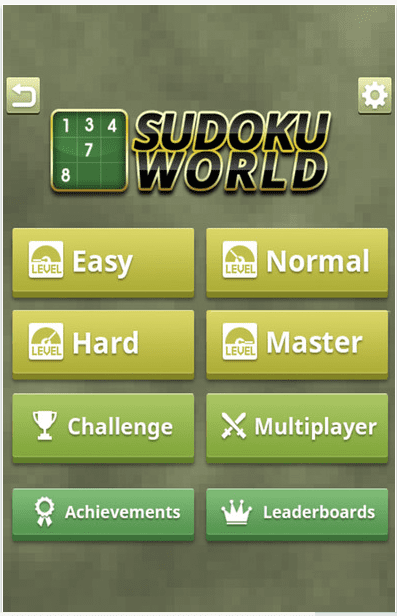 Sudoku free by Banana & Co
Whether you are a beginner or an avid player of Sudoku, this app is for you. Sudoku Free, aside from having up to 10,000 Sudoku puzzles to solve, is also integrated with OpenFeint where you can see global leaderboards for each difficulty level and achievements.
With this, you can see how you are doing up on the leaderboards and probably get some OpenFeint points for every achievement. A little play of colors wouldn't hurt, so changing the theme once in a while may help the app look new to you each time you play.
Like on other apps, the features include auto-clear notes and grid space, hint and highlight system lets you play quickly and get unstuck, and ability to track the progress, and turn on a light or dark mode. Moreover, you can choose the most comfortable design, for example,  square or circle grid design.
Sudoku 2
This app will keep you entertained all day long! Sudoku 2 has an intuitive and friendly to use interface that conveniently lets the players focus more on the game process itself rather than figuring out how the UI works. Simplicity sure does have some good points and with this app, having a simple UI is really appreciated.
4 various modes and 3 difficulty levels will provide you with brain training for hours. Apart from, there are such features as an ability to look at mistakes or available numbers, unlimited undo and redo, auto-saving, and that kind of thing.
The objective is to fill a 9×9 grid with digits so that each column, each row, and each of the nine 3×3 sub-grids contains all of the digits from 1 to 9.
Sudoku for iPhone, iPad, and Android
Inside this app, you will face such popular variations of Sudoku as Sudoku 12×12, Sudoku 16×16, Jigsaw Sudoku, Nonomino Sudoku, Squiggly Sudoku, Sudoku X, and much more.
I think the developers exactly know what they work for because the number of installs achieved 50,000  that is quite good for such kinds of games. As for features, we can highlight a wide range of puzzles including  120 free Classic Sudoku and Sudoku variants puzzle samples.
Apart from, the Sudoku puzzles in this app can be played in either landscape or portrait mode and if you are left-handed, you can still enjoy playing the puzzles in landscape mode with great comfort and ease. Unlimited undo and redo, hints, and tips will also be with you if you are in trouble.
Web Sudoku
Web Sudoku is a perfect way to boosts your skill in logical thinking, exercising your brain even if you are just playing a game. Having 4 free levels- Easy, medium, hard, and evil you provide your brain with challenging tasks every day.
The app uses a pencil market option, so you can put the right numbers in a cell. In this app, you can continue a previously played puzzle or restart a puzzle completely. The undo and redo buttons are available. Don't be afraid to make a mistake, you can always go back a step in solving your puzzle.
As for modes, there are two special – Portrait and landscape, choose the most comfortable.  Play left-handed – switch the numbers and grid.
Sudoku 9×9! By Sylvain Becker
Another good app for training your brain and spend free time with a lot of benefits. Let's look at the main concept. Once you play a puzzle game, Sudoku, for example, it wouldn't be a big surprise that you will find it hard to part from the puzzle.
But, I think, 4 different types of difficulty will impress you. Play from the easiest to the evil mode, let's find out who will is the best. As for features, they are quite similar to other apps.  Auto-clear notes and grid spaces, auto-fill rows, columns, and groups, unlimited undo and redo.
Moreover, the statistics will help you to track and measure the progress and look at the puzzle in another way.
As for design,  you can choose from square or circle grid design and turn on one of the modes: Light or dark with adjustable colors.
Sudoku by Jason Linhart
A benefit of this app is phone and tablet support, so you can take your sudoku everywhere, or give it to solve to your grandma who doesn't see good. For unlimited puzzles, check out our other Sudoku products: 🙂 Sudoku + (paid) and Sudoku Joy (free).
Use our hints to learn how to be a better player. They not on;y give you the right answer but answer your question:" why is it so?" The app has 17 different difficulty levels, while others, on average, 3 or 4 levels. Also, the functional is developed in such a way so you can learn new techniques and pick up new heights.
Multi-level undo and redo,  automatic or manual pencil marks are also included in the features. Apart from, the user can customize the design on his own. Choose from digit styles, including Kanji and Hanzi, choose one of six different color schemes and that kind of thing.
This app just gives us an opportunity to improve our skills and get some new interactive puzzles. All games are true Sudoku, with symmetry and a single solution that can be discovered by logic alone. There are 4 different difficulty levels, so if you are a beginner, it is the best time and way to start training your brain.
Moreover, track your statistics so as to know every time, how much faster you solved it today? Apart from the app is equipped with a well-designed interface and friendly and sharp graphics. Nowadays it has more than 500 thousand installs and a rating of 4, 7 on Google Play. I hope such numbers will influence you positively.
Sudoku Epic
Sudoku Epic is a sudoku game with 5 different sudoku games in one: Regular 9×9 puzzles, 6×6 mini, Wordoku (also known as Letter Sudoku), Killer Sudoku and daily sudoku challenges. I guess, you don't have any vision of what is Killer Sudoku and how it is different from the ordinary Sudoku puzzles.
Well, it is an original collaboration between ordinary Sudoku and Kakuro. More information about this kind of Sudoku you can find downloading it. As for features, 5 difficulty levels, new Sudoku, Wordoku, and Killer Sudoku are added every day, useful hints and tips to help even expert puzzles solvers.
They not only give you the right answer but explain the reason, why these numbers or letters should be here.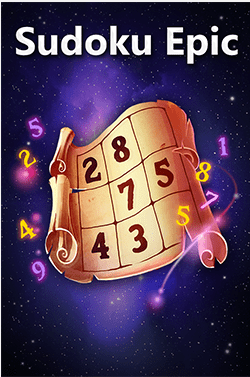 World's Biggest Sudoku
The giant grid of over 350 hand-crafted Sudoku puzzles. Can you complete the whole grid, beat the Quests, and collect all of the Trophies? We hope, yes. There are 4 different difficulty modes you can play for: easy, medium, hard, and super-hard grids.
If you want to complete the game, follow the next steps. As for features,  361 individual sections you need to complete to get special prizes, collect all 45 of the prestigious trophies and complete all of 57 tasks, open all of 10 achievements. Only in this way, you will achieve success.
But don't be afraid, there is a system of hints that need to help you on each level. Use pencil marks not to miss important details.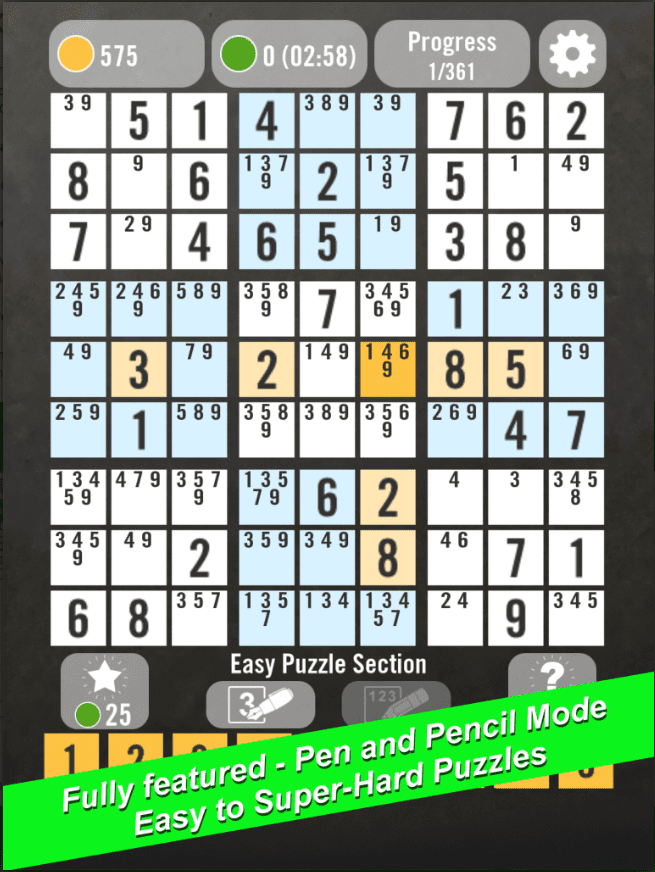 Sudoku Free (Classic) By Astradia
Sudoku Free is a classic Sudoku puzzle game with amazing features for everyone to enjoy, from beginners to experts. This app can be downloaded for free and is free from any ad support. No ads will pop out while you are busy concentrating on solving your puzzle, a plus to this app's simple but easy-to-use interface.
As for game features, there are 5 difficulty levels: very easy, easy, medium, hard and extreme, auto highlighted numbers for a smart hint, selected cell highlighting, 2 color schemes: day and night with corresponding colors. Also, if you feel that you can't play anymore, you can pause at any time and resume without losing your progress.
The Sudoku puzzles in this app can be played in either landscape or portrait mode and if you are left-handed, you can still enjoy playing the puzzles in landscape mode with great comfort and ease.
You may also like:
21 Best crossword apps 2020 (Android & iOS)
Sudoku Shelf
Nice interface for having much fun! For each completed puzzle you will get points. The score depends on the puzzle difficulty level and time spent on this game. Attention! For each hint, your score will decrease by half. Be sure Sudoku Shelf will keep you playing sudoku for longer periods of time.
Apart from the already good features like 5 levels of difficulty from the easiest to the hardest, the app is absolutely free to download. Moreover, annoying ads are not a problem anymore.
What is more, you can choose the type of sudoku according to your skills and level of solving. Different puzzle types: 4×4, 6×6, 9×9, 12×12. Such features as undo & redo functions, hints, and tips, pencil marks, and statistics will help you to become a guru of Sudoku.