We do not often make reviews about health apps on our website, but this one I just couldn't pass by. I am genuinely impressed with the Liver Health App – it's a small yet powerful tool packed with a wealth of information and recommendations for everyone, including patients, nurses, doctors, and healthcare professionals.
You may also like: 11 Best AI Healthcare Apps (Android & iOS)
As someone with extensive experience in liver disease treatment, I can attest to the meticulous compilation of this app, utilizing the latest clinical information. The app's twelve sections are thoughtfully organized to provide a comprehensive and user-friendly experience.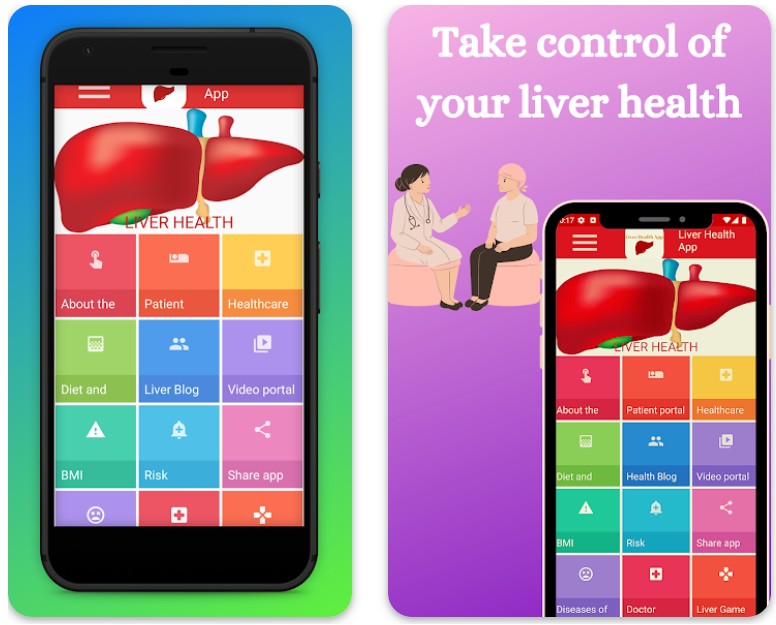 Starting with the Risk Assessment section, I appreciate the detailed evaluation using images and informative feedback on the user's risk of liver damage. The guidance provided at the end is invaluable, offering clear directions on what steps to take.
The "Diet and Liver" section is particularly useful, offering advice to both patients and healthcare specialists on the best diets for overall liver health and specific liver conditions. This practical guidance is crucial for those managing liver diseases.
The inclusion of BMI assessment is a commendable feature, addressing the impact of excess weight or obesity on liver health. The instant results, accompanied by further advice, emphasize the importance of discussing these findings with a healthcare professional if necessary.
You may also like: 5 Best Health Insurance Apps for Android & iOS
The Patient Portal section is a standout, allowing users to understand the implications of abnormal liver blood test results. It empowers individuals to interpret their LFT results and establish potential causes, facilitating more fruitful consultations with healthcare providers.
The Medical Portal is a valuable resource for healthcare professionals, aiding in the interpretation of abnormal LFTs and guiding towards the best strategies for investigating liver function disorders.
Regularly updated blogs and video portals keep users informed about the latest developments and news related to liver diseases and hepatitis—a feature that ensures users stay current on relevant information.
The "Share" button is a thoughtful addition, making it easy to disseminate information to colleagues and other stakeholders.
The detailed discussions and premium content on common liver diseases, along with the "Liver Care Tips" section, further enhance the app's educational value. The incorporation of a liver-themed game adds a fun element while testing users' knowledge on liver diseases, contributing to continuous medical education.
The option to connect with a hepatologist for expert opinions and access up-to-date information on liver diseases adds another layer of value to the app.
The "Liver Health" app, developed by Worthy Works, is a comprehensive tool for monitoring and improving liver health. It provides users with valuable insights, tips, and resources to support liver wellness. With user-friendly features, this app is a convenient companion for individuals looking to take proactive steps toward maintaining a healthy liver.
You may also like: 7 Best Medical Alert Apps for Android & iOS
Overall, the Liver Health App is a comprehensive and user-centric platform. Its dedication to providing valuable information, fostering education, and supporting both individuals and healthcare professionals in managing liver health is evident. I highly recommend this app to anyone seeking a reliable and informative resource in the realm of liver health.