I found a good game to develop your mind. Popular quiz game Film Awards Quiz A+ puts players' knowledge of cinema honors and awards to the test. Film Awards Quiz A+ is a required app for movie fanatics and trivia fans because of its large question bank, entertaining gameplay, and intuitive interface.
You may also like: 15 Best Quiz Games for Android and iOS
The abundance of questions about film awards, especially the Academy Awards (Oscars), is one of the highlights of Film Awards Quiz A+. The game has a vast database of questions that cover a variety of film genres and eras, making it an excellent quiz for cinema fans. Players may test their knowledge of cinema awards from multiple countries, categories, and eras, making for a varied and difficult gameplay experience.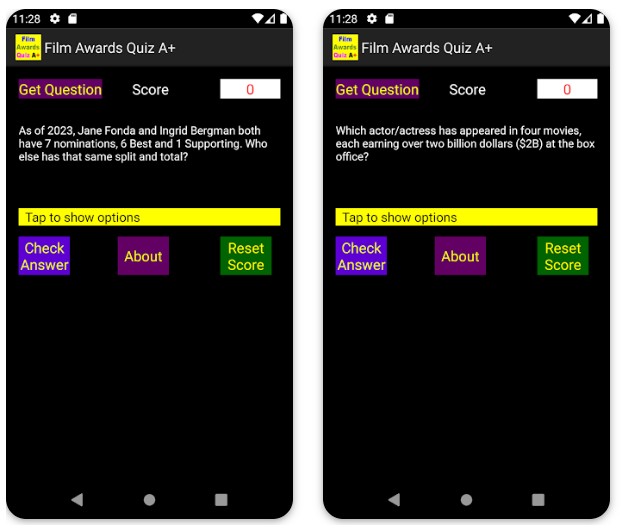 Playing Film Awards Quiz A+ will help you improve your memory, decision-making, and cinema knowledge, among other things.
Players' memory and retention abilities are improved by having to recollect details about previous award winners, nominations, and movie trivia. The game also challenges players to evaluate issues and select the right responses in a constrained amount of time, which improves their capacity for critical thought and decision-making.
The game is really straightforward to understand and play. All you have to do is choose the category—such as Best Picture, Best Director, or Best Actor/Actress—you wish to compete in from a selection of choices. Then a set of inquiries pertaining to that category are asked of you. You must choose the right answer from a list of four options for each question.
This app's ability to play a variety of movie genres, from older Hollywood movies to more modern blockbusters, is one of the things I appreciated most about it. It's also fantastic for learning more about the development of the movie business and the many honors that are presented annually.
The app's ability to monitor your progress and display your score at the conclusion of each question is another fantastic feature. This is a fantastic incentive to keep playing and work to raise your score.
You may also like: 9 Best Anime Quiz Games for Android & iOS
The questions on Film Awards Quiz A+ range in level from simple to difficult. The game's several difficulty levels let players select their own degree of challenge or advance from simpler to complex questions as their movie knowledge grows. Because of this, gamers of all skill levels who enjoy movies may enjoy the game.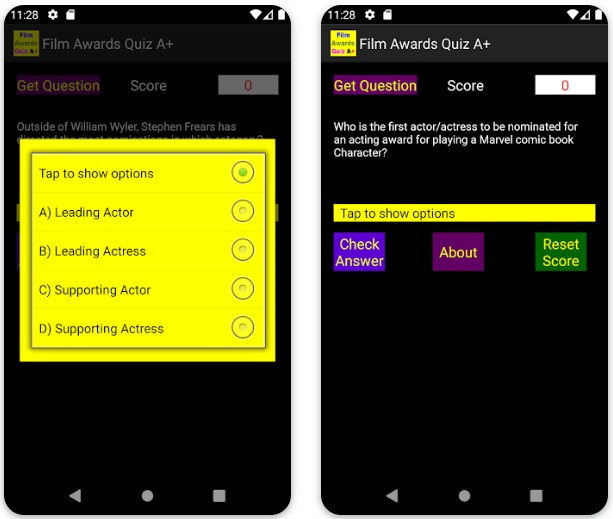 With a clear, basic style that puts emphasis on the questions and answers, the graphics of Film Awards Quiz A+ are straightforward and useful. Players may pick their responses and move on to the next question fast thanks to the game's clear and simple user interface. Players get a seamless and entertaining experience because of the responsive gameplay.
You may also like: 7 Best Flag Quiz Games for Android and iOS
In conclusion, cinema Awards Quiz A+ is an entertaining trivia game that tests players' familiarity with cinema honors and awards. For fans of movies and trivia, Film Awards Quiz A+ is a must-try app because of its huge library of questions, tips, and gaming options.