If you are searching for both an educational and involving game for your children, we have to recommend you to try PopMath Original application. So, let's read more about its features!
First of all, we would like to mention that this app is pretty lightweight, so the installation process will not take up much time. Besides, the app supports multiple languages.
And the adults can explore the best math game apps for them.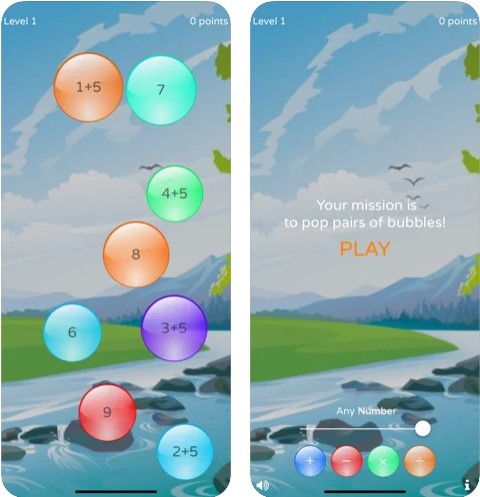 But what's the major point of this game?
When you open the game, you will find six pairs of bubbles on the screen. Each bubble has a number – for example, 5 or 2+3. Your task is to pop the corresponding bubbles. The game comes with a great variety of levels. As you play, there will be added subtraction, multiplication, and division. If you want, you can also choose any of these operators.
By the way, the app enables you to select a particular table to practice – from 2 to 12. The maximum number for addition and subtraction goes up to 1000, and 20 – for multiplication and division. When you pass a level, the game will demonstrate the message personalized to your performance, your number of mistakes, and the spent time.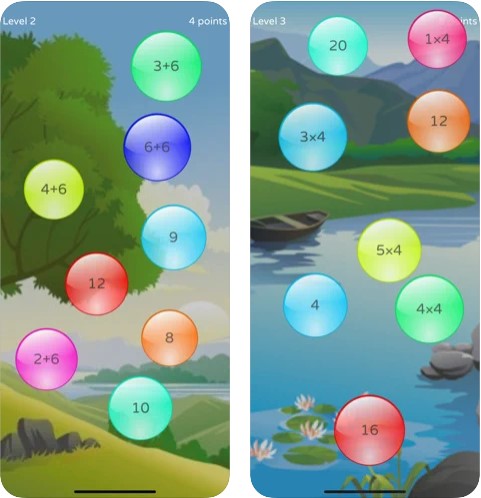 Moving on, we were impressed by the magnificent app's design that makes its interface very easy to navigate. Thus, we can surely say that all children will quickly understand how this tool works.
In PopMatch Original, you will find various pretty background pictures and a pleasant audio soundtrack. All these things will certainly immerse your children in the magnificent playing process! The game has a very good rating in the market, as the majority of users have positive impressions of this app.
Another interesting way to practice math is an alarm with the math exercises – these cool apps you can discover on this list.
All in all, PopMath Original is an excellent solution for children, as it will certainly increase their math skills. The game is appreciated by thousands of children. So, we believe you will like it as well!