From time to time we just cannot watch a video with a turned-on sound but it doesn't make sense and you have to wait for the right moment to do that. That is why scripts are of the highest importance for such busy people. To create scripts in a matter of seconds, you should try apps for a video to text transcription.
Most of the time these apps include a multitude of functions and can convert any sound from audios, videos, or ongoing speech right now. With their aid, you can record expressions, phone calls, and get them then in a written form.
Draw a line under the time when you had to type quickly and take notes and sparks of thoughts during endless lectures, interviews, or boring meetings. By the way, you can record a lecture and then transcribe it to the text formar.
Now you can choose the app to transcribe audio-visual files that you can use for quotations or as thorough abstracts to repeat or reuse the material later.
This article is devoted to the preview of the best transcribe video to text apps their additional features and specifics.
Otter Voice Meeting Notes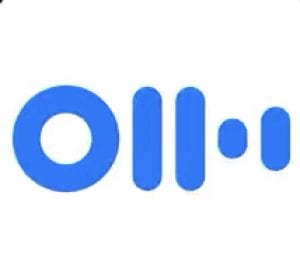 For teamwork and to maintain a conversation while using a transcribing app you may try Otter Voice Meeting Notes.
The important thing that matters is that the app includes chats where you can exchange information with your colleagues and negotiate to find the best way to transcribe.
While converting speech from an audio or a video, the app is able to distinguish different voices that is why it will easily deal with long-form conversation during an online or offline meeting.
To keep information in order you can create a number of folders to keep files of the same type or theme, and form groups of people whom you are going to collaborate with. The transcription may take place in real-time or post factum and it won't affect the accuracy.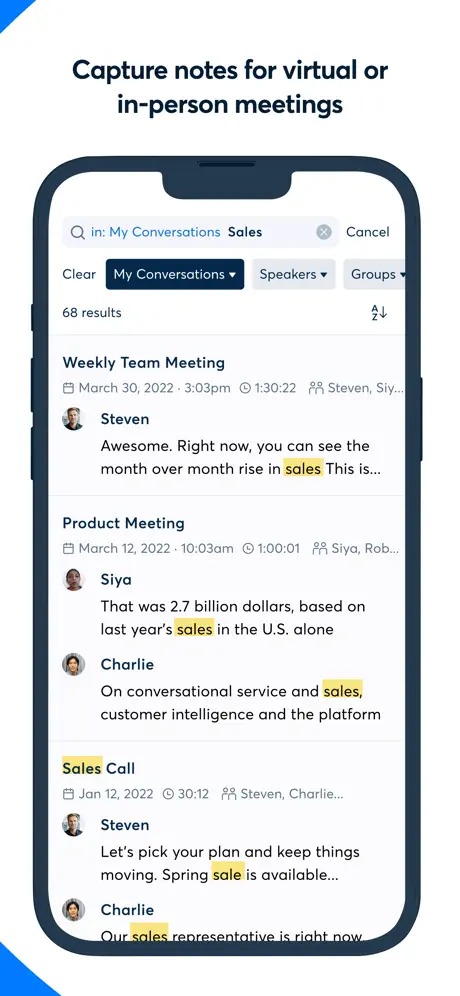 Before using this app, you should download videos; find an answer on how to do it in our article about Android apps for downloading videos.


You may also like: 11 Free Apps to Transcribe Audio Files to Text (Android & iOS)
Transcribe – speech to text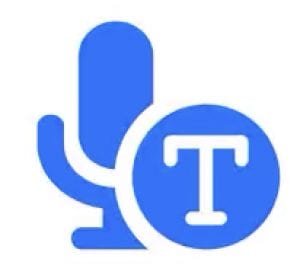 Many users agree that Transcribe is one of the best apps that support automated video transcription as well as audio transcription. The app understands 120 languages and dialects; so, it is very convenient if you have to deal with multilingual speech.
Generally, it is very easy to use because you can upload files from Dropbox and iCloud or work spontaneously right during an important meeting or lecture.
After having converted it, you may directly put raw texts into any editor in the format that you need: PDF, TXT, DOCX, SRT; and sync information across devices to have access to it everywhere. Then, you can add text to the video, for this look through our article about apps to write text on videos.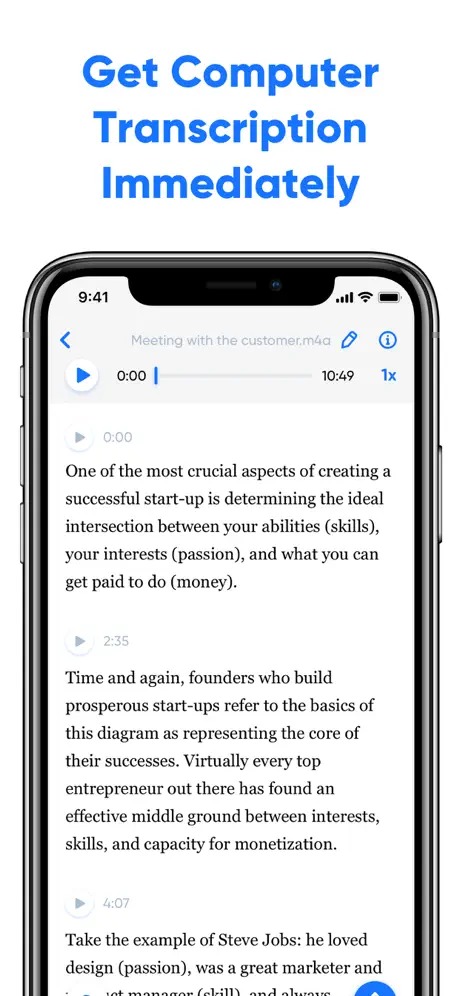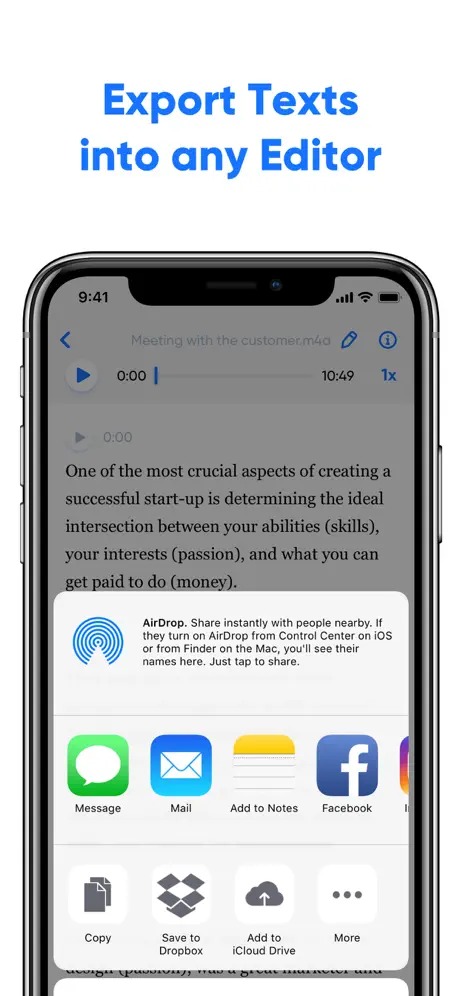 The biggest advantage is that your device doesn't need to be connected to the Internet, as you can work offline and is relatively navigatable and has a clear interface.

Temi Recorder&Transcriber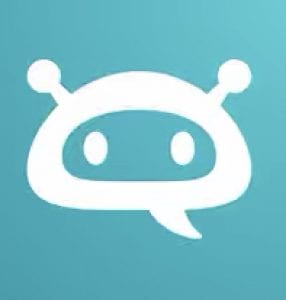 Temi Recorder&Transcriber is perfect for journalists who are overloaded with interviews and recordings of parts of speech.
It has a really user-friendly and is able to convert video along with audio into a meaningful text. It is possible to import files from other apps or do a live recording.
The app is appreciated by many because of its accuracy: it makes texts grammatically and lexically correct in comparison to other analogs even if some jargon or background noise occurred.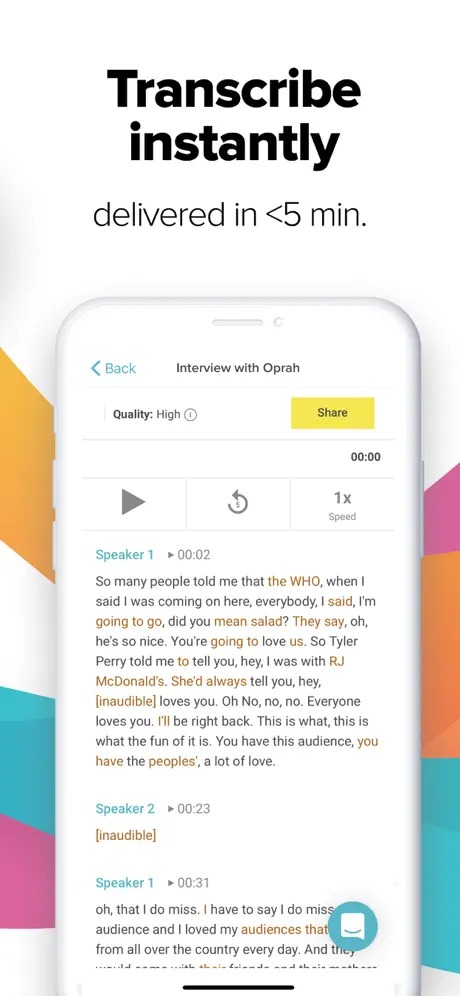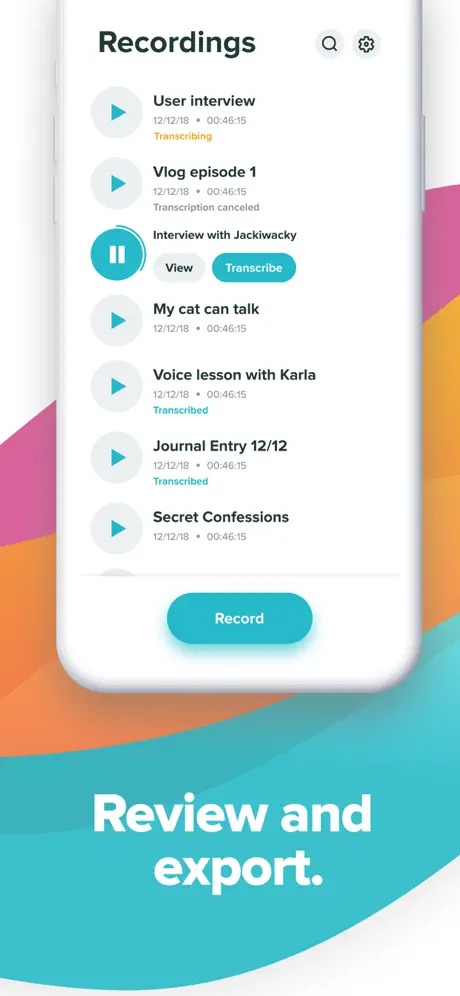 After the automated transcription is done you may edit and share with another device to continue working there and to get rid of all inaccuracies that might have sprung up. Send it to your friend for a preview.


Speechnotes – Speech to text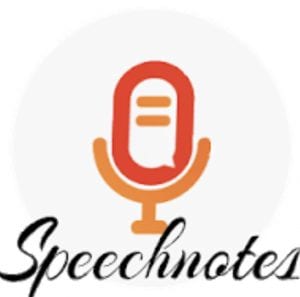 Dictate, upload files, and never lose a thought even if it came up to you while you were jogging to driving.
Speecnotes is not only useful for your day-to-day dealings but also incorporates a magnitude of supplementary textual symbols like emoji.
Punctuation is not ignored while speech is transcribed, the app identifies meaningful pauses and puts commas and dots wherever they are needed.
Moreover, you can make your notes visually attractive by selecting fonts and dark or light mode.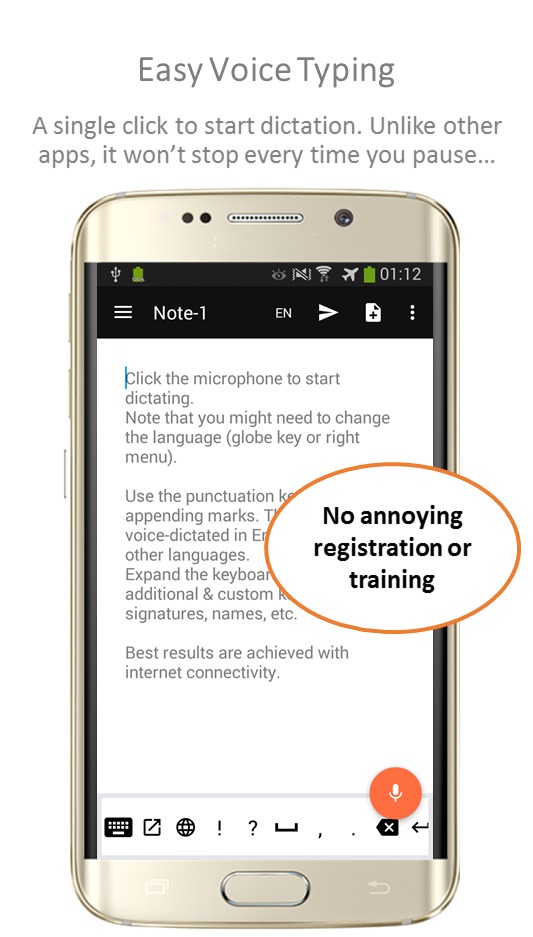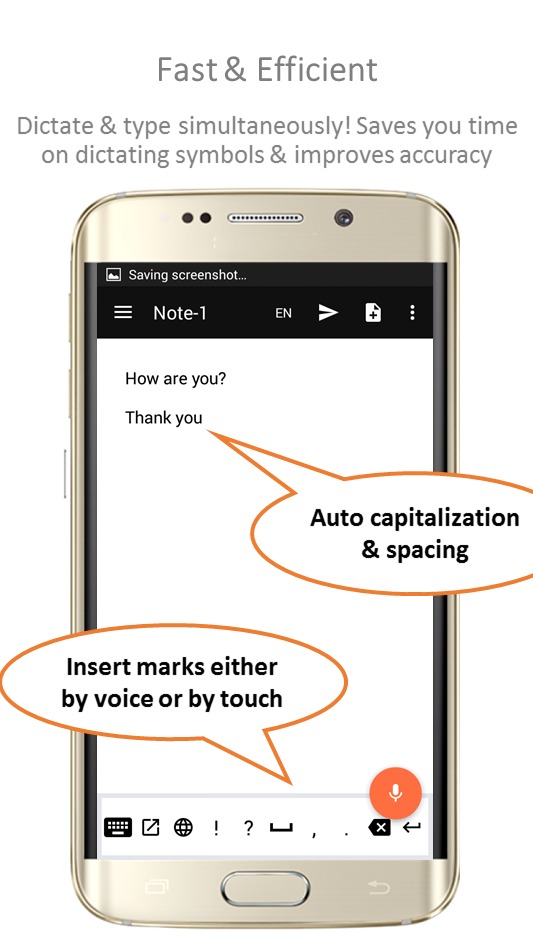 To make it even easier there is a widget of instant transcription; so, you can do it right on your home screen.

TranscribeMe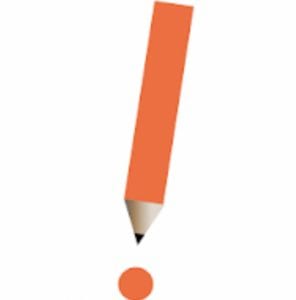 What you will certainly love Audio to Text for is its design. It looks very beautiful and along with this it also deals with other apps that contain necessary files to be converted in different formats.
The output may be saved in PDF, Word, HTML, or NVivo. Being so much sophisticated, the app doesn't lack plainness and you won't find any issues while converting.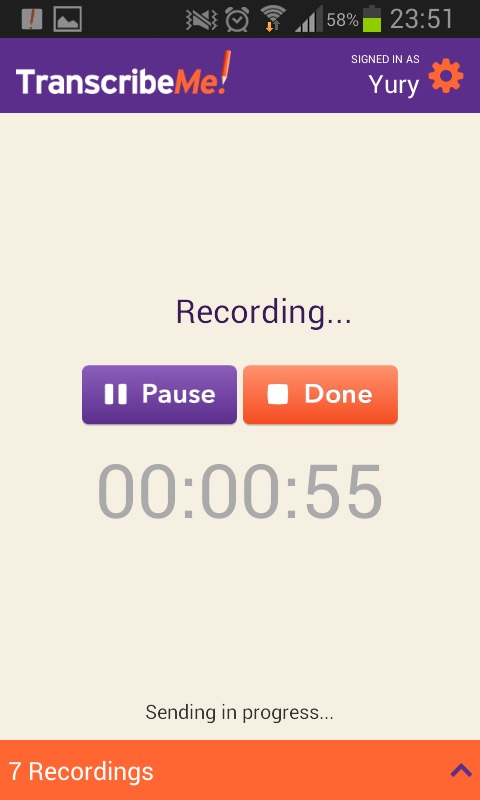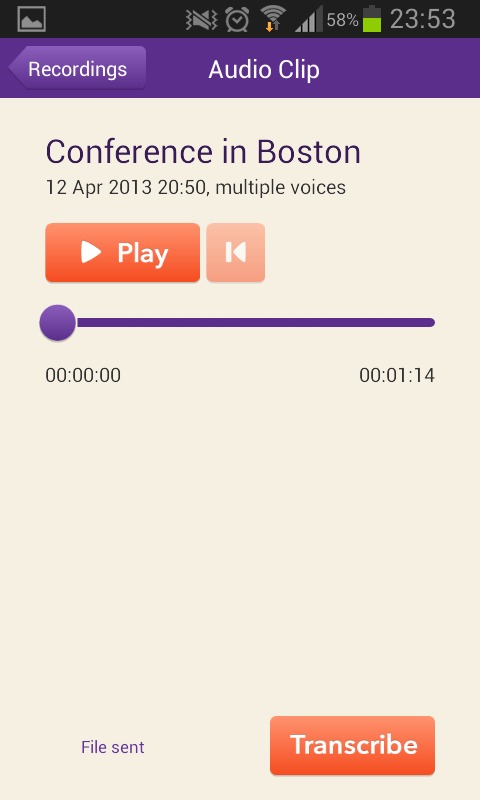 But you should keep in mind that to start work you should be connected to the WI-FI provider. Then, you can share the transcription to continue working in another app.

Transcribe Audio, Video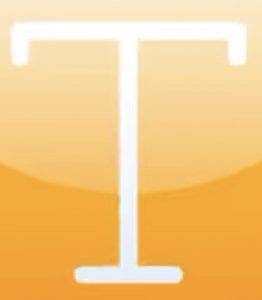 If your target language is English with its variety of accents and dialects, you may like Transcribe Audio, Video app that works with an audio and audio-visual memo to convert it into text.
Editing texts is possible if you have found errors, so you can change the transcript a little bit to avoid sudden teeny-tiny mistakes.
Then, you may release results on any social network. So, it will suit all purposes from academic research to journalistic writings especially if it is teamwork.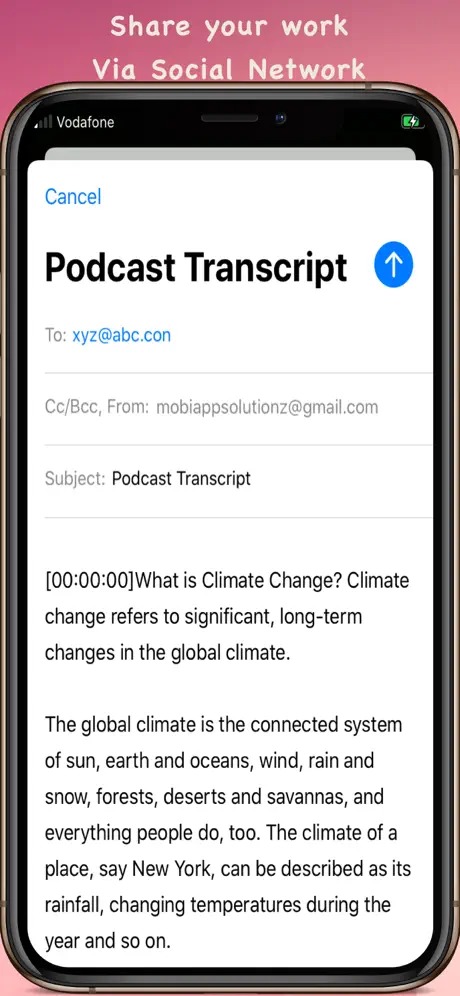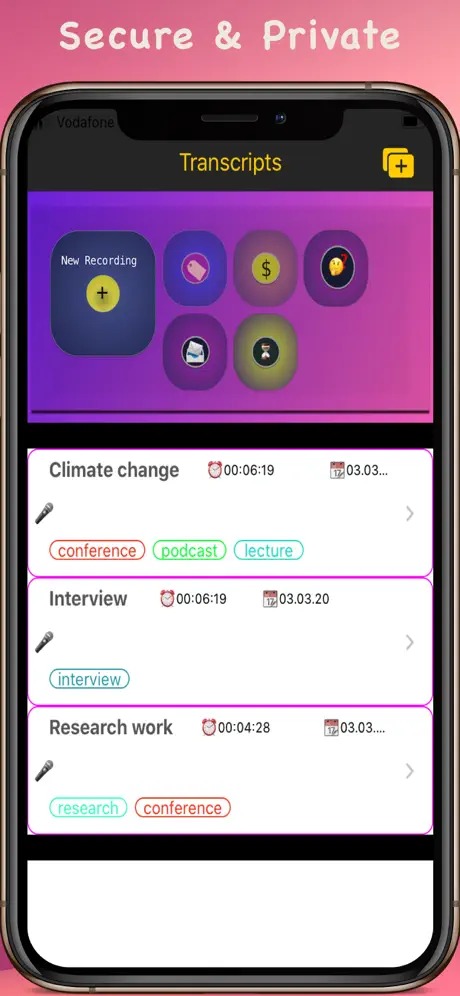 Along with a friendly interface, they confirm that the app is extremely secure as it doesn't request your email address, and all operations are performed on the device only.

You may also like: 11 Best Speech-To-Text Apps for Android & iOS
Voicepop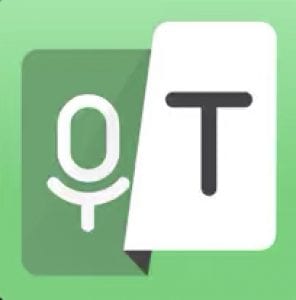 If you constantly use WhatsApp chatting with friends and talking to colleagues and sometimes cannot listen to an audio message or a video, Voicepop will help you to keep in touch with everyone even if there is a lot of buzz around and your headphones are off.
This app converts any media sent to you via WhatsApp into texts to make it possible for you to maintain an important conversation.
Transcriptions will not disappear then, you will be able to reread them in Voicepop later. It is not difficult as it provides detailed instruction in the video in the very beginning. The app supports 45 languages, so if you are learning languages, you will be satisfied.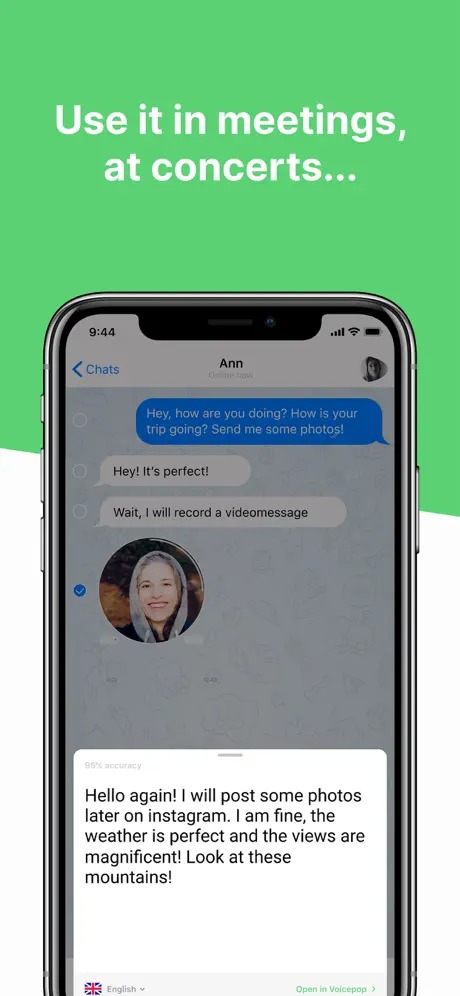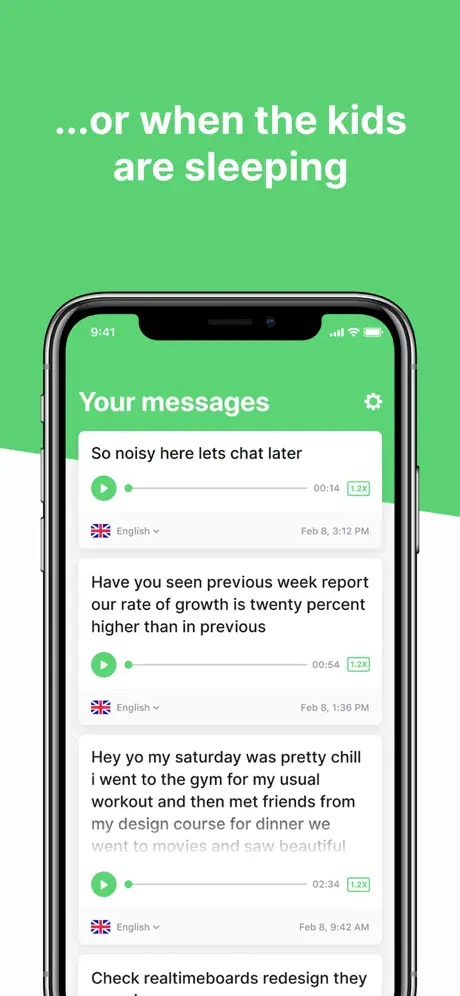 However, this transcriber works only with files no longer than 1 minute.

ListNote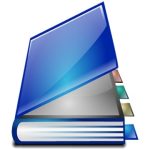 The ListNote app will be a great help in transcribing any video into text format. The first setting that the app prompts you to choose is the usual light or trendy dark theme. After that, you can proceed directly to the work.
At the top of the window, click the blue "Speech Recognition" button and start the speech recording. The text appears after recognition with minimal delay.
The app recognizes absolutely all punctuation marks. ListNote can be paused and erased with one button.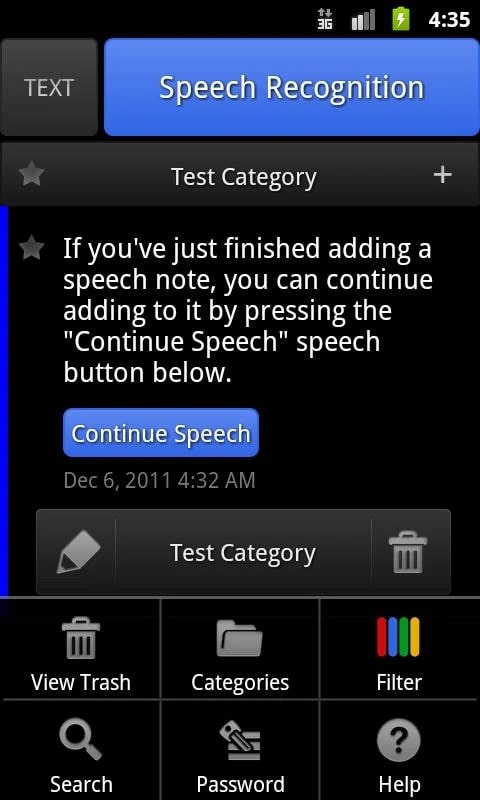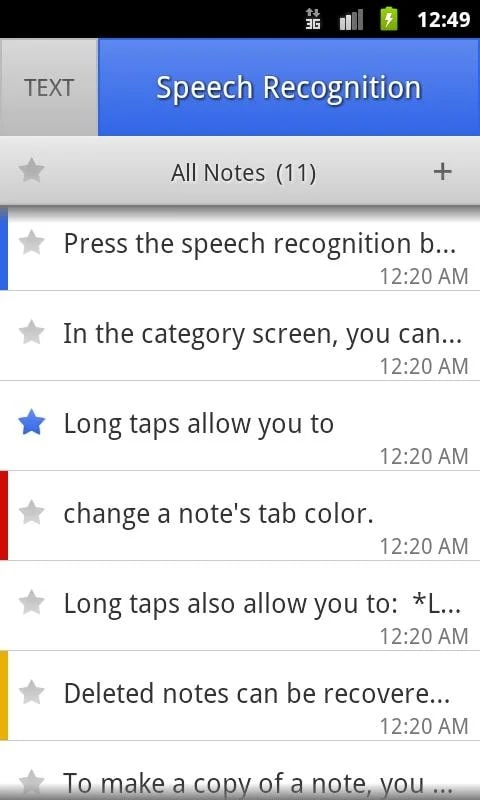 The text is saved as a note that can be edited, blocked, and sent to your contacts in social networks.

Live Transcribe & Notification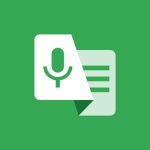 Live Transcribe & Notification is designed for people with disabilities, particularly hearing impairments. The program automatically recognizes voice and sounds and displays the conversation as text.
Voice recognition on the phone will help you translate the voice into text, and the result can be used at your discretion. You can dictate the text in the app, or get a text conversation with your interlocutor.
Answer your interlocutor using the keyboard or your voice. Copy the recognized text into the window of any text program for further editing or save it on your device.
The output may be downloaded in different formats according to your request. To edit PDF on your mobile phone, for example, you can use an app – see these free PDF editor apps.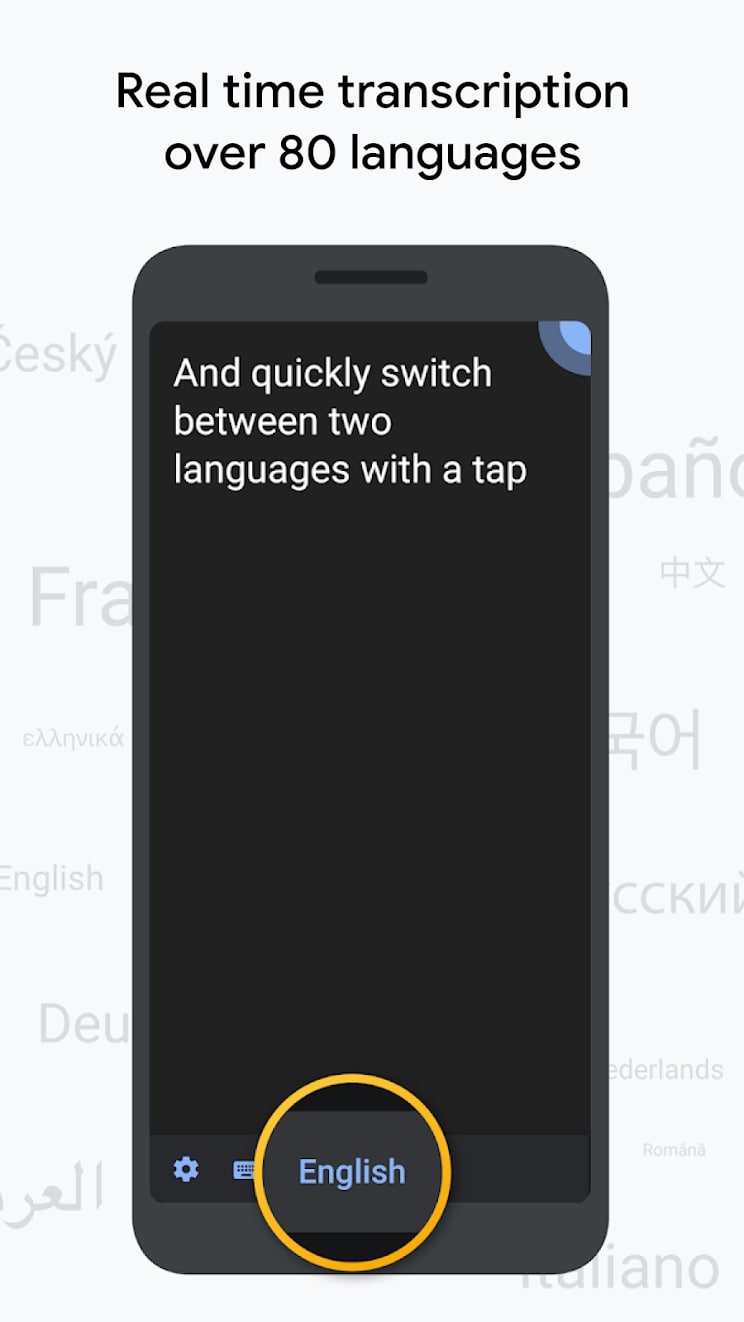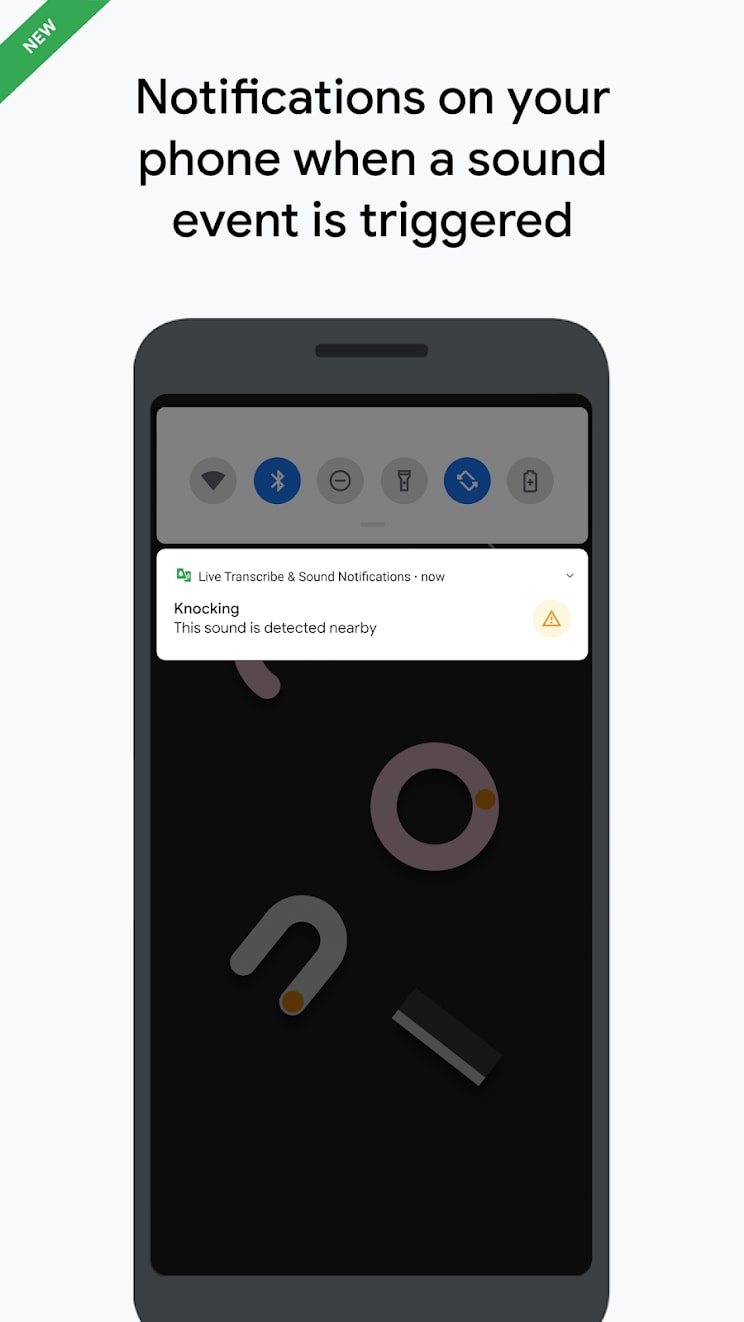 Save the edited text to a file on your phone or send it to the recipient via messenger, cloud storage, email, or any other convenient way.

Transcribe Speech to Text
There are times when you need to make text out of voice messages or appeals. Editing and studying on your own takes a lot of time, but with this app, you can process any file in minutes.
All you need to do is choose the necessary audio file format from your storage or an external source and upload it directly into the program.
After that, the processing of the material and the formation of the text will begin. You will be able to use it for further actions, including publication.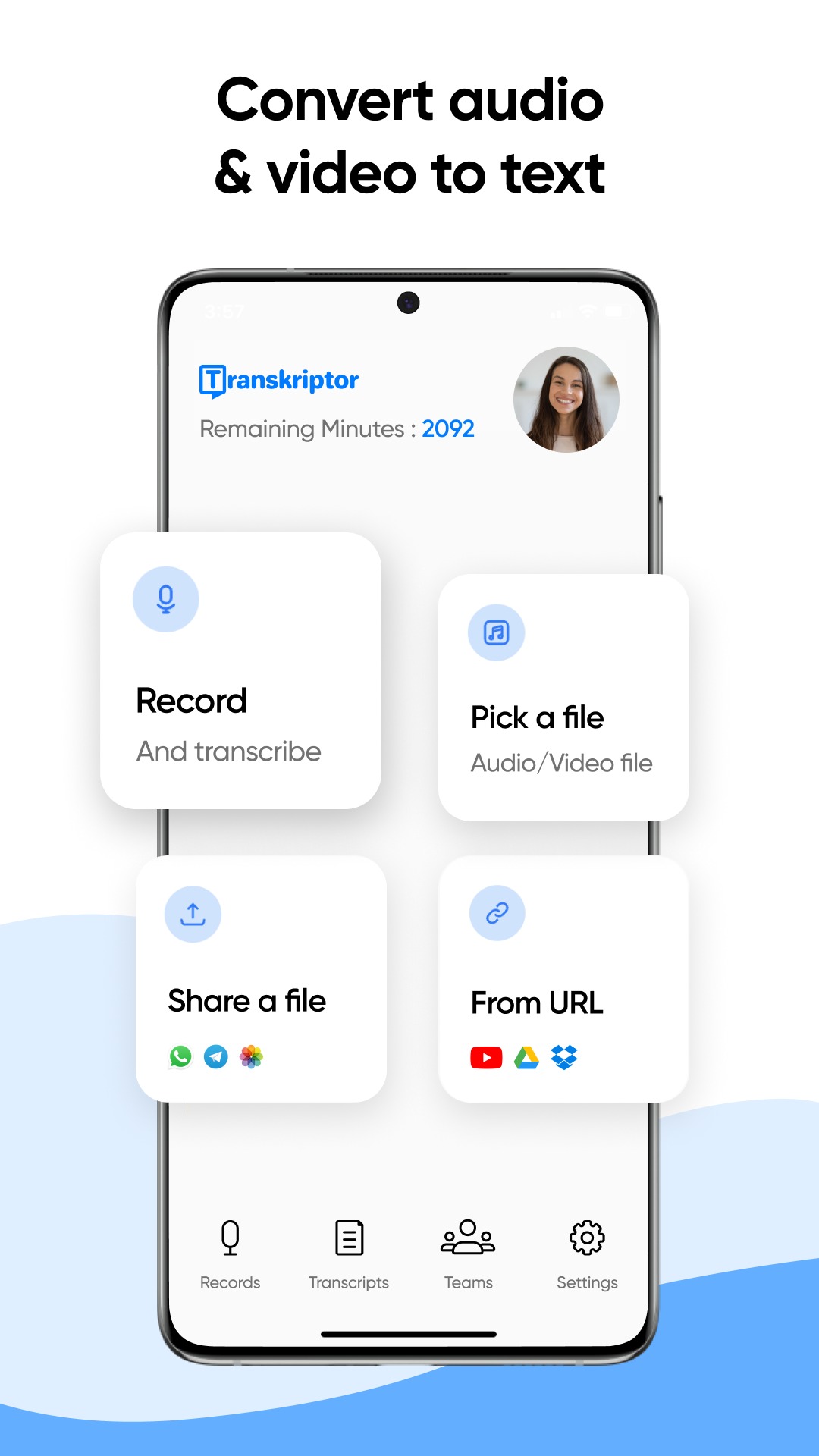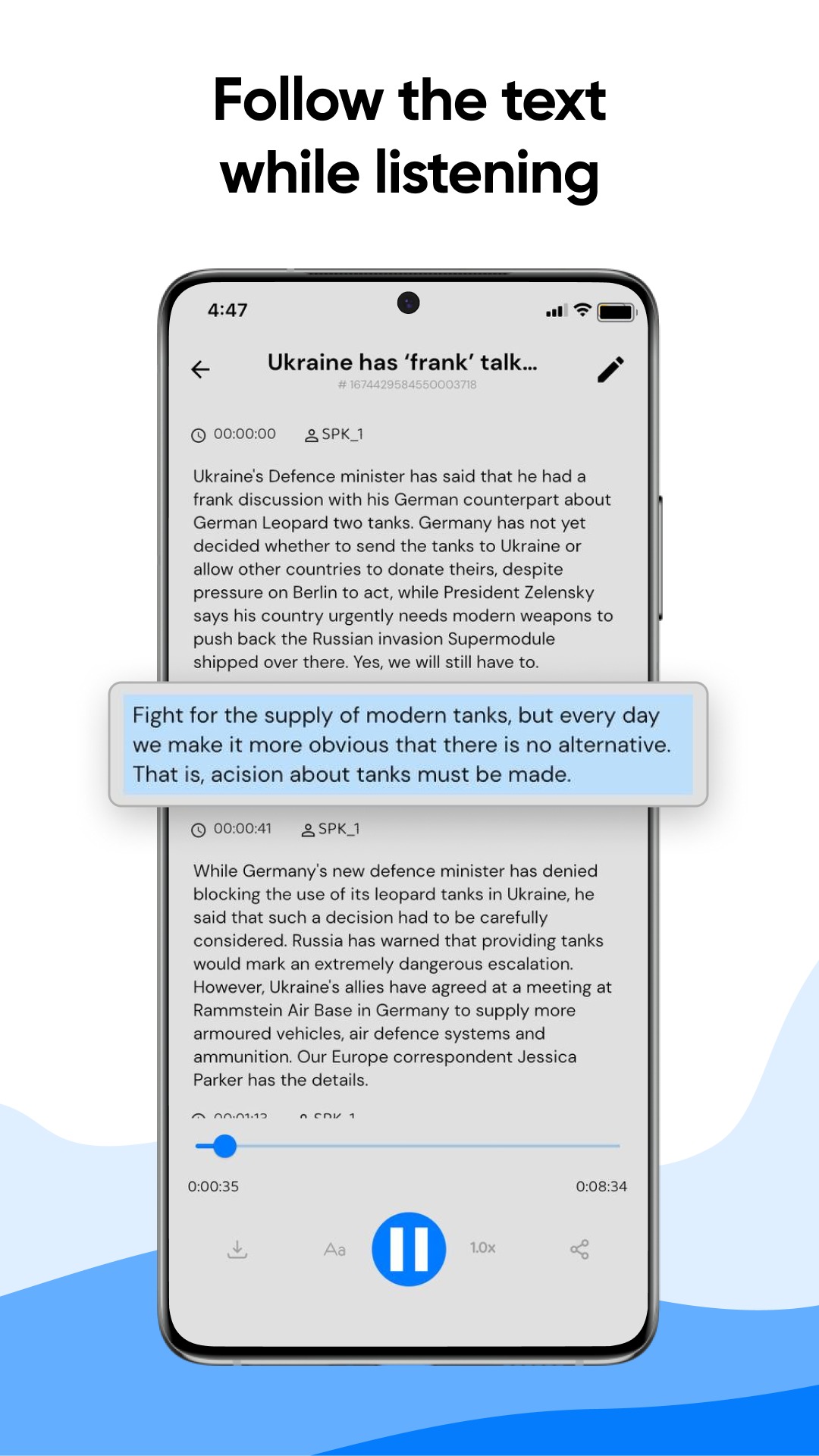 It is also possible not only to translate the audio voice-over into text but also to create subtitles for it. They will be useful for various clips or for finding important information in a voice message.


You may also like: 15 Best Voice to Text Apps for iPhone & Android
Notta Transcribe Audio to Text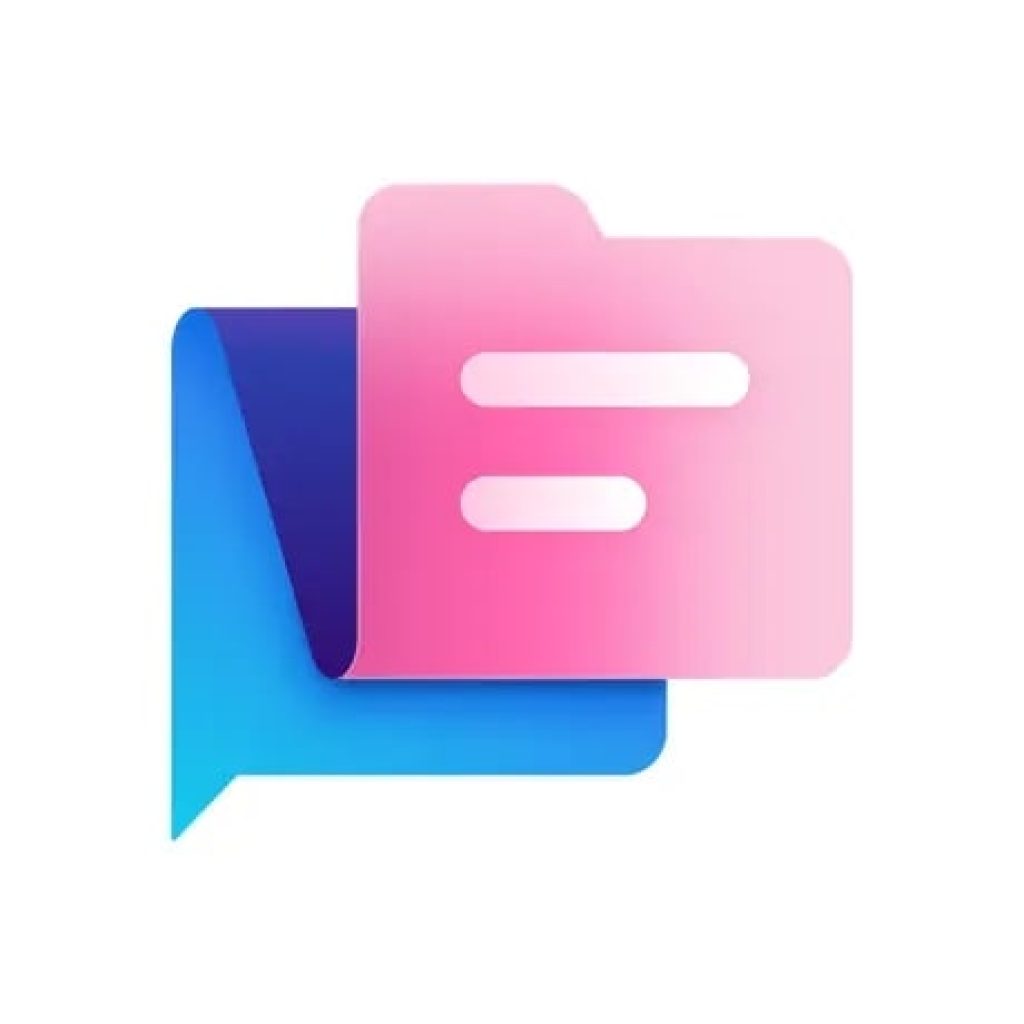 It used to be impossible to automatically translate voice into text format, but that was before there was such a service.
With it, you can record a voice message, which will be immediately presented as a text. This is convenient and saves you the time of writing large text files.
In addition to the fact that you can get the transcription automatically, the service allows you to download files for processing from your storage.
You are allowed to add pictures and marks for easy viewing of the finished material. Thus, you will be able to highlight all the most important in the text, so that later you will not have to re-read it.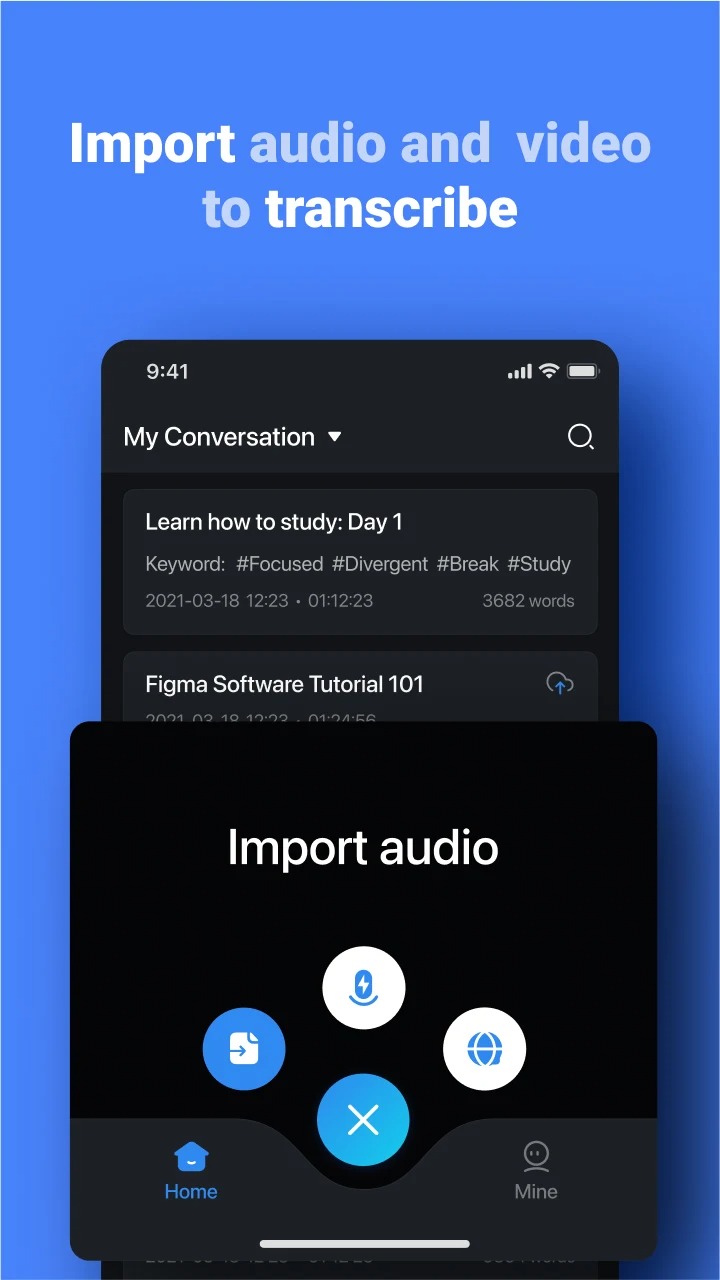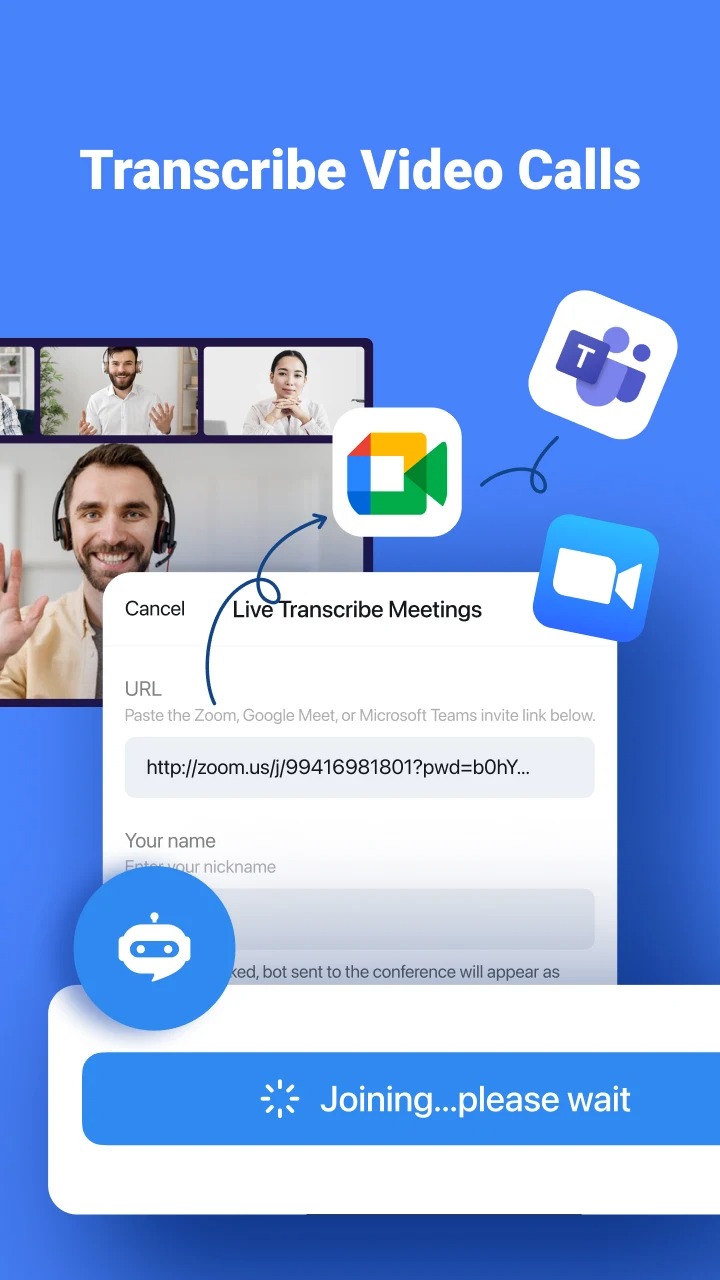 More than 100 languages and dialects from different countries are supported. It also allows the use of different file formats. This makes the service universal and as easy to use as possible.