Recently excavator games have been gaining more and more popularity. For all the fans of this vehicle and for those who want to feel like real excavator driver, we have prepared the best excavator simulation games.
If you like everything about cars in general, we also recommend you to check our article about the best car customize apps.
Construction Excavator Game 3D
This game is a real gem for all the fans of large vehicles. It allows players to operate various construction equipment, including excavators, bulldozers, cranes, and more, to complete various construction tasks.
In terms of graphics, the game offers detailed and realistic visuals, making the construction experience feel authentic. The game is set in a well-designed 3D environment with different construction sites, giving players the feeling of operating real-life construction equipment.
Regarding gameplay quality, the controls are quite easy to handle, allowing players to smoothly operate their equipment.
Here the missions will include such tasks as digging the soil, transporting it from one point to another, and then unloading the cargo.
The game also offers various tasks and missions to complete, which add to its replay value. At the same time, some missions can be quite difficult and that adds challenge to the game so you won't get bored.
One potential drawback of the app is that it is only available for iOS devices, limiting its audience. Additionally, some players may find the limited number of levels and equipment to be a downside.
In conclusion, Construction Excavator Game 3D is a fun and engaging app that offers a unique construction simulation experience. The detailed and realistic graphics, intuitive controls, and challenging missions make the game enjoyable and satisfying to play.
Main features:
Realistic vehicle controls
Multiple Excavation and Demolition missions
Open-world construction environment
High-quality graphics and realistic sound effects
Various heavy equipment such as excavators, bulldozers, cranes, and dump trucks
A variety of construction and demolition tools
Physics-based simulation of equipment and environment
Multiplayer mode to play with friends
Regular updates with new missions and equipment.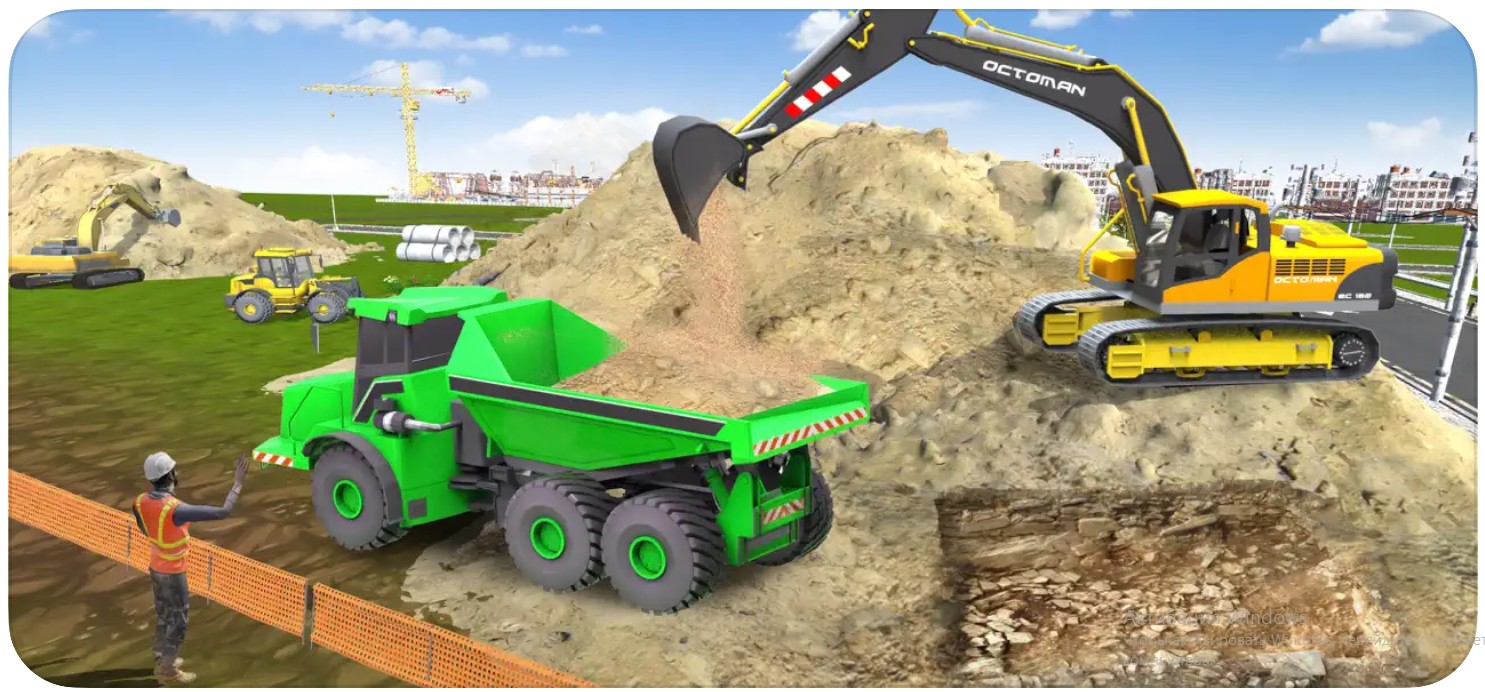 You may also: 16 Free Offline Tank Games for Android & iOS
Realistic Excavator simulator
Realistic Excavator Simulator is one of the most popular games in the segment of excavation simulation games. The game is already quite old, but it still can brag about the good graphics and realistic experience that it brings to its users.
The game features a variety of excavation and demolition missions, set in an open-world construction environment. Players have access to a range of heavy equipment such as excavators, bulldozers, cranes, and dump trucks, as well as a variety of construction and demolition tools.
The physics-based simulation of the equipment and environment is particularly impressive, making the gameplay feel incredibly authentic.
One of the standout features of Realistic Excavator Simulator is its multiplayer mode, allowing players to connect with friends and work together on missions. The game is also updated regularly, adding new missions and equipment to keep players engaged.
Your only concern might be the controls that can take some time to get used to, and some players may find the missions repetitive after a while.
This game would be suitable for a wide range of audiences, including fans of simulation games, construction enthusiasts, and anyone who enjoys a challenge. The game's realism and attention to detail make it particularly appealing to those who have a passion for heavy machinery and construction.
In conclusion, Realistic Excavator Simulator is a high-quality and engaging game that is well worth the attention of players looking for a realistic excavation simulation experience. With its impressive graphics, realistic controls, and engaging gameplay, this app is a must-play for fans of the genre.
Main features:
Get a feel of operating an excavator with the game's realistic physics engine and controls.
Choose from a variety of excavator models with different specs and capabilities.
Dig and shape the terrain in a sandbox environment with dynamic weather and time-of-day conditions.
Complete a variety of missions that test your skills and abilities as an excavator operator.
Immerse yourself in the game with detailed graphics and lifelike textures.
Personalize your experience by adjusting the excavator's settings to suit your preferred playstyle.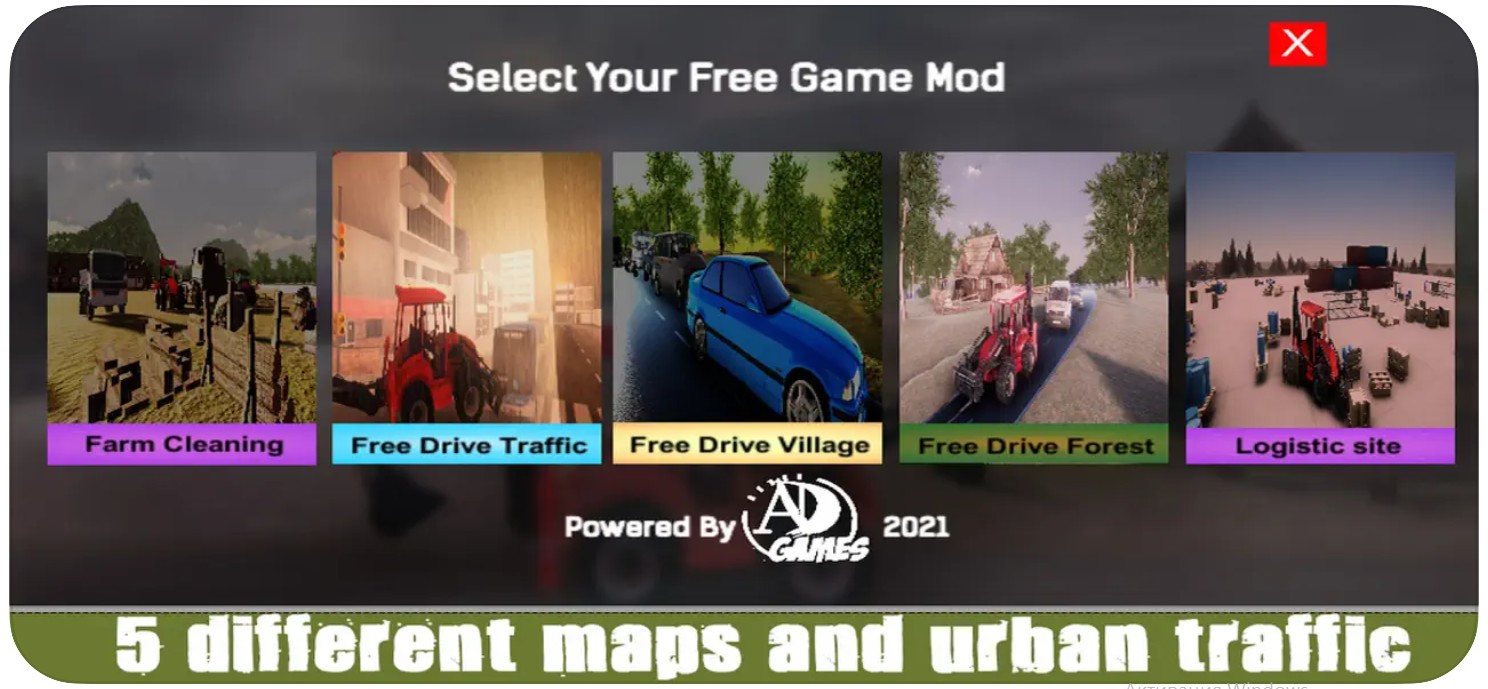 Sand Excavator Simulator Games
"Truck Simulator: Rescue Excavator" is a popular game in the segment of excavator games. It boasts high-quality gameplay, with realistic controls and graphics that provide a great gaming experience.
Here, players take on the role of an excavator operator and must complete various missions and challenges, including rescue missions and construction projects.
One of the standout features of this app is the realistic controls, which provide a challenging but enjoyable gaming experience.
The graphics are also well-done, with detailed environments and vehicles that look and feel like the real thing. But some users have complained about the app's performance, with some reporting lag and slowdowns on older devices.
All the fans of excavator games will definitely find this game interesting. The rescue missions and construction projects provide a good variety of tasks for players to complete, adding to the game's replay value.
In conclusion, "Truck Simulator: Rescue Excavator" is a well-made game that provides a great gaming experience for players who enjoy simulation games.
The graphics and the overall style really remind me of the fist game on this list. Despite some performance issues reported by some users, the game's overall quality and challenging gameplay make it worth checking out.
Main features:
Play as a truck driver and operate heavy-duty rescue excavator vehicles.
Complete challenging rescue missions to save people in dangerous situations.
Navigate realistic environments and city landscapes with realistic physics.
Customize and upgrade your trucks to improve performance.
Cool and realistic graphics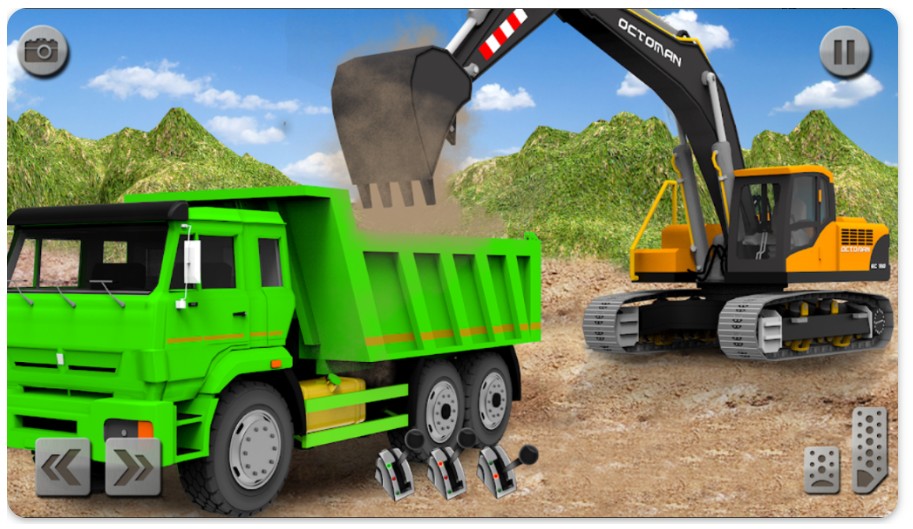 Dig In: An Excavator Game
Here we have a popular simulation game that puts you in the role of an excavator operator. This game falls under the genre of excavator games and has gained popularity among its players.
The gameplay of Excavator Operator is intuitive and engaging. You are tasked with using the excavator to perform a range of construction tasks, including digging and demolition.
The controls are well-designed, making it easy to navigate the excavator and perform various tasks. The graphics are quite different here, they don't aim to be as realistic as possible, but they are rather cartoonish, and it brings this unique style to the game.
However, some users have reported a few disadvantages with the app. Users say that all the tasks are similar to each other and that is what makes the game boring after a while.
There are also limited options for customization. Moreover, there are also reports about experiencing technical issues, such as lag and crashes.
In conclusion, Excavator Operator is a nice excavator game with cute graphics in cartoon style. We would recommend trying out the game even if you're not a fan of the genre.
Main features:
Operate a realistic excavation machine and complete various digging tasks.
Explore a huge open-world environment filled with construction sites, quarries, and more.
Experience the physical challenges of operating an excavator with a realistic physics engine.
Work through different weather conditions, including rain and snow, that can affect your digging abilities.
Progress through your excavation career by completing tasks, earning money, and upgrading your equipment.
Compete with other players in multiplayer mode and see who can dig the most dirt in the shortest amount of time.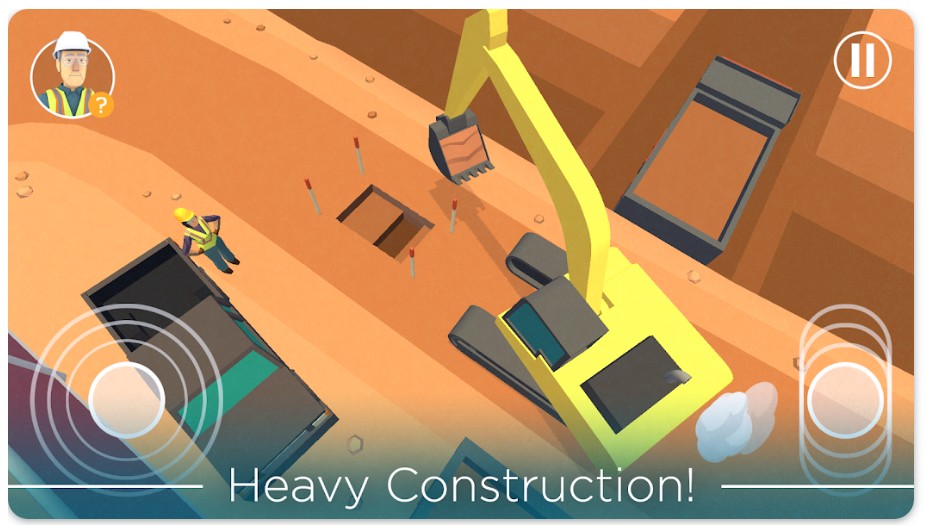 You may also like: 10 Best MOBA Games for Android & iOS
Dozer Excavator Simulation Game
In terms of graphics, this is probably the best game on this list. It might be not the most interesting one because of its limited tasks and repetitive actions, but the quality of image of Dozer Excavator is impressive.
The gameplay is also well thought out, allowing players to carry out a variety of excavation tasks such as digging, lifting, and moving heavy objects.
However, some players have complained about the control mechanism, claiming that it can be difficult to maneuver the excavator accurately. Additionally, some users have reported occasional glitches and freeze in the game, which can disrupt the overall gaming experience.
Despite these issues, Dozer Excavator is still worth considering for fans of the excavation genre. The game stands out from others in the segment by offering the superior graphics.
Main features:
Engaging and entertaining casual puzzle gameplay
Eye-catching and vibrant graphics
Soothing and enjoyable game experience
Wide range of collectible items to acquire
User-friendly controls that are easy to learn
Progressively challenging levels to keep you engaged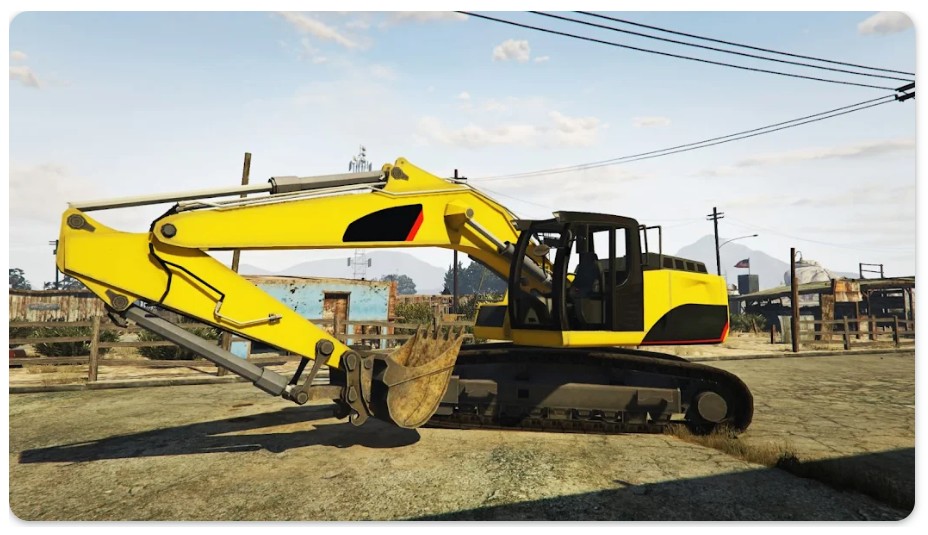 Excavator Simulator Heavy
The app offers players the opportunity to experience the thrill of operating a powerful and realistic excavator crane. The gameplay is designed to be challenging and engaging, and the overall quality of the app is decent enough.
The game provides players with a wide range of missions and tasks, including digging, demolition, and construction. The missions are designed to be challenging and increase in difficulty as players progress through the game.
However, some users have reported a few flaws with the game, such as occasional bugs and glitches. Some players have also complained about the game get boring over the time.
Overall, Excavator Simulator Heavy is a small simulator game that is quitable for palying in the free time. But in general, it's not able to provide you with the full simulation experience, since the range of tasks here is very limited as well as the diversity of locaitons.
Main features:
Basic excavator simulator
Crane gameplay
Explore beautiful and immersive environments, from construction sites to sprawling cities
Customizable equipment
Multiplayer mode
Easy-to-use controls
Regular updates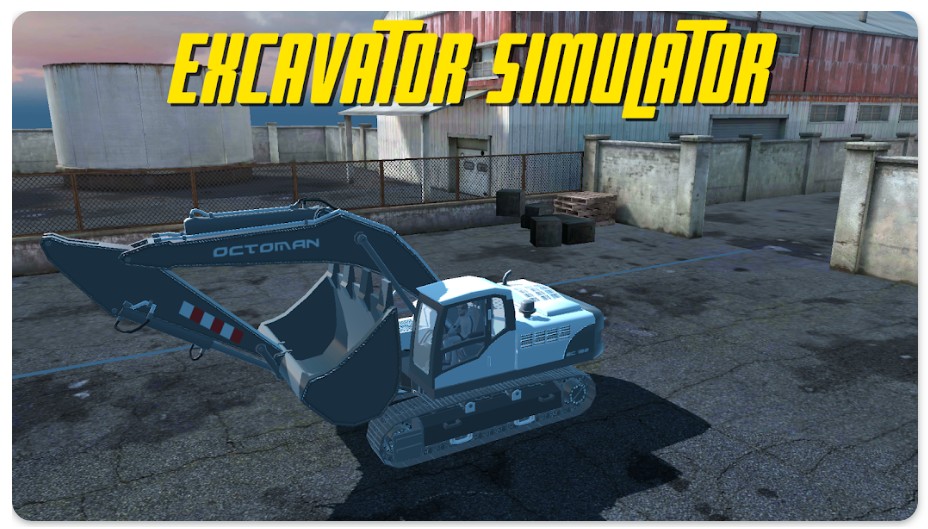 Construction Simulator 3 Lite
Even though it's more a general construction simulator games, it offers players a chance to experience the thrill of operating a virtual excavator and performing construction tasks.
With its well-designed gameplay, players can pick up and transport heavy loads using the crane, complete a variety of missions, and feel like they truly take part in the conruciton process.
The game offers intuitive and user-friendly controls, making it easy to get started, even for newcomers. The high-quality graphics and animations also add to the overall realism and immersiveness of the game.
But over the years, users still say that the game can be quite challenging at times, and the lack of variety in missions and equipment may become repetitive over time. And the game also has technical issues, such as lag and crashes.
Despite its flaws, Construction Simulator 3 remains a solid choice for players looking for an engaging and realistic excavator simulator game. The game stands out from other games in the segment with its detailed environments, customizable equipment, and realistic physics.
Main features:
Offers stunning, realistic 3D graphics to bring the game to life.
Features an intense and thrilling single-player campaign to challenge players.
Convenient controls
Allows players to compete with friends or other players from around the world.
Regular updates ensure that players always have access to the latest features and content.

Excavator Simulator
A small excavator simulator game that is also worth checking out.
Excavator Simulator offers a realistic simulation of operating an excavator, complete with detailed graphics and intuitive controls.
Players can use their excavator to complete a variety of tasks, from digging ditches and removing obstacles to transporting materials and demolishing structures. The gameplay is suprisingly decent and all the physics look quite realistically.
While the game has received praise from many players for its quality and gameplay, some users have reported experiencing issues with the controls and a lack of content. However, these complaints are relatively few in number, and the developers have been quick to address any issues and release regular updates to improve the app.
In conclusion, Excavator is definitely worth the attention of anyone who is a fan of excavator games or construction simulator games in general.
Main features:
Excavator Simulator without any extra elements
An interesting number of tasks will keep you playing for hours
Features detailed and realistic graphics that bring the game world to life.
Simple controls
Customizable excavators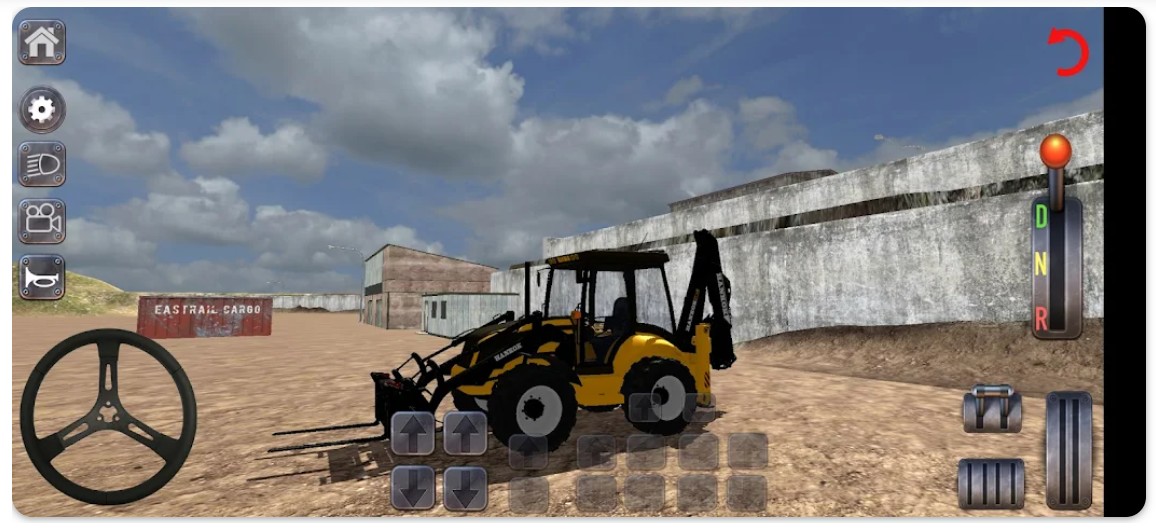 You may also like: 10 Free Multiplayer Racing Games for Android & iOS
Giant Excavator
Last but not least we have a fun and exciting excavator game for all types of users and ages.
The game is set in the world of construction and mining, where players take on the role of a tycoon managing their own excavation site. The goal of the game is to optimize and manage your resources, upgrade your equipment, and build your fortune as you progress through the levels.
The graphics of the game are eye-catching and detailed, with a smooth and realistic depiction of excavation equipment in action. The sound effects and music add to the immersive experience, making it feel like you're actually at the excavation site.
However, some users have reported that the game can be a bit repetitive after a while and that there could be more levels and challenges added. The game also requires a constant internet connection to play, which can be a drawback for some users.
What sets Giant Excavator apart from other games in the segment is its focus on resource management and optimization. It requires players to make strategic decisions about which equipment to upgrade and how to manage their resources to maximize their profits. It also features a unique idle tycoon gameplay mechanic, where players can earn money even when they're not actively playing the game.
Players are tasked with managing their resources and optimizing their excavation site to maximize profits.
The game includes a unique idle tycoon mechanic, where players can earn money even when they're not actively playing the game.
Fun, cartoon-alike graphics
Intuitive controls
The sound effects and music add to the immersive experience, making it feel like you're actually at the excavation site.
Equipment updates
Online mode