If you want to meet a true soulmate, we have found an excellent solution for you. UNBLND allows users to find people who will share all their interests and wishes. So, let's have a look at why this app is so special! First of all, we would like to mention that this app is pretty lightweight, so you will instantly download it.
You should also discover the best apps to chat with locals if you like UNBLND.
But how does UNBLND work? There is nothing complicated in this app, as the process of finding people is very fast. The first thing you need to do – share your location and add your activities. Then, you should add more information about yourself to personalize the profile.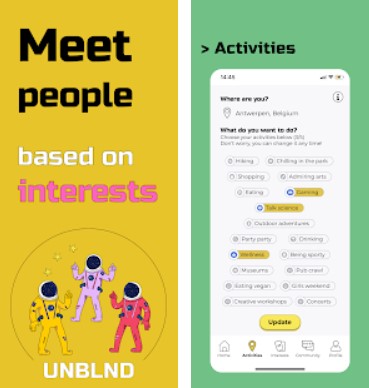 The app's algorithm will automatically provide you with interesting groups based on your location and your preferences. So, you will have to wait a few seconds before the app adds you to the appropriate groups with (anonymous) people. Finally, communicate with the group's participants and plan a meeting!
By the way, UNBLND comes with a well-developed design that makes its interface very simple to manage. Thus, we can surely say that there is no need to be very tech-savvy to find out the way all the functions work there. There is no need to add a profile, as the major goal of this tool is to find people who will share your interests and preferences.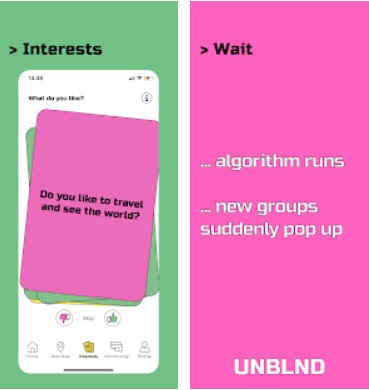 The developer makes everything to satisfy all users' needs and wishes. Therefore, the app's version comes with regular updates. No doubt, this is a great bonus! Summarizing all the points, if you are tired of being lonely or you just want to expand your circle of friends, you should definitely try UNBLND app.
Or maybe you want to chat anonymously? You can totally do that using these apps.
Quick search, convenient navigation, and perfect user experience – all these things are waiting for you in this magnificent tool. Highly recommended!