Vector graphics software allows users to design and manipulate computer images using geometric and mathematical commands, rather than clicks and strokes as used in drawing software.
Vector images created using these programs can be scaled indefinitely without losing quality. Vector graphics tools are often used to create high-definition illustrations for use on the web, in games, and in other multimedia.
Given all the advantages of this format, we decided to collect for you the best free vector converter apps, with which you can perform all the necessary actions even on your phone.
The Vector Converter
With this application, you can convert a vector image to almost any vector format.
For example SVG, EPS, ICO, PNG, PDF, JPG, EMF, WMF, BMP, TIFF, WEBP, or DXF. Using this application is very easy.
Select the source file and then choose the format you want to convert it to. The conversion process will only take a few seconds. Then you can save it or share it via various messengers or email. You can also add it to any editor for further changes and adjustments.
The image conversion is done on a secure server. To use all the features, an internet connection is recommended.
After conversion, the files are instantly deleted from the server. This means that no one but you can access them.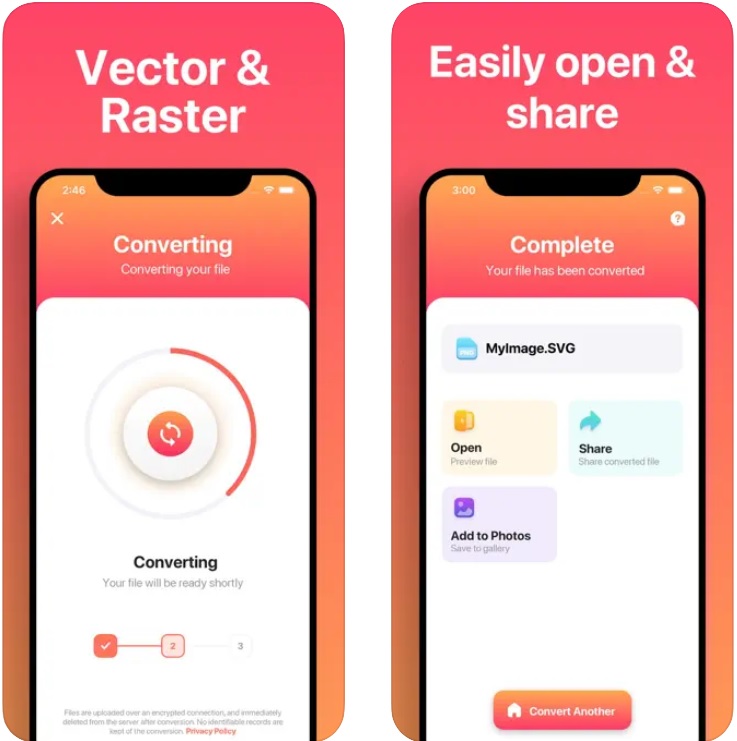 You can also check: 9 Best Apps to Draw Step By Step (Android & iOS)
Free Vector Converter
In this application, you will be able to convert files of different formats to vector images. This is a raster image tracing tool.
This means that here you will be able to transform an ordinary image into a smoother and more scalable one.
For example, creating vector files from scanned data such as company or university logos, handwritten notes, and more.
This application can work with most materials offered, even low-quality images or sketches. It can work and convert to vector most raster image files such as jpeg, bitmap, gif, png, and others.
Once the conversion is complete, you can view the file and easily open it in another application, such as the document editor of your choice.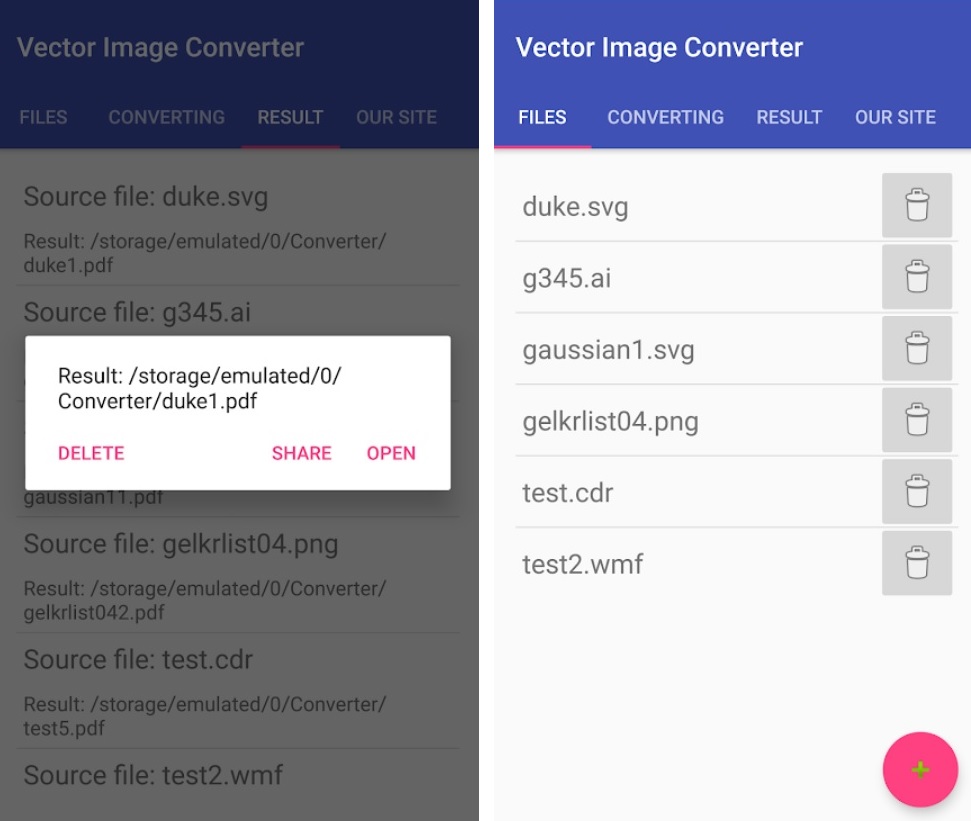 SVG Converter
This application is a tool for converting files to vector formats.
Here you will be able to open and convert to jpeg many images with *.HEIC file extension at the same time. These are images in HEIF format.
Images in this format take up half the space on your device without losing image quality. Using this format will help you save up to 50% of your image storage space.
There is also an SVG image converter. Convert SVG to PNG, JPEG, and vice versa PNG, JPEG to SVG format. There is also a scale factor for image rendering and many file conversions are available.
Vector Converter can convert bitmap images such as JPEG and PNG to scalable vector graphics (EPS, SVG). Vector graphics can be scaled to any size without loss of quality.
Vector graphics are best suited for logos, page layout, type, line drawing, or illustrations.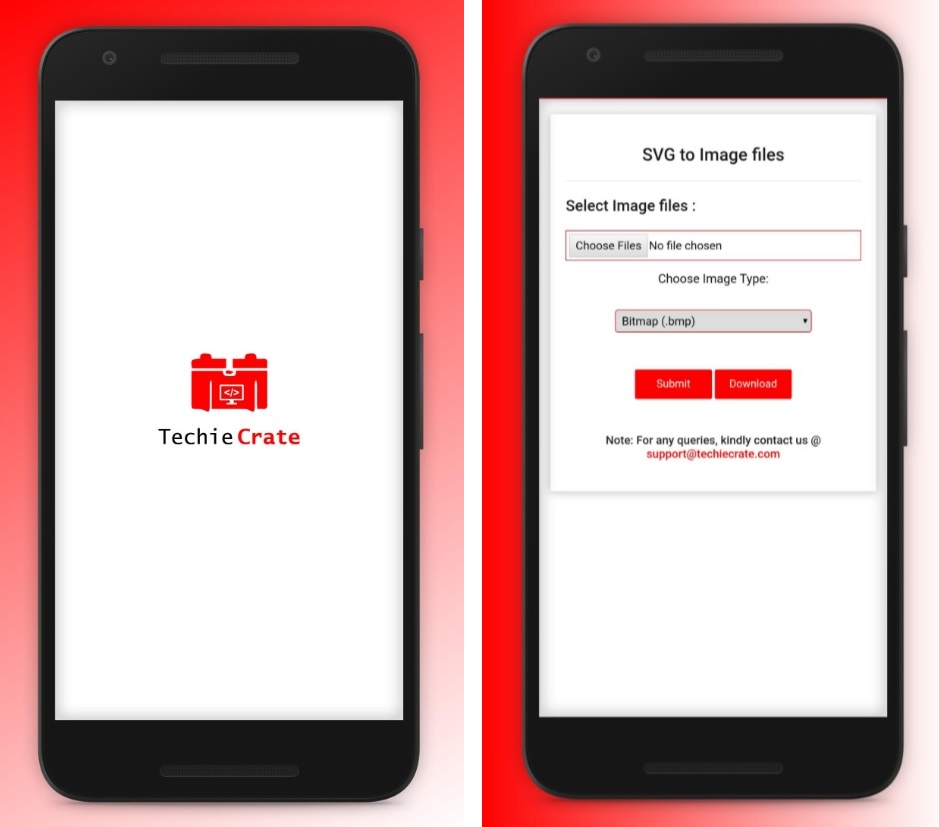 Adobe Capture
This app turns your smartphone into a real creative tool. Here you can instantly create vector files using special shapes.
Turn images into smooth, detailed, scalable vectors with colors from 1 to 32 for use in logos, illustrations, animations, and more.
Select and activate your drawing or upload a photo and watch them magically transform into clean, crisp lines.
Find your perfect font with Adobe Capture. Take a picture of a font you like (in a magazine, on a label, on a sign) and watch as a list of similar Adobe Fonts magically appears.
Can't find the right drawing brush? Take a snapshot or use an image to create digital brushes that match your creative vision. Use your brushes in Photoshop, Illustrator, and Fresco to create rich pictorial effects.
Capture inspiring images and create patterns with Capture's preset geometric options. Easily create beautiful, colorful patterns to match your creative projects using your own vector shapes.
Create realistic PBR materials for use in your 3D project right from the camera. Change your materials to get more expressive texture, or blend edges to seamlessly replicate mosaics in 3D objects.
Save resources to Adobe Creative Cloud libraries. Immediately access digital elements from your Creative Cloud account in all compatible applications.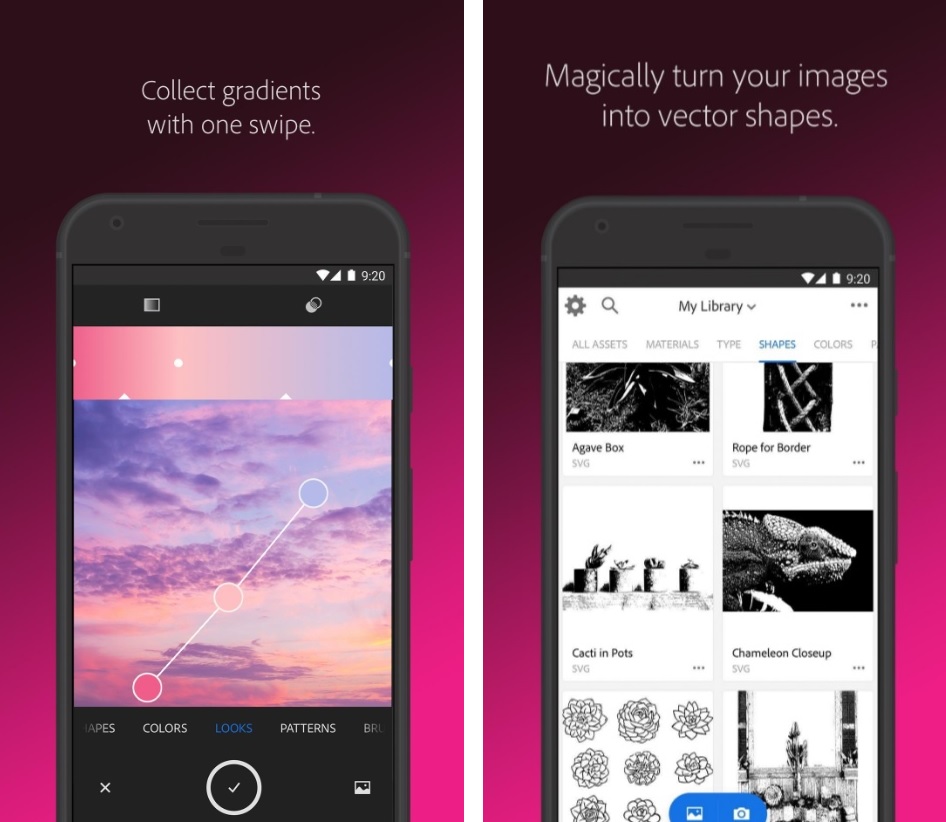 Vector Asset Creator
In this application, you can easily convert images to scalable vector graphics. This is a great utility for creating icons and logos from ready-made images.
You can also draw point and professional sketches. Create linear, radial, or sweeping gradients of any shape and size.
To get a vector image, upload the desired file. Then you can add the necessary lines.
You can export the finished result as an .svg, .xml, .png, or jpg file.
If you are designing icons for Android, you can export the file as a .xml file. The created tool can be used later directly from the rendered folder of your project.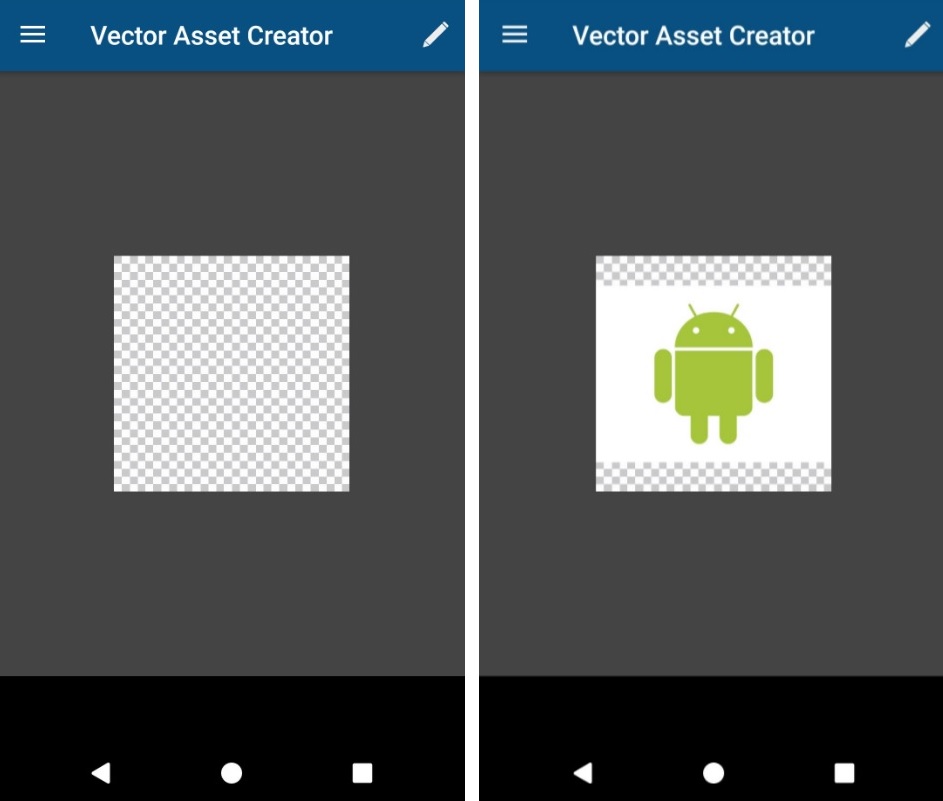 Free Image Converter
With this application, you can convert almost any graphic image.
At the moment, a record number of image formats are supported. You can get images such as JPEG, BMP, GIF, PDF, PSD, PNG, TIFF, and others.
Using this program is quite simple. First, add the files to the list for conversion. Then choose the format you want.
Some formats support settings that you can use to get the best results. Then click on the "Convert" button and get the result.
The finished file can also be edited. For example, you will be able to resize it.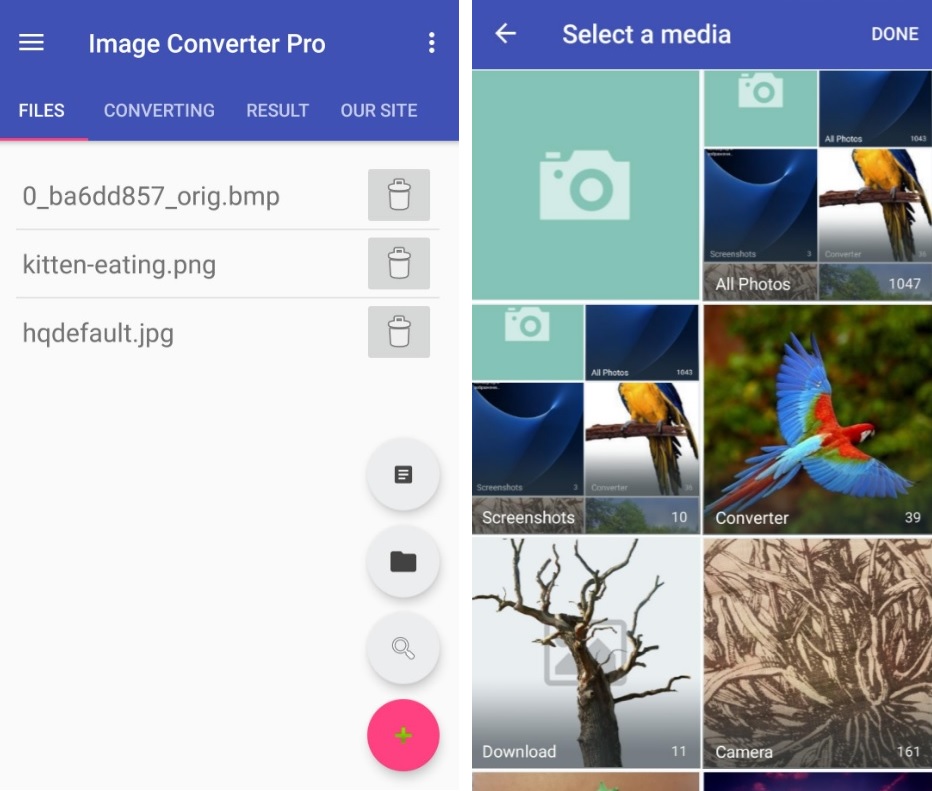 You can also check: 13 Best Procreate Alternative Apps for Android & iOS
Vectorize images
This application will help you turn images into a vector format.
The whole process takes quite a little time and effort. You can use logos, sketches, and more as a source format.
In this application, you will be able to convert logos, edit PDF files, use graphic design tools and convert images to cartoon format.
Also in this app, image editing is available, such as removing backgrounds or digitizing.
This application converts your raster image or jpeg image into a vector image. Once the process is complete, the new image can be scaled to any size you want without loss of quality.
All blurs and edge irregularities will be eliminated during the vectorization process, offering you in turn a crisp and clear vector image.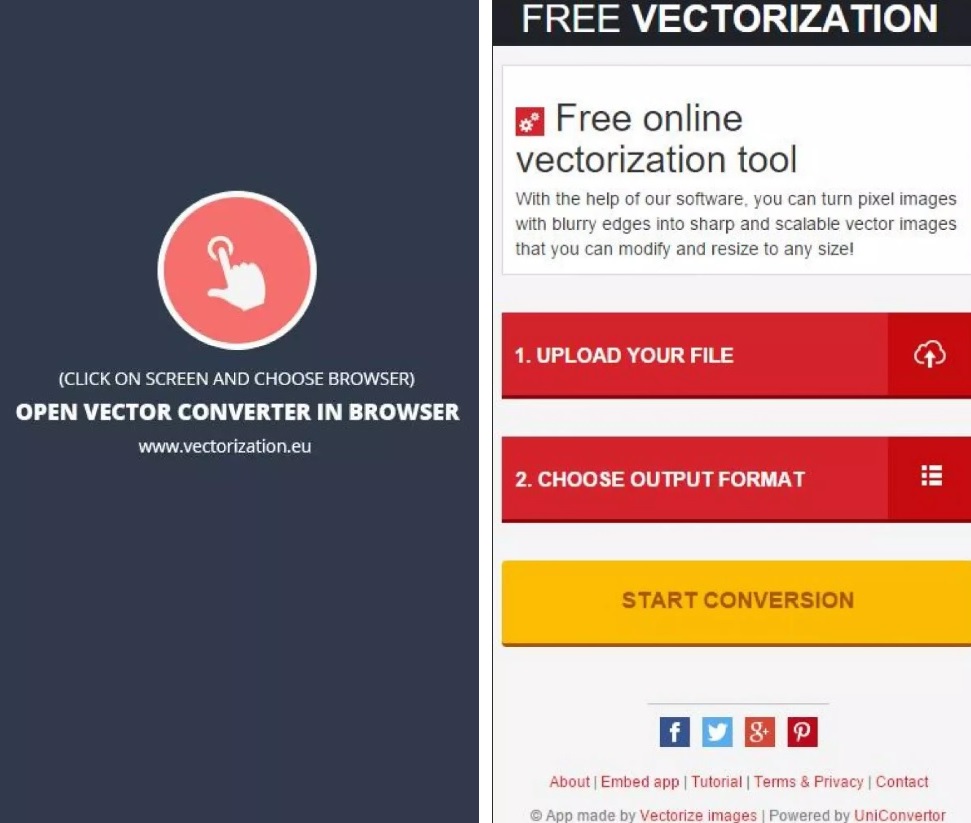 Vector Mobile
Vector Mobile is a mobile application designed to help you easily create unique and visually appealing designs.
With Vector Mobile, you can create complex vector graphics, logos, and illustrations using a variety of tools and features
Here you will find such aspects as drawing tools, including shapes, lines, and curves, as well as color palettes and layer options. It also supports various file formats, making it easy to import and export designs.
But at the same time, a number of users note that the interface design is not convenient and unlogical, while others have complained about crashes and other technical issues.
In addition, there is the limited choice of fonts and other design elements in the app.
While the app has some dissatisfied reviews, it has received mostly positive feedback from users who appreciate its ease of use and versatility.
Whether you're a professional designer or you just want to create fun graphics, Vector Mobile is definitely worth a try. And who knows, you might even become the next Vector Picasso!
Reasons to use:
Wide range of features
Sufficient set of tools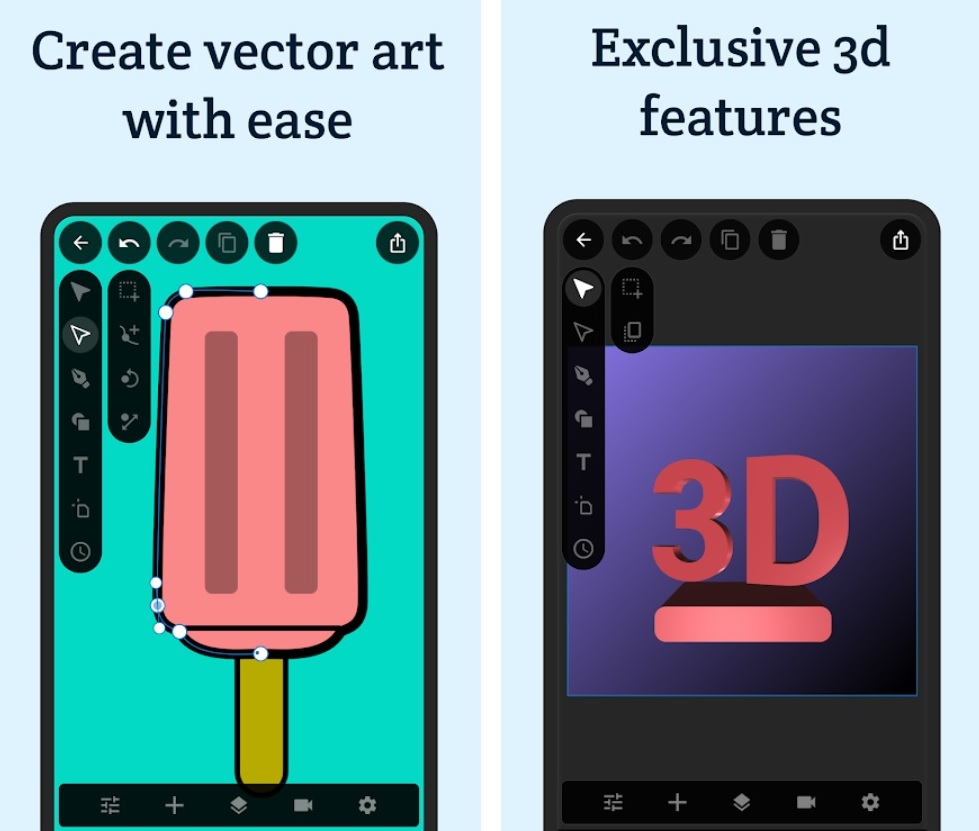 Image Converter
In this application, you will be able to convert files from one format to another. It will allow you to open files that are not supported by your smartphone.
This application supports the following formats: TIFF, GIF, JPG, PSD, PNG, PDF, SVG, BMP, EPS, HDR, ICO, TGA, WBMP, WEBP, ODD, PS.
Using the application is very easy. Select the images you want to convert from the web archive in your gallery.
Save the converted images directly in the gallery. Easily select the type of image output format. Edit the name of the finished image file.
The app provides image conversion without loss of quality or resolution. You will get all your files converted in just a few seconds.
You can share them directly from the viewed image in the converted gallery as well as from the converted gallery.
Manage all your converted images directly from the gallery. You can later share or delete the converted images.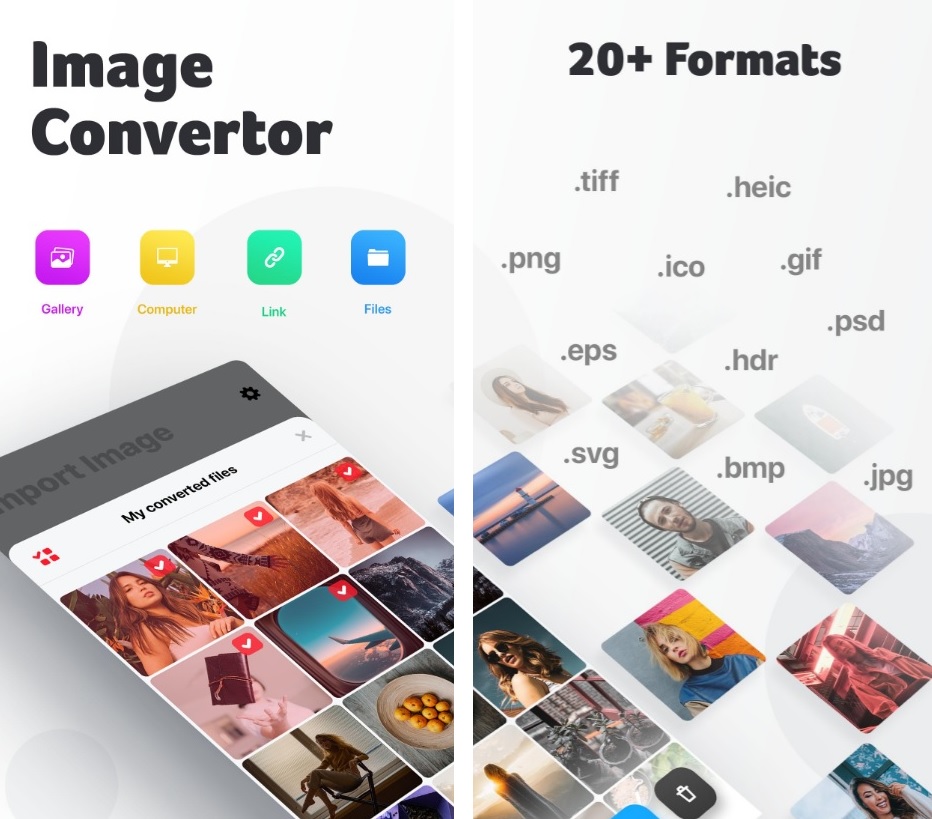 Vector Ink
Vector Ink is an interesting app in this category. It is a general drawing app and it's also a platform for creating vector graphics, logos, and illustrations.
It comes with a set of tools and features that allow users to create beautiful works of art with ease. Here you will discover customizable brushes, layers, shapes, wide range of colors and more.
One of the many advantages of Vector Ink is its well-designed interface, that allows both beginners and advanced users to create amazing designs. The app also allows users to export their creations to various formats such as SVG, PDF, and PNG.
The app, however, has some crashes and bugs. Plus, the app has the limited choice of fonts and the inability to add text to the designs.
Thus, Vector Ink is a great tool for creating vector graphics and illustrations, but it has some limitations that may not be suitable for all users. However, with its ease of use and customizable features, Vector Ink is definitely worth a try.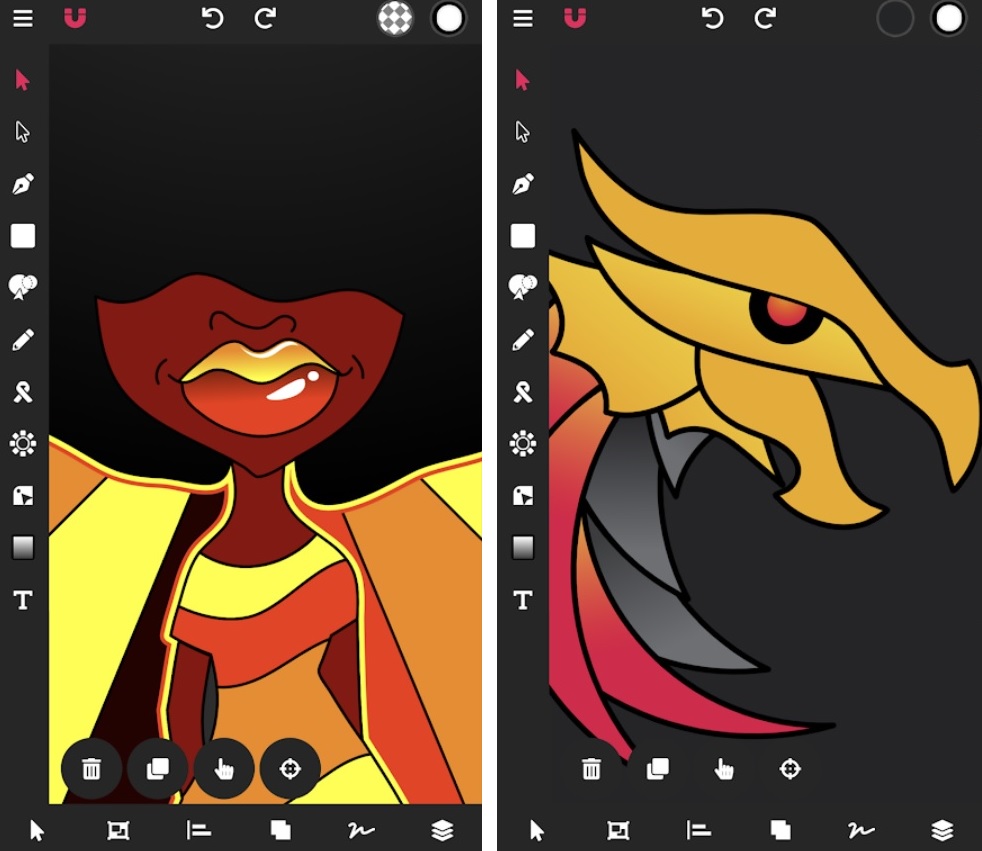 You can also check: 11 Crowded apps to share artwork (Android & iOS)
Vectornator
Vectornator is a popular graphic design app that allows users to create stunning vector images on their devices. Get ready to try its customizable canvas, smart snapping, powerful bezier pen tool and so on.
The interesting feature of Vectornator is its interface design, that is complex enough, but it shouldn't cause difficulties for people to use. The app also supports the import and export of vector files in various formats such as SVG, PDF, AI, and other popular formats.
However, some users mentioned several shortcomings such as intermittent lag and limited support for third-party fonts. Although these complaints were relatively infrequent, the developers worked hard to resolve them.
Its intuitive interface, smooth operation and wide range of features make it the best choice for designers who want to create stunning graphics on the go.