We're living in the works where you can use your mobile phone for practically everything. So why not use it for weighing things, right?
There are lots of food scale apps for Android and iOS that empowers you to keep track of what you eat throughout the day. These apps turn your device into a measurement tool so you can follow the recipes precisely. Some of these apps also include a converter that measures stuff in spoons and cups.
Here's the list of the best apps that category that worth your attraction. Have a look!
Keep all your recipes in one place using these best apps to create your own cookbook.
Smart Chef Smart Food Scale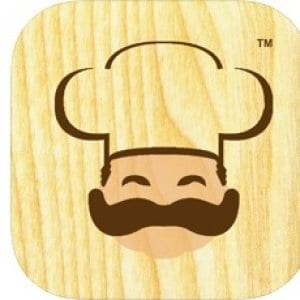 Let's start with an app called Smart Chef Smart Food Scale is a food scale app that will turn your device into a pocket digital scale.
In the first place, the main goal of this app is to help you cook delicious dishes by easily following recipes. Apart from its basic scale feature the app also integrates with all well-known diet apps and services.
Due to this, you can track what you eat throughout the day more precisely. What is more, this app has a nutrition education section full of advice about food recipes and a healthy lifestyle.
Along with that, you can use this app as a scale. This instrument works as simple as possible – you just place any food item on the screen of your mobile or tablet and immediately see its weight.
You can also name the item you weight. At that, the app also includes a calorie counter instrument so you won't need to use an extra service for that.
It also needs to be pointed out that the app saves all the measures you make will be saved in your personal history. Furthermore, the app provides you with weekly graphs. There is even a baking mixing tool for those of you who are into baking and stuff.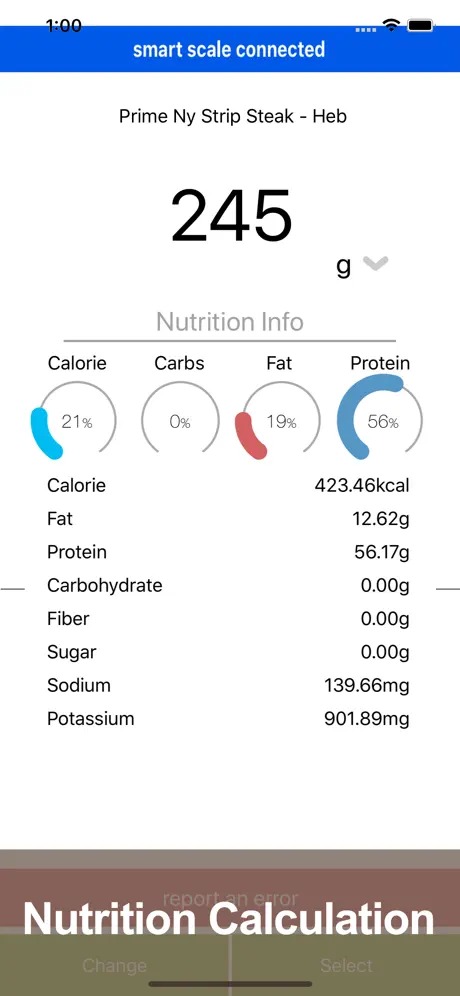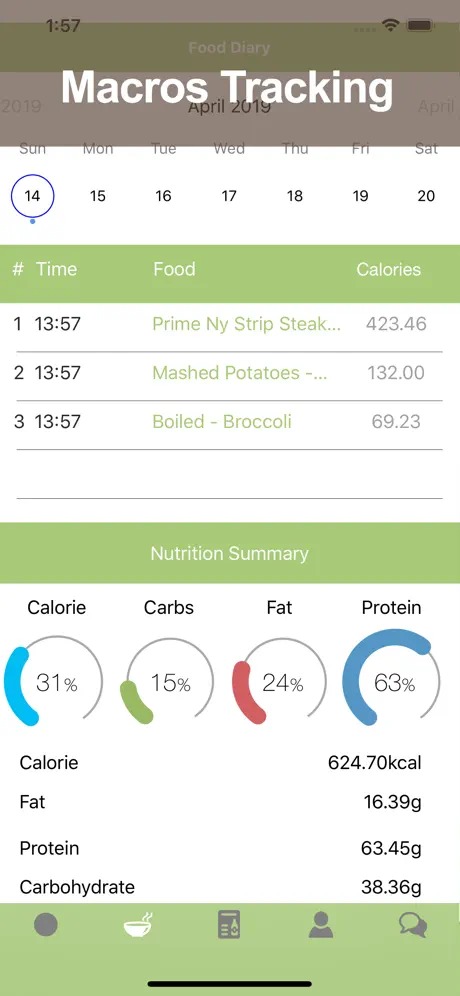 In the long run, if you want an easy-to-use food scale app with several entertaining instruments, make sure to give the Smart Chef Smart Food Scale app a try.


You may also like: 11 Best Food Delivery Apps In USA for Android & iOS
Joyful Kitchen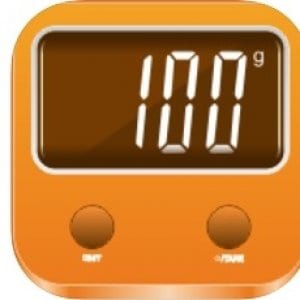 The second app on our list is called Joyful Kitchen. This is a multi-purpose kitchen service that eases your kitchen tasks.
The central goal of this application is for you to get a full understanding of what are you eating in your daily life. Due to this, this app presents you with several helpful measure instruments.
At that, you can measure the temperature of the food, its scale, nutrition facts and much more. Furthermore, you can even track the humidity of each food item you're planning to eat.
Along with that, the app includes a timer tool that won't let you overcook your dish. As for the scaling instrument, it works quite simply here.
All you need to do is place a food item on the screen of your device just as you would do with a real scale. However, there is a scaling limit so you can only weigh products for up to 500 grams.
In case you're also interested in the nutrition facts section of this app, it functions like all the diet apps. So, you select your food item from the large list and the app shows you nutrition data. This data includes the calories, the elements, and vitamins in this food item and all that.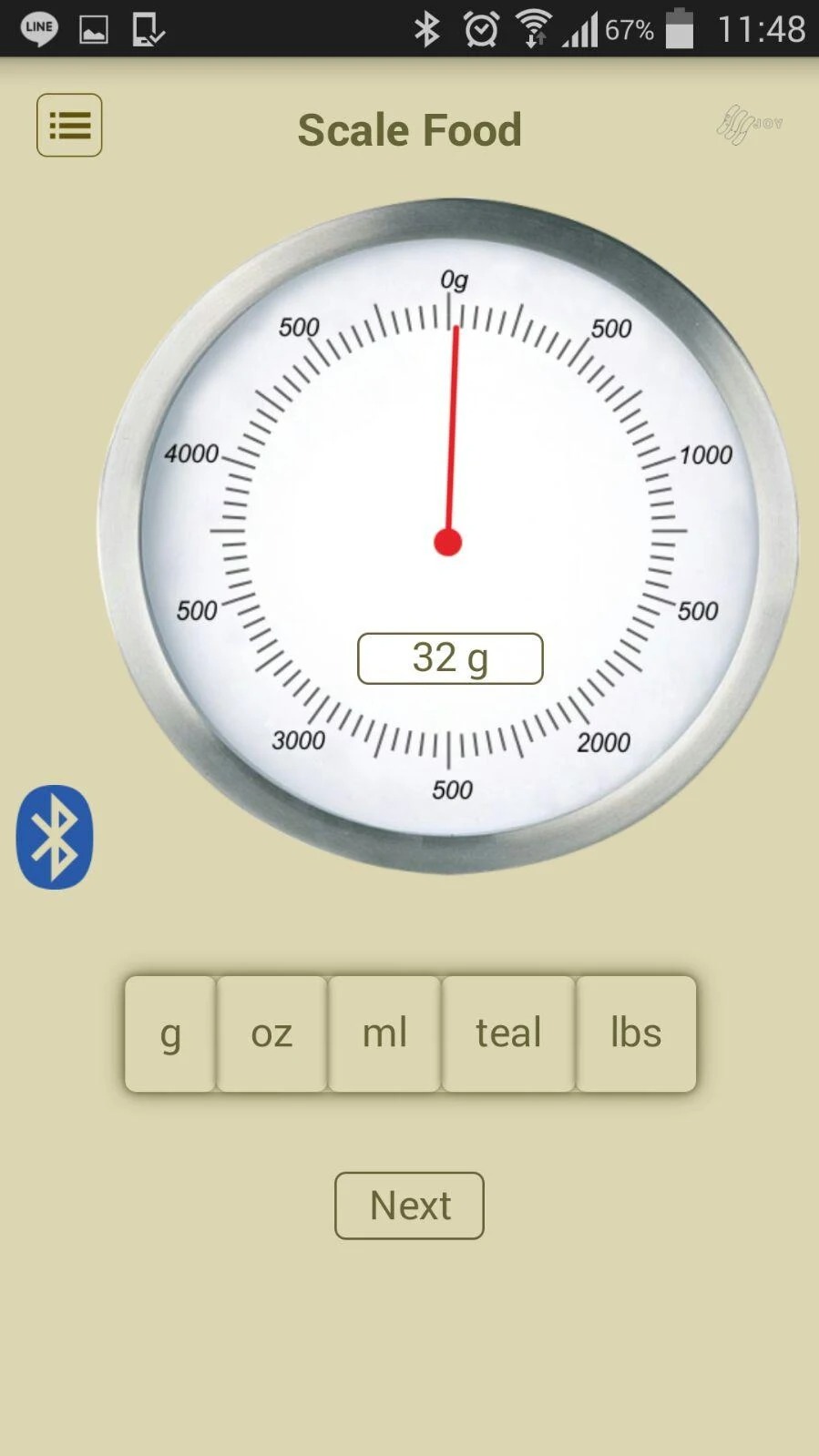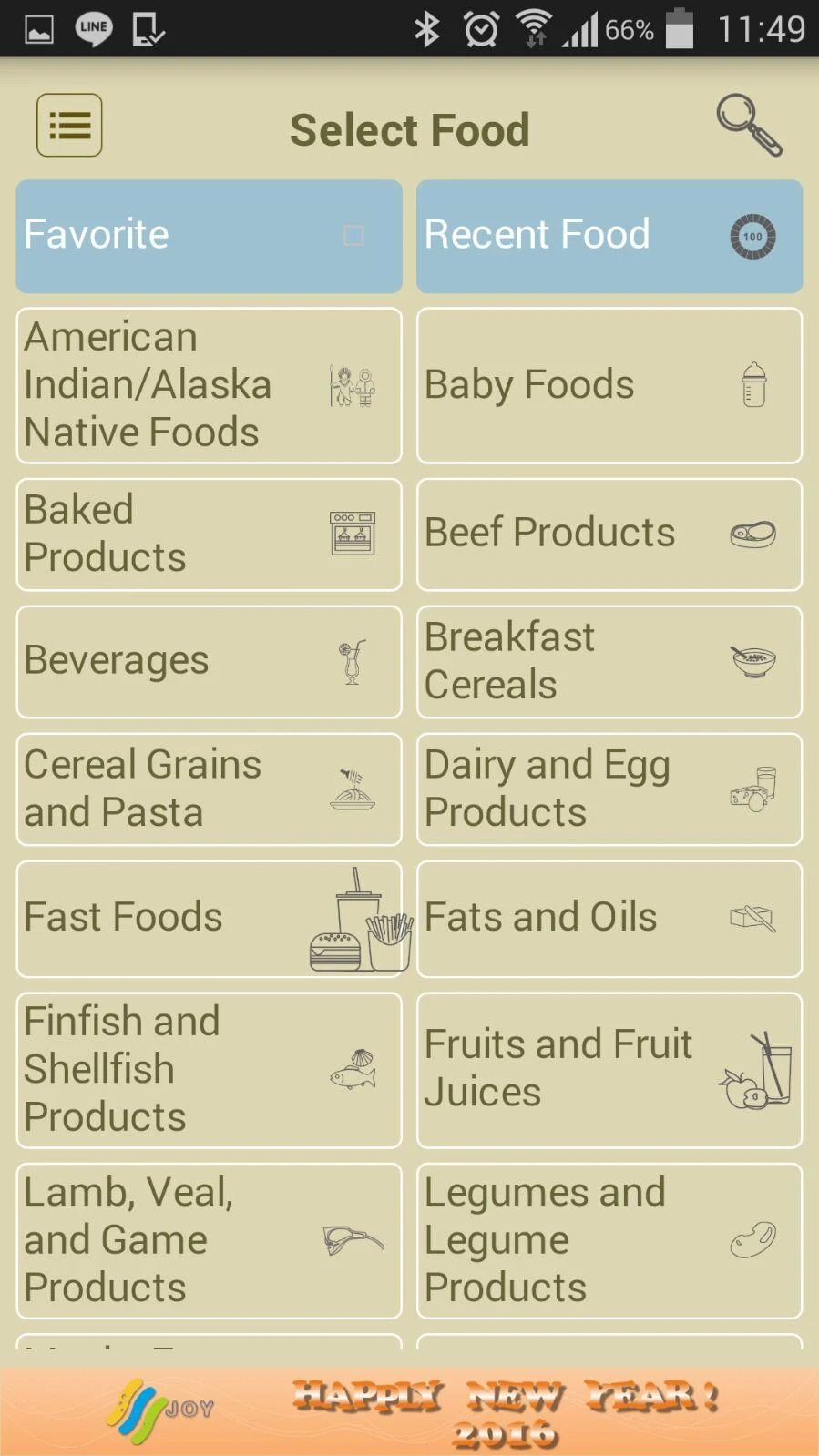 To crown it all, the Joyful Kitchen is a multiuse kitchen app that will make your cooking experience much easier.

Kitchen Scale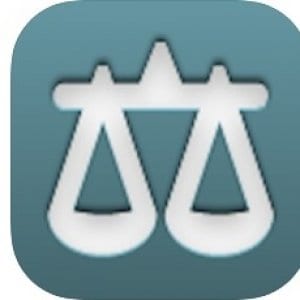 Kitchen Scale is another app that turns your mobile device or a tablet into a digital measurement instrument.
This app serves as a personal helper for every home cooking lover as it empowers you to quickly scale food items. Furthermore, the app also functions as a converter that can measure baking ingredients in cups and spoons.
Due to that, you will need to choose an ingredient you want to use and point out the amount of it required in the recipe. You can also convert different units in a couple of taps.
Along with that, this app works great as a scale. You just place the item on the screen of your phone and the app immediately shows you the weight.
Nonetheless, the app has a limit of heaviness so you can only measure items for up to 500 grams. This limit is made to prevent the screen of your phone from scratches so if you're to scale something heavier than 500 grams the app will stop the measurement.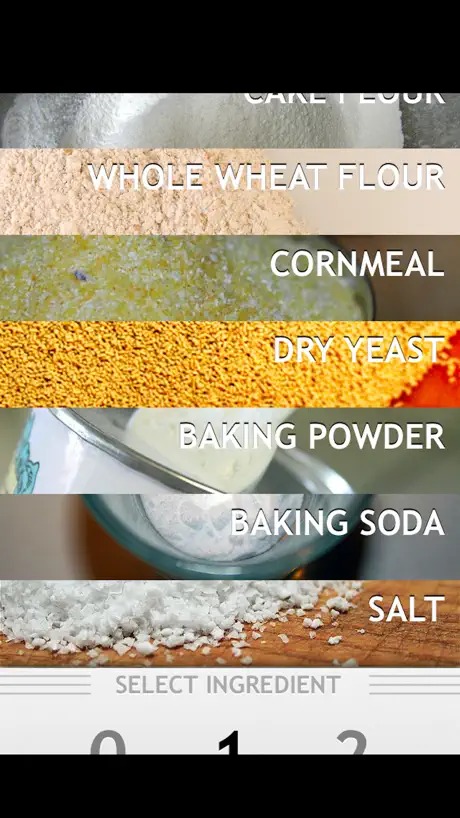 To crown it all, if you need a decent food scale application that quickly does what it claims to do, be sure to try the Kitchen Scale app.

Sensoscale Lite digital scale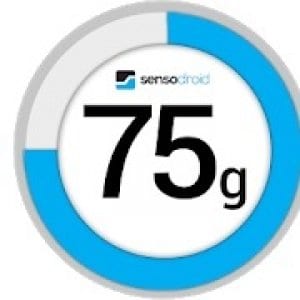 As you can tell by the name, Sensoscale Lite digital scale is a pro scaling app that permits you to measure things.
Apart from some of its sister apps that are only made for pranking, this one is great for making precise measurements. But you will need to buy some extra stuff to make this app working.
To be more accurate, this app claims to function with the Bluetooth included scale.
At that, you will need to use this scale and connect it through your Bluetooth. In other words, if you don't have a scale that syncs with Bluetooth this app won't function. Due to this, the app has a list of scales you can use with it on the main page. It can even sync with the industrial scales as well.
Furthermore, the app saves all the measurements you have done with it on your personal history. So you can always come back and look through all the measurements and even add some at your faves.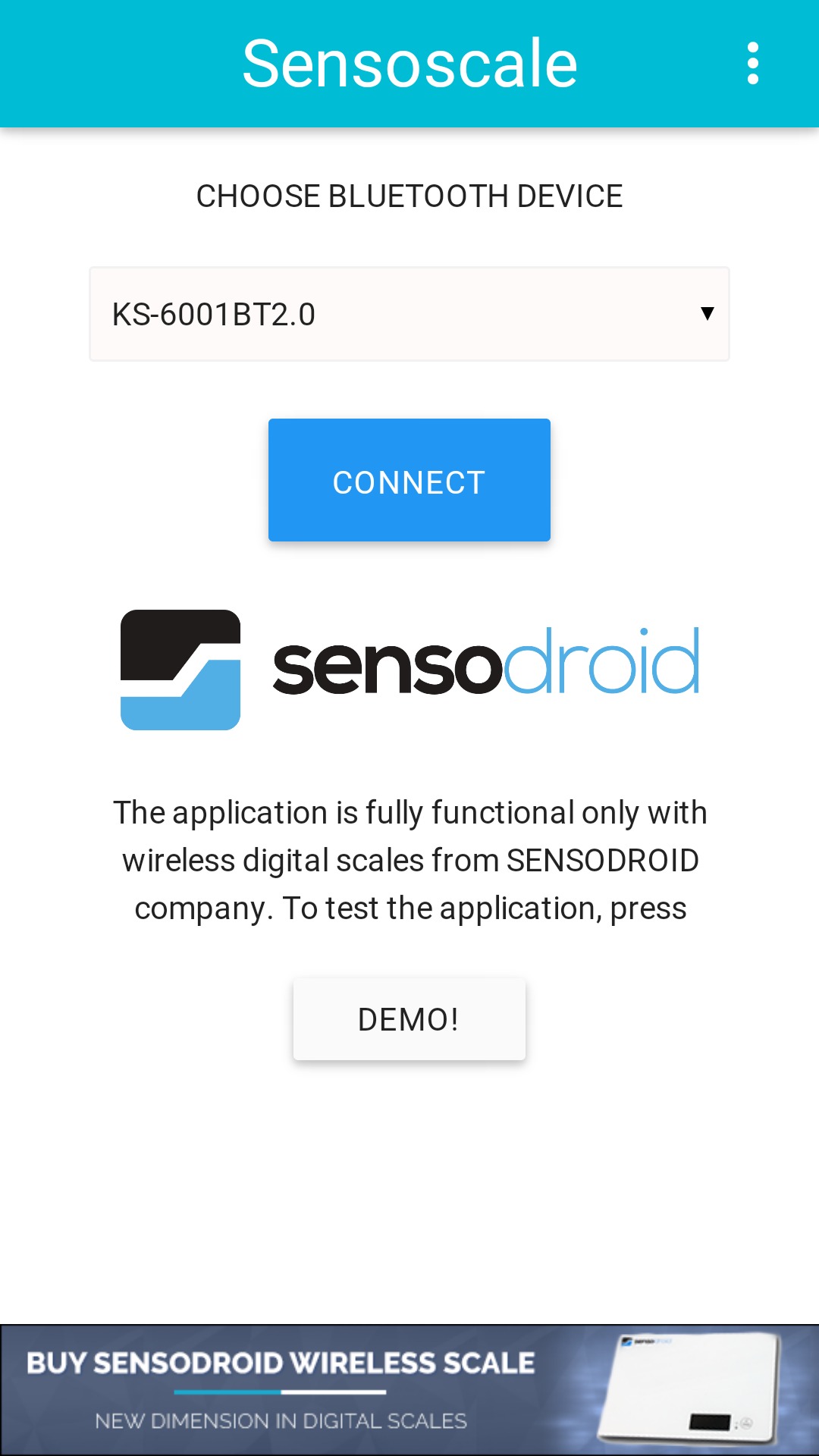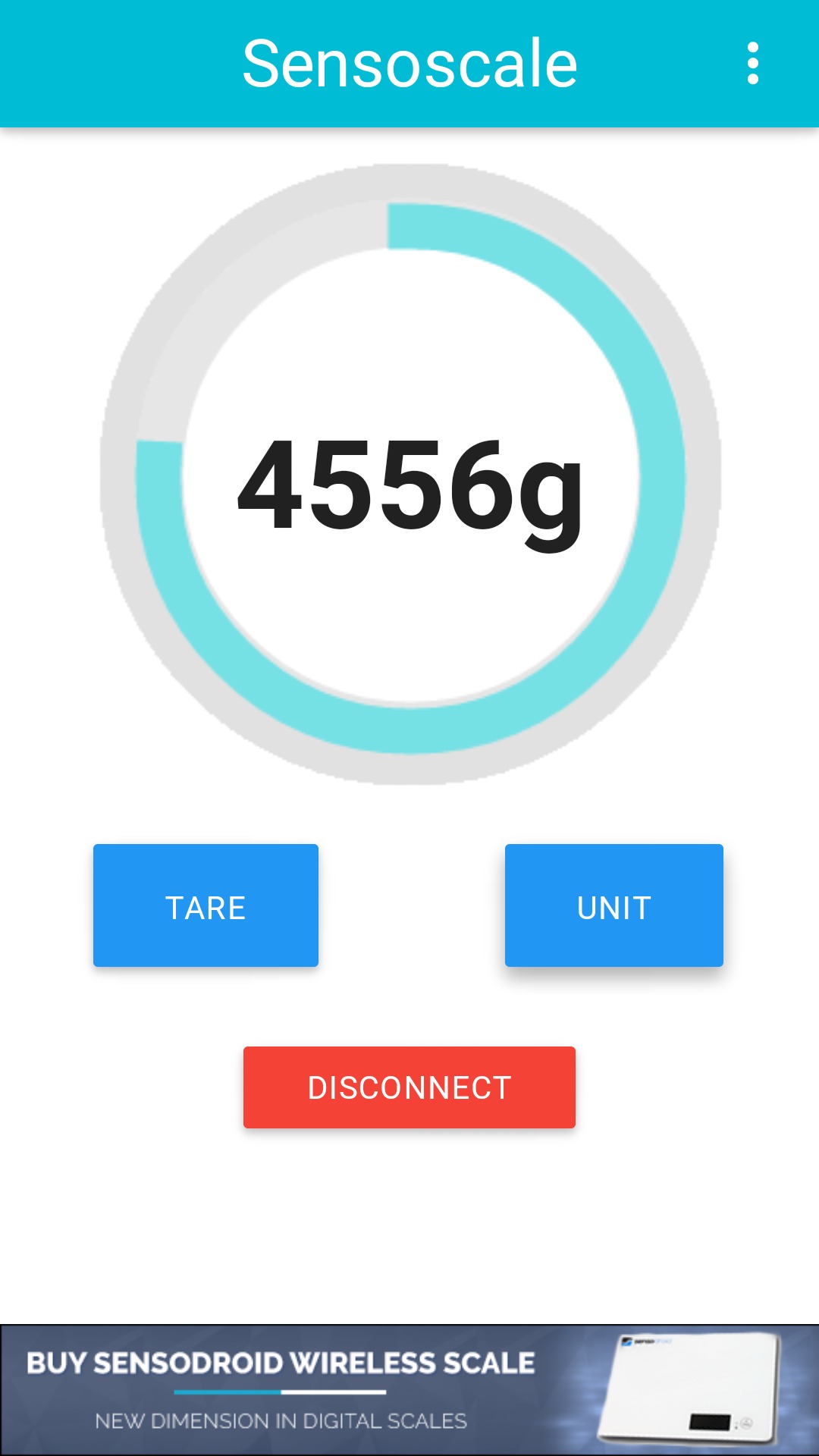 In the long run, if you want a nicely made app to pair with your scale, make sure to give the Sensoscale Lite digital scale app a try.

Kitchen Scale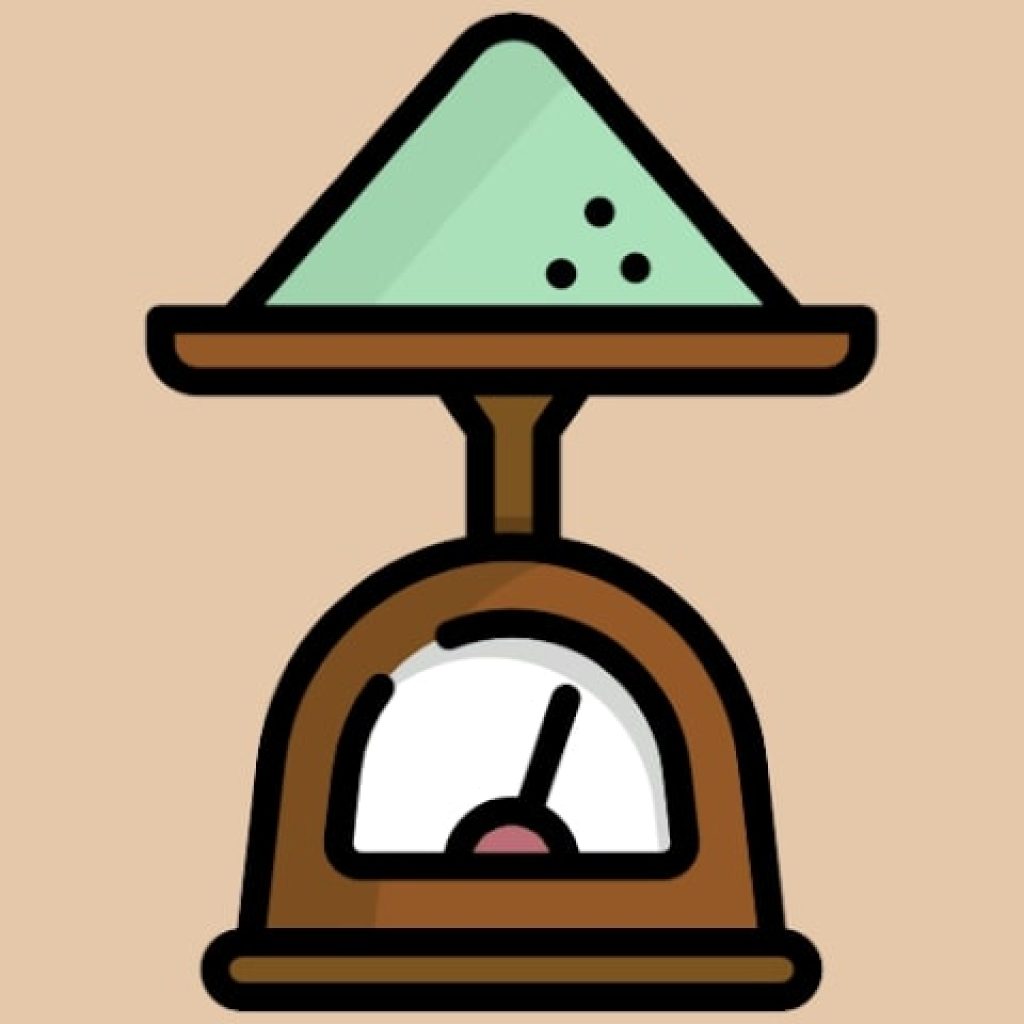 This app will be a great alternative instead of a real grocery scale. You will be able to include it to cook dishes exactly as they are prepared.
The app presents a huge book with a list of foods and their average weight, as well as variations of grams. It also provides a universal weight for fruits and vegetables, which allows you to calculate their required amount for cooking.
To get the data for any of the products, you only need to select it from the proposed list. Then information about how many grams of it are contained in a particular volume of container will become available.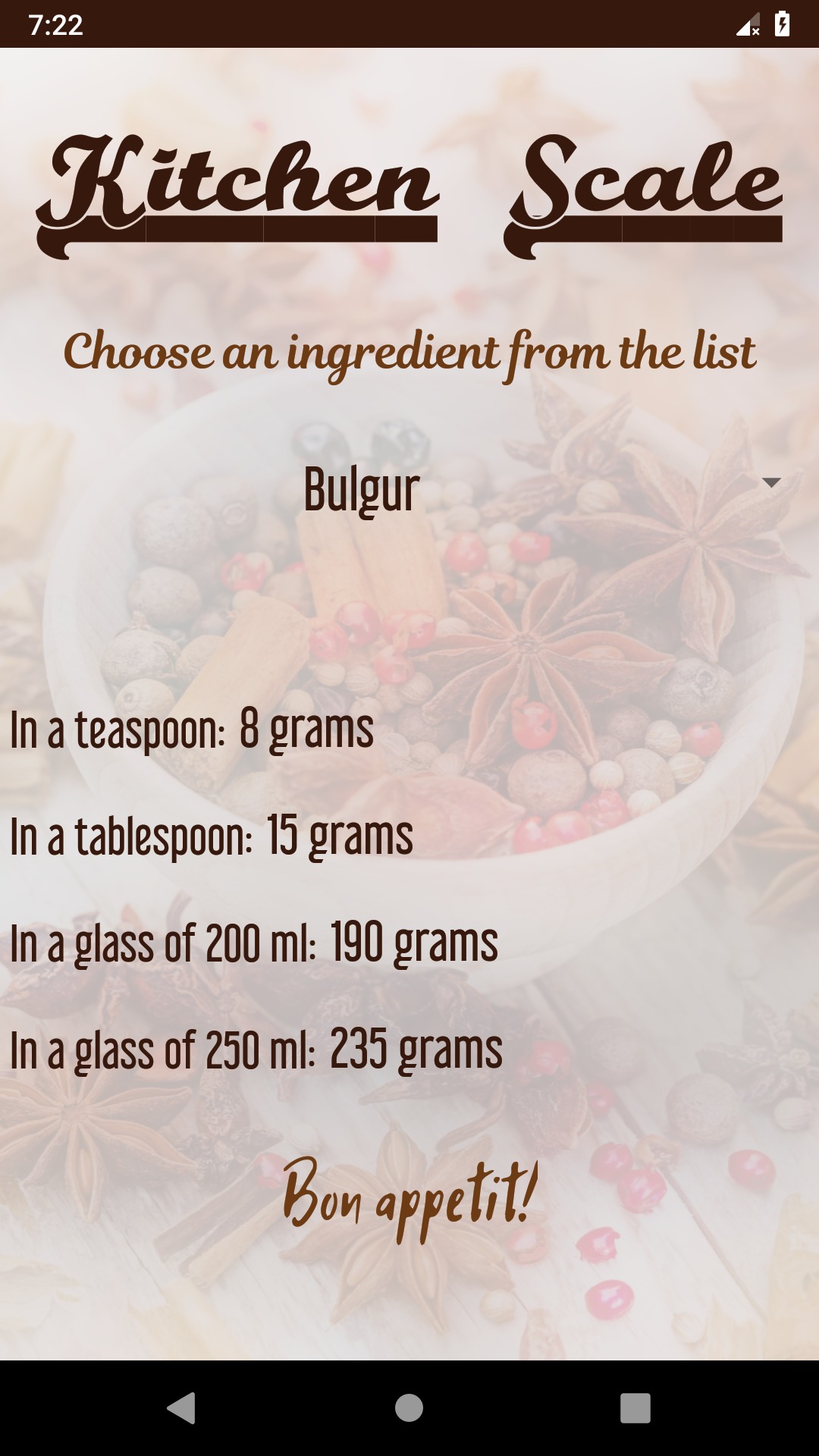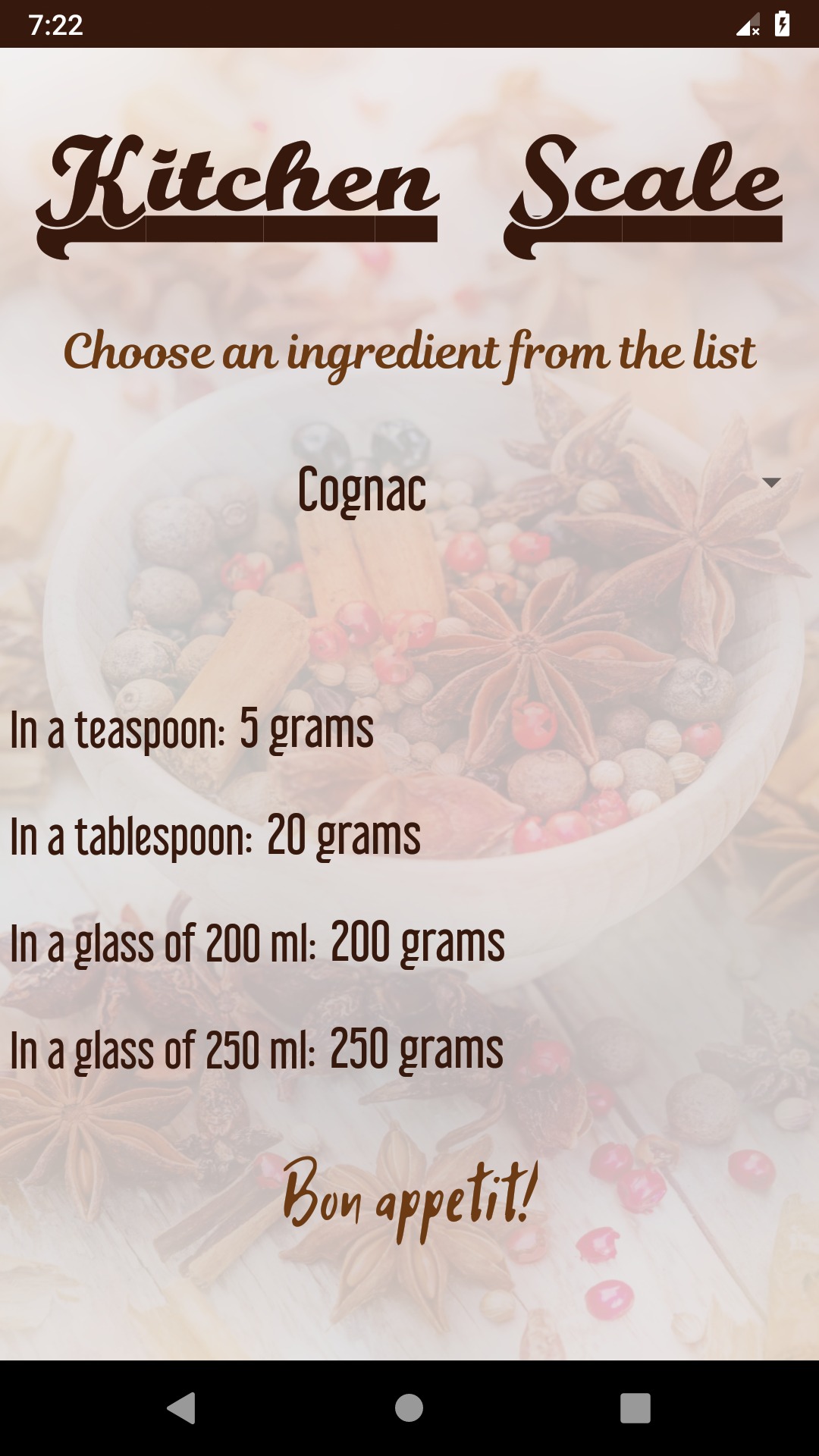 Thanks to several variations of grams, you can choose the most suitable for your recipe.

Digital Kitchen Scale Chart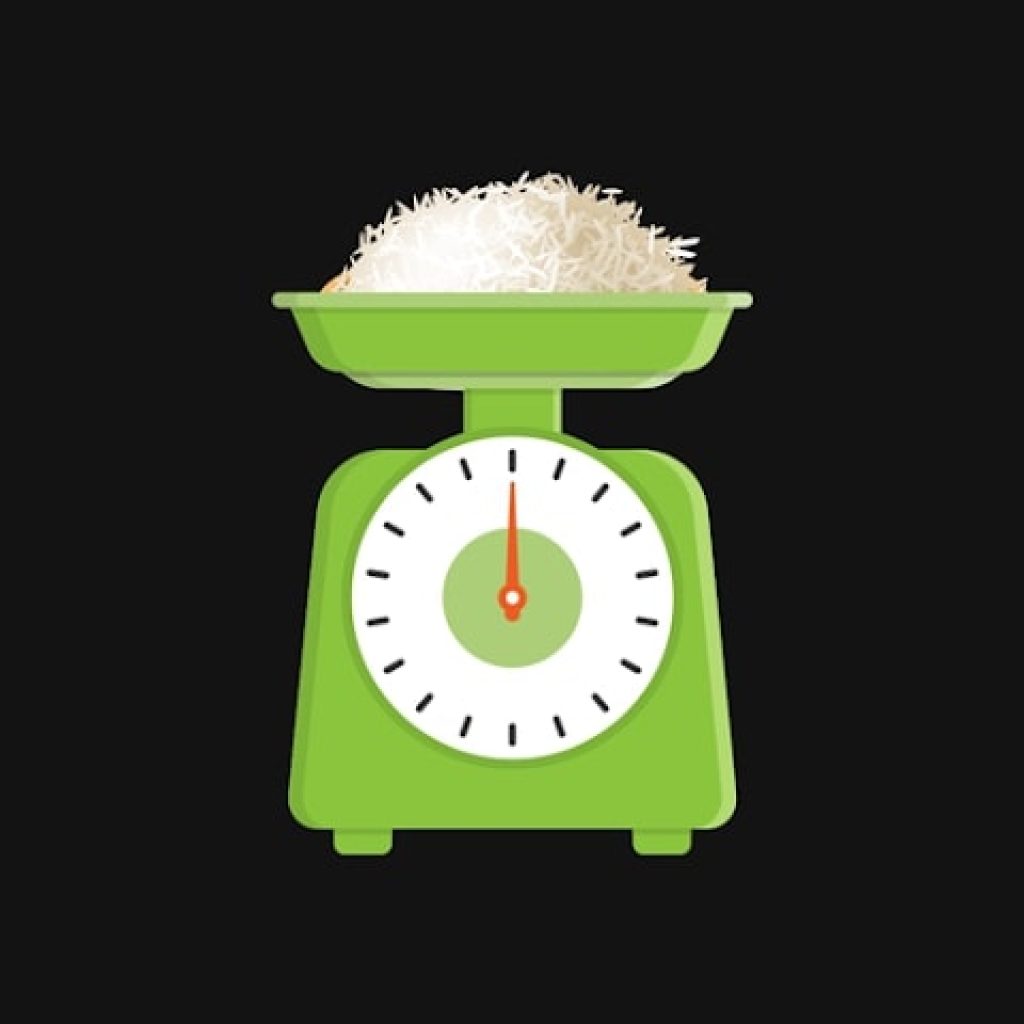 If you do not have special scales for weighing products in your house, then this app will be a real helper for you.
It contains all the information about the products and their content in different types of containers. For example, you can easily find out how much flour or sugar is in a standard glass.
This information is essential when cooking according to a strict recipe. Thanks to the extensive range of products that are listed in the app, you can easily find each component of a recipe and add it according to the required quantity.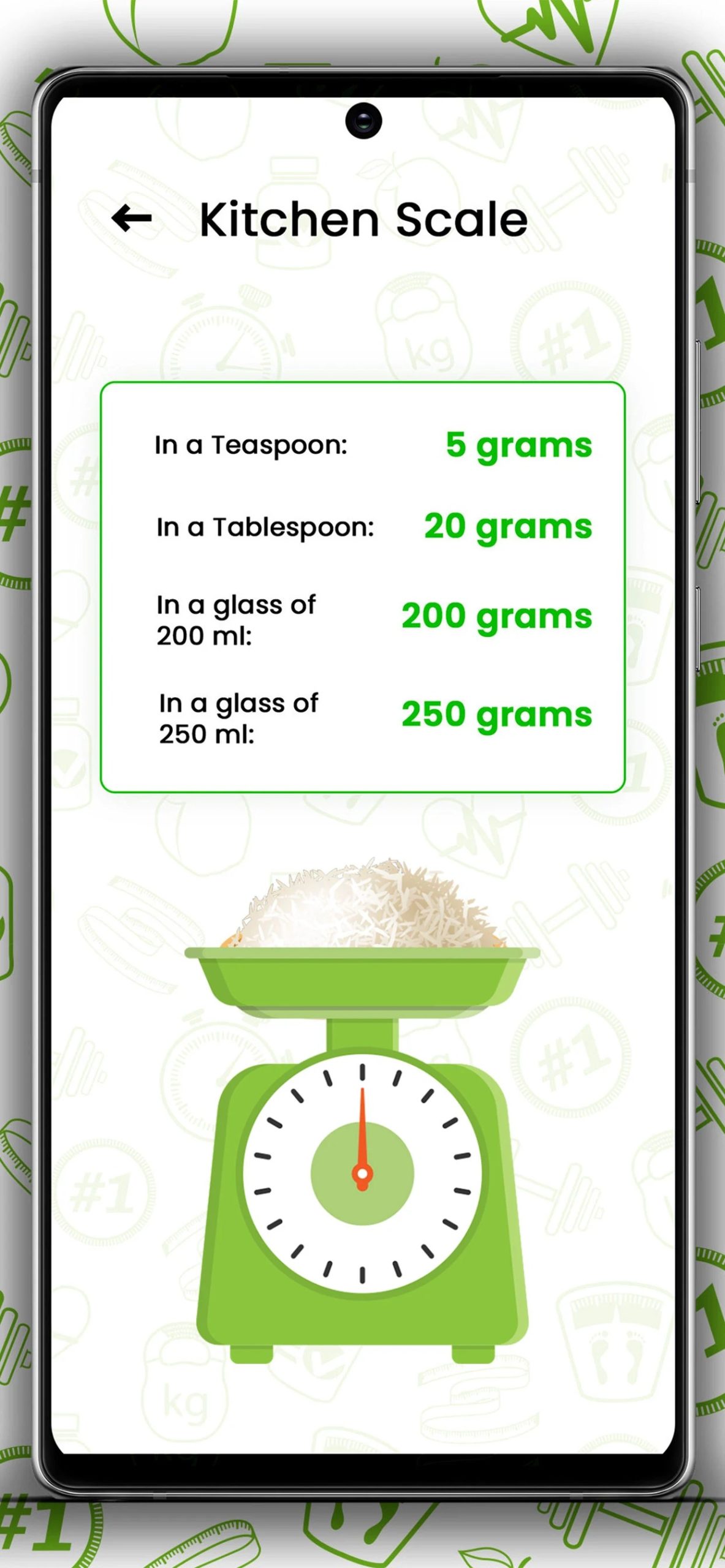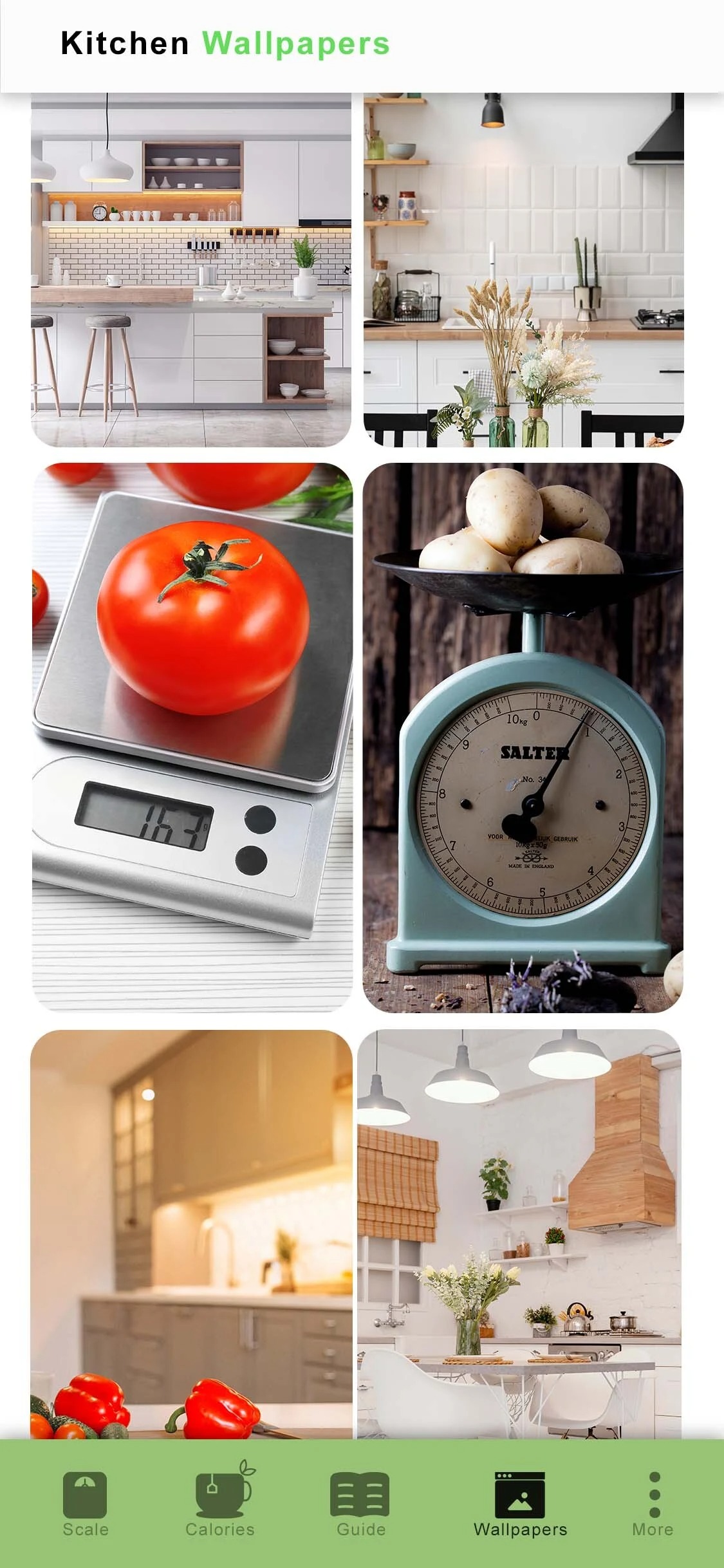 In addition to containers, spoons act as food meters. You can see how much of a particular product is contained in a teaspoon or a tablespoon.

You may also like: 11 Best Weight & Food calculator apps for Android & iOS
Foodiet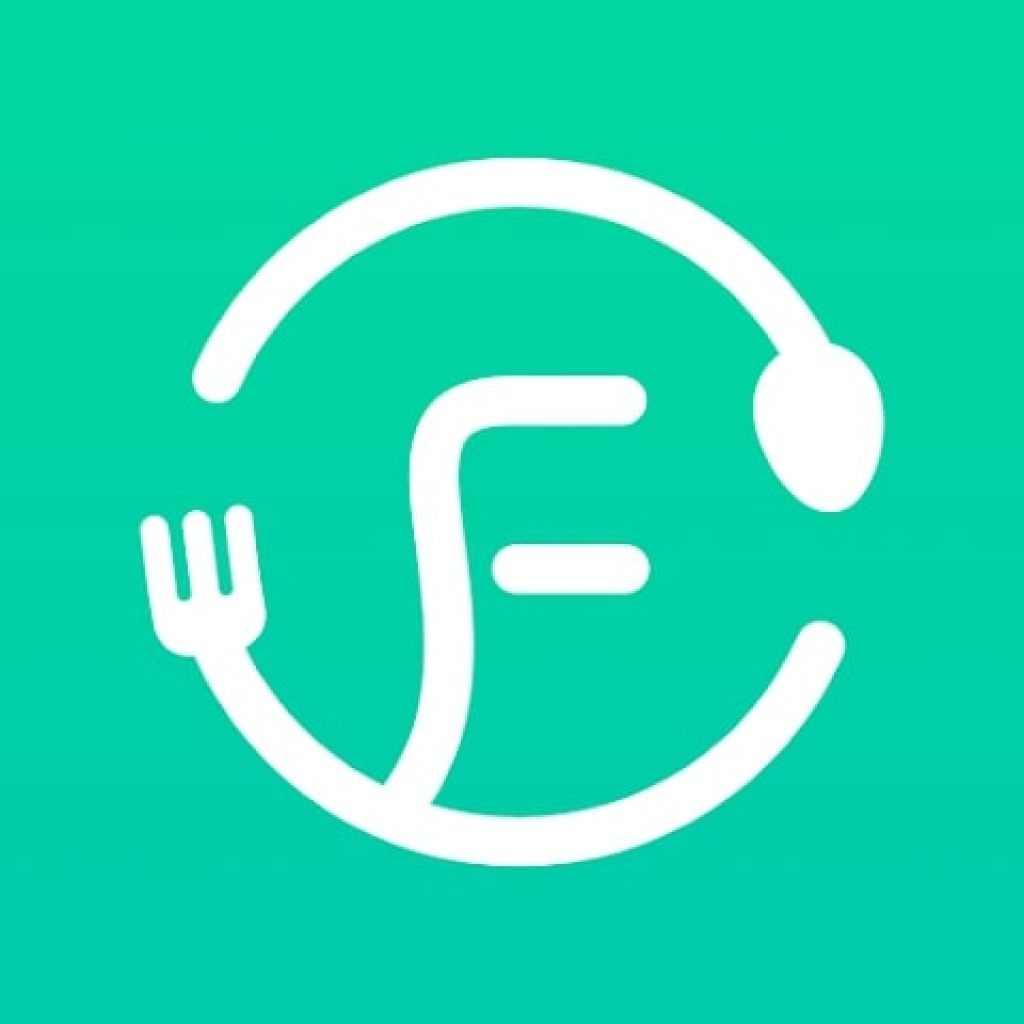 This app will be useful for anyone who wants to keep fit and healthy. In it, each user will be able to find out how many calories he or she consumes during the day at all meals.
To do this, the service is divided into several windows that represent breakfast, lunch and dinner. In each table, it is necessary to enter data about the food consumed. You can enter them yourself or choose from a suggested list.
For the most accurate data, you should enter the food and its weight. Grams or liters can also be selected from the list provided. The system will then automatically calculate the number of calories that have been consumed during the day.
The app will also show all the nutrients based on your diet. You will be able to view the data not only for the current period, but also for previous days.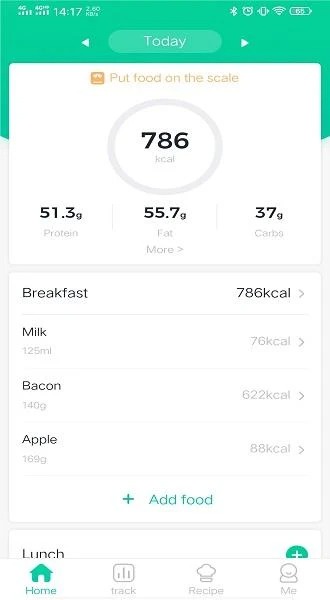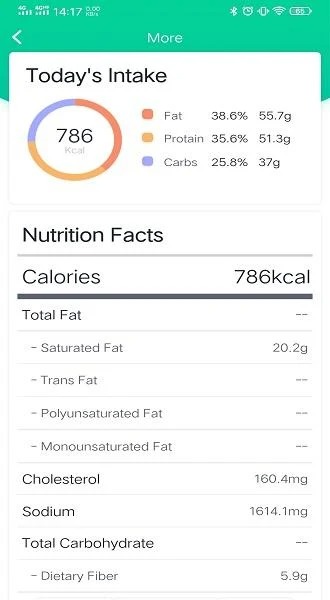 The service allows you to view your statistics, personal data and recipes, which are generated and updated regularly.


Calorie Counter by Lose It!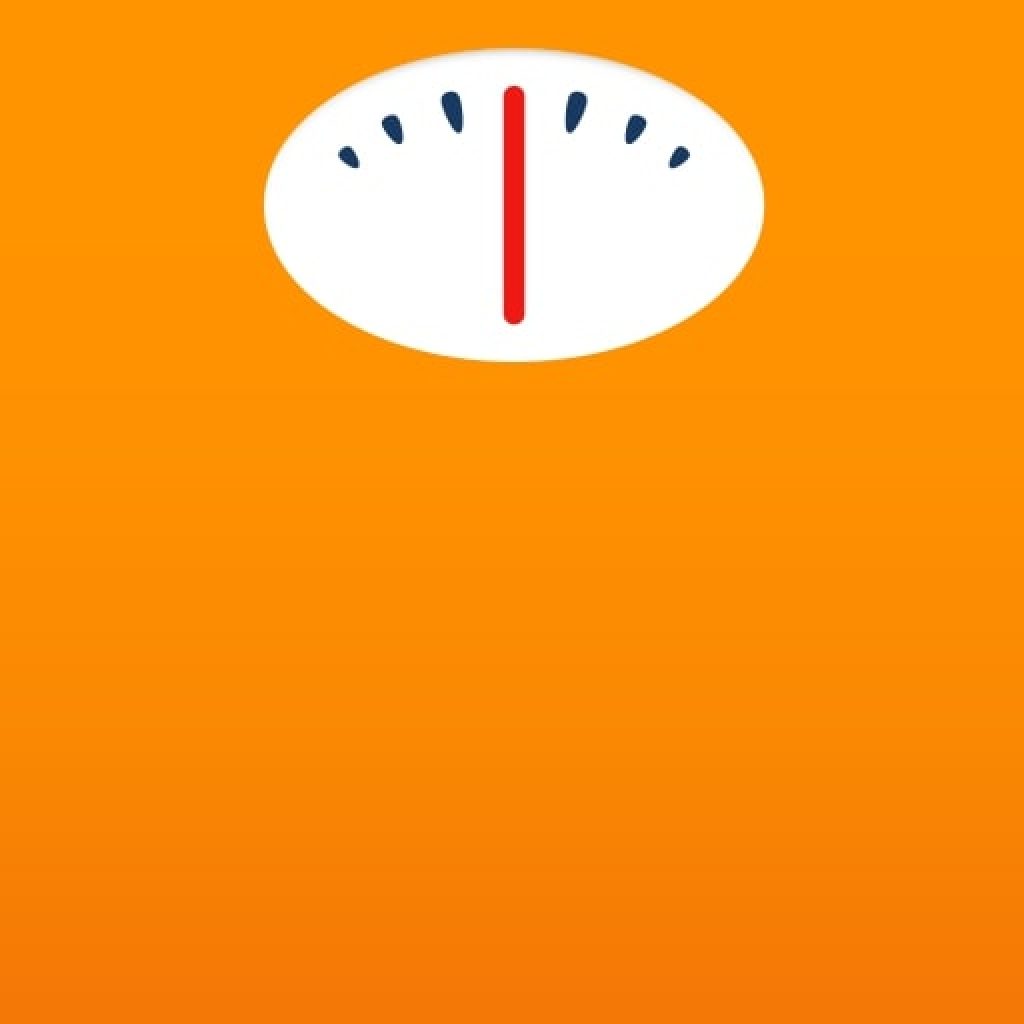 With this app, anyone who wants to get in shape can say goodbye to extra pounds and calories even without a nutritionist.
It is a nutrition notebook where you can write down all your meals by entering the foods you have consumed in them. This will allow the system to automatically read the number of calories consumed, as well as the balance of nutrients contained in the foods.
To add your food to this service, you can use a search or code scanner, which will give you information about the food based on the data on its label. To get information about weight loss statistics, you can link various smart devices, including fitness trackers and scales.
Also, this virtual diary will provide you with uncomplicated dietary meals and consistent instructions for preparing them.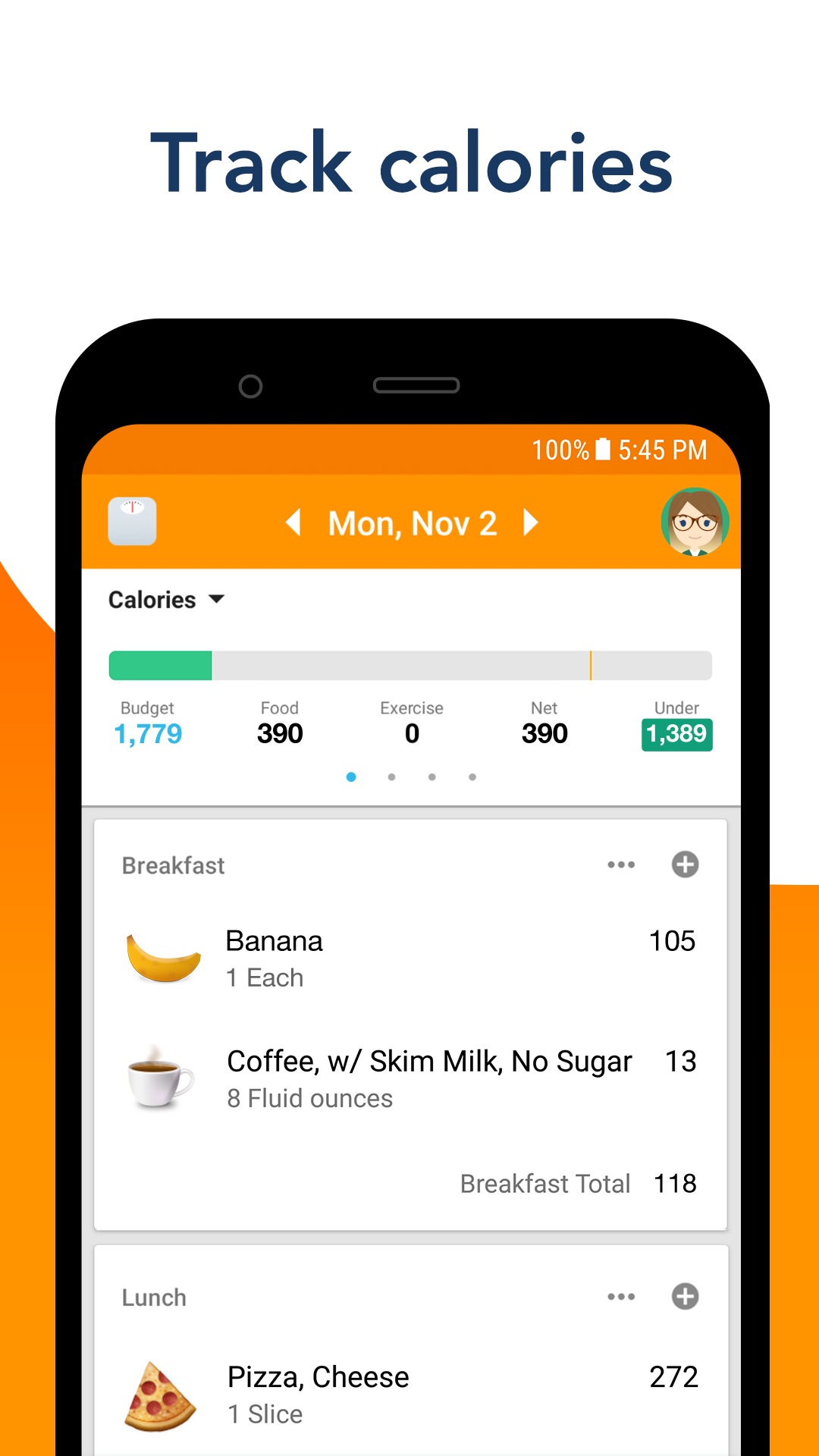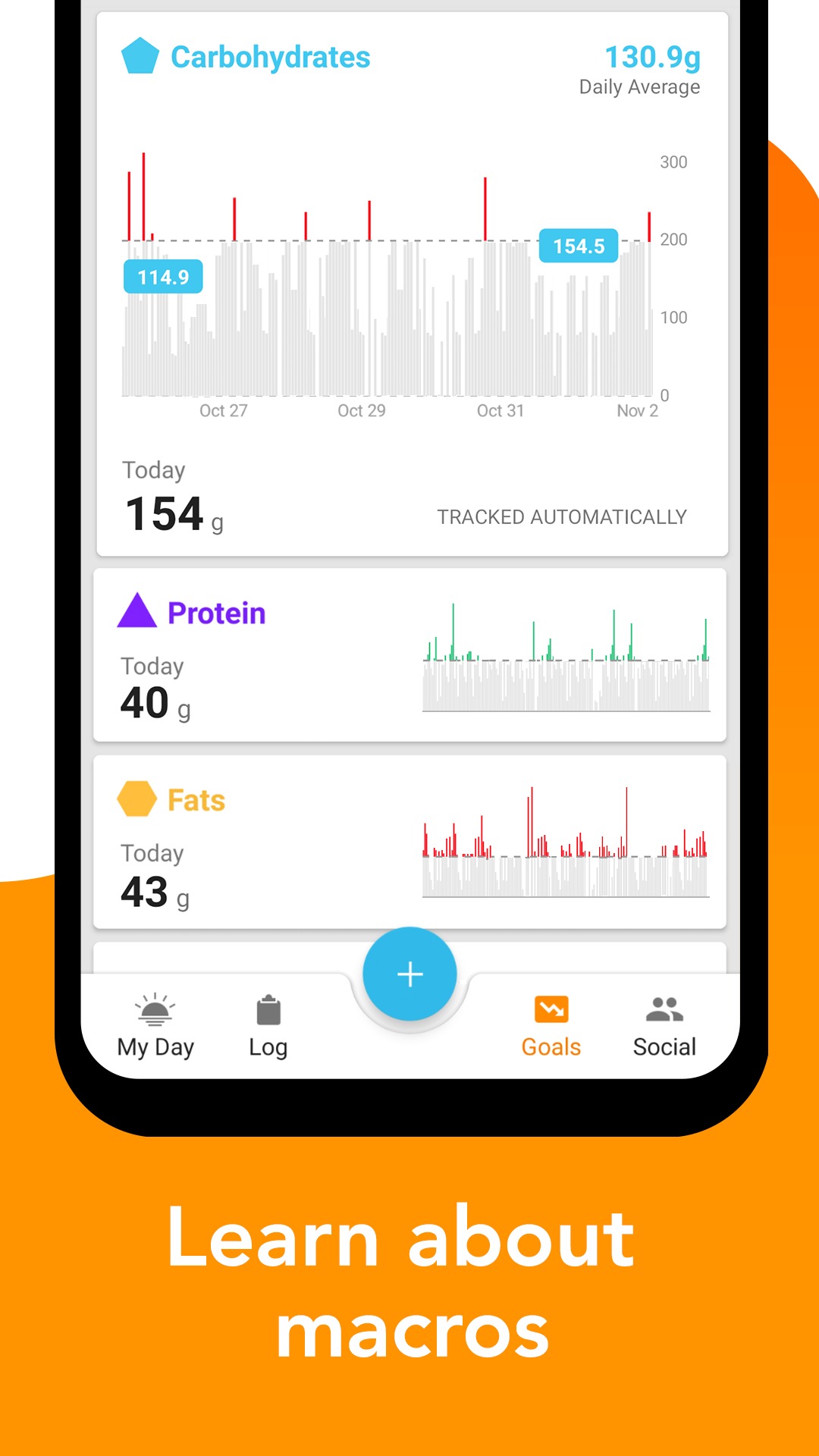 The app gives you the ability to set reminders to consume enough water. Also in the app you will be able to observe individual nutritional recommendations, which are provided by the service itself.


Calorie, Carb & Fat Counter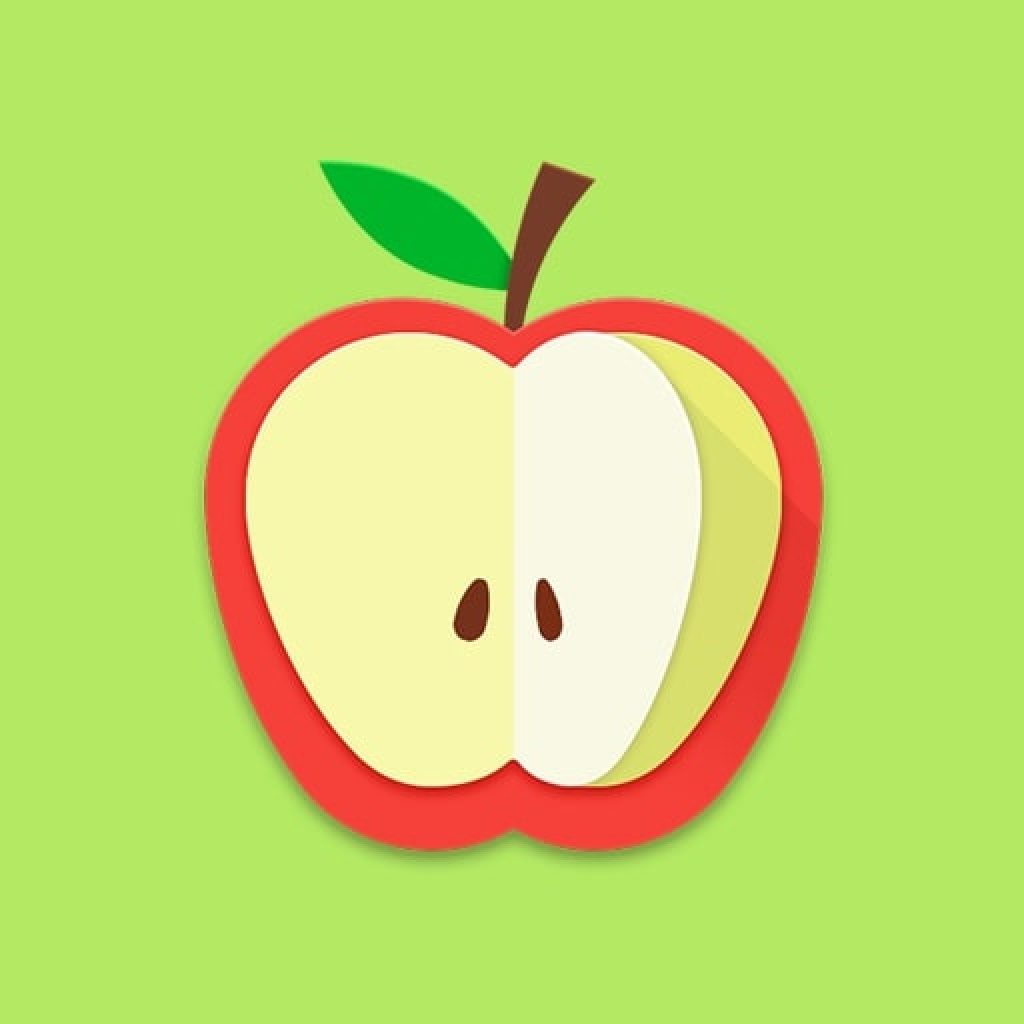 This modern virtual assistant for calculating the energy value of foods will be a great alternative to a dietitian.
In this multifunctional service, you can analyze all the food consumed over the course of a day.
To do this, you can open the app's built-in food and nutritional value search, which provides data on all foods on the registry. But you can also add your own foods by entering them in one of the tables dedicated to time periods and items from your diet.
You can customize your dietary intake according to your main desires: to get rid of a few pounds, to tighten your body or to increase the percentage of muscle.
The app allows you to analyze not only the calorie content of a meal and individual foods, but also their components in the form of nutrients. In this way, you can find out whether your diet is balanced or not.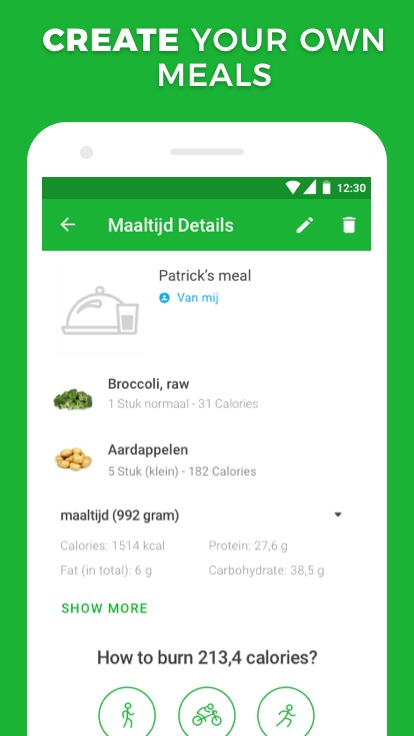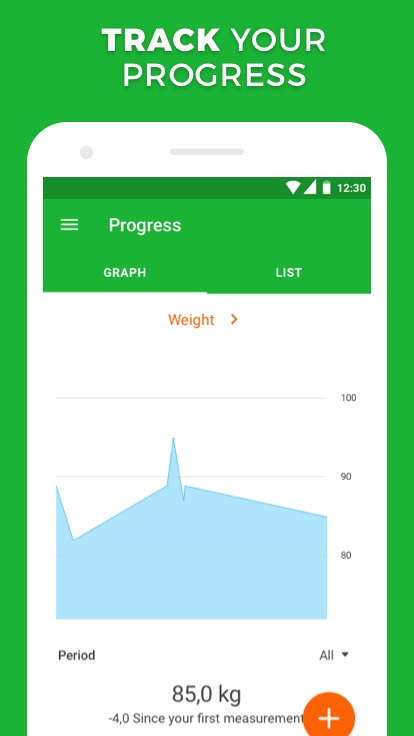 To get effective results in losing weight or gaining weight, you can use the exercises and workout plans from the app. For the most active users, there will be various rewards and prizes.

Cronometer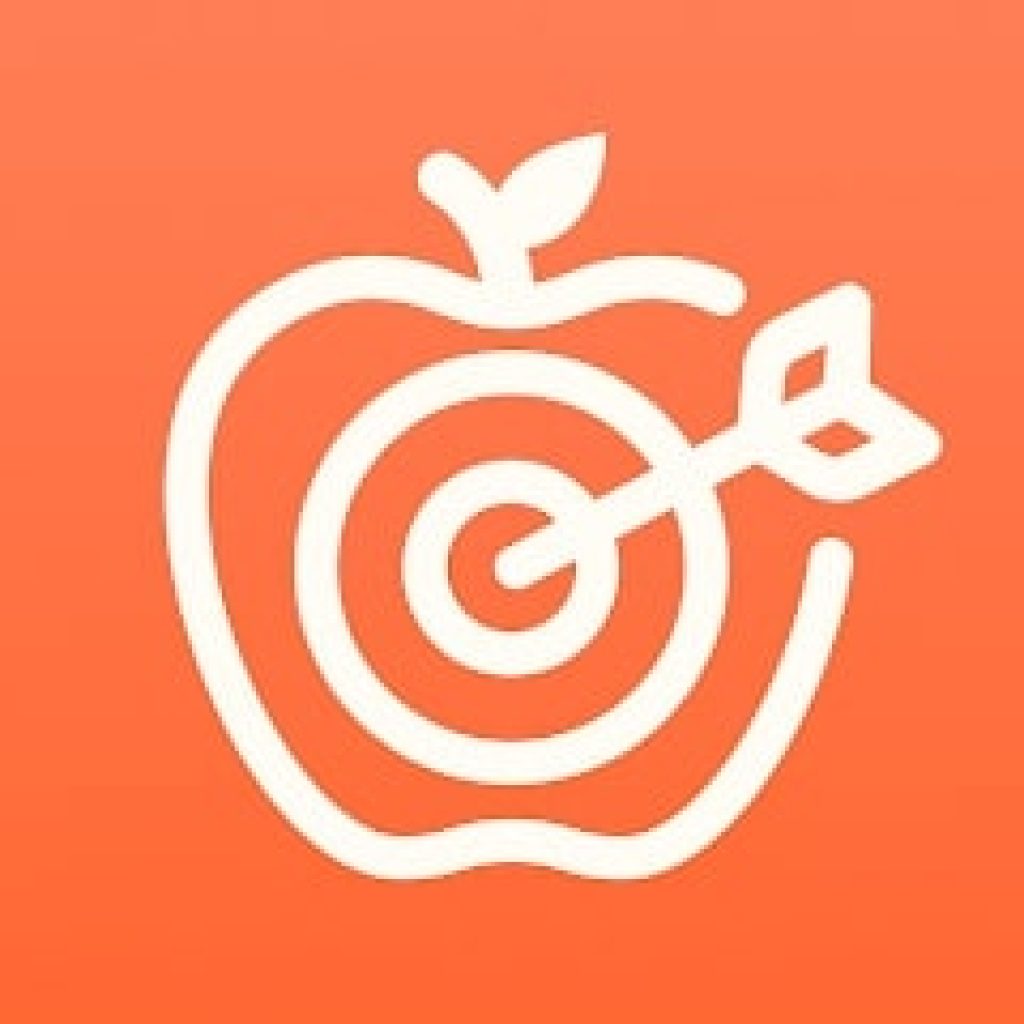 To keep yourself and your health in excellent condition now it is not necessary to go to a nutritionist or fitness, because there is this multifunctional app.
With it, you will be able to develop a subconscious habit of daily exercise and regular consumption of water in the right amount for the body.
For this purpose, you will have a tracker function, which will be triggered and will remind you about the exercise or about the consumption of the next glass of water.
The app will also allow you to monitor your diet, from its calories, to its composition and its nutrients. Thanks to this you will be able to optimize your diet according to your desired goals: losing weight, maintaining weight or gaining muscle mass.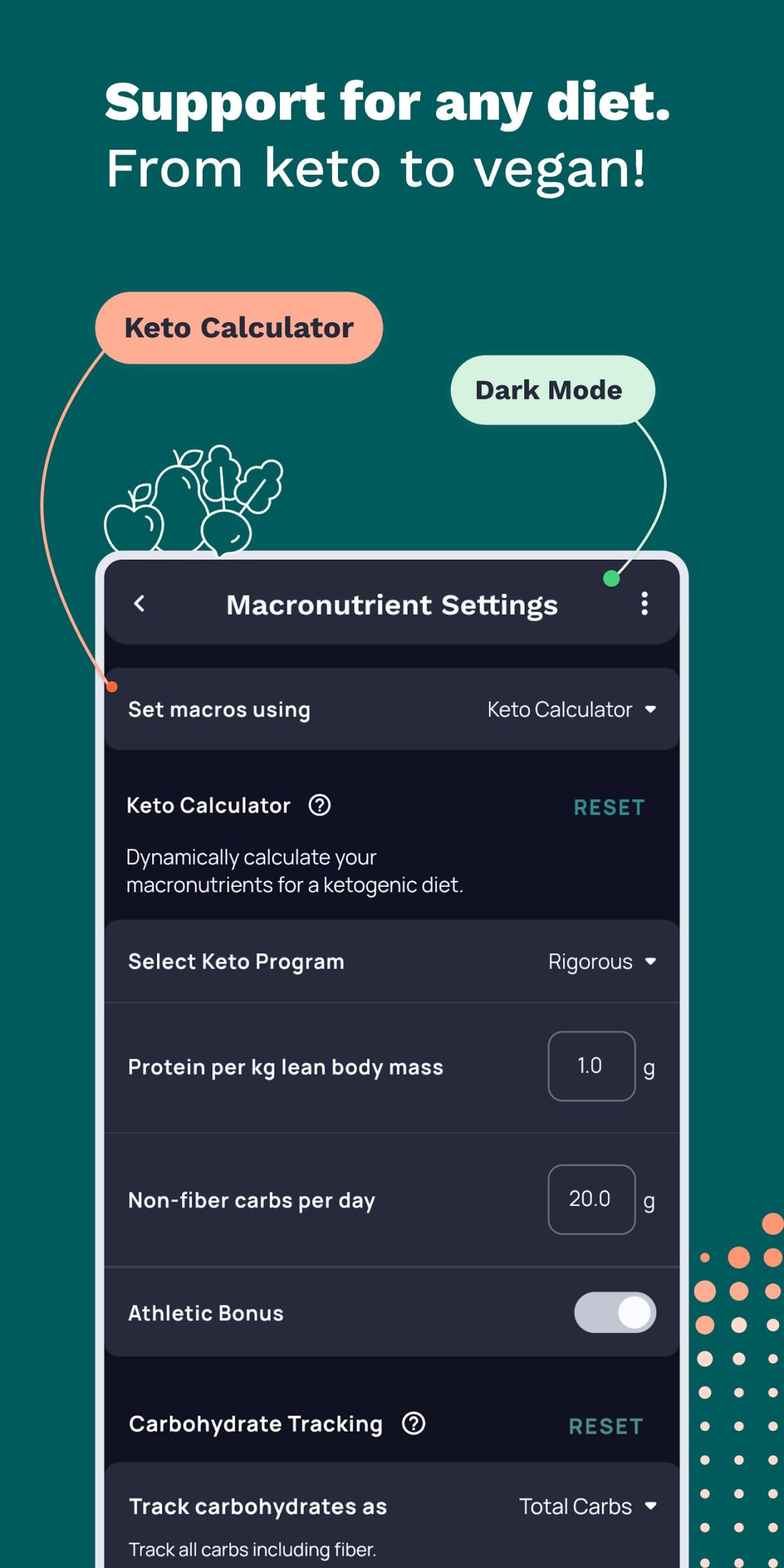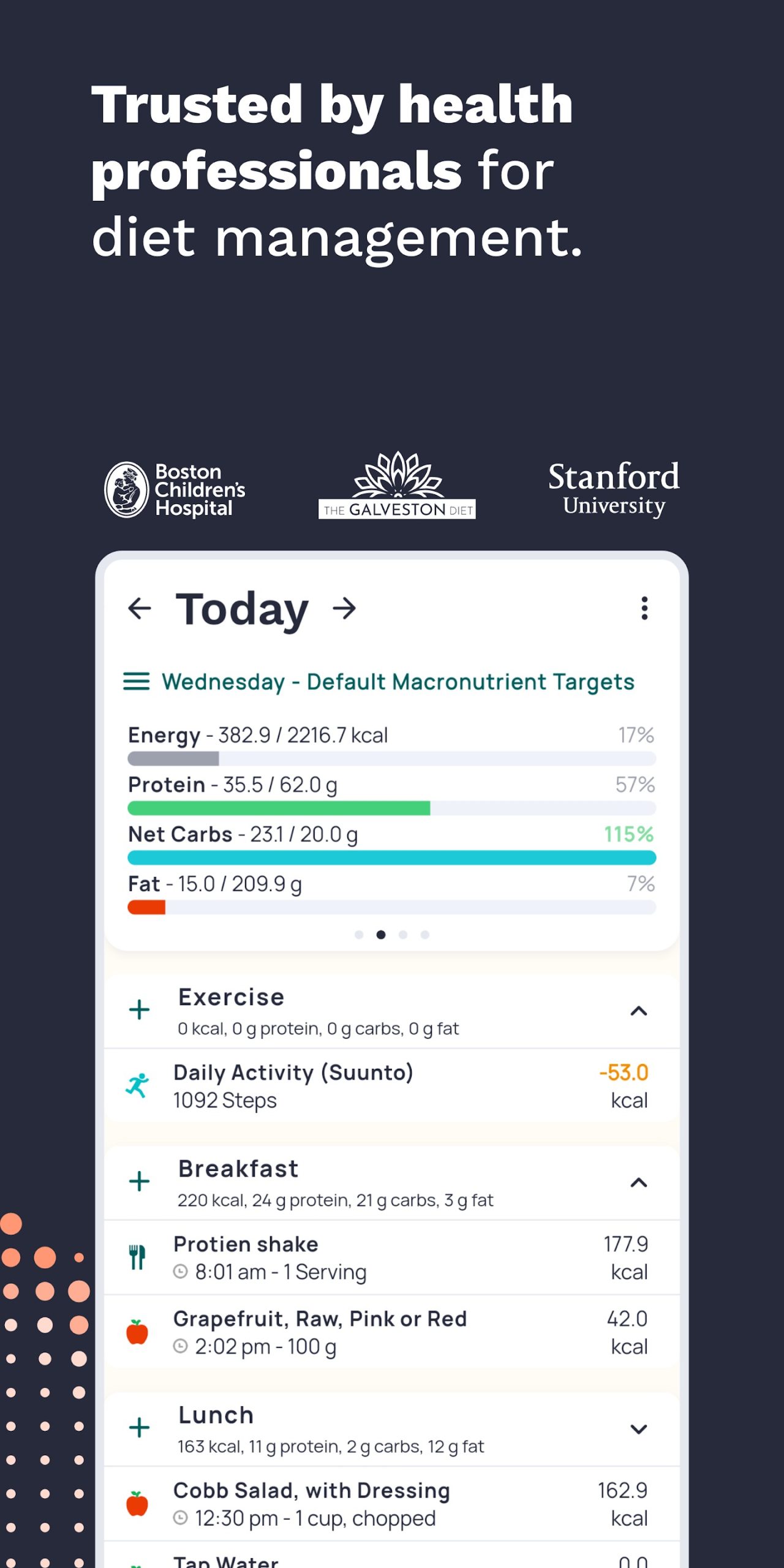 To add products to one of the stages of your diet, you can use the search in the program itself, enter your own data and scanner code from the label. The system then automatically provides you with information about your diet.


You may also like: 9 Best Food Allergy Scanner Apps (Android & iOS)
FitTrack MyHealth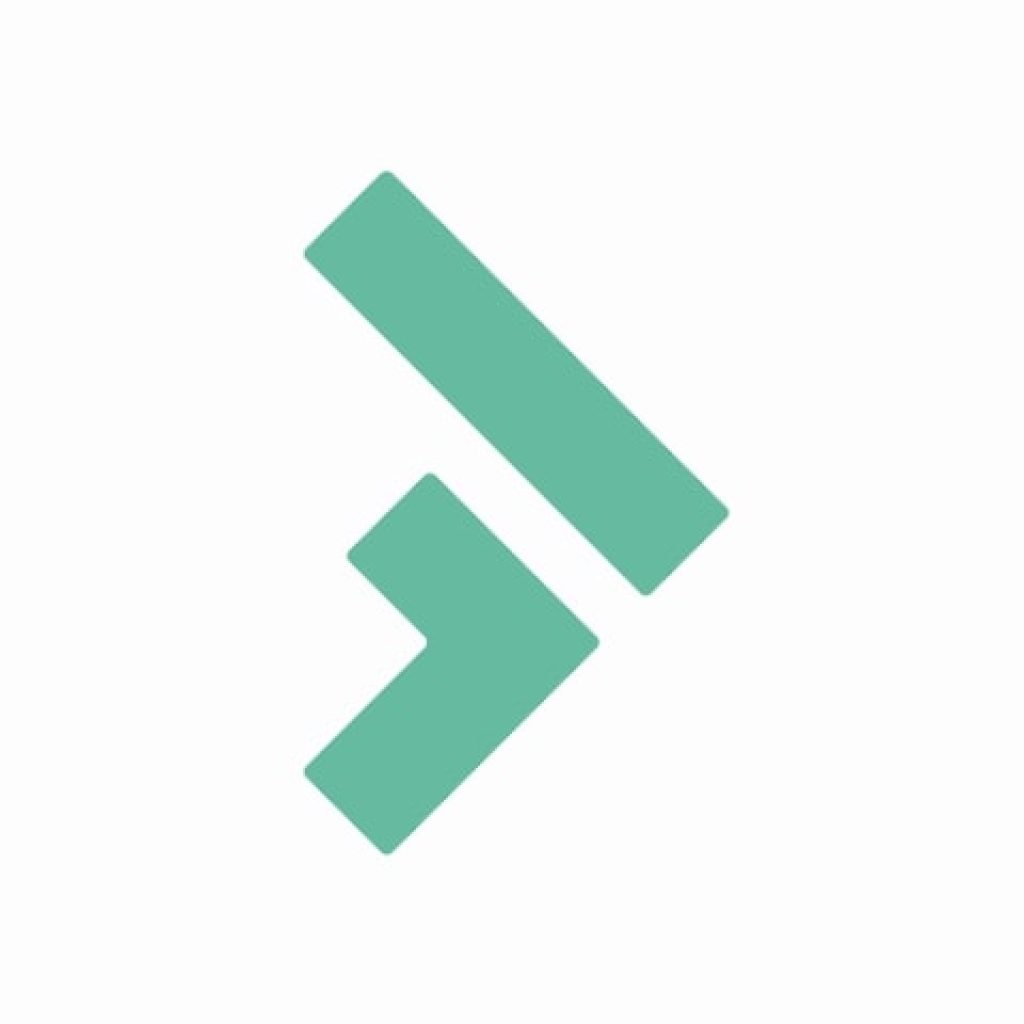 With this app, you can see your figure and body condition from a different perspective. The app syncs with the devices that are responsible for your health and body condition.
You will be able to visualize how you look by entering weight, parameters, and other data. Calculate your body mass index and then receive personalized recommendations for a balanced diet.
About 8 users can be registered in one account, which allows you to store and control the data of all family members. Based on the information you enter, the app will regularly suggest workouts and exercises for different muscle groups.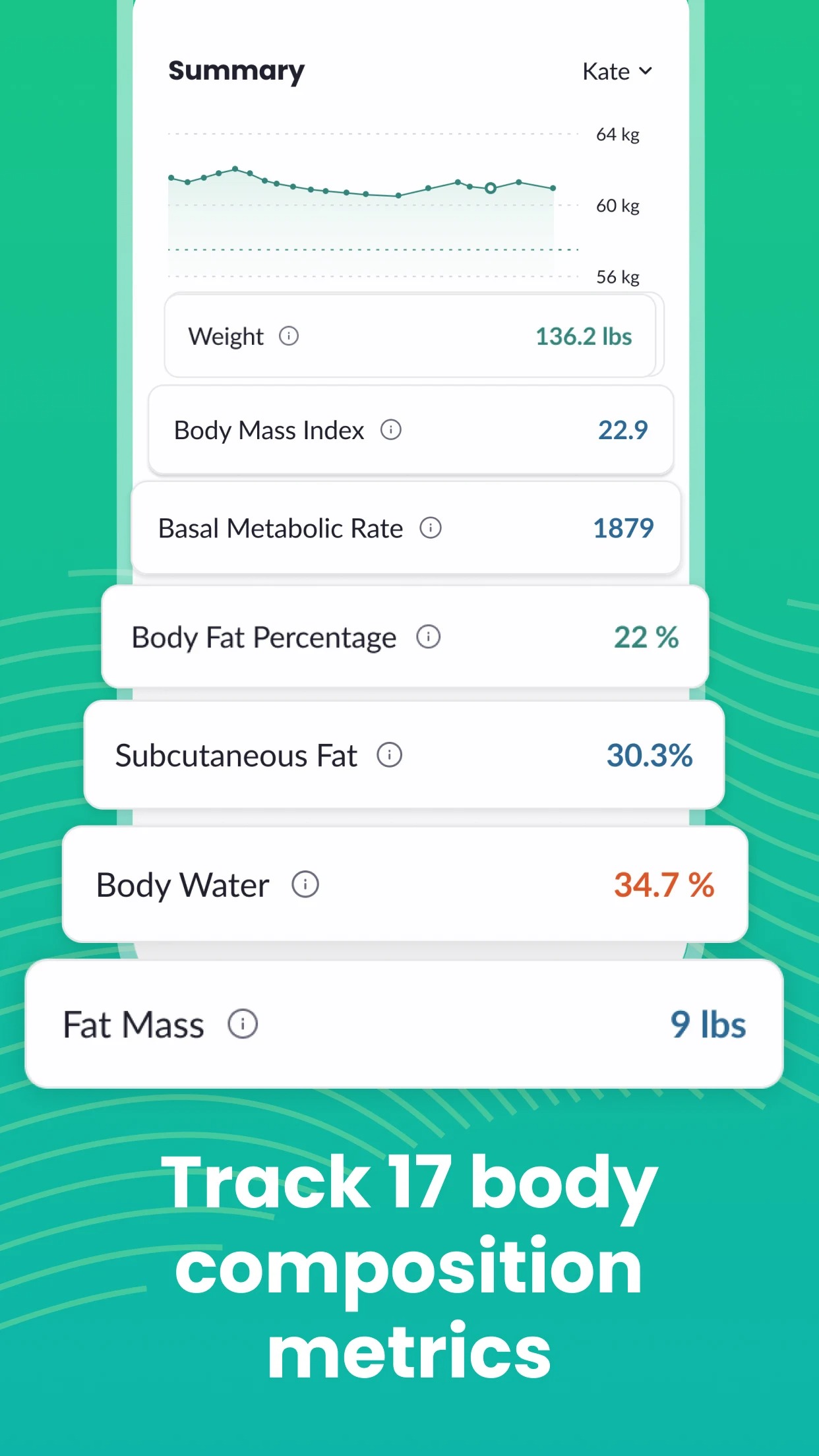 To control your nutrition, you can add foods either from the list suggested by the app or by using the cipher scanner from the product label.