Sometimes it can be difficult to do all the things we have planned. New tasks may arise even when you are very busy with your work. It often happens that someone asks us to do a certain request, and we seem to agree, but a second later it slips our mind.
How do we avoid such situations and remember all the necessary things to do? It is impossible to do this on your own, especially in today's hectic world. But these best voice reminder apps in 2023 for Android & iOS will not let you forget about any unresolved issue. Try them all or download the one that suits you best.
If you have a friend or a colleague, who always forgets to honor your request, then try these best apps to share reminders on Android & iOS.
Voice Reminder – Recordable Notification and Alarm
Voice Reminder is an app that reminds you of your undone tasks with a notification.
Do you want to stop forgetting everything and always keep things in your mind? Then this program is definitely for you. You will be able to turn on the voice assistant. Try saying something with a different tone of voice.
Use this app for absolutely different purposes. Forget about being late for meetings, conferences. Important events should not be missed, so set a reminder, it's easy!
Do you need to congratulate a relative on some holiday? Not a problem, here you can schedule everything and get a voice reminder in time. So you will look at the screen of your cell phone and see the notification. It is really handy.
If you need to take your medicine in a certain amount and at a certain time, they also take the opportunity to notify you. What's more, everything will be adjustable in the settings.
Adjust the sounds like the alarm ones. Don't make your voice too loud, because it's unpleasant. You will also be able to take advantage of your geo-positioning. Turn it on when you have things to do in a certain place for the app to notify you.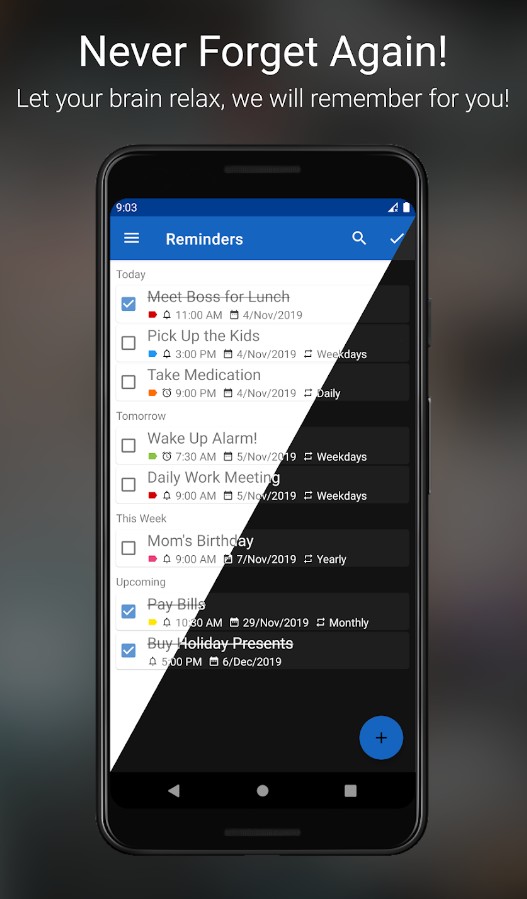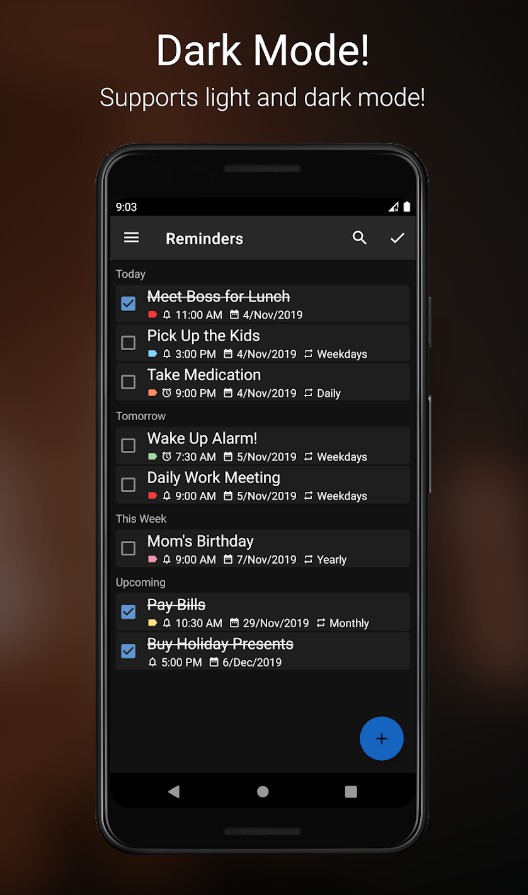 Moreover, you can trigger notifications repeatedly. Schedule some things for tomorrow and others for next week.

You may also like: 13 Bill Reminder Apps For Android & iOS
To Do Reminder with Alarm
To Do Reminder with Alarm is one of the best reminder programs among its competitors.
Are you tired of being stressed by not getting anything done, forgetting things? Write everything down in your notes and don't miss important things. No more torturing and blaming yourself for forgetting things.
Our modern world is too fleeting and in the flow of all thoughts, you can forget individual things. This program will perfectly help you with a reminder to pay utility bills, check the drawer in the entrance hall, and do other things.
You will be able to specify the exact time and choose the day. Choose a pleasant sound that will notify you. Sync the information you want and then put something in reminders. It's worth noting that anything you care about you can separately add to your SD card if your device has one.
Put extra widgets to simplify your work. Moreover, there are two themes to use. Turn on the dimmed screen at night and vice versa during the day. Set alarms here for the whole family.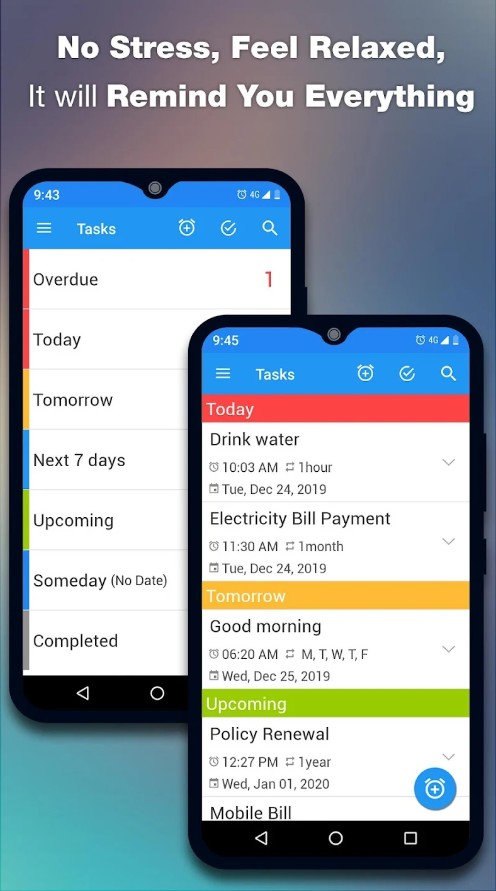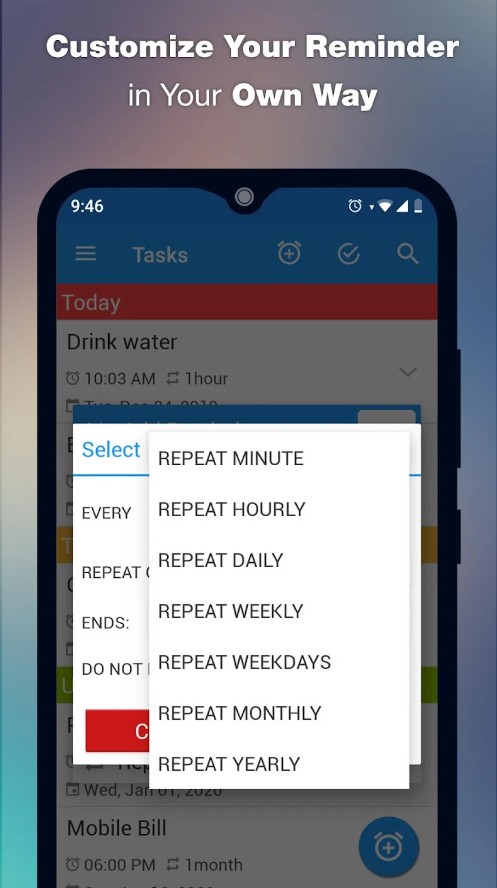 Take advantage of all the fascinating features that make your life easier. The program strictly respects your privacy, it does not give out any of your personal data. Set reminders and succeed in everything you do!


Just Reminder with Alarm
Just Reminder with Alarm is a program with notifications about important events. You can easily set up alerts that will come to your smartphone at the right time when you have planned.
Set the date and the event that should happen at that time. It's worth noting that the data will be able to be saved. Reminders will not be lost, you can always view recent ones.
Clear your phone of unnecessary junk and record notes as often as possible. With such a great app, you will finally hear yourself, become more productive and in general, your overall condition will be at an all-time high.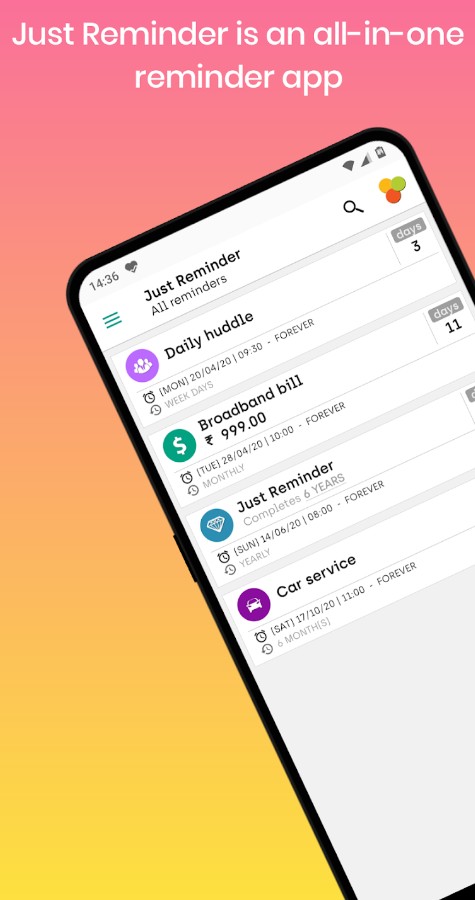 Just Reminder offers many features. You will be able to take advantage of all the conveniences and make notifications clear.

Taskeet
Taskeet is a program that knows how to plan things and events. With it, you can make your life several times easier.
Do you want to stop watching the time and wonder if you have time to complete your task? Taskeet will tell you how to act. It's got lots of cool features like reminders for all sorts of things around you.
You'll remind yourself of holidays, important work events, and just your favorite things. To make sure you're not late for your manicure, too, it's a great idea to set a reminder and you'll be fine!
Do you need to take something home? Pick up a package? Mark it all in your little mangle. Taskeet has a nice interface and graphics. You can set different reminders by sound. Include a deafening siren or a crackling sound.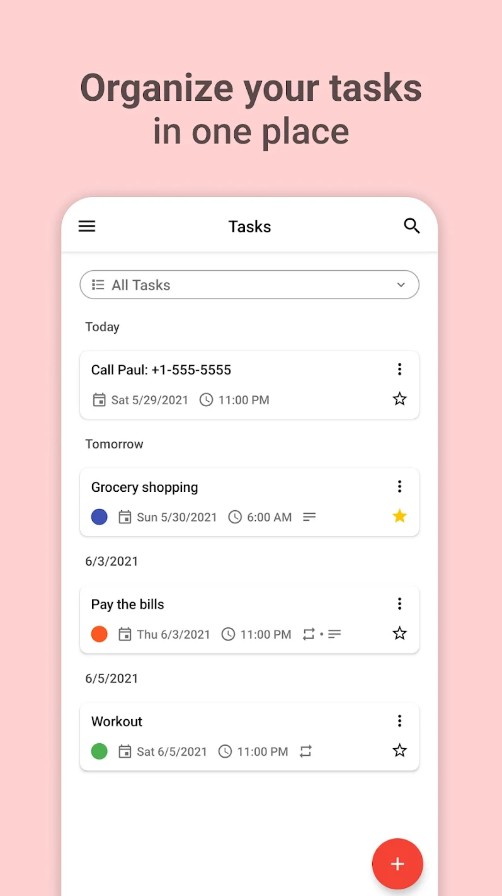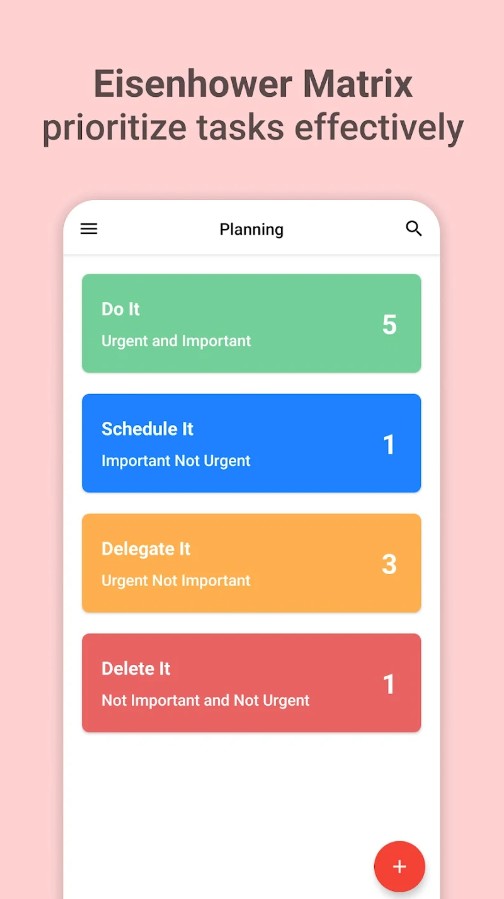 In addition to all of the above, you can make whole sheets of plans for the future. This is really handy! The program will be possible to use in airplane mode.

Pi Reminder
Pi Reminder is an app for writing notifications. The app is suitable for busy people who need to plan their schedules for the day and the week ahead. You'll also be able to write down what you've already done.
Make a note followed by a notification for your sister or brother who is always forgetting things. Leave a reminder for a friend so you can meet them in time to discuss important topics.
This app can also be used without an internet connection. Everything you wrote earlier will be saved. Notifications can be set whenever you want, absolutely at any time of the day or night.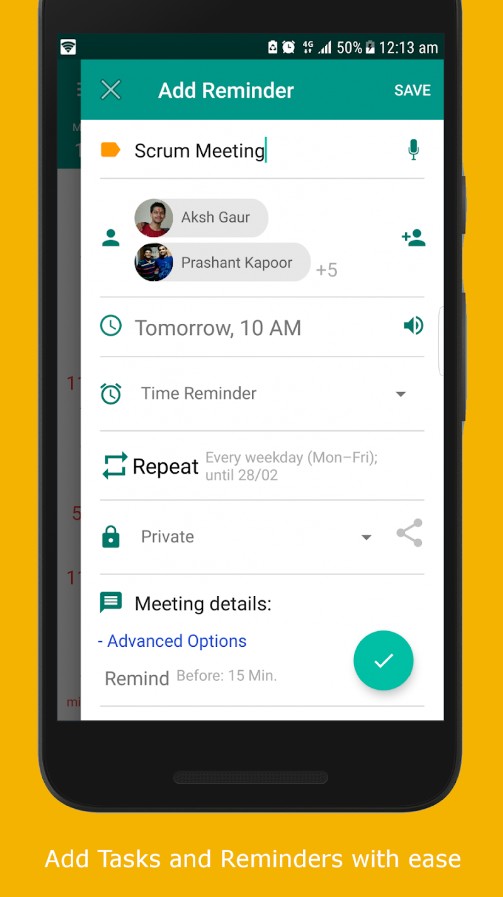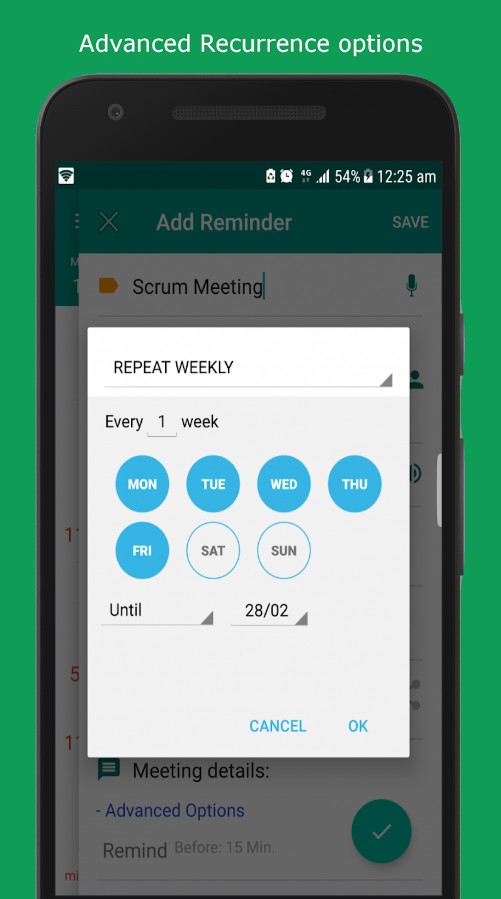 To avoid typing, you can record a voice memo. Make everything fast and high-quality without rushing anywhere. Pi Reminder has the best of both worlds. Now you won't have to put extra effort and memorize a lot of information.

Galarm
Galarm is a voice reminder that is equipped with an alarm clock allowing you to set reminders for any date and time, with highly configurable repetition options. You can also include other people ("groups") in your reminders. That's the "G" in their app name.
You can use your own music as an alarm ringtone and can configure alarms to ring even if the phone is on vibrate.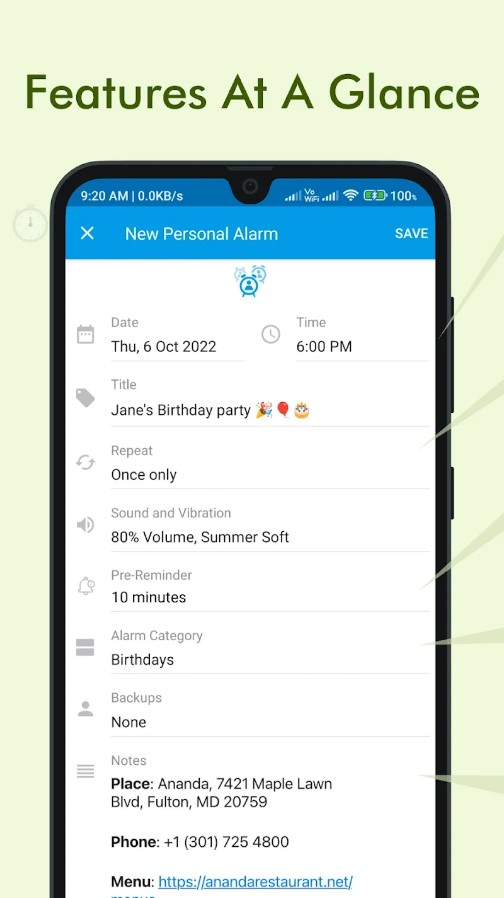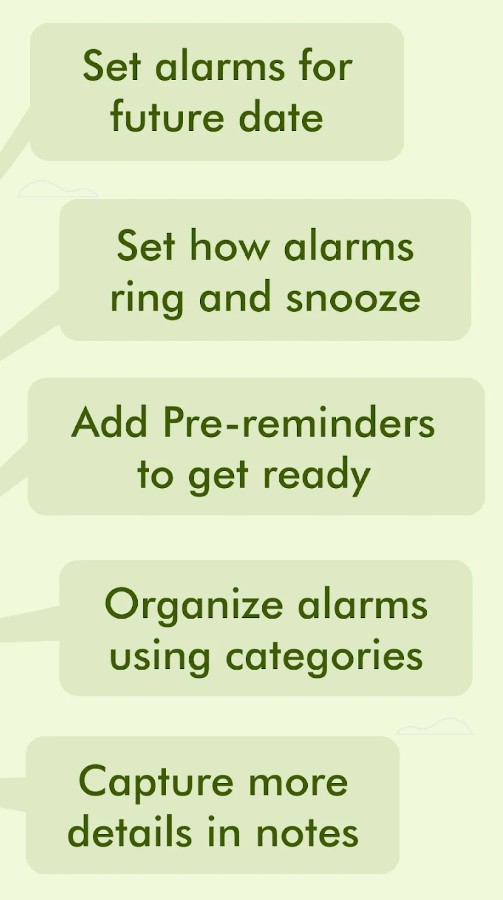 Each alarm has its own chat to keep the conversations private to that alarm.


Reminder with Voice Reminders
Reminder with Voice Reminders is a fast program that notifies you at a certain time. You can write everything down in one place and not lose it.
Do you want to make sure you won't oversleep for work and school? Then try this alarm clock that goes off right on time. You'll love it so much you won't want to go back to a mechanical or phone-based device.
Experiment with reminders, make different groovy sounds. See your reaction to each of them. Put a better tune on your alarm clock to make waking up great.
Set reminders for special days. You will be able to distinguish between important and non-important things. Diversify them with different sounds. To avoid confusion, attach an image to the reminder.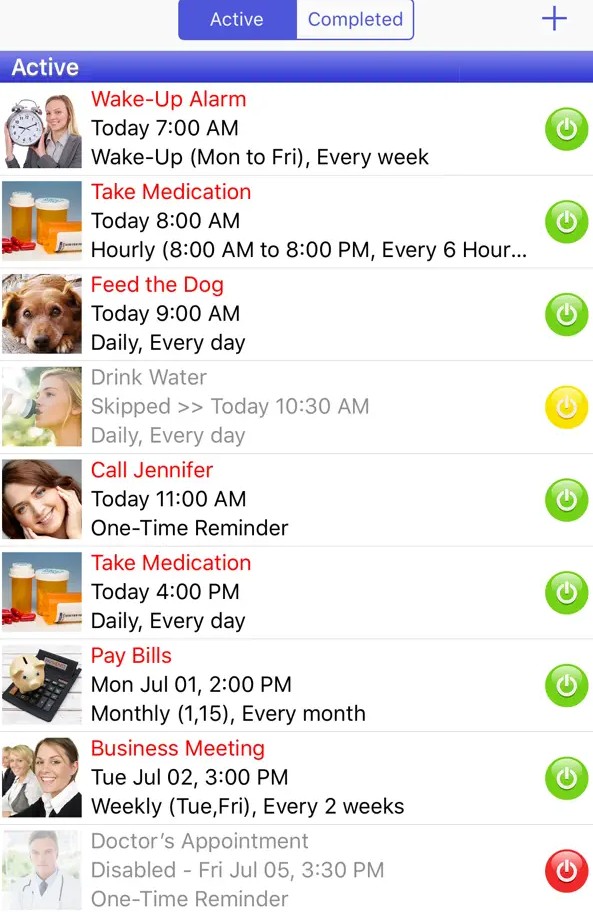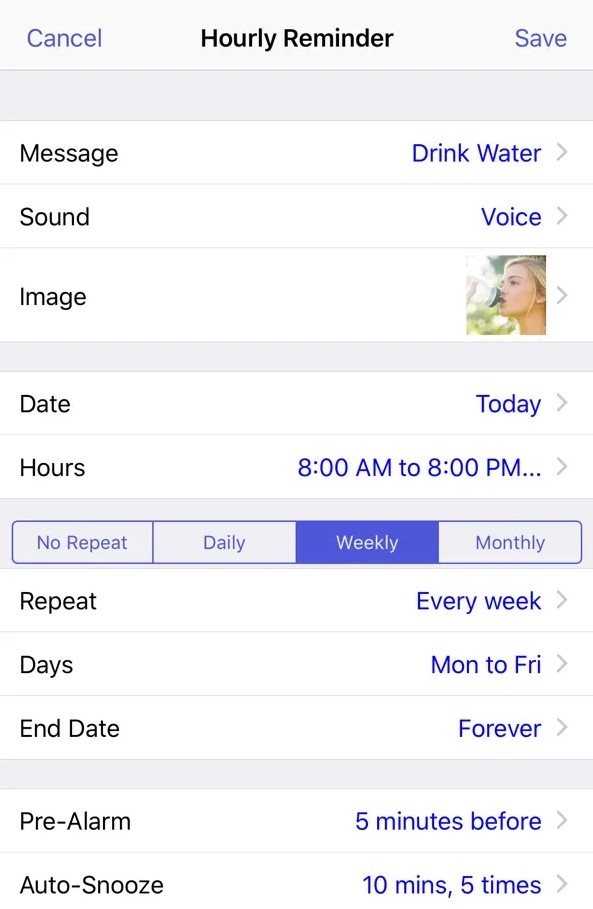 You will always be able to correct and rewrite the notification for the future. It's worth noting that all notifications sent to you are immediately hit. Change themes, letter sizes, and the way you write reminders.

You may also like: 11 Best Talking Alarm Clock Apps for Android & iOS
Reminder, Reminders with Voice
This is a program where you can create your own notebook with reminders.
Simplify your life and get rid of all unnecessary thoughts about the fact that you have to do something in a while and many other things. So what can you do to get things done quickly? Create notes with texts.
At some point, these messages will come to you at the displayed time in the app itself. All the notifications that came can no longer be used and got rid of, or you can postpone the reminder for a few minutes, an hour, a day, a week.
This app is famous for its ease of action. The program has really proven to be the best because you won't have to learn anything. If you want the system to stop functioning and sending notifications, you can disable it.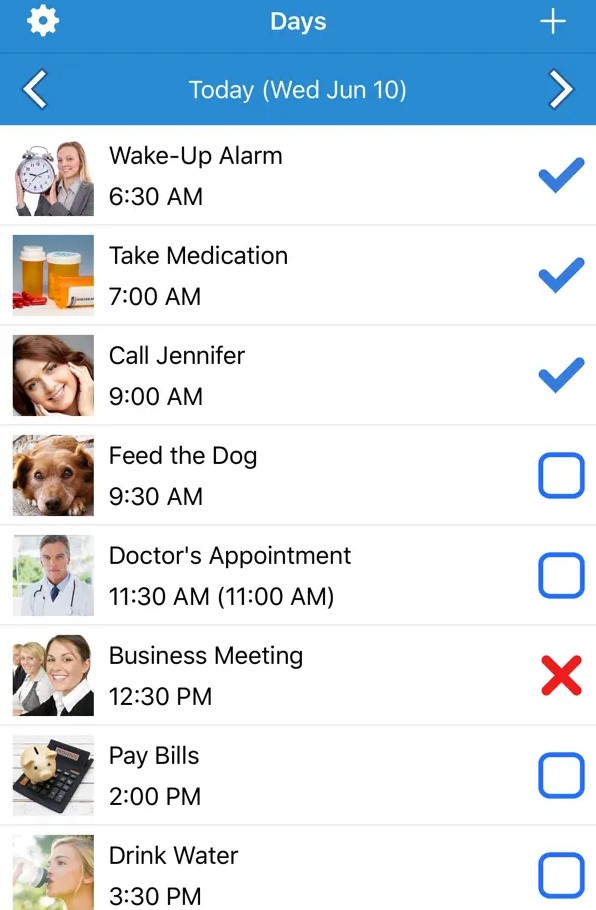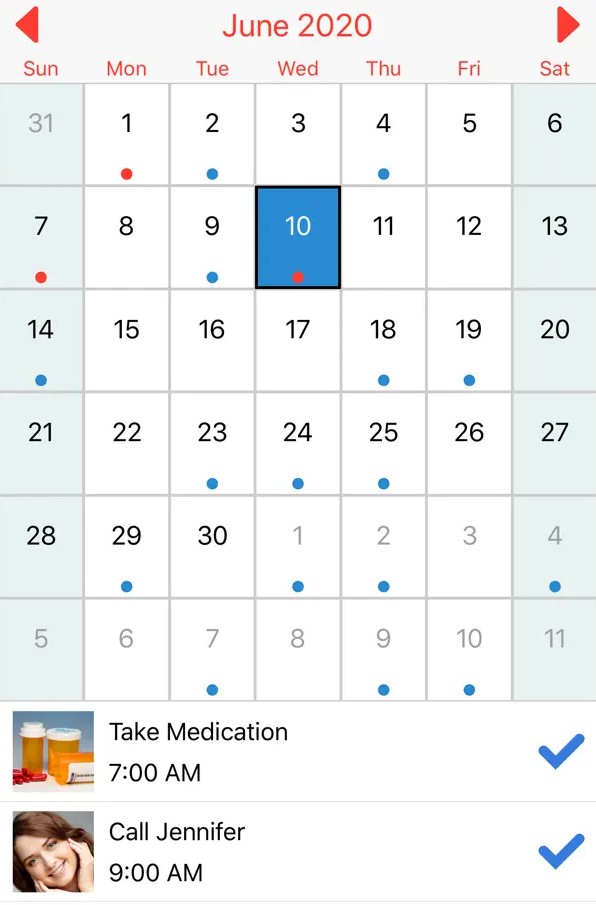 Discover this wonderful app. It will help you achieve your goals by setting up your daily routine. Recommend the program to your friends and family. Let everyone's life be transformed!

Life Reminders
Life Reminders is an app that reminds you of chores and more. You can use the program on a regular basis every day.
If you don't have enough time to distribute your schedule, go in and mark all important events. Indicate the time when notification will appear on your phone screen.
These days everything flows fastly and before you know it you forget what you wanted to do. Life Reminders were invented for such cases. Schedule a work call and you won't miss the event.
There is an interesting feature called location. It is needed in order that being in a place you put a reminder and do not forget to implement it without leaving this location. Furthermore, it is worth saying that the program is adapted to many languages.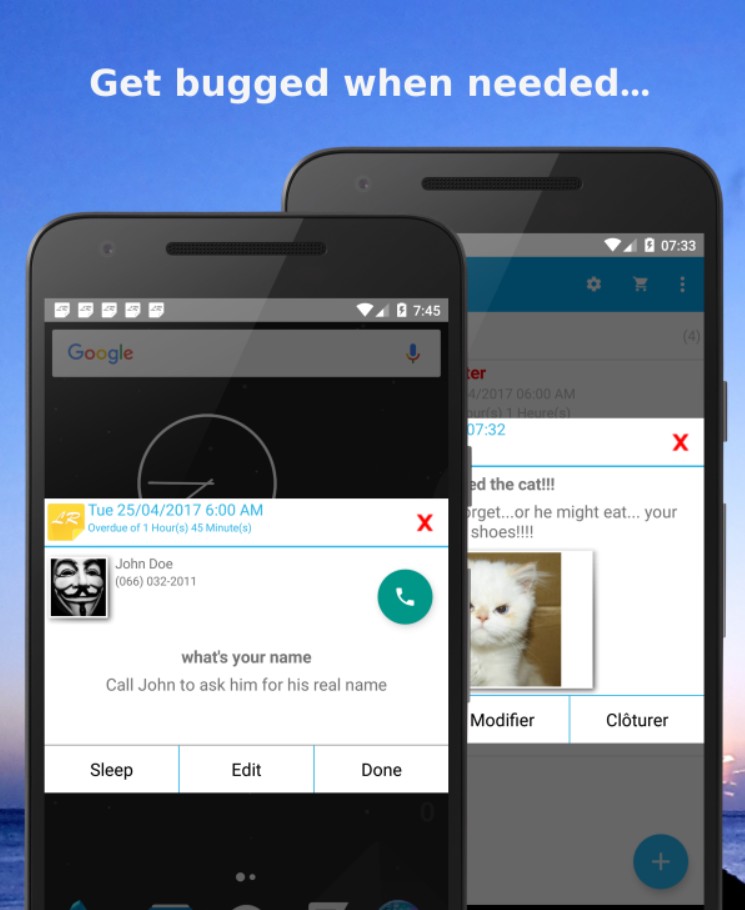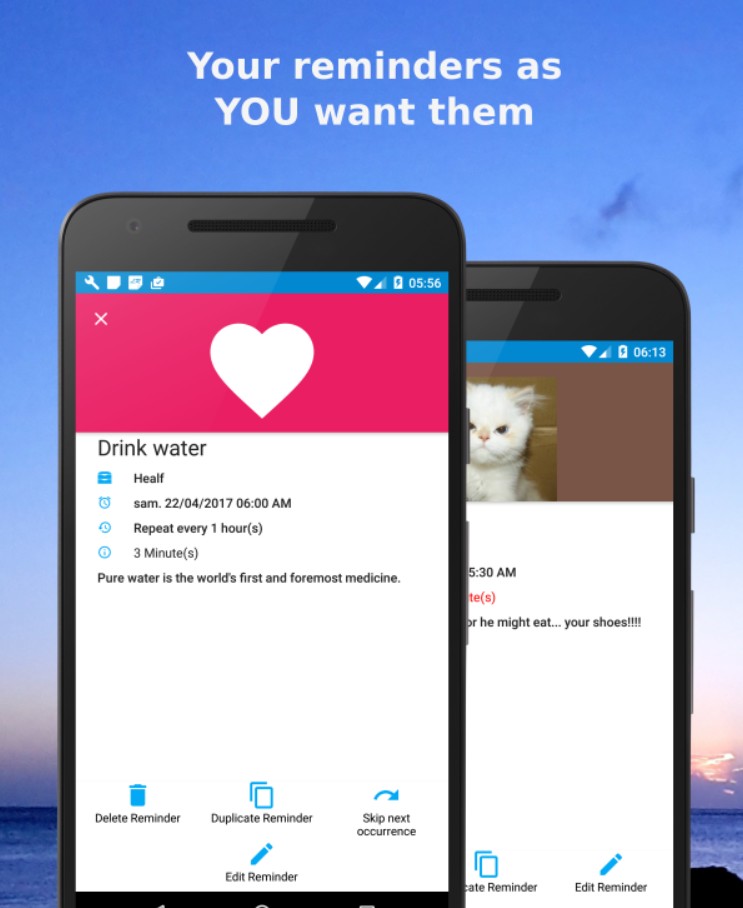 The app has a great working capacity. Here you will be able to implement all conceived and think through all the details. Leave your mail for further communication, if necessary.

nTask
nTask is a great assistant for everything you do. You can easily go to this app and set yourself a reminder.
Use such a find every day so you don't miss anything important. For example, you need to do your presentation work, but you are afraid to forget about it because there are many other things to do besides it.
Thus, rely on the program and trust it to do such a thing as notify you on time. You will be able to put aside for a long time various papers and diaries. It's easy to write everything out here and not have to worry about it further.
You'll be able to go into communities where they discuss different topics on grading schedules. You will be able to suggest topics for discussion and ask questions about the program. Have a sense of yourself and your energies and not waste them on anything.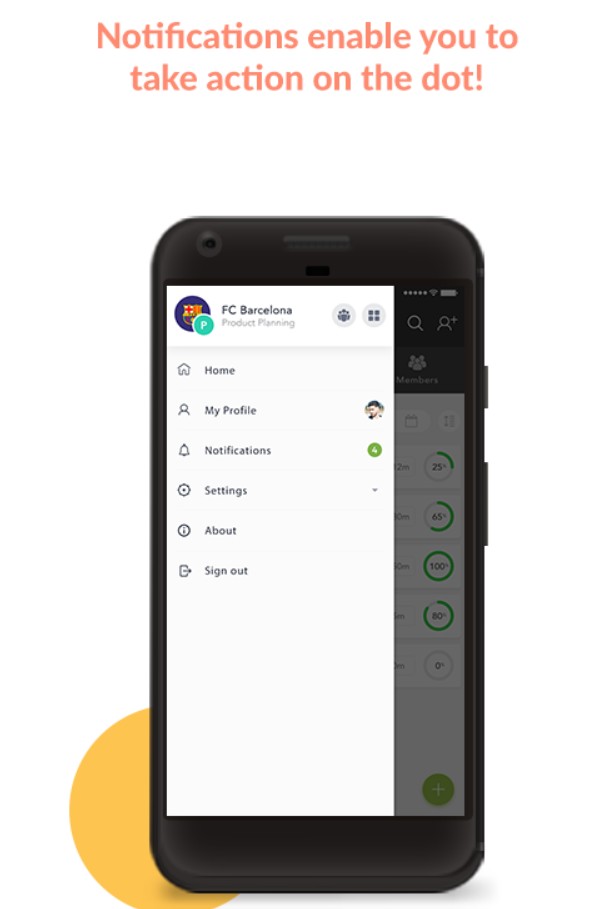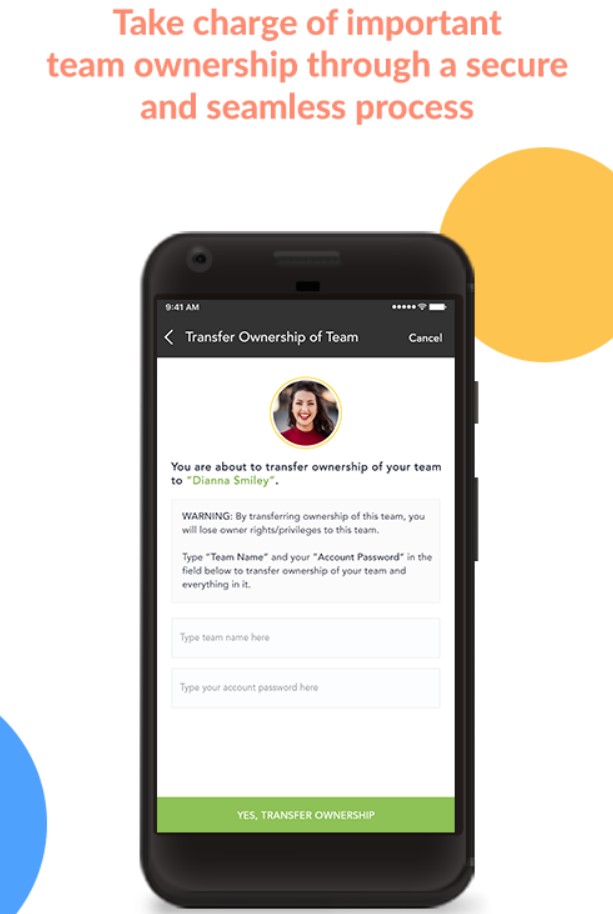 Create an action plan for your friends so everyone is going out on time and won't forget anything with them! nTask works in the present tense. To get everything done, set priorities.


BZ Reminder
Stay organized and on top of your tasks with the user-friendly BZ Reminder app! This handy tool helps you effortlessly manage your schedule by allowing you to set voice reminders for various activities. With BZ Reminder, you can easily record voice memos and attach them to specific tasks, ensuring you receive personalized and engaging audio alerts at the right moments.
BZ Reminder offers a seamless and efficient way to stay organized, whether it's for work, appointments, or personal commitments. The app's intuitive interface makes it a breeze to create and manage reminders, helping you prioritize and accomplish your tasks with a smile.
One of the standout benefits of BZ Reminder is its customizable sound options. You have the flexibility to choose the sound that resonates best with you, adding a personal touch to your reminders. This feature adds an element of fun and personalization to your organizational efforts.
So, if you're seeking a delightful way to enhance your productivity and manage your time effectively, look no further than BZ Reminder. Download it today and experience the joy of staying organized and on track!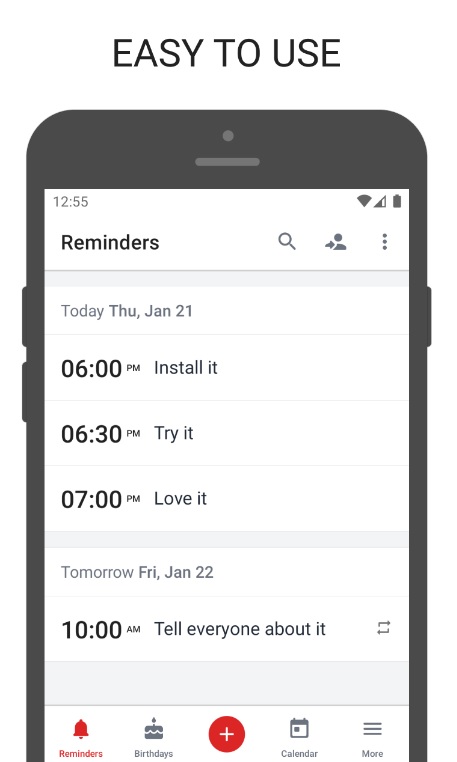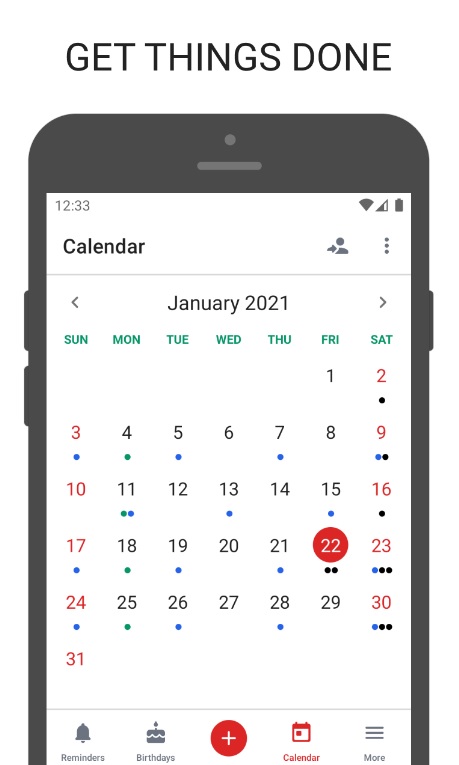 Voice Memo Reminder
Voice Memo Reminder is a delightful and practical app that streamlines your daily tasks and brings a smile to your routine. With its user-friendly interface, you can effortlessly record voice memos and set up personalized reminders for various activities.
The app offers a range of customizable alert sounds, allowing you to choose the perfect tone for your reminders.
Bid farewell to the stress of forgetting crucial tasks. Whether it's a work meeting or a grocery list, Voice Memo Reminder has you covered. It seamlessly integrates into your life, helping you achieve a more efficient and productive schedule. Embrace the joy of being in control of your tasks and time, all while enjoying the convenience of personalized voice reminders.
So, elevate your task management game and experience the satisfaction of a well-managed routine.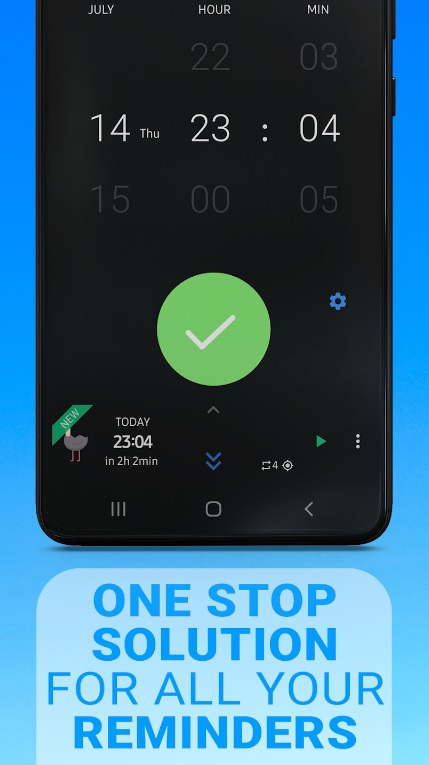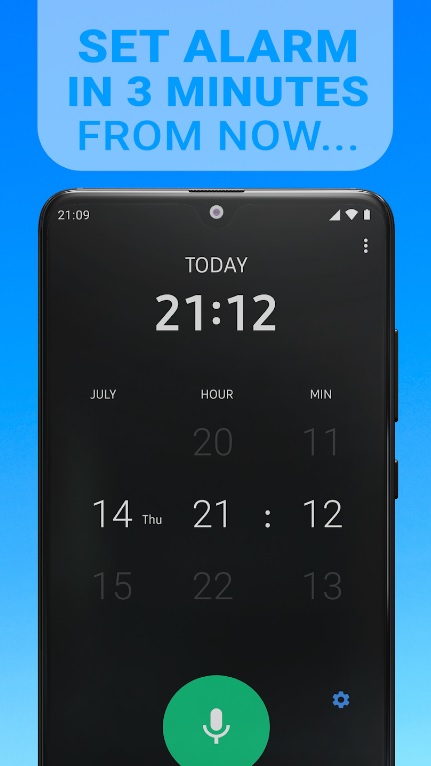 You may also like: 10 Best Time Blocking Apps For Scheduling (Android & iOS)
Microsoft To Do
Microsoft To Do is an app for controlling your actions. Keeping everything in your head and remembering what needs to be done in a day is so hard and inefficient.
This program is designed to solve this kind of problem. Write down reminders and never forget your chores. You will go into the program and see all your plans.
Register your account with the app. Offer such a convenient system to your family and friends. Let everyone know what you're up to in the near future.
You'll be able to make sure your written text from other apps is in one reminder. See what you have to do. This system protects all your data so it doesn't go anywhere.
When you create this kind of help with notifications, you can decorate them nicely. Apply stickers, update the background of the program. Feel the rush of energy and that you will succeed with the customization of the graphics!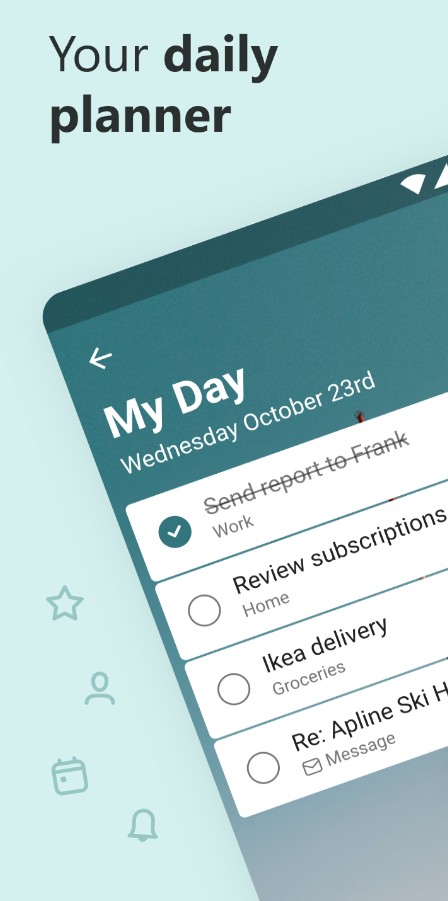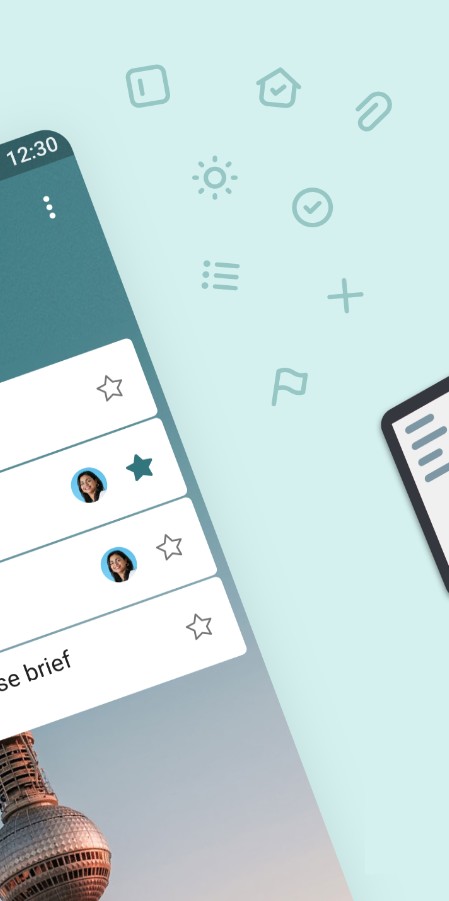 Always go to the app when you forget the task you set. But you can do without it, you just need to reset the notification sometime later so that you will be notified again. You can also use this program as a to-do list.