Walking is one of the best physical activities that everyone can do. An interesting fact is that doing a regular walking workout can bring more benefits than running or doing other cardio activities. And for those who love walking, we have gathered the best walking challenge apps.
We could name tons of benefits of walking, but the one fact that we especially like is there are apps that pay you to walk. Did you know about that?! Now you can make money just by taking steps on the ground!
MapMyWalk
MapMyWalk is one of the best apps in this category because it has a user-friendly interface that will be easy to handle for all types of levels. In addition, it tracks your work with the GPS and it delivers pertinent stats.
Here you can see how many calories your burn, and you can track your mileage and the duration of the walk. There's also the built-in community in the app and challenges happen literally every day. Here you can track your route with a red line that Echoes your every move.
The app also gathers the statistics on your activity and will present it as easy to recharge and grabs. These statistics are supposed to keep you motivated. The app can also additionally synchronize with some products by Under Armor that will give you additional possibilities for tracking and cadence to your stride length.
Moreover, MapMyWalk will be able to calculate the total distance and the number of steps that you made during your workout. What is more, the app is filled with personalized coaching tips that are offered along the way and that's an excellent solution for those who need guidance.
And as any other decent fitness app, map my walk gives you the ability to save your favorite roots. You can also discover new roots and trails all around the world by using the maps of this app.
By exploring the community, you will find a lot of interesting challenges. Here you can also set group goals or organize group workouts so there's something interesting happening every day.
Pros:
Easy to use
Tracks all kinds of statistics
Big community with lots of challenges
International maps
Cons:
Can only sync to Under Armour shoes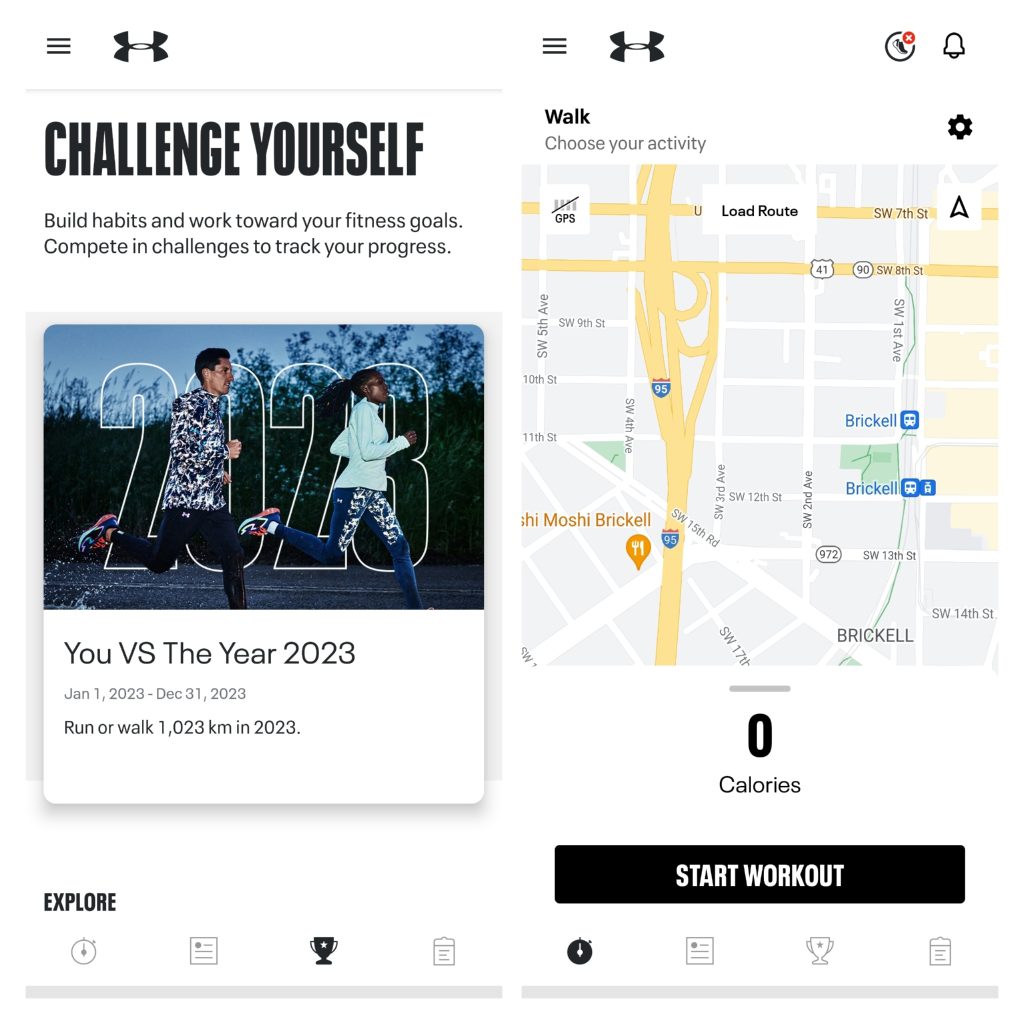 You may also like: 11 Free apps to make running fun (Android & iOS)
Walkmeter
Walkmeter seems simple and not really interesting app from the outside, but in fact, it's full of impressive features in advanced maps. These factors make this app an ideal choice for fitness junkies who want to improve their speed and distance.
In case you have been looking for a way to burn calories and get your heart pumping, this app is for you. Just like any other app, this one uses GPS data to track your walking distance. You will see an icon on the screen that will follow your position so it indicates where you're currently at.
The other feature will be tracking your heart rate, speed, step count, and cadence as also the ascent and descent. The app has really great sensors automatically, also records the temperature and weather conditions, and can show you the terrain in traffic using the help of Google maps.
You can just simply swipe across the stopwatch if you want to view the analysis of all your stats and maps. There are also voice-enabled controls we voice assistants for hands-free use. You will be able to select from dozens of configurable announcements.
For example, you can ask for on-demand statistics like distance, time or speed, elevation, heart rate, or distance intervals. What is even better, Walkmeter can synchronize workout data with such services as MyFitnessPal and Twitter, and even allow you to share it via email.
And if it happens that your friends send you a text during your workout you can listen to it we are the voice assistant and reply to them via text to speech feature that the app also includes. Live tracking is also available in this app.
There are also different training plans and programs that walk meter offers different prices. During those programs, the app offers tons of challenges and daily workouts. You can also compare your data with other users in the app so there's a little bit of a competition element.
Pros:
Different training plans include lots of challenges
Simple interface design available for all types of users
Tons of data
Live-tracking
Voice-assistant
Cons:
Can be overwhelming for those who start from scratch
GPS signal isn't very much stable
Additional features aren't free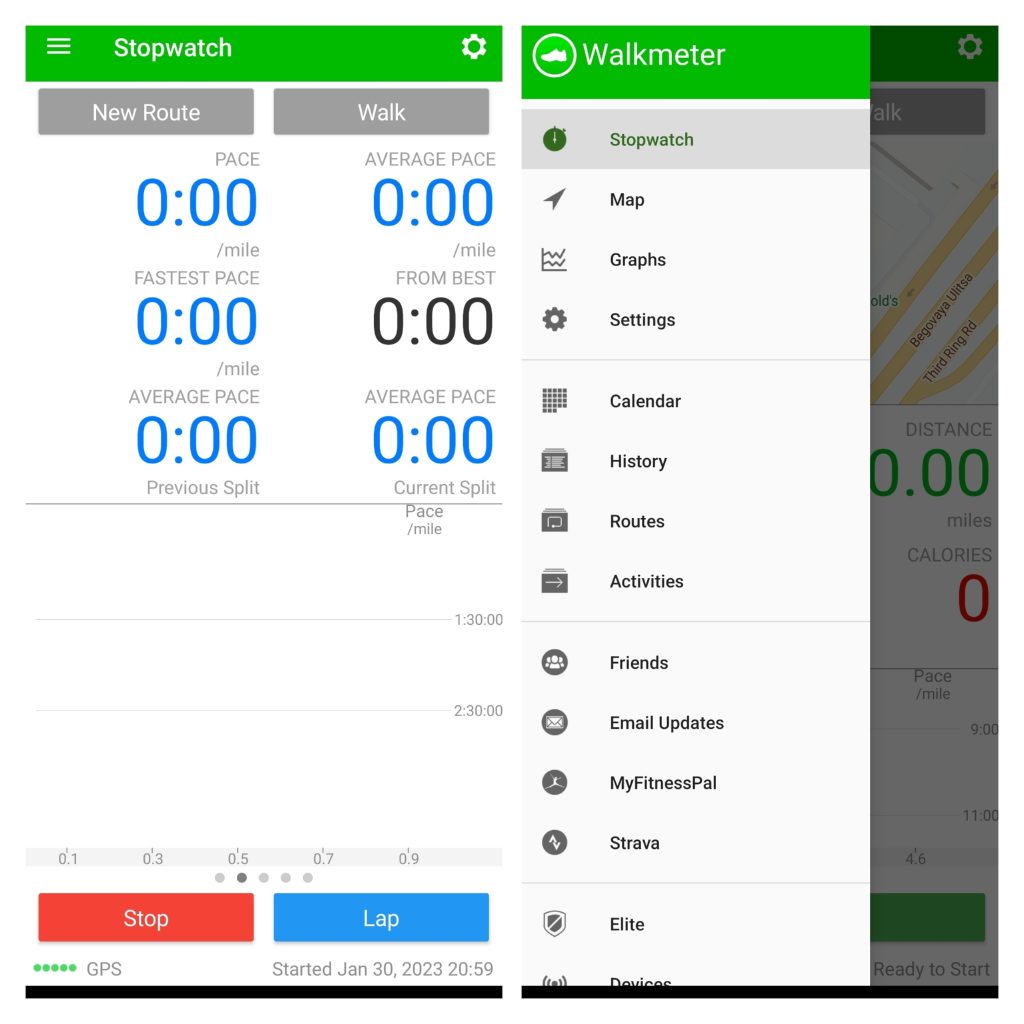 Strava
Probably everyone who has ever tried hiking, walking, running and other similar activities is familiar with the Strava app. Strava is renowned for its huge and motivational community. You feel like you're staying connected throughout your fitness journey no matter which point of the world you are in.
And also will make your progress towards your what can go faster and easier and also more enjoyable with its voice-guided cues. Travel will send you notifications literally about everything you want no matter if it's every half mile accomplished or keeping tabs on your pace, elevation, or split times.
Another prominent feature of Strava is that it allows you to record the routes and metrics by saving data from each walk. And of course, this app also tracks your progress in detail. Moving on, the Strava app allows you to share your statistics from this app with your friends for motivational purposes.
Therefore, it works like an engaging community where you can stay in touch with each other and encourage other users. Walkers of any level can take part in different challenges and also it goes to achieve their personal records.
There are also daily little friendly competitions that take place and they are super fun to participate in. We would say that Strava would be a perfect app for beginners. But if you consider yourself being a little bit more than that, you can always go for its Pro features that you can acquire at a certain price.
Pros:
Huge sports enthusiasts community
Daily challenges
Audio cues
Easy to use data dashboard
Tracks all the needed stats
Cons:
If you decide to go for premium features they are quite pricy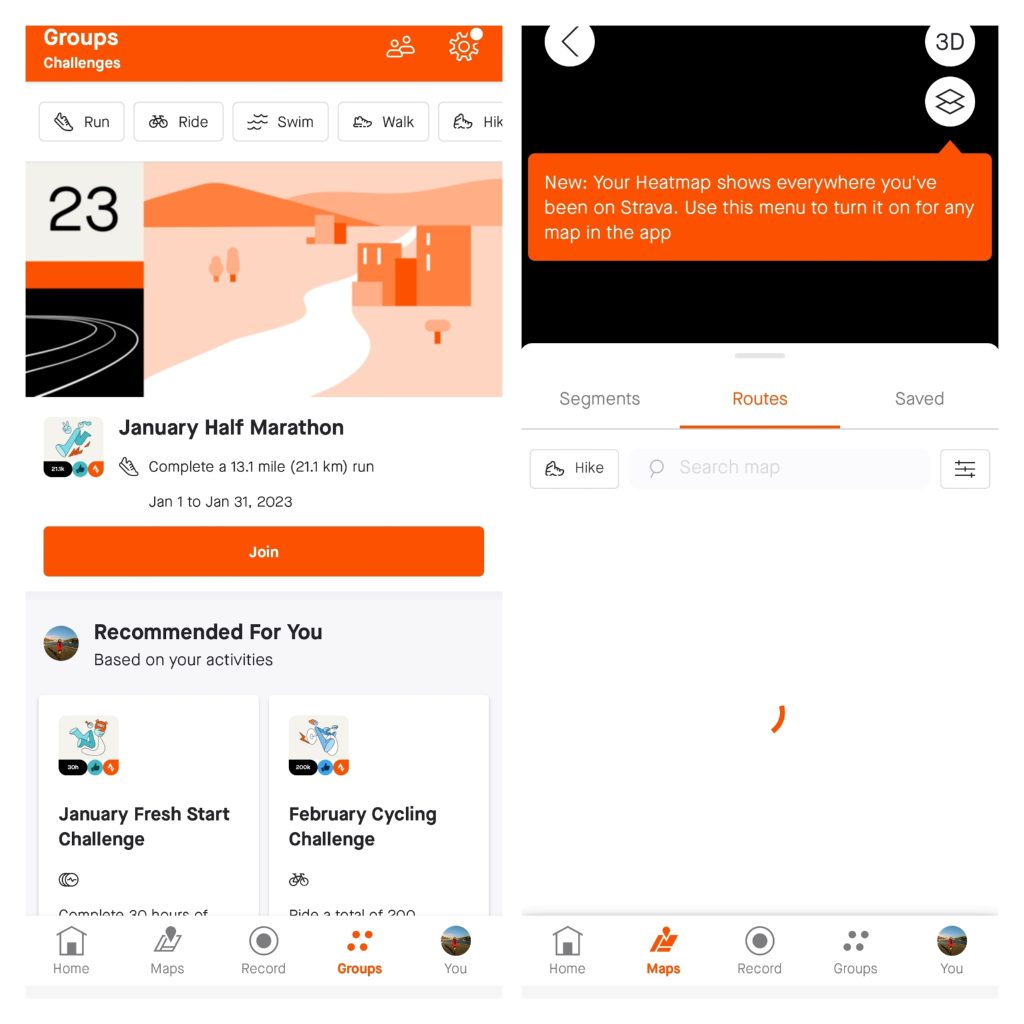 You may also like: 17 Free highest paying apps that pay you money
FitBit
Fitbit is also one of the most popular fitness apps. Actually, it will be an ideal choice for walkers of all levels. Besides your regular wall connectivity, it can also track your sleep and nutrition, therefore providing the complete health analysis. That's why this app is so appreciated by all wellness enthusiasts.
They are aware of the multifunctionality of this app, since it cannot only track your daily steps, but other factors as well. The only thing is that it's highly recommended to synchronize Fitbit with one of the wellness devices, for example smartwatch.
The appleberry recording all the basic statistics like stops, distance, and calories burned. This app also includes the voice assistant allowing you to apply the hands-free approach. But it can really level up with Fitbit device.
With that, the app will be able to show you your active minutes, Trends over time and it will also allow you to set your goals for the future. What is more comment will be able to record in your sleep and use all the features of the operative full capacity.
For example you can set up a weekly sleep goal, create the time reminders and make targets. Over the time the app will gather the statistics and will present it to you as a graph.
Additionally, the Fitbit allows you to put the data about other workouts to the app so you could see a comprehensive view of your overall exercise live and the daily impact of them to your health. You will be also able to track how your health state improves.
There is an exercise calendar for workouts for the detailed analysis. Another interesting feature of Fitbit is that you can earn badges whenever you hit a milestone or crush a goal. This gives extra encouragement. Don't forget to log in your weight and also keep track of your nutrition and water intake.
And of course, the app has the large in both community where you can share your progress, take part in daily challenges come including walking challenges. You can unite with your friends and create your own challenges as well.
Pros:
Tracks not only physical activity but also nutrition and sleep
Cool community features with daily challenges
Able to provide more comprehensive feedback if you pair it with the wellness device
Cons:
Some users report the calories count is not accurate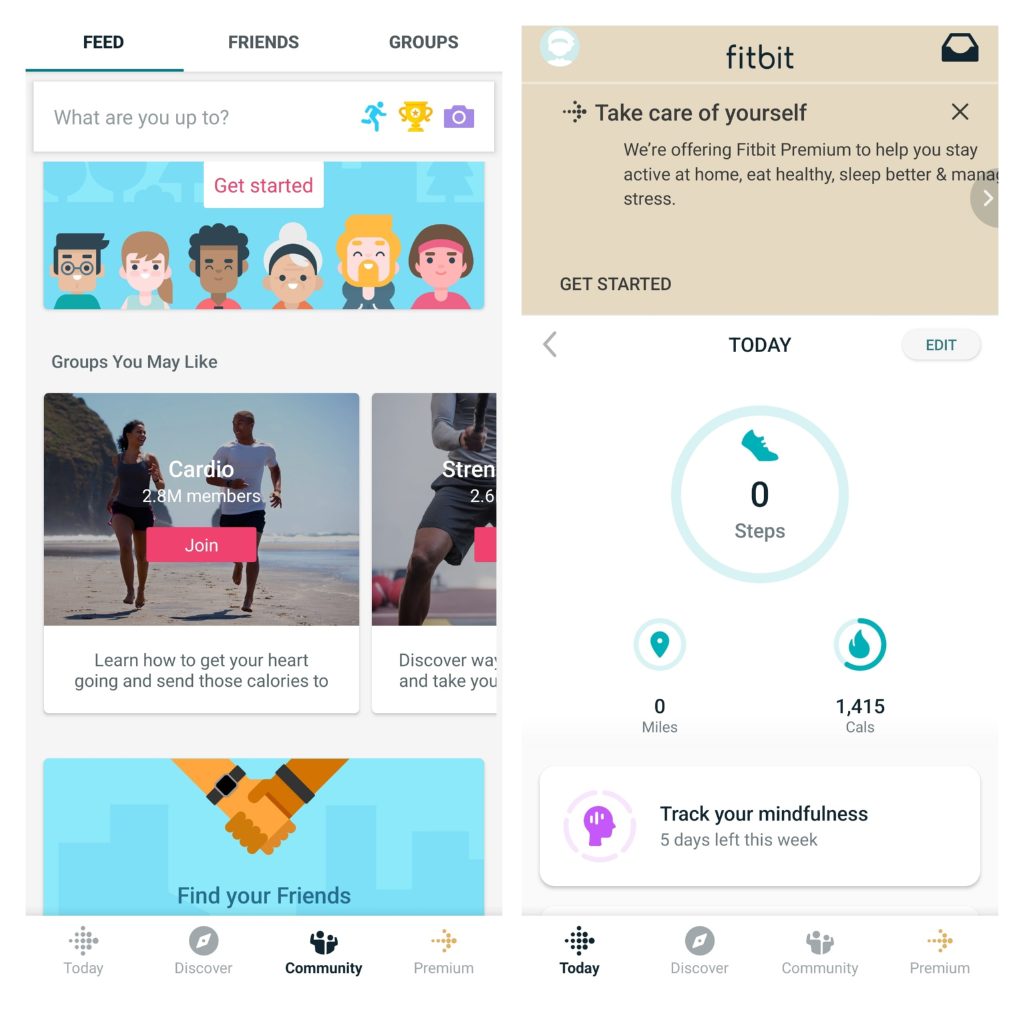 Charity Miles
Charity miles is an app that is known for its unique purpose. This will be a perfect job for everyone who wants to use their walking time to help others. This app makes the people who are passionate about healthy lifestyle feel like there doing the right thing.
What is more it brings the additional motivation to do more workouts. It's already earned more than 3 million dollars for the range of charities. After you downloaded the app, you need to create an account and select the purpose and then select the charity.
There's a huge list of charities, whether you're passion is health, children, pets, environment, education and more. Here you can record all types of movement that you made during the day working, running, cycling and even dancing.
The app will be using your phone's internal pedometer and GPS data to track your distance. So with every mile you pass you will earn money for the chosen charity. A lot of users to raise money when they participate in racist like 5K or for example marathons.
What is more, here you can create your own pledge page and gets sponsored by a friends and family. The amount of donations that you can do is unlimited. You also said the amount burned per mile. Moreover, in 30 miles you get a chance to win such cool prizes as trip to Hawaii and more.
So in other words the more you earn for charity, the more chances for you to win something additional. But at the same time, don't forget about the exercise, because the app will track also all your statistics and outdoor movement.
What is more, Charity miles is compatible with apple health app, Android internal pedometers, Fitbit and more.
Pros:
Here the challenge is earning money for charity
Walks with purpose
Different types of workouts
Cons:
Not very advanced fitness tracking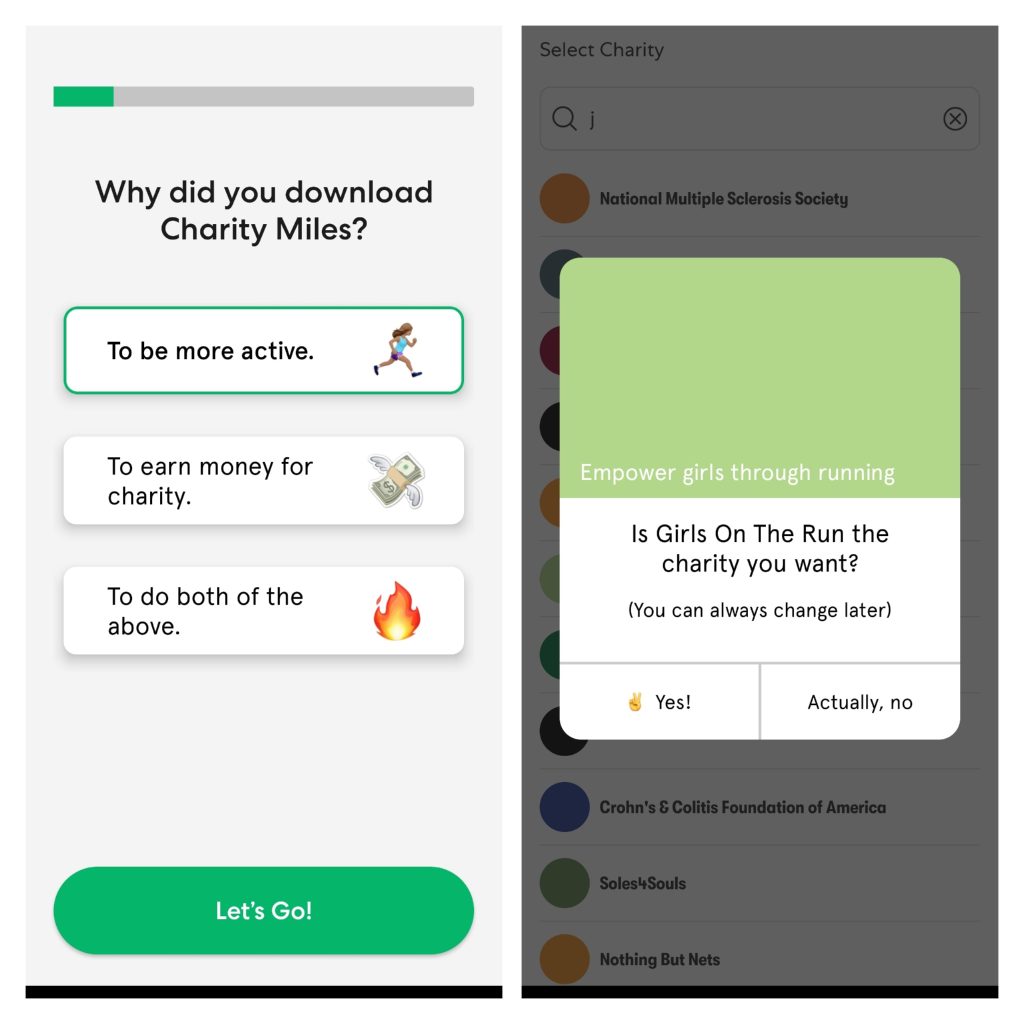 Relive
Relive is also more of a general fitness app, but it allows you to focus on walking as well. It allows you to track your steps, compile new routes and track how many steps you make during the day. It also tracks the distance that you walked along with the number of calories burned.
The app is easing usage and has one of the best interface designs that you can find in fitness apps. And just like all the decent apps in this category, relive can track your progress and then compile the statistics for you to track your improvements.
And of course, here you'll find a separate section with the community, where you will discover different types of challenges that you can participate in and it's also a fun way to diversify your workouts.
Pros:
Beautifully designed interface accessible for all types of users
Tons of walking challenges, and not only walking
Huge community and ability to share your achievements
Cons:
Not really focused on walking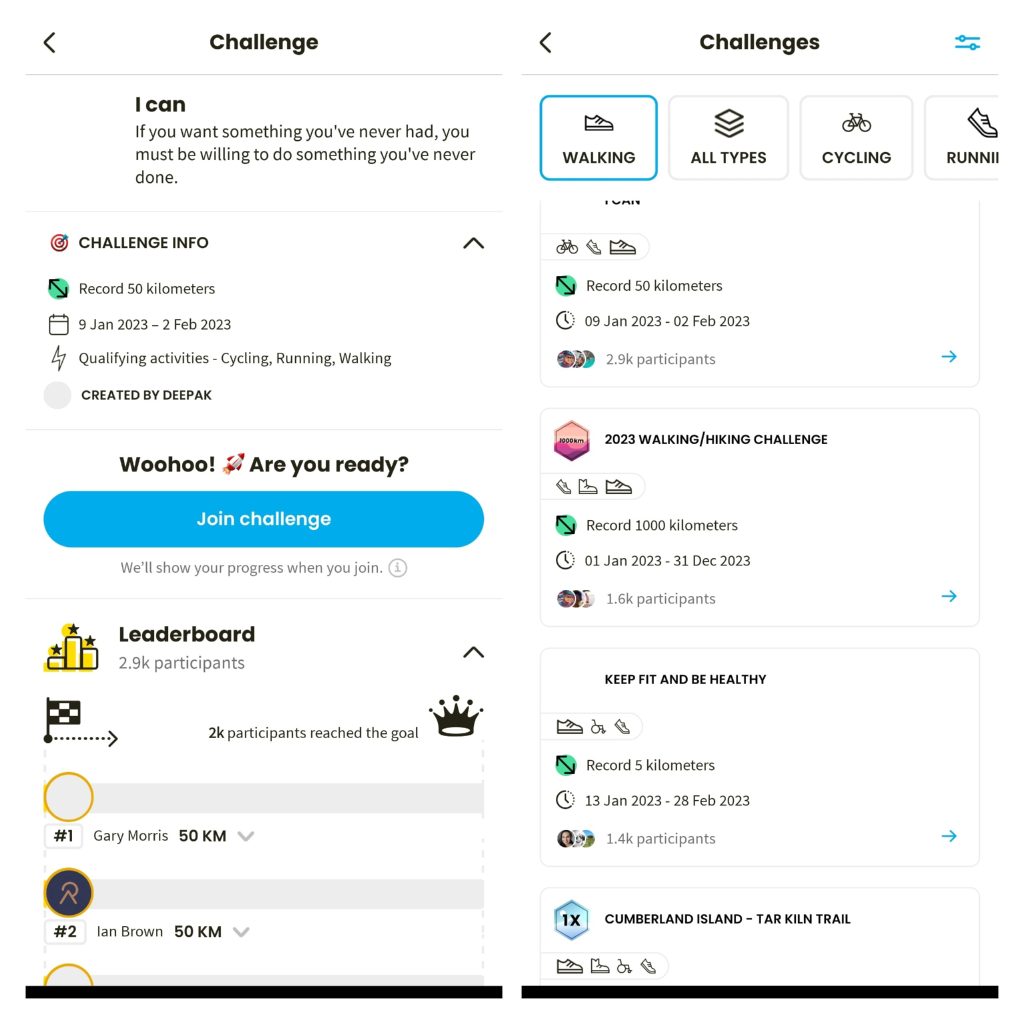 Argus
If the main expectation from your walking workouts is weight loss, you should look no further than Argus. In general, Argus is a lifestyle app. It includes the feature of a daily pedometer app and it uses the motion sensor of your device. This app also allows you to track your workouts with GPS.
Classically, there is a workout tracker that can display your time, distance, and route map. After you're done with your workout, you can see the analysis of your calories burned, number of steps, elevation gain, best pace, average pace, average cadence, graphs, and map.
As we've mentioned before, your daily statistics on steps will be updated by your phone's motion sensor data so make sure your phone is quite accurate on that one. This app allows you to measure your heart rate and keep track of your daily pulse to make sure you stay healthy.
You can also track your heart rate during exercise and rest. In addition to all of that, the app helps you to keep track of your water intake and take an overall daily diet, there's also a sleep timer.
As for the challenges, the app has a community feature, where you can explore and share your achievements and maybe take part in the daily. To be honest, there are not so many challenges in previous apps but it's more for sharing the achievements for additional motivation.
Pros:
Measures not only distance but also heart rate and calories
Food diary
Detailed statistics with the hourly statistics graphs
Cons:
Has issues with functioning on Android devices
Isn't very accurate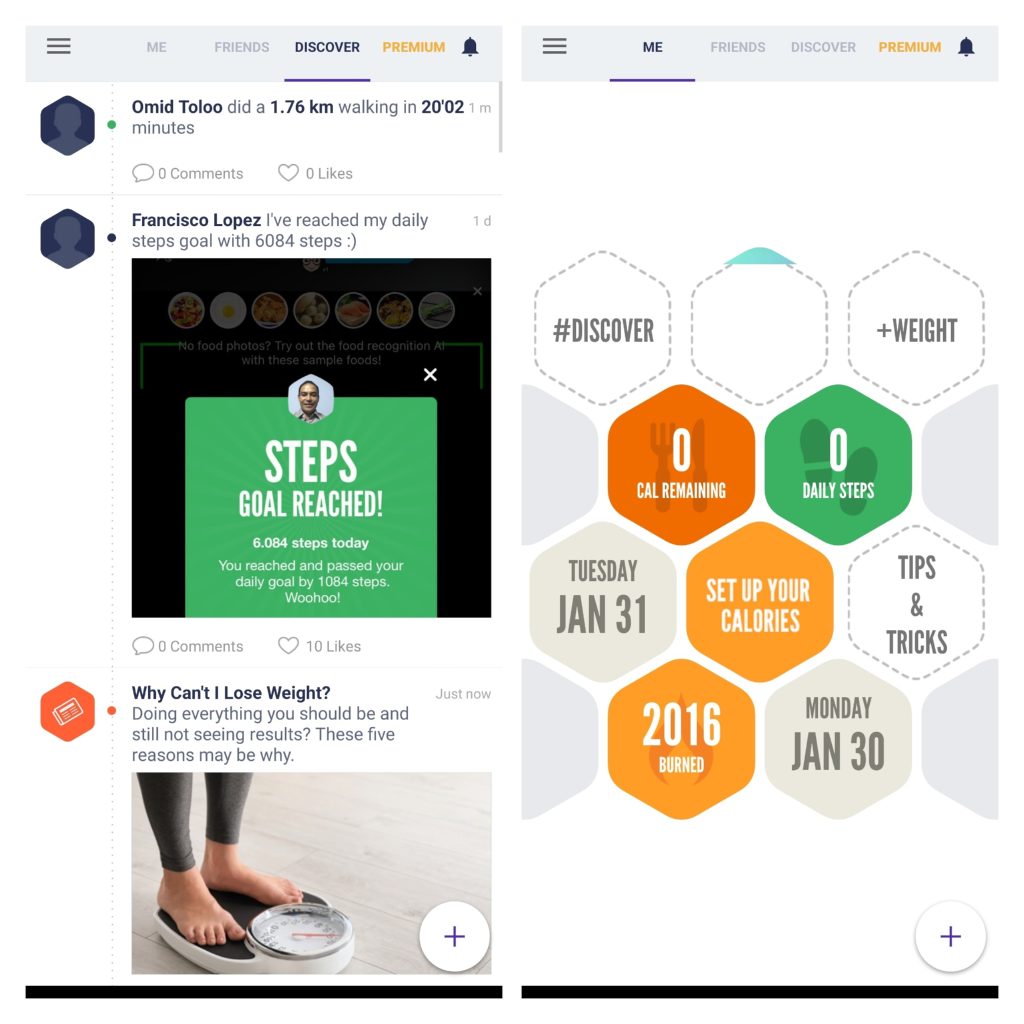 Walking App – Lose Weight App
Asif often happens, this app is not as hyped as the other ones by famous brands or companies, but despite being unknown, it's quite a useful tool. Especially in terms of walking challenges. If you've been looking for a specific app that would allow you to concentrate solely on this activity – get this app!
When you open the app, you can choose what is your goal for walking – is it being more active, losing weight, or better sleep? That was pretty much one of a few questions and we were really glad about the fact that Walking App doesn't force you to answer 1000 questions before you can start.
Depending on your goals, the app will compile a specific workout plan for you for every day. There is a tracker that records the number of steps you made, the distance, and the number of calories burned. The voice assistant will be helpful with its voice cues.
The interface design is minimalistic and looks fresh. It will be easy for everyone to navigate this app.
Pros:
Easy to use
No registration needed
Complies with daily challenges depending on your fitness goals
Cons:
Not always accurate
No iOS version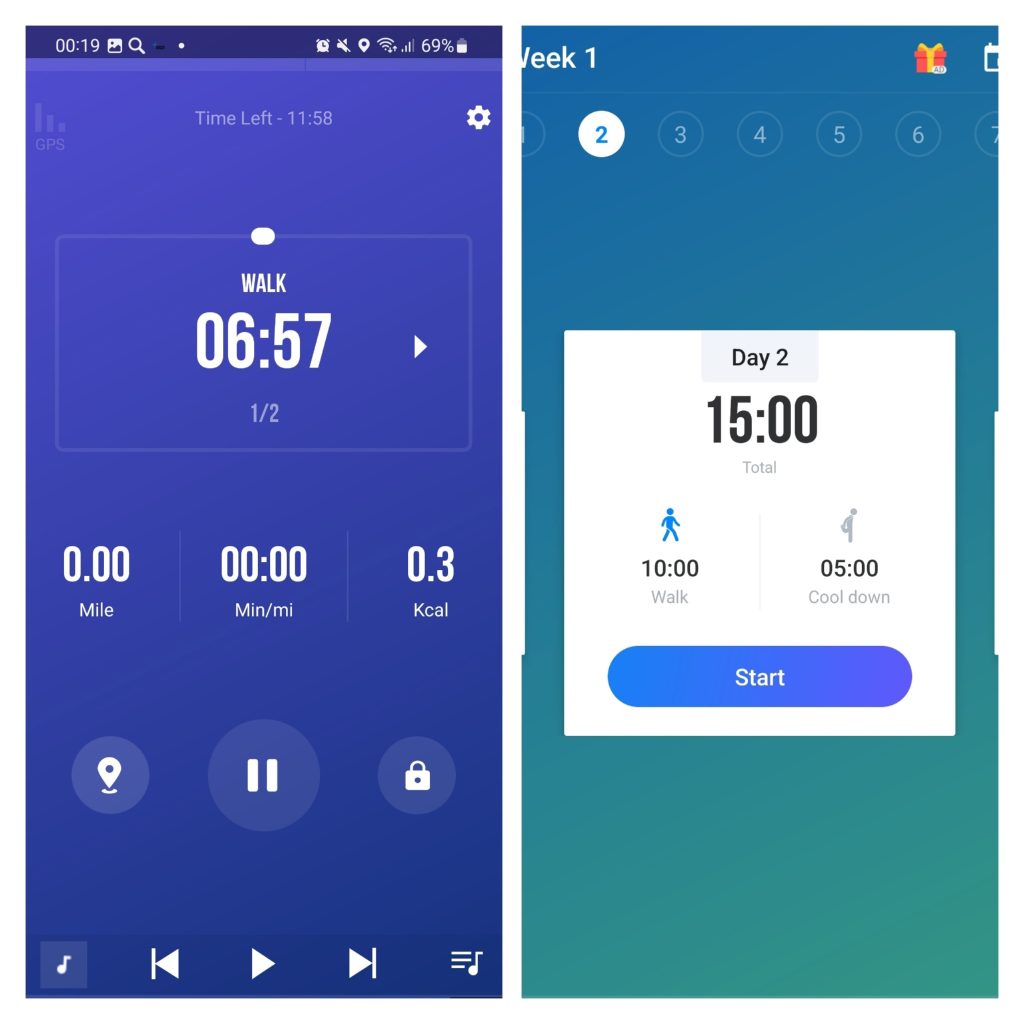 You may also like: 11 Free Dog Walking Apps & Websites for the USA
WalkFit: Walking App
WalkFit is more of a fancy app where you can also accomplish your walking challenges. Unlike the previous apps, this one will ask you 1000 questions before you can start, but it's a suitable option for those who want to make their experience more customized.
The app has advanced features of analysis and it provides beautiful graphs about your daily progress. It will compile the weekly workout plan that you can follow and accomplish your goals one by one.
Pros:
Customized goals
Well-planned woktout plans
Cons: