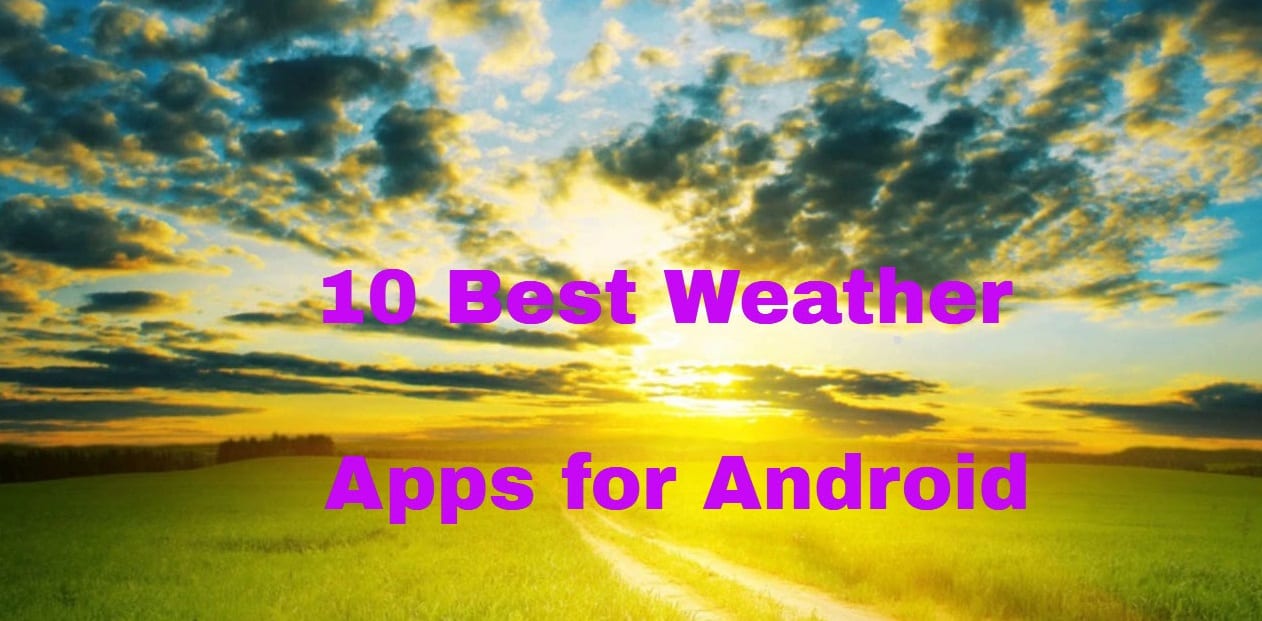 As autumn keeps showering with cold rain and winter is approaching weather forecasts are becoming more important than many other things in life. Now, we all have phones with dozens of functions. It is just common sense to use those phones to get weather broadcasts. Here are Best weather apps for Android.
1Weather:Widget Forecast Radar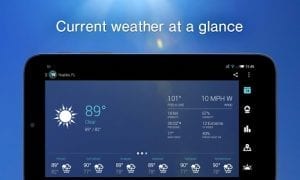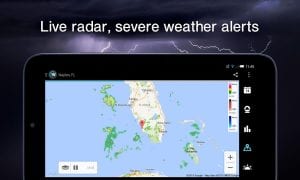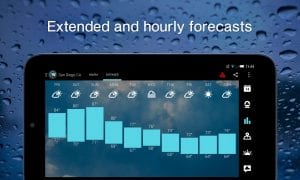 We recommend 1Weather widget not just because it is a beautiful looking app, it is also one of the most accurate weather widgets for Android out there. You can get real-time weather forecasts along with up to 10 days range forecasts. The app can also be set to track your location so that all those real-time weather forecasts were relevant for your location. For US users US 1Weather also gives other spoils like hurricanes, snow, tornadoes etc.
The home screen widgets look awesome but you can only set one widget to show weather for one location. Nevertheless, you can also sync the app with your DashClock widget or make it show the weather on your Android Wear device. There are lots of other free options here, so download it now and give it a go. Adblocker will cost you some, though.
back to menu ↑
The Weather Channel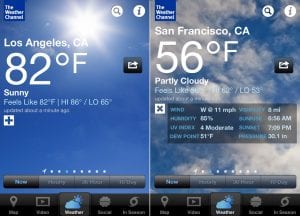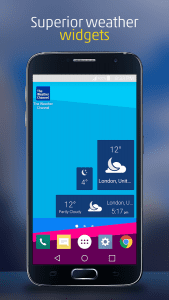 The Weather Channel has the most recent update, that would be November 2, 2016. The layout is slicker and simpler than ever. Previous UI was ditched for one long continuous scroll. As you scroll you get to more detailed information, like daily forecasts, radar, even social options and what the weather is like in some ski resorts. The Weather Channel is one of the most well-known sources of weather information on planet Earth. But you can't buy an adblocker here, just keep scrolling through the stuff.
back to menu ↑
AccuWeather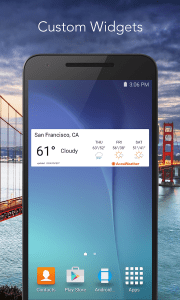 Probably the best app, AccuWeather offers everything you need plus impressive service history. It's usually accurate and is filled with great info including the must-have RealFeel index (which tells you what the outdoor temperature really feels like, not just numbers on your thermometer). Accuweather comes equipped with graphs, maps, radar and even video weather forecasts for your region. A comprehensive app is what it is.
back to menu ↑
GO Weather Forecast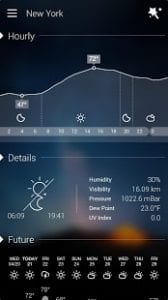 GO Weather is a long time favorite for Android users and it we rank it among the most successful and popular on the list. In terms of features, it's got everything to offer, current weather, forecasts, radar, a sleek design, widgets, and "miscellaneous" stuff like wind forecasts, lifestyle tips, and more. There are also theming options and you can pay for the ads to go away. Overall, it's an above average weather app.
back to menu ↑
Yahoo Weather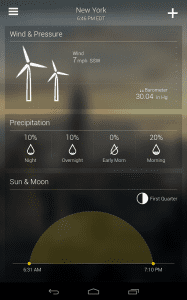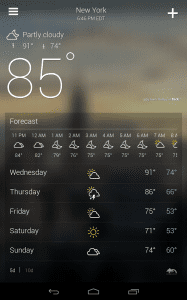 Yahoo Weather looks just as great and up-to-date as years before. The forecasts are accurate and weather can't play any tricks on you as the forecasts are updated on hourly basis. Following the awesome graphics, you find even more info. The data, like precipitation and wind pressure, are displayed with clean line illustrations and friendly animations. Interactive map shows overlays for snow and rain. Basically, you keep scrolling for beauty here.
back to menu ↑
Weather Radar and Alerts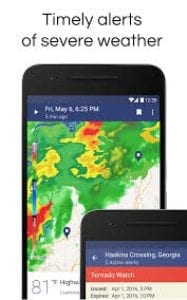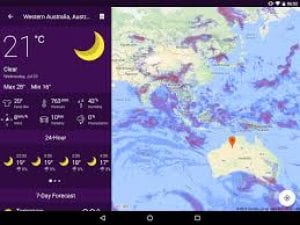 If you are in a region that is often affected by extreme weather, we recommend you check out Weather Radar and Alerts from NOAA. This app delivers the latest news straight from the National Oceanic and Atmospheric Administration. No wonder it provides the most critical information on mainland storms, cyclones, tornadoes and other severe weather. This app offers real-time satellite views of key areas and a news feed, in addition to comprehensive marine updates.
back to menu ↑
Morecast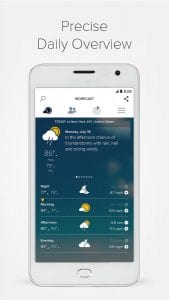 Morecast sells for its great-looking and intuitive interface: its vertical layout is easy to use and interpret. At the top, you start with the current weather and the "Real feel". Scroll down and you'll see more details of the day's weather. A swipe and Morecast will show what's happening tomorrow; down again and a simple seven-day view clarifies the week for you. This streamlined UI is obviously good for beginners because it provides access to all of the information you could need, without requiring a user manual. Morecast is full of other, kind of, special things, such as webcams that show the weather across the globe, and a weather navigation feature to help you to lay out routes around the bad conditions.
back to menu ↑
Weather Underground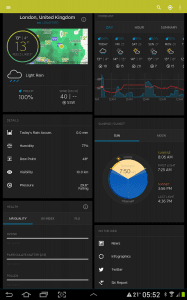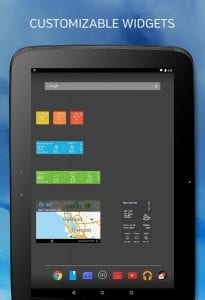 Weather Underground aggregates the combined services of more than 33,000 weather stations to offer "the world's most accurate hyper-local weather forecasts". Limitless customization  is said to produce a more personalized experience, tailored to your real-time location. You can join those enthusiasts by reporting through the app your local sky status as well as hazards like power outages or flash floods. The interface is highly detailed and shows everything you could ask for, on one convenient and useful page.
back to menu ↑
Arcus Weather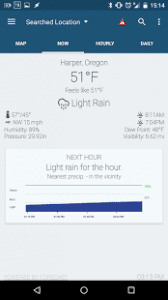 Arcus Weather is a lesser brand than apps above, but that does not make Arcus any worse. You can view a radar map (US only), current conditions, an hourly forecast or the next week's daily forecast. Homescreen widget with customizable data points sounds like something of a more premium app. Arcus also kinda makes you phone come alive when it shivers because of rain (vibartion warning for precipitation).
back to menu ↑
Eye in the Sky Weather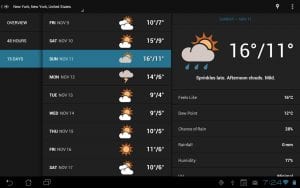 Eye in the Sky Weather by CITC is another app that's pretty good. The interface is a flat matte design that looks better in real life and the application includes all of your most basic features, including current weather, forecasts, and extended forecasts. There is also DashClock support if you need that. The widget selection is above average and you can customize the weather widgets as well. It's a bit simple compared to apps above, but it's great if you just need something quick and easy.
All these apps work better with GPS enabled. Enjoy your weather!