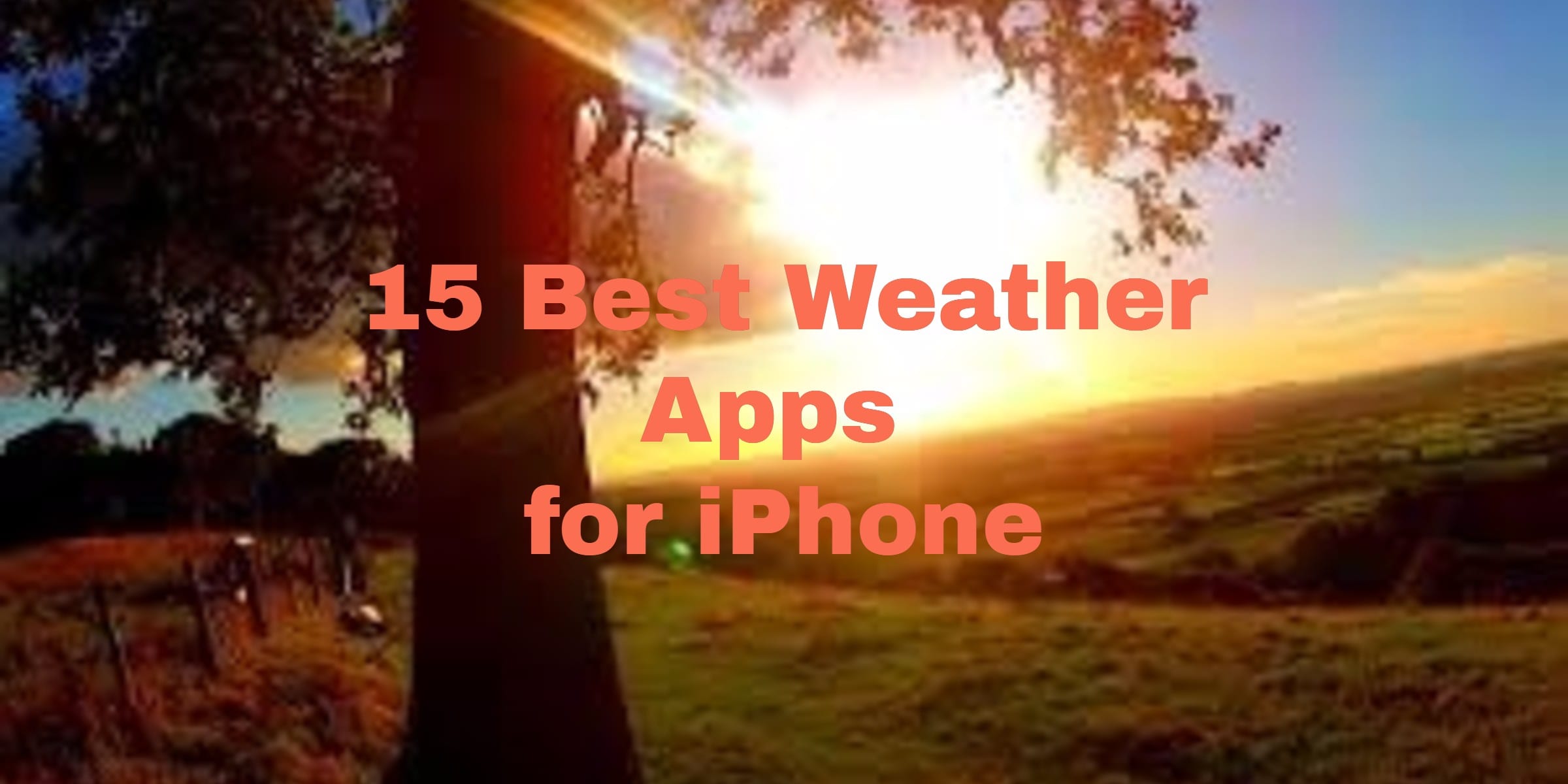 If the weather is bad your iPhone can't do anything about it. At least, not yet. What you can do is find a weather app that will engage you while giving you the bad news. Or give you the best graphics on the awesome weather you are about to have. As Northern hemisphere is entering cold and wet times we need 15 best weather apps for iPhone. And before all the weather forecasts let's celebrate the fact that Yahoo is still alive!
Yahoo Weather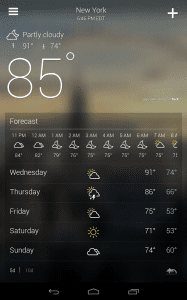 Yahoo Weather, Winner of Apple Design Award of 2013 still looks great! The forecasts are accurate and weather can't play any tricks on you as the forecasts are updated on hourly basis. Following the awesome graphics, you find even more info. The data, like precipitation and wind pressure, are displayed with clean line illustrations and friendly animations. Interactive map shows overlays for snow and rain. Basically, you keep scrolling for beauty here.
back to menu ↑
The Weather Channel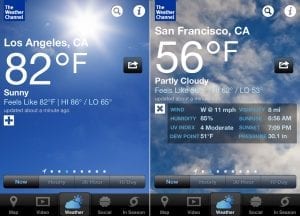 The Weather Channel has the most recent update, on November 8, 2016. Trump fans would love that date update. Anyway, it is got the widest variety of languages and only the ad removal has a price tag. The Weather Channel, while providing a simple interface, brings you quite a few additional details. You'll get the daily, hourly, and 15-day forecast, as well as wind speed, humidity, and UV index. Also, find out the weather-related road conditions.
back to menu ↑
WeatherBug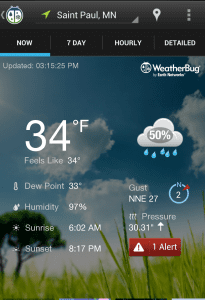 For an allergic person like me, this app is a lot more useful. WeatherBug shows a detailed pollen index. Moreover, the app specifies which pollen triggers are predominant. Another smart thing with this app is the energy consumption predictions and calculations. You can connect this app to your Nest, Honeywell, or SmartThings hubs.  Even if you don't have a connected thermostat, you can calculate your daily costs based on weather conditions, electricity and gas costs, and what your HVAC is set to. And daily, hourly, and 10-day forecasts are here too.
back to menu ↑
Weather Underground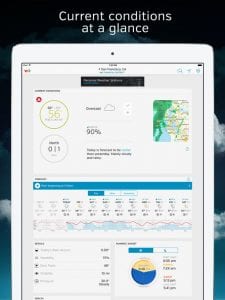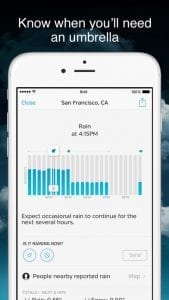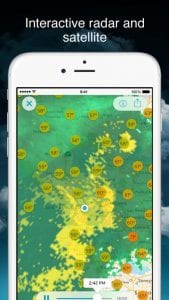 Weather Underground is the most customizable app on this list. Besides widely recognized sources it uses data from weather stations run by over 200,000 weather enthusiasts. Which also gives you hyper-local forecasts. You can join those enthusiasts by reporting through the app your local sky status as well as hazards like power outages or flash floods. The detail cards are customizable. Say, you live in California, so you delete snow, hurricanes, and permafrost. When you are enthusiastic about the weather, Weather Underground is the way to go.
back to menu ↑
Hurricane by American Red Cross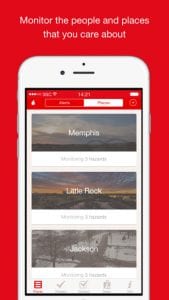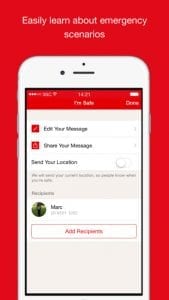 No, Red Cross does not start hurricanes now. This app's major feature is tracking hurricanes. It doesn't show you the current temperature, but it will warn you when anything between from high-wind storm to a hurricane is headed your way. It also has a very useful feature that can activate a flashlight on your device, sound a loud alarm to signal your location. If need be, it will send an automatic text message to your loved ones that you are safe. The Hurricane app has a direct connection to the NOAA weather radio reports and extensive information on what to do to prepare for a hurricane. Basically, this app has everything for you to survive windy weather.
back to menu ↑
AccuWeather – Weather for Life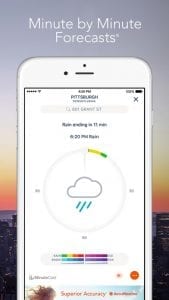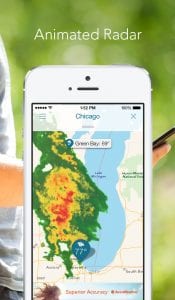 AccuWeather is a more comprehensive weather app. Check out one of the longest-range, 15-day, forecasts, and useful one-glance temperature graphs. 'RealFeel' temperature and personal forecasts for outdoor sports, DIY and other activities are also here.
Without extra screen tapping, you get the current levels of humidity, wind speed, cloud cover, pressure, and so on.
The Hourly Forecast helps to catch the best moment to run for groceries or any close-range shopping.
Below all that are the sun and moon phases and a map of your location. Through the map, you can check out how the weather develops across the whole country. You can set up your favorite locations by town, or by zip code. The app will show the weather at your current location with your permission to access Location Services.
back to menu ↑
BBC Weather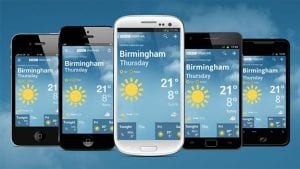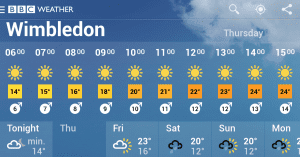 Here is another strong brand for you. It is not fancy, but it surely works. BBC Weather app has gained a pollution read out, along with its UV and pollen counts. You'll see the weather at the moment along with today's high and low. You also get the standard issue ten-day forecast. Tap on each day to see the predominant weather for that day, along with the high and low, sunrise/sunset, wind speed, and direction.
back to menu ↑
MeteoEarth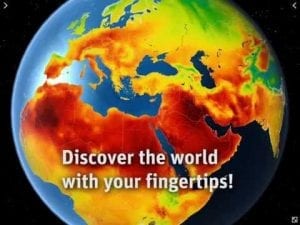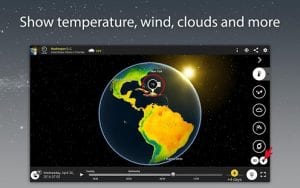 MeteoGroup is German, so, if you want German quality, this is the way to go. Moreover, if you like your weather apps spectacular, MeteoEarth is the most spectacular app we have for you. Adapted from a broadcast tool used by TV presenters, it displays a map or globe with your choice of precipitation, wind, temperature and so on superimposed; you can then swipe along the timeline to see how things will be in the next few days or set it to run without your input. No need to say, it works with UK and US locations.
back to menu ↑
MyWeather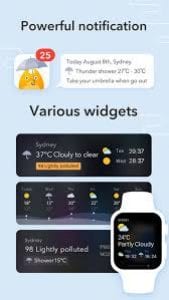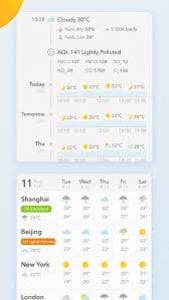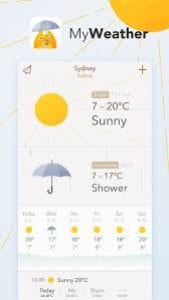 A happier, simpler app with yellow patterns that will remind you of happy emojis. And a cat. MyWeather also offers customizable themes, available notifications, and precise forecasts. Widgets work and currently support a location update frequency setting.
back to menu ↑
MyRadar NOAA Weather Radar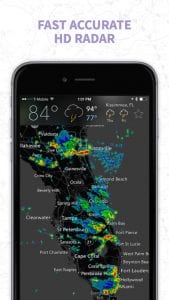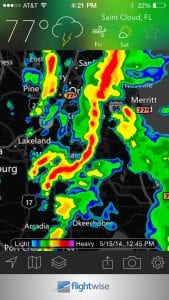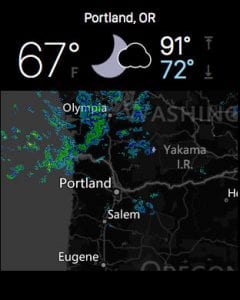 If you prefer viewing radar maps (if you are a nerd) rather than reading weather details, then MyRadar Weather Radar is your choice. View the regular, HD, or temperature map for your location with clouds and aviation layers.
Quick local conditions are displayed at the top with temperature and a brief overview for the next two days. Just pull down for the hourly and 5-day forecasts along with other details including wind and pressure. MyRadar has a paid version available for iPhone and iPad. No surprise you have to pay for ad removal, as well as for  hurricane tracker and to install it on Apple Watch.
back to menu ↑
Fresh Air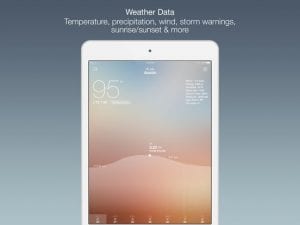 Fresh Air is pretty simple yet very effective weather app. With highly informative graphics it presents you the precise 7-day weather forecast. This app shows you weather forecast correlated to your calendar events, as a result you are able to plan your events accordingly. It includes a number of weather data including wind, humidity, temperature etc. You are always reminded about weather conditions by notifications. Moreover, Fresh Air gives you weather results specific to your location.
back to menu ↑
Sunshine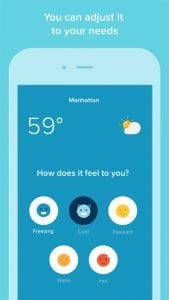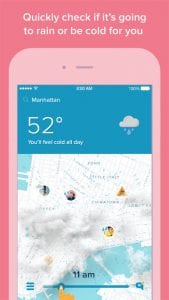 Sunshine app  is so nice and simple you should totally install it on your children's phones if you have any. Sunshine offers a highly interactive take on weather forecasting. "Highly interactive" equals "good toy".  The app gets to know its users by understanding their personal notions of hot and cold and allows them to report the data to a community of people. All the user data is then translated into weather predictions. A highly rated app that's worth a try if you are tired of complex weather apps.
back to menu ↑
Solar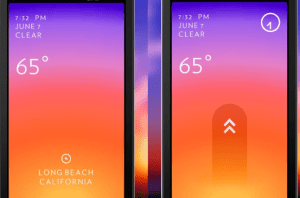 Solar is a strikingly minimal weather app with a colorful gradient background and a simple text of the weather conditions along with the current temperature. Works with old version od iOS, 5.0 and later.
back to menu ↑
Storm Radar
Another cool hi-def (250m) radar app. Severe weather outlooks and real-time severe weather alerts turn your phone into a life-saving machine for real. Current conditions, daily or hourly forecasts are available at a glance and in a more detailed view. Works with Apple Watch as well. Hyper-local weather data is powered by Weather Underground's network. So, if you trust Weather Underground, you definitely trust this app. Ad removal and boating subscription cost some.
back to menu ↑
Weatherwise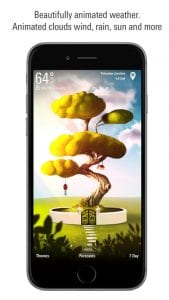 Here is another basic, free weather app with some visual appeal, universal Weatherwise. Weatherwise includes basic weather information only, but there is a draw with unique artwork that moves and changes based on the current weather conditions. It comes with a "Zen Tree" theme; quite a few others are available for in-app purchase.
There should be enough weather data on these 15 apps for you to forget to come outside. Have a nice outdoorsy day!