We all still remember the first video games with consoles like Sega, Dendy or Nintendo. We were lucky if we had them in our house. After school, children were running to a friend who has this device with different games like Super Mario, Ninjas, Centipede, Mass Effect, Street Fighter. There are simple but they were so enjoyable to play. 
Time has passed and we are facing the world of super modern PC or mobile games with excellent high-definition graphics. But still, those games are in our memory and heart. Thankfully, there are a lot of websites, for example, Game-oldies that emulated all those console and arcade games. There are hundreds of your favorite old games to be played online for free. At any moment you can go back in time to your childhood or adolescence and enjoy those games again.
Undoubtedly, you will find games that you like. Moreover, there are myriads of similar games but you have never tried them before. Of course because at that time we were not spoilt by easy internet access to any time. So, you have a chance to try them now. See what looks good to you and play it. Below there is a collection of most popular websites like Game-Oldies that can offer a great number of retro games.
1.Retro games online
Welcome to the first old games website that I want to start with – Retro games online. One of the most famous websites that appear on the first page on Google. It has a pleasant, simple and user-friendly interface. definitely, it's not without advertisements. Sometimes they appear to be annoying. But who is going to provide something for free without it?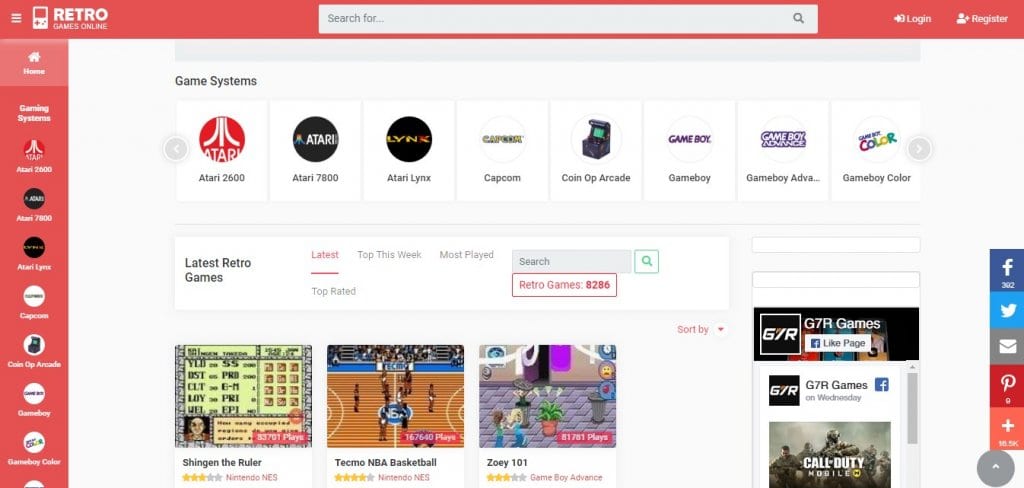 The website is well-organized. It has a search bar at the beginning of the page and login/register buttons. As you can guess, it requires registration. The left side of the website has a huge list of gaming systems. Probably there are more than 20 and each of them has hundreds of games listed in their turn on many pages. Scroll down to see all games on the one page and more to another. What players can find more comfortable is that there is another categorized list that can be scrolled left and right. There are games genres like Arcade, Fighting, RPG, Puzzle, racing and many more. Choose whatever you like to play next.
If you still don't know what to play you can refer to ratings: most played, top-rated, latest additions. Don't neglect the alphabetically organized list if you need to search for something specific.
Shortly, the website has around 8000 games to play, so give it a try.
Go to Retro games online website.
You may also like: Games like Heroes of Might & Magic III for Android & iOS
2. Ssega
Sega console and all related to its games are presented on the Ssega website for free. All the 16-bit old games like Sonic, Adams Family, Adventures of Rocky and Bullwinkle. Those games are really simple but so enjoyable. We do love them until now.
Check the rating lists if you don't know what to play yet. Go to the categories to choose a particular genre like Racing, Action, and Adventures, Shooting, and Fighting and of course Sonic Games. There are hundreds of Sonic Games there. Just one of more than 10 pages has 18 different games.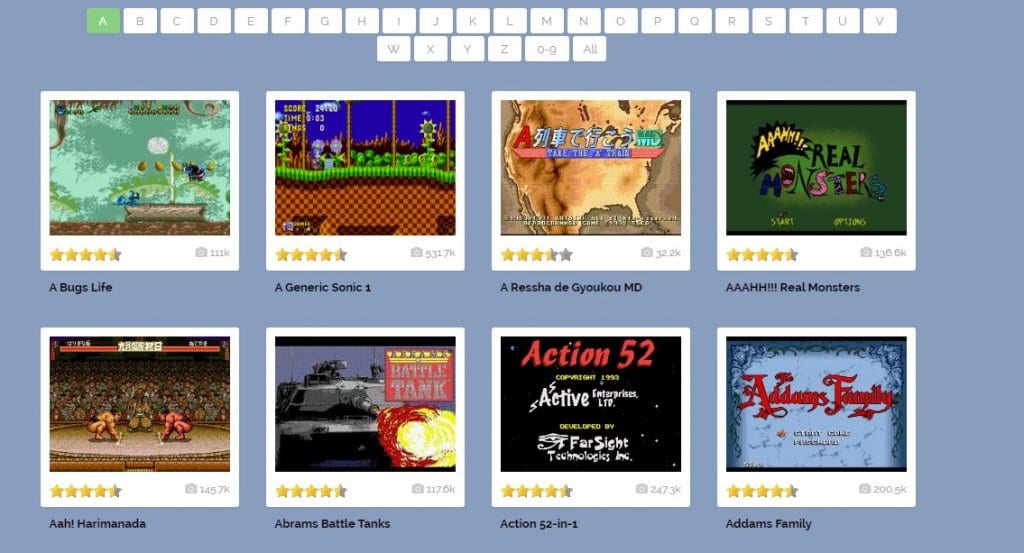 Main features:
Each game icon goes with a short pop-up description to have a little understanding of the gameplay.
Short instruction on how to play and which buttons of the keyboard to use are given.
DIfferent emulators are offered( Javascript, JS, Flash).
The website has an enormously big community of Sega Games funs.
You can share the game with friends via social media. Add it to favorites is also an option.
The website is great and deserves to be visited. With over 9000 games players can launch any game in a few minutes without annoying adds.
Go to Ssega website.
3. My Emulator
My emulator is a huge collection of Super Nintendo and Nintendo NES old games that are completely free to play from the browser. There is a collection of other consoles like Sega Genesis. The website is presenting hundreds of games from the past for those who were fond of old games like Super Mario or Pokemon.  There 8, 16, 32 and 62-bit consoles games that are arranged in different orders:
Games categorized by genre: Soccer, Action, Adventure, Disney, Puzzle, Anime, RPG. Can u imagine that developers sorted the games in over 30 different genres?
The most popular game list: Attorney, Mario, Dragon Quest.
There is also a list of the latest additions.
The search bar is placed on the top of the website so users very fast can find the game they are searching for.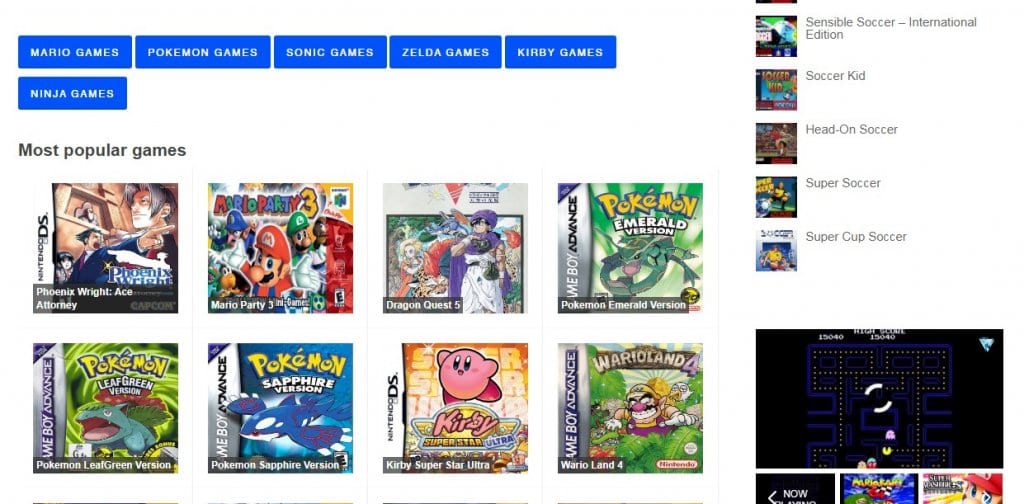 A very thrilling feature of the website is the screen on the right-hand side of the website's main page that displays some games that someone is playing right now.
Go to My Emulator website.
4. Retrogames
Retrogames are a website with an option of playing online old games that were presented around 20-30 years ago on consoles like Sega, Playstation, Arcade, Nintendo.  There is also all kind of gold games from different consoles and a different time. You can find there all your old favorite games like SuperMario, Tekken, Marvel, Super Mario Cart racing game.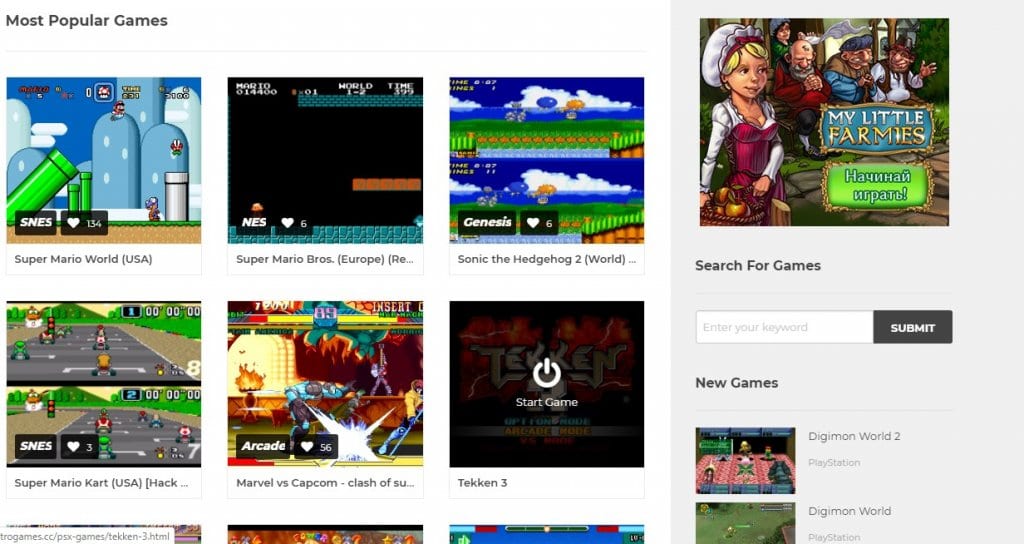 The front page has a list of the most popular games on this website. Each game goes with an icon with a screenshot of the gameplay. Moreover, pointing a mouse on the icon launch an episode of the gameplay in a video format. Thus, you can know better whether you like to play it or not. It takes just a few minutes to check more than 10 games and choose one for today. There is no limit to a number of games you can play, of course.
Games are categorized into genres and consoles as well. The search bar is also for your help.
Go to Retrogames website.
5.Emulator Online
All kinds of retro games can be found on Emulator Online. There is huge number of classic popular series like Sonic, Zelda, Kirby, Mario, and Pokemon. Games are categorized by consoles at first, then by genres. So, you will find a great list of consoles of all kinds: GBA, SNES, NES, GBC, SEGA, NDS, N64, NeoGeo, Gameboy and many others.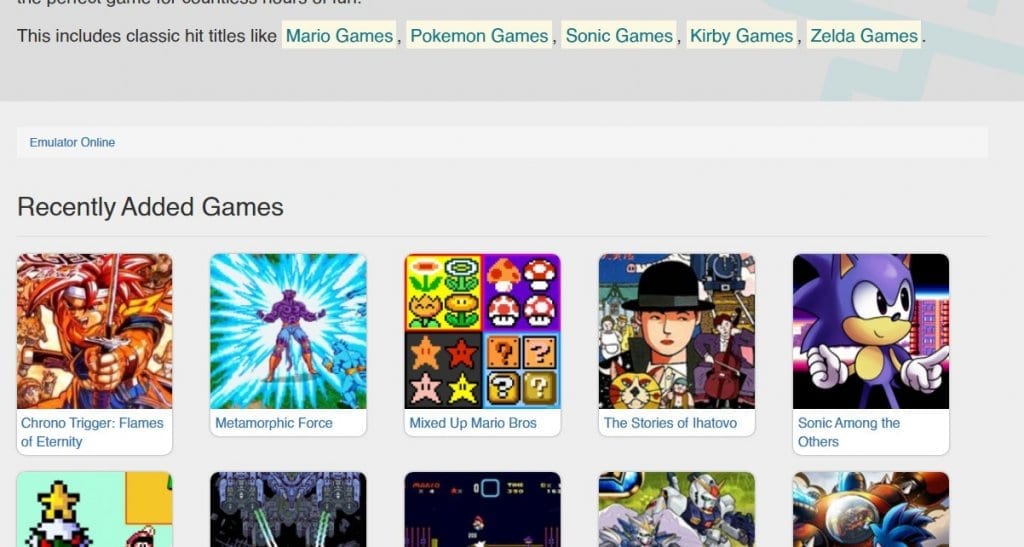 On the right-hand side of the website is a list of games categorized, in its turn, into genres like Arcade, Sonic, Mario, Action, Spider-man, driving. Finding a game you a willing to play is easier than anything on the Emulator Online.
Get back in time playing retro game choosing one after another. They are simple and easy to understand yet very enjoyable.
Go to Emulator Online website.
6.Retro games Onl
The website with a great number of free retro games that goes with a very comprehensive description. Looks like the developers of Retro games Onl have made an effort adding a lot of useful information to each game including date of the release, genre, gameplay, platform, perspective and some information about the story of the game and the game process.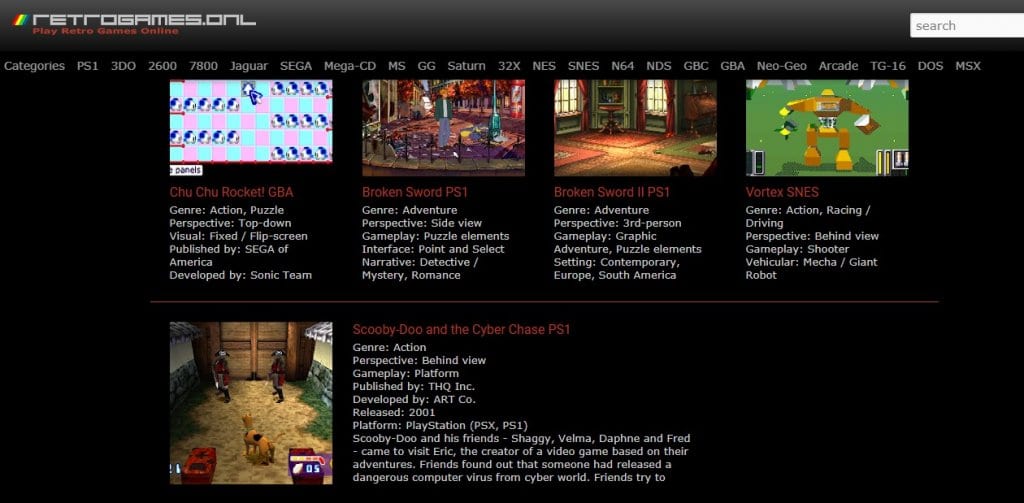 Retro games Onl website has an advanced list of categories. There are divided into genre, gameplay, setting, art, interface and many others. There are different game types like games based on cartoons or movies, educational or chess and cards.
Each game has game settings and instruction which buttons to use on your keyboard instead of joysticks. Easy to understand and remember a few buttons, leave the mouse and keep playing an easy game.
Go to retrogames.onl website.
7. Play Retro Games Online
Yet another website with a huge collection of retro games. Play retro games Online is a website which name tells everything about its content. All of them are categorized into genres and consoles as well, as all websites of this kind. Additionally, it has an option to search a game by name in an alphabetically ordered list. We can call it a perk. In case if you failed to find your favorite game using a search bar simply use the first letter of the name.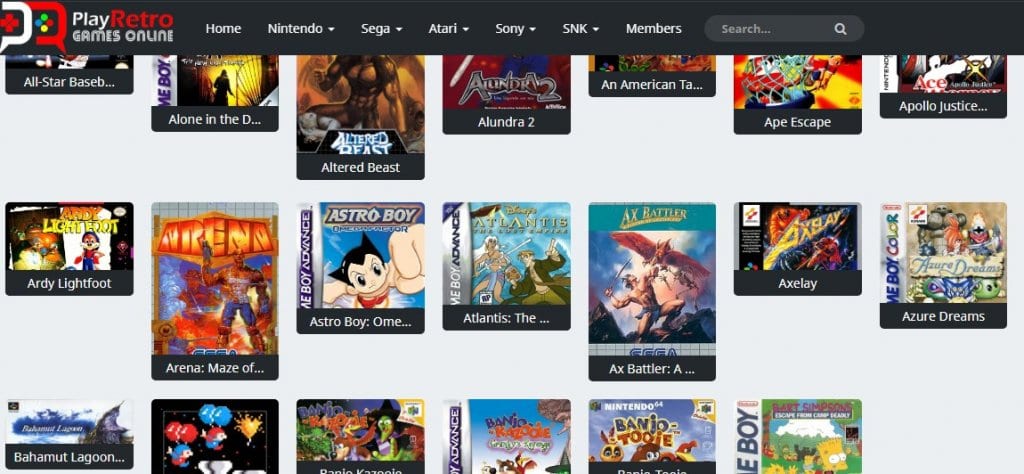 The website is designed in classic black and grey colors, unlike almost all previously described websites which were mostly light-tinted.
Play your favorite 'old and gold' games online for free without annoying advertisements. Retro games can be a very good option to spend free time. Try games that you have never played. Anyway, no one is gonna charge you for this.
Go to retrogames.onl website.
8. Free 80s arcade
Free 80s Arcade is the website that has the atmosphere of the 80s. The collection of first games presented on Nintendo Console and Arcade games. They are simple, free, but so much entertaining. They won't make you a headache and will dip you into the past.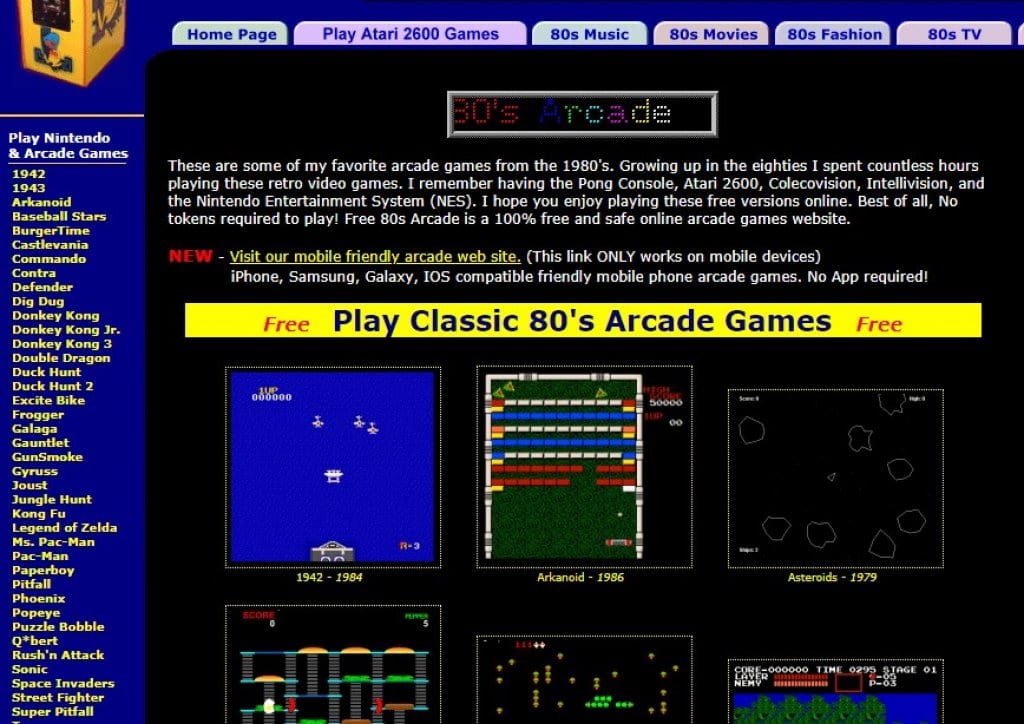 The website is simple, it has no search bar or difficult categorized lists. There is one list of all games on the left-hand side and all games with icons of the main page. The age of release is written under each game. If you want to have a full description of each game just click on the game. Each game has a history, instructions, and requirements. For example, some of them require a modern website. Moreover, they are not supported by mobile phones. So, you cant just play it at any place you are now.
Additionally, the main menu of the game contains links of music from the 80s, movies, fashion, and TV and plunge into the atmosphere of retro.
Go to Free 80s arcade website.
You may also like: 11alternatives 
9. Gameshelf
Gameshelf is a museum of old games as its written on the front page. It has thousands of old console Nintendo NES games from the 70th, 80th. Easy to find and play an enormous collection of games representing the first step in videogames development. Use the search bar to find a game you remember from your childhood. Check out the most popular until now: Pac Man, Alladin, Chip and Deil, Tetris, Robocop, Super Mario, Fester`s quest.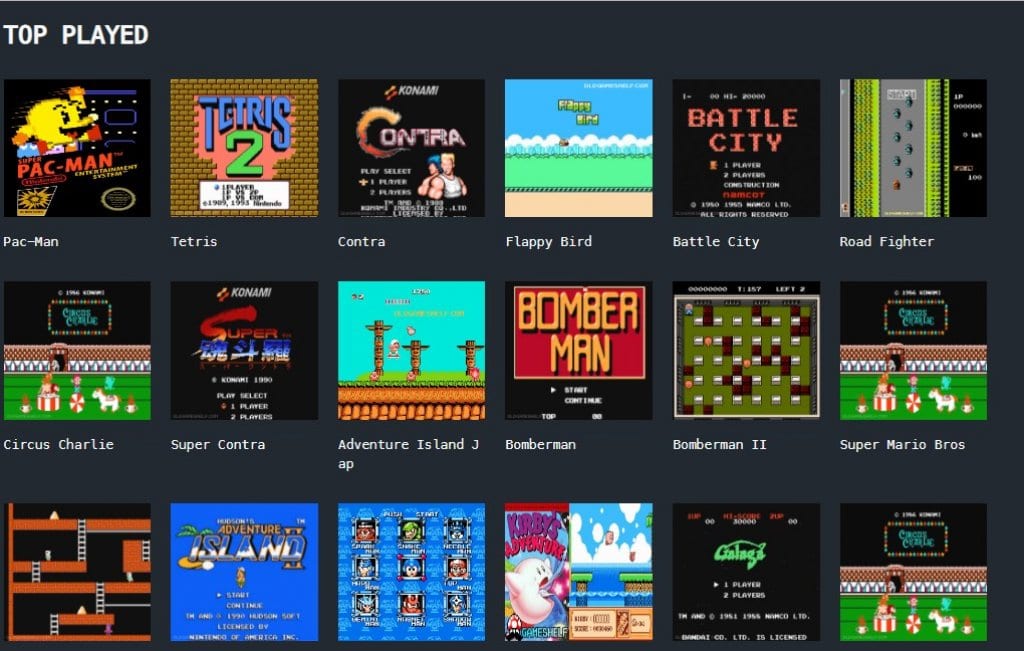 There is an option to search for a game by the first letter in the alphabetic list. Each game is followed by description and instruction of how to play it using a keyboard.
The website also has a Facebook group with a community of retro games fans. Also each game can be ranked and shared via different social media.
Go to Game shelf website.
10. Top 80s games
Top 80s games is a website that collected all kinds of different retro games. There are game emulators for consoles and old PC systems like MS Dos: Batman, Bruce Lee, Crazy Cars, Doom in different versions. Of course, there are games for Sega and our favorite Pac Man. Use the alphabetic list to search by first letter and search bar to search by keywords. Select a specific system to find a game you like.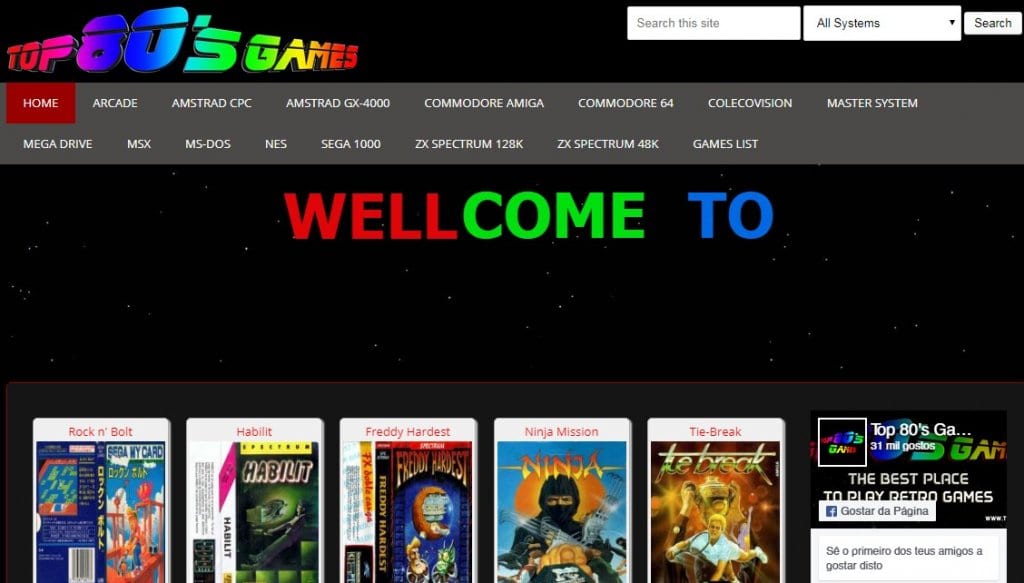 You will not find genre divisions on this website but there is a list of most popular games in general and most popular for today. There is no registration requirement on the website, though you can join a Facebook community. There are different versions of one game depending on what device it was created. This way a player can choose control buttons that will suit him better.
Go to Top 80s games website.
11. Retrogames.cz
The last website on our list is called Retrogames and even its design resembles a retro style of video games. All those 8,16,32 bit consoles with their simple graphics. The website consists of different sections. From the first view, we can find the main menu, a list of different genres and different ratings. It's said that there are more than 1200 games and around 15 genres.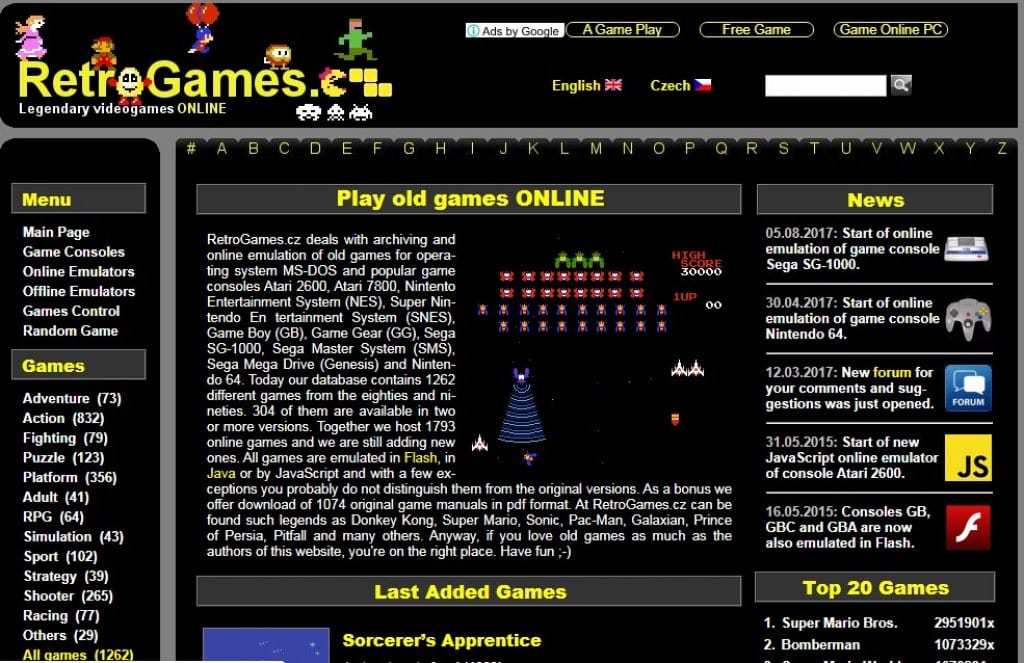 In the list of most popular, we can find our favorite Mario, Tetris, and Prince of Persia. Each game has a description saying what is the platform NES, Gameboy, Genesis, etc. The age of release is mentioned too. Get familiar with the control setting of the game and enjoy the process. The website and all games are also free with few adds.
Go to Retrogames.cz website.