Almost all people who have children are worried about their future. One of the things parents try to control is the Internet and devices used by children.
We live in a modern and fast world. This is why you can't fully reject devices, we can't prohibit our kids use phones, tablets, and personal computers.
By the way, if you want to educate your kid and make him or her smart, try 11 Free STEM Apps for Kids (Android & iOS).
It's too hard to control your kid all the time. This is why you need somebody (or something) to do it instead of you. In this list, you will find a set of cool applications that will help you control your kid.
Kaspersky Safe Kids
Your kid should be safe, even when using a smartphone. Kaspersky thinks the same, this is why their laboratory created a powerful tool that will help your child enjoy the Internet without harming themselves.
This app is free with its basic functions. The best of them are:
If this isn't enough for you, you can always go premium and enjoy even more cool functions:
Use GPS

to control your kid. You will always know where he or she is. You can also set a notification if your kid's location is different from the expected one.

Set safe areas

. If your child goes out of this territory, you will get alerts.

Check battery level

. Sometimes kids are not too attentive and they can easily forget to charge the device and "lose" the smartphone.

Study the

detailed reports

provided by the app. You will see all the blockers, all the attempts to access some bad sites, and the average time spent on different resources.

Multiple device control

. If your child has more than one device, for example, a phone and a tablet, you can control both of them.
Another cool thing about the app is its easy interface. To start using Kaspersky Safe Kids Mode, download it on your and your child's phone or tablet. Then sign in to your account in My Kaspersky.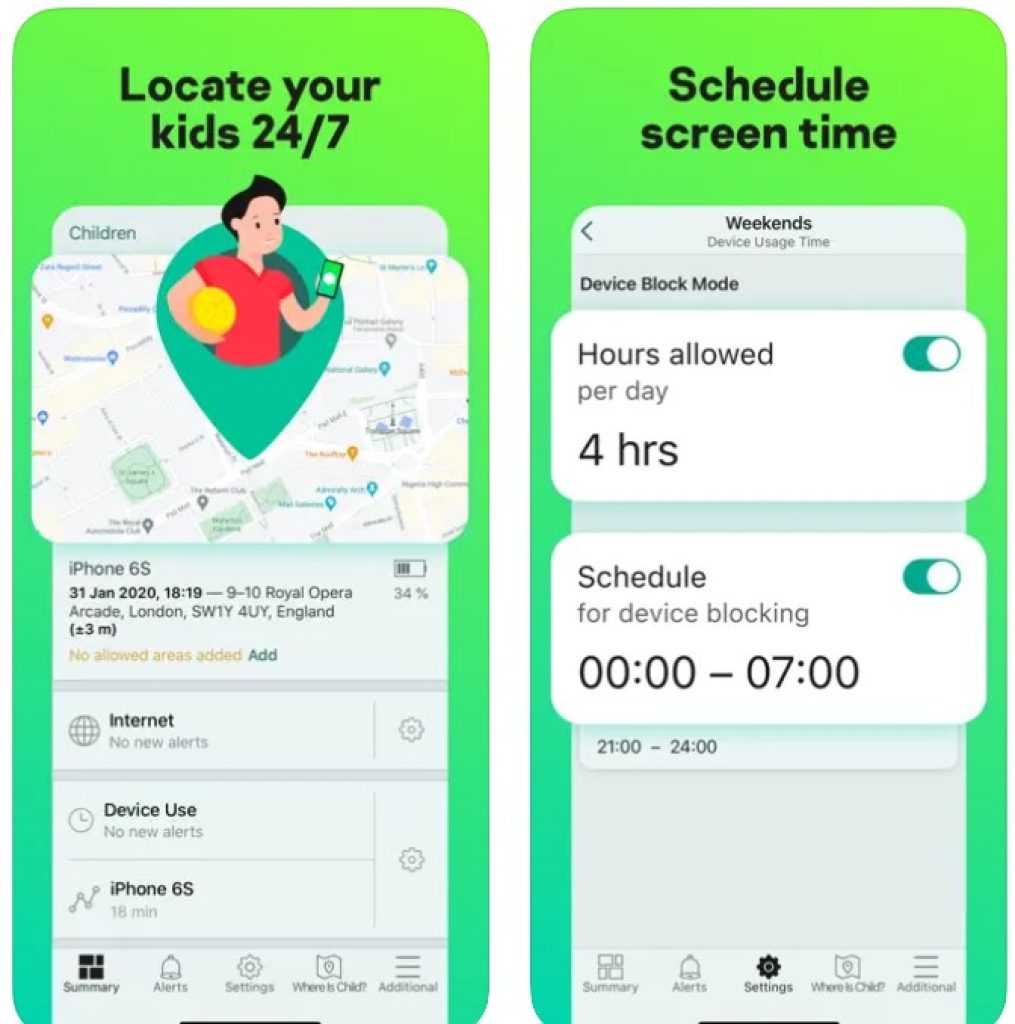 You may also like: 9 Free Typing Apps for Kids (Android & iOS)
FamiSafe – Parental Control App
FamiSafe is one of the most popular kids mode apps. It is used in such countries as the United States of America, Canada, and Europe in general.
The application was awarded multiple times. For instance, it was considered to be the most friendly family product.
Here are the best functions of FamiSafe:
GPS Tracker

. It provides you with information about your child's location. You will be the first to know when your kid is trying to skip classes or hang out somewhere.

Create a safe zone

. You ask your child not to go somewhere but there is no guarantee he will obey. The app will send you notifications if your child is out of the zone or is heading to a bad place.

Screen Time Tracker

. You are probably concerned about your kids' health. This is why it's logical to limit the time your child spends looking on the display. You can set, how long the device will function or block some of the apps.

See the statistics

. The FamiSafe will give you the device activity timeline. You will see the list of the apps that were used and the number of minutes spent on them. You will know if your child is surfing the Net at night or checking social networks at school.

History review

. Not only does the app keeps all the requests made in the browser but it also stores information about apps. If your child installed the app, used it for some time, and then deleted it, this activity will still be reflected.

Website filter

. FamiSafe has a big list of bad sites that your child shouldn't visit. The app will also block some inappropriate requests and ads.

You can

set some keywords

you don't want your child to use or to search in the Internet. It can be some words connected to inappropriate themes, such as drugs or sex. Or it can be a name of a person you find suspicious.

If you want to

control a teenager

, not a kid, FamiSafe will also come in handy. For example, it can tell you if your child doesn't have good driving habits.

FamiSafe

can work pretty well with other applications

, such as WhatsApp, Facebook, Twitter, Viber, YouTube, or Instagram.

The app

supports various languages

, including English, French, Spanish, Italian, Japanese, and Korean.

You can watch the activity

on multiple devices

, up to 30 gadgets. It will be especially useful if you have many kids.
FamiSafe has a trial period when you can enjoy all of its functions, including premium ones. When your trial expires, you can get a monthly subscription, 3-month, or year subscription.
Its developer is famous for such products, which are being used by billions of people all around the world.
To use the app, just download it on the devices you wanna control and create an account.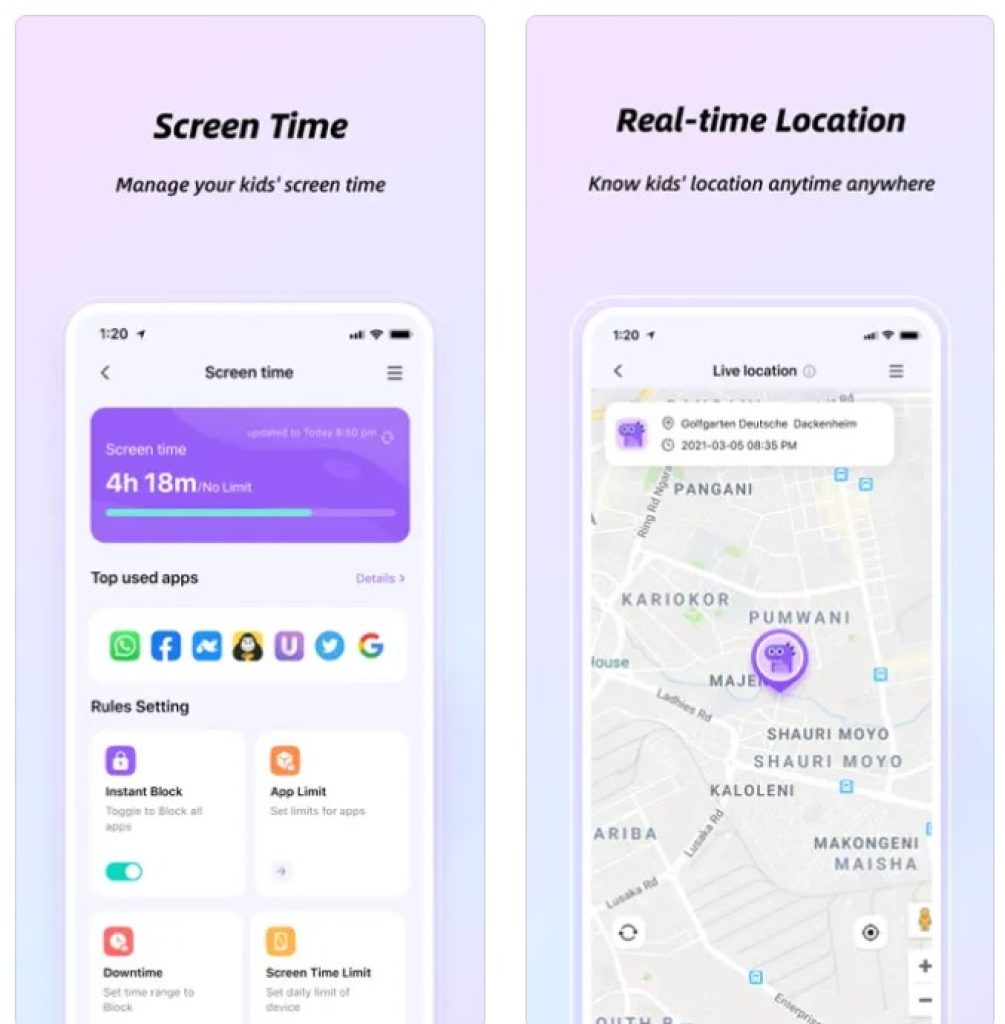 Kidslox: Parental Control & Screen Time
Kidslox is another good example of a cool family app. In general, it can be described as a screen time controller and suspicious content blocker. However, it is not the only thing that Kidslox can boast of. Some of them will be available right after the download.
There are many other cool features you will enjoy:
Set screen time

. It will be especially good if your child can be easily distracted from doing his homework. You can prohibit using the device for some time. It will be a perfect solution for those who go to school.

Family Location Tracker

. Are you afraid to lose your child somewhere? Or maybe he or she can instantly run, attracted by something? Don't worry, the location of your kid will also be known to you. GPS tracker is very reliable, it doesn't make mistakes and it can't be unmuted by chance. Make sure you try safe zones – this is the territory where your children can be.

A full set of

parental controls

. You can set many restriction levels. For instance, you can set one mode for school, another one – for home. What is more, you can manually switch between levels. To make sure you are the one who can change these settings, use Kidslox PIN.

Good

content blocker

. You will always know what is being done on your kid's device, including the list of the apps and the history of a browser. What is more, you can create a list of sites you find suspicious. Block anything, including games and social networks. Now your kids will never spend long hours on Instagram, Facebook, Twitter, and other resources.

Multiple device support

. You can monitor up to 10 devices. You can manage all of them from your phone or computer.
Kidslox is recommended by TV experts, psychologists, and parents.
To enjoy all of the functions of Kidslox, activate a free 3-day trial. This will give you access to all the options, including premium ones.
When the trial expires, you will be offered a subscription. If you go for a longer period, you will get discounts. So if you're sure you will use the app for a long period of time, we recommend that you take a year subscription.
If you don't want to use any type of the offered subscription (week, month, or year) but you wanna get the premium features, use a lifetime subscription.
If you pay for a subscription, you will not be shown ads – they will appear during the trial only.
The developers don't use your data for their purposes and never give it to a third party. The only thing they collect is anonymous data about you and your child.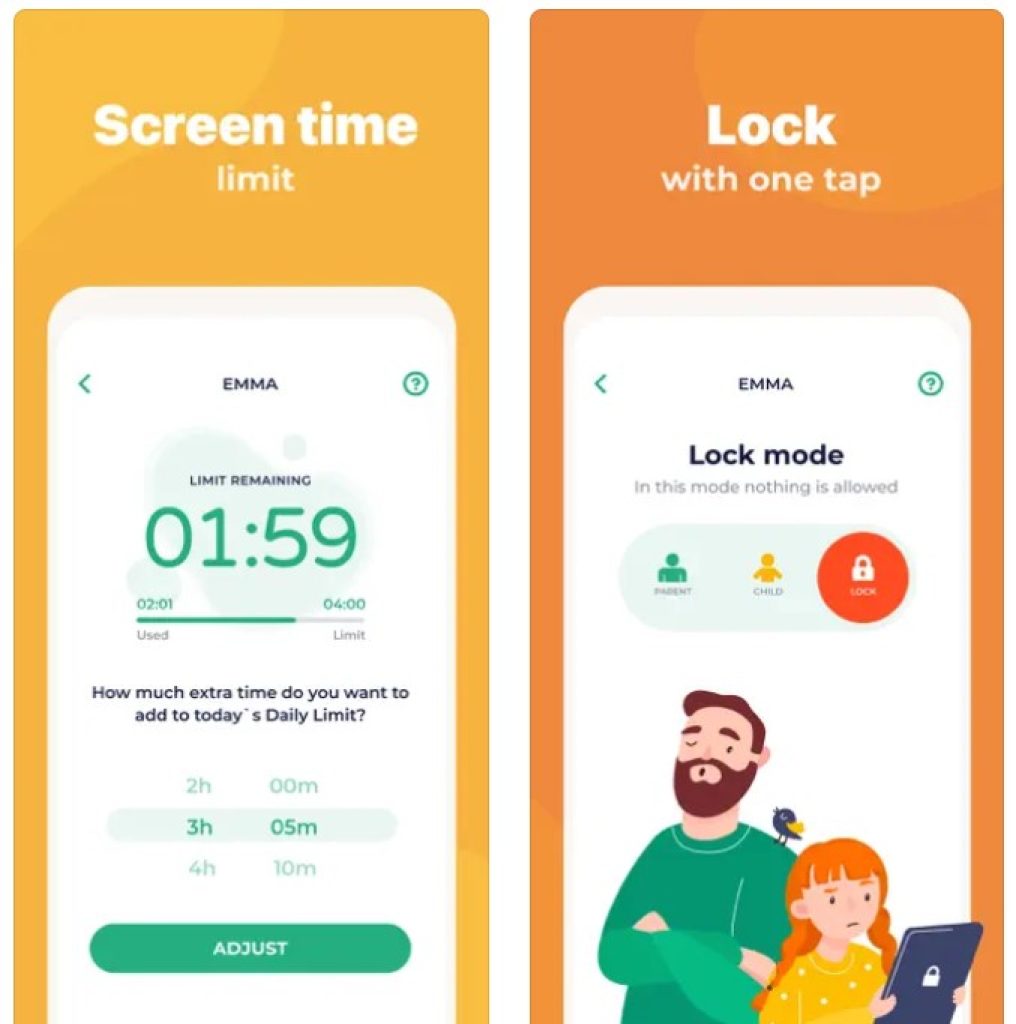 Life360: Find Family & Friends
This application is a bit different from the others listed here. In fact, it isn't a parental control app. It's more about GPS tracking and connecting family members with each other.
This is more about physical safety than about security on the Internet.
However, it can also be very useful, especially if you live in a region with a high crime rate.
Let's look at the best features of Life360:
Track your kids' location

. If he or she is supposed to be at school and he's out of the building, you will know it pretty fast.

Send and receive alerts

. If your kid (or any other family member) gets lost somewhere or has any type of emergency situation, he can easily ask for help and send the location.

SOS signal

. This option should be used when you are in real trouble. It will come in handy if there is a teenager in your family. He will be able to contact you (and the police or ambulance) at the click of a button.
Unfortunately, the app is not free of charge. But you can enjoy all the premium features for free. There is a trial period when you can easily try all of them.
There are many subscription plans: Life360 Platinum, Gold, and Silver. The number of options will vary, and the price will be a bit different.
The developer doesn't collect data about you and your family members and never gives it to a third party. The only thing they can collect is anonymous data that isn't tied to a person.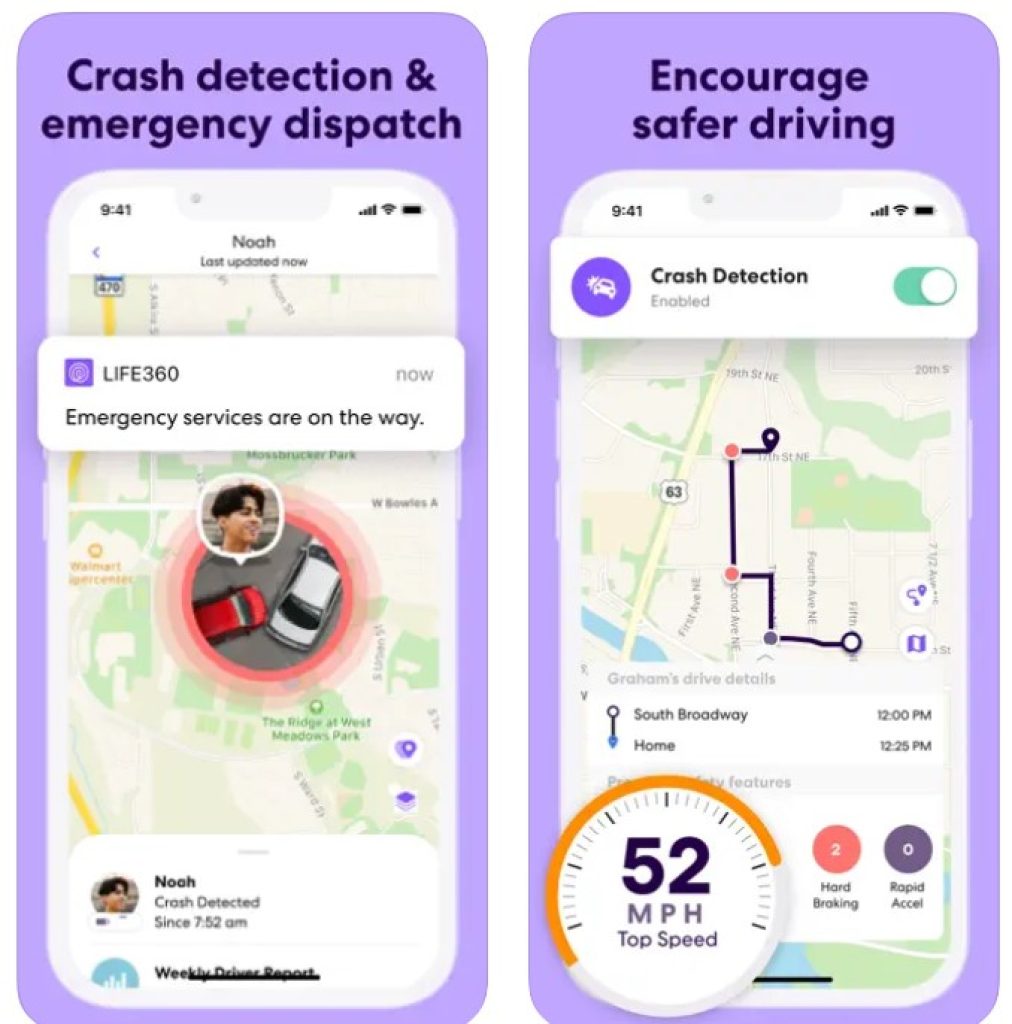 iWawa
Here comes a very universal and reliable app, which has a great number of functions.
Firstly, it is aimed at protecting your child from harmful content on the Internet. Secondly, it helps you entertain your kids when you can't spend time with them.
Here are the basic features of the iWawa application:
Time tracker.

The app will count, how long the device is being used. It also tracks what it was used for. You will be able to see the list of the applications that your child opens. Even if he decides to uninstall the app, it will still be reflected in the history.

Control everything yourself

. You can manually set the list of allowed applications that you believe to be safe for your child.

iWawa also

blocks some suspicious sites

, which can potentially contain harmful and traumatic content.

Customize the app

according to your needs and tastes. Set different themes (including the beautiful dark one) and fonts.

Interfere in the process

if you need to. With iWawa, you can delete and upload applications from your kid's device at any time.
There are many games in iWawa. You don't have to download it one more time – just use it "out of the box".
By the way, if you are looking for more kids' applications, make sure you check 11 Best Reading Apps for kids (Android & iOS).
To use the app, download it on your child's device and on yours, and then create an account.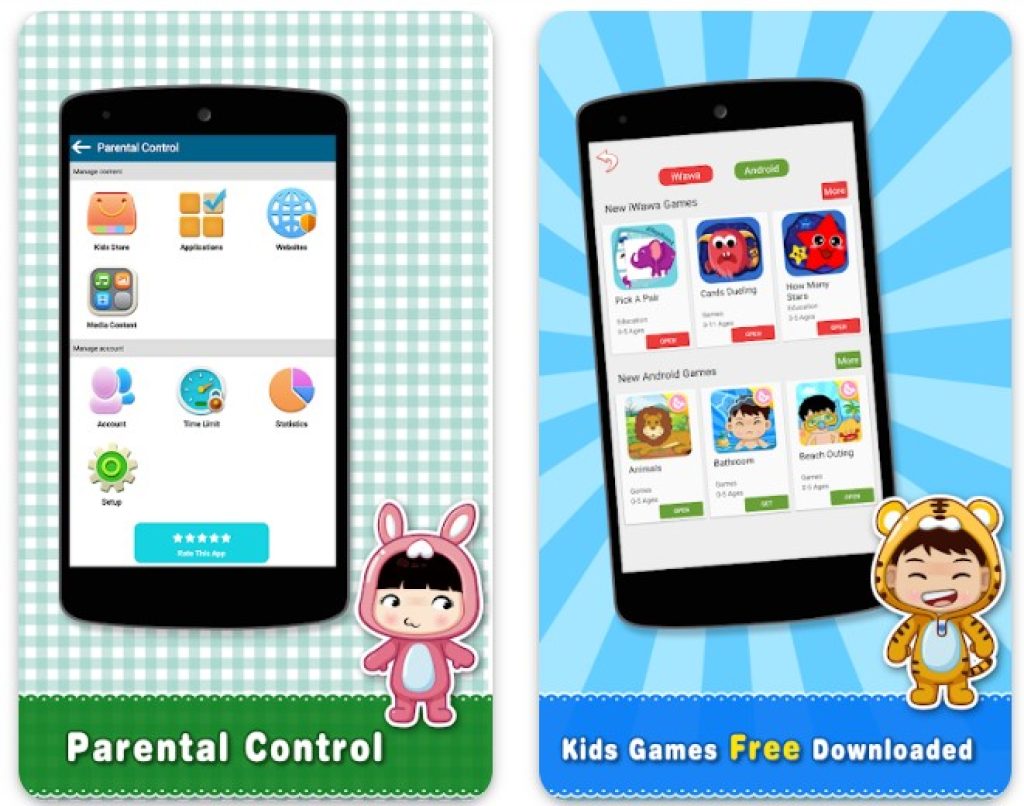 Kids Place – Parental Control
Kids Place is a great application that will ensure your child will be safe when he or she is using a device and surfing the Internet.
This is one of the best parental control applications for Android. Why is it widely used and respected by most users?
Well, the only reason is a huge number of cool and easy-to-use functions:
Screen Time Tracker

. The app will thoroughly monitor the usage of your kids' devices. You will see what your child is doing when you can't monitor his activity. You will see the list of apps and the statistics on them. If your kid plays Minecraft for 5 hours per day when you are not with him, you will be the first to know about it.

Create

a safe environment inside your kids' devices

. If you know that your kid tends to visit some suspicious websites that they shouldn't visit, you can add it to your blacklist. In this case, your kid won't be able to access these resources. The browser will show a mistake in this case. You can do the same with the applications.

Multiple device support

. You can add any number of devices, which is especially cool if your child has multiple smartphones, tablets, and a personal computer. You track them all and get a divided statistics on each of them.

If you fail to understand how some of the functions work, don't worry – the

technical support will answer at any time

. But before you contact them, make sure you look at FAQ.
These are the options that can be used for free right after the download.
If you want more, go premium. In this case, you will get rid of the ads and get access to new functions.
Here is the list of premium features of Kids Place:
You can

create custom profiles

. This is especially cool if you have more than one kid. They might be very different and have different interests. What is more, their behavioral patterns might be very unique.

Set timers

. For example, you want your child to spend only 2 hours online. In this case, if your kid tries to spend more time surfing the Internet, it will send you alerts and block the device.

Make sure you are the

administrator of the kid's gadgets

. To ensure your child can't change settings, create a difficult PIN. What is more, you can prohibit your child download the apps on their own.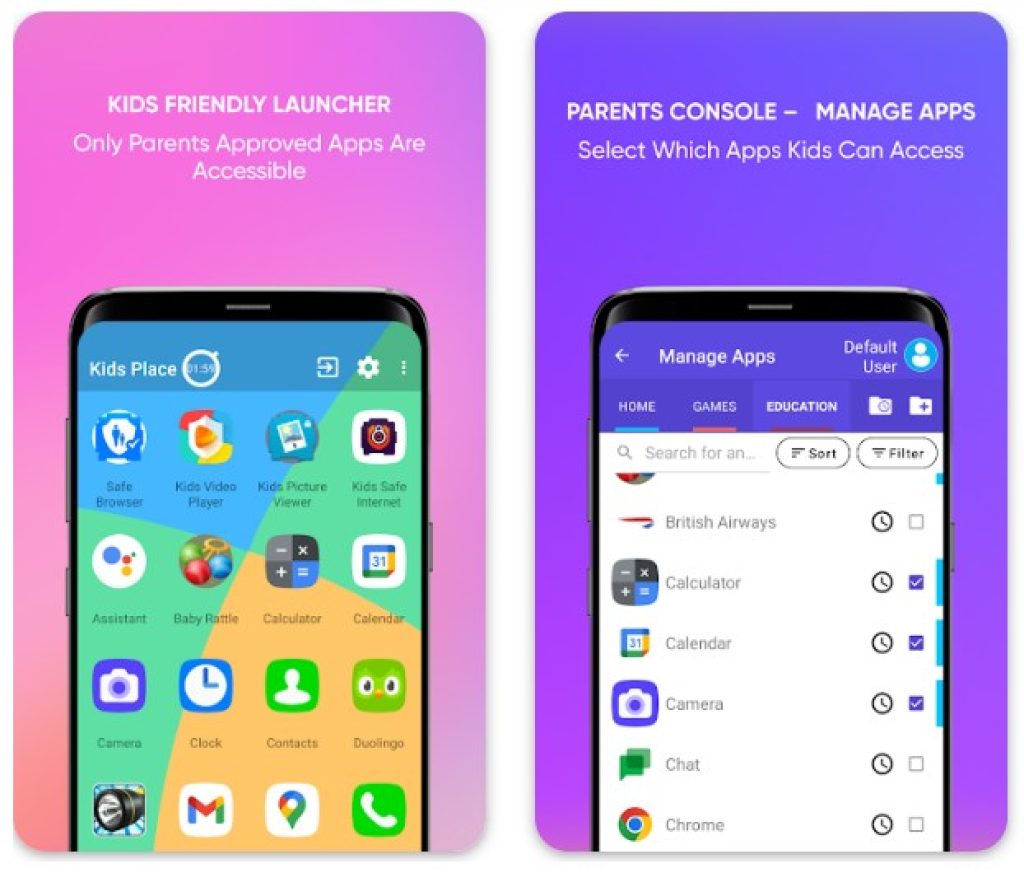 Kids Mode – Child lock
Kids Mode will allow parents to take full control of their kids' activities online. This is not the most sophisticated app in the category, but it's a solid choice. The main features here include content filtering, screen time management, and location tracking.
When it comes to content filtering, parents can block inappropriate websites and apps that are not suitable for children. The app allows parents to set up schedules for device usage, limit the amount of time spent on certain apps or websites, and monitor any type of online activity.
The app also includes location tracking, which allows parents to keep track of their child's GPS location and set up geofencing alerts for any area. This feature ensures that parents can always be aware of their child's location and safety. Therefore you always know where your child is.
The user interface design is quite standard and we would call it the main drawback of the app. Though it's easy to use, it's quite boring. The app provides a clean and organized layout, with clear and concise instructions for setting up parental controls.
The main goal of the app is to protect children from harmful content and provide parents with peace of mind. It makes sure that children have a safe and healthy online experience while being able to surf the web freely.
There are also some questions about the app's functionality – some features aren't automatic and require manual settings.
But in general, this is a nice app for all parents and their children, it's a little bit boring, but the functionality is reliable.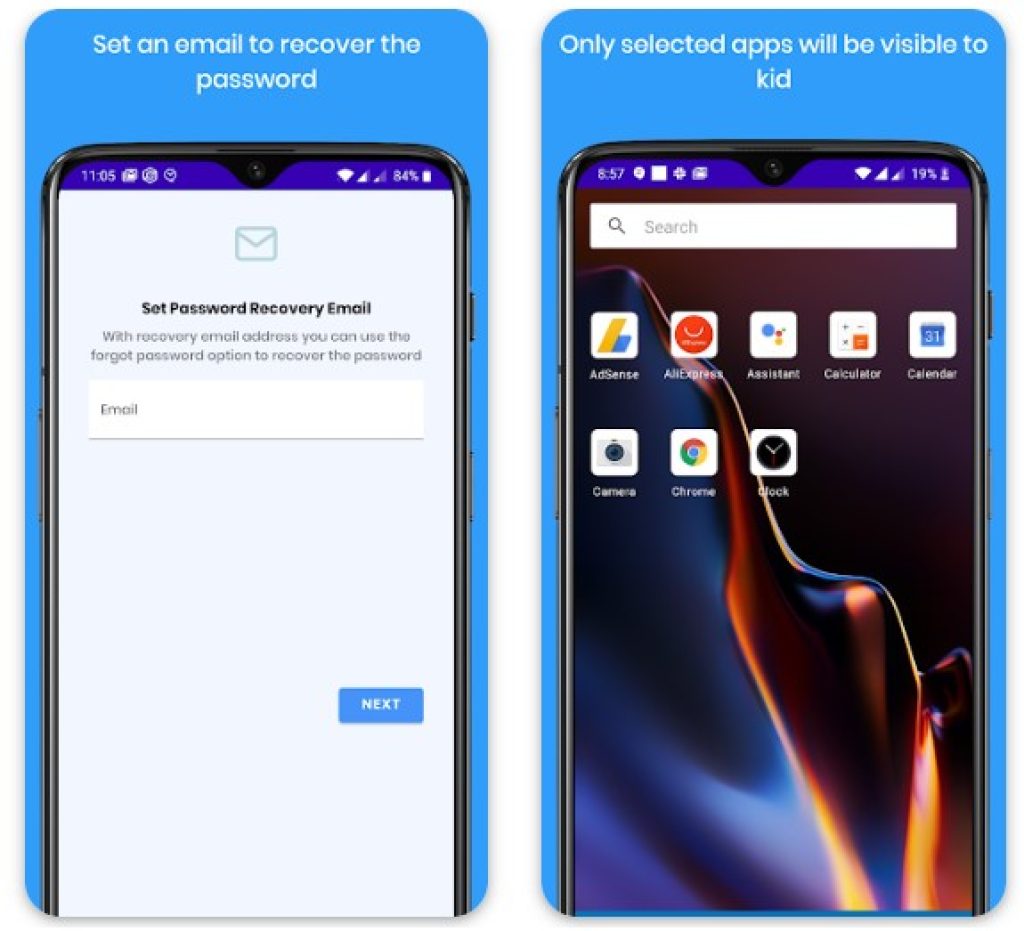 Kids Zone – Parental Controls
This is one of the most popular apps in this category and it provides all the features for parents to keep an eye on their children's activity online. But let's see what else is soo good (maybe) about this app.
Among the features, it's always standard content filtering, screen time management, and app locking.
The app won't let the kids see inappropriate websites and apps. It also includes screen time management, which allows parents to set up schedules for device usage and limit the amount of time spent on certain apps or websites.
In order to start using the app you will need to create your account and set up the features and create a list of unwanted apps.
You can even lock the app itself with the PIN code or set it to your kids' devices.
The advantage of the Kids Zone is that it has a more developed AI feature that provides smarter control after the online content and filtering.
At the same time, in spite of all the positive sides, the app is still quite complicated to use, and you can see that a number of users complain about this issue.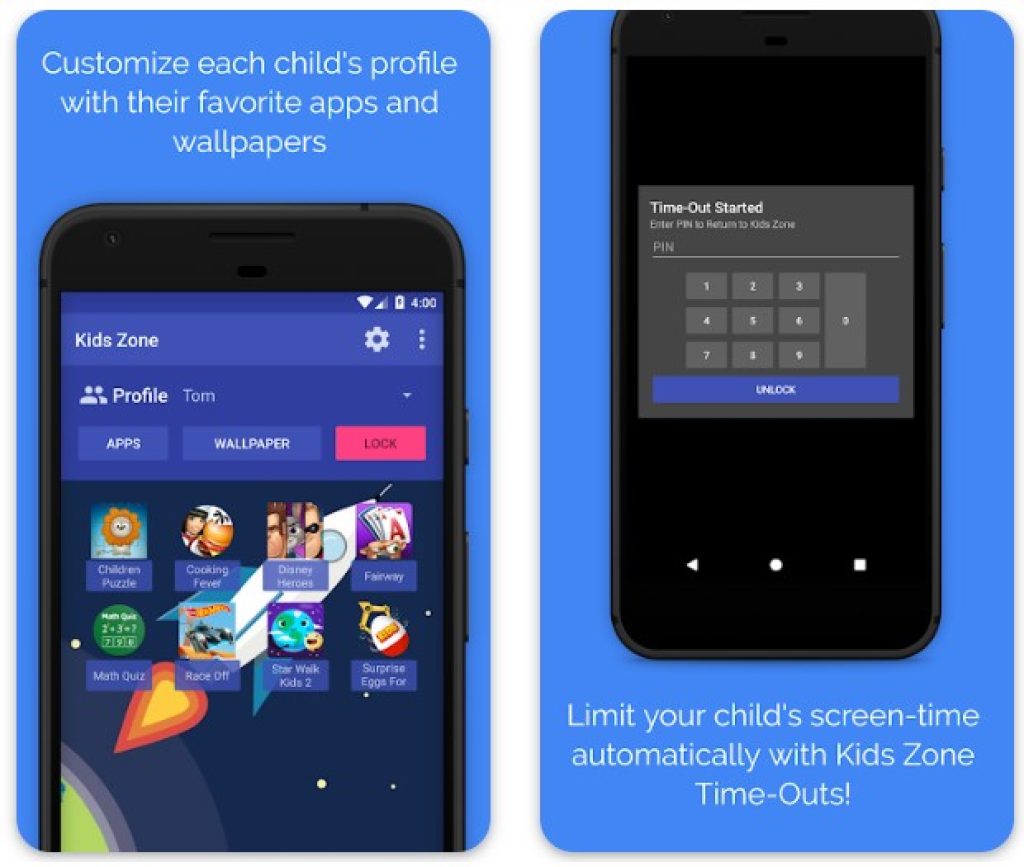 You can also check: 11 Best Dancing Apps for Kids (Android & iOS)
iSharing: GPS Location Tracker
This is a popular GPS location tracking app that is quite multi-purpose, and you can also use it to track the location of your kids when you need it.
Among the main features of iSharing you will discover real-time GPS location sharing, location history tracking, and the ability to set up alerts for specific locations. There is a chat right in the app, so it's easy to communicate with iSharing.
The app is particularly useful for parents who worry about their children's safety. By sharing their child's location in real-time, parents can be sure that their child is safe and track their movements throughout the day.
iSharing also allows parents to set up alerts for specific locations, such as a child's school or home, so they can be notified when their child arrives or leaves.
In case we are talking about flaws of the app – it drains your phone's battery really fast. However, this is a common issue with many location-tracking apps and can be mitigated by adjusting the app's settings or using a portable charger.