Would you like to give your Android smartphone visual look of Microsoft Windows? Do you want to feel like you operating Win 10 on your phone? Luckily the most advanced mobile phone operating system allows users to use such apps to cover Android-specific interfaces.
Here we collected the most popular and efficient apps, particularly for Android devices.
Access your PC from any place using your phone and these best remote desktop apps for Windows 10.
Microsoft Launcher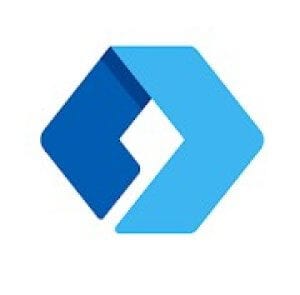 Microsoft Launcher will provide you with various features that can make the use of your phone easier, enjoyable and so similar to your pc.
Personalize the home screen of your device so you will be able to have access to your Microsoft apps. The calendar will let you manage your schedule across devices.
Using the Microsoft Launcher gives you some benefits. One of them is an advance search bar that works for the web and phone as well. Through one place you can search for files, messages, apps.
The other considerable pro is synchronization between your pc and your devices with installed Microsoft Launcher. Thus all your photos will be available on pc.
The other additional feature is the ability to use different gestures to manipulate your phone. A double click of the screen will block the phone.
Moreover, the app implies family feature to connect all your devices under one app. This will let you follow your kid's schedule and know exactly when they are back home after school.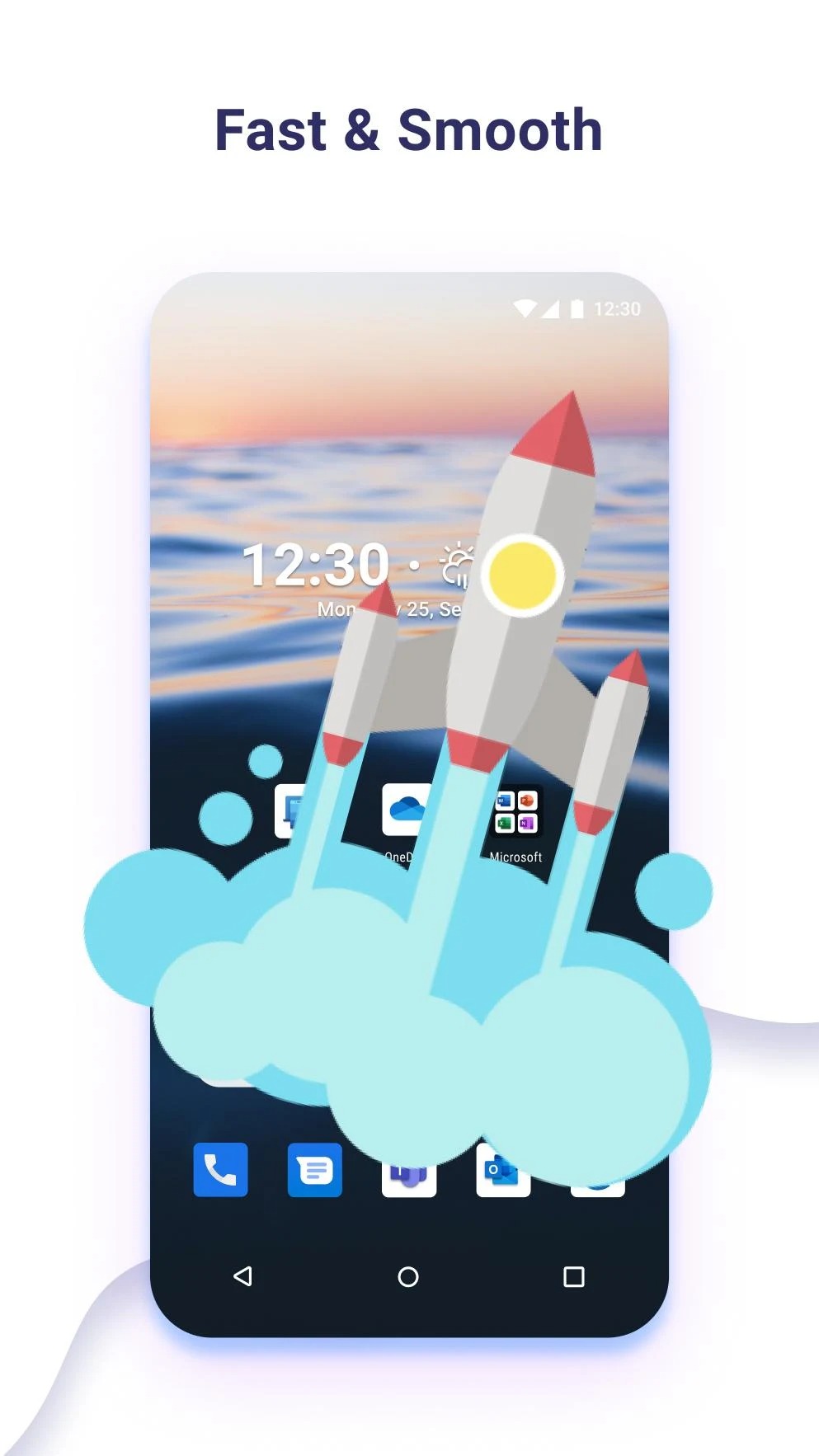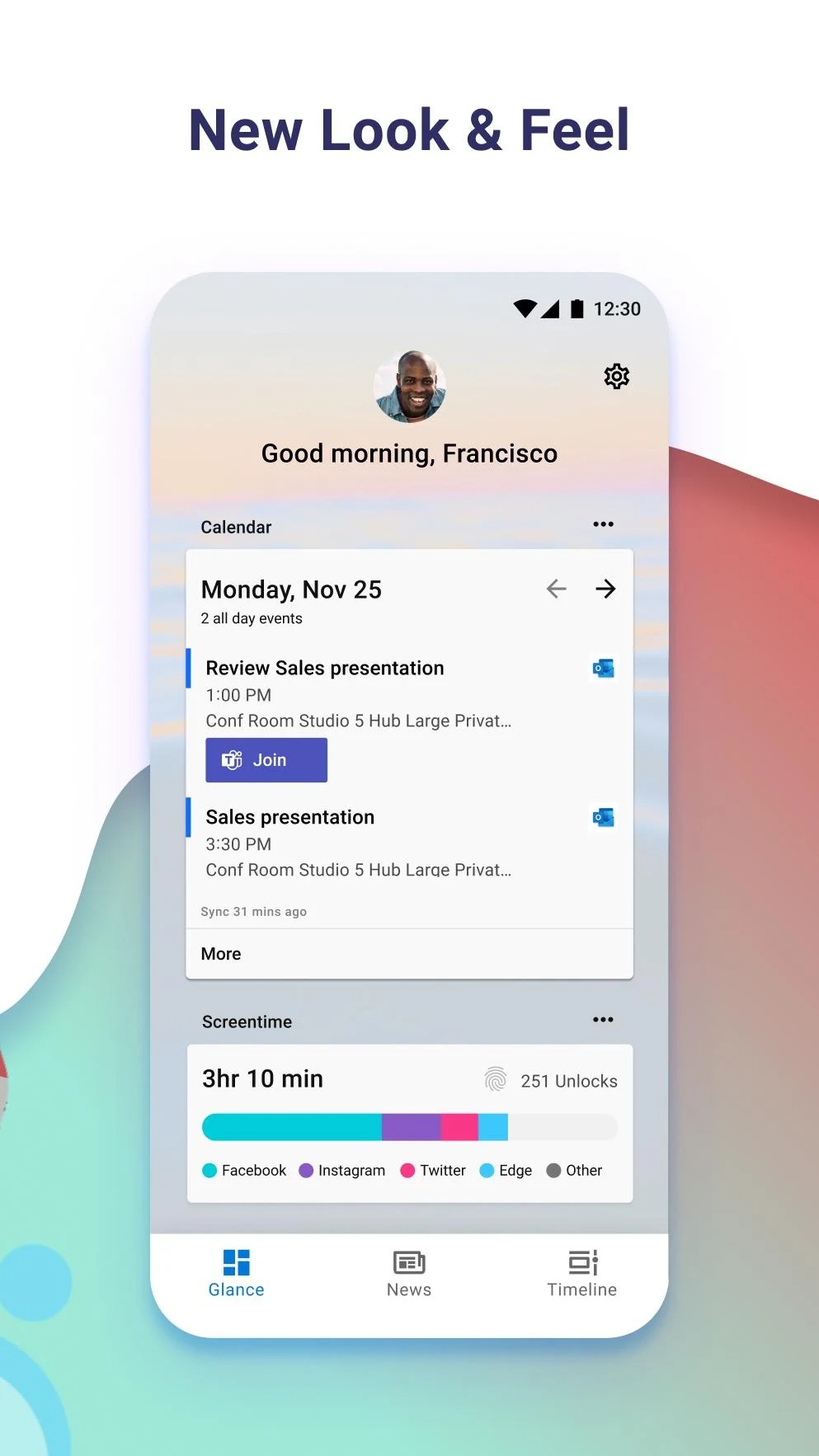 The interface and design of the app give an option to choose different themes: dark, light and additionally transparent.

You may also like: 10 best reminder apps for iPhone, Android & Windows
Win 10 Launcher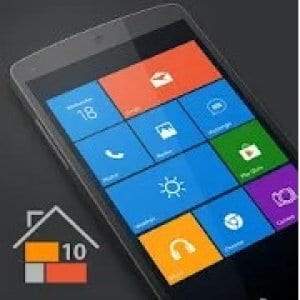 Those who can't imagine their life without Microsoft Windows including its corporate interface may find Win 10 Launcher a strike.
Especially because it offers the most relevant version of Windows with all consequences that u can expect from it. Pleasant, good looking, comfortable, cozy like pc desktop.
It's not that difficult as it was before. Simply download the app and launch WIndows on your Android device. What will you get after that?
The whole interface looks like Windows.
All the applications you have installed on your device will take shortcuts in Windows-style without losing their functionality.
The launcher integrates perfectly with the Android operation system.
Themes and their colors can be customized in Windows-style as well.
The app is free to download with ads and in-app purchases. Despite those facts, Win 10 Launcher has gained great popularity having a high rate of 4.5.
Most reviews are positive with words describing the app as a bomb and happy comments. The team of developers constantly works on the app`s improvement and fixing bugs.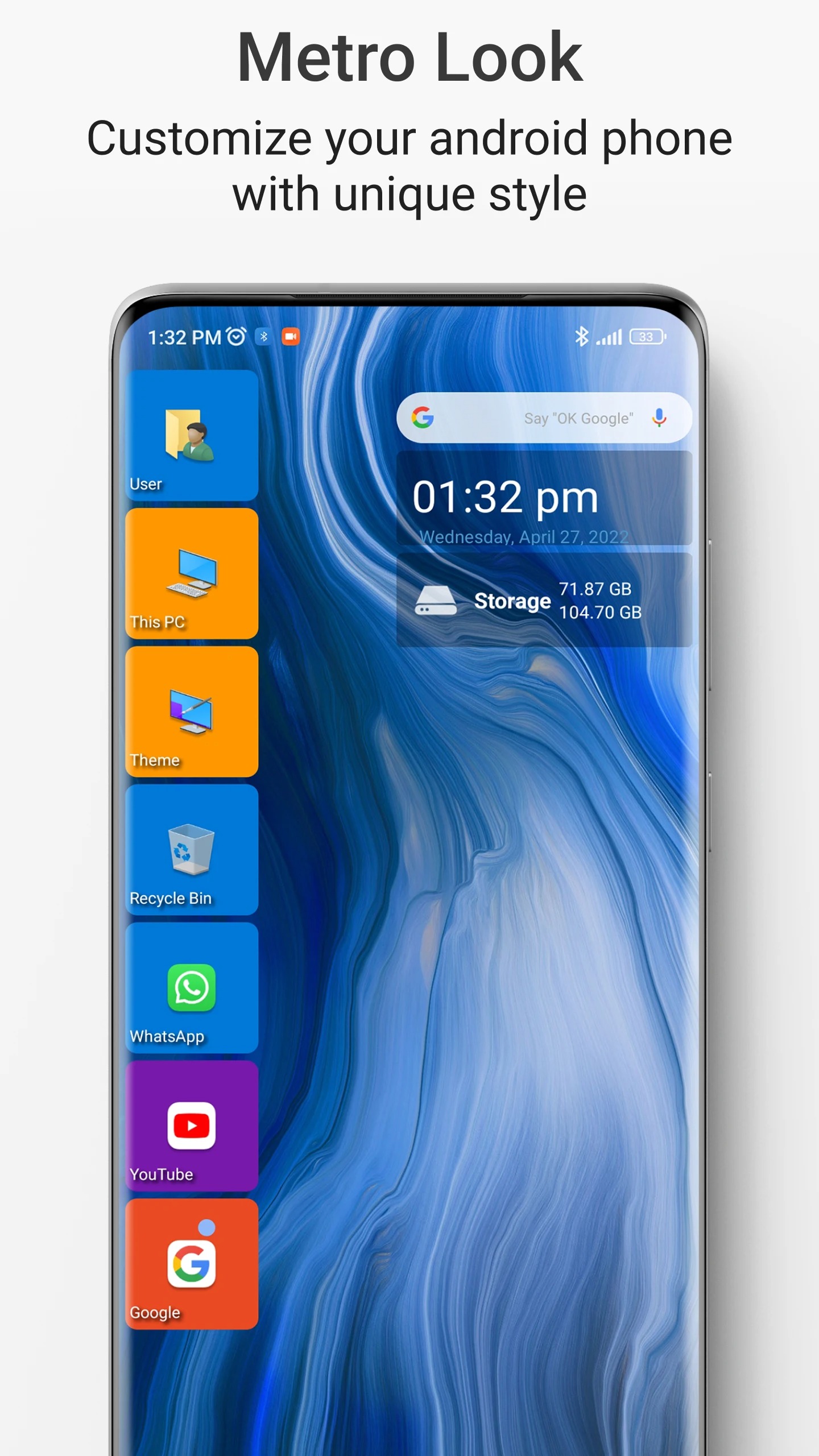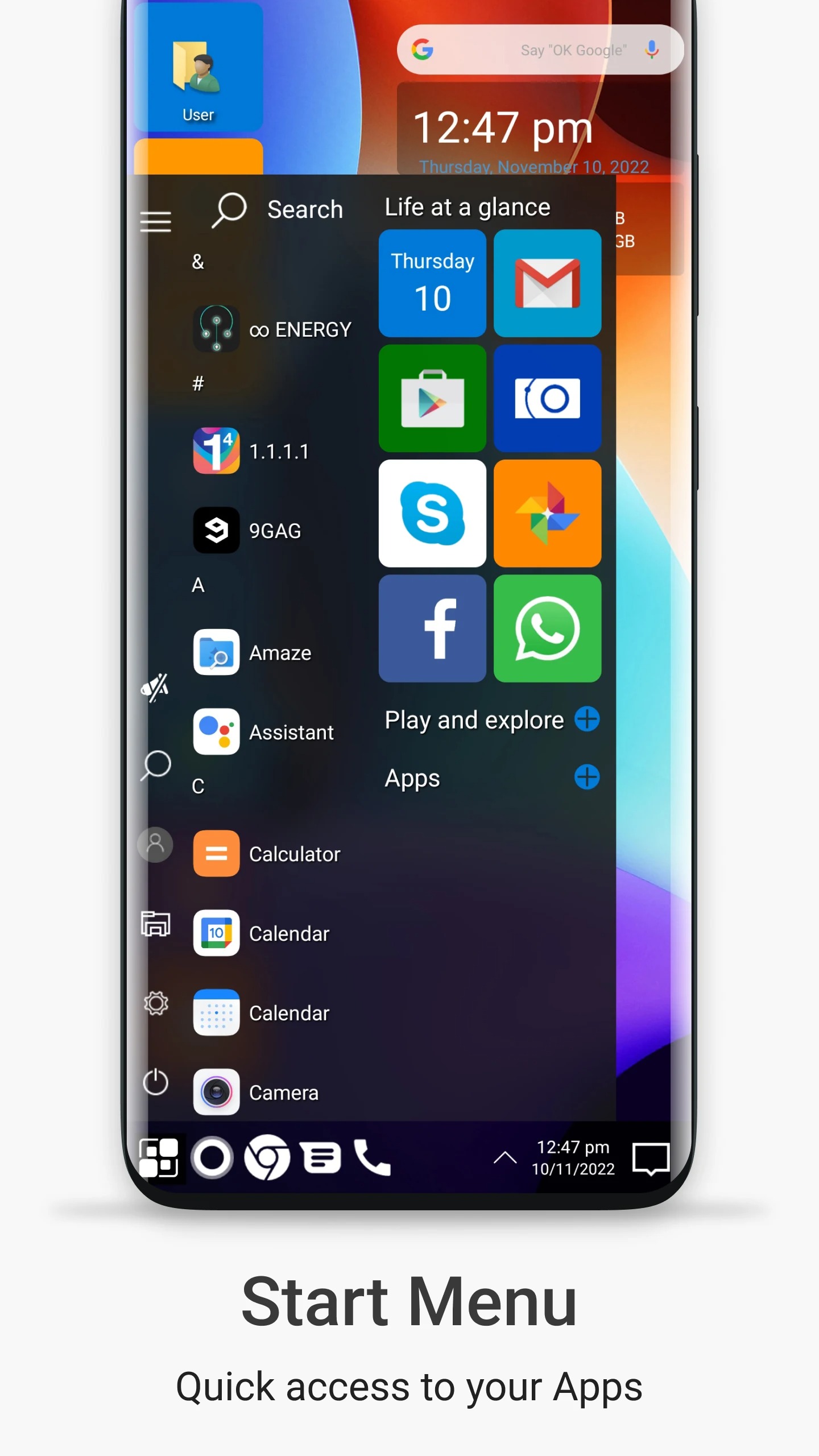 The good thing actually about the app that while having the style of the Windows you will still have Android devices with all those specific prons.

Square Home 3 – Launcher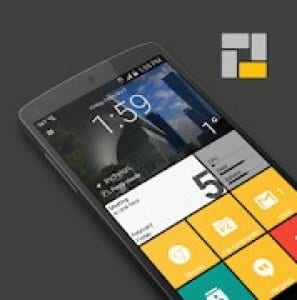 Square Home is another Windows launcher for Android phones. It gained fantastic popularity among users and it shows how people attached to their usual windows interface.
Actually the interface does look a bit more interesting than a normal standardized Android interface.
It has more visual features like scrolling down and up. It also leaves a few spaces for wallpapers. So wallpapers appear on a place of some apps shortcuts.
It adds some spice to the look of the desktop. Pages can be scrolled horizontally as well. In the end, it gives a beautiful tile effect to your phone homepage.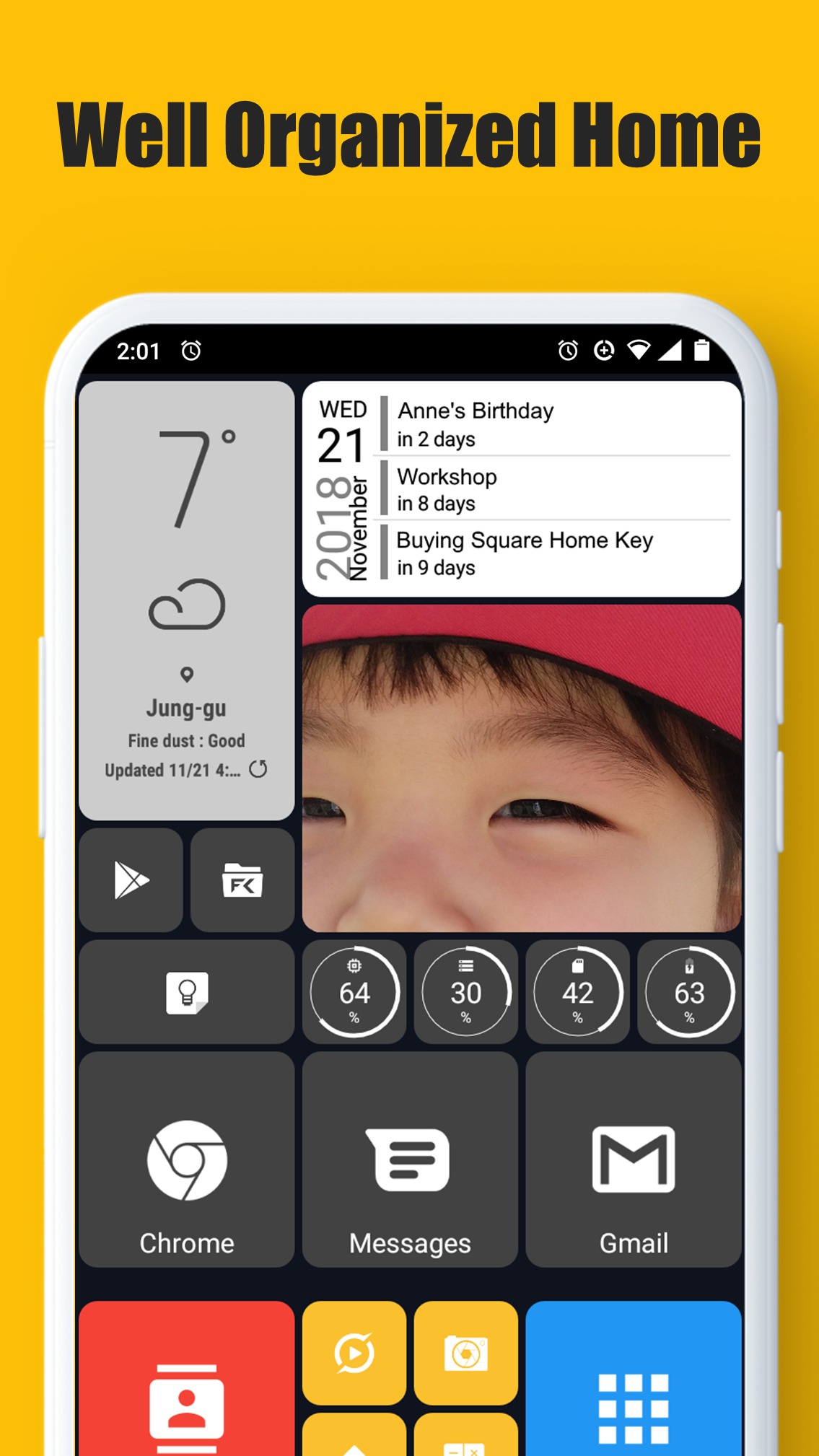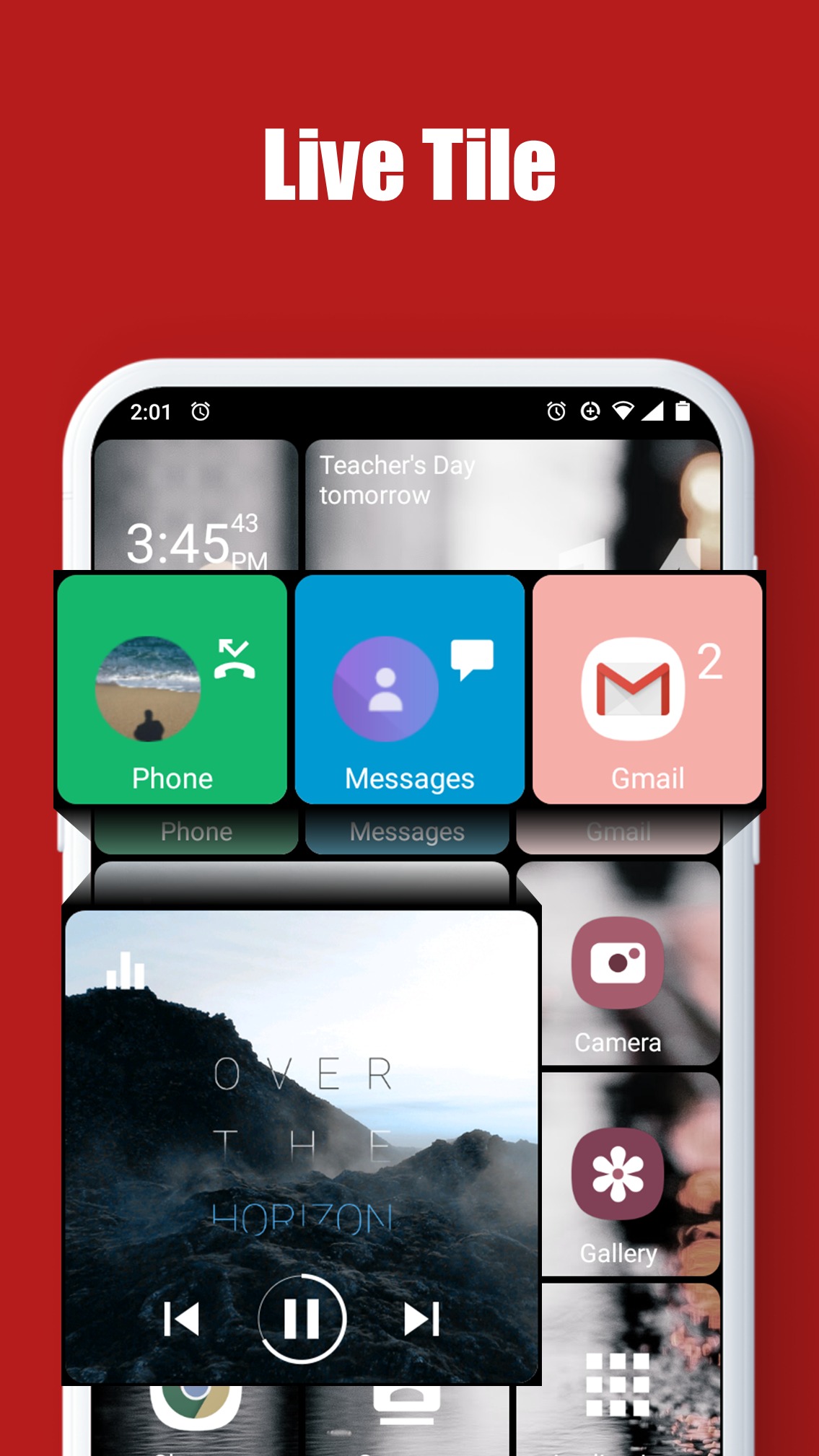 The app requires to have access to the administrative permission as it must adopt some cardinal changes to the interface. The nice thing is widget features. It's easy to multiple widgets. The app is compatible with all Android devices and is also compatible with tablets though not each app supports all devices.

Launcher 10
This is a special app with which each user can change the main and secondary windows of the smartphone to the style of the Windows operating system. To do this, you can choose any theme and interface you like, and then the smartphone screen will resemble a PC.
The app icons will show unread messages, missed calls, and new notifications. Thanks to this you will always be able to answer or read new information without missing anything important.
You can not only choose the number of apps displayed, but also their design. Make the apps that are most important to you large in size. Swap them between each other for quick and easy entry. Add widgets from the web so you don't lose important pages. Create folders and put all kinds of files in them.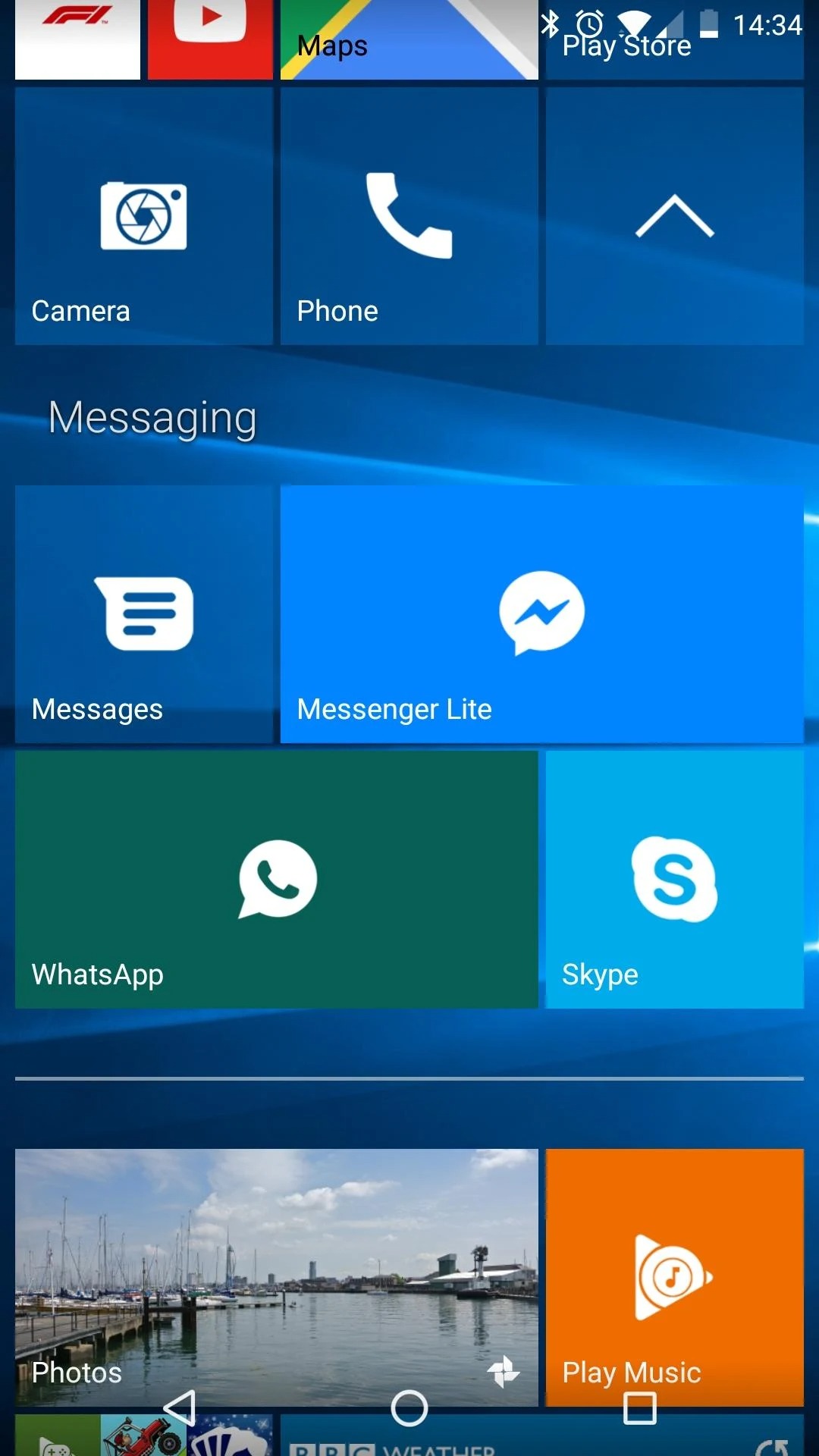 All this you can do not only with a limited set of features but also with a premium subscription. It can be connected after downloading the program.

Winner Launcher for Windows UE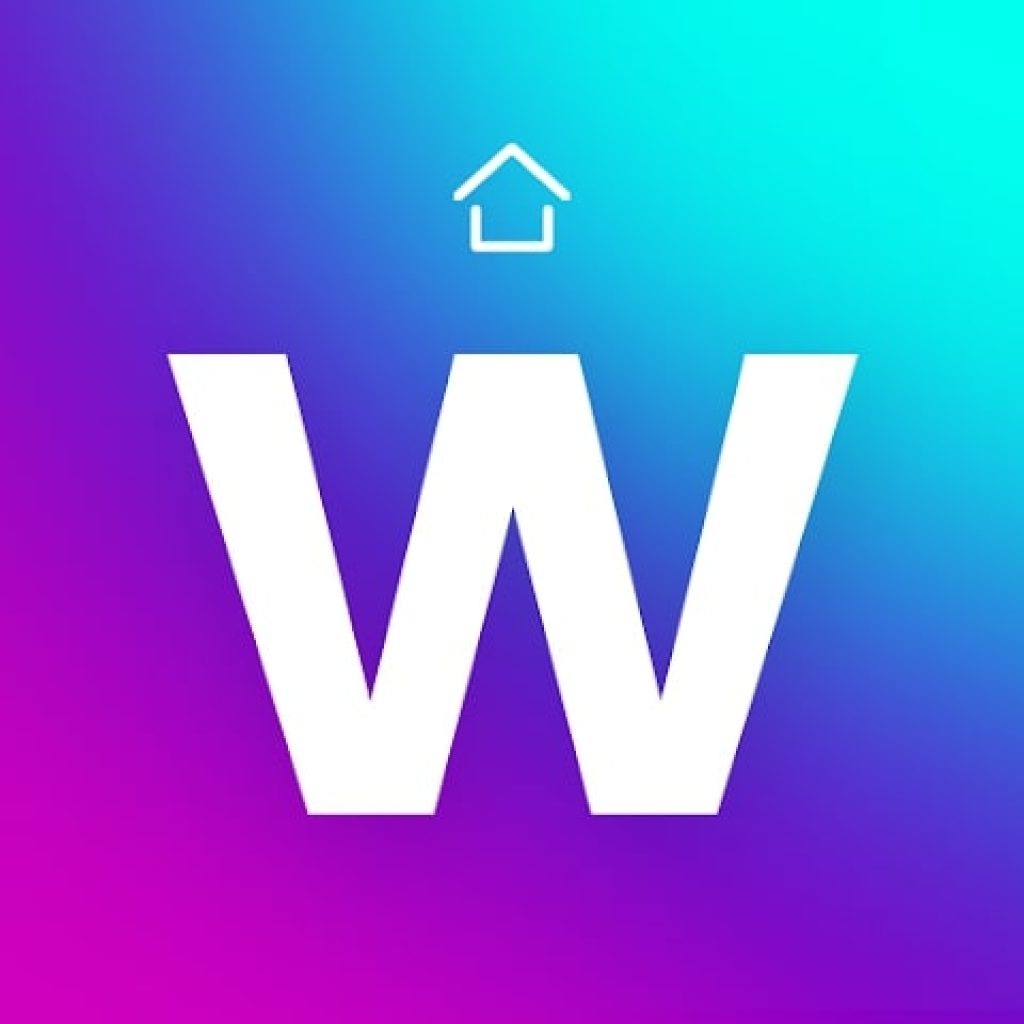 With this program, you can easily turn your smartphone into a real PC.
To do so, you are provided with functions that allow you to change the style and appearance of the main and secondary screens of your smartphone to the style of the interface type of the Windows operating system.
You'll even have the "Start" function active, which is responsible for rebooting and turning your device on and off.
You can customize not only the size and location of your programs' icons but also the style of their design. This allows you to make your home screen look even brighter and more attractive.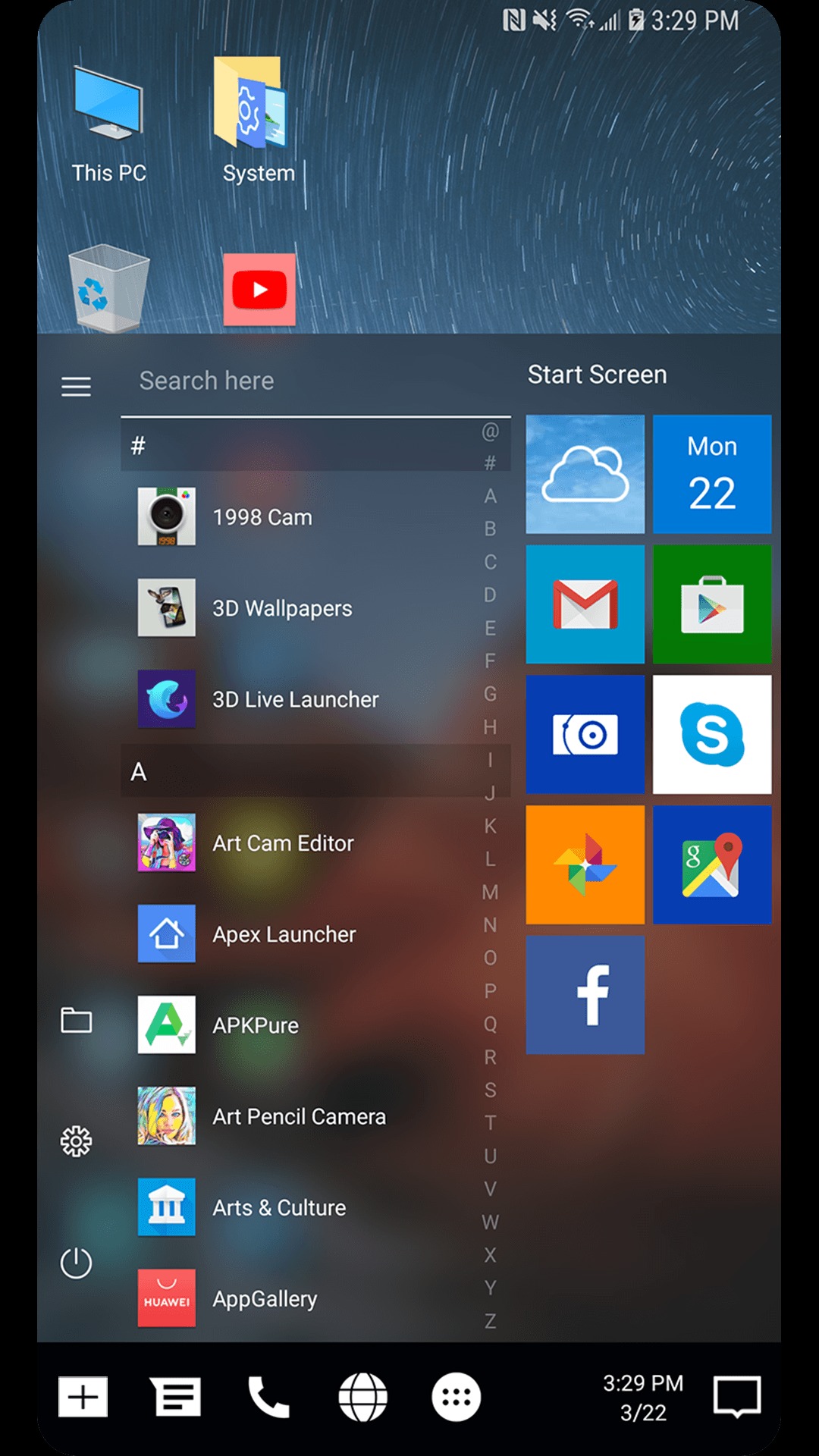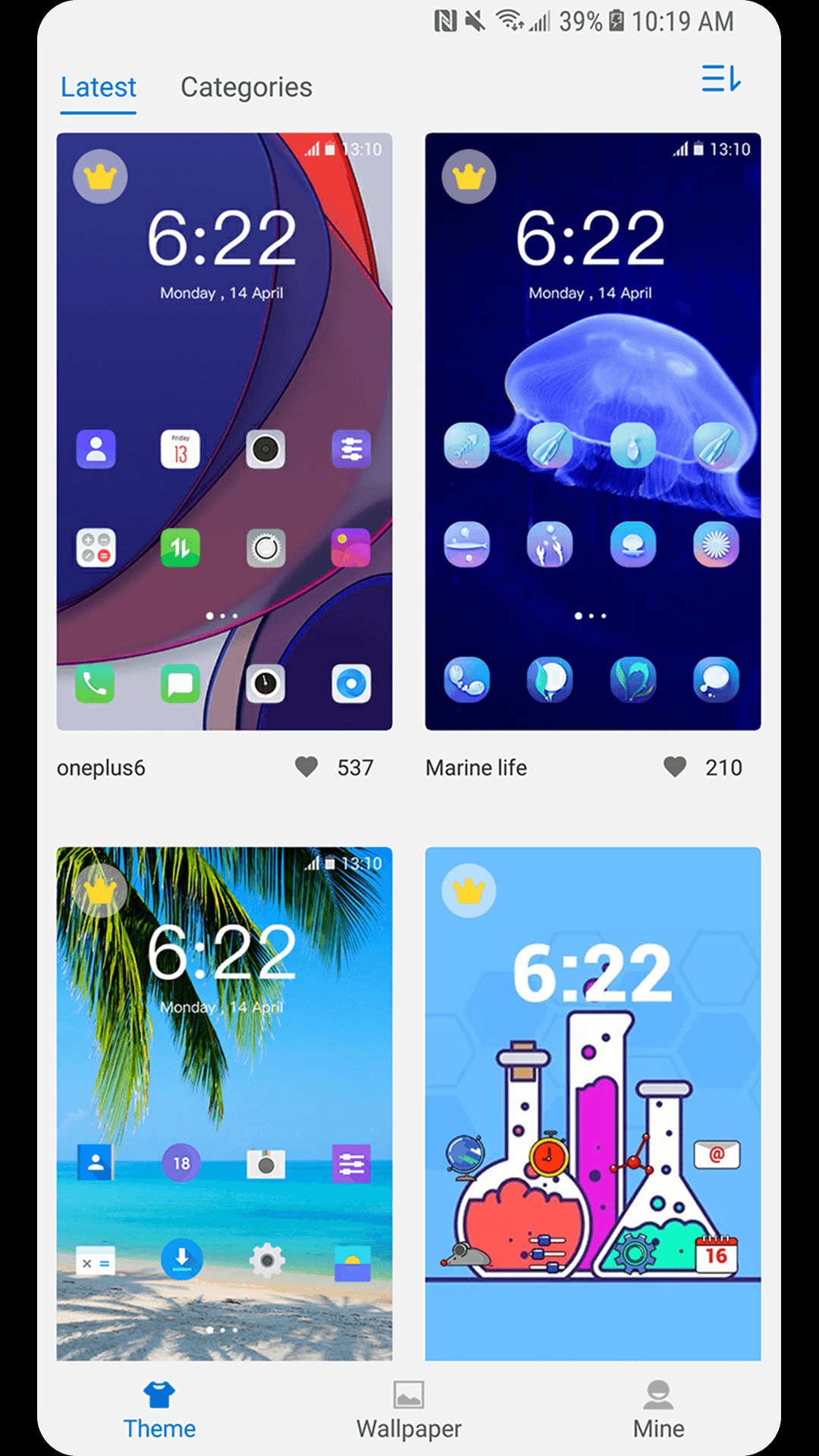 The program also allows you to create files and repositories to place different apps in them. You will be able to hide unnecessary apps and move the most important icons to the primary screen of your gadget.

Windix 10 Launcher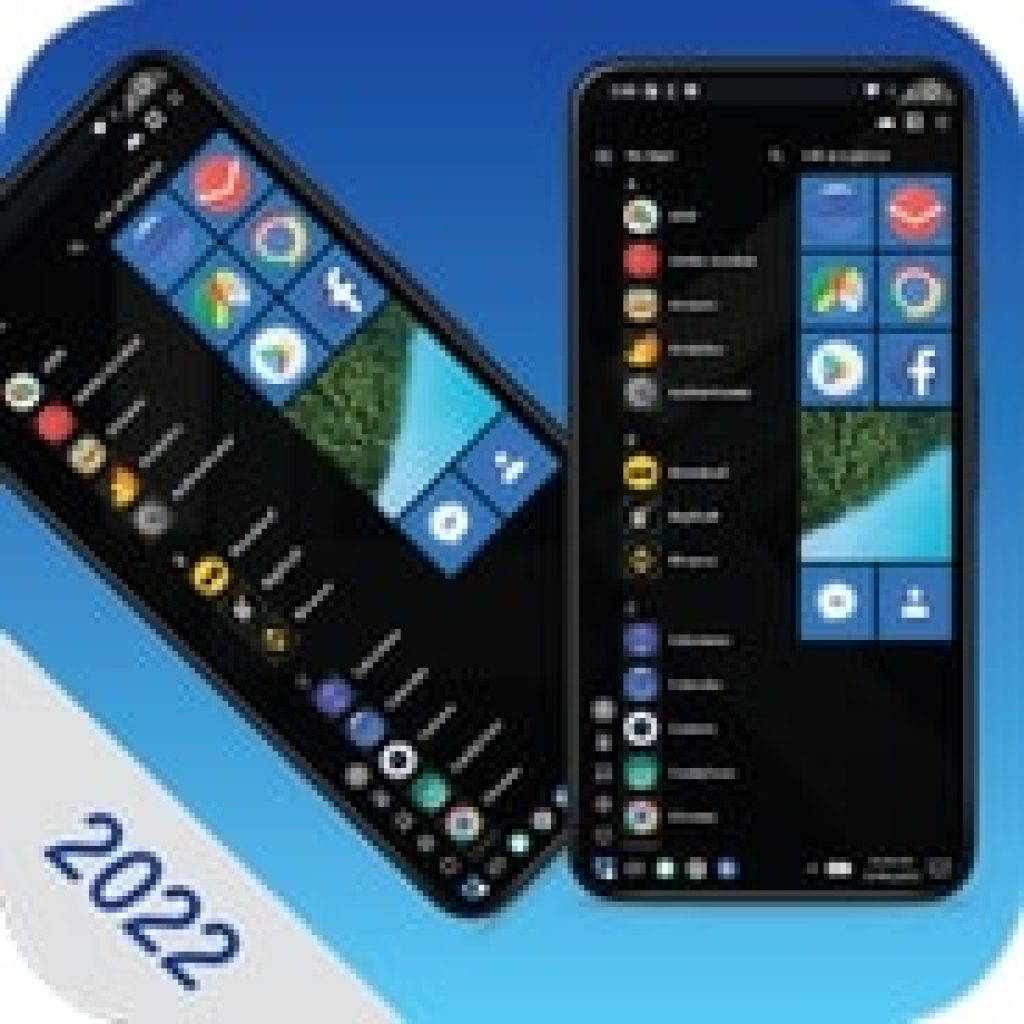 Many smartphone owners prefer the interface and functionality of a PC. So for them, this service will be useful. It allows you to turn your mobile into a real computer with the Windows operating system.
With the available functions of the program, you can change the appearance of your screen on your mobile to the interface of a computer. You will have access to the entire desktop, which will act as a replacement for the main screen of your phone.
You will be able to add any icons to it, including archives for storing important folders and documents. The start will also be available to turn your smartphone on and off. Under "this computer" you'll be able to store all your data.
To make your smartphone look not only beautiful but also convenient, you can go to settings and change the style of each icon on the home screen.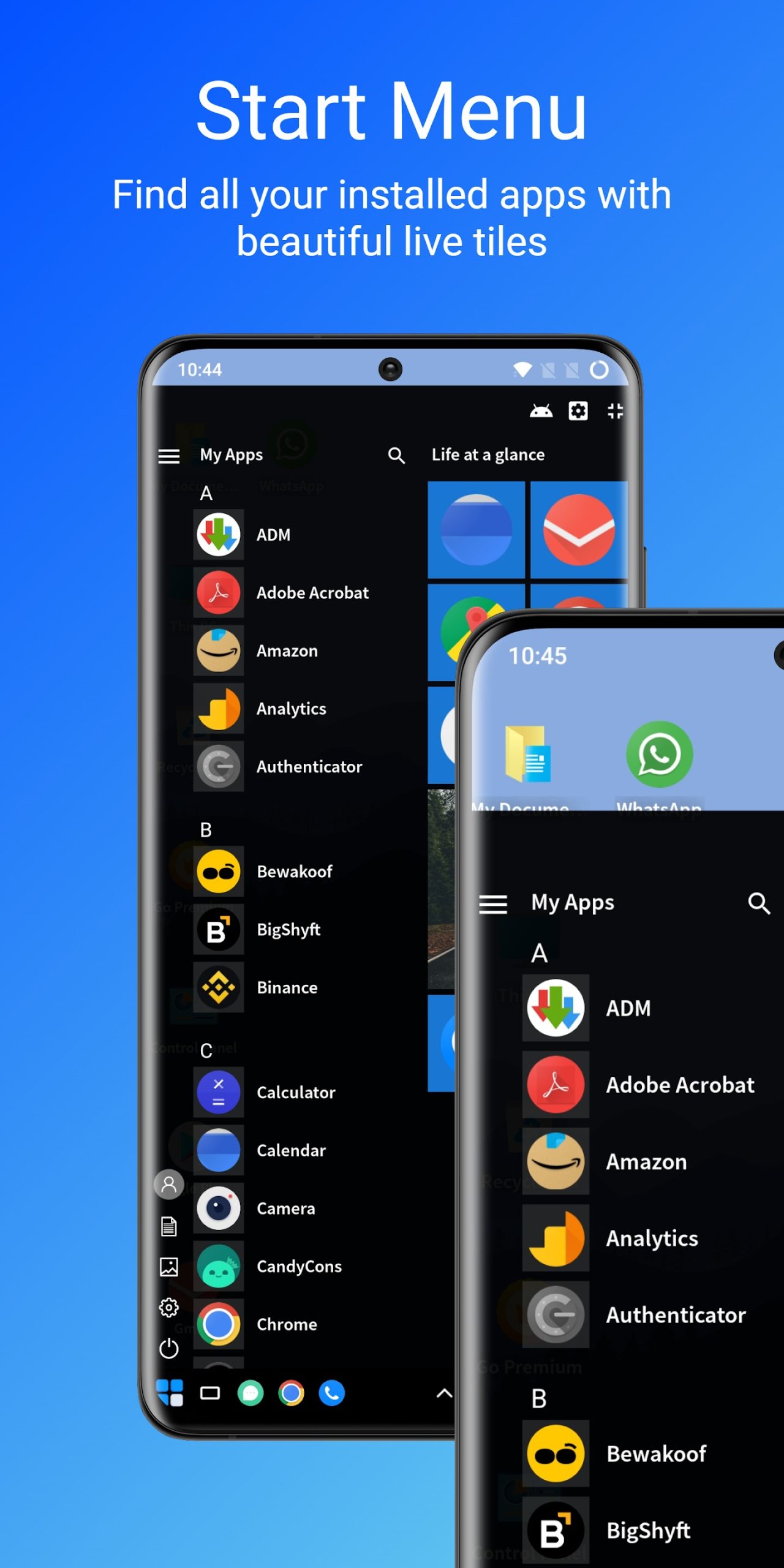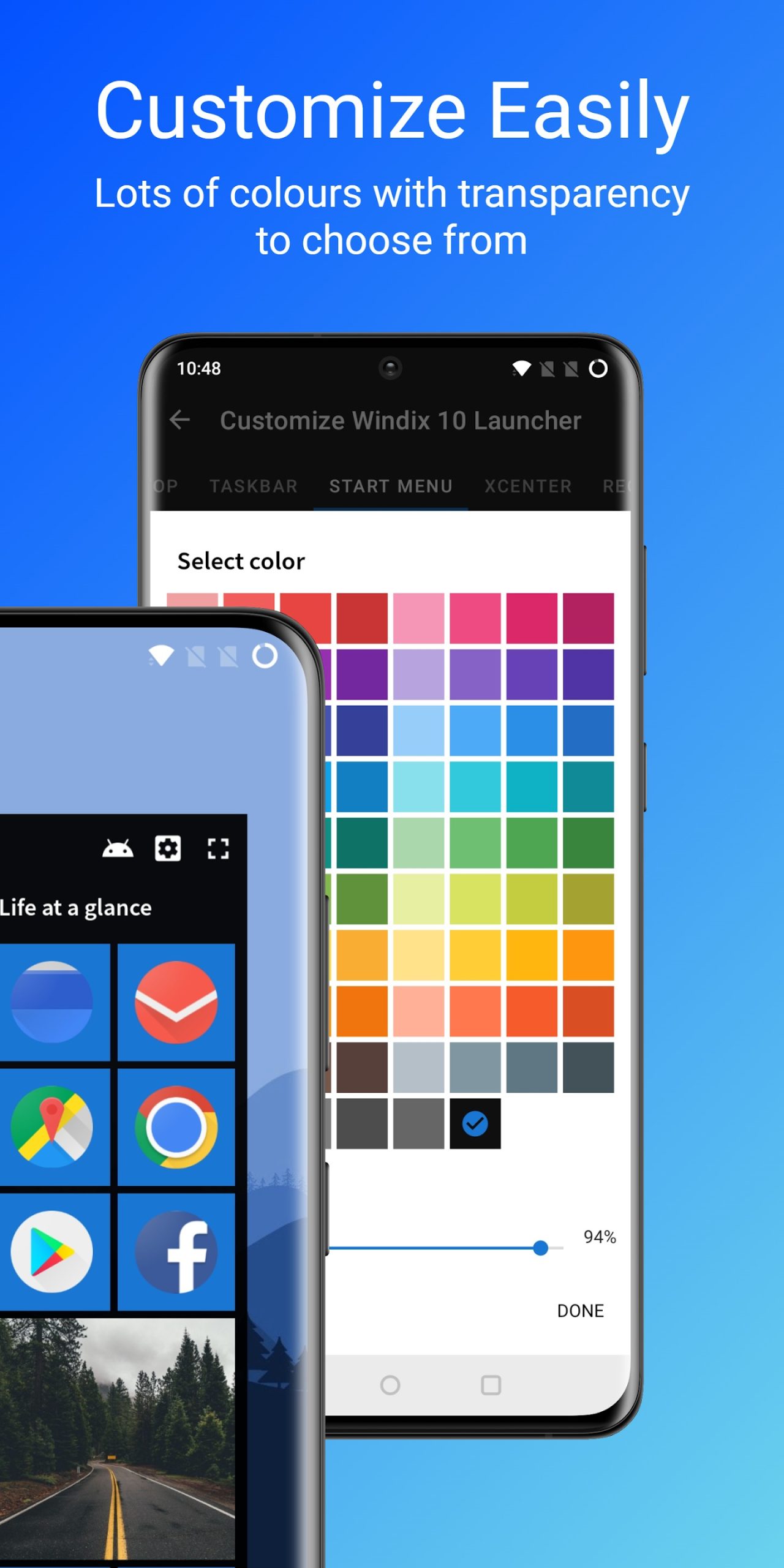 In the trash will be stored those programs and apps that you want to delete. But you will be able to restore them at a certain period of time, just like on a real PC.

You may also like: 11 Best Gesture Apps for Android (Better Navigation)
Win 11 Computer Launcher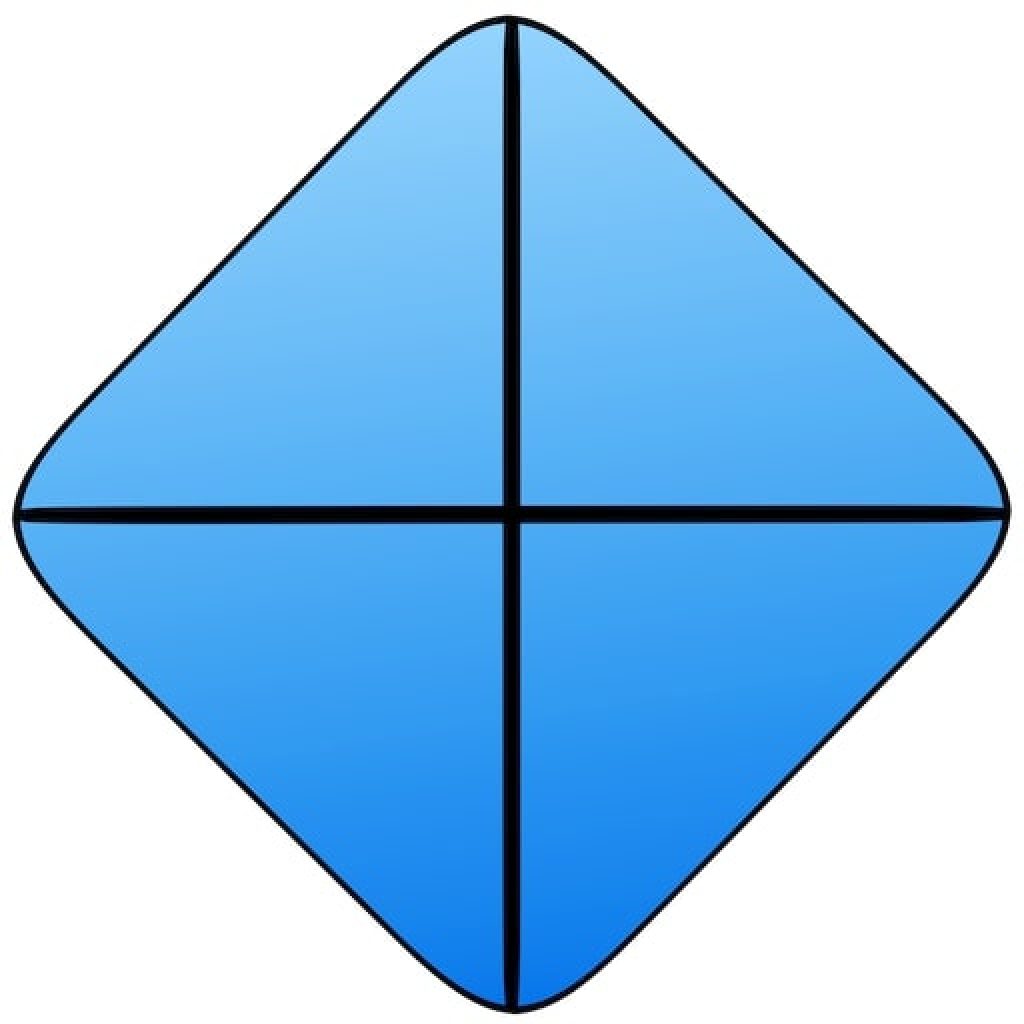 If you want to see the Windows operating system interface not only on your PC, you will definitely need this program.
It will replace the look of your gadget's home page with a concise computer interface where you can place not only all important apps but also documents and an archive with folders.
That way you get quick access to all the functions and features of your gadget and you can have the most important programs at your fingertips. You'll even have a taskbar where you can place only the most important apps and search engines.
With this app, you'll have all the menus that are specific to the Windows operating system, including the reboot, power, and shutdown functions of your device.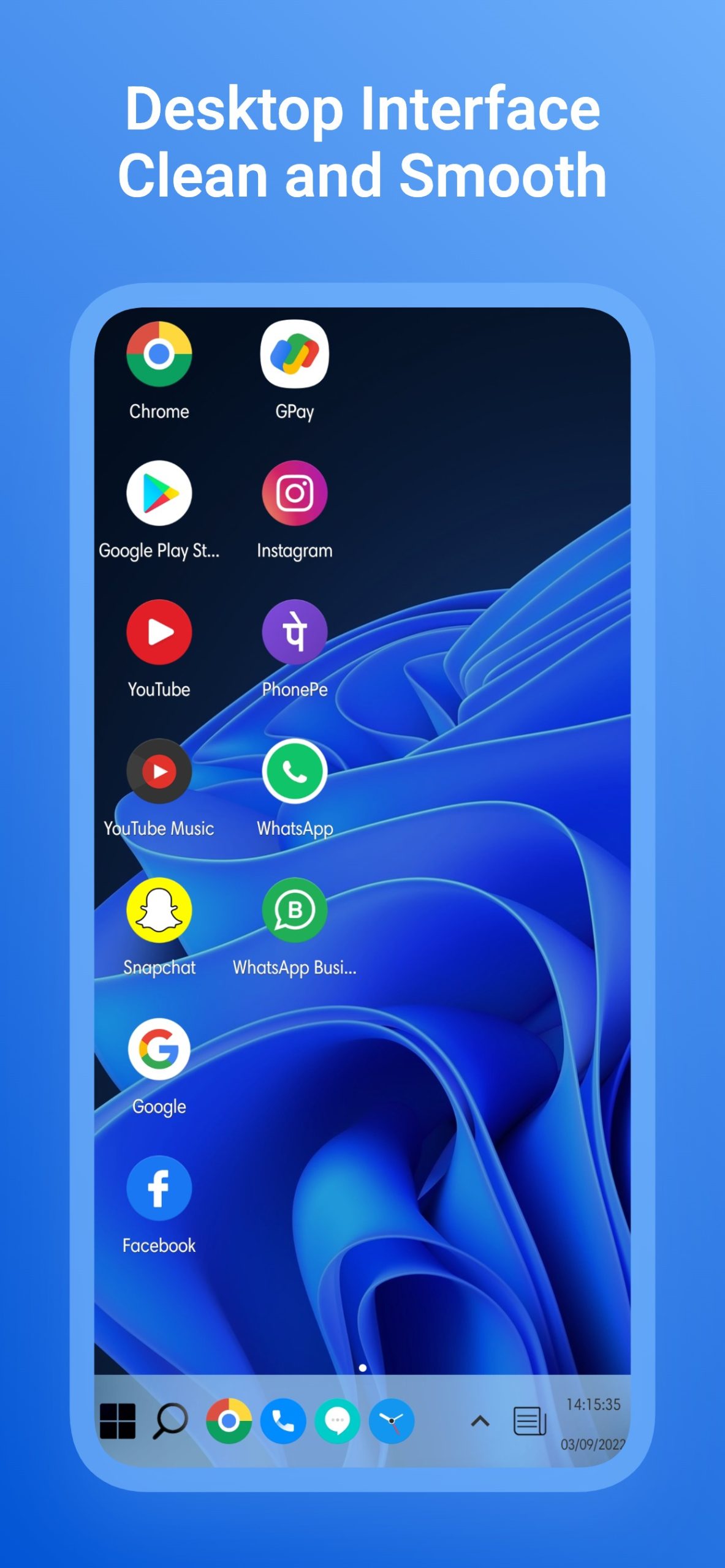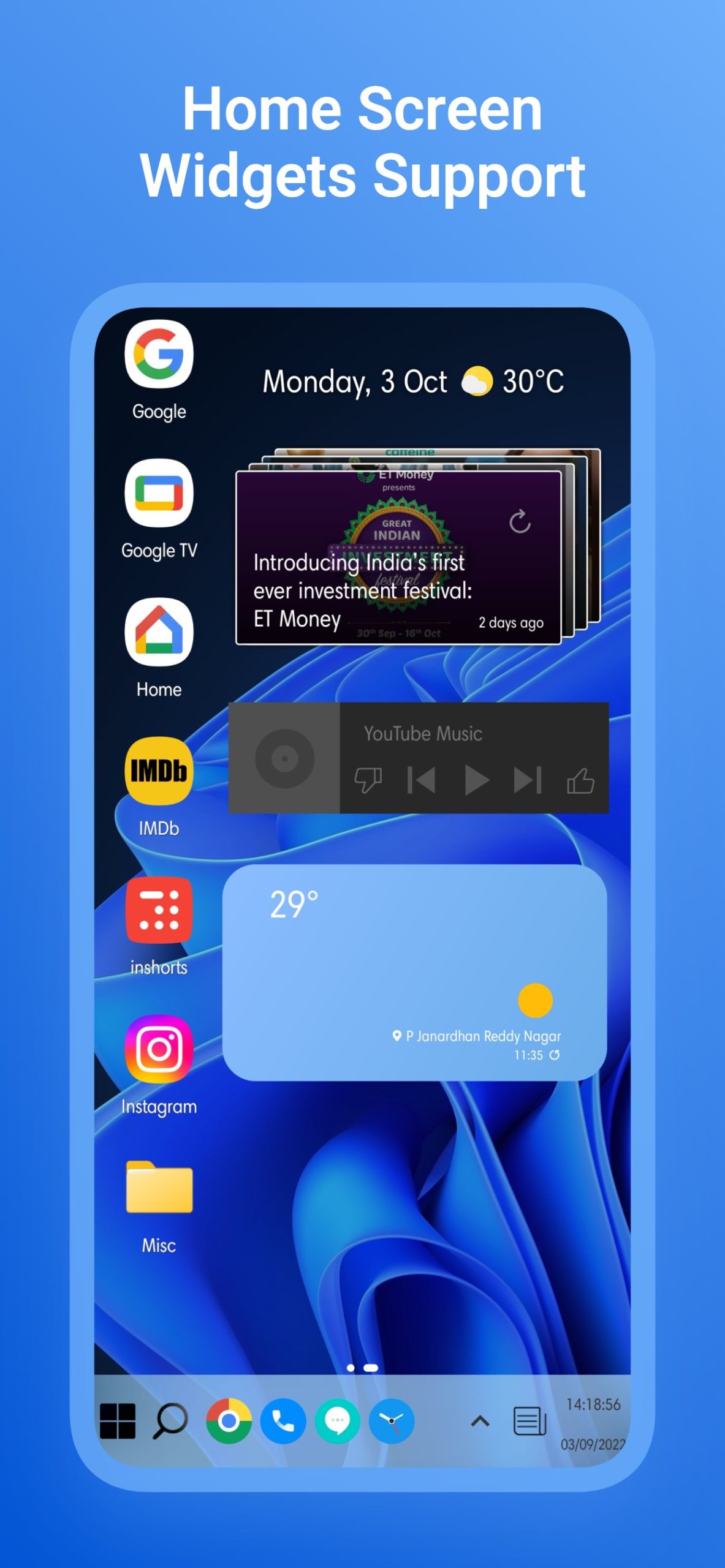 You can customize the program according to your wishes and preferences, including changing the wallpaper and style of the home screen.

Computer Launcher w10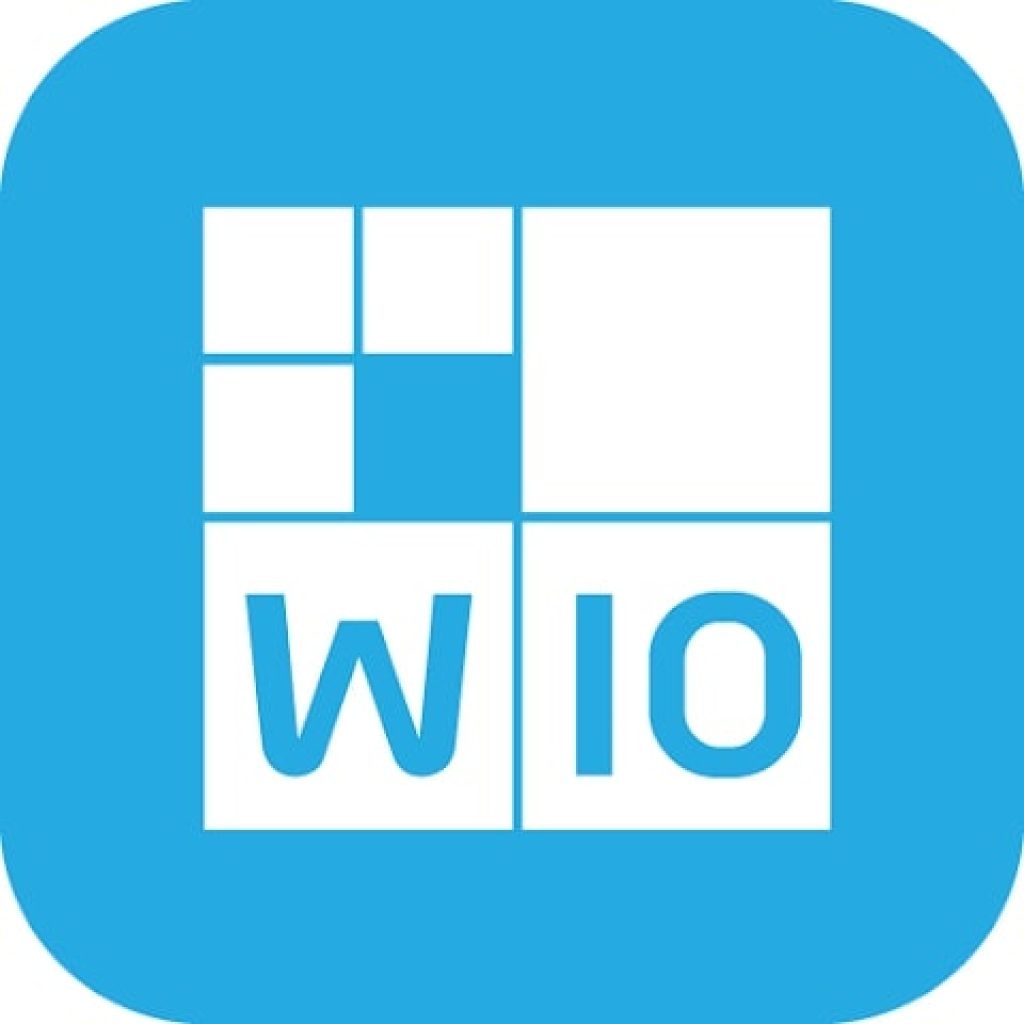 Now you can replace the familiar smartphone interface with the typical Windows operating system. You will be able to present it on your phone or tablet without much difficulty.
With this app, you will be able to design the home page of your screen according to the interface of your computer. This will allow you to place many more icons as well as documents and important files on the page.
You will also be able to use a working taskbar, which will be located at the bottom of the screen. With the usual startup system, you can quickly turn your gadget on, off, and restart it.
For the app icons, you can apply color and style adjustments. To do so, you can edit the font and shade of the icon itself.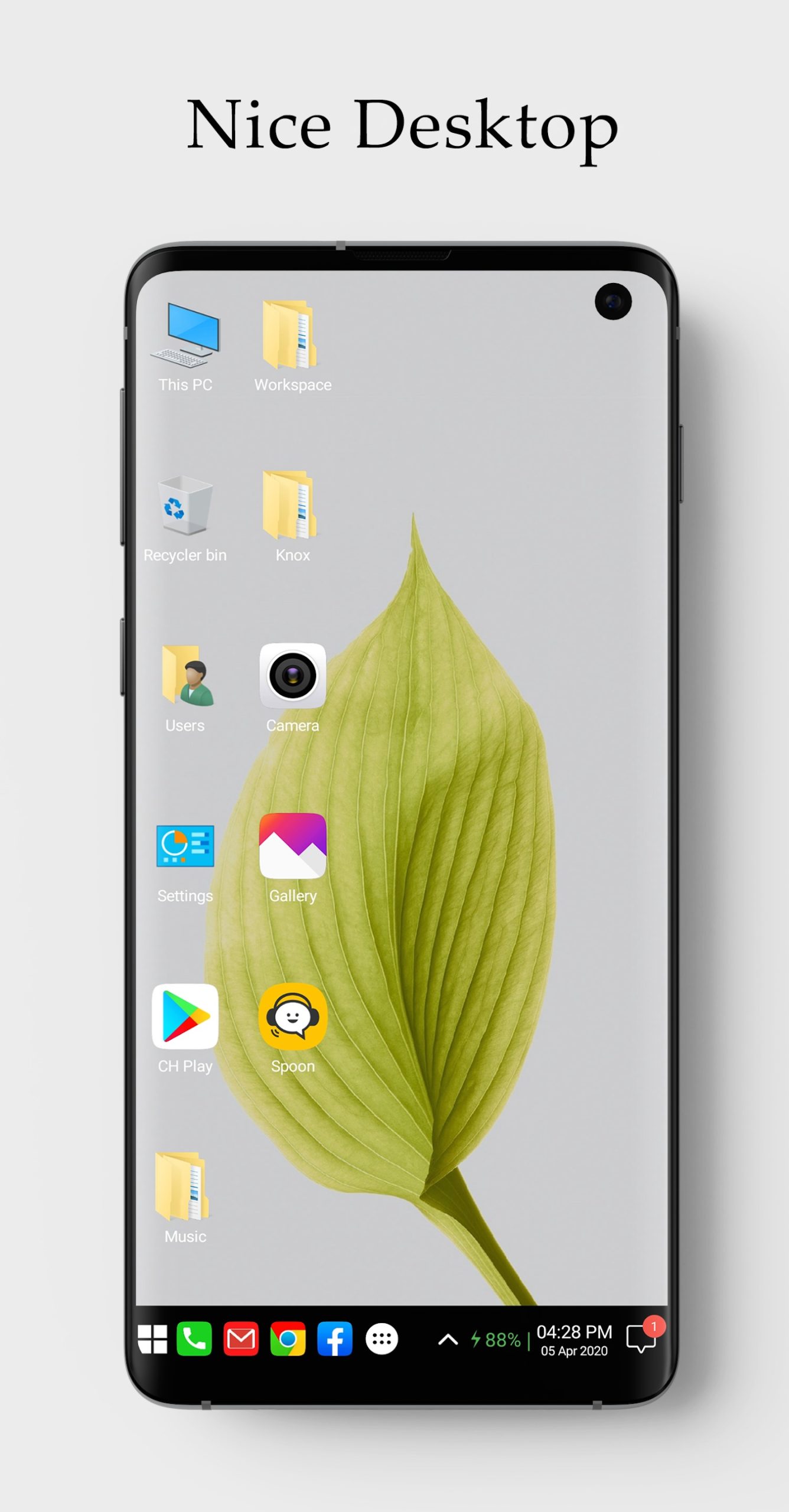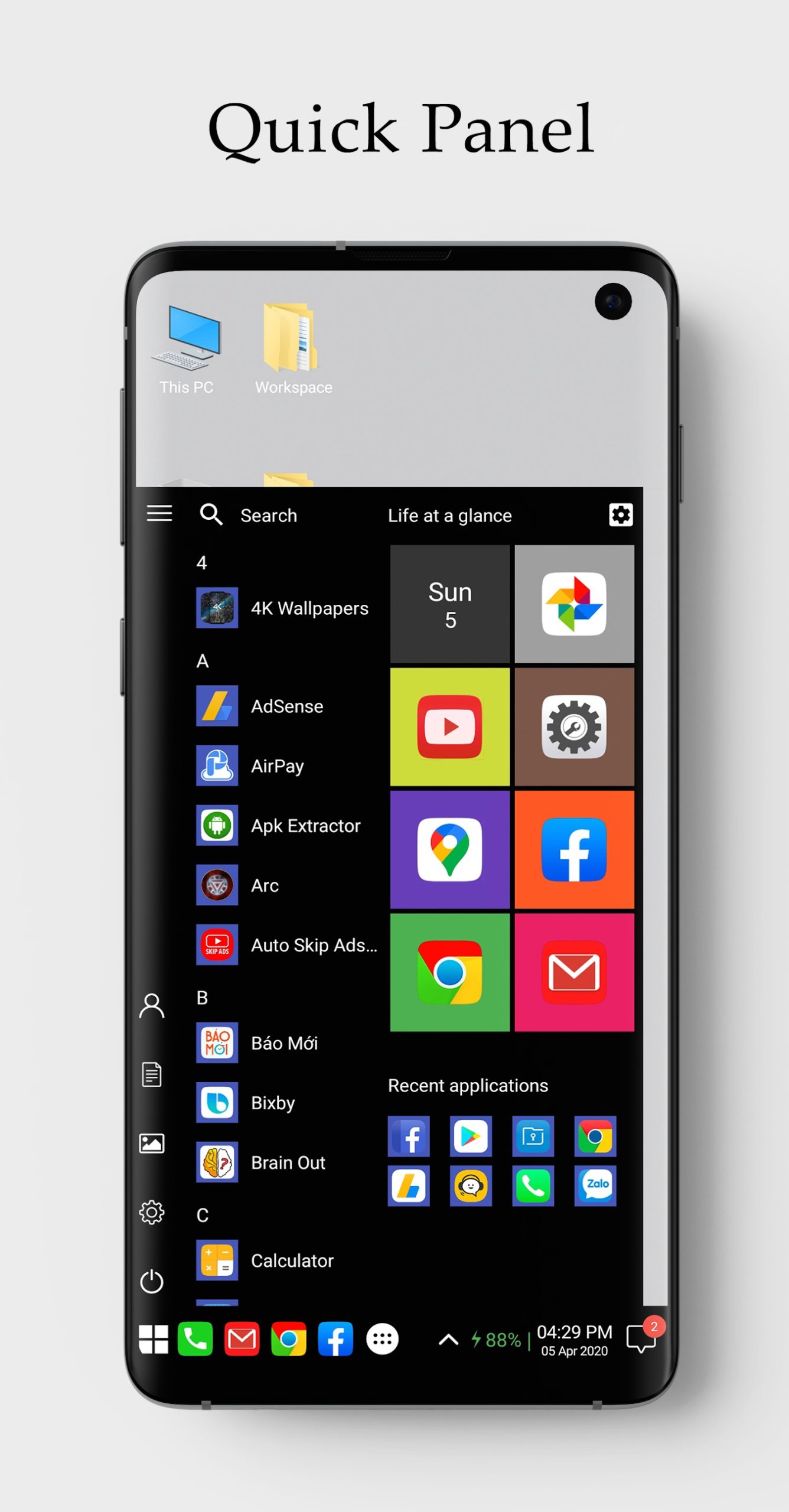 For a quick search for apps, you can use the search located in the menu section. For a convenient arrangement of apps, you can drag and drop icons from one place to another.

You may also like: 7 Best Ad Free Launchers for Android
Computer Win 11 Launcher Pro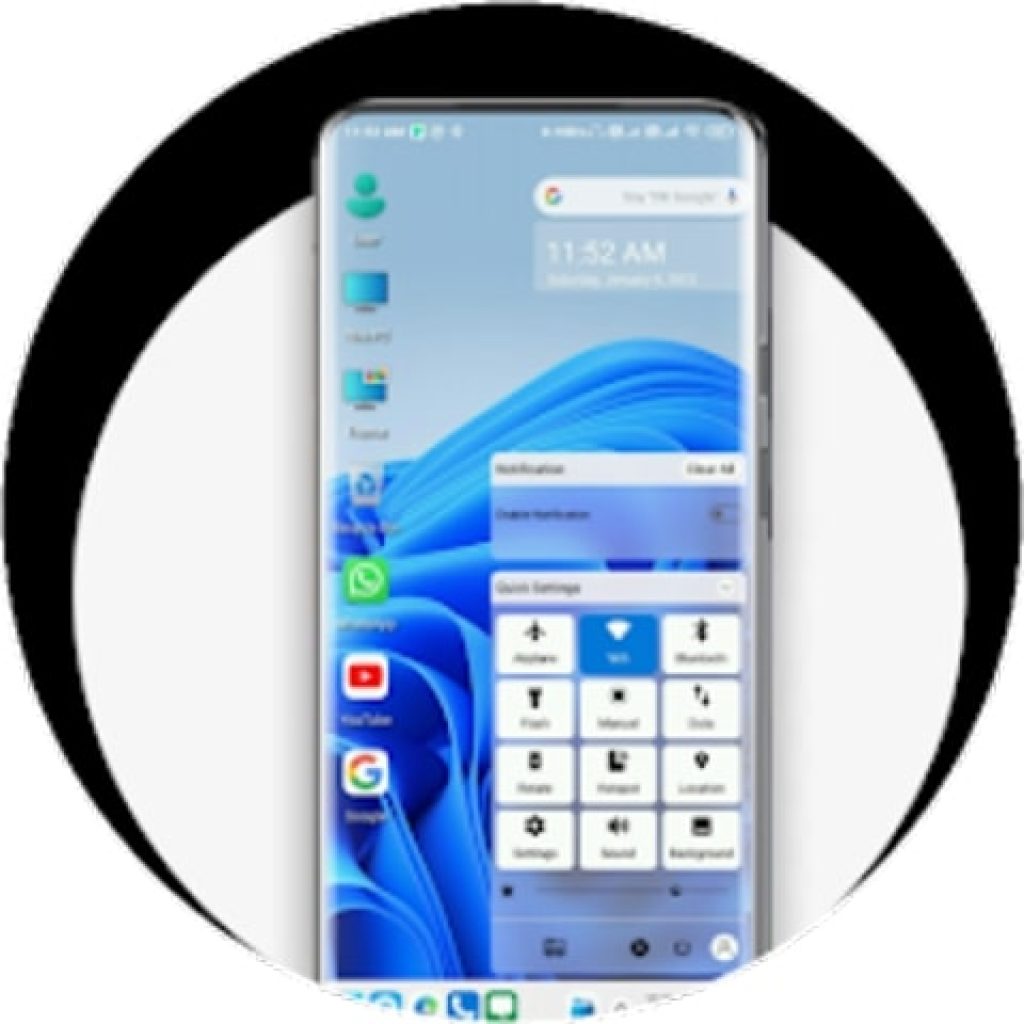 This service will allow you to optimize your smartphone and present it in the same format as for a computer with a Windows operating system.
To do this, you can try the interface, which will fully comply with the appearance of the PC.
It includes a taskbar below the main page, a start menu that allows you to quickly restart your device, and even up-to-date Internet widgets that will let you see current news articles, see the temperature, weather conditions, and the state of your gadget's memory.
To make the apps easier to use, you can categorize them on the home screen into the categories you need. This will allow you to see all the content on your smartphone to quickly access each program.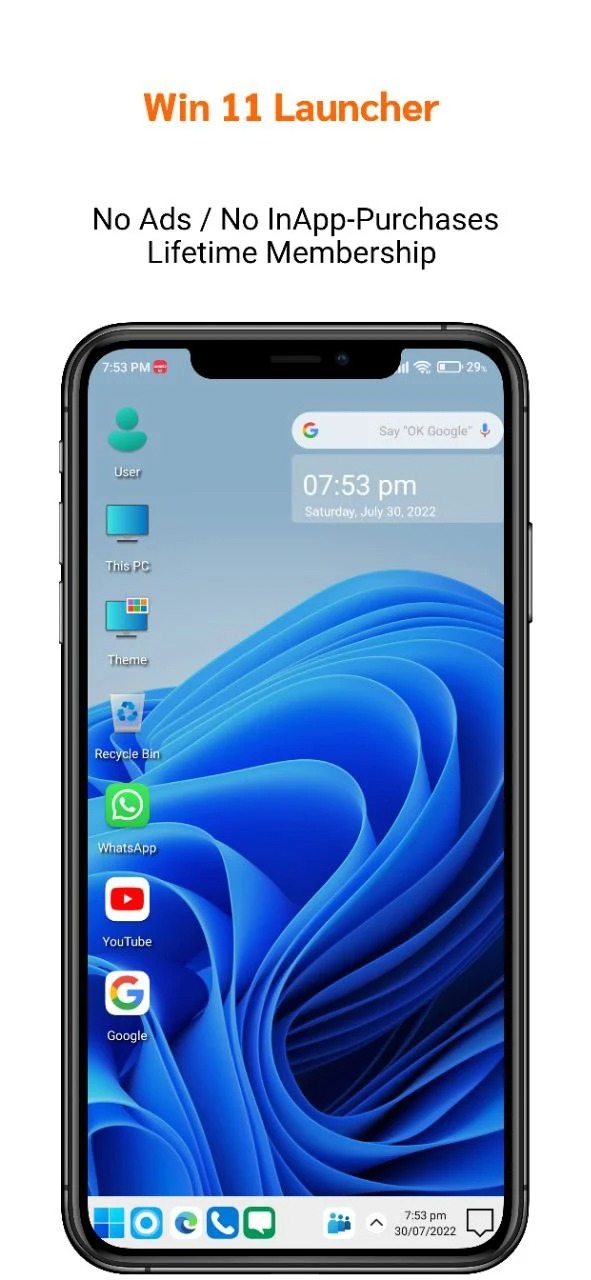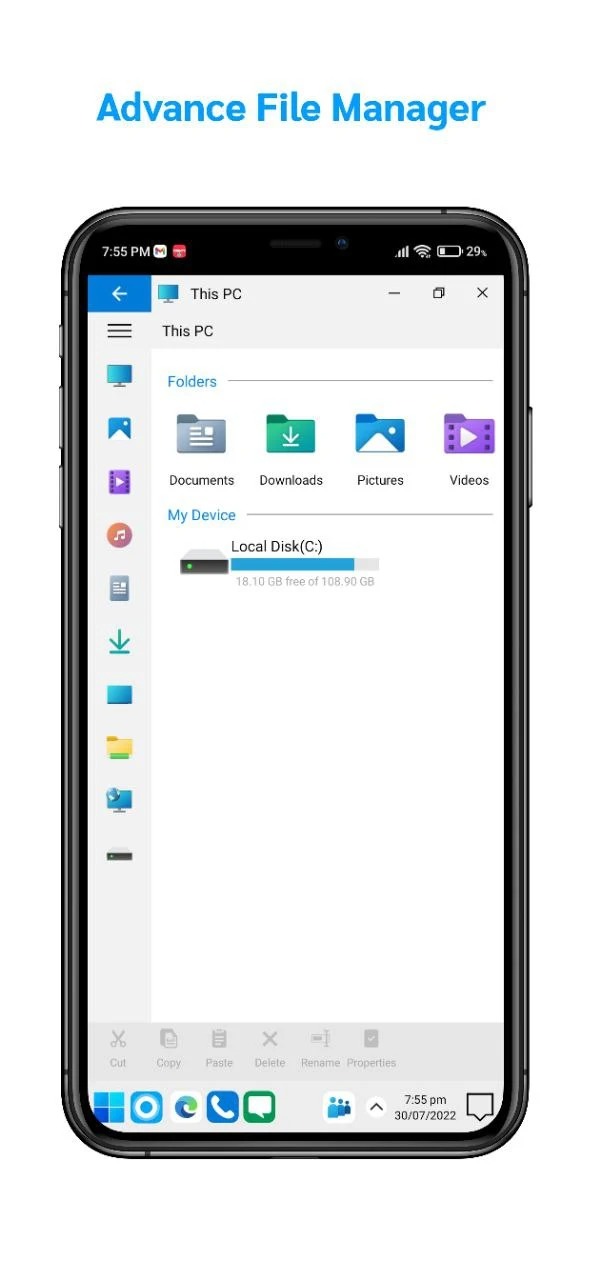 You can also change the wallpaper style of the page to make it look much brighter and more attractive.