If you like to be in a big company of friends, you probably like to play games too. In this article, you will find the best word games with bright pictures.
This type of game is especially interesting. It is much harder to guess a word just by looking at the picture so it will be a challenge. You can play alone or with your friends.
You may also like: 11 Best Anime Fighting Games for Android & iOS
Pictoword: Fun Word Quiz
If you are looking for a cool game that can help you train your brain, Pictoword is what you need! This game will be a perfect option for people of all ages, even little kids.
How to play the game? Well, there are only two steps you need to take:
Read the two pictures

that will appear on your screen. Look at them attentively and try to combine them into one word.

There will be some

letters to choose from

, so if you face any difficulties, this option will come in quite handy.

If you can't solve the task, you can ask for help or check the hints.
What to do if you want to play with your kids? In this case, you can choose the difficulty level that will be comfortable.
The best way to win the game is to have a wide outlook and be attentive to little details.
There are two modes – the solo one and the one you can play with friends.
The best thing about the app is that it perfectly works offline. Almost all the functions will remain the same if you are out of the Internet. The only thing that will be unavailable for you is chatting with other users.
The app supports many languages, such as Arabic, German, Spanish, Italian, Swedish, and many others.
There are some disadvantages though. What's more, the developer collects some data about you, such as your contacts and purchases.
Some ads keep the content free for you.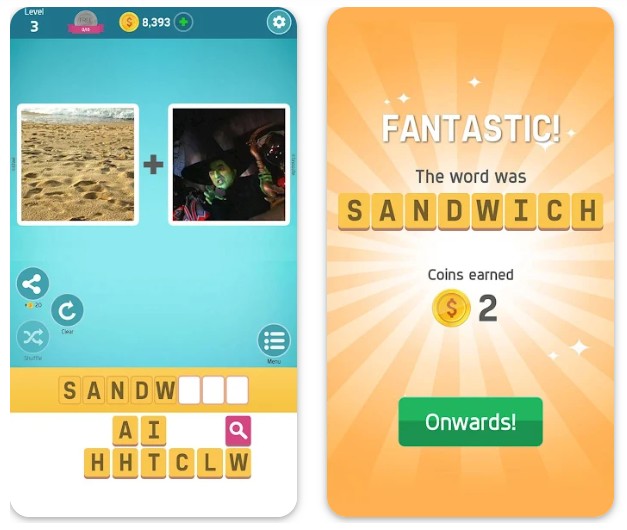 You may also like: 11 Best Interactive Story Games for Android
4 Pics 1 Word
This word game looks like the previous one but it can turn out to be a bit harder. The main aim of the game is to guess the word by looking at four pictures. It can be difficult to deal with four pictures at once.
Why should you try 4 Pics 1 Word?
It is simple to use the app thanks to its

friendly interface

. What is more, there is no need to sign in or go through a long process of registration.

The

number of puzzles is unlimited

, you will never run out of them even if you going to play all day long.

There is

a system of levels

to go through. If you are stuck on a hard level, you can always skip it for money.
The developers try to update the game all the time. They fix bugs and add new features all the time.
The app will collect some data about you, such as your location, purchases, usage info, and many other details. So we can't guarantee that your data will be 100% safe.
The size for such a big game with an almost unlimited number of functions is relatively small.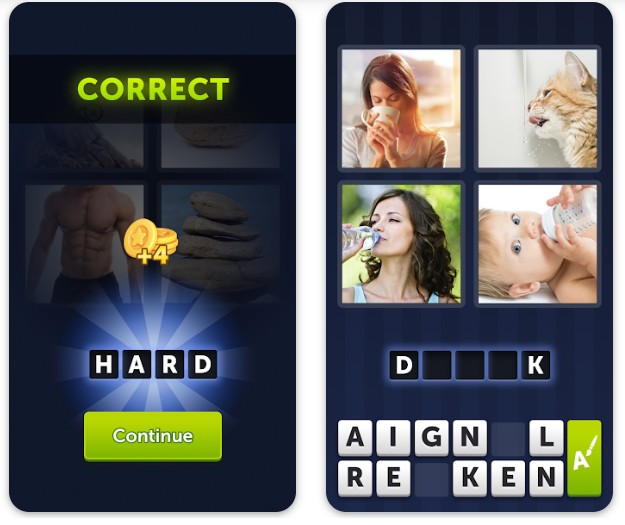 Words in a Pic
Words in a Pic is a mobile game that develops your vocabulary. The game presents you with an image, and your task is to find and guess the words that describe this image. The catch is that the words are hidden and jumbled.
The game has more than 350 levels, each of which has its own image and a set of words to guess. The app also has hints that you can use to open a letter, remove wrong letters, or even solve the whole puzzle if you get stuck.
Good way to spend time
Improves your vocabulary
Periodic technical failures
The levels get more and more difficult as you progress, but don't worry, you can always take a break and come back later.
One of the highlights of the game is that it's a great way to improve your vocabulary while you're playing. It is also suitable for people of all ages, making it a great family game.
Whether you're commuting, waiting in line, or just looking to take a break, Words in a Pic is a great way to kill time and improve your cognitive skills as well.
But some users have reported issues with the application freezing or crashing, which can be frustrating.
This is not the easiest game on the market, so don't complain if you can't get a pass. However, these shortcomings do not detract from the overall enjoyment and educational value of the game.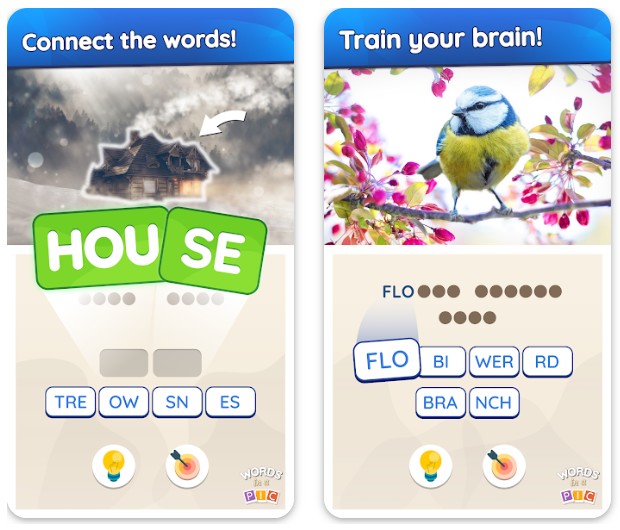 Word Crush – Fun Puzzle Game
Do you like solving crosswords? If yes, we have a piece of pretty good news for you. Now there is no need to buy newspapers to enjoy crosswords, you can have them on your phone.
This is a simple but interesting word game that uses pictures. It is very famous today and it's not surprising due to its high rating.
Now let's talk about the best functions of Word Crush:
It is

easy to understand how to play

. Just take a look at the anagram and match the letters to reveal the hidden word.

Test your vocabulary and brain

. Don't think it will be too easy – the levels will get harder and harder every time you move to the next puzzle.

Play everywhere you want

. If you don't have access to the Internet, it's not a problem. You can play offline, all the range of functions will remain the same.

The developers

add new puzzles

every week. So we can guarantee you will never run out of cool tasks.
The developers collect data about you, such as your location, purchases, and usage info. This data will be linked to you.
One of the most striking disadvantages is the size of the app. This is one of the biggest applications on this list.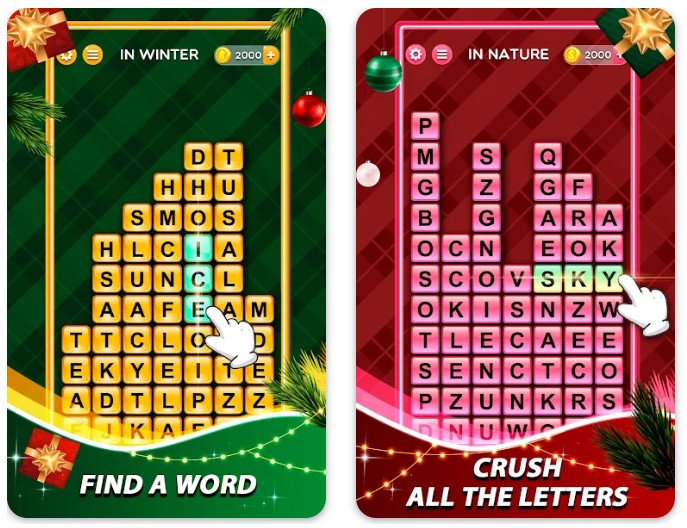 Word Pics
Do you like playing cool games and guessing words? If yes, this is what you need to download on your phone!
There are two pictures you need to look at and decide which word is hidden. Sometimes it seems almost impossible.
There are some modes to choose from:
Classic

. This is the easiest way to play this word game. There will be just two pictures to look at.

Expert

. This is a challenge! The two pictures will be shown and then disappear in a few seconds.

Multiplayer

. This mode is aimed at big companies. You can play with as many users as you want, competing with them.
If you find it too hard to see all the little details, you can always zoom in to investigate what's there.
Chat with other players if you have something to say or just for fun.
If you are not afraid to challenge your smartness, Word Pics is the best word game.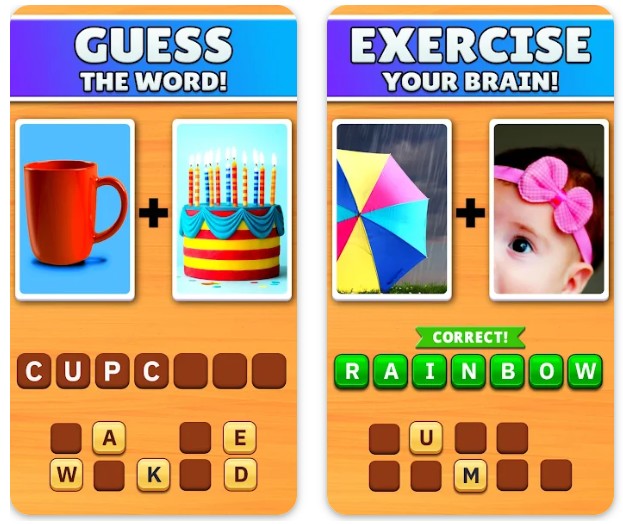 You may also like: 9 New Superhero Games for Android & iOS
Word By Picture
This is a classic word game with pictures. To play it, look at the two pictures provided by the app. What you need to do is to understand which words are hidden and combine them to get the answer.
The only advice we can give you is to be concentrated all the time. The harder your level gets, the more attention you will need.
The game is free of charge. In this case, there will be some ads. To remove them, go premium.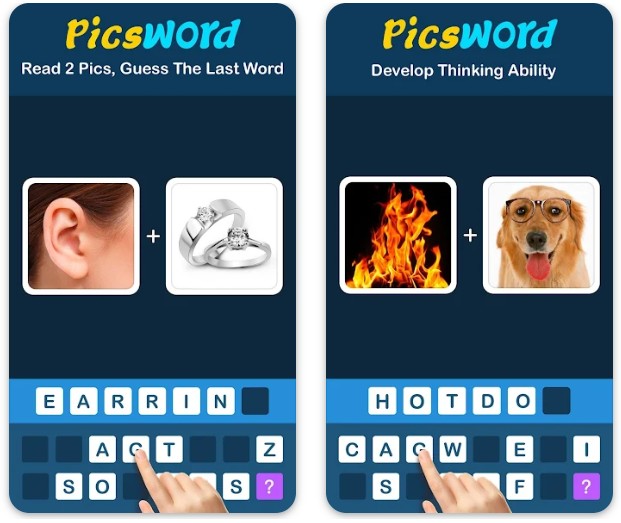 1 Glimpse 1 Word
Here is another great word game with pictures. To play the game, you need to look at the picture that will appear on your screen. However, the fact that there is only one picture doesn't mean that it's much easier to solve it because the image will be shown just for a moment.
Let's review the best features of the game:
There are

260 puzzles

you can try to solve. It's not a lot but they tend to get harder and harder.

The app

supports English, Russian, and French

languages. The developers promise to add new ones.

Should you face any difficulties, you can always

skip the levels

that are too hard for you.
The developers don't provide you with the information about its privacy policy so we can't guarantee your data will be saved.
This is the best option for those people who try to save their phone's memory.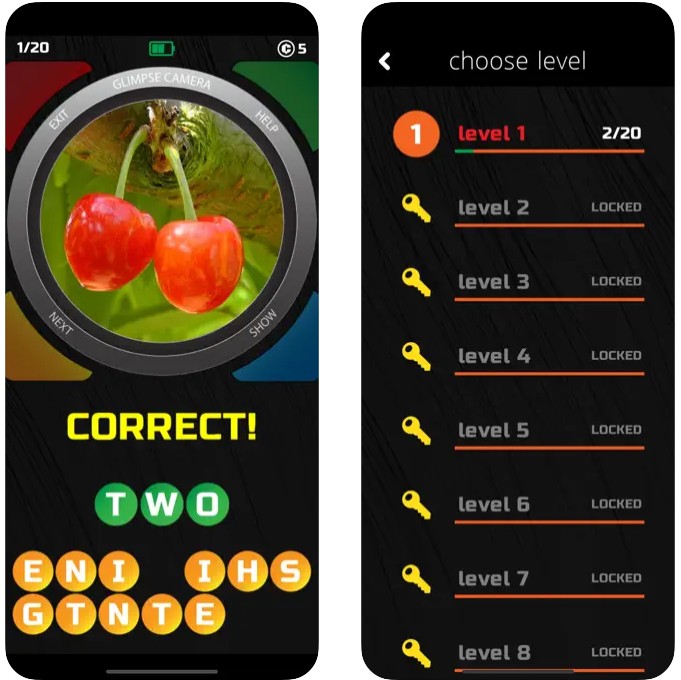 Word & Pics Puzzle 2
The final game is also a great word game with amazing features. This is a great opportunity to check how smart and fast you are.
To win in the game, remember one thing – each image means something. Pay attention to little details not to miss anything.
If you can't see something in the picture, zoom it in with your fingers. You will find all the answers there.
Here are the best features of the app:
Easy and intuitive interface

. You won't need any instructions to understand the rules of the game.

The app

supports various foreign languages

, including Italian, Spanish, Russian, French, German, and many others.
The game is small – it is 24 MB only. Unfortunately, the developers don't provide us with the details of its privacy policy so we don't know if your data is secure.
The app is free to download. However, there are some in-app purchases. For example, if you want to skip some levels, you will have to pay with digital coins. 300 coins will cost you 0.99$.
Words & Pics Puzzles 2 is available for iOS users only.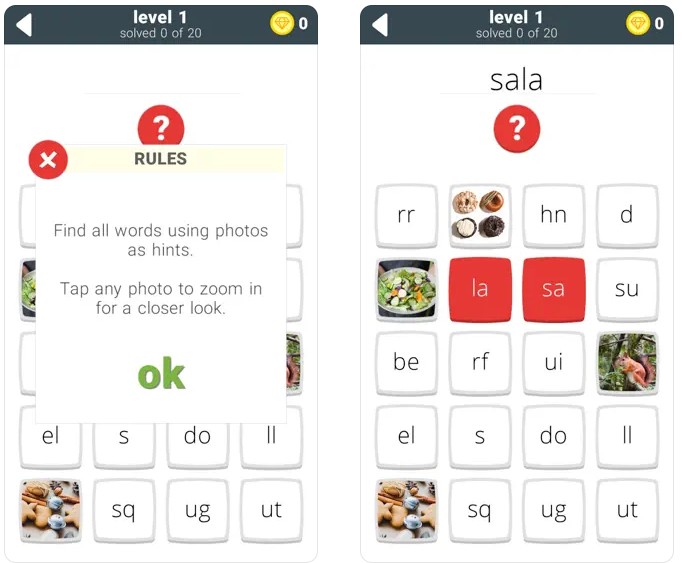 You can also check: 9 New Superhero Games for Android & iOS
World Swipe Pic
World Swipe Pic is a fun and addictive game that challenges your brain and reflexes. The application has a colorful and attractive design.
The goal of the game is simple: you have to match the pieces of the pictures so that you can guess the word. The game offers various game modes that provide hours of entertainment.
An exciting game that is suitable for all ages
Frequent advertising
One of the outstanding features of the game is its simplicity. The game is easy to understand and play, making it perfect for all ages. The controls in the game are also easy to use and the gameplay is smooth and responsive enough, among other things you can play the game offline.
Sometimes, however, the age has that excessive amounts of ads and it can even force some people to stop playing. And some users say that the game gets boring at some points.
Apart form that, game freezes and crashes on older devices, so if you aren't ready to deal with that, don't get this app to your phone.