As you reach adulthood, the parties in your life only get bigger. The older you get, the larger your social circle becomes. Parties together can be varied if you use the right tools. If you like to have fun in the company of loved ones, then we recommend these best adult party card games for Android & iOS.
Call all members of your big company and download these free mobile party games to play with friends.
Truth or Dare – Dirty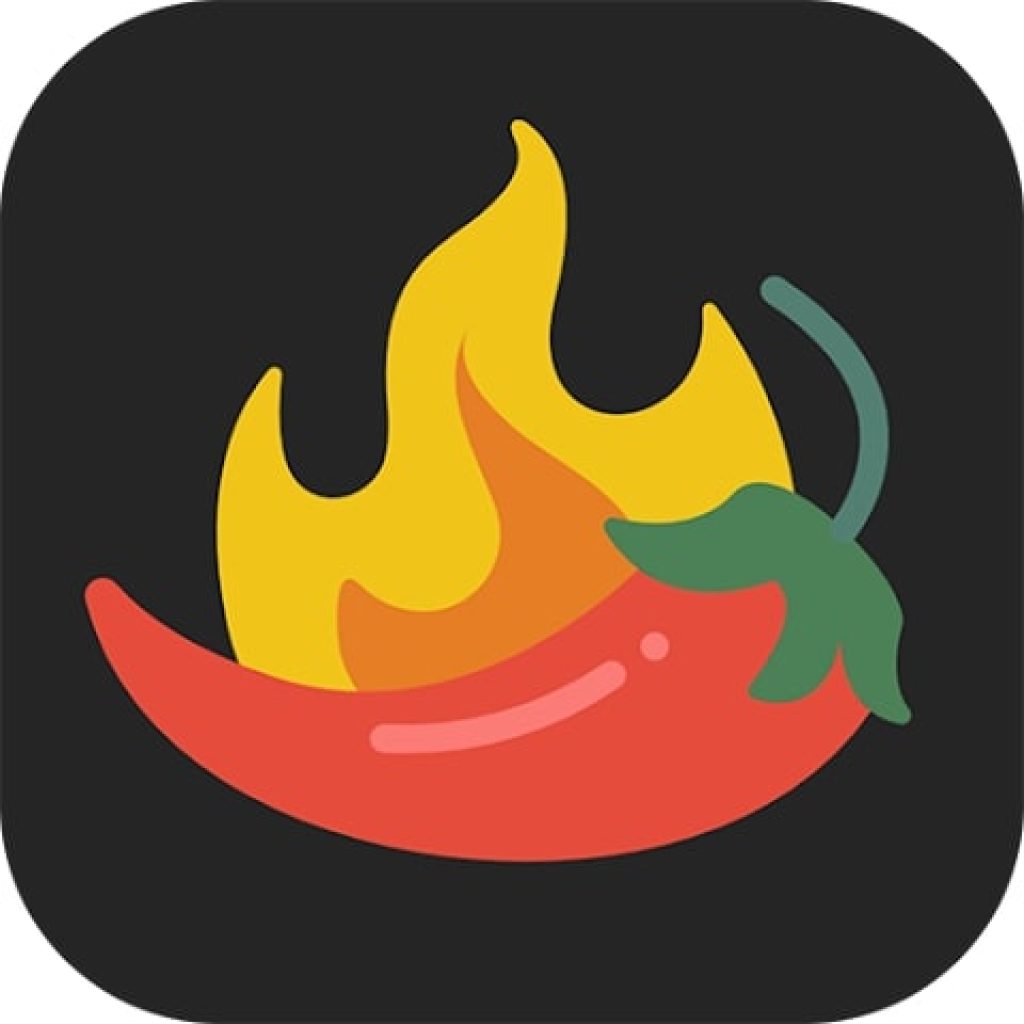 The Truth or Dare game is one of the most popular party entertainment. The Dirty mobile app will add an element of spice to your encounter. Find out more interesting details about your friends, acquaintances, and loved ones.
The app can be used anywhere and anytime. Install Truth or Dare on your cell phone and make your celebration even more fun and interesting.
Absolutely everyone can play this game, regardless of gender and age. Ask extraordinary questions, answer the questions you are asked and become even closer to each other.
You won't have to puzzle over which question to ask now, or what action to come up with for this participant. The app contains over 400 ready-made options for any occasion.
Choose the mode that suits your company. It can be a meeting of old friends, new company, or a game of two. Feel free to take on hot challenges and surprise each other.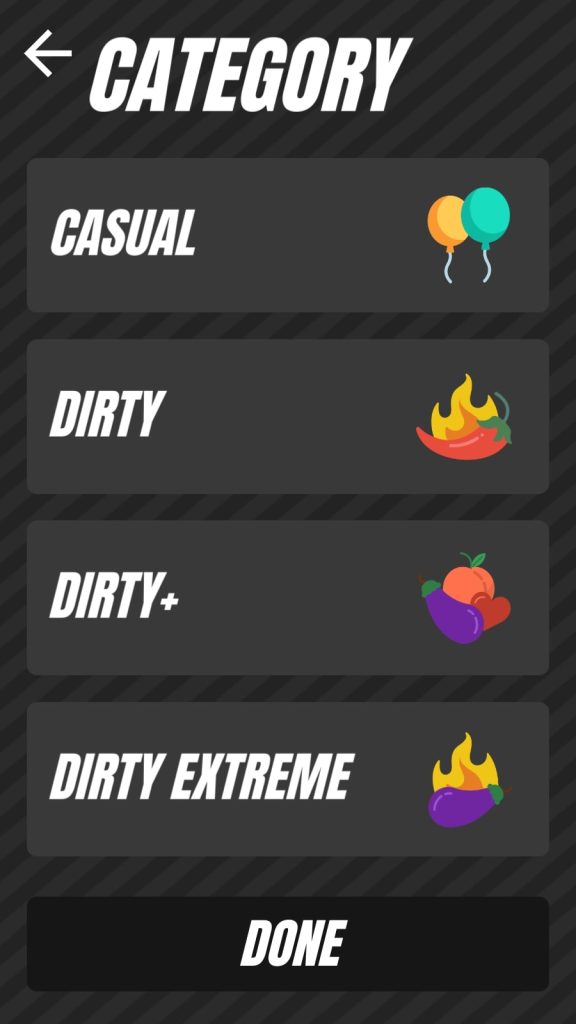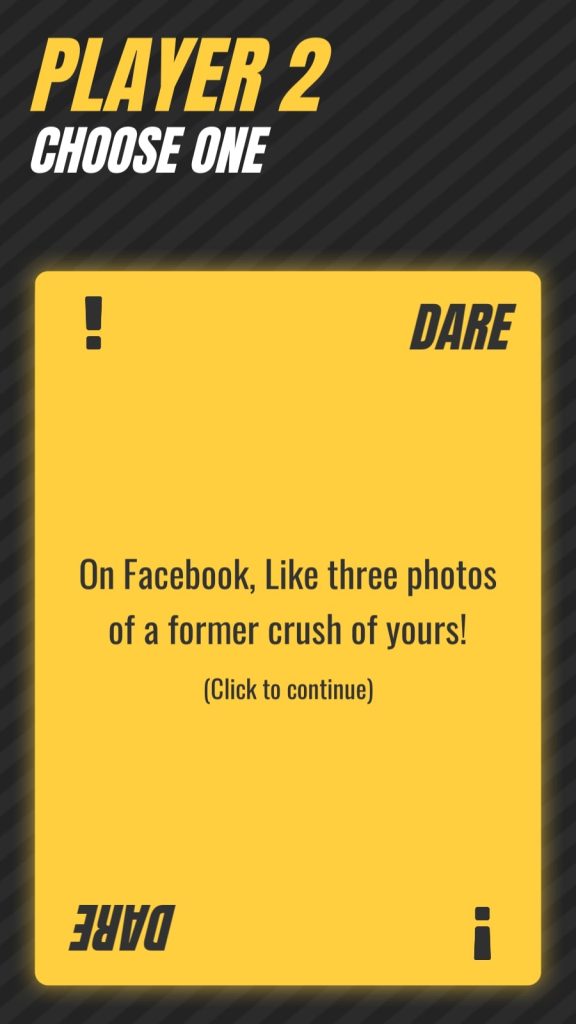 Anyone over the age of 16 can sign up for the app. Install it and make your party unforgettable.

You may also like: 13 Best Home Decorating Games for Adults (Android & iOS)
Game Night The Party Card Game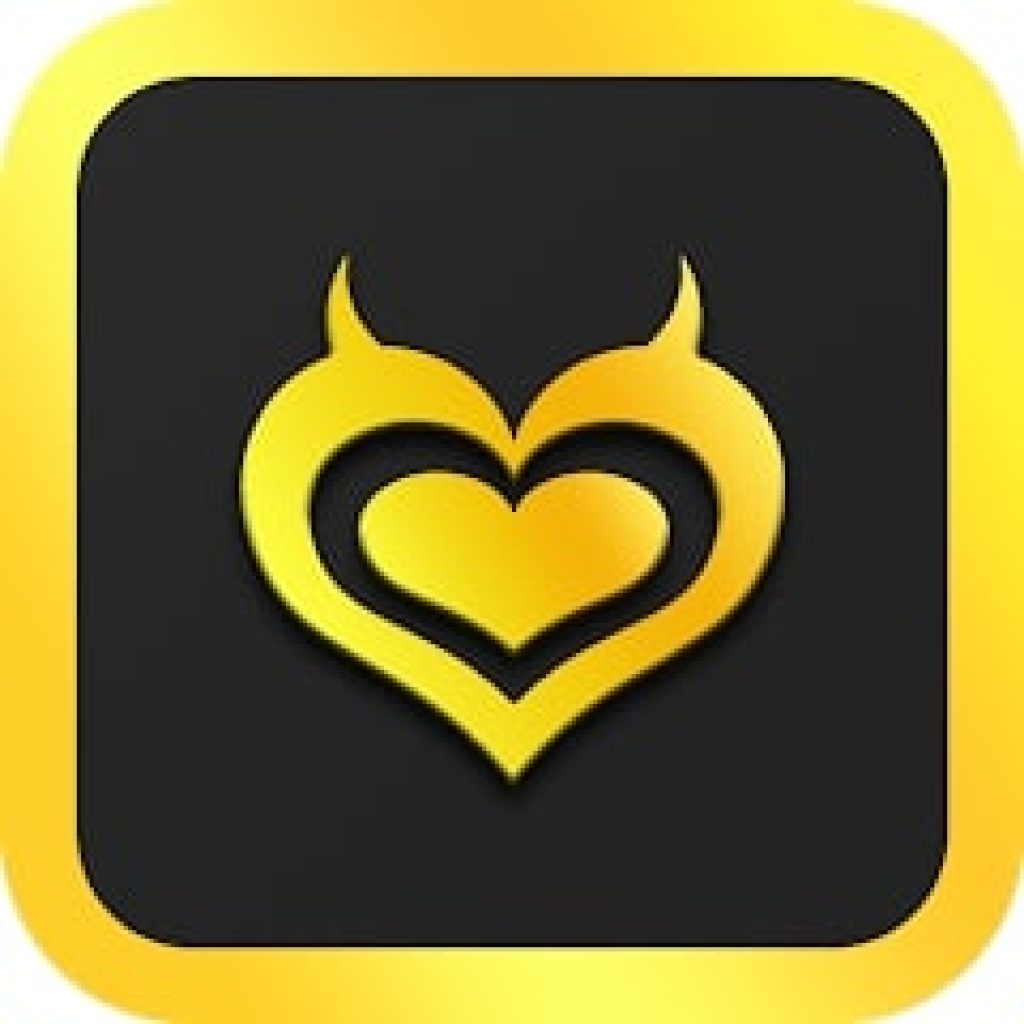 Want to have a fun and carefree time? Add creativity to your evening with Night The Party Card Game. It will give your party unpredictability and bright emotions.
Attending a gathering of former classmates? Not enough courage to start a conversation in a new company? Got an invitation from old friends? This app is suitable for any occasion.
People of all ages love to play this game. A huge selection of all sorts of questions, mini-games, and tasks will save the day at any time.
Game Night The Party Card Game is for parties with alcohol. You can use ready-made rules or make up your own as you play. There are no bans – it all depends on your desire. This game for adults leaves no one indifferent.
You can choose any of the proposed games: bottle, truth or action, I never … and other popular entertainment. Download the app to your electronic device and have fun like never before.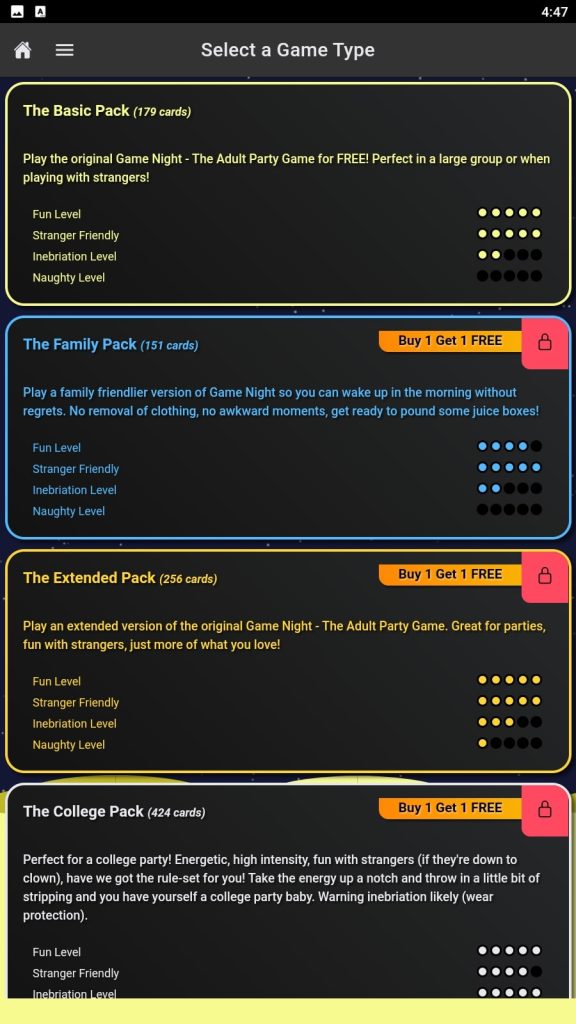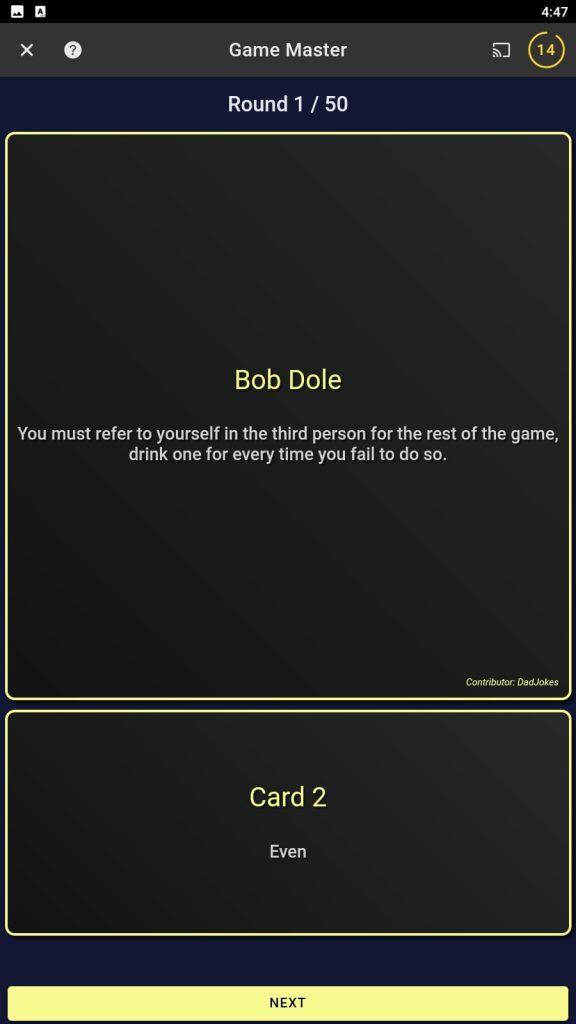 Before you start the game, choose the desired mode: play for new companies, close friends, with family, and for two. Don't doubt, during the game you will learn a lot of interesting things about each other.

Would you Rather? Dirty Adult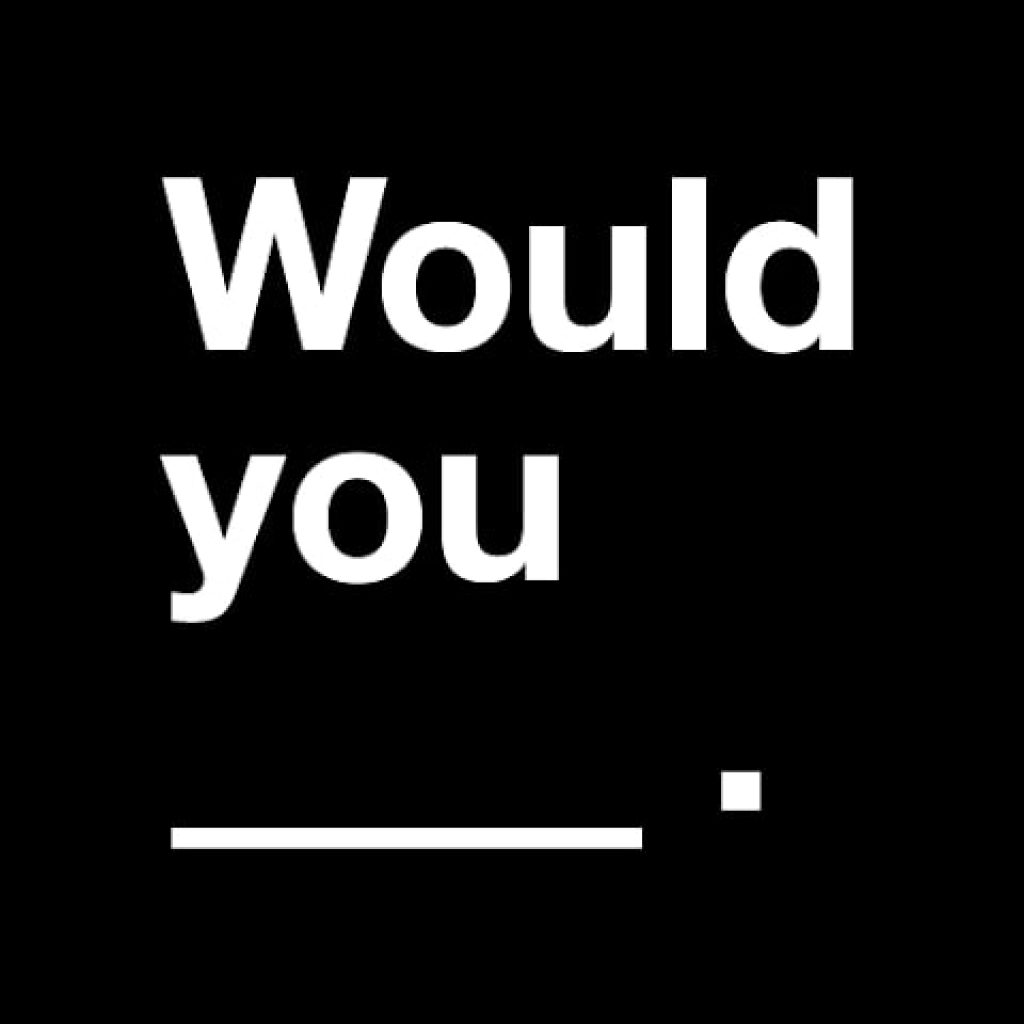 Would You Rather? Dirty Adult mobile app will be a great solution for any company. Have a fun and unforgettable time with this app.
Unconventional questions, simple menus, and lots of emotions await you. A bachelorette party, a wedding party, a college reunion, or a couples game. Only you choose whether to answer the question asked.
The full game does not need the Internet, so you can play anywhere. The essence of the game is as follows: each player chooses one of the proposed phrases. That sentence, which received the least number of votes, becomes the loser.
Players who choose this statement are required to perform a predetermined action. As a punishment, they can dance, eat a lemon or tell their secret. If the number of votes is equal, each player performs the punishment. If only one person is on the losing side, the punishment is increased.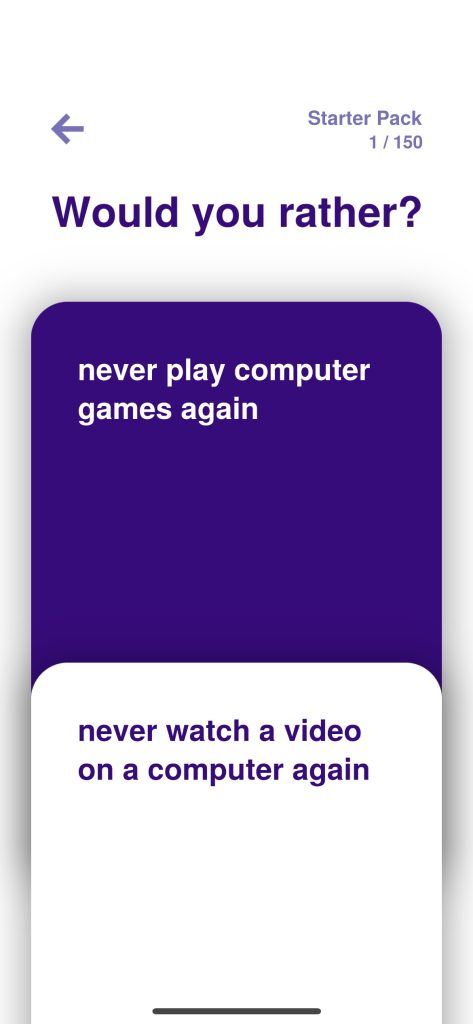 The game is suitable for different audiences. You can choose one of the offered themed decks. There are over 850 different playing cards in the app. The minimum number of participants is 2. Anyone over 16 years old may play. Try your luck, play Would You Rather? Dirty Adult.


DAFUQ – Party Games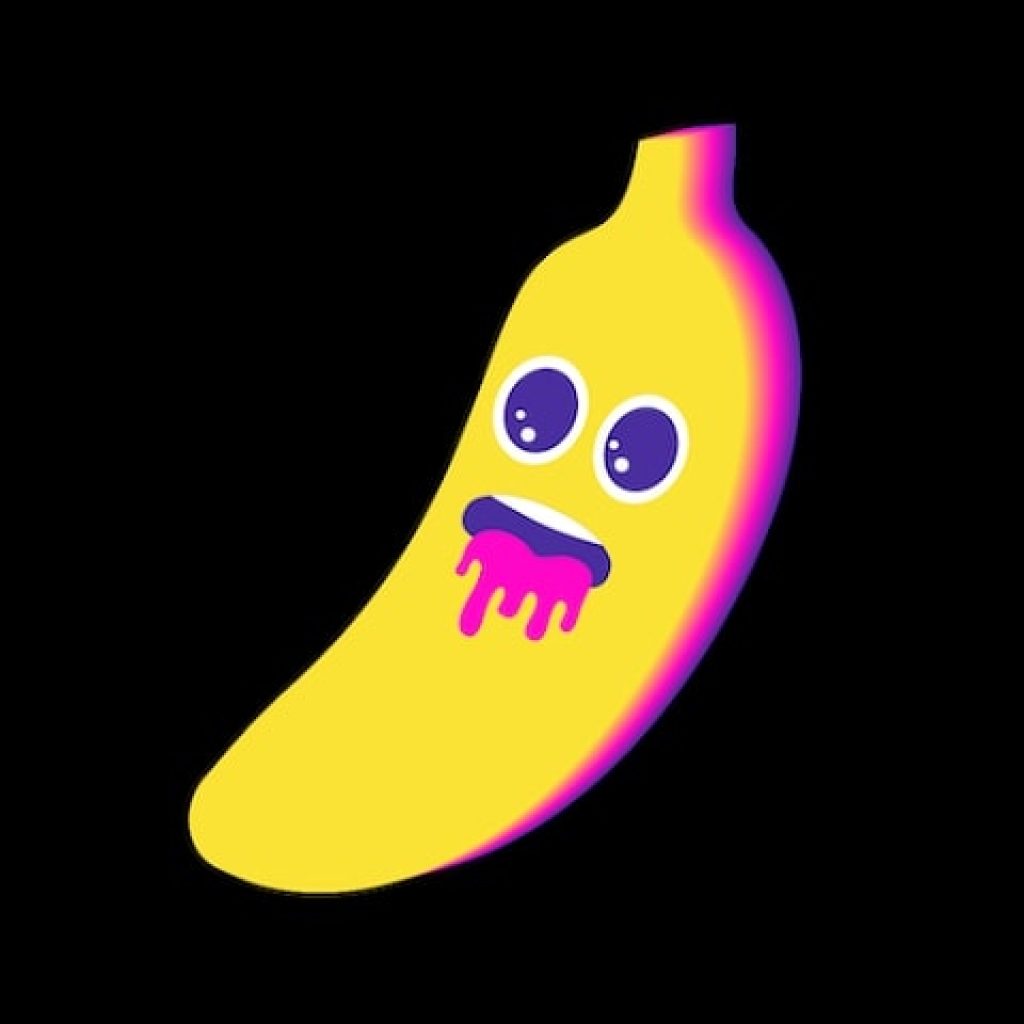 DAFUQ lets a bright and interesting card game unfold in a very different way. Countdown, unusual music, and even more unforgettable moments.
First, you need to buy the card game DAFUQ itself, and then use the app to diversify the gameplay.
The essence of the game is as simple and clear as possible. In 8 short seconds, you need to come up with three situations on a given topic.
The questions can be absolutely any and unexpected. For example, you will have to think of 3 reasons why you would not marry a foreigner. Or name three places that are perfect for a bad date.
There are a huge variety of options, they are practically unrepeatable. The game provides an opportunity not only to have a good time in the company but also to get to know each other better.
DAFUQ first appeared in the market in 2018, and its popularity has been gaining momentum every year since then.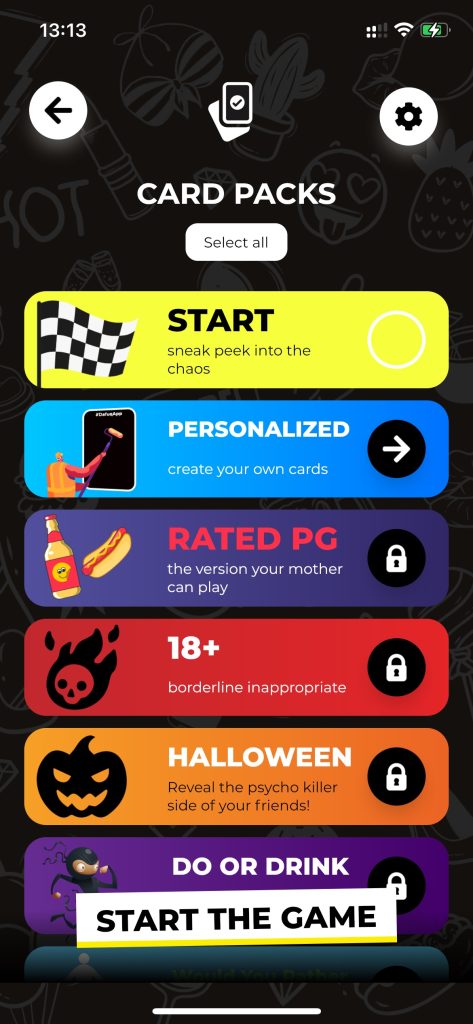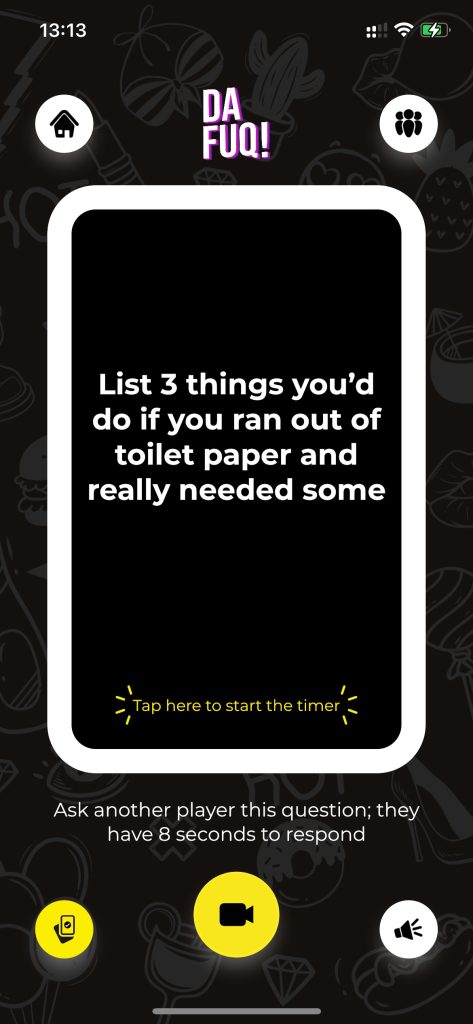 Record videos of the funniest moments from the game and send them to the developer. They will post your content on their social media pages and make your friends real stars. Try DAFUQ and you're sure to be satisfied.


5 Second Rule: Drinking Games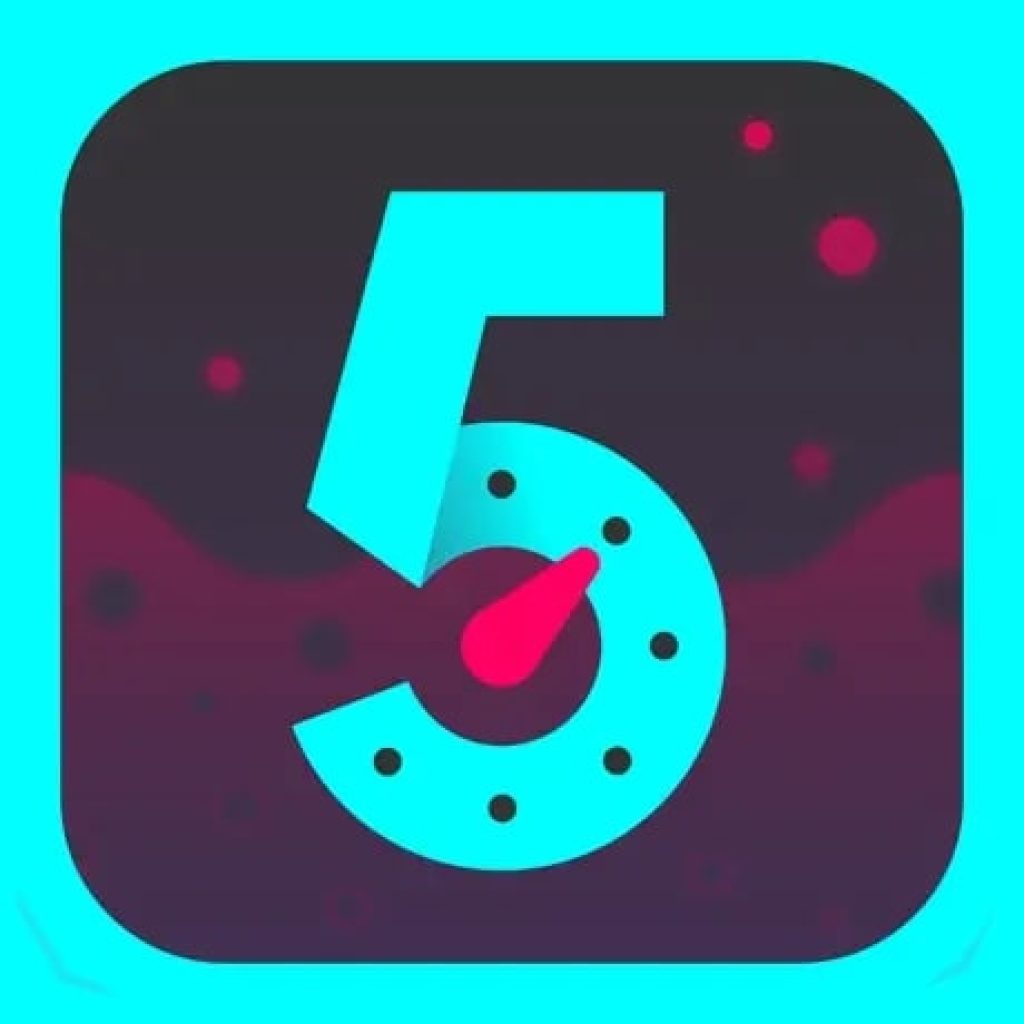 Got alcohol, but no ideas for a fun time? With the 5 Second Rule: Drinking Game mobile app, nothing could be easier.
The game is perfect for any audience, whether it's a family night or a blast at a dorm party. All you have to do is download the app and start having fun.
The game is really simple. Each player will have to take turns naming 3 answers to a given question. The point is that it takes only 5 seconds.
The player who first gets 10 points wins. Funny situations and embarrassing moments are guaranteed. The game is great for those who are unfamiliar with each other to cope with awkwardness.
Even those who have known each other for several years can play. Challenge yourself and your friends in the 5 Second Rule.
The app contains over a hundred questions of all kinds on a variety of topics. You can choose one of the 7 main decks. Predict what you fall out of, it is absolutely impossible. Play can be from 2 to 16 participants simultaneously.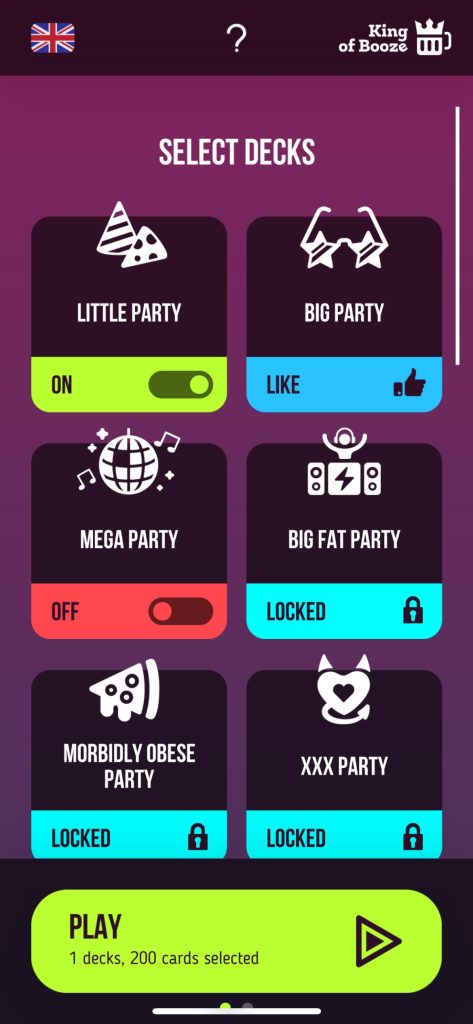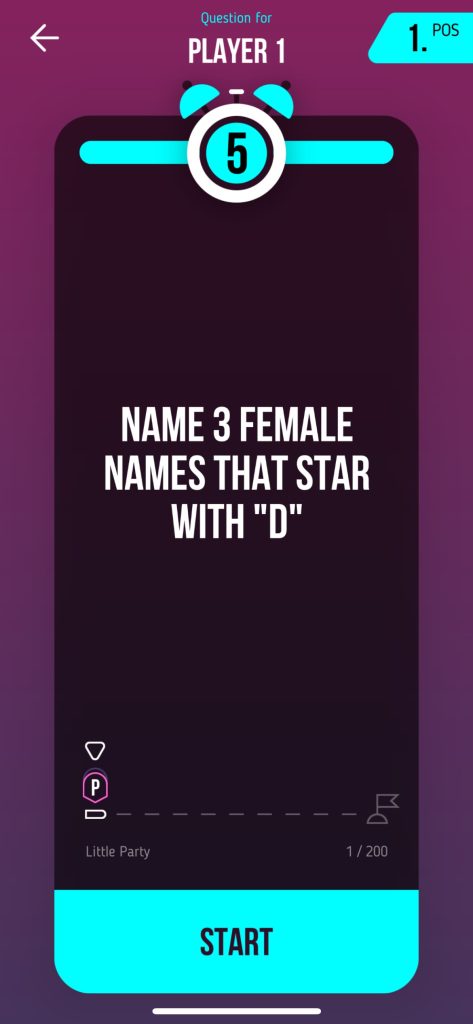 If you want you can diversify your deck with questions from the 18+ section. You can also create your own unique questions. There are no right and wrong answers. Only fun, smiles, and a great mood.

Do or Drink – Drinking Game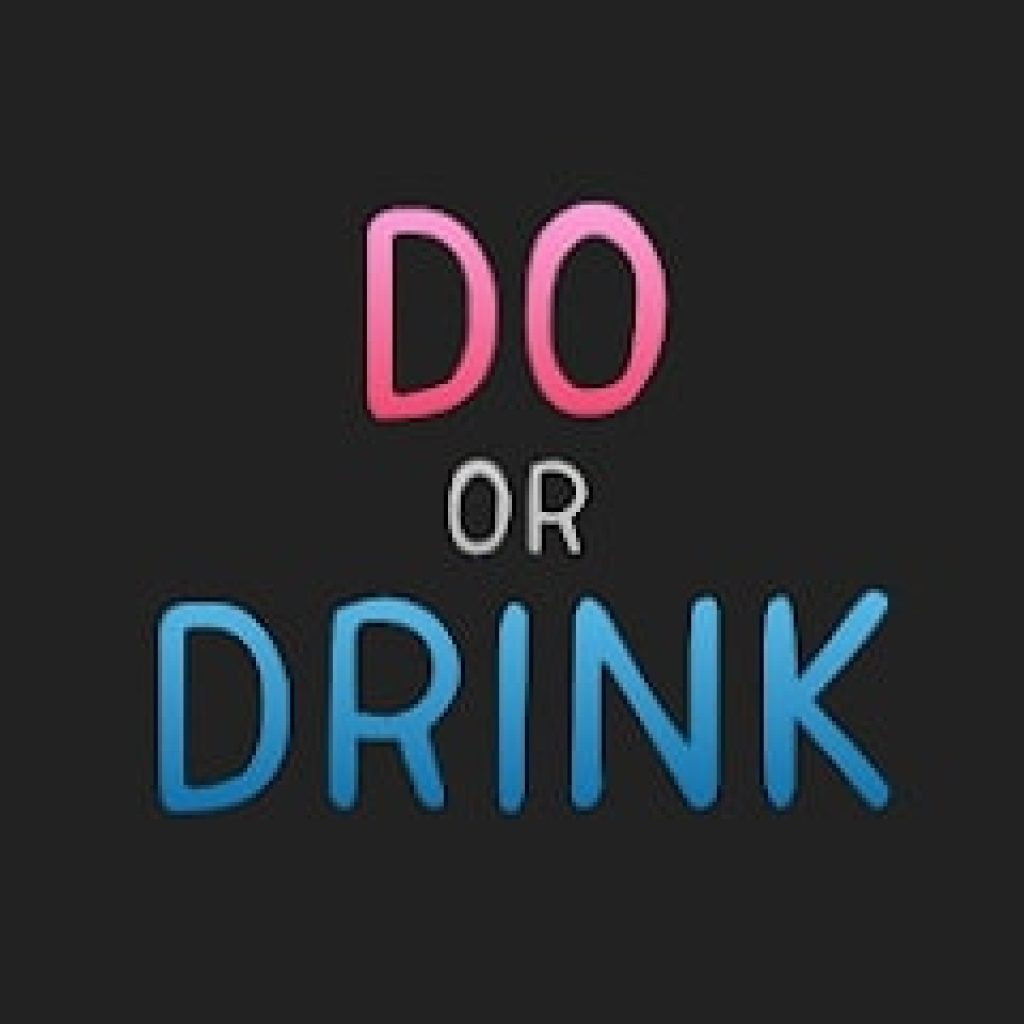 The card game for fun parties Do or Drink is already on your phones in mobile app format. Play, learn a lot about yourself and your friends, and get positive emotions from the meeting.
To play you need to download the app, gather your merry friends, and stock up on alcoholic drinks.
Playing the Do or Drink game is easy and fun. It does not require extra props. The smallest number of participants is 2. You have 4 card decks available to you – classic, modern, bar, and a deck with strange cards.
The cards with valuable instructions are needed for instructions, and the Do or Drink offers the player a drink or answers a tricky question. The cards update without stopping. You can create your own variations if you wish.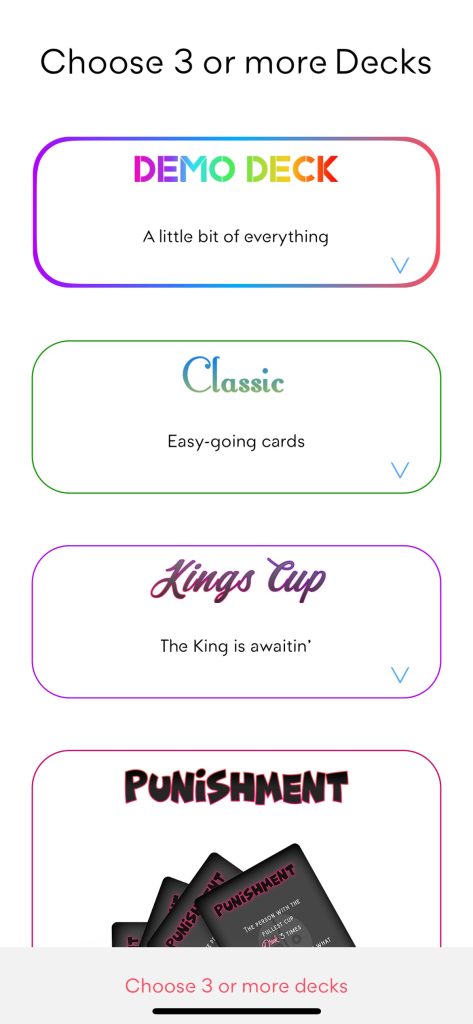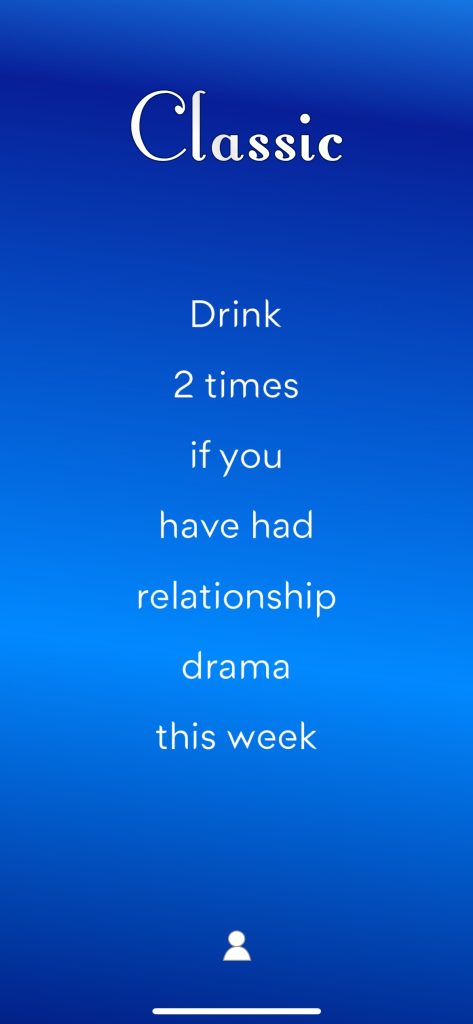 You can play in any company and at any time. The smallest age of players is 16 years old. Give yourself the opportunity to loosen up and have fun with friends. A fascinating game will allow you to loosen up, get to know each other better, and have a great time.


You may also like: 11 Best Dress Up Games for Adults (Android & iOS)
Most Likely To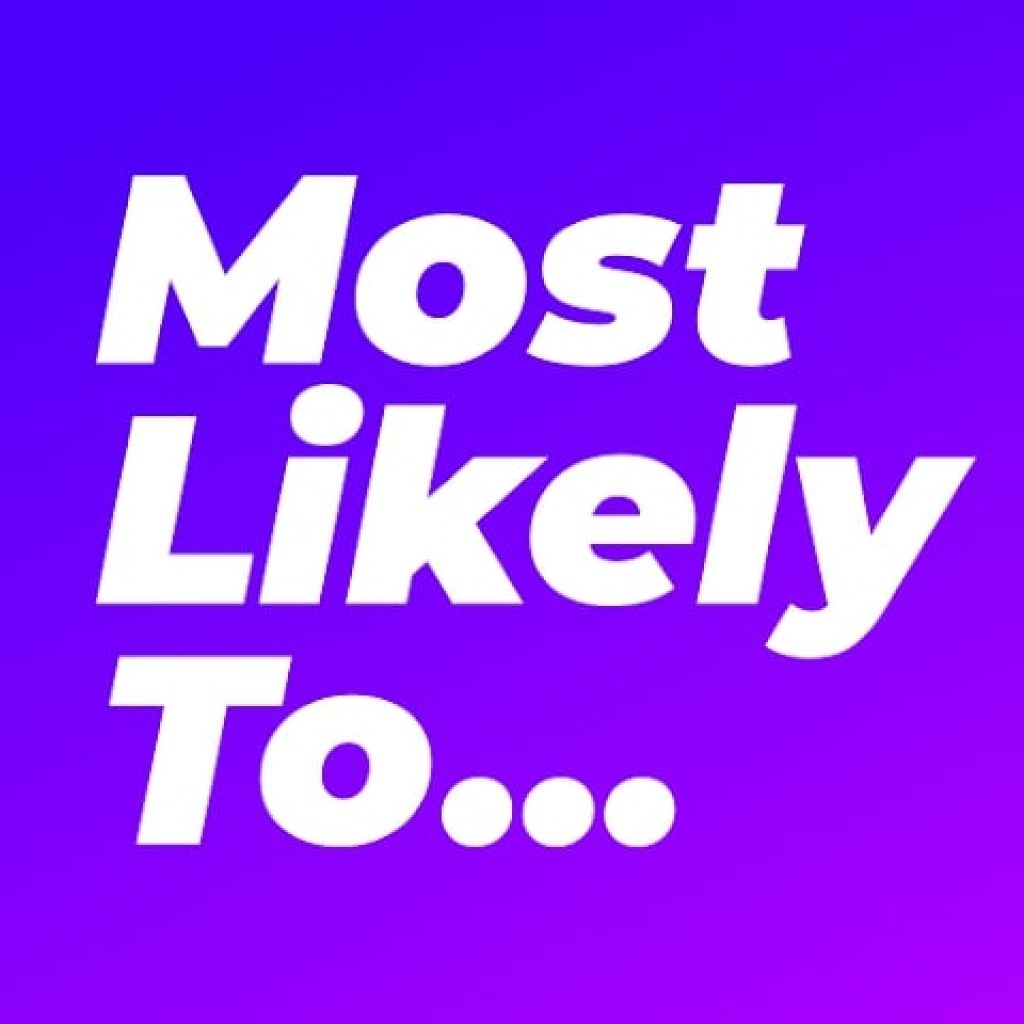 Most Likely To won't bore even the most daring players. Try your hand and spend this party just unforgettable. If you are bored with all the standard entertainment, install this mobile app and rock out.
This app will brighten up the evening in the company of old friends, help to shake up the newcomers, and learn a lot about yourself.
"Most Probable" will give you the opportunity not only to try your favorite drink but also to talk about forbidden topics without embarrassment.
The rules of the game are as simple as possible, it will take you a couple of minutes to start. Users are available in 11 different categories. Choose the most appropriate for tonight. Often the questions are so unpredictable that they cause laughter before the company even starts playing.
The Most Likely app offers you a statement from your chosen category. The player's task is to point to the contestant who they think is most likely to do so.
The participant who gets the most votes drinks the predetermined drink. Of course, you can play this game without alcoholic beverages.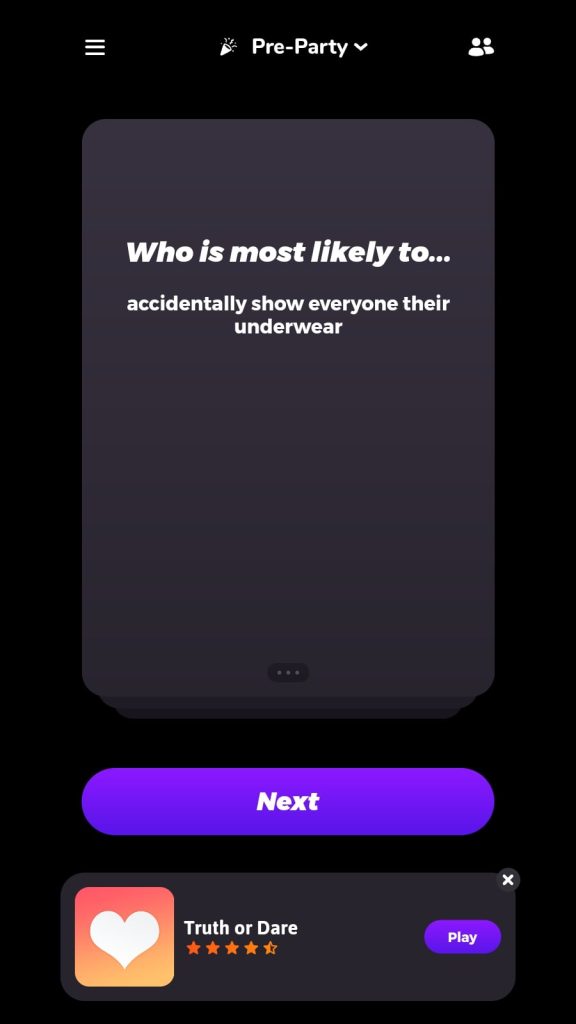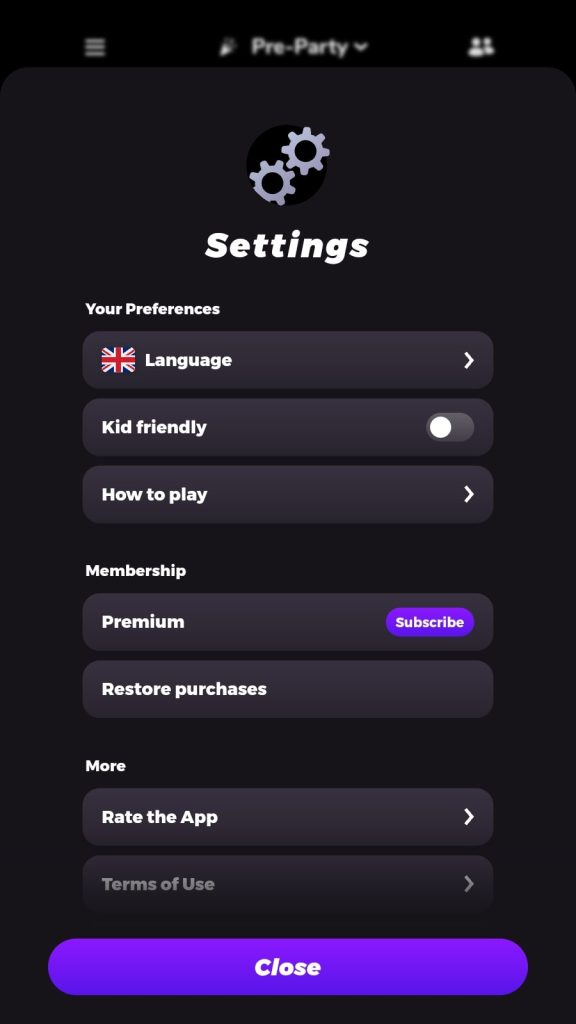 If you want, you can create your own new cards and variations of the game. Install Most Likely To and enjoy your time.

Psych! Outwit your friends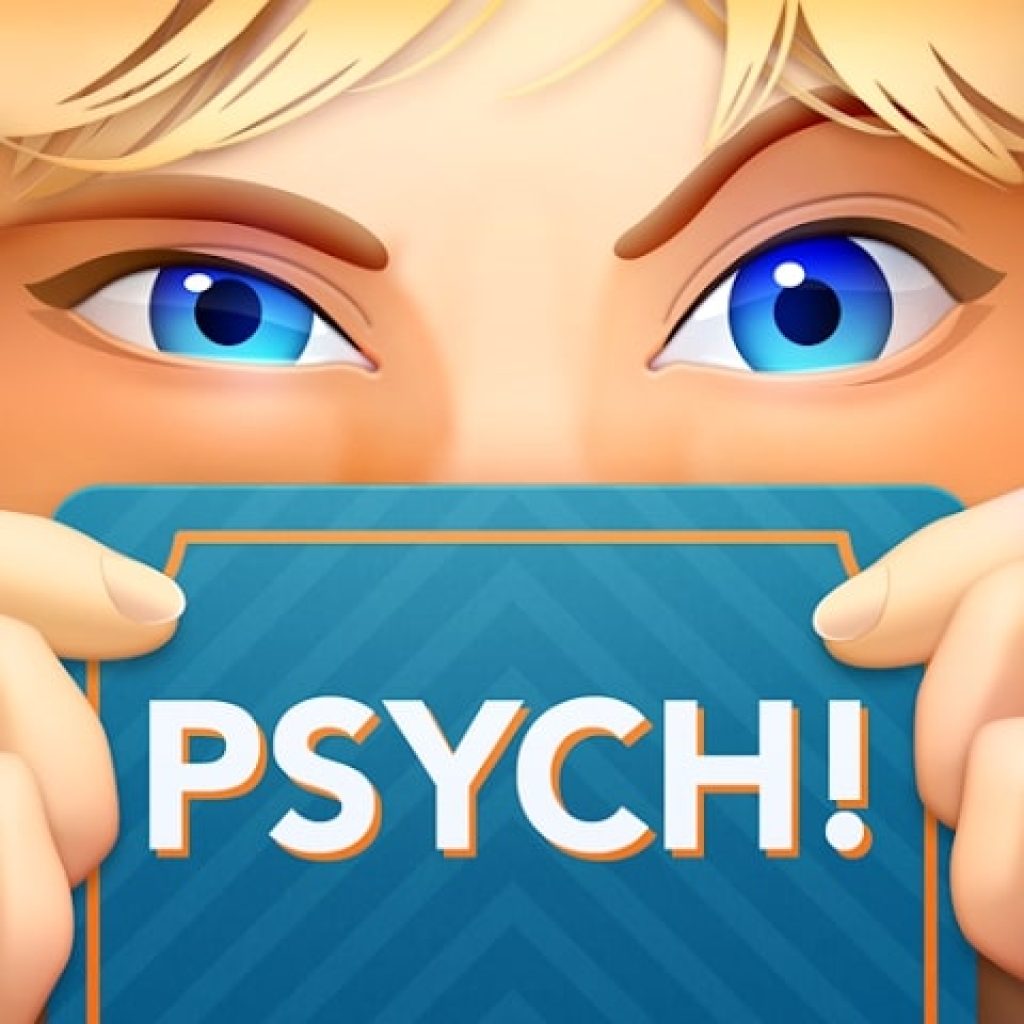 Spend time with your friends in a fun and interesting way with the Psych app! Outwit your friends. It has already been downloaded more than 5 million times, you should try it too.
This online game can be played with Zoom or in person. Once you've played it once, you don't have to waste your time looking for the right group game.
Everything is important in this game: iron logic, extensive knowledge, and bluffing skills. Play your cards close to the wire, go all in, and emerge victorious.
Warner Bros. International Enterprises has created a unique game that has no analogs. it's perfect for a cozy evening with the family and for a noisy party of students.
A huge number of all kinds of categories are available to you. The questions won't be repetitive. Give the right answers, make jokes at the other players and trick them around.
Your task is to choose the right answer to the question from your friends' suggestions. Read off the players' faces to see who's good at what.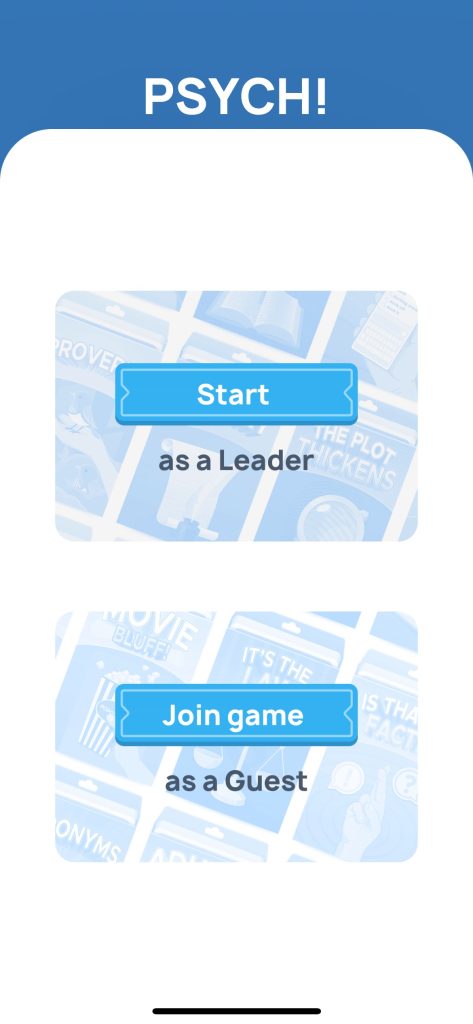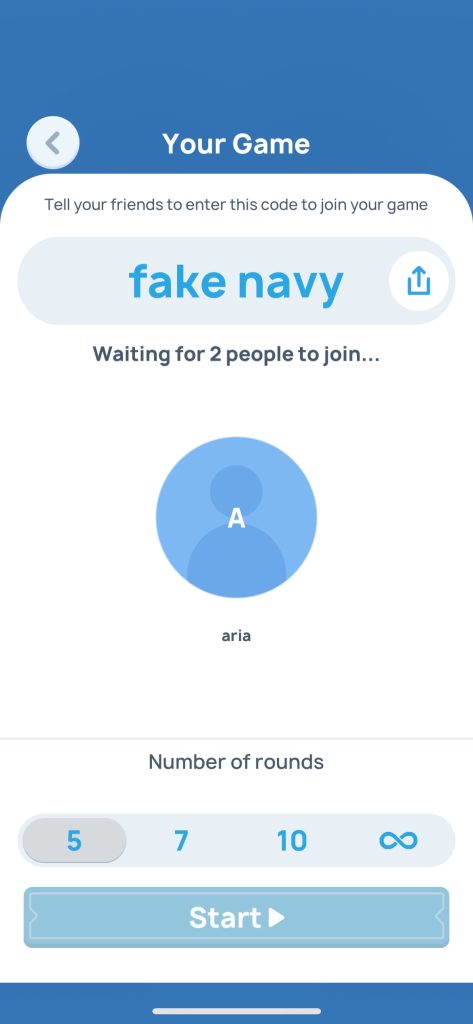 You can play not only in person but also via video links. The number of players is practically unlimited. The more participants, the more interesting. Play, win, and enjoy the gameplay with Psych! Outwit your friends.


Truth or Dare Party Game Dirty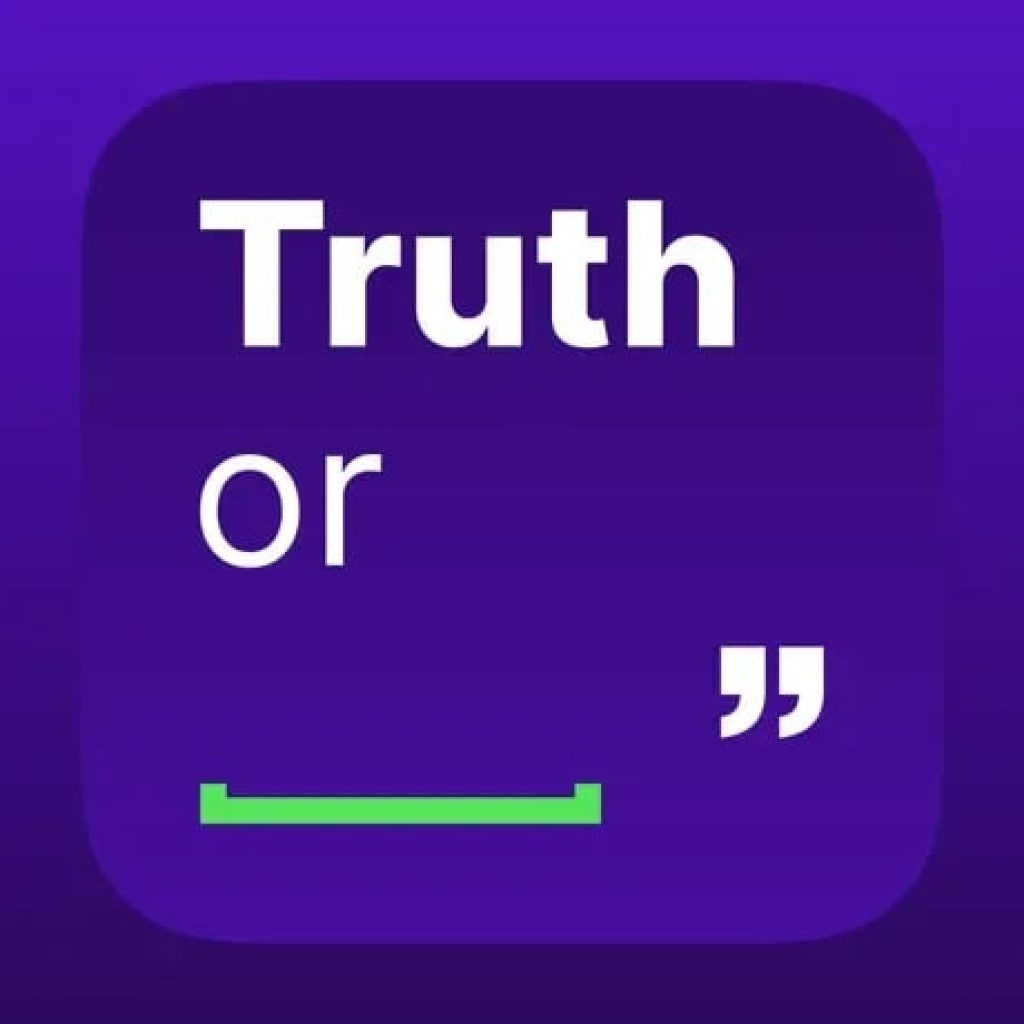 Truth Or Dare Party Game offers those wishing to have fun a new format of the classic card game. "Truth or Dare" will help you have a great time and feel more relaxed in the new company.
The game is suitable for absolutely everyone: teenagers, students, young couples, and cronies will just love it.
No one will be left out. The app contains a huge number of cards from different categories. Check the situation and choose the further development of events.
Choosing the truth, you must honestly answer the question asked. Action implies an action that you are unlikely to dare on a normal day. If you refuse both of them, drink it.
Truth Or Dare is suitable for companies of different ages. Even 2 people can play this game and they definitely won't be bored. Make jokes about your friends, learn their secrets and share your own.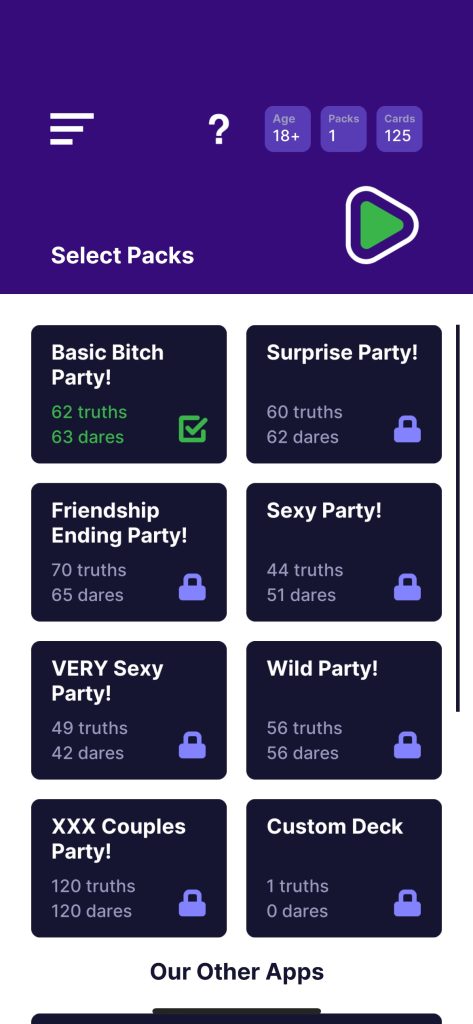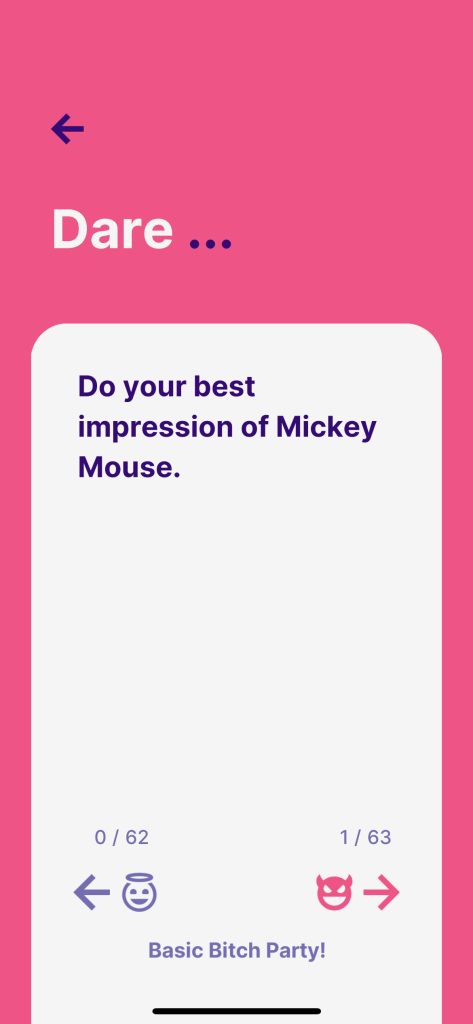 The game supports offline mode, you can play it without the internet. You can choose the set of cards that best suits your company. Install the app and take part in this interesting process with your friends.

Charades!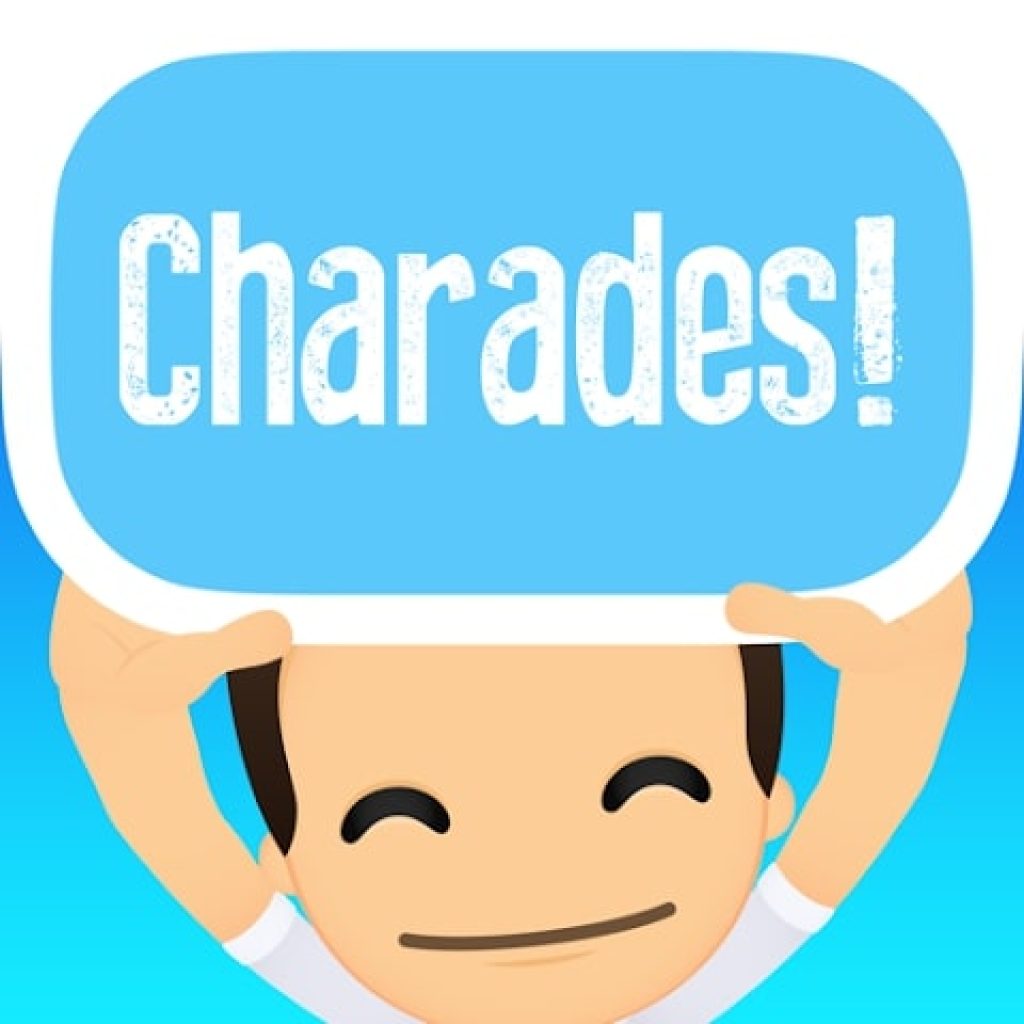 Do you like quizzes and challenging questions? Want to try something new? Then install the Charades! mobile app. Spend your free time with benefits and pleasure.
This game has been popular since day one, and it's clear why. Simple rules, unpredictable events, and a lot of fun. Guess the words, have fun and use your imagination.
A scrambled word can stand for a household item, a celebrity, or a hero. You can diversify family gatherings and evenings with friends. Just offer them Heads Up! and get a lot of unforgettable emotions.
You can play with any company, the smallest number of players is 2. Just choose one of the offered categories and guess, what word appeared on your phone with the help of interesting hints.
Absolutely everyone can enjoy the game: children, teenagers, and adult participants. If you need to pass the time or diversify the usual gatherings with friends, this mobile app is for you.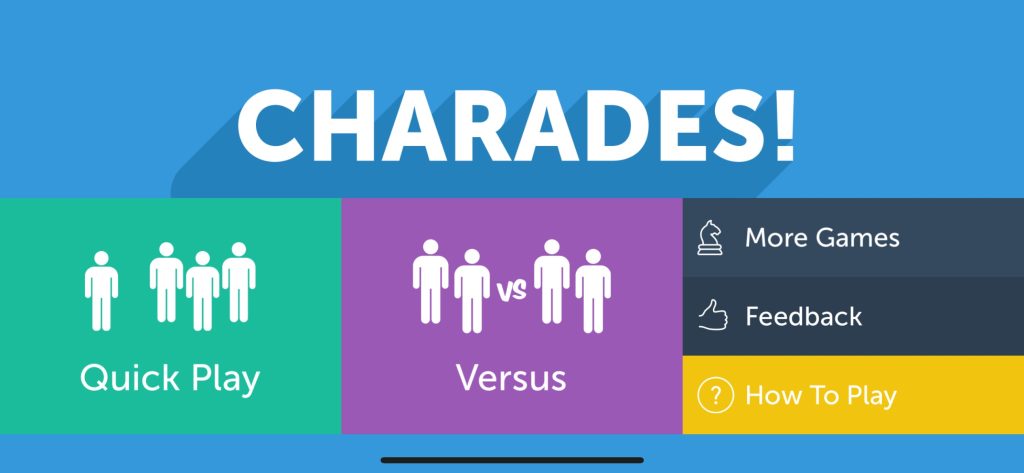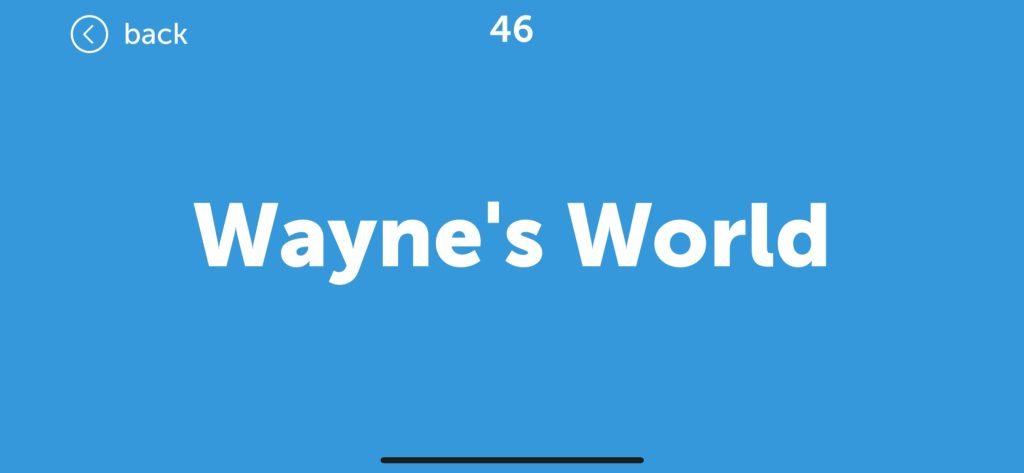 Make funny videos of the game and send them to the developer, so they can share them with other players. Download the app, choose a category and guess.


You may also like: 10 Free Memory Card Games for Adults (Android & iOS)
Most Likely: Online Party Game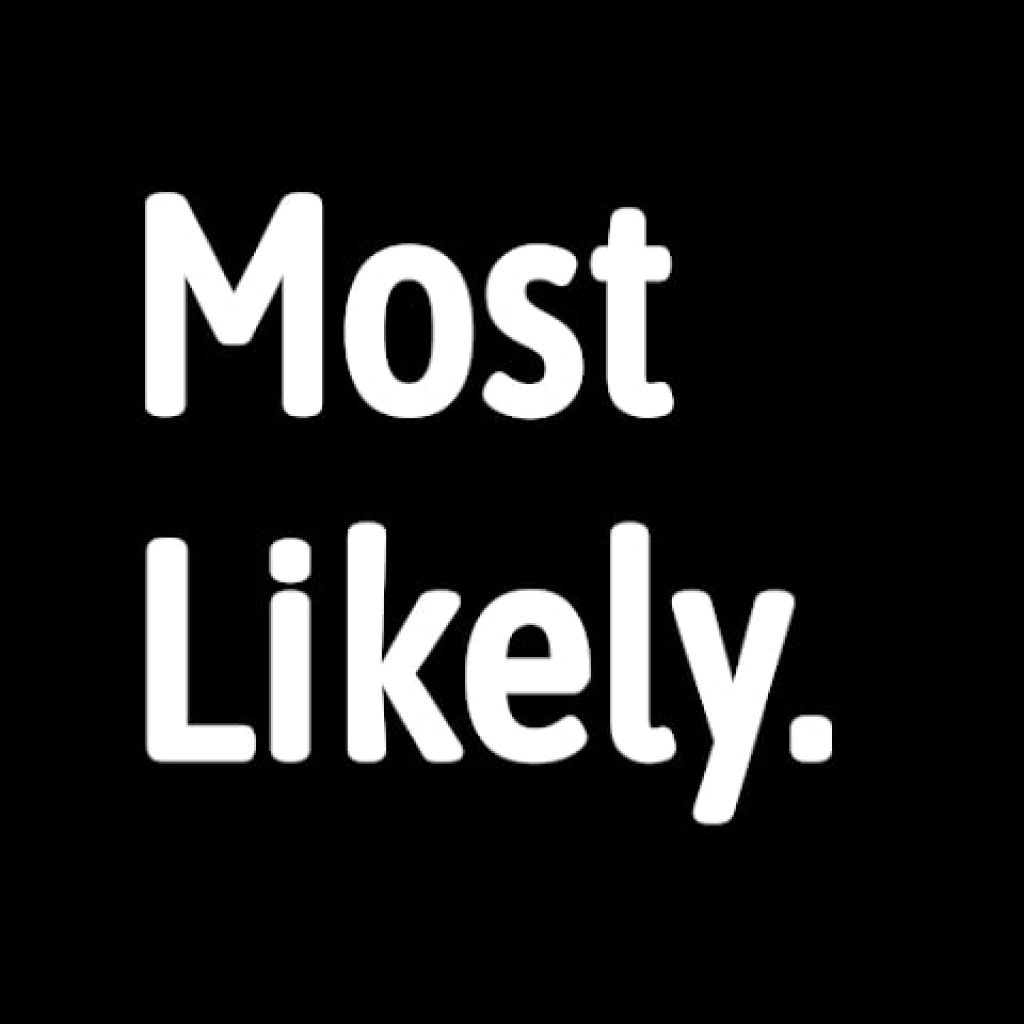 Most Likely To: Party Games is great for any company, whether it's an evening with friends or a noisy party on the beach.
The game has all the conditions for a pleasant pastime: simple rules, interesting questions, and a lot of fun. Most Likely To has become really popular all over the world. Now it's your turn to try it.
The essence of the game is to find the person who most matches the spoken phrase. All participants are placed next to each other and get one phrase. Each player points to the person who best fits that description.
The game offers more than 1,400 all kinds of statements, so the game promises to be fun. Who likes to sleep the most? Who likes boys the most? Who likes to have the most fun? The player, indicated by the majority of the participants, performing the suggested punishment.
It all depends on your wit and imagination. Don't be shy – laugh, fool around and set your friends up.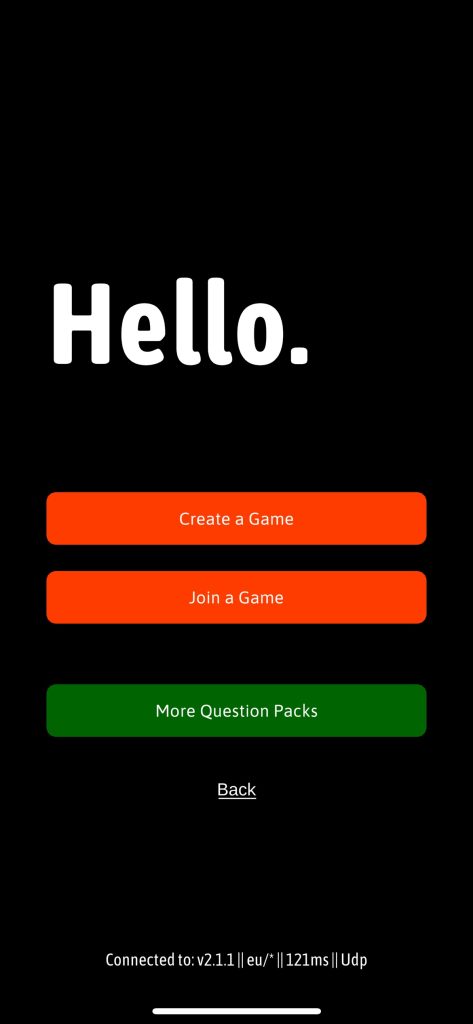 To understand the rules of the game, enough a couple of minutes. Just download the app, get your friends together and start having fun. Most Likely To will help you with that.