Courier delivery is very convenient, especially if you do not like to go out of the house another time. With its help, you can receive various goods and large equipment, furniture, food, and products home. We think that every modern person at least once used the delivery by courier or special service for his life.
Most of the purchases and orders that we make online require payment in advance. You transfer money to the account of the seller or company, and only then your order begins to collect and deliver. You may read the list of the best food delivery apps in USA if you care about other delivery apps.
If you only use cash, then many purchases and orders become simply impossible. To correct this misunderstanding, we decided to find special services that allow our customers to pay in cash. As a result of the search were found the best delivery apps that take cash in USA for Android & iOS.
Postmates – Food, grocery & more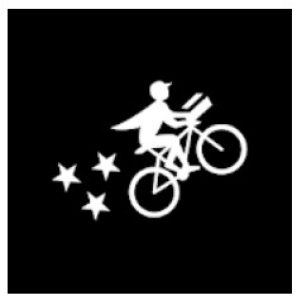 Postmates is a top-grade platform that allows users to order a great variety of foods from the most-liked cafes or grocery stores.
In Postmates, you will find the products from over 600,000 restaurants and stores. When you have downloaded the app, you can paste a necessary one in the integrated search on the top right of the screen.
The homepage consists of the following sections:
The app also allows users to schedule the food order beforehand to take it later by themselves. For this, just select an opportune pickup point, order the preferred food, and add it to the cart with a few taps.
Once you have set an order, you can easily track the entire delivery process on the map. Here you can also check the approximate delivery time and receive notifications when the order arrives.
Moreover, the app allows you to enable a non-contact delivery option. In this case, your delivery will be left at the front door.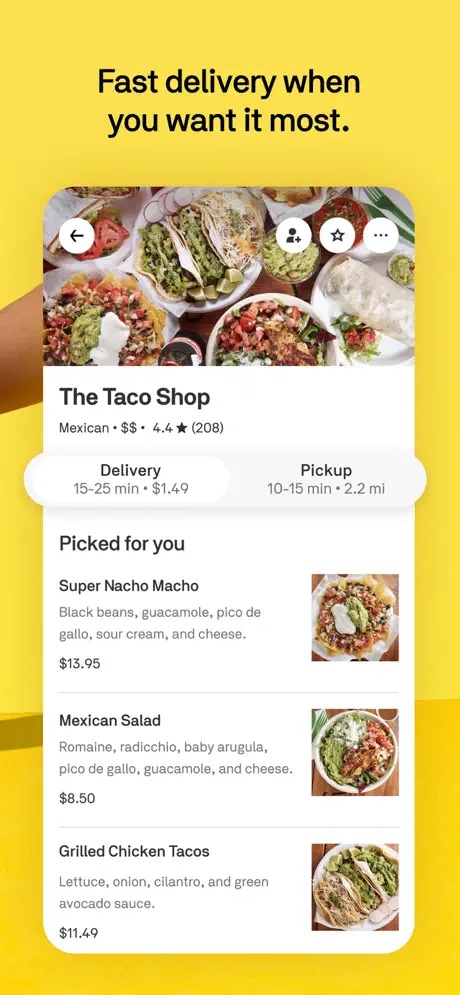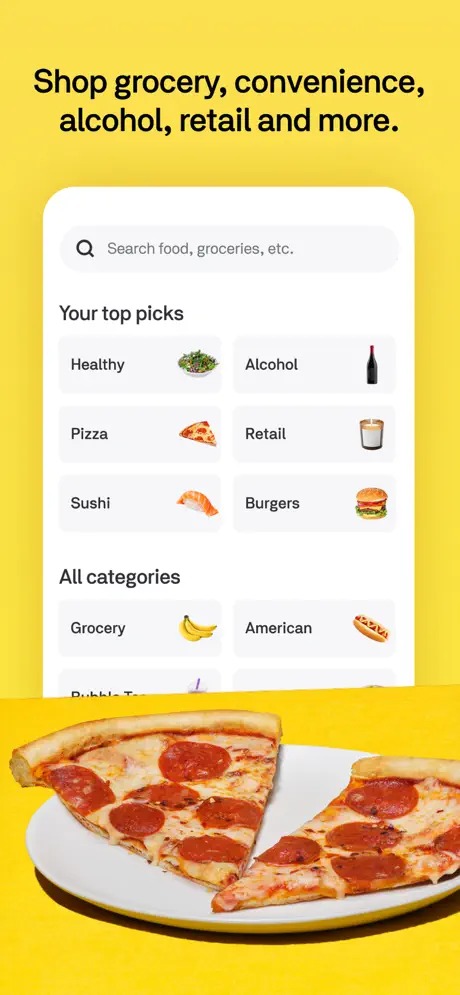 Apart from food products, users can also easily purchase alcoholic beverages, hygiene items, or even cosmetic products.


You may also like: 7 Best Grocery Price Comparison Apps for Android & iOS
Swiggy Food Order | Online Grocery | Delivery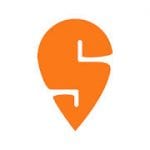 Swiggy Food Order is a delivery application that focuses on everything related to food. If you're out of milk, bread or you want to order food at home, then feel free to open the Swiggy Food Order and collect your basket.
For those people who do not like to go to the store on their own, there is a delivery function from the nearest supermarkets within 2 hours. To get the necessary things for life, you do not even need to leave your bedroom.
The most important thing is that Swiggy Food Order is open 24 hours a day. The possibility of delivery from a certain place will depend only on the schedule of the restaurant or supermarket.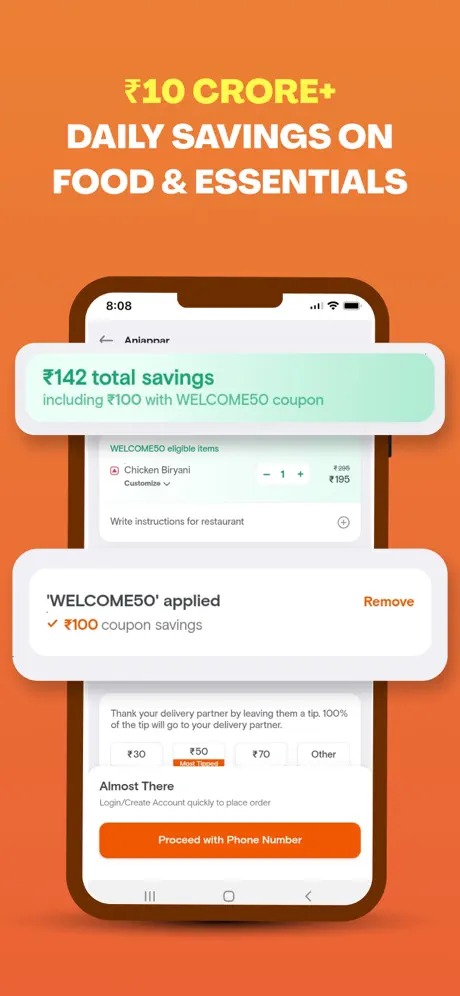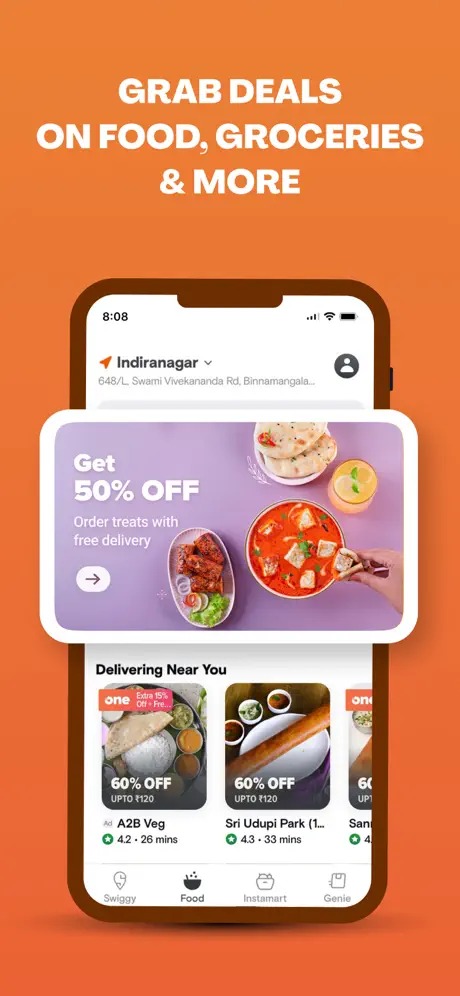 So if at night you suddenly want a burger from McDonald's, you will receive it sometime after the order. It is worth noting that you can pay both in cash and with a bank card. At the moment Swiggy Food Order recommends you to pay by card to avoid viruses, but you can use any method.


Grubhub: Local Food Delivery & Restaurant Takeout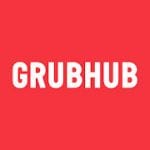 If you only need food from restaurants or fast food cafes, you will definitely like Grubhub. This delivery accepts cash (you give it to the courier) and online payment. You can also pay by bank card to the courier if you wish.
It should be noted that during a pandemic Grubhub offers you a contactless delivery service, where the courier will simply leave the order at the door of your house. In this case, cash payment becomes impossible.
In Grubhub there are many different discounts and promotions of the restaurants with which they cooperate. Also, the service has a special subscription, buying which you get exclusive offers from your favorite restaurants.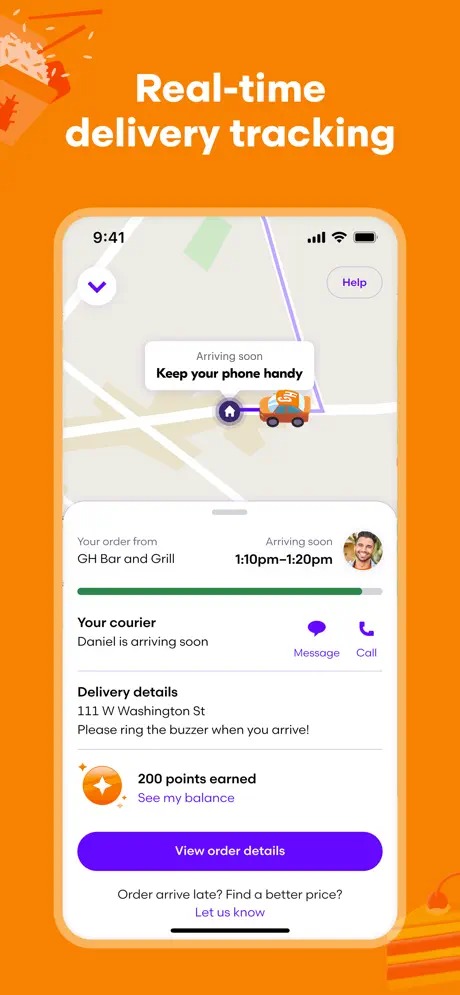 Perhaps, if used frequently, you will save a huge amount of money through a subscription. All restaurants in Grubhub are presented as a list, as well as the dishes in them. Everyone can see the rating and ratings of other users to get their opinion on food.


delivery.com: Order Food, Alcohol & Laundry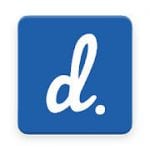 Fast delivery is an important factor when choosing a service. If it is really important for you to get your order or purchase as soon as possible, then just use delivery.com.
They cooperate with many local stores and cafes throughout the United States, which allows delivery in the shortest possible time. If you wish, you can also come to pick up your order yourself by simply indicating the option Self-delivery in the application.
delivery.com allows users to order not only food. If you like craft beer or unusual drinks, the service is always ready to help and bring you exactly what you want at the moment. Also in delivery.com, you can create future orders, which you will make after some time.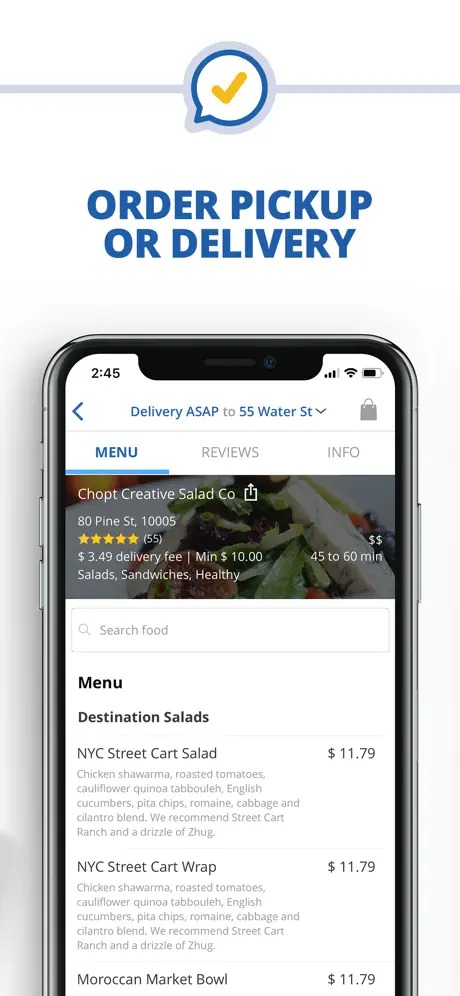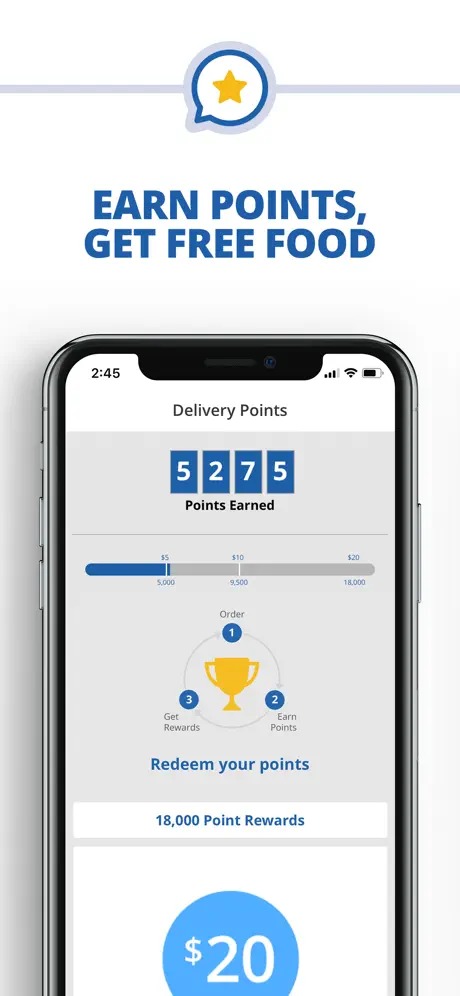 For example, choose the day on which you will need to order beer for the whole company or pizza, and delivery.com will carry out delivery at a convenient time for you. For each order, you will receive bonus points on your account, which will then allow you to pay for part of the purchase.


You may also like: 11 Best Free Restaurant Finder Apps for iPhone & Android
Seamless: Restaurant Takeout & Food Delivery App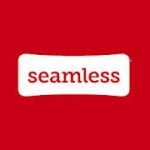 There is a huge amount of food, drinks, and restaurants in New York. Seamless tried to collect the best of them, and now they are ready to deliver food directly to your apartment.
If you do not like to visit restaurants on your own, you can always open the application and place an order – the courier will be at your place in a short period of time. Also Seamless collects all favorable offers, which may be liked by users and will allow them to get the benefit.
Points, which you will receive for each order, can reach the size of 100 dollars. Of course, this applies to giant meal orders for the whole company. To find your favorite food at Seamless, just type "sushi", "pasta" or "Mexican food" in the search bar, and the service will automatically select the right restaurants for you.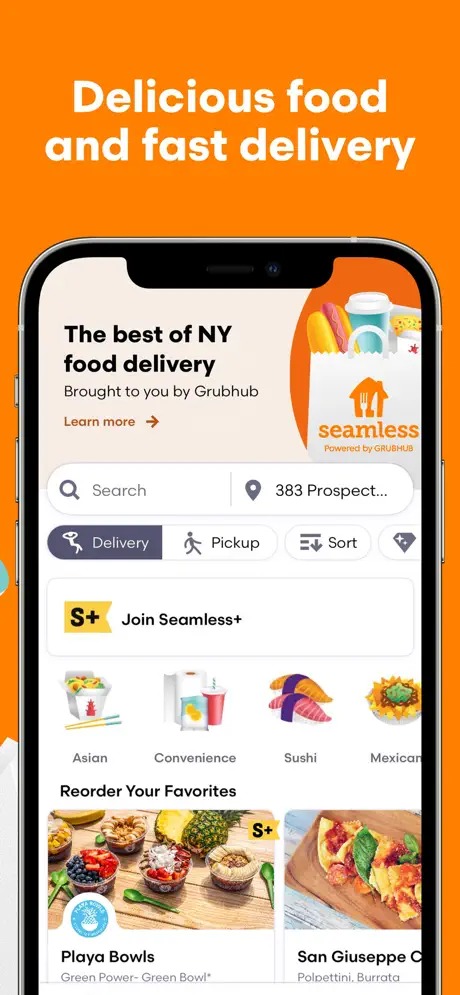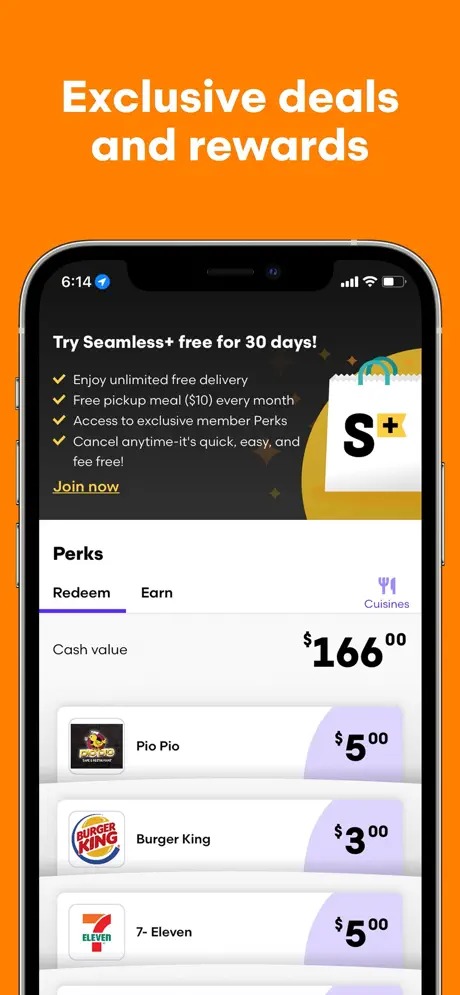 In Seamless you will also find something for yourself and people with eating habits: you will be offered a choice of vegetarian dishes, low-carbohydrate or dietary products.


foodpanda: Food & Groceries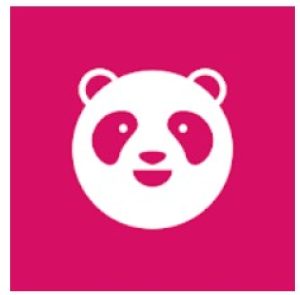 foodpanda offers an extended collection of tasty foods ranging from fresh sushi up to pizza with ultra-thin dough.
The application runs as an online grocery store. Users can order not only food, but cosmetics, pharmaceutical products, or even electronic tools.
After downloading the app, you will have to insert your residence address. Thereafter, you should select the favored restaurant or cafe and choose the preferred food or any other items.
When you open the app, it will show you the assorted restaurants or stores located near your location. Users can also use the integrated search bar or adjust settings to find the most required places.
Once your order is ready, the app allows you to monitor the entire process in real-time. Plus, you can even communicate in the built-in chat with a delivery guy.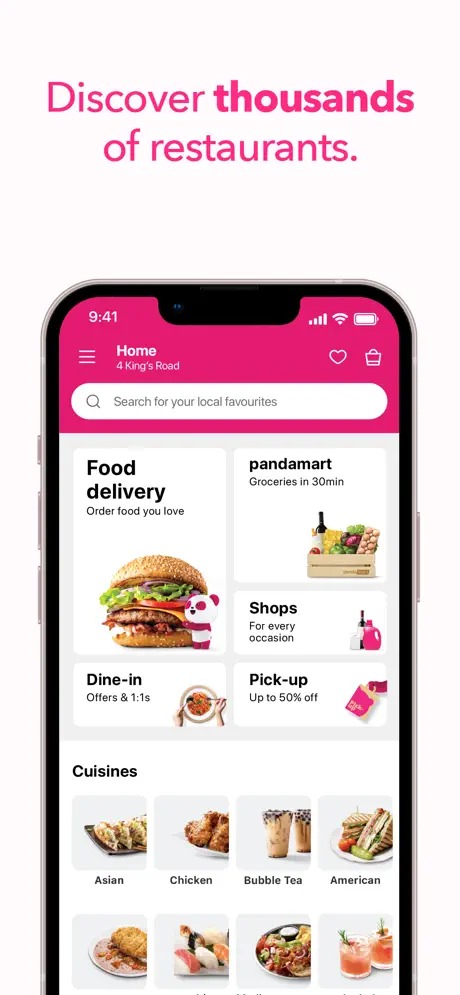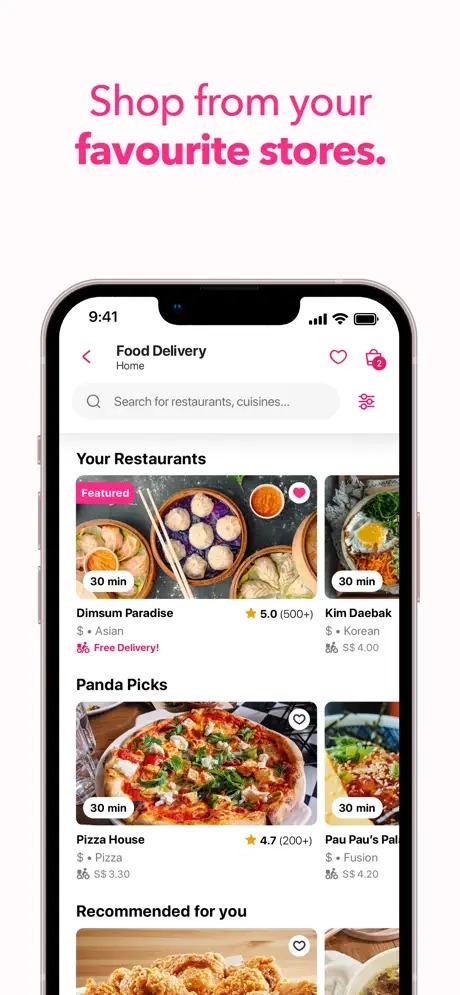 Furthermore, foodpanda comes with plenty of daily discounts and sales. So, you can purchase favorite dishes and products at a reduced price.


You may also like: 15 Best Food Coupon Apps for Android & iOS
Uber Eats: Food Delivery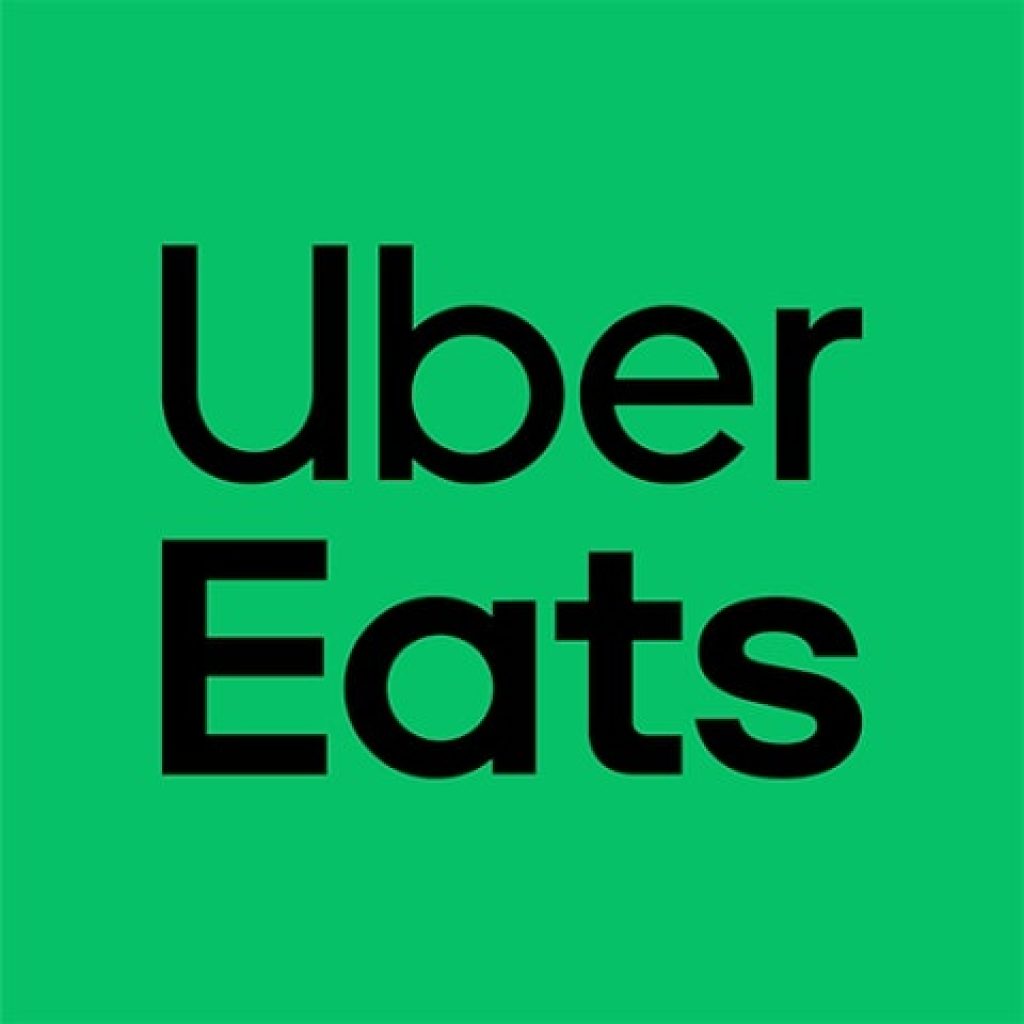 With this service in the form of a mobile app, you definitely won't go hungry. It will allow you to schedule delivery times for different foods or even meals from establishments, and get your food without contacting a delivery person.
To make an order, you need to find and click on the place or supermarket where you want to get your food from. After that, leave a request to make, send your order and wait for the information about it to appear.
Once the process is completed and the payment is successful, you will have access to the data of the assembly and delivery time, as well as the auto responsible for your order. You have access to all the data, so you can watch every process of manufacturing and sending of your purchase.
If necessary, you can select the payment method, remove or add recommendations and so on. The service works in many cities and countries, allowing you to shop regardless of your location.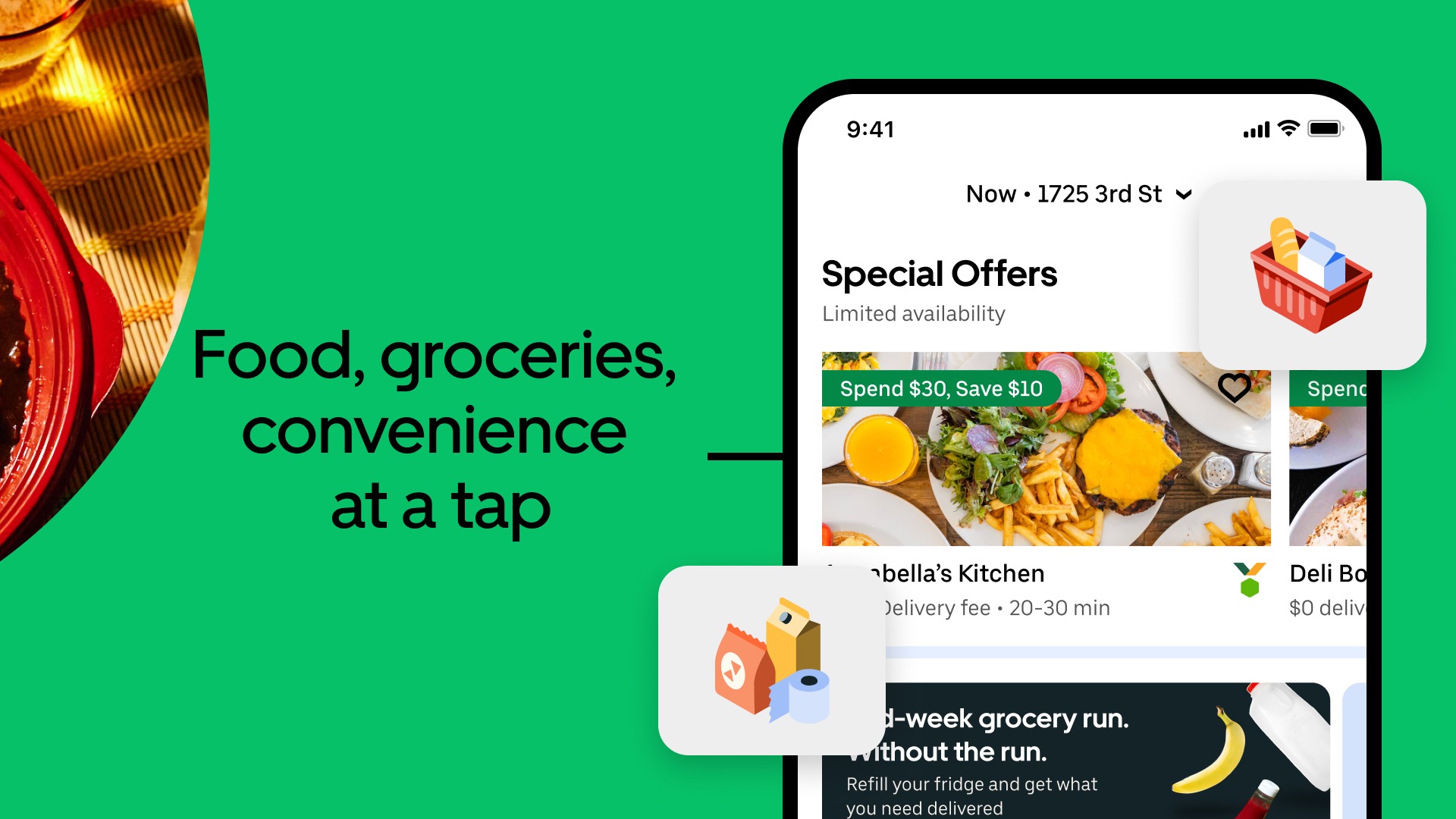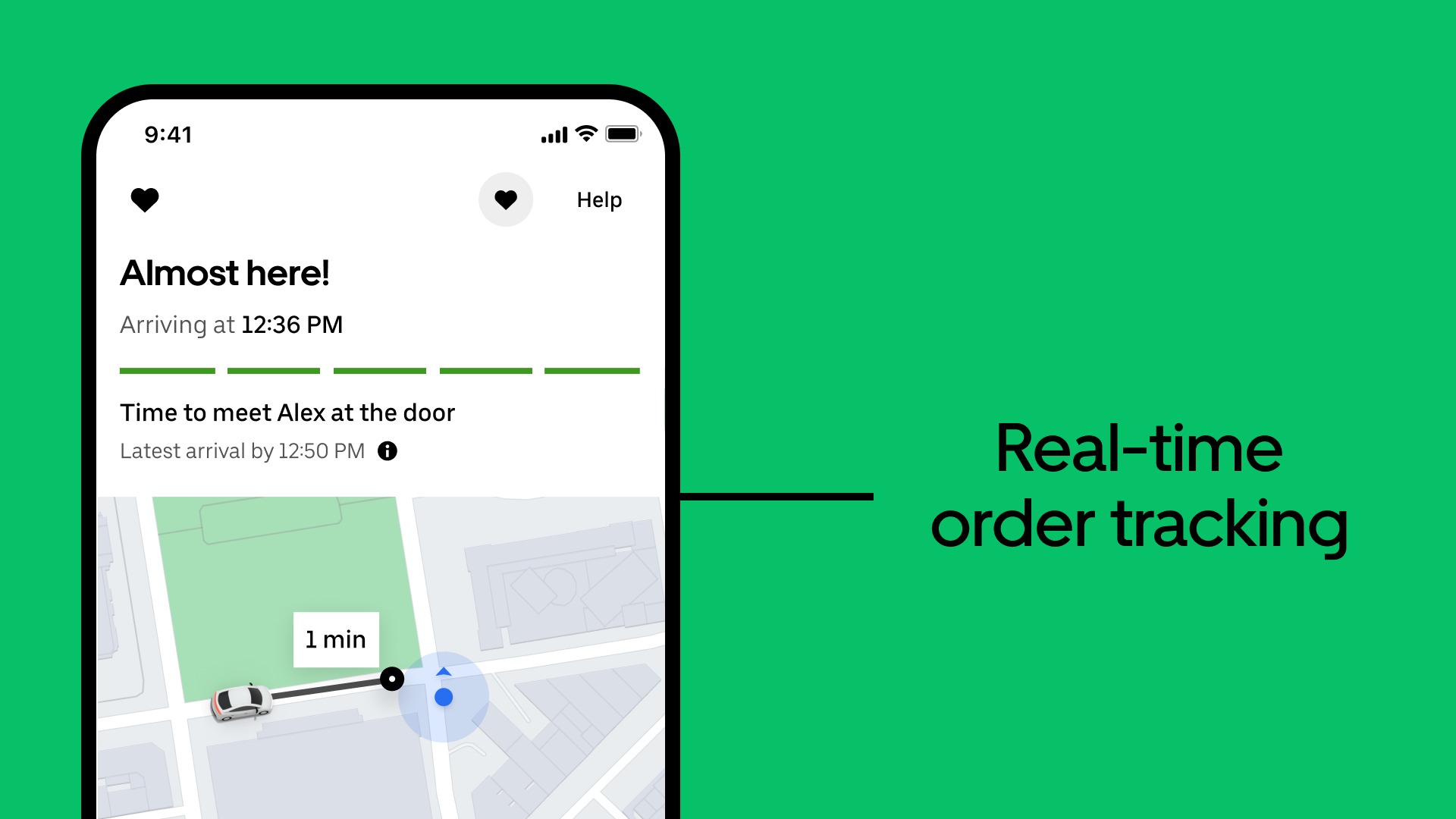 Choose product categories and specific establishments based on convenient filters and ratings.


Payment by bank card or by transfer is undoubtedly convenient. You are not in contact with cash and paper and do not use your wallet on a regular basis. However, some people still prefer cash for various reasons.
Some people may really like it, but someone just has to carry cash with them all the time. We have tried to select the best delivery applications that allow you to pay in the most convenient way. We hope that our article was useful for you and now the screen of your smartphone will be enriched with another special delivery application.