Renovating a home requires a lot of effort, including your own energy. Anyone who has ever experienced renovation knows how difficult it is to come up with your design, including the color scheme, furniture, appliances, and more.
You can seek the help of a professional. Yet, this is also quite a difficult undertaking, because each of us has our own preferences and sometimes it is difficult to understand what the customer prefers.
Now you can turn your ideas into reality using your phone and modern technology. Artificial intelligence can do more than create images and texts. It can help you visualize your dream renovation. So let's take a look at these best AI home design apps in 2023.
Arch
Arch showcases the perfect interior improvement job. To get sound advice in terms of interior design, you don't have to seek the help of expensive professionals.
Create the kitchen of your dreams with just your phone or tablet at your fingertips. Make the most of the space in your apartment: make the right zoning and choose the right furniture.
This app allows you to visualize how much your apartment can change if you arrange the furniture differently or change the wallpaper. You will instantly get a visual picture and you won't have to do useless furniture rearranging.
Take a few photos of your living space, upload them to the app, and trust the capabilities of artificial intelligence. You can update one room or the whole house at once. Every detail will be in the right place in the created plan.
Make a room look spacious and sunny, remove bulky furniture, and find the perfect rug. Arch is adaptable to 10 different design styles including classic, modern, and Japanese design. Don't forget to save suitable options to discuss with family members and friends.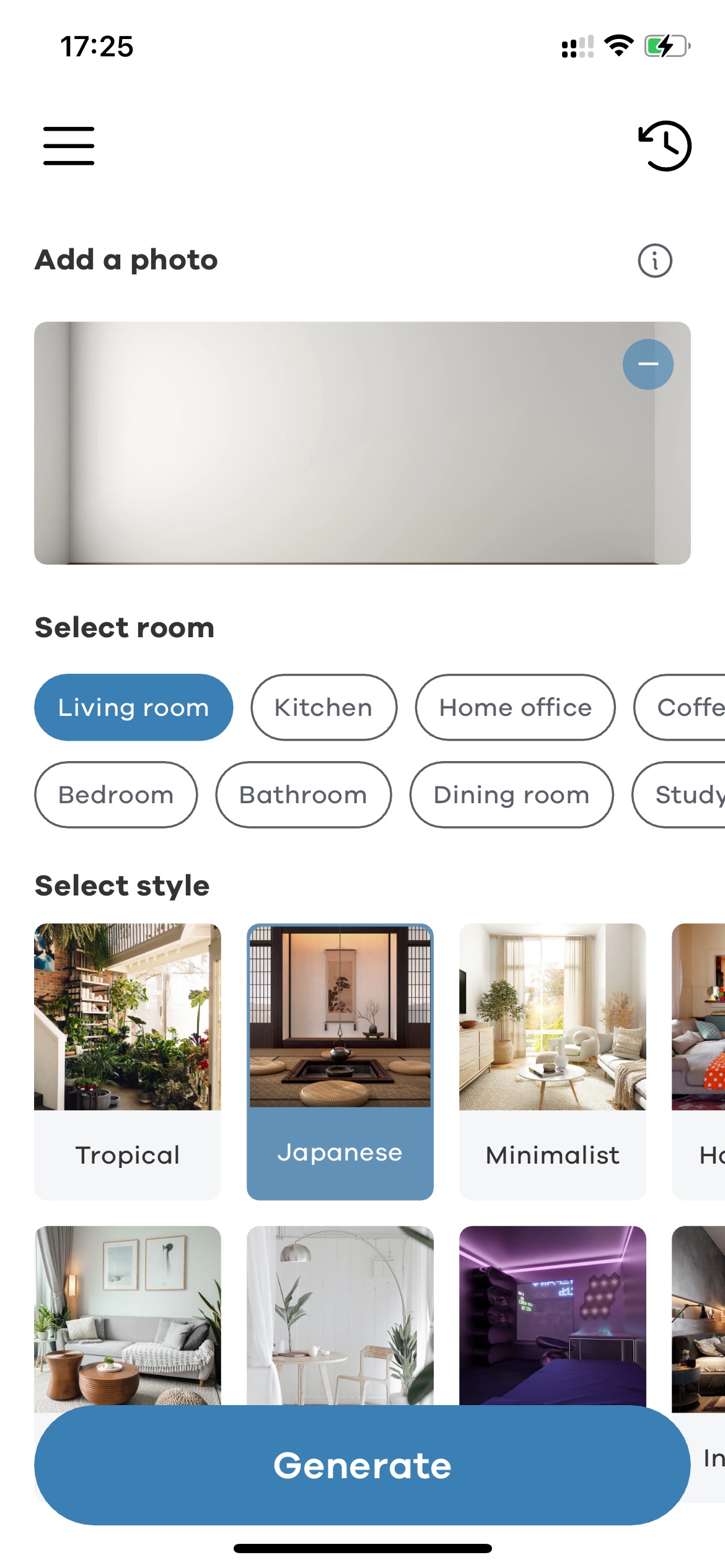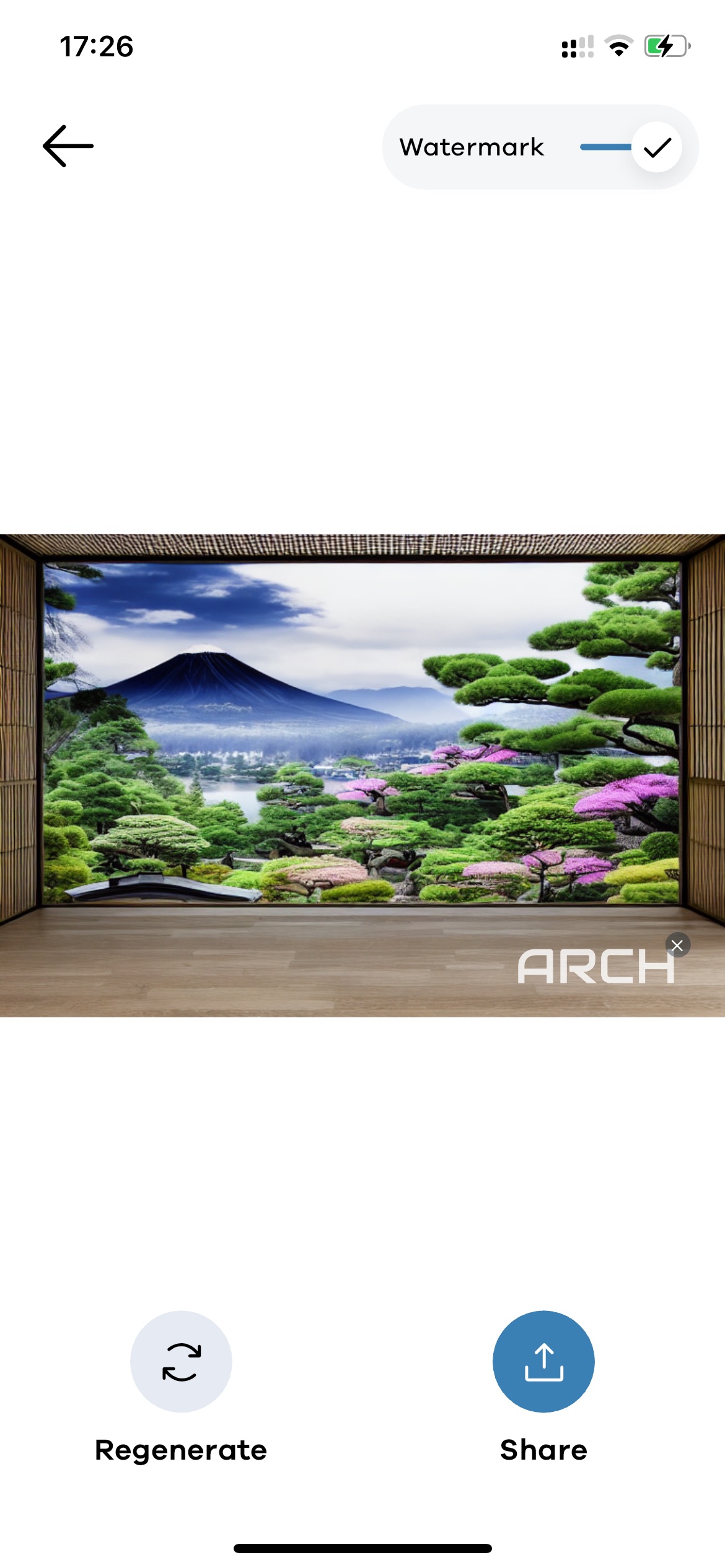 Here you are sure to get opportunities to realize your creativity and avoid the drawn-out process of changing your interior design.


You may also like: 9 Best Backyard Design Apps (Android & iOS)
Houzz
If you're seriously thinking about changing the design of a room, apartment, or entire house, trust the Houzz app to do the bulk of the work. It has received great reviews from millions of users.
Renovations are not always a long and tedious process. With this app, you can quickly and affordably renovate a room, kitchen, or the whole apartment. It contains useful tips and recommendations from experienced designers.
Before you start renovating, familiarize yourself with the collection of illustrative photos. Choose the room you need to work on. Specify your preferences and desired style. Get millions of great quality photos and get ideas to bring to life.
You can communicate directly with the famous designer and ask them questions. With Houzz, your home will look like the cover of a fashion magazine.
Save those photos and ideas that you like more than others in your "Favorites" folder. You can then compare them with each other and discuss them with other residents.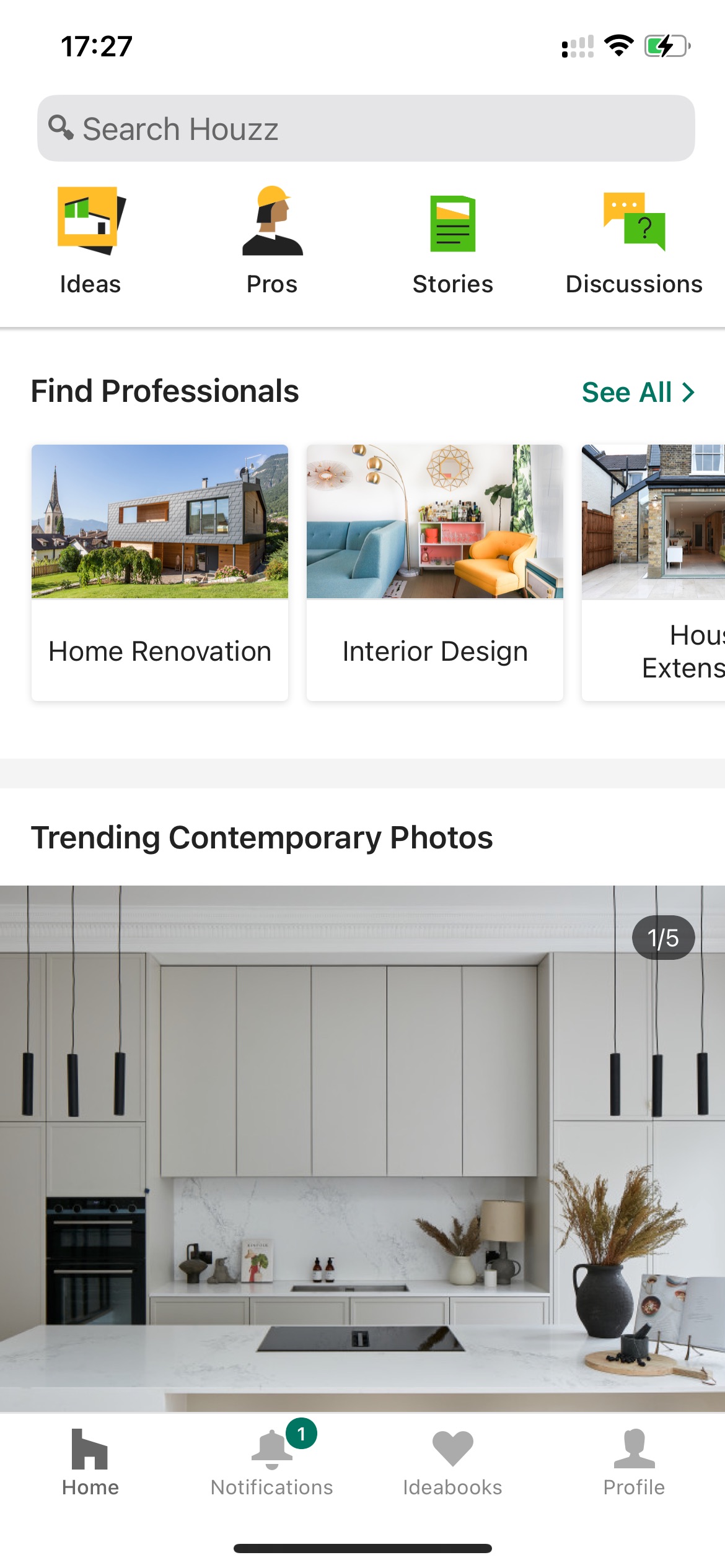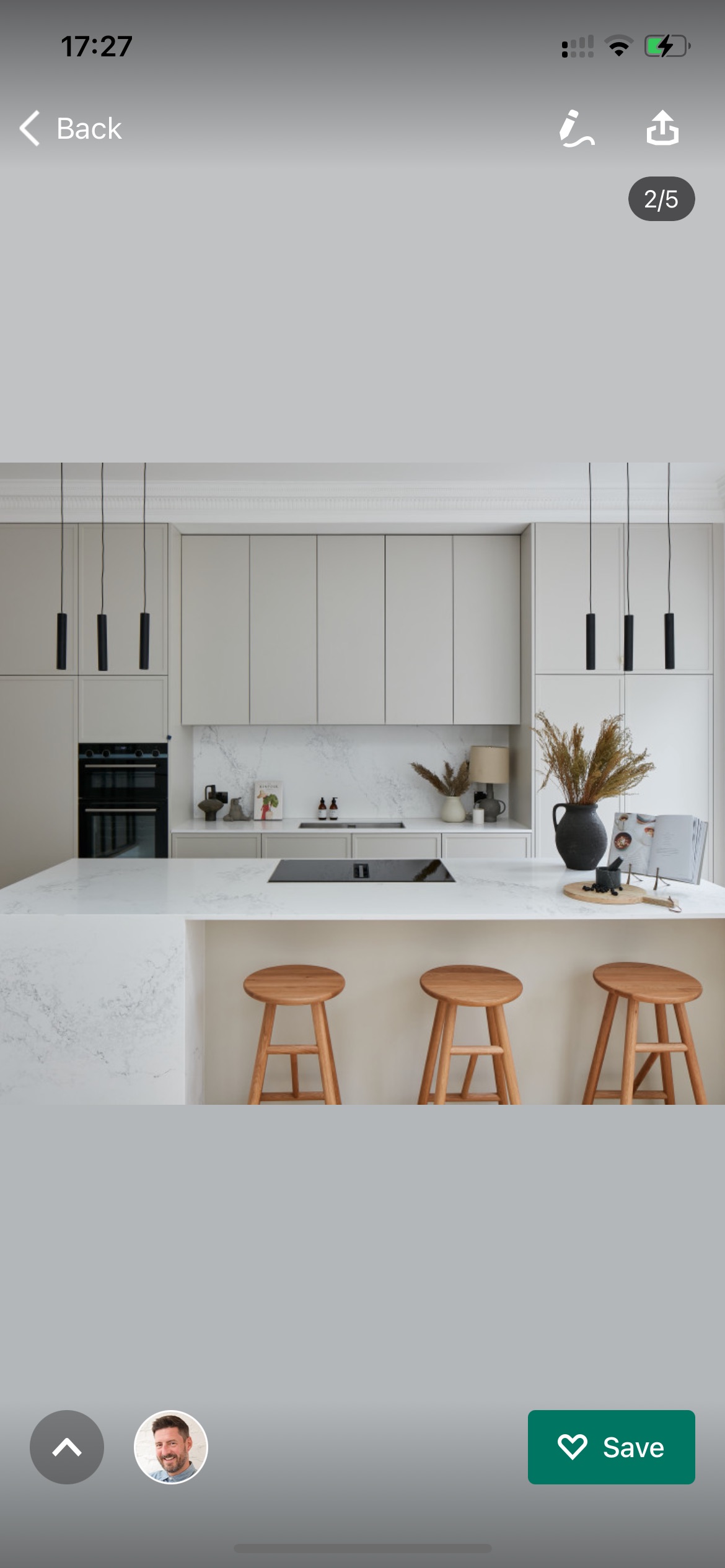 You can write down ideas and refinements directly on the photos using the Sketch tool. Houzz is a valuable collection of ideas, style options, and design tips for your home.


HomeByMe
Make your home cozy and unique. Get rave reviews from your friends. With HomeByMe you can realize even the most complicated ideas. It offers you a 3D model of the interior furnishings of living spaces.
The app can be used to visualize the decor and furniture for a specific room or the whole room. If it is important for you to have the same style in all rooms, this app will be your ally during the renovation.
Browse through interesting photos and images at your convenience. Check the ones that best meet your requirements. Today there are over 16 million completed projects freely available.
Imagine how the chosen wallpaper or furniture will look in your apartment. Calculate all the details without actually moving the furniture. You can also create your own layout with all sorts of options and decor details.
It will be easier for you to decide on a serious choice if you see the look of the room with all the additions. It will be much easier to discuss the design with your partner or family members when it is in front of your eyes.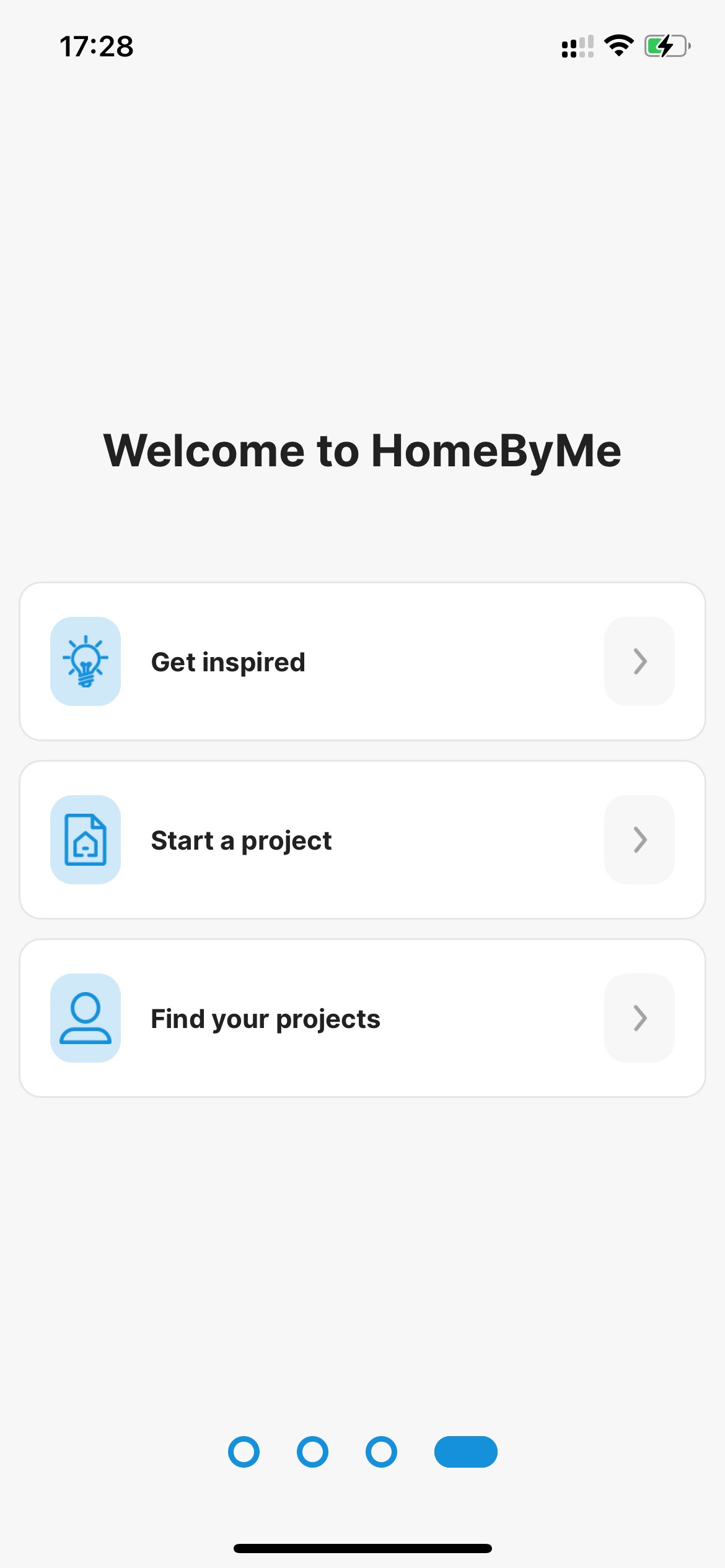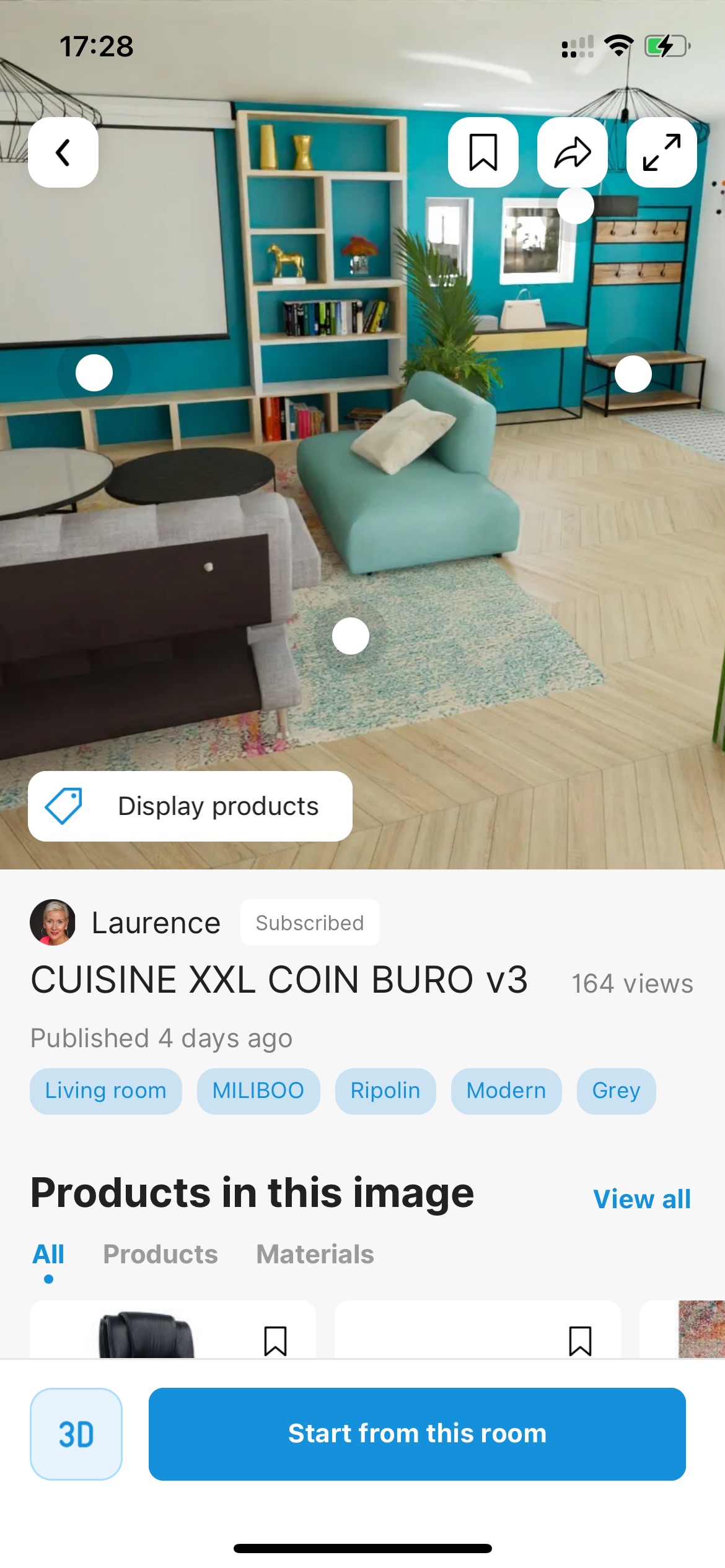 HomeByMe also contains a catalog of products for construction and repair, where you will easily find the product of interest at a bargain price.


Room Planner
Room Planner will make it easy to redesign any living space. This app shows a 3D model of a room or apartment in any style. This is a great opportunity to test your layout and design skills without overpaying.
Stop putting up with ordinary designs that are no longer pleasing to the eye. Just pick up your phone and create your perfect dining room or dream kitchen.
This app has hundreds of tools and furniture options for your chosen style. You will easily select wallpaper and paint color palettes.
More than 5 thousand items with a wide variety of characteristics and parameters. Get at your disposal a huge number of ideas created by real professionals in the field of design.
In addition to the design of living rooms, you will have the opportunity to take part in the design of landscapes. In just a couple of minutes, you will get a selection of suitable plans and ideas. Or you will be able to create a unique look for the room yourself.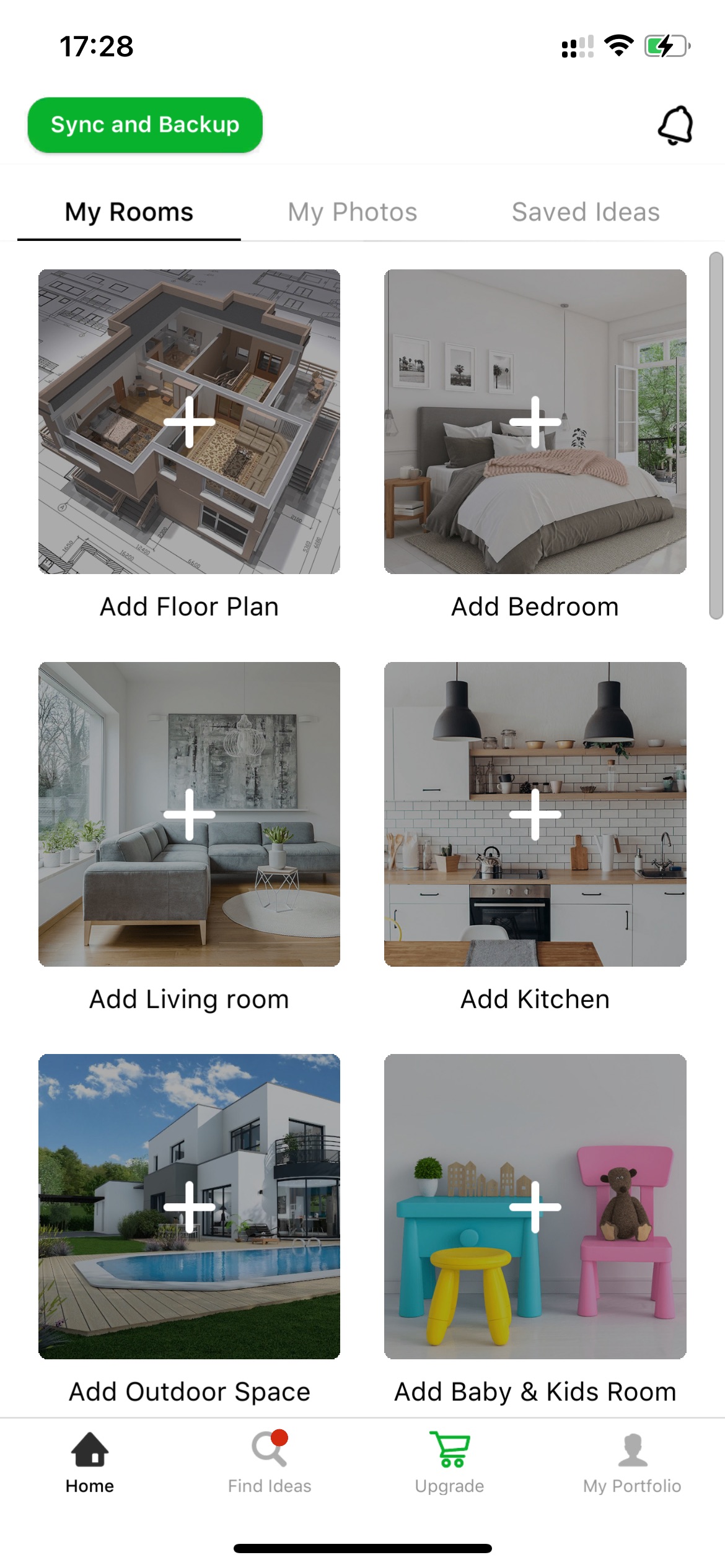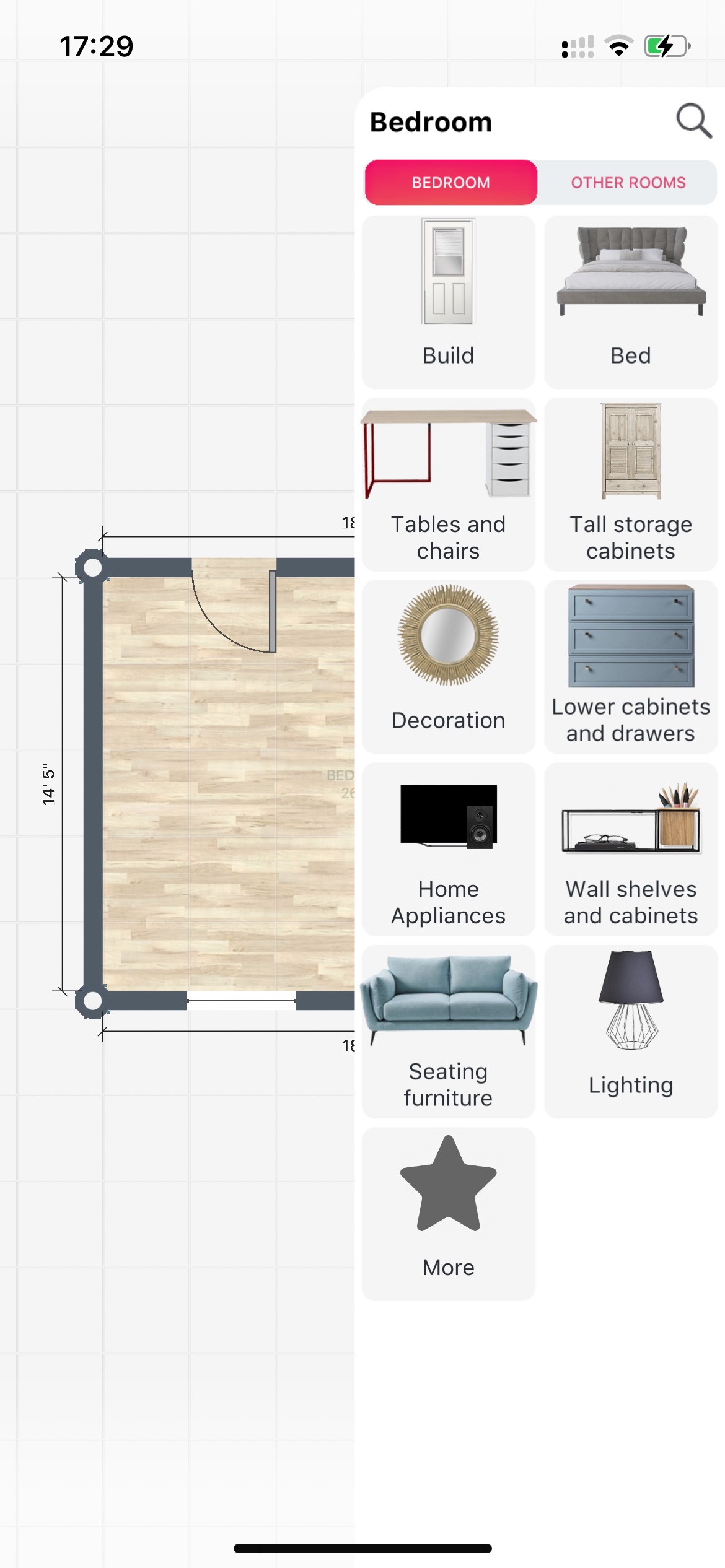 3D-model will allow you to properly assess the work and see the whole room from different angles. Save good ideas or your own designs to show them to your friends and family. With a ready plan, it will be easier for you to make the right decision and communicate with your designer.


Planner 5D
Planner 5D is widely recognized among professional landscape and interior designers. It is simple and easy to use, which allows everyone to make a detailed plan for renovation and interior change.
It is suitable for all types of premises: apartments, houses, and offices. Their size and location will not affect the work of the app in any way. The most unusual formats that reflect your individuality are available here.
On this platform, you can create an unlimited number of projects of different scales. Make a cozy bedroom for yourself, and design a veranda for parents or friends. Note which materials and pieces of furniture you prefer. Don't forget about the scale color palette.
Apart from the basic parameters, you can also choose elements for decoration. Perhaps you have always wanted to decorate your kitchen with an antique clock or hang an imitation of the Miami coast in the guest room.
Thanks to the 5D model, you will get the maximum view from different angles. No unpleasant surprises during the work.
In addition to the design of the house, you need to ennoble the attached plot. It can be a luxurious swimming pool, a recreation area, or even a tennis court.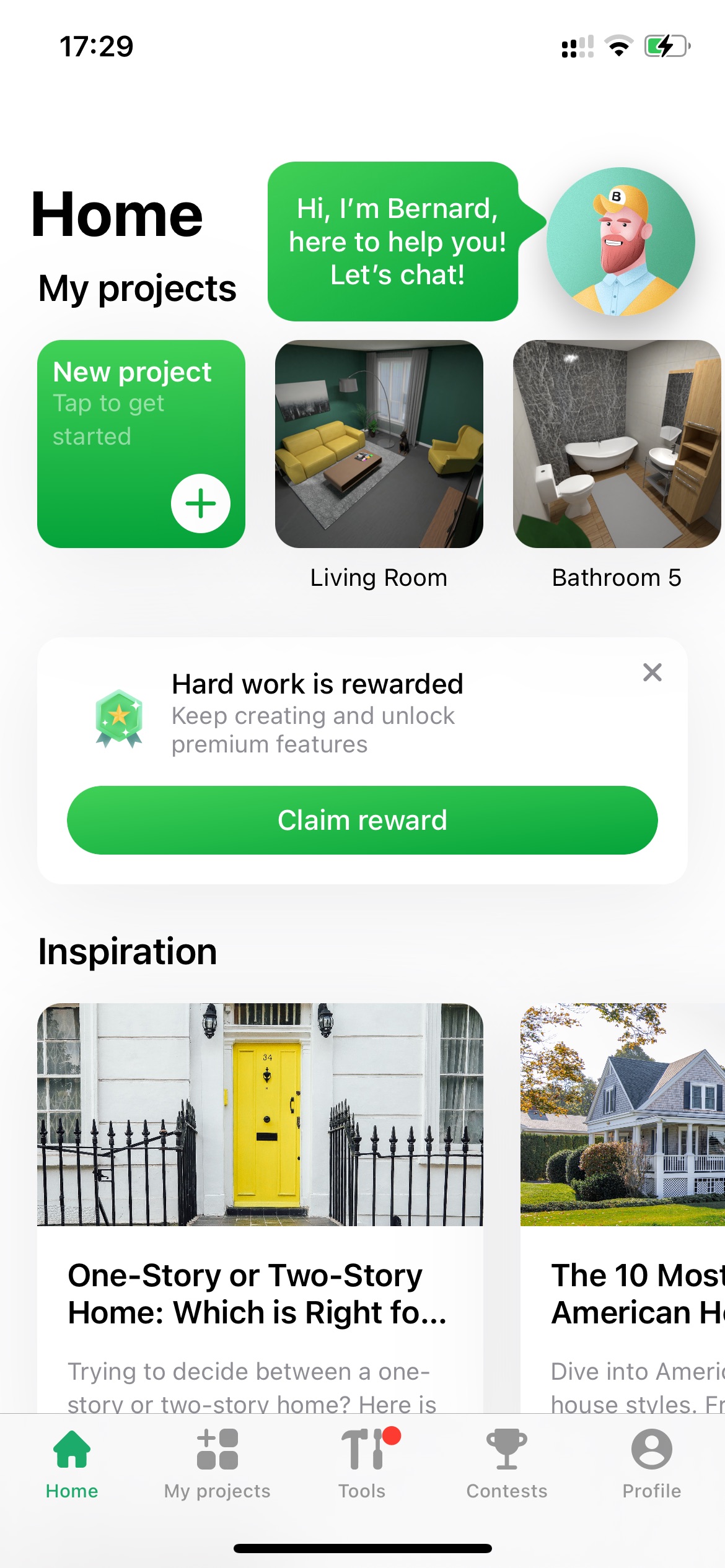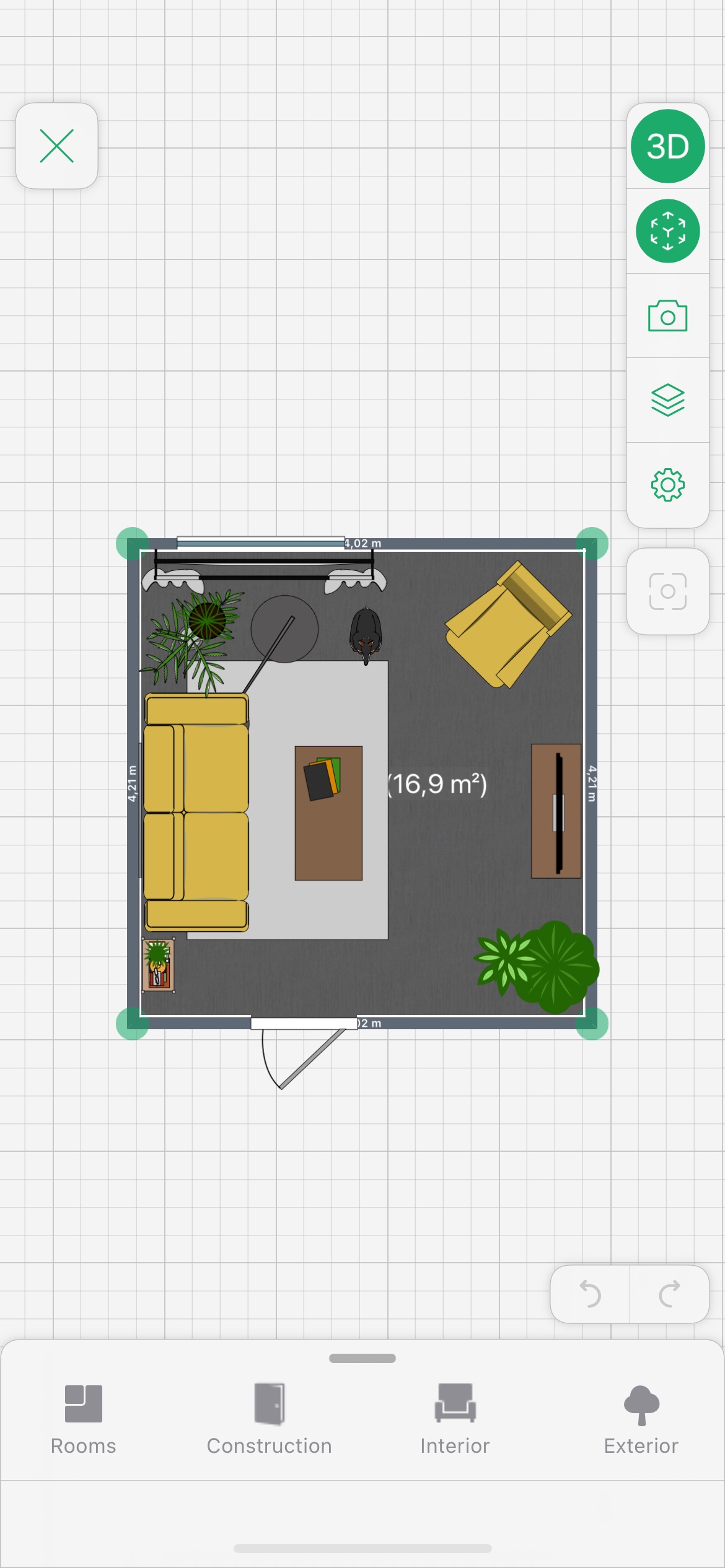 Planner 5D is suitable for working with public spaces, including cafes, stores, and gymnasiums. Modern technology helps you avoid the usual problems associated with remodeling and renovation. Make your life brighter without unpleasant surprises.


Homestyler
Homestyler is designed to help users get through renovations without the hassles and monetary losses. This app helps you navigate through the huge range offered by interior design specialists.
Rest assured that here you will create the environment you have been dreaming of for a long time. All it takes is a phone or tablet to conduct extensive professional work to select a layout or plan. Thousands of ready-made ideas, the possibility of creating your own project without the involvement of a specialist.
Select materials and colors of floors and walls, and choose the type of ceiling. With this app, you will get a visual electronic version of your future room or apartment.
The user interface is simple: just choose a style or a combination of styles and gradually furnish the room. Click on a piece of furniture and turn it in the desired direction. Evaluate how an antique dresser will match a modern bedroom.
Select the right decorations and make the light flow perfectly for your needs. You don't even have to search for building materials and furniture retailers, because the Homestyler app collects offers from leaders in the field. Just select the desired store and open the catalog.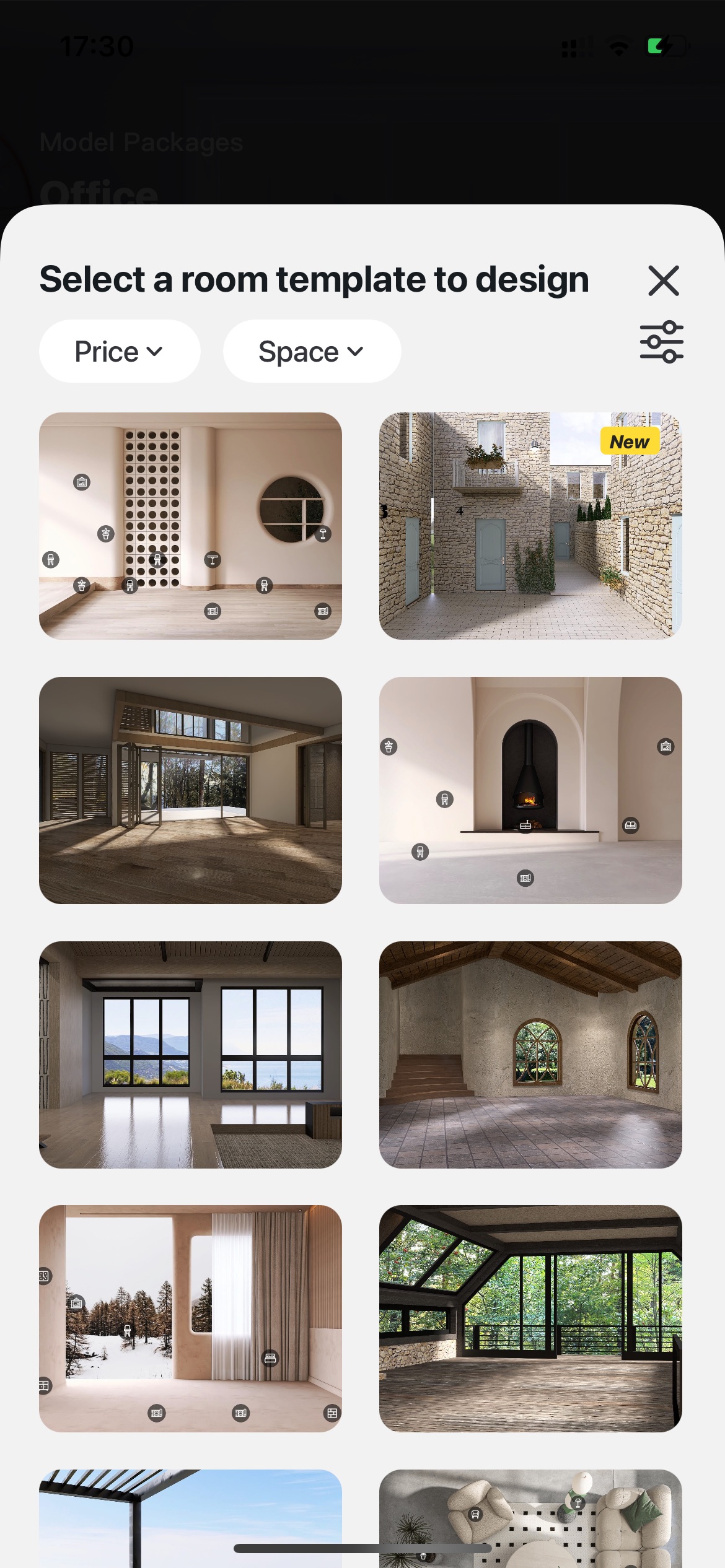 Every week there are master classes and competitions among the app users, where you can get a nice prize.


You may also like: 7 Best Window Design Apps for Android & iOS
DesignSense AI
Search for your dream kitchen with the DesignSense Al app. It provides a quick, easy, and fun way to find classic and unconventional solutions in the field of residential interior design.
Let go of the thoughts that you can't manage such a complex task without the help of an expert. The app works on the basis of artificial intelligence and makes it much easier to create plans for the appearance of any dwelling.
Here you will find tips on remodeling and selection of materials, a combination of colors, and placement of already purchased furniture. Now the rooms will become brighter and there will be free space.
Start your work by taking several photos of the room from different sides. This applies to one room, an office, or an entire house. You will instantly get options for furnishings tailored to your wishes.
The app contains design layouts in over 32 different styles that are particularly popular at the moment. Vintage, Zen, and classic styles are now even more accessible.
Choose the options that have captured your heart and save them to your favorites. With a visual aid, it will be easier to explain the desired result to builders and designers.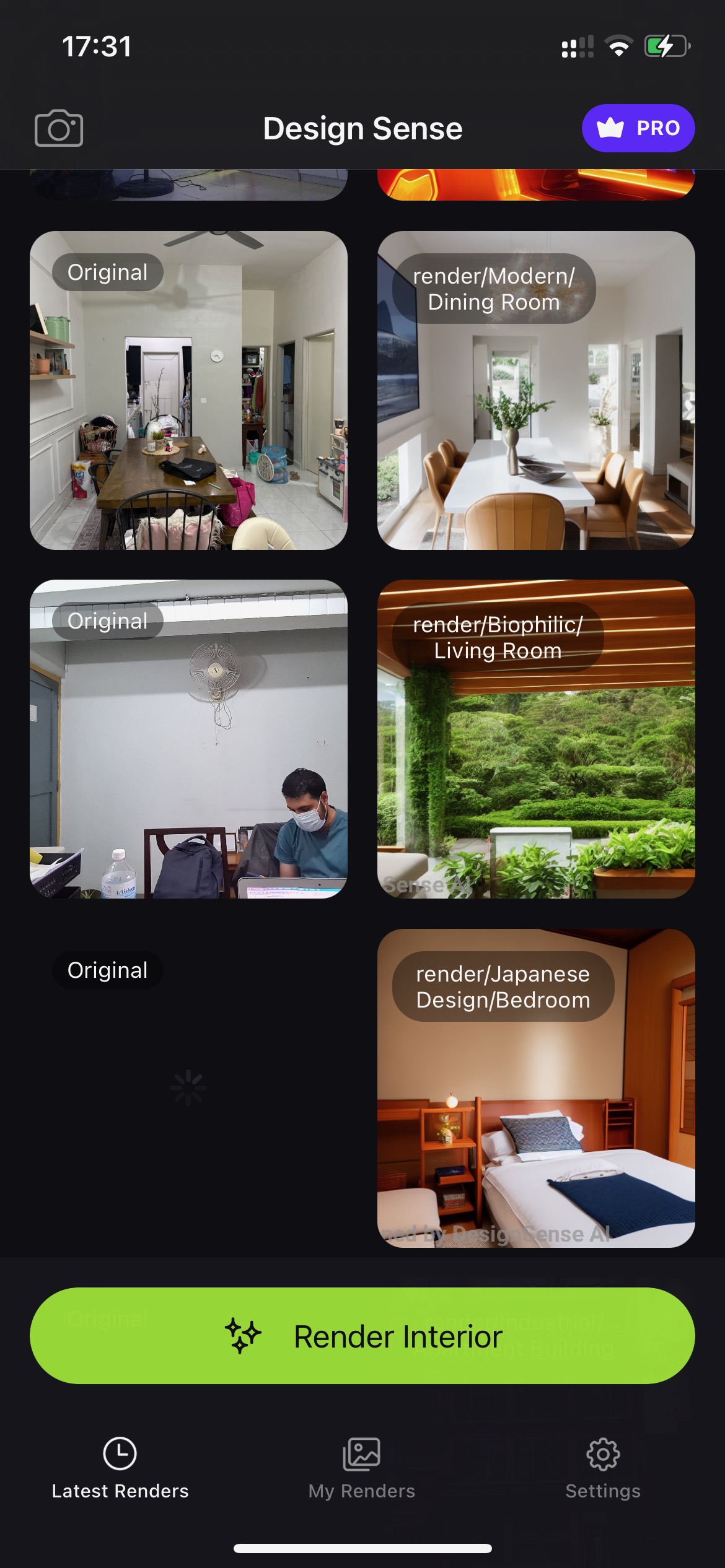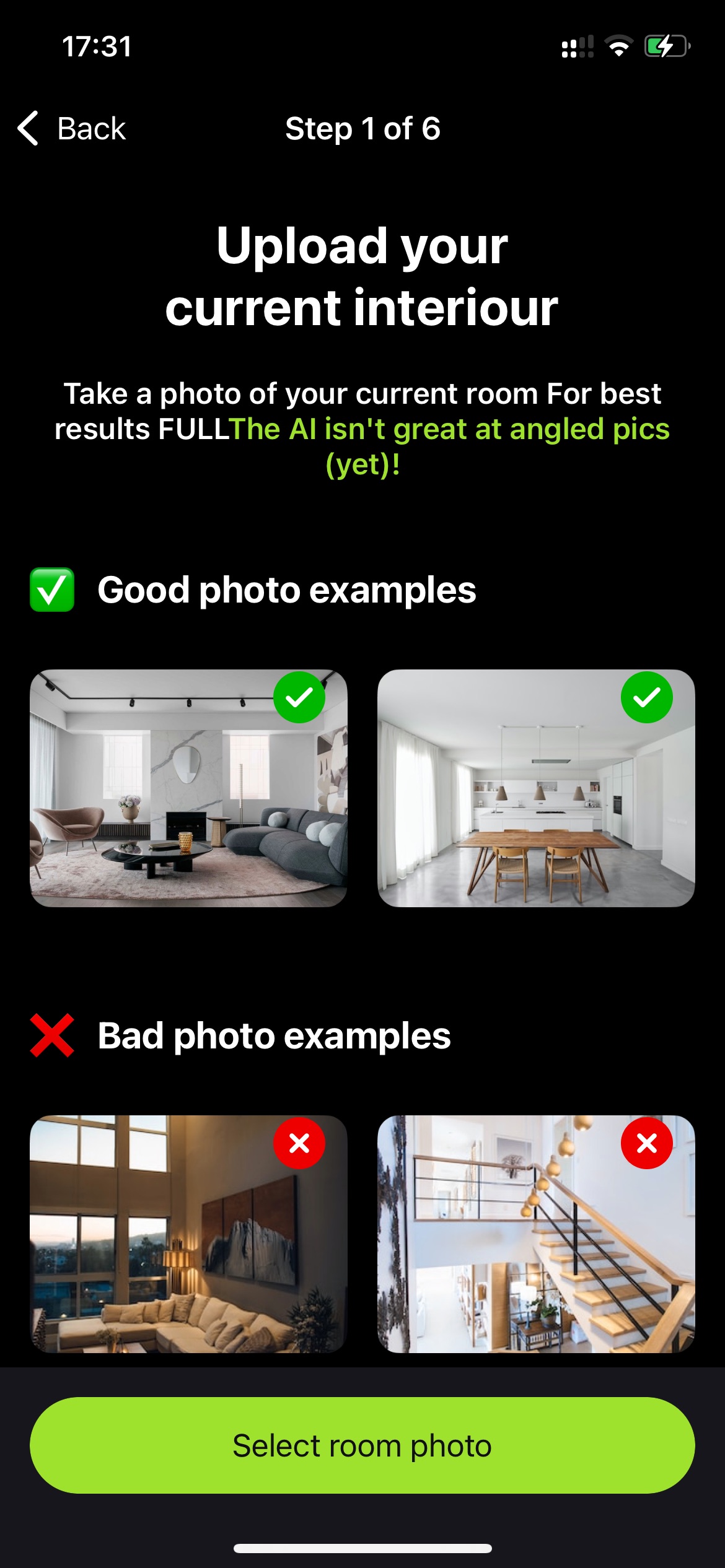 DesignSense Al can be used for rooms of any size. It will help you furnish 1 room or a whole house. You can make your office more comfortable and functional in just a couple of minutes.


HomeAI
HomeAl offers you a wide range of all kinds of ideas and patterns for your home. Renovate your apartment in the style of the 60s, update your kitchen appliances, and find a great place for rare furniture.
Whatever you have in mind, it can be brought to life. Thanks to the work of artificial intelligence, it's simple and easy to do. Take a picture of a room that needs innovation and choose building materials and furniture from specific categories.
Planning can be handled not only by a novice designer but also by any user in the period of construction and renovation. In just a few seconds, you will get an accurate model of the look of your kitchen or dining room.
This app can be used to update the ambiance in a cafe or office. Add decorations to give the room a finished look. Even if you have no idea about how you want your apartment to look, you can always refer to the ready-made plans.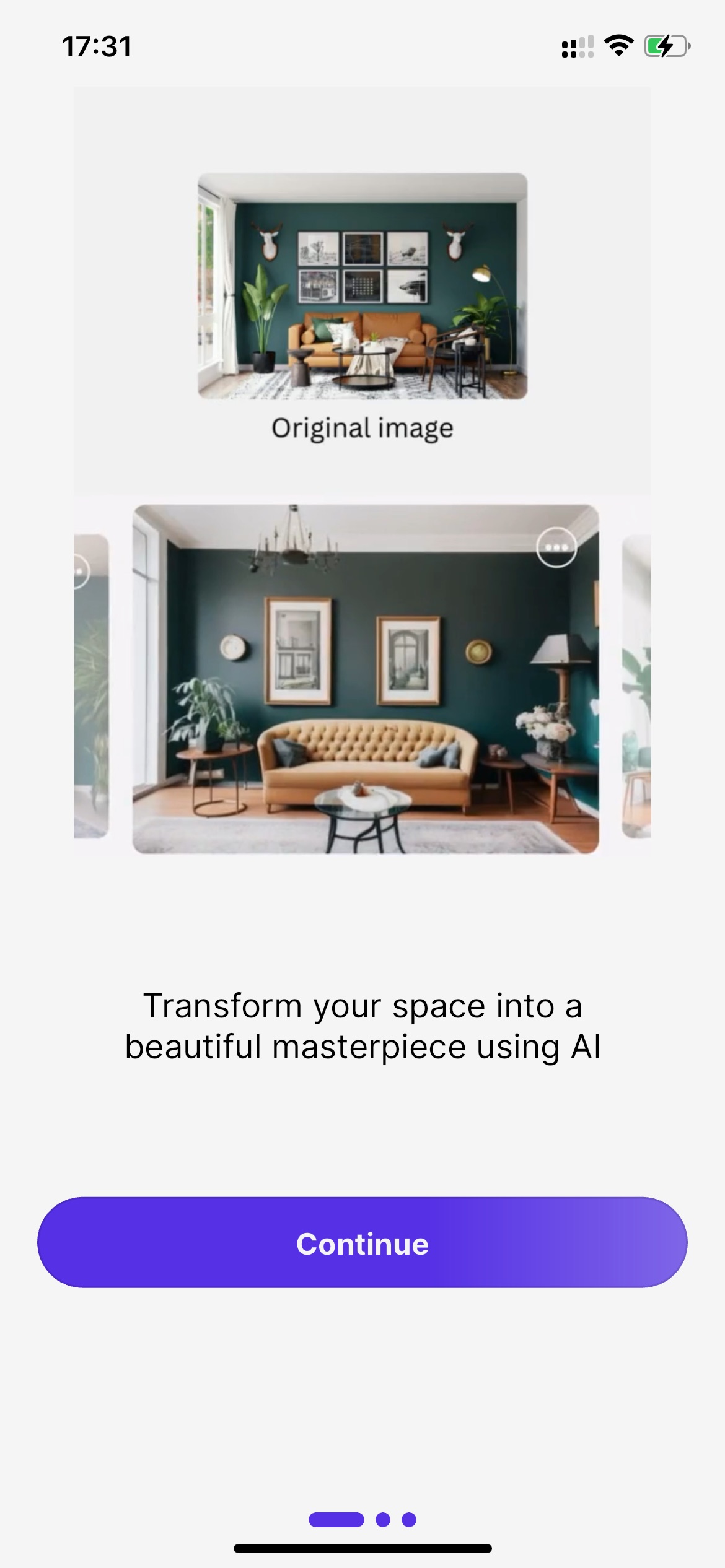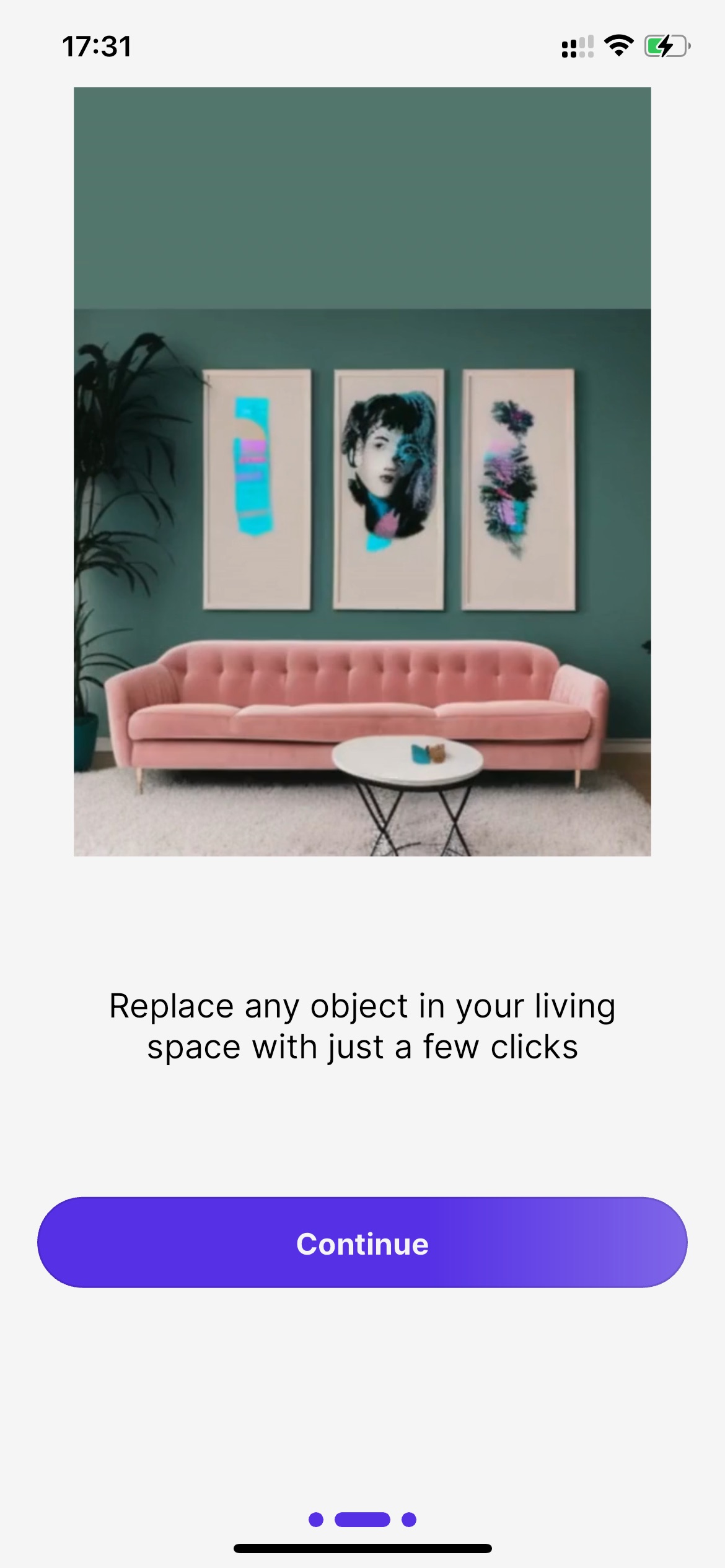 All the designs are customized for your room. You can choose from thousands of options. You can easily save them in the gallery and send them to your family or friends. Don't miss the chance to make a stylish renovation with HomeAl.


Decorio
Preparing for a renovation and new layout has never been more exciting. Decorio is an innovative project that provides access to the work of experienced designers.
Before you buy building materials and change furniture, see how it will look in person. The resulting model of the room and interior decoration will help you get a wide view from all sides. You will be able to take into account all the nuances before construction and save your nerves and money.
Use the app at any time in a convenient place. You can browse different styles on your way home from work or in the store line. There is a large selection of styles, decor, and furniture. Everything looks realistic, so you can decorate your room like in a fashion magazine without inviting a real designer.
Decorio will help you make the right choices so that your new interior blends in with other rooms. It's okay if you change your mind a few times in the process of finding the perfect result. Create as many layouts as you need.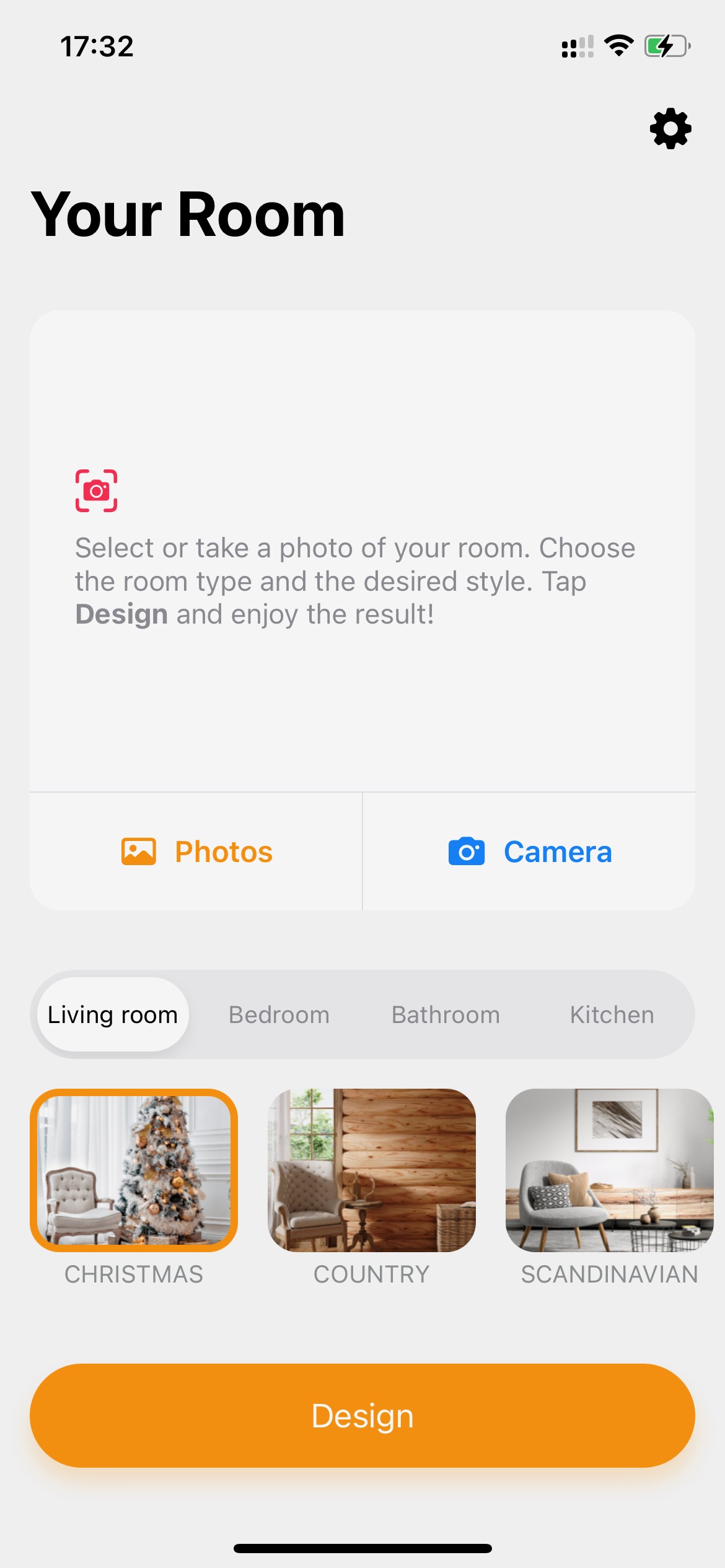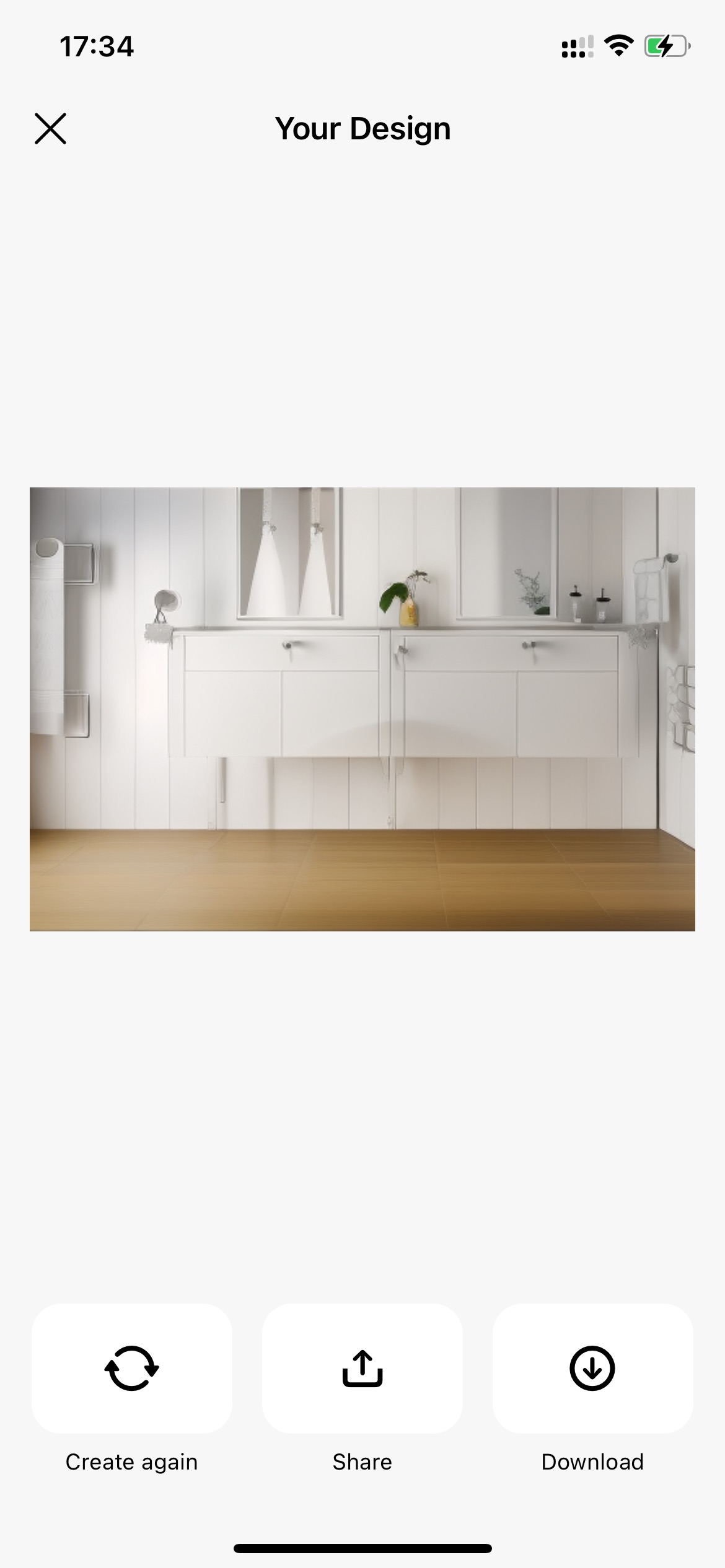 To access the extended version of the app, you need to subscribe for a fee. Just imagine how elegant and creative your apartment will look with Decorio.

Renovate AI
Renovate Al contains thousands of extraordinary ideas for decorating your home. Here you will find the top styles and fashion trends in home furnishing. A new renovation of your apartment is worthy of the cover of interior design magazines.
Easily switch between different projects, and choose the best options without compromise. All this can be accomplished from your phone for free. Show what you are capable of. Or draw from the current thoughts and achievements of other innovators.
The app is aimed to make it easy to create a design for an apartment, house, or other living space. Just take a picture of your room that needs renovation. The app will analyze the raw data and instantly suggest possible options. Here you will find the largest collection of classic options and sophisticated styles.
Get a ready-made model of the room, where everything has been thought out to the last detail. Do not forget to specify your wishes on the style and zoning of the room. Note the number of people who live in this room.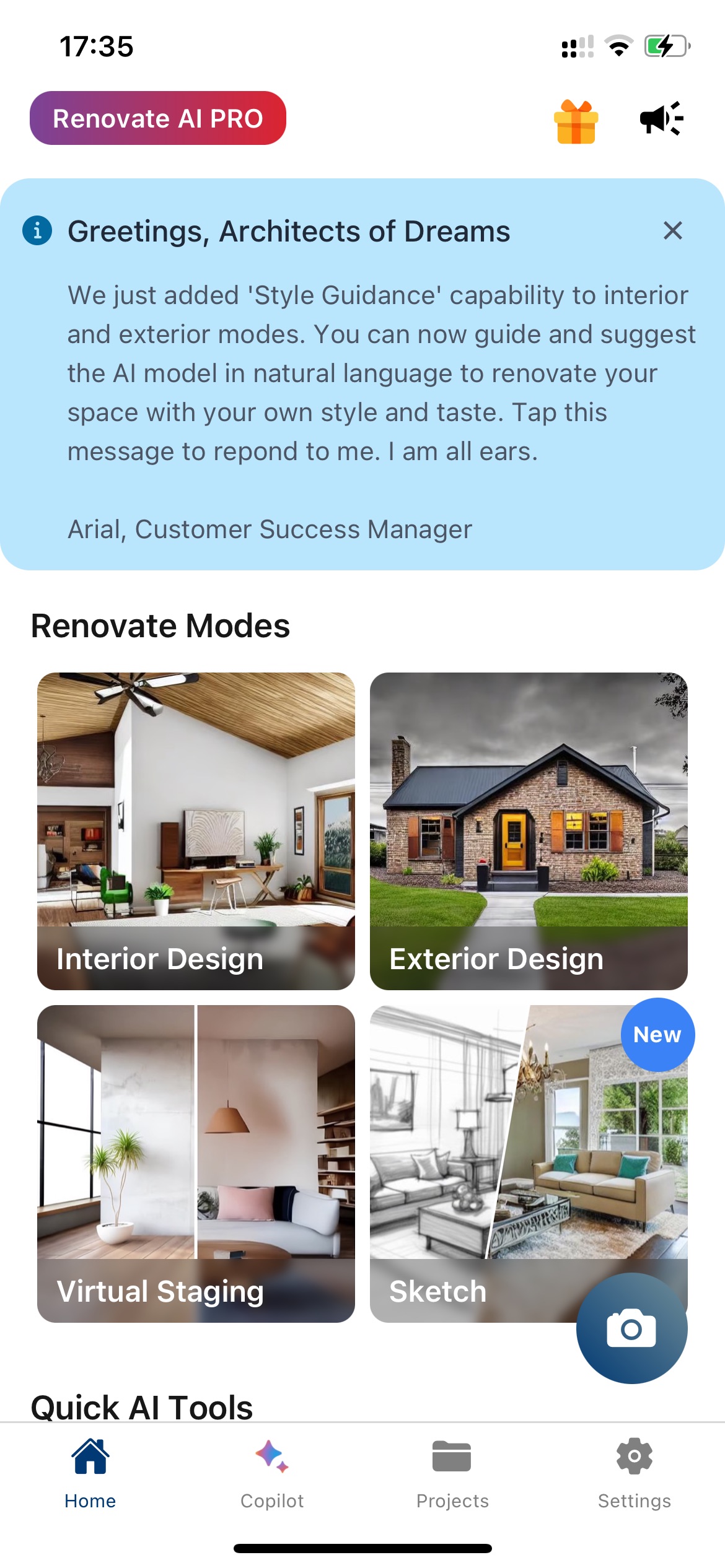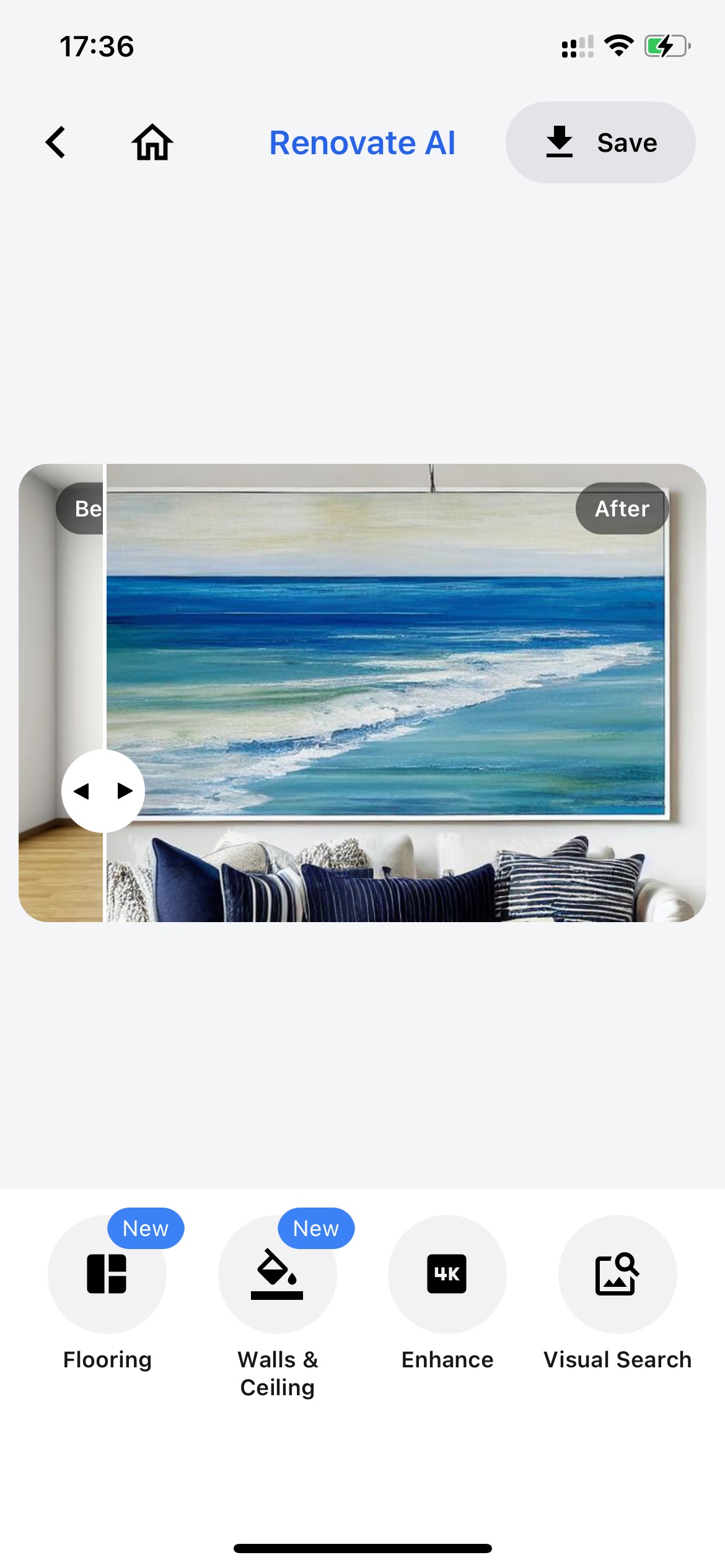 Renovate Al allows you to turn routine into a creative process where there is no room for boredom. But that's not all. Now you can buy the right finishing materials, furniture, and decor without leaving the app. This multifunctional marketplace directly connects trusted suppliers and buyers.

You may also like: 11 Best Home Automation Apps for Android & iOS
AI Redesign
Al Redesign shows the power of artificial intelligence in action. Leave all the hassle of renovation, construction, and home improvement to this app. You bypass the endless process of picking color palettes, furniture and arranging them. Just get a visual image of the finished room and discuss it with other residents.
Provide the app with a photo of the room in the old design and point out some nuances. It is also necessary to note in which style you prefer to get the result.
Just a few seconds are enough for the app to generate thousands of suitable designs. Rearrange furniture with a single touch, instantly changing color and size. If you want, you can do it manually or use the automatic search.
No task is impossible for Al Redesign. Just specify exactly what you want to see on your phone screen. Save space through zoning and proper placement of bulky furniture. Turn a small studio into a cozy family apartment where everyone has their own space.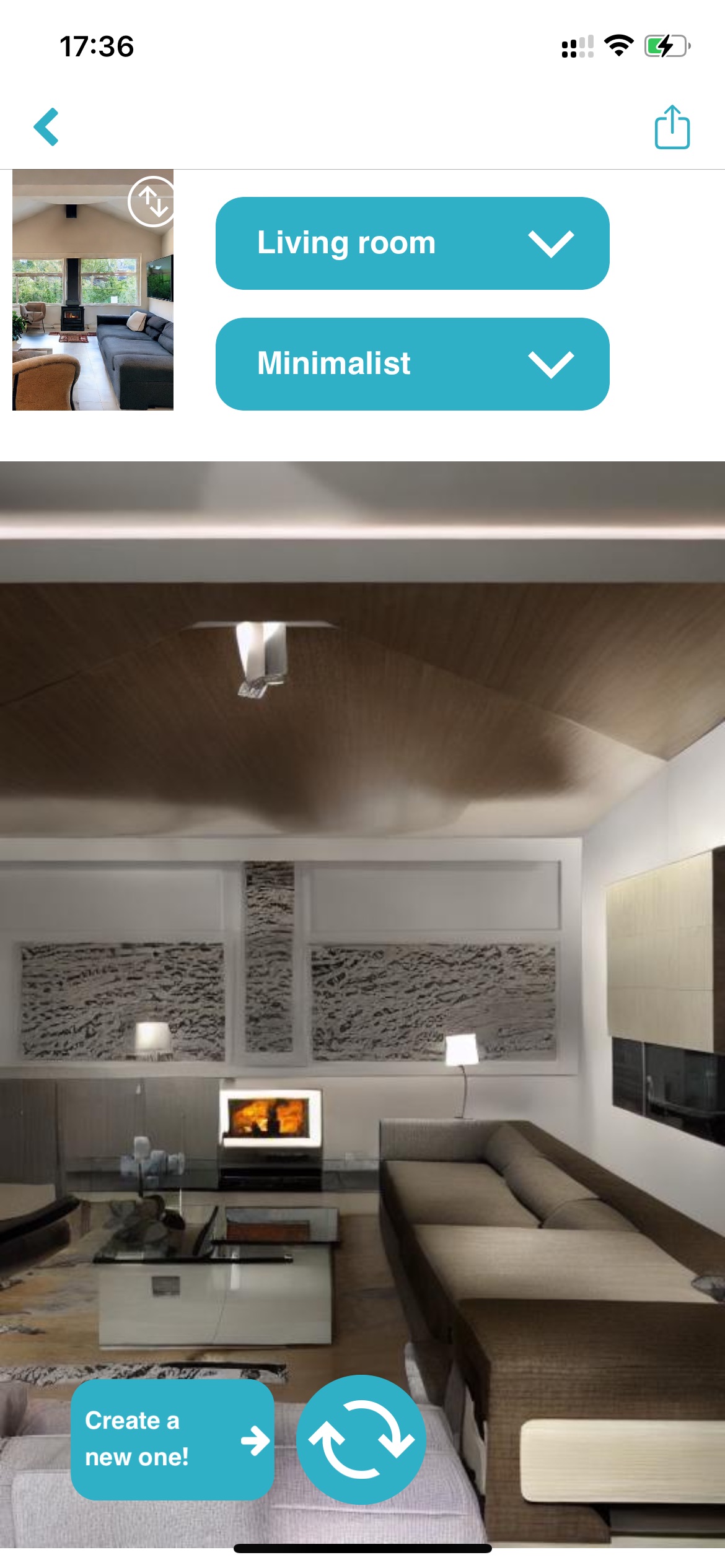 Give your office a unique style that captures the essence of your work and attracts more clients. Use the features of Al Redesign to your advantage, and recommend this design app to your friends and acquaintances.