How often do you get a chance to watch Instagram reels/stories or YouTube videos with audio? It's most often used to distract yourself at work or in noisy company.
Before we get to the main topic, we recommend you pay attention to these best apps to download YouTube videos. They will definitely be useful for you go futher.
If you are the creator of such video content and you want your subscribers to understand you even with the sound off, then add a text accompaniment. These best AI subtitle generators in 2023, which we've described below, will help you do that.
Zeemo: AI Captions & Subtitles
Zeemo is a mobile app designed to help users add subtitles to their video and audio content. It uses artificial intelligence to automatically create a text version of content.
The app offers automatic recognition and textual descriptions of audio and video files. Using advanced artificial intelligence technology, the app can quickly and accurately recognize speech and convert it into text. Add these generated subtitles to your videos to make them more watchable.
The program has a feature to add different styles and effects to your subtitles. Choose any options from the various fonts, sizes, and colors available to match your subtitles to your perfect style. This allows you to create subtitles that are easy and clear to read.
Translate the generated subtitles into different languages. The app supports multiple languages and the artificial intelligence allows you to translate text quickly and accurately. It offers the ability to edit and correct the generated subtitles.
The app offers text editing, removing unnecessary parts or adding extra comments. Upload your video and audio files and then run the program.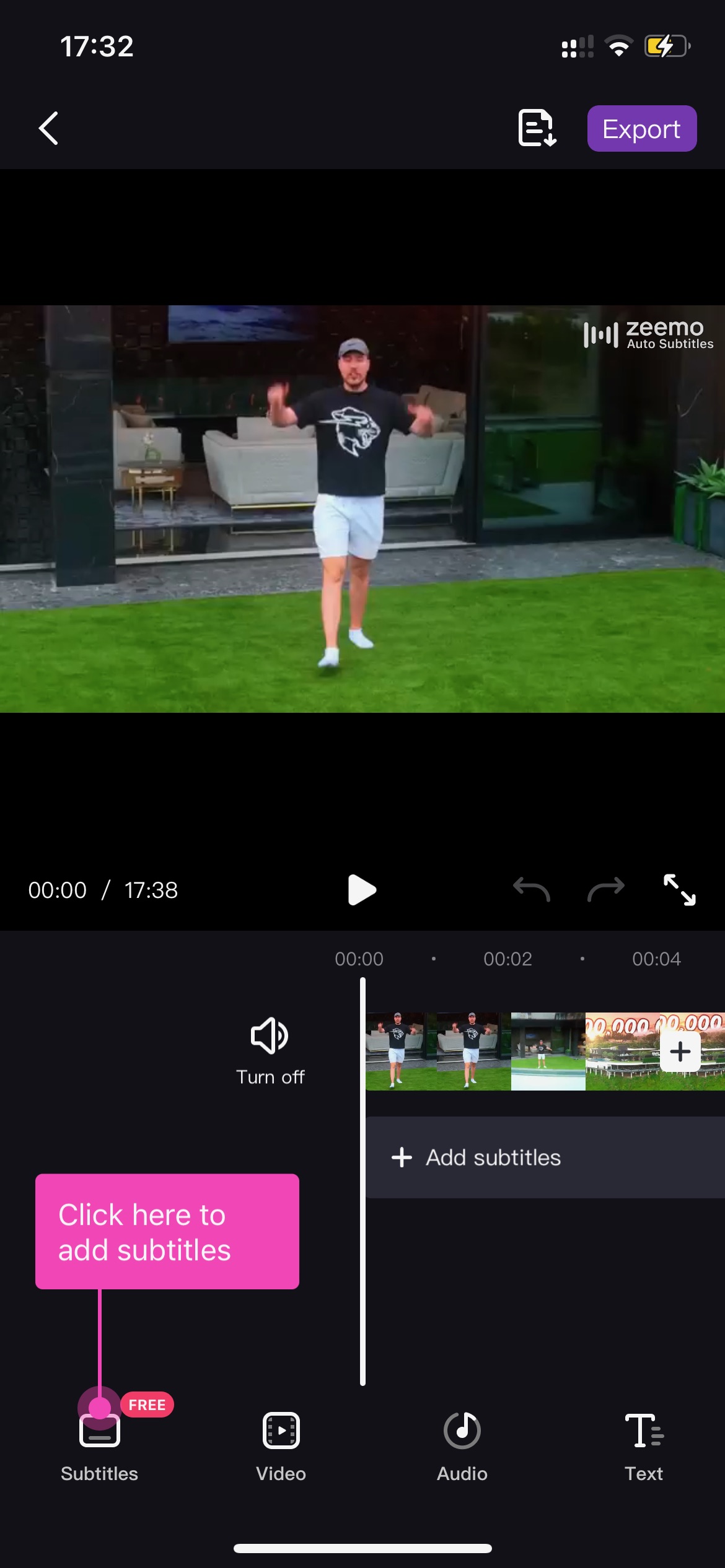 The app will then start reading the audio and create subtitles under it according to the parameters you set. Review and edit subtitles before adding them to your video. The app offers to export subtitles to various file formats to make them convenient to use.


You may also like: 7 Legal Subtitles Apps for Android & iOS
Blink: Captions & Teleprompter
Blink is a mobile app that provides a large assortment of tools for creating and reviewing captions and labels for your videos. With a variety of features and a simple interface, this app is ideal for use as an editor for short or long videos.
Create and edit captions for video or audio content. Add text captions to your video files, generate subtitles, and adapt them to any language. The app offers the automatic creation of subtitles in any language while watching or editing videos.
Download ready-made text signs or enter text on your video. The text is displayed on your device screen, and you can easily scroll through it while recording to avoid adding the next phrase or sentence.
Change the font color and style, text size and stroke, as well as the text scroll speed setting in your video. Add different effects or filters to your video files to make them more attractive. Automatically create titles for your videos thanks to artificial intelligence suggestions.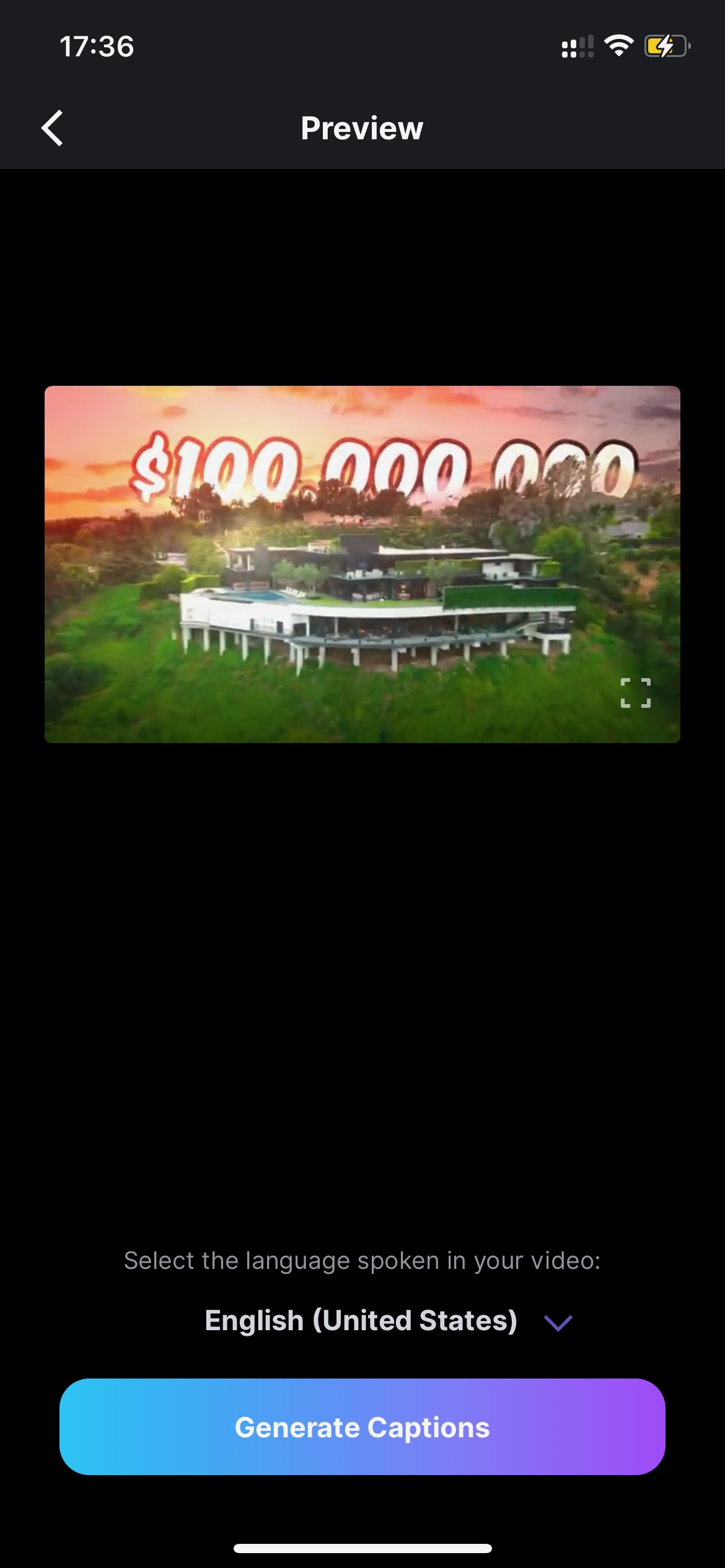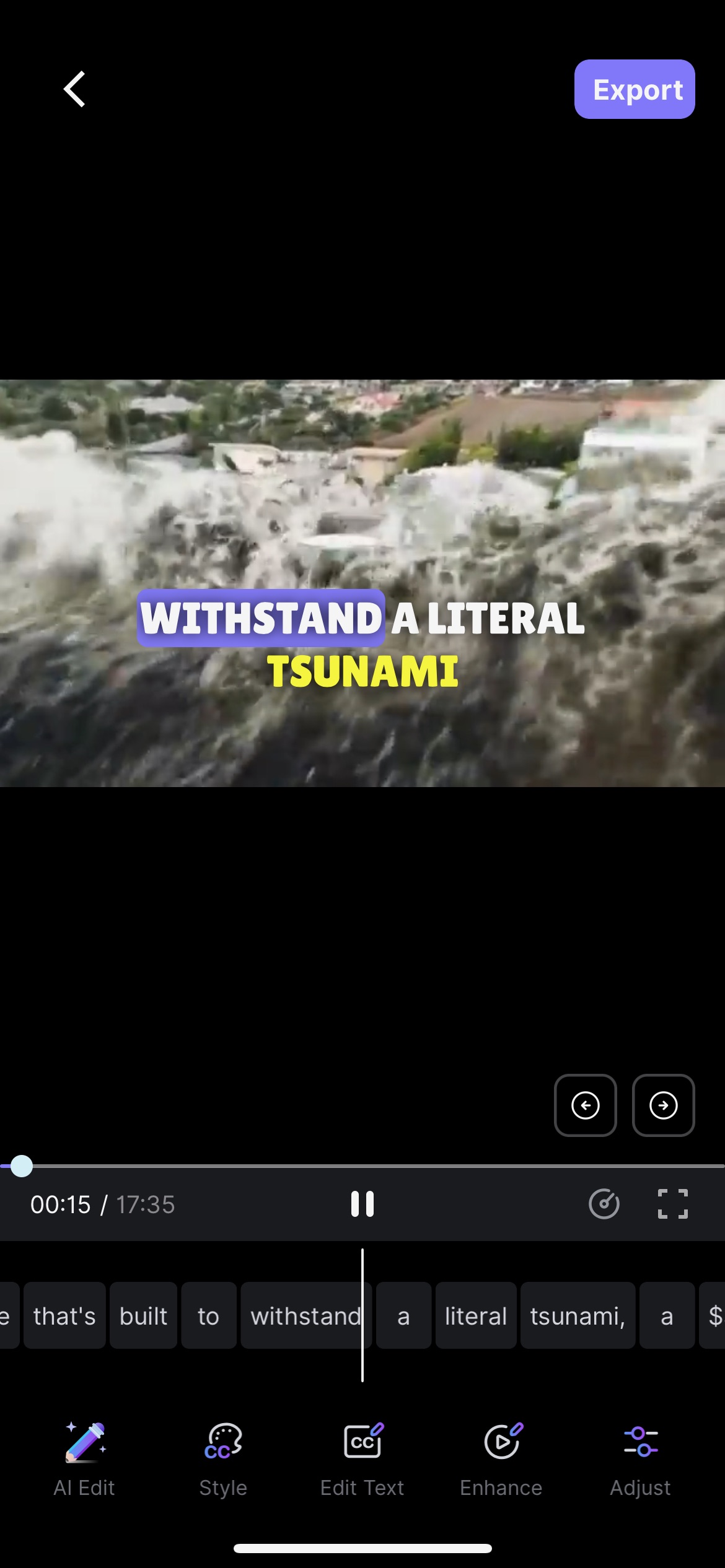 Save intermediate editing results or revert to the original formatting to remove elements you don't like. Add voiceovers to files in any language. Edit files within the app using artificial intelligence features and various extra elements.


Kaptioned: Automatic Subtitles
Kaptioned is a mobile app that has a feature to create automatic subtitles for videos. With this app, you can create text and subtitles for your video files in any language.
The app has the ability to recognize and transcribe speech into text format. It uses advanced speech recognition and artificial intelligence technologies to maximize the accuracy of the information. The automatically generated subtitles can be edited and customized according to your needs.
Kaptioned offers a diverse set of features to make editing more convenient and faster. Change the subtitle font size and style, choose different colors, and customize the alignment and display time of the subtitles. This allows users to customize subtitles to their individual preferences.
The app allows you to save subtitles as a separate text file, which can be easily shared with other users or used for later use. Try the feature to synchronize subtitles with the clip.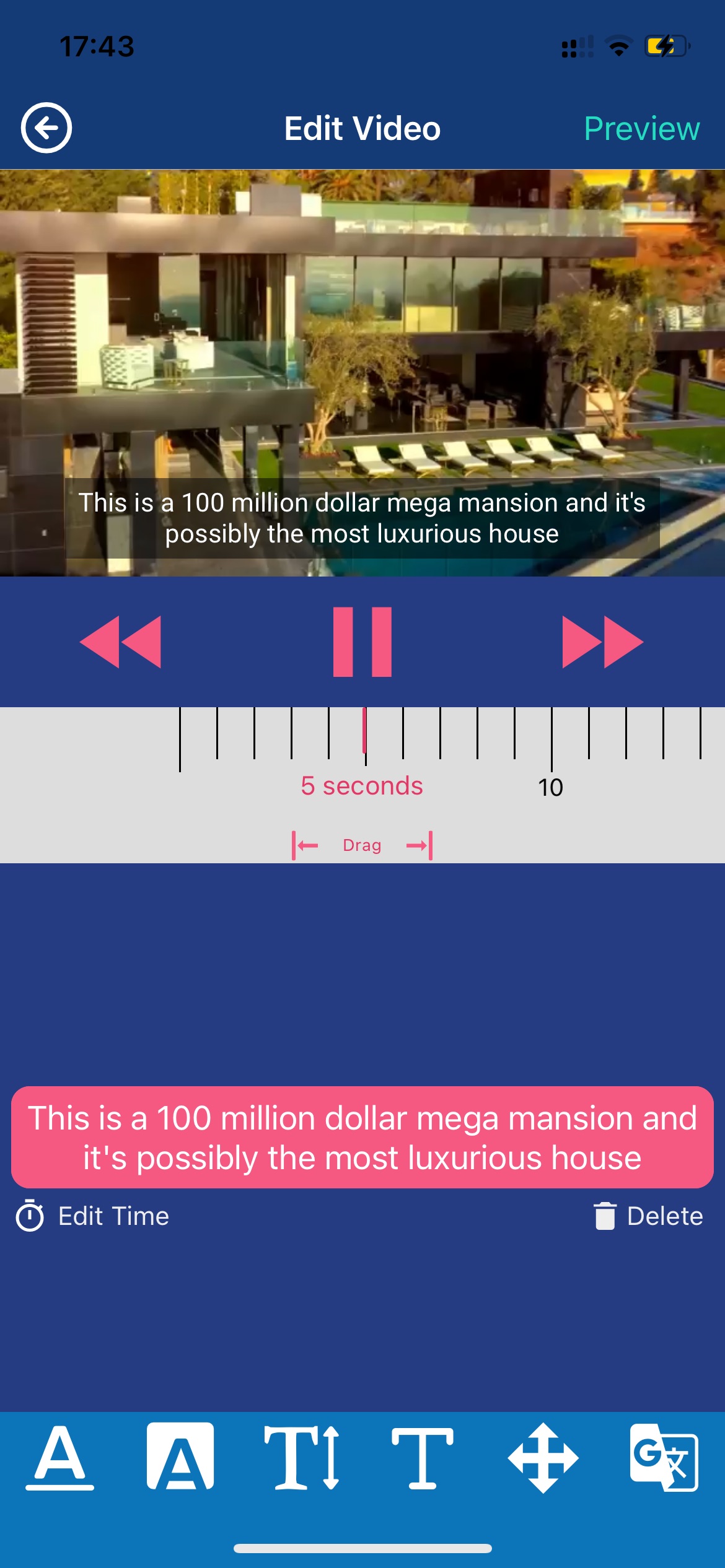 Record and overlay voiceovers on your files so that they are perfectly customized thanks to neural network algorithms. Save and share your finished work on any online platform. View the intermediate editing result and change parameters in the editor mode.


Captions for Videos – SUBCAP
SUBCAP is a mobile app that allows you to add subtitles to your videos. You can upload any video from social media and other platforms to get full-text translations and subtitles. Add automatically generated subtitles to videos in any language.
Make changes or corrections to subtitles to customize them as you need. The app recognizes speech in videos and automatically generates subtitles that can be edited or changed according to the context of the video.
Change the position of the text on the screen, choose the font size and style, and determine the subtitle display time. The app supports multiple languages. Export edited text files as clips and import them into another app.
Choose different colors for the subtitle text, synchronize it with the background video, or change the background transparency to make the text more readable. Upload a separate file with video and subtitle text for it.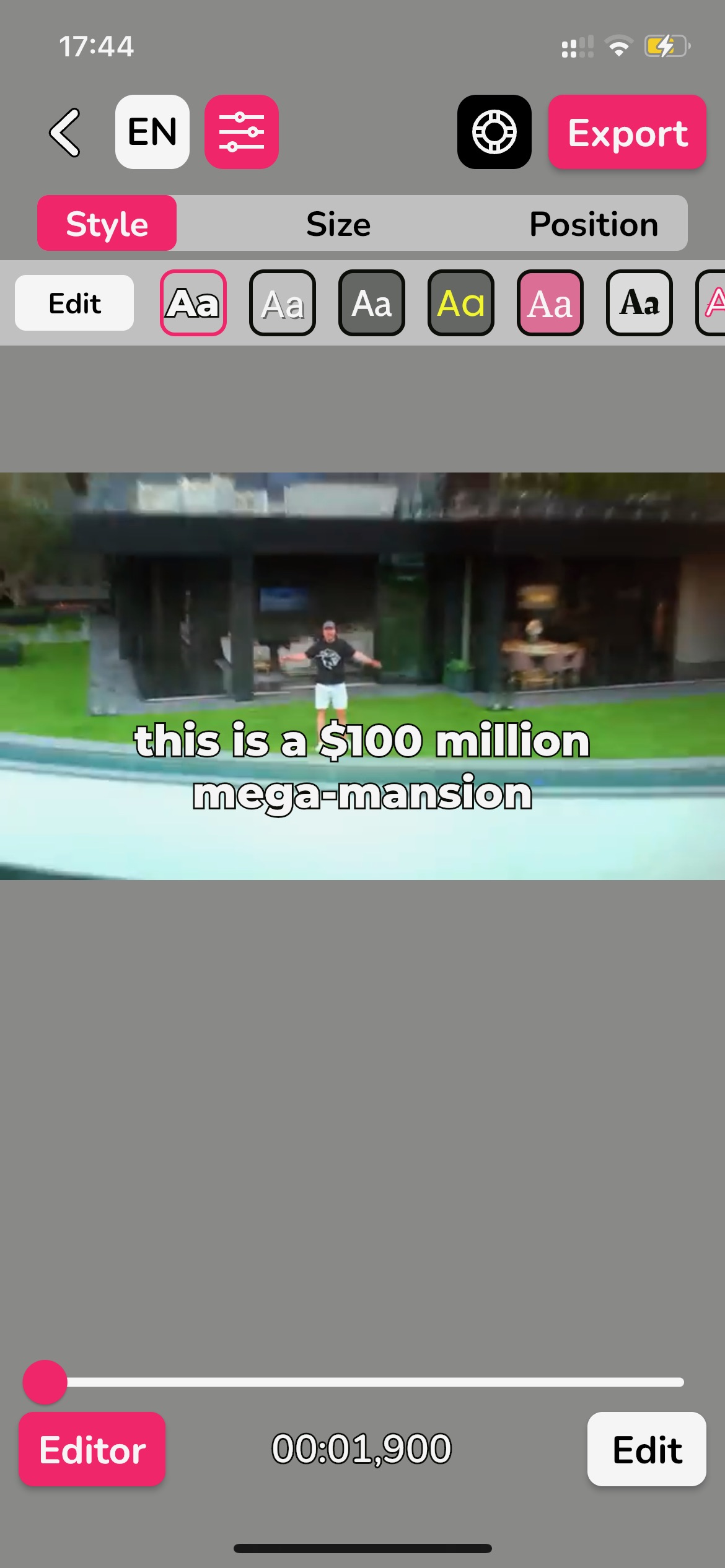 Customize the duration of the text subtitles so that it ends seamlessly with the video. Upload your finished clips to the repository or export them to other platforms.


MixCaptions Add Text, Subtitle
MixCaptions is a mobile app for adding text and subtitles to videos. It helps you create original videos with text captions for social media. Choose a video from your gallery or shoot it directly in the app, then add subtitles.
The app offers different options for fonts, text layout, and styles to make your video more interesting and memorable. You can choose between classic and modern fonts, change their size and color, and apply effects.
Add shadows or frames for their outlines to make your text more expressive. Enter text manually or import it from a file. Take advantage of the automatic subtitle-adding feature.
The app has various tools to change the time your subtitles are displayed on the screen. Customize the start and end time of the display, as well as the duration of each segment. With this, you can create the perfect video for any social media and internet platforms.
The app has a preview feature that allows you to check your changes before saving it. You can play the video in editor mode to see how subtitles look on the screen and make any necessary adjustments.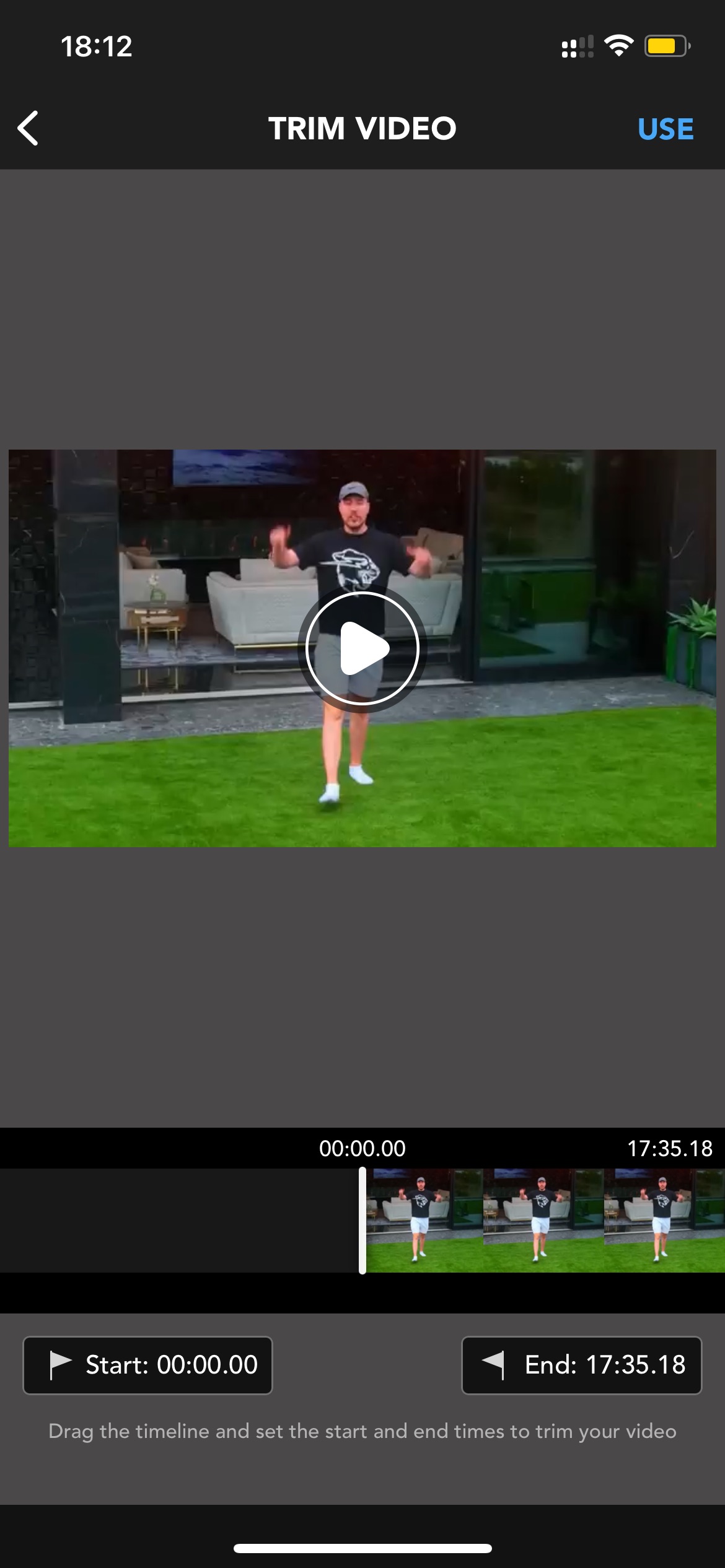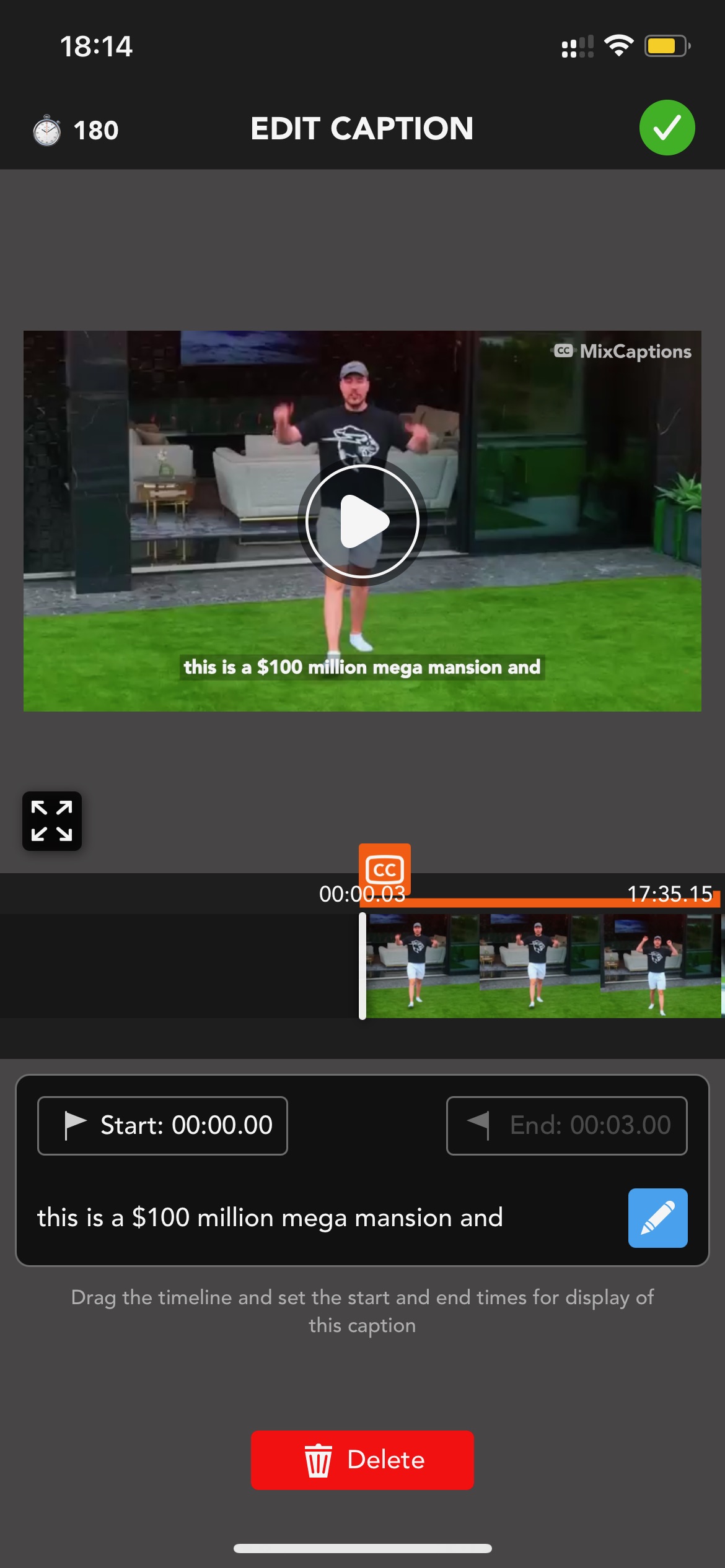 Save the results to share with others. Send your videos to social media or other platforms to let everyone see your creations.


You may also like: 10 Free Websites to Download Subtitles for Your Movies
VEED – Captions for videos
VEED is a mobile app for generating automatic subtitles and text captions for videos with the help of artificial intelligence. It automatically recognizes the speech in the video and converts it into text.
When you upload a video to the app, it starts the automatic speech recognition process. Built-in algorithms process the audio and convert it to text format. The result can then be edited and tweaked to make the subtitles and text as accurate and understandable as possible.
Add and customize text, font size, and the color of frames and borders to match your preferences or the overall design of your video. Choose and try different subtitle styles. Use special effects to make the text more attractive.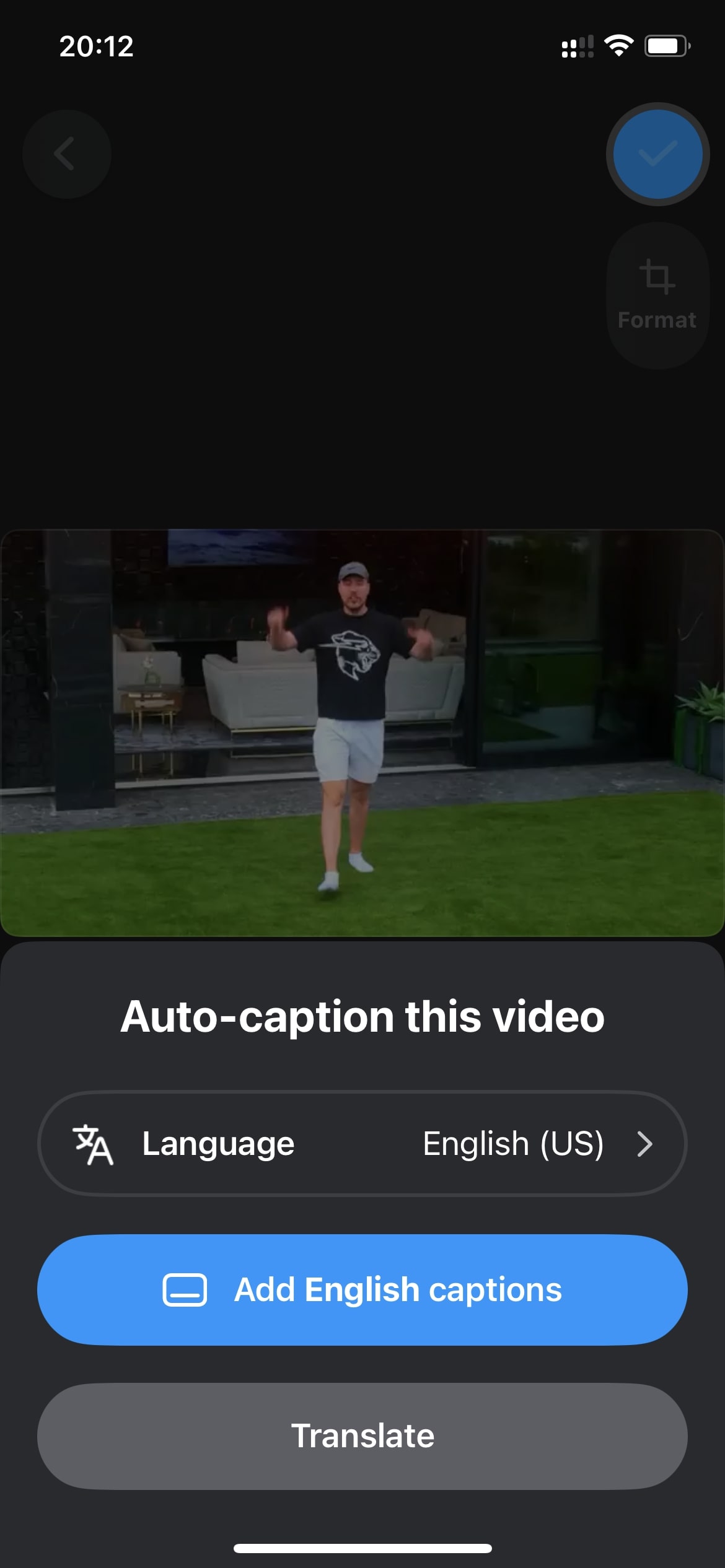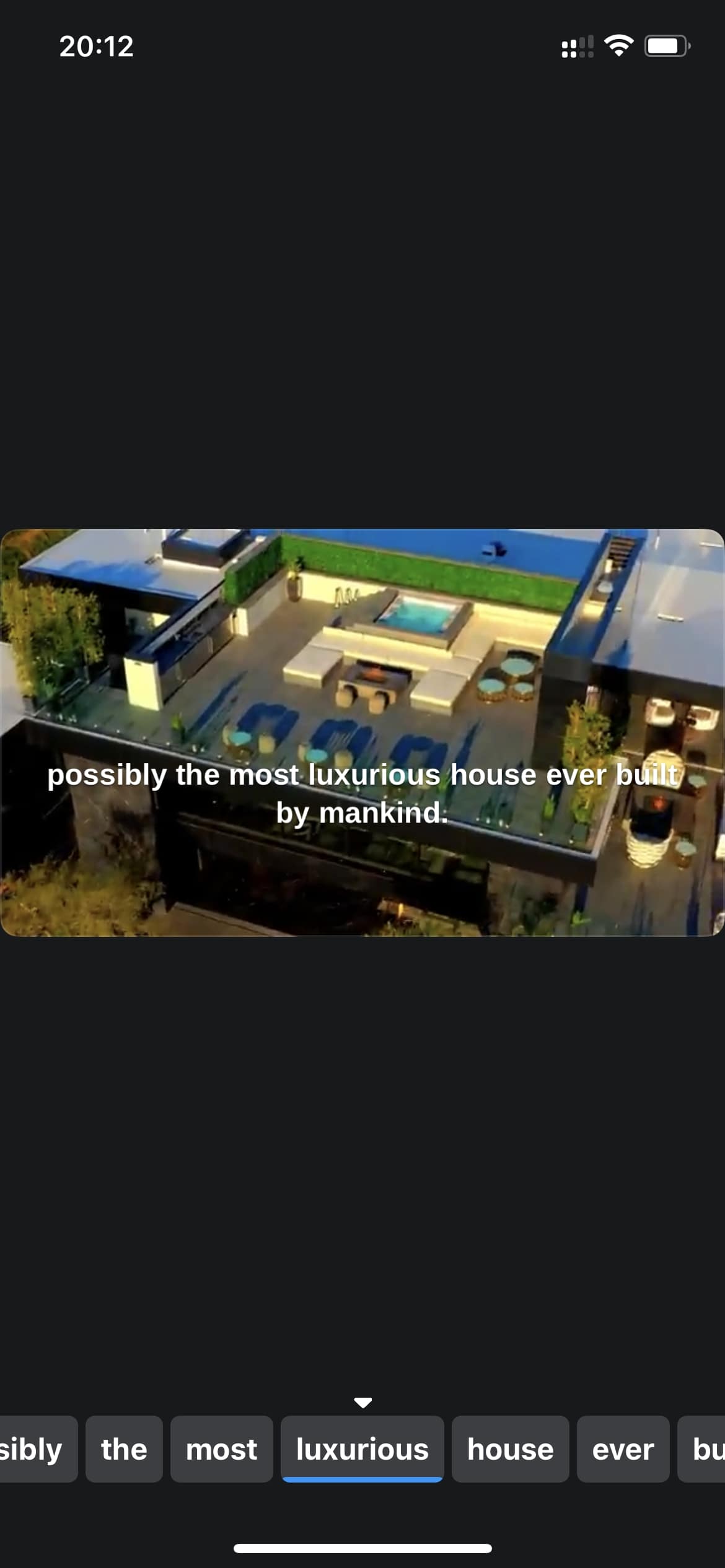 The app allows you to use and save different types of videos to export and upload them to any platform. Share the finished videos via social networks and other platforms, or publish them directly from the app.

Animaker
The Animaker service allows you to automatically generate subtitles for videos. It is based on artificial intelligence, so subtitles are as fast and accurate as possible. Generate text subtitles for any video file format.
Upload your video to the platform, then the service will translate the speech in the video and generate subtitles based on its translation. Generated subtitles can be saved in various formats for use in other services and apps.
The service supports the recognition of different languages, which makes it a universal tool for users from all over the world. It includes a feature that automatically detects the language of the uploaded video, after which subtitles will be generated in the appropriate option.
Even if the video contains a mixture of several languages, the program will handle recognizing and defining the boundaries between them. Edit the generated subtitles, add or remove text, edit timestamps, and other parameters.
Customize subtitles to your needs and preferences, providing a more accurate and professional addition to your video footage. All the necessary tools and functions are available on the program's main screen.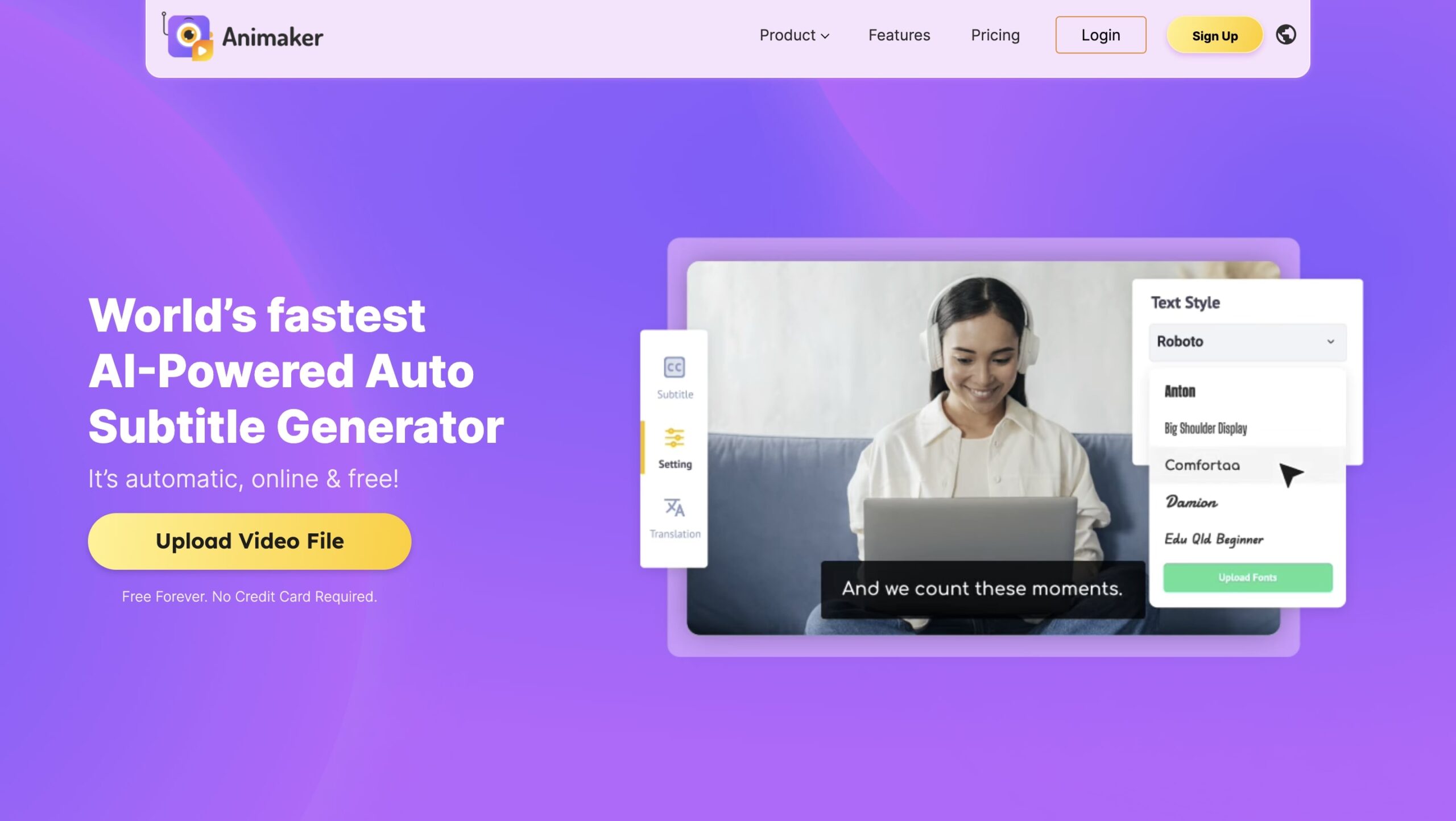 The video processing and subtitle generation process is fast and error-free, saving you time and getting results as soon as possible. The development team provides constant support for the service and updates it to improve performance and functionality.

Flixier
Flixier is an innovative tool created specifically for automatic subtitle generation based on artificial intelligence. It will help you significantly save time and effort when creating videos with text captions. Just upload your video to the website, and it will automatically do everything for you.
The program uses advanced algorithms and artificial intelligence technologies to automatically recognize speech in your video and create accurate subtitles. It is capable of working with different languages, so you can easily adapt your content to any audience.
The process of creating subtitles with the service is done in a few simple steps. After uploading the video, the app will automatically process the video, making a high-quality transcription of it. Once the process is complete, the program will create synchronized subtitles that match the speech in the video.
View the intermediate result and edit the subtitles to customize the video to your preferences. The service also allows the user to make changes to the text. Edit frames and borders, and add or remove subtitles to get high-quality material.
Choose and customize the font, size, and color of text captions, and set their location on the screen. Save your changes and share your finished work with other users. Upload files to storage or send them to any platform.

You may also like: 14 Free Live TV Apps for Android & iOS
Simplified
Simplified is a tool that will help you save time when creating subtitles for your videos. Upload your video files to the platform to create subtitles for them using artificial intelligence. Add multiple files at the same time to start working with each one.
After adding video files, the program automatically recognizes speech in the video and creates a text file with subtitles. This process is performed by using special speech recognition algorithms, which ensures high quality and accuracy of the information.
Edit the created subtitles to add the desired elements to them. Edit text captions and their duration in terms of appearance and disappearance time. Change subtitle content according to your desires and preferences.
The service gives you the option to export subtitles to different formats to use them on other platforms and websites. It also supports multiple languages. You can select the desired one so that the service can correctly recognize the speech in your video and convert it into text.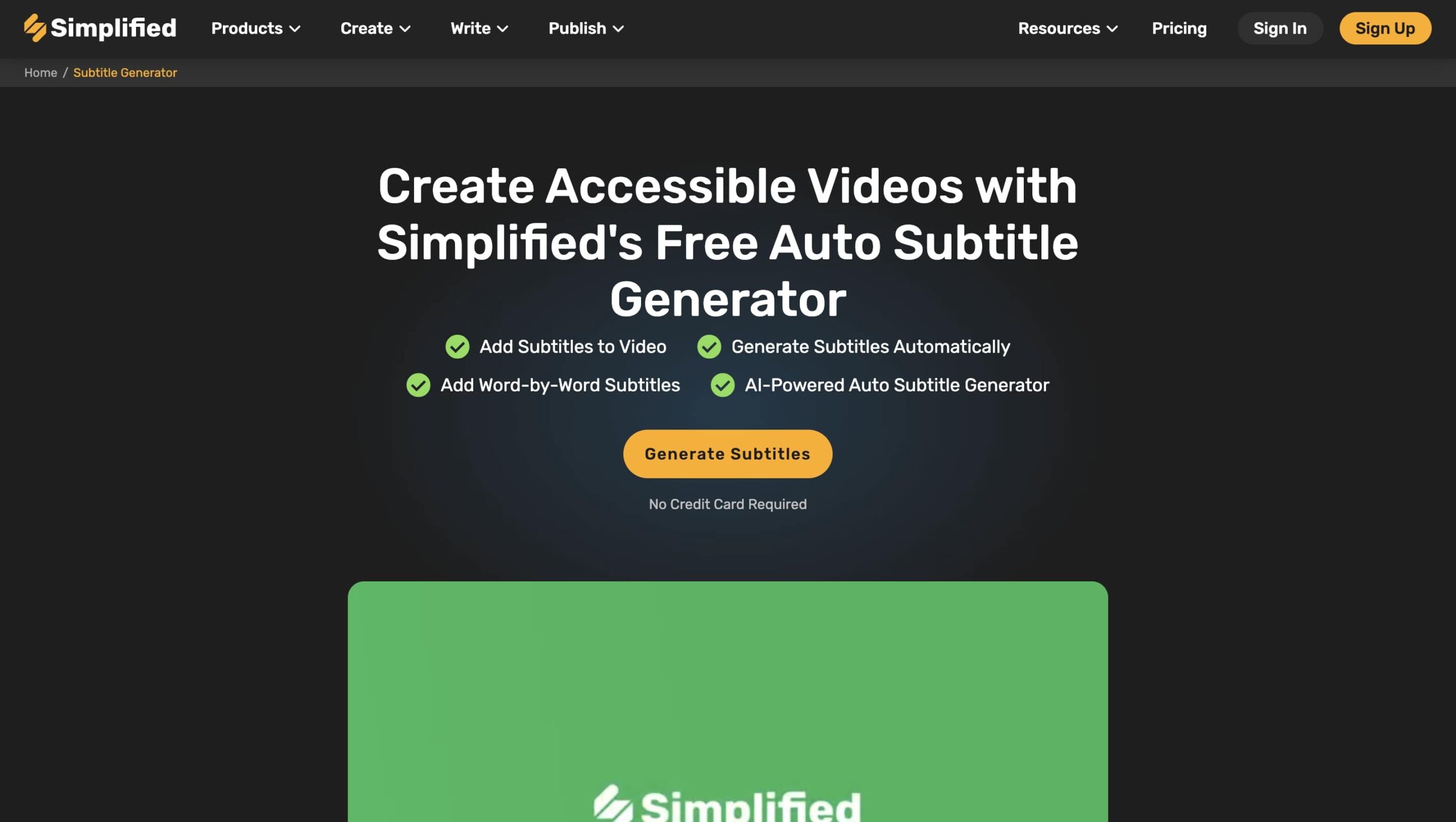 Simplified ensures that your video files are kept private. After uploading, videos are automatically processed and are not saved on the platform's servers. You can upload your finished works to other websites or share them with other users via any social network.