Brochures are one of the most efficient ways of advertising and introducing services in this or that field. The effectiveness of these brochures depends primarily on the creativity and look of the brochure itself, and also depends on the information presented in it.
To create the most effective brochure, you can also resort to the help of online designers or applications. Therefore, check out the article down below about the free brochure maker apps & websites. In addition, if you want to discover more apps to create brochures, check out this article.
Canva
Users of similar apps may have already guessed why Canva tops our list. It's not just a regular app with which you can create brochures, but also an excellent online site where you can find dozens of different services.
Here you can create a brochure from a new leaf, with your imagination, or you can use hundreds of ready-made templates for brochures. The site is also famous for its unprecedented number of tools for creating whatever your soul desires.
So let's break down what other tools are on this site, and what they can be used for. Almost seventy percent of the tools and templates on this site are completely free. You can use them as much as you want, and you can also change the finished template or make some changes or delete unnecessary details.
If you need to add a table or chart to your work, you can also choose from ready-made templates and you will also have the ability to change their design. You can add various effects and animations for the online presence of your work.
All these effects and animations will create a great effect during the online presentation. And if you need a paper version to publish, you can download files in several formats ranging from a regular pdf file to a jpeg image.
To use even more templates, effects, and site resources, you can subscribe to the premium version. But we think the site itself is great without buying a premium subscription.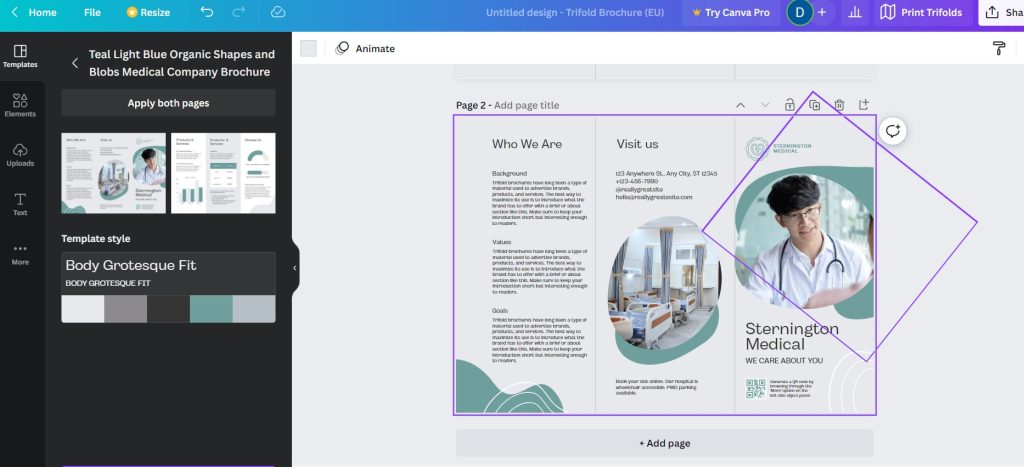 You may also like: 11 Best poster maker apps for Android & iOS
Venngage
The next site on our list is not inferior in its capabilities and is popular not only among ordinary users but also with major companies such as Google, The New York Times, Harvard University, and so on.
The site has almost the same capabilities in creating a brochure and has over a thousand ready-made templates and handy tools.
The site is designed with an easy interface, where each tool is collected into different sections and it is easy to create new works, or just use ready-made templates.
To create a memorable and creative brochure, the site provides access to a variety of tools. Tools such as fonts, graphics, illustrations, icons, and the ability to add your photos can be found on the site.
The site is popular with users because of its power and ease of use. Brochures created on this site can be downloaded as a separate document and without losing the quality you can share them. If you have any problems while using the site, you can contact the online assistant and ask your questions.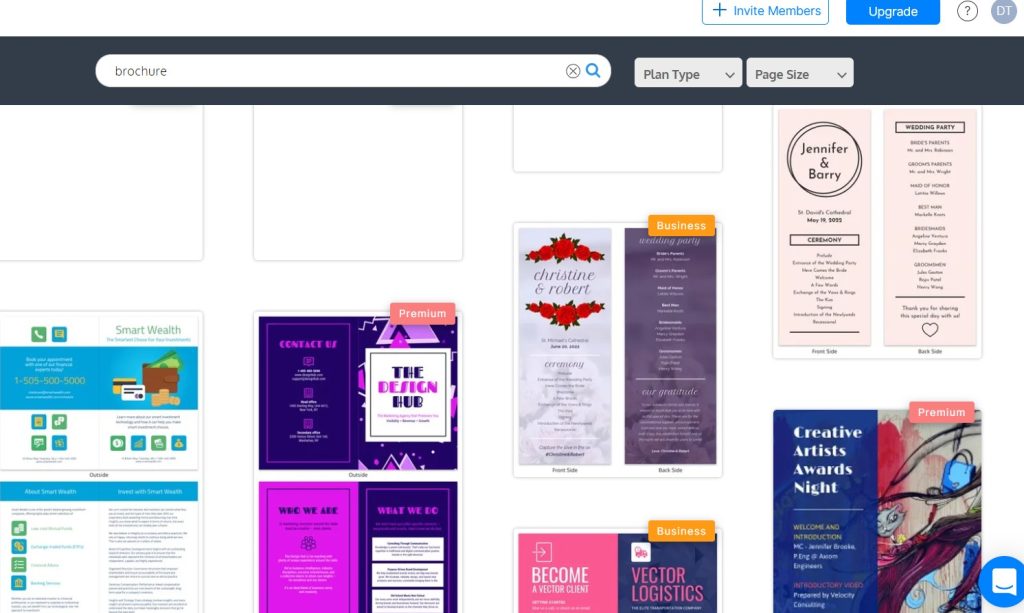 Adobe Express: Graphic Design
A great application from the creators of the cool graphic editor Adobe. The application is a lightweight and at the same time powerful graphic editor, with which you can not only edit photos and Photoshop but also make cool brochures.
The app is no different from online designers, where you can create creative designs and templates.
You can find more than a thousand beautiful templates in the application, and you can also create creative and unique logos and so on in it. Using this app for brochure creation purposes is a great idea because it's easy enough to create cool effects and use a variety of editing tools.
As many already know, the app is a great photo and video editor, so if you download the app it will not only be used to create different brochures and flyers but also to edit your selfies, videos, and photos for any social network.
Some people may think that the application is difficult to use and there is a lot that is unclear, but if you get a good understanding of how to use the application, and learn about some of the tricks of editing, you can say that the application is top.
In it as well as on the aforementioned sites, you can add different kinds of fonts, change cool designs and use templates.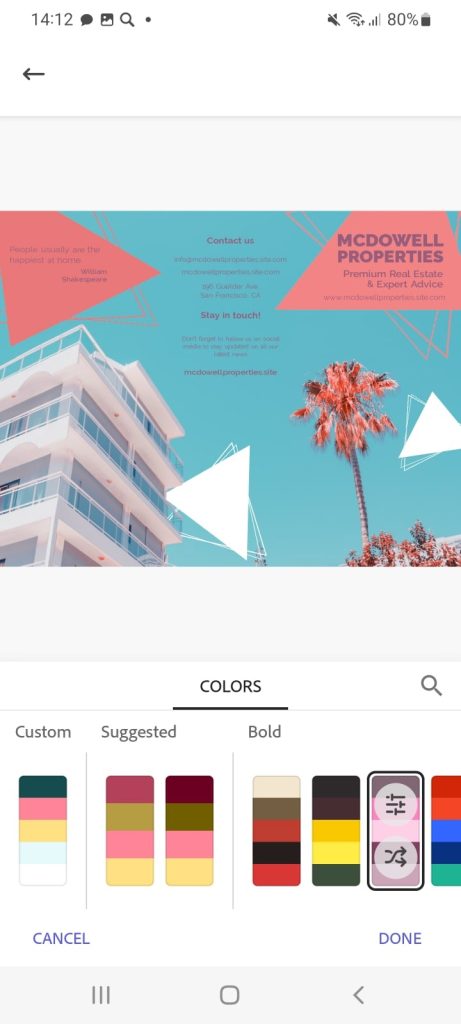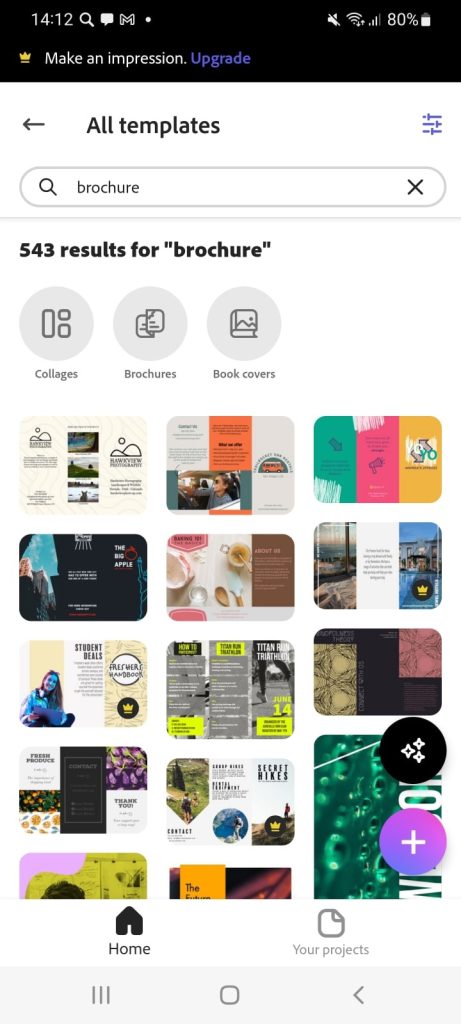 Visme
Want to grab anyone's attention with just a brochure? Then you're right at the right place. This website will help you create an awesome design for your brochure and more.
You can create, modify, save and also inspire other users with your designs. Brochures created on the site can be saved for other users to inspire them.
Okay, now let's talk about the details and important features of the site for creating your brochures. The site, like other similar programs, has several thousand creative and interesting templates, and ready-made designs that you can modify to your liking.
During the creation of your work, the site is light to use, because all the tools are found in the left side menu and do not interfere with the work in any way.
In the tools, you can find different kinds of illustrations, photos, icons, fonts, graphics, and the like. And you can also add images or stickers that you have on your computer with one click. In short, among the free brochure creation sites, we think this one is one of the best.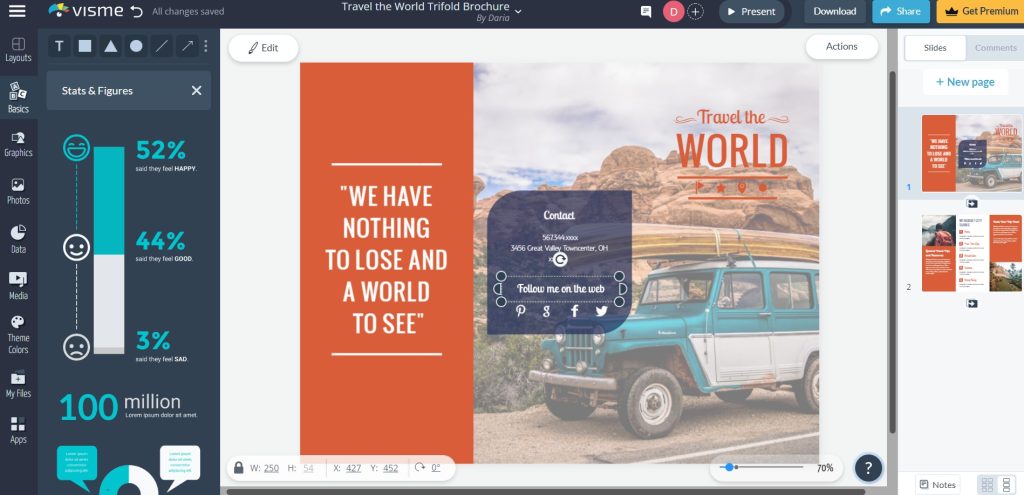 VistaCreate
Create the perfect brochure that is both informative and beautifully designed at the same time in a few minutes can be created on this site.
The site is great, for it allows you to create not only beautiful brochures but also different kinds of other designs. For example, using the site you can make designs for business cards, edit photos or videos, create designs for book covers, cover for YouTube channel profiles, design resumes, create infographics, and the like.
And also, the site can use more than six-ten thousand free templates for your work. The process of creating your design is straightforward, which means that any user can create their design without any problems.
To get started, you need to open the site and click on create. In the menu materials, you can see all the materials for creating works, and in the templates, you can choose what you prefer.
The creation process is almost the same as in the above-mentioned websites, in it, you can find different kinds of tools to create beautiful and interesting designs. To use any type of website tool, you need to register as a regular user.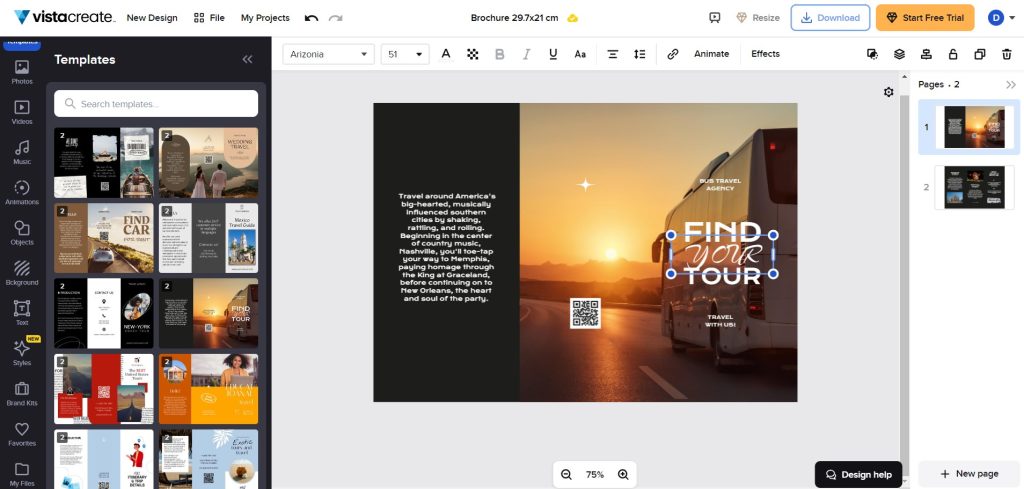 Brochure Maker
And now let's talk about another easy application for creating brochures with great and unique designs. The app differs from the others precisely because it is aimed exclusively at creating brochures.
It has all the tools and things you need to create the creative design of your choice. Let's break down what and how you need to use it to further your work.
So, let's first talk about the main features of the app for users. Like other editors and web builders, it has important tools like fonts, graphic design elements such as icons, graphics, stickers, and various shapes, and you can also use ready-made brochure designs in the app and change them.
During work, these tools can be found in the bottom menu, which is very convenient and does not interfere during editing.
After you create your design, you can easily share it on other social networks, as well as download it to an sd card.
These apps are a great option for creating informative and attention-grabbing brochures. While using the app, you don't have to think about whether you know how to do it or not, because with it you can easily create a great design even without any know-how.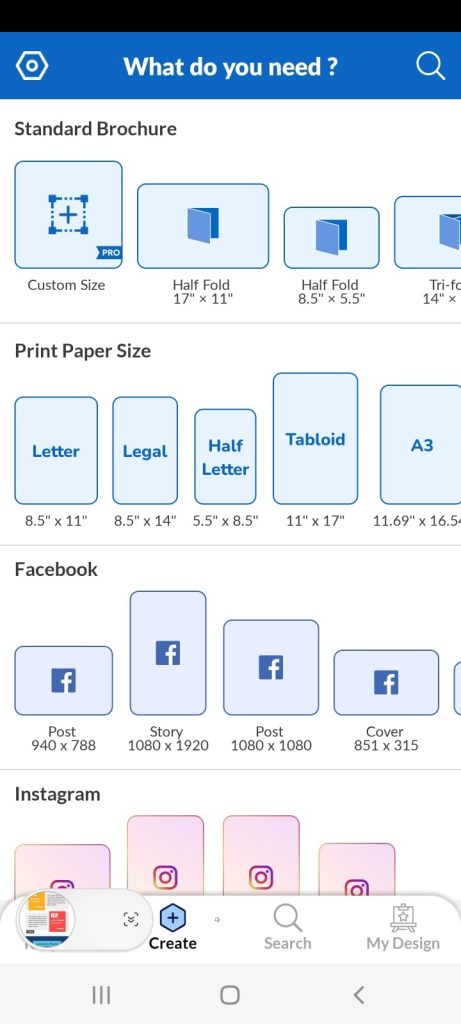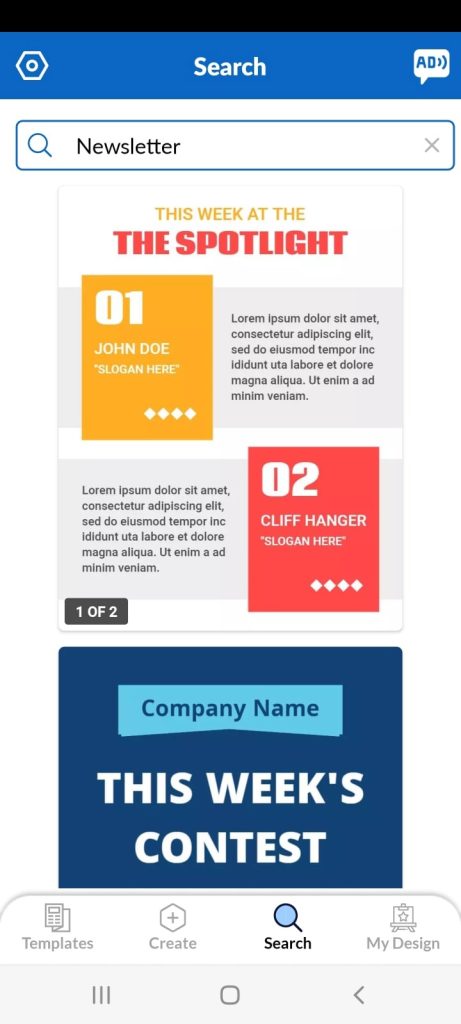 You may also like: 11 Best watermark remover apps for Android & iOS
Brochure maker: poster maker
Another easy yet great app for your quality and creative brochure creation. Unlike the previous app, you can create designs not only for brochures, but also create beautiful posters for any field of work or organization.
We don't always have a laptop or computer at hand to create designs. In such cases, you can use this app without fear, and it will help you out.
A really large number of templates for brochures that you can change or use as an option. Otherwise, you can use the app to create a design from scratch. There are plenty of editing tools in the app for that.
The app is very easy to use, as the interface is quite straightforward. Also, the most convenient thing about the application is that texts can be changed not only in colors and fonts, but you can also add effects.
Among the applications that allow you to edit poster or brochure designs, this remains one of the popular applications. And it is popular because of its capabilities. We have told you only part of the interesting features of the application, but that does not change the fact that you should try it out for yourself.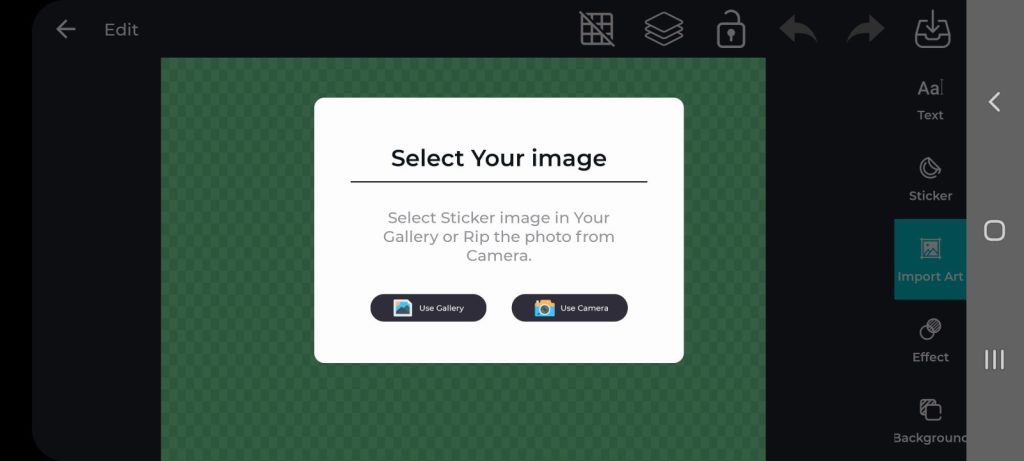 Be Funky
The site is designed to create professional brochure designs that can be used in different areas of life.
Perfectly created brochures are quite popular even though many different other ways of introducing a company or business services. And they are popular thanks to such online designers that you can use for free. Now let's do a review on this site, and find out what's in it.
To get started you will need to register on the site so that at the end of the work you can download the finished design.
When you start, you need to choose one of the ready-made templates to edit it and create a new design with distinctive features. After you choose a template, you can edit it to your liking. That is, users can add different effects, graphics, texts, and the like.
Once you are done editing and are happy with your design, you can download them in several formats. Site formats such as pdf, png, and jpeg, which is quite so convenient for further use of the brochure. And also this site can be used as a photo editor and collage creator.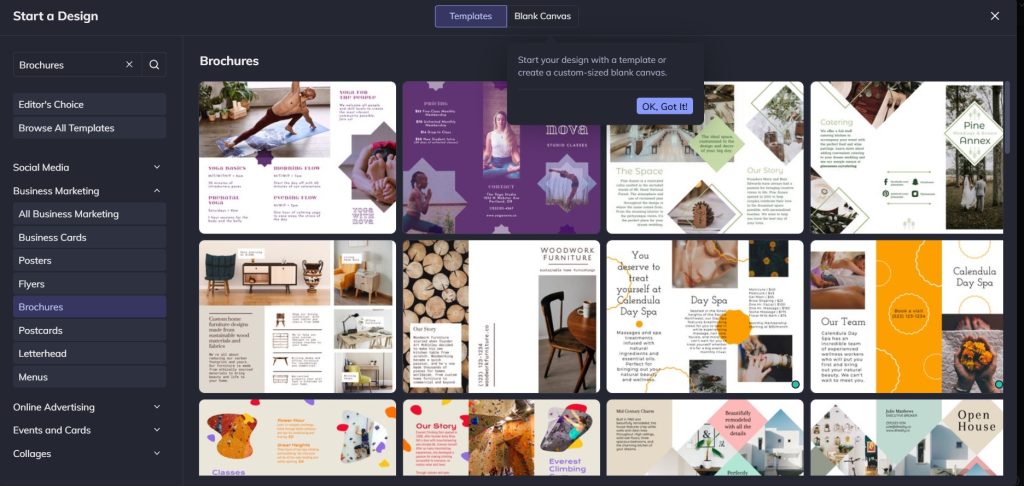 PsPrint
This site is slightly different from the previous ones, and the first thing that catches the eye is how the site is built. On the main screen of the site, you can be confused for a minute and get lost, since it is not as organized as the above.
On this site, you can create only ordinary and easy-to-read brochures, but such brochures are not as popular as creative and modern brochures.
So let's look at what can be done with the help of this site, and what results can be achieved.
First of all, you are provided with a list of ready-made templates, and what is convenient under each of them, the color palettes that are used in a particular design are selected at the bottom. Users can also sort templates by size, color, design, style, and more.
Also, with the help of this site, you can create designs not only for brochures, but also for business cards, postcards, invitations, and the like. After you decide on the choice of color and design, you will open an online editor with which you will change or create your brochure design.
But the editor itself is much more complicated than the others, and it's easy to get confused in it. You can find free templates for personalization on the site.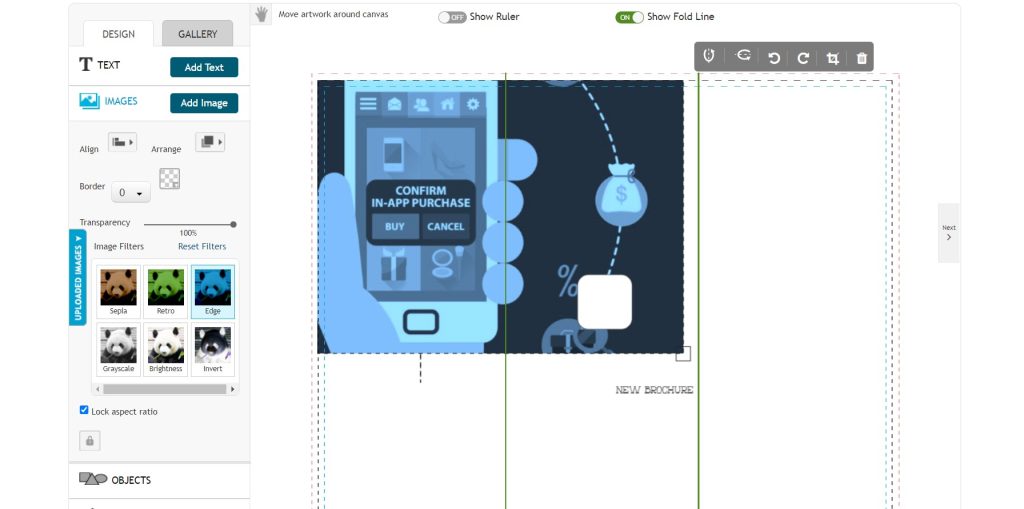 Marq
Another site that is popular among large and popular companies, makes it possible to create your brochure design. You can use free templates on the site, but no one has canceled buying additional premium tools. But it depends on each user.
The site is easy and simple to use, you do not need to think about whether you had experience creating a brochure before.
Therefore, this site is not only for the company, but can also be used for student projects and so on. As we mentioned above, the site has all kinds of templates, for any field of activity. So you won't have any problems in creating the right design for your work.
On the site, you can choose different combinations of fonts and change their colors to the color you want in the tools menu. Then in the same list of tools, there is an option to add graphics or photos. To add photos or graphics, you can use the site gallery or you can add existing photos from your computer.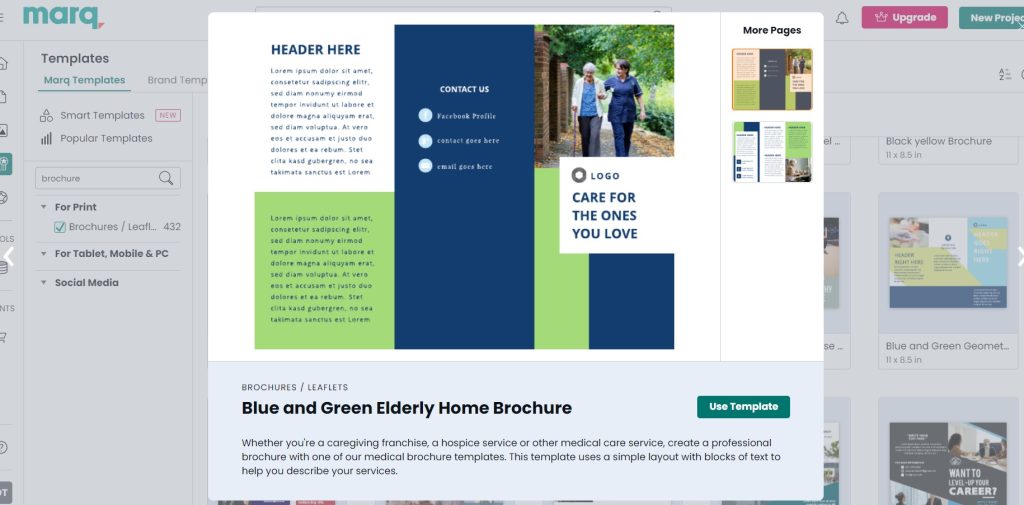 You may also like: 20 Free Android Apps for Designers
Brochure maker, pamphlets, infographic designer
And the last application on our list is a convenient editor for creating infographics, catalogs, flyers, posters and brochures, and so on.
The application presents more than five thousand templates for different types of services that you can choose and modify. The application, although not as popular as the aforementioned brochure creation applications, has almost the same functions.
It has enough tools and various functions for your editing and design creation. All the functions of the application are improved, so you do not need to think about the quality of work when you have to save work.
Design tools can be used by all users, even those who do not have graphic design skills. You can also share the designs created in the application with your friends or colleagues on social networks.
True, one of the downsides of the app is its abundance of annoying ads, but this problem can be solved. To achieve it, you need to buy the pro version of the app, which not only blocks ads but also gives access to premium things in the app.