People who associate their work with justice and law have a wide range of opportunities. For example, when you choose which school to attend, you consider many different professions – a judge, an investigator, an ordinary police officer, a lawyer, and more.
With so many career opportunities in justice, you will find that you will have to study a lot of material. Federal laws, local laws, human rights, and a host of other related knowledge – believe that there will be plenty to learn.
Even if you graduate ideally from college or university, sooner or later some information will be forgotten. To make sure that this does not happen, it is important that you have reliable sources of information at your fingertips that will give you the exact wording of the law or laws, as well as other important information.
Also, we have a list of 13 Free medical terminology apps for Android & iOS if you do not want to explain diseases like a schoolboy.
We decided to help you and have collected 7 Free Apps for Criminal Justice Majors (Android & iOS), which may be useful to you while working or studying.
Criminal Law Study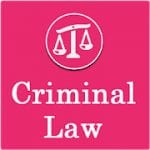 Criminal Law Study is an application for students and those people who would like to study criminal law themselves. It is a collection of various articles about crimes, which contains all the main and most important topics in detail.
Here you can get acquainted with a brief content of criminal law, as well as learn the basic concepts from the legislation of the world and the United States.
In the Criminal Law Study, all information is divided into several chapters, the title of which reflects what you will be acquainted with. In the application, you will encounter white-collar crime, crimes on the Internet, as well as learn the full classification of the main offenses and crimes by type.
Basically, the Criminal Law Study will be useful either to people who are far from the law and just want to learn the basic concepts or for young first-year students.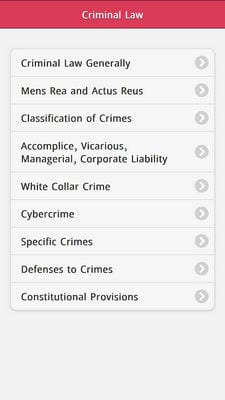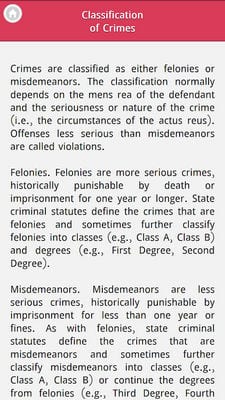 You may also like: 9 Best Medical Records Apps for Emergency Cases
First Aid – American Red Cross
Police officers may encounter different situations in their daily work. Of course, working for the police, you will not travel to bloody crime scenes or get into shootings every day – but this can really happen. If you, a colleague of yours, or a citizen near you is injured, you can find information about assistance in the First Aid application.
It contains tips from experts for dealing with emergency situations. Each situation is described step by step and in detail, so you are sure that you will not hurt the injured person. All situations that require emergency assistance, are divided into categories – bleeding, asthma attack, burns or broken bones, and so on.
You will need to select certain topics and familiarize yourself with them and be tested on your knowledge of what to do in such situations. First Aid will be useful to absolutely all people who can work in emergency situations.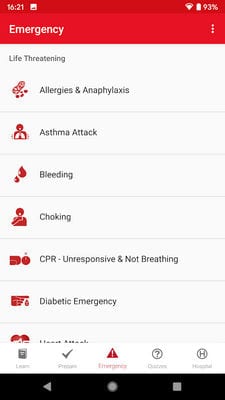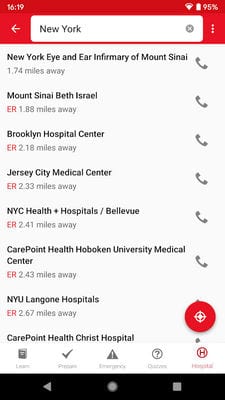 C.S.I. Checklist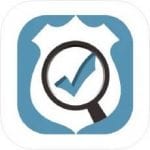 Being at the crime scene, you need to consider and notice absolutely everything that is present there. The C.S.I. Checklist is a reference guide that you can follow during a hot trace investigation.
As the name says, it is a checklist, the points of which you can mark as you proceed. The checklist itself was created by a forensic consultant and a person who has served with the police for a long time, so you can trust them.
The C.S.I. Checklist was based on those steps and procedures that the United States Department of Justice and others have found to be truly effective. It is these actions that an investigator must perform at a crime scene, working together with experts and special working groups.
With C.S.I. Checklist, you will not miss a single step or forget a single piece of evidence – because the service will have complete control over your actions. In total there are 10 main checklists, among which you will find both thefts and crimes against individuals.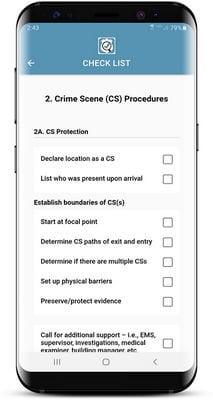 Cargo Decoder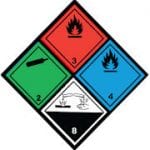 Policemen and officers often have to do quite unusual work. For example, if you work at a police station, you will need to check cars, drivers, and even cargo that is being carried across the country by some corporations and companies.
Cargo Decoder will help you quickly find information about what is in the truck or tanker on the road.
Note that Cargo Decoder can be useful not only for police officers but also for active citizens who monitor the law and order around them. With the help of the application, you will learn how legally the company that carries the cargo next to you, what exactly they are carrying, and whether the cargo is toxic.
Cargo delivery is also called illegal transportation, which involves the entry of one product under the guise of another.
While on duty, you will be able to stop the truck for inspection, enter its number in the application, and find out if the cargo is really true. Everything is simple and clear, and most importantly, the check will not take you much time.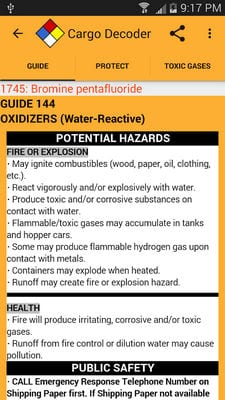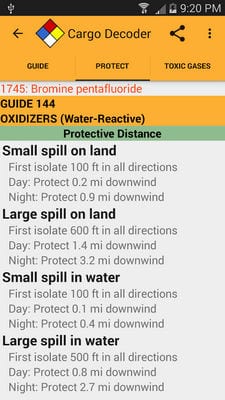 You may also like: 5 Best Apps to Fight Parking Tickets (Android & iOS)
Miranda Warnings / Rights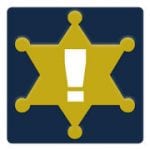 Novice police officers may not immediately remember all the subtleties that must be taken into account during their work. We are sure you are aware of Miranda Warning, a legal requirement in the United States that when a police officer apprehends you, he or she must notify you of all his or her rights.
The detainee must, however, answer in the affirmative to the question about understanding his or her rights.
The Miranda Warnings / Rights application is designed just for police officers who are required to speak the full list of rights during their work. The application itself is a memo, which should be followed.
You can use it to either learn all the phrases by heart or use them right during detention. Note that Miranda Warnings / Rights is also duplicated in Spanish, so if you are not working in the U.S. or are dealing with a Spaniard, you can easily use the service to its fullest.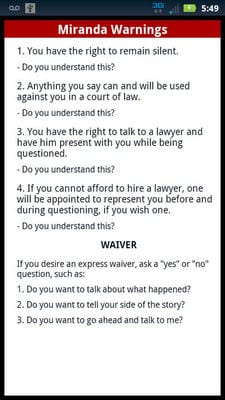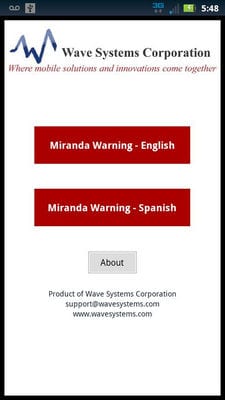 Louisiana Code of Criminal Procedure (LawStack)
Each state in the United States has its own set of laws, which may differ from those of other states. This may be really important, because depending on the punishment for a crime committed in a particular state, liability may also vary.
The Louisiana Code of Criminal Procedure app presents all Louisiana state laws in a pocket-sized and reader-friendly format.
In the app you will be able to study the code yourself in all the details and aspects, noting for yourself important or interesting points. You will be able to add bookmarks in places you are interested in or notes to the text.
If at some point you urgently need to find a certain article, the Louisiana Code of Criminal Procedure offers you a quick and full-text search. In general, if you live and work in Louisiana, this application will be useful for you – especially if your activity is directly related to law and order.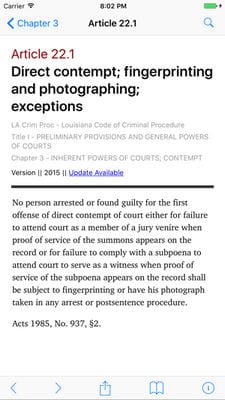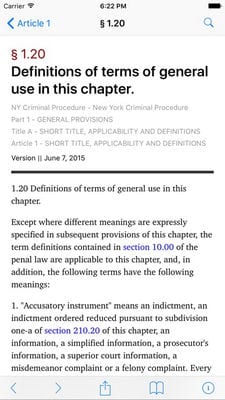 You may also like: 11 Best Police scanner apps for Android & iOS 2020
Learn US Criminal Law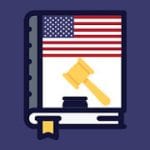 Do you study criminal law at university or on your own? Then you can install on your smartphone Learn US Criminal Law and start studying in more detail. The pocket-sized application contains several tutorials on different sections of law, which contain basic information and concepts from the field of criminology and law.
In order that you can immediately consolidate and check the material you have learned, Learn US Criminal Law also offers various tests and quizzes.
This application should not be treated as a complete and detailed textbook on the law. For the most part, there is only a brief overview of concepts in the law system in the United States, so Learn US Criminal Law is perfect for amateurs.
This developer also offers to buy all his applications with a single subscription – a total of more than 300 services. Not all of them will be needed by young lawyers or police officers – but some of them are really useful and relate to the law.
If you like only Learn US Criminal Law, you can download it for free and learn the laws in simple language.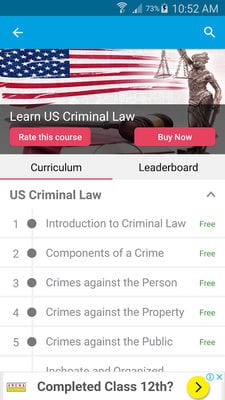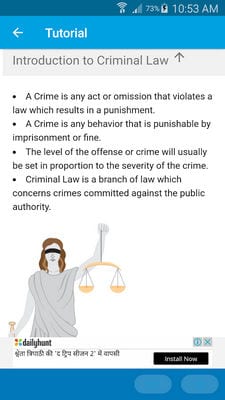 There is no denying that in reality it is better to check all the information about the laws in confirmed sources – constantly updating the wording, adding amendments, and so on. If you have several such applications installed on your smartphone, you will always have this source.
For example, police enforcement officers can always find out what you need to know about first aid, and the student can repeat basic laws before the law exam. We have tried to find really good apps for you, needed for criminal justice majors.
We hope that our article was useful for you because the number of justice professions is growing as fast as the number of information about human rights and freedoms.