We often face language barriers when traveling, moving and communicating with other people in general. This is one of the biggest challenges when traveling to new countries or even working for a large company.
Obviously, we most often face such problems when traveling. You will get a lot more impressions and emotions if you communicate with locals.
If you know English, of course, it will be much easier for you – more than 20 percent of the world's people know it well. But what if the country you choose does not understand English? Alternatively, do you travel to more than one region?
In that case, you will need an interpreter. No, not a paper book with words or even a specially trained guide, but at least a fast mobile service.
We have found for you 11 best, and most importantly, handy voice translation applications for Android and iOS.
You may also like: 11 Best apps that translate pictures (Android & iOS)
iTranslate
Using interpreter functions is often necessary for us without access to the Internet. iTranslate supports a new mode of operation, that will not bring you additional costs for roaming.
Here you can start your communication in 90 languages – translate texts, read translated phrases aloud, as well as look for synonyms to unfamiliar words.
iTranslate will also save the history of your requests – for example, if you need to repeat a question or if you translate standard phrases.
In addition to the basic version of the application, there is also the Pro version. Here, the functionality is extended and many useful functions are available – for example, instant translation using a camera and real-time voice communication.
The most convenient is translation without an Internet connection, of course! Users say that they really forget about language barriers and are free to talk to locals in other countries.
It is worth noting that you can also take into account the grammar of languages. For example, iTranslate has complete verb conjugation tables for different tenses. Speech translation works in 40 languages, and text translation functions work in almost 100 languages.
When downloading, please note that the free version has limited functionality. Want to use voice translation? Then you will have to pay a certain price by purchasing the Pro version.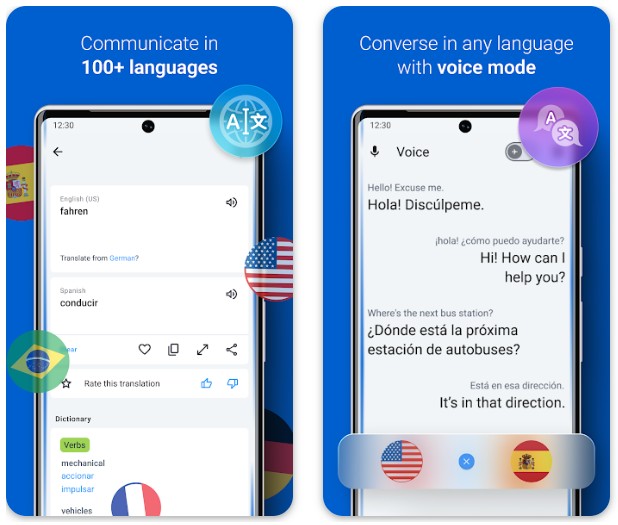 You may also like: 11 Free Voice Recognition Apps for Android & iOS
Microsoft Translator
Microsoft has long produced excellent applications for mobile phones, tablets, and computers. Microsoft Translator is one of their products that is popular among users and helps people to communicate with each other.
Here you can translate your conversations, text messages and voice of course. By the way, in addition to voice recordings, you can take pictures of text or scan it from screenshots of your smartphone.
Microsoft Translator has a split-screen mode, which will help you maintain a lively conversation with your chat partner. In this mode, your phrases are translated simultaneously and the person you are talking to will immediately see what you are saying to them.
By the way, you can have a conversation not only between two people. In order to understand several people in the company at once, you will need to connect all your devices to Microsoft Translator.
This way you can talk in different languages – even if there are more than 2-3 native speakers of different languages in the company (the application supports up to 100 participants).
The Microsoft Translator dictionary is made up of various phrases and also uses special guides that allow you to take into account the pronunciation of your interlocutors. In general, the application can be noted as one of the best in the field of voice translation.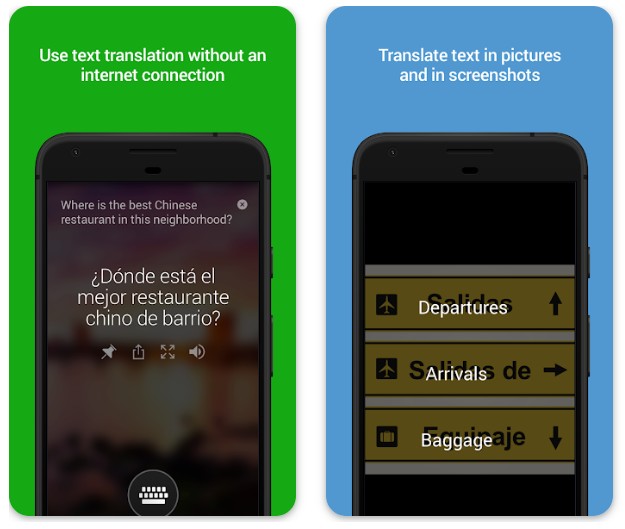 Google Translate
Google Translate is one of the most popular and well-known mobile translators, which was used by all people at least once in their lives (as long as they use translators).
This service is popular among ordinary users and is trusted in terms of accurate and correct translation. In its category, Google Translate takes first place in all ratings, as well as overtaking other applications by the number of downloads and ratings.
In total Google Translate is available for translation in more than a hundred languages, but voice work can only be done with the 32 most popular and common languages.
Image work can be done in 40 languages from a camera and in 50 languages from images. In offline mode you can download up to 60 languages – so you can use Google Translate even without access to the Internet.
In order to translate your own voice, as well as understand what people around you say, you still need an Internet connection. To start translating, you will need to click on the microphone icon and just start talking.
Preferably, for a more accurate translation, you will need to speak clearly and legibly. If your conversation partner has also installed Google Translate on their smartphone, you can hear each other immediately by simply connecting.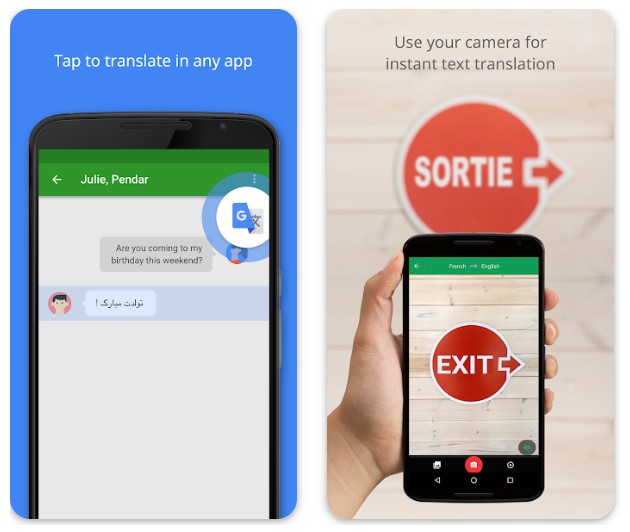 Speech translator by HawsoftMob Inc.
Despite the fact that the Speech translator application is quite popular, it has a very simple and even a bit old-fashioned design. Initially, you should choose the languages you will be working with.
For example, you speak English and your conversation partner is in French, you will need to choose both languages for simultaneous translation. Quick and easy translation is the main feature of the application
Speech translator is especially convenient for those people who are learning a new language. For example, you practice speaking and want to check if you write sentences and pronounce sounds correctly.
If you pronounce everything correctly, Speech translator will immediately take your phrase and output it as a text. In doing so, the application takes into account specific pronunciation features such as missed endings or other unusual sounds.
You can translate your phrases right during the conversation – as well as your interlocutor's replicas. You can enter them either by voice input or on your own using the keyboard.
The result of your work can be shared – for example, on social networks or anywhere else. If you're not sure of your own pronunciation or don't want to constantly show your smartphone screen to the person you're talking to, you can convert text to speech and simply talk using your smartphone.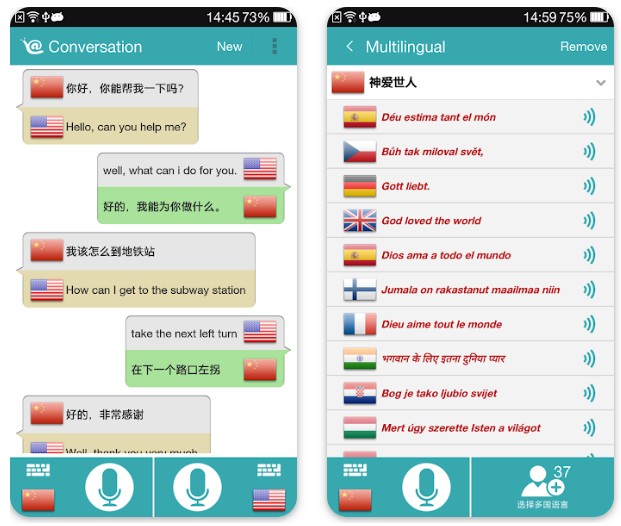 Speak to Voice Translator
Professional translators always say it's worth using several dictionaries at once to get a more accurate translation of a word. Speak to Voice Translator combines 4 major translation services – Google, Microsoft, Baidu, and Yandex.
The application is designed to make it easy for you to communicate with foreigners and also to get the most correct translation of your interlocutor's phrases. Speak or type the text you want to say, and Speak to Voice Translator will translate everything for you.
In fact, with Speak to Voice Translator, you just combine several translation services and use them in one place. It is up to you to choose which service to use at the moment.
There are over a hundred different languages in the application directory, which you can combine as you like. By the way, you can use such technologies even when learning a new language.
Say the sentence in your native language, and Speak to Voice Translator will translate it to the desired language. That way you'll learn how to pronounce certain words better and properly, and how to spell combinations of letters.
Your conversations can also be translated as soon as you finish the sentence. Speak to Voice Translator will be used as your own personal simultaneous interpreter, which will help you to speak easily with native speakers of different languages.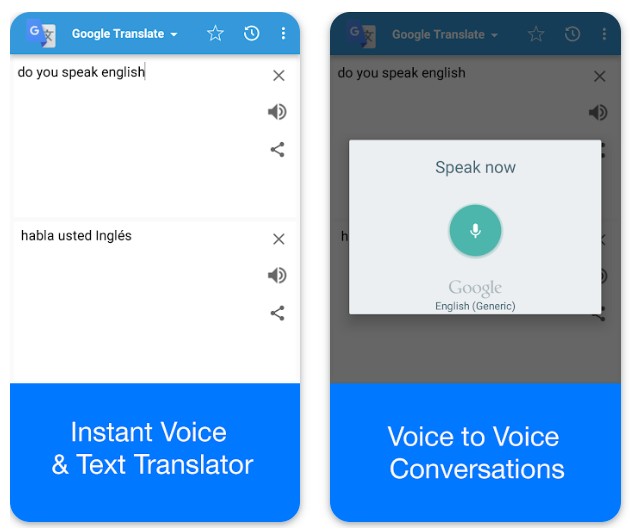 VoiceTra
Not all applications have a huge range of languages. Not popular apps usually have much fewer languages than the most famous Google Translate or similar. But that doesn't mean these apps are getting slightly worse or less effective.
In fact, the languages that are represented in them are not worse. One of those apps is VoiceTra. There are over 30 languages that you can use absolutely free.
VoiceTra is easy to use and also has a user-friendly interface. Not only can you translate your own thoughts and phrases, but you can also check to see if the result is right.
So you will not only improve your language skills but also learn something new and get impressions from another trip abroad.
The features of VoiceTra are that you can connect to the application with your conversation partner and start a conversation. The translation direction switches automatically, depending on who is speaking at the moment.
Almost all of the languages in the app support voice input and are great for conversations. With VoiceTra, you can easily get in touch with hotel staff, international customers, and more.
Most importantly, the application interprets the meaning out of context, rather than translating the entire sentence verbatim.

You may also like: 4 Best Emoji Translator Apps for Android
Voice Translator 2020
Voice Translator 2020 is one of the modern and newest applications that is designed for instant voice translation. The app quickly translates your voice message into text and translates it into the language you want.
In addition to voice, you can translate images, screenshots, and more. To start the process, you just need to press a button.
With Voice Translator 2020, you can translate anything you want. Visit foreign sites, chat with people who speak other languages, and support online correspondence.
The application is great in real life and does not limit its users in time of use. You will easily overcome the language barrier and gain new experience in communicating with foreigners.
A voice interpreter can work with several languages simultaneously. So your dialogues with foreigners will now be understandable for you.
The application itself was developed by a team of translators who really understand how important it is to convey the meaning of what is said. Voice Translator 2020 will understand your speech even if you have diction or pronunciation problems.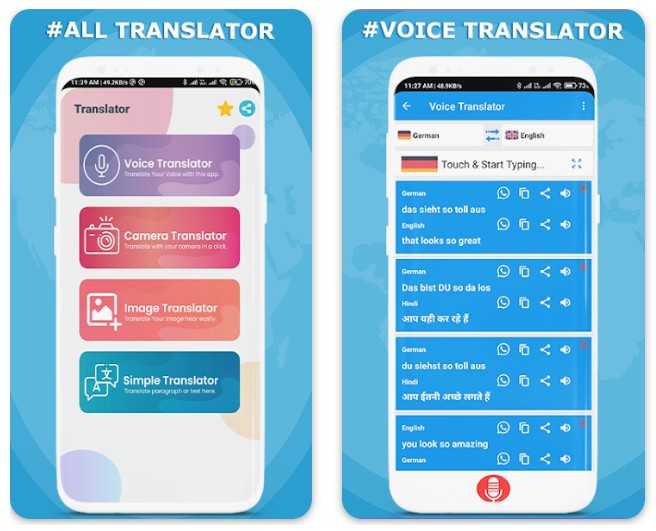 Translate All: Translation Voice Text & Dictionary
You will now be able to translate everything for sure! Translate All is a universal service for translating your conversations, text messages or even pictures of labels and menus.
With Translate All you will no longer have questions in foreign restaurants, what do their menu items mean. You will now find out for yourself what the inscriptions are around you in another country or what a person in another language wants to say.
The application works with high precision, as well as has excellent indicators of semantic transmission of the text. That is, no matter what the interlocutor told you, you can translate it taking into account conversational speech or even figurative meaning.
Translate All helps people increase their vocabulary and even examine new words and phrases in certain categories. Now you'll always have a handy and clear dictionary in your pocket, so you can use it at any time.
You will be able to listen to what you have just translated in text format. That is if you have trouble pronouncing, with Translate All you can not pronounce the phrases by yourself.
You can also use the application as a simultaneous interpreter: during your dialogues, you will receive two-way instant translations that will simplify all your dialogues with native speakers.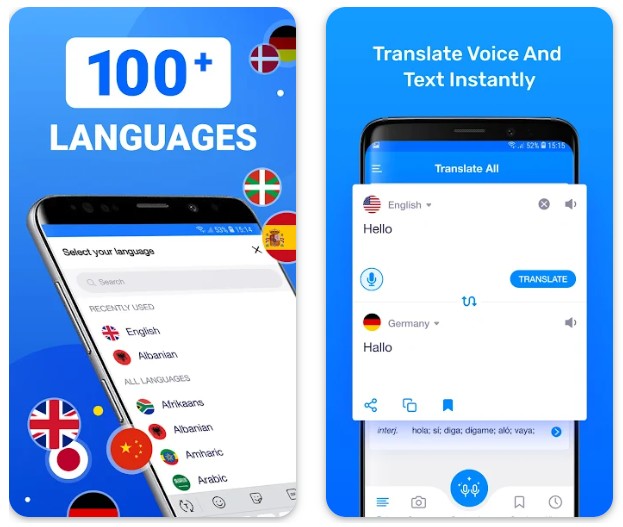 Speak & Translate – Translator
Users of iOS devices clearly saw this application at the top of the best translators. Speak & Translate has one of the highest ratings in the App Store among translators, and is also popular among users.
The number of languages that are supported in Speak & Translate is impressive for many reasons. In text translation, you can use translations in 117 languages, and voice translation is available for 54 languages.
Speak processing in this application is provided by Apple. It's a special technology used on iOS devices in many applications that require access to a microphone.
In Speak & Translate, when processing your voice, the language is immediately detected – this process happens automatically. You can also synchronize all your operations with iCloud and have access to certain phrases and texts at any time. In the Premium version, you can work even offline.
And if you don't want to pay for the app, you can use the free version. To do so, you will need to have a network connection at all times, and sometimes you will watch promotional videos and various banners.
They disappear only in the paid version. There is also a limit on the number of translations and you can change it. The limit is for one day, so it will be more convenient to purchase the advanced functionality of Speak & Translate if you are actively communicating or constantly talking with foreigners.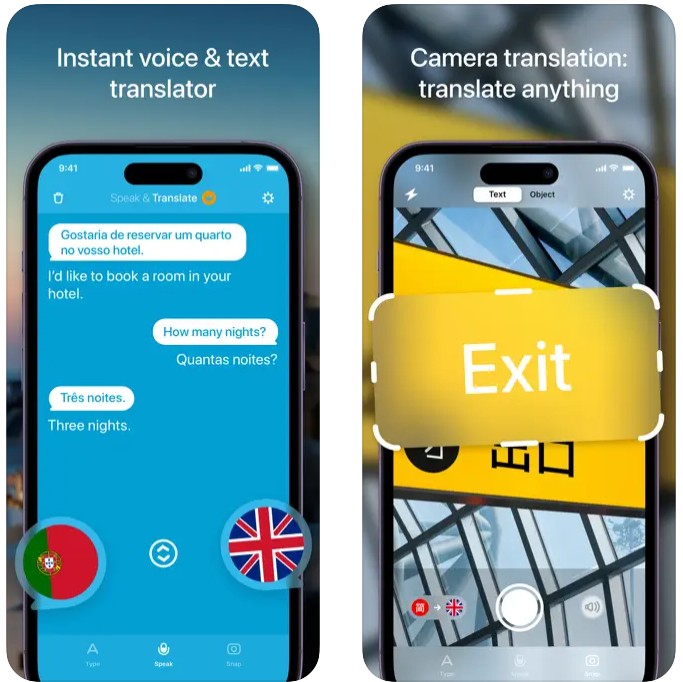 SayHi Translate
Your conversations in other languages will be even easier, more accessible and understandable! With SayHi you can talk in almost any language.
Also, the application has support for dialects, which allows other people to easily understand your speech – and you, accordingly, understand their phrases and maintain dialogue.
You can change the language and dialect in a single click, as well as slow down or speed up the phrases that are produced by the application.
You can change the speaker's voice – replace the female language with the male and vice versa (it should be noted that such a function is not available for all languages).
In order to start interpreting, you will need to press a special button with a microphone symbol. You can also open the keyboard – in the case when voice translation is unavailable or inconvenient for you.
You can copy and paste the received text as easily as in other similar applications. For those people who want to learn a new language or are simply involved in communication with foreigners, SayHi is ideal.
For you to be able to translate your own speech, you will need to give SayHi permission to use a microphone and record your voice. Without this permission, you will not be able to work with your phrases.
To make it easier for you to understand the speaker's phrases, you can slow down or speed up your speech. You can conclude that SayHi works perfectly with voice translation and is easy to use.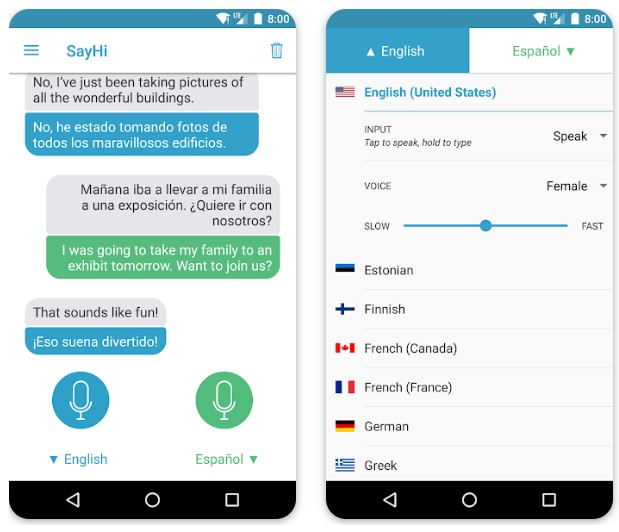 You may also like: 7 Best WhatsApp Chat Translator Apps for Android & iOS
If you are learning a new language, traveling or on a business trip, you may need a good translator. We suggest you use a parrot for this purpose! Are you surprised? Actually, you won't need a real bird.
Naver Papago is an excellent application that will help you maintain dialogues in different countries and with different people. Papago translates like a parrot, but in this case, it is the name of a bright bird that will help you in the translation of some languages.
The app has 13 different languages, which are the most popular around the world. You can use both text translation capabilities for phrases, words, and sentences, as well as translate and recognize text from images and photos.
You can even translate text offline without connecting to the Internet. But in this case, it is voice translation that interests us the most.
You can translate your own or other people's phrases in real-time. Talking to someone in another language, you can enable the conversation mode in Naver Papago and maintain a conversation with a foreigner.
Your conversation will not be affected – you can talk at the same time and understand your conversation partner. If you work in a foreign application or communicate with foreigners, Naver Papago Mini will work with any copy of the foreign text.
With Naver Papago, you'll always be sure to understand the person you're talking to, even when you're in another country or on another continent.