"I have nothing to wear!" How many times have you heard this phrase and how many times did you say it yourself? Especially women. Lack of fashion inspiration hits us all from time to time. But with the pressure of the corporate world where we are so often judged by what we are wearing, we just can't let ourselves down on it. So what is the solution?
You may also like: 17 Best Online Shopping Apps for Android & iOS
Here is the list of the apps that will help you in any life situations: what to wear according to the weather, according to the occasion, how to find your style, get inspired, and plan your outfits much in advance.
They will prove to you that you can create a cool look even out of those lean pieces that you have in your clothes and also give you tips on how not to spend all your money trying to look good every day.
Acloset
Acloset is a mobile application that is a wardrobe management tool that allows you to organize your wardrobe, create outfits and plan what to wear for any occasion.
The app's features include adding clothing items to a virtual closet, classifying them by type, color, and season, and creating outfits by mixing and matching items. You can plan your outfits for the week, save your favorite outfits, and get suggestions on what to wear based on the weather forecast.
The principle behind the app is to help you save time and make the most of your wardrobe by providing an easy-to-use interface for organizing your clothes and creating outfits. With Acloset you simplify your daily choice of clothes.
One of the downsides of the app is that it can take some time to enter all the items of clothing into the virtual closet. Also, some users have reported technical issues with the app such as crashes and slow loading.
Disgruntled user comments include complaints about the limited number of clothing items that can be added for free and the lack of customization options for organizing items in the virtual closet.
Application features:
The ability to save time and effort on choosing clothes
You get a complete analysis of your wardrobe
Simple and easy to use application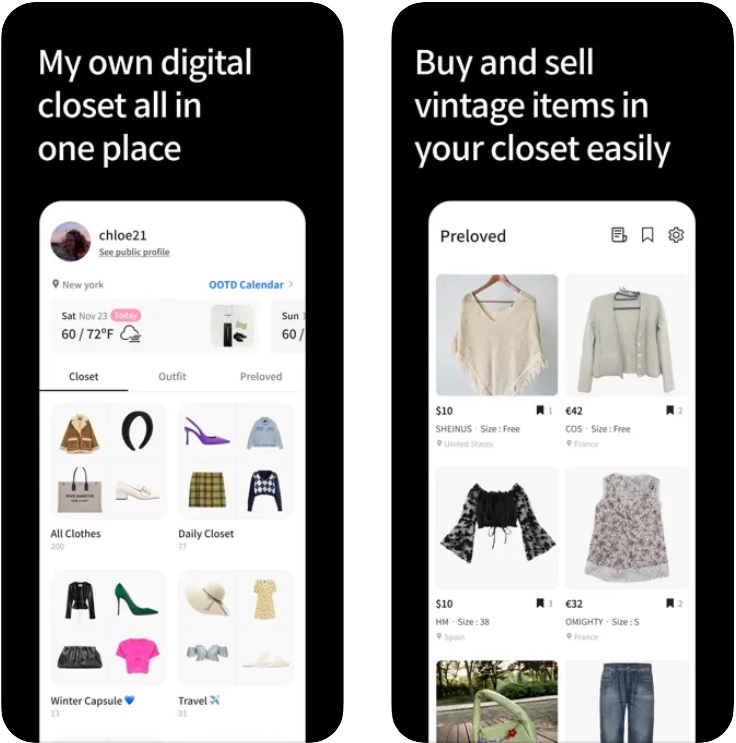 You may also like: 11 Best day planner apps for Android & iOS
What To Wear Today
Going traveling? Already decided what kind of clothes are you taking with you? But what if the climate in that country is totally different and the same level of degree feels completely different?
Well, that used to be a problem for every traveler. Even if you are going for a walk on during your stay in Paris the weather can change dramatically throughout the day, but it doesn't mean you must carry on the whole suitcase with you.
Use the help of this app to plan your outfit for every single day. Just like in the previous case, the app gives you a lot of useful pieces of advice and forecast in detail.
The app possesses a smart weather formula to give you the best recommendations. It will tell you if you need a coat or a jacket, how many layers of clothes you should have, which kind of a bottom you should wear (trousers or shirts, for instance), and, of course, the kind of shoes.
In this app, you can switch between weather forecast in Celsius and Fahrenheit which is quite convenient. Don't forget to note your gender.
On the main screen, you see the forecast for today, tomorrow, and the next day as well. It is really easy and comforting to use this app every day, though it is quite simple. However, this is one of the most popular apps in stores.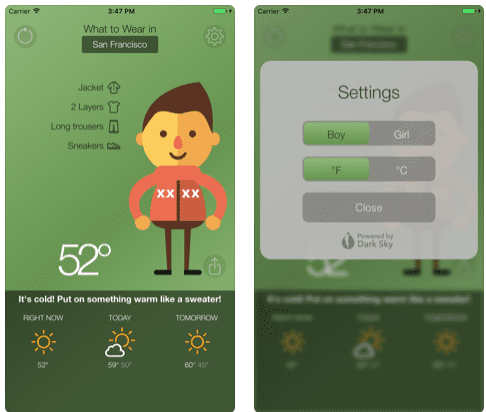 What 2 Wear?
A very cool app the interface of which looks more like a game. You can see graphical representations of the weather forecast and what it's going to be like. The forecast is for the current day, for the next day, and the day after.
Though it's not so detailed as in the previous apps. The app simply tells you if it's hot or cold and what kind of weather, according to the time you the year you're experiencing.
But when you click on clothes choosing, the app takes you to a closet where you will see pieces of garment that are wearable for the current day. If the weather is cold, you will see a full closet, if it is hot – just a couple.
The app also shows the probability of the rain and the level of humidity so now you know what your hair should expect (especially those who get frizz easily).
A really cool feature here is that you can add your own photos of your wardrobe in the app. Now, choosing the outfit, you can review everything that you have laying on the couch and find the matching pieces.
What is even more curious is that the app calculates the human body heat index according to humidity, temperature, and wind and then makes recommendations.
The app is supported in English and Italian. You can also view the forecast for the next 10 days. It can be installed as a widget that looks quite attractive on the home screen of your smartphone.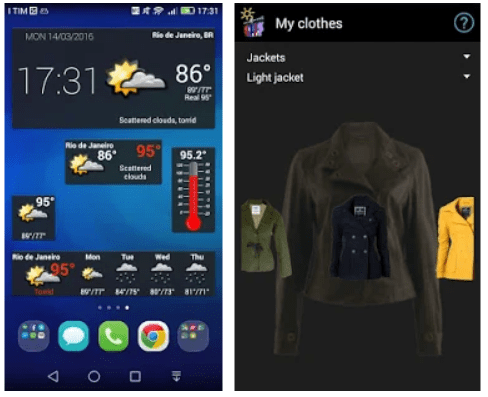 My Wardrobe – Organize your clothes
There are places where the weather is extremely changing, there are places where the weather stays the same all the time. For example, in the UK the weather can change several times a day, going from gloomy windy to sunny and warm.
In Hawaii, on the opposite, the weather is warm and merely humid throughout the year and that's why so many people like its resorts so much. But how many people live in Hawaii and in the UK? Most of us live in the business centers of the world where the weather is not always that predictable.
This app will help you to keep the track of what is in there in your closet, so you will never forget about that fine coat anymore. The app allows you either to take a picture of each item that you have or depict them as 2D models, so you would just remember what is it in there.
Moreover, in this app, you can not only put in the information about all your closet items but also plan your outfits day by day. An interesting aspect is that you can share your outfit design via social media that you made in here. The interface itself is a little bit plain, but it is still user-friendly.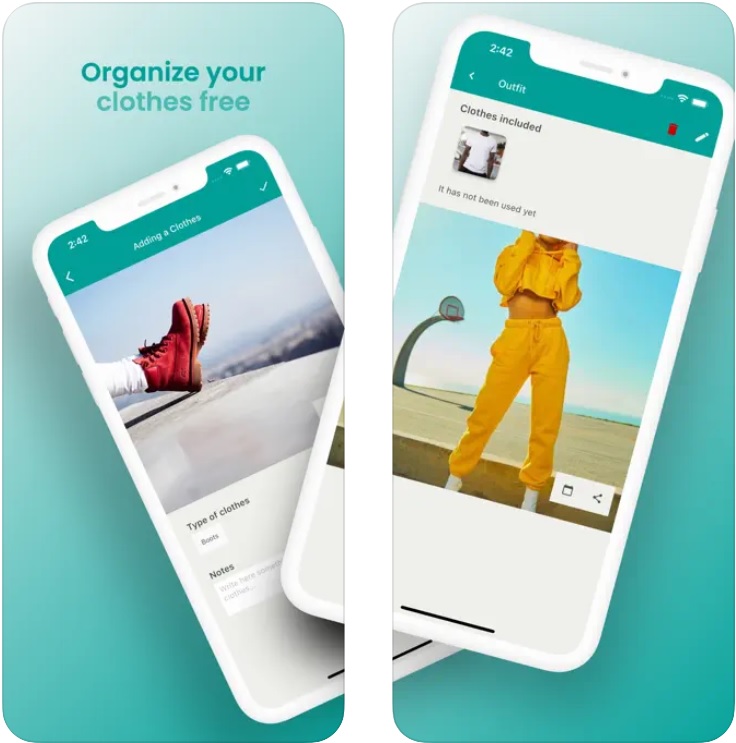 You may also like: 20 Best Black Friday Shopping Apps for iPhone and Android
Stylebook
This app is different from the previous ones in the sense that here you find no weather forecast (finally?). It is basically a digital closet that arranges all the garments you have and creates a visual representation of them. Actually, there are a lot of interesting functions that you can utilize every day and look awesome.
As you open the app you can see the menu. The first icon is your close and clicks on it if you want to see what do you have at the moment and compile an outfit. In the "lools" section you can see the outfits that you have already made and analyze if pieces go well with each other.
Then, you see an icon "inspiration" where you can observe ready sets of clothes and get inspired or steal ideas and learn tricks.
There you can also find photos of famous fashion bloggers and celebrities. In the calendar sections, you can plan your outfits in advance which is quite practical. Just choose a day and find the right clothes.
Then, we have "packing". It is an extremely convenient section since here you can compile your packing lists for trips without missing out on anything. Here you can also create generate printable checklists and infographics.
Section "style stats" which sounds really intriguing, will analyze your style in general and tell you which things in your wardrobe you wear the most and the least.
It can bring you a lot of insights about your style, not speaking about the fact that next time, buying clothes you will be aware of which pieces you should stay away from and on which you should splurge.
The "Shop" section allows you to go to fashion brands and retailers' webpages and make purchases online. As a bonus, you can try the closes in your virtual closet before buying.
In "style expert" you will find various interviews with prominent persons from the fashion industry and tips on how to improve your style and find the right clothes.
In the last section, which is called "WiFi Accept" you may share the outfit ideas and pieces of clothes with other people, via the social networks or inside the app. Summarizing all the points, this is an excellent app which could become your style guide and fashion organizer – and save you a lot of time.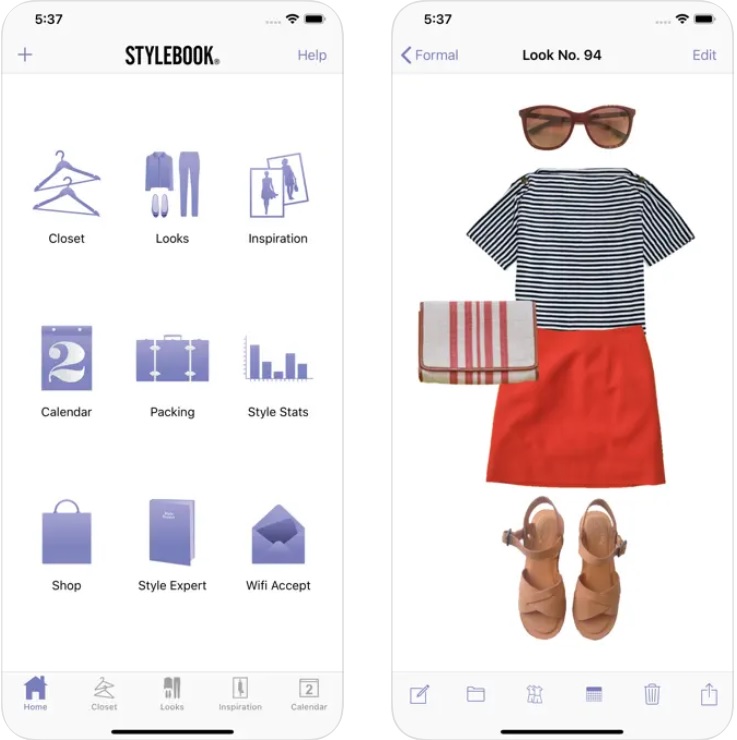 Your Closet
This app is similar, but it is more concentrated on the contents of your closet. You just take pictures of things that are in your wardrobe and then upload them to the app.
The number of photos is unlimited. To remove the background on the photo you can use the photo editor. There you can also rotate and crop them.
For more comfort, organize your pieces of clothes into categories and sub-categories so when you're looking for something you would find it fast and easily.
Each category section will display the number of pieces that it currently has. Describe each item in your closet, by brand, type, color, size, occasion, and so on. Later you can accomplish the search using these tags that you marked before.
When you scan the color of your clothes the app will find for you similar pieces of clothing that are currently in your possession. Or you can pick a color from a palette and accomplish the search this way.
You can always share your outfits with your friends via Pinterest, Instagram, or Facebook. In order not to start forming the same outfit over and over again, duplicate it.
To the outfits, you can also add notes and reminders. And don't forget to use the calendar to compile the appropriate outfit for every day. Thus you will be able to preview all your upcoming outfits. When you're going to travel, import outfits from the closet to the packing list and take it with you.
Statistics is a significant feature here. It will show you the total cost of your wardrobe, the total number of outfits, what you have never worn, and what you've been wearing the most. Thus you can make conclusions on how you should plan your looks and save money.
The app synchronizes all the data to Google drive so even if your app gets deleted you won't lose what you've already created. Then you are able to restore the backup to any Android device. Synchronization happens every day or every week – up to you.
And here also goes the function of virtual shopping. Search items by the price, size, collection, brands – and try them out in your closet.
Those items you can mix with pieces that you already own and see how it looks like. Basically – lots of functions, many ways to organize your wardrobe – it's up to you how elaborate you want to have it.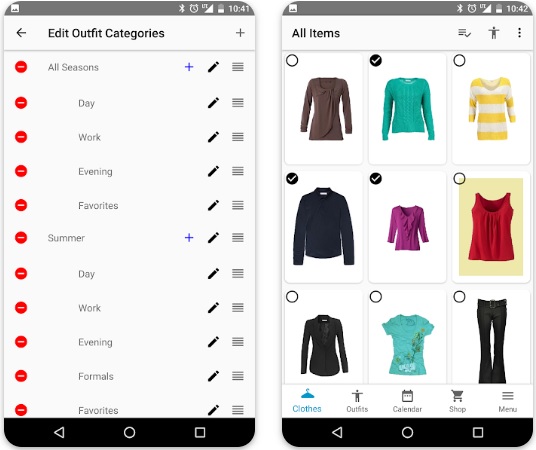 Outfit Planner Chicisimo
This is, like, an everlasting problem: what to wear and how. We face it, even if not on a daily basis then once a week for sure. It might seem weird with the modern assortment of items that you can buy.
But in many cases, we just lack imagination and creativity to make the best of what we already have. So here's the app that will be your personal style assistant.
It contains almost all the functions as the previous closet organizers, but it also tells you the weather forecast. Then open the app and look through your categories or already made outfits.
As usual, you can take photos of your garments and add them to the app, or, another way, you can find the matching 3D pieces which would represent your clothes.
This way it will be easier for you to find the necessary clothes later. To get inspired to guided, see the recommendations and posts by other users. New pictures are added every day. All the pieces of clothes which you see in the picture are tagged so you can identify the brands easily.
On the bottom of the screen, you will be seeing the palette of colors so it is super easy for you to immediately tap on the color and monitor all the clothes you already got in this color. Besides, the calendar and planner in the app will assist you in organizing the best looks for you every day.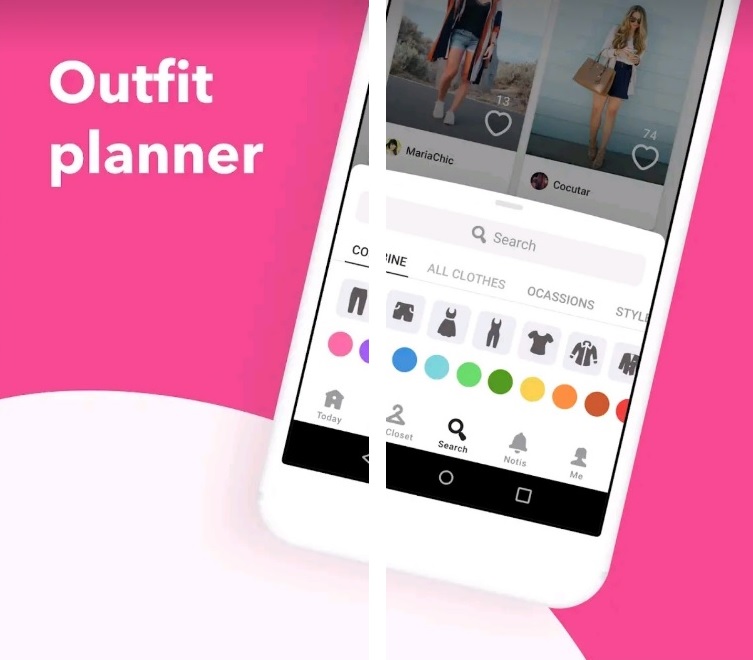 Combyne
It is a new trendy app for creating outfits. Combyne is like a social network about fashion that allows you not only to plan your outfit for another day but also to discover new fashion trends and follow fashion bloggers and gurus for inspiration.
First, you need to create an account to enter the app. You get to the main page with the news feed. At the bottom of the screen, you will see the toolbar, and to create an outfit you need to press on the central plus.
The app will suggest you choose between two ways of combining outfits – if you don't want to spend too much time on it, we recommend choosing the swiping one.
In it, you already have the models of pieces of clothes, such as tees, trousers, shoes, dresses, etc. You can color them into the colors of your things and combine them by swiping and seeing how they look together. There are also ready-made items in the app – you can discover them by clicking on the "plus" sign.
The outfits that you made you can save in your library and share with the community. You can also explore the community to get inspired. In your free time, you can construct several daily outfits for each day. All in all, this is a nice app but in our opinion, it's a little bit too much of everything here.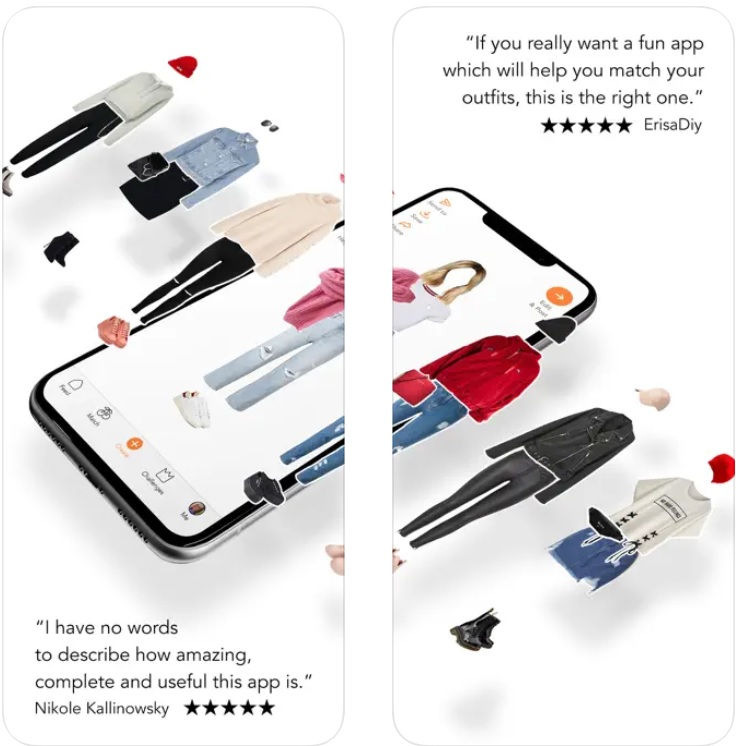 You may also like: Top fashion games for iOS & Android
Smart Closet
When you have a Smart Closet you don't have to stress about your outfit anymore. It will make your daily style more organized and will give you thousands of ideas on how to dress on a particular day.
Now you will be choosing outfits with passion and joy. And by the way, we used to consider choosing outfits as a female option but this app also works for men!
Search through the brands and retailers to see the options that they suggest. Add those you like to your collection, no matter if there are the pieces that you already got or just trying on. If you can't find a piece that you own on the internet you can take a picture of it and upload it to the app.
For the better structure of your wardrobe, add notes to your garments: name the brand, date of purchase, material, size, and so on. What is remarkable here, the app can create random looks for you based on the clothes you got. And of course, there is a calendar where you put all your outfit plans.
If you see an item that you really like at an online shop you can leave there a note for yourself so you can go back to it later. Besides, the app is a great helper in planning the wardrobe for the overseas trip.
Once more, it includes statistics. You will find out a lot about yourself: which color do you wear the most, which brand, type, size, and what is the best price for you according to your preferences.
So, if you have ever seen those pictures with clothes combinations on Pinterest or Instagram – now you can compile your own and also share it on social media.