Thumbnail maker apps for Android could be useful if you are on a deadline and need to create one as soon as possible. It doesn't matter whether you are a blogger, internet marketer, Graphic designer, or a YouTuber. There could be various reasons you need a thumbnail maker app.
Fortunately, some of the best Thumbnail maker apps available on the Google Play Store can help you create unique and good looking thumbnail within minutes. So, let's explore the list of best YouTube thumbnail maker apps for Android. By the way, you can use free apps to download youtube videos on your phone.
Thumbnail Maker For YouTube – Create Channel art
Content Arcade Apps is providing this thumbnail maker on both Android and Apple stores.
It's an incredible source to create thumbnails for YouTube videos as it has organized thumbnail ideas in several categories like health, business, technology, and many others.
This app can be easily downloaded from both the Play Store and App Store. One of the best features that you can enjoy on this app is the 3D rotation of text.
Besides creating YouTube thumbnails, this amazing app also allows you to create YouTube banners, covers for Twitter, Facebook, Linkedin, and posts for Instagram.
The thumbnails can easily be personalized on this app to make them attractive that could improve the views and traffic on your YouTube videos.
The thumbnail creator allows you to add overlays, background, and many other effects and graphics to make your thumbnails visually appealing.

You can also check: 8 Best Apps to Play YouTube in the Background (Android & iOS)
Thumbnail Maker & Channel Art Maker
At the first sign, you might think that this is just another shady app on Goole Play in this category, but it is really a dark horse.
This app will be a perfect choice for those who create videos on not-so-serious topics – like pranks or games walkthroughs – because it contains lots of eye-popping fonts and excentric forms that will help your video to catch the attention of a picky viewer.
Moreover, this Thumbnail Maker contains several stickers for various situations that you will also be able to use on your covers for YouTube videos.
All you have to do is to download the app, upload a screenshot from the video or a picture and start applying effects and stickers. The app even has the feature of automatic cutout and background removal, so you don't have to go through all this hassle yourself.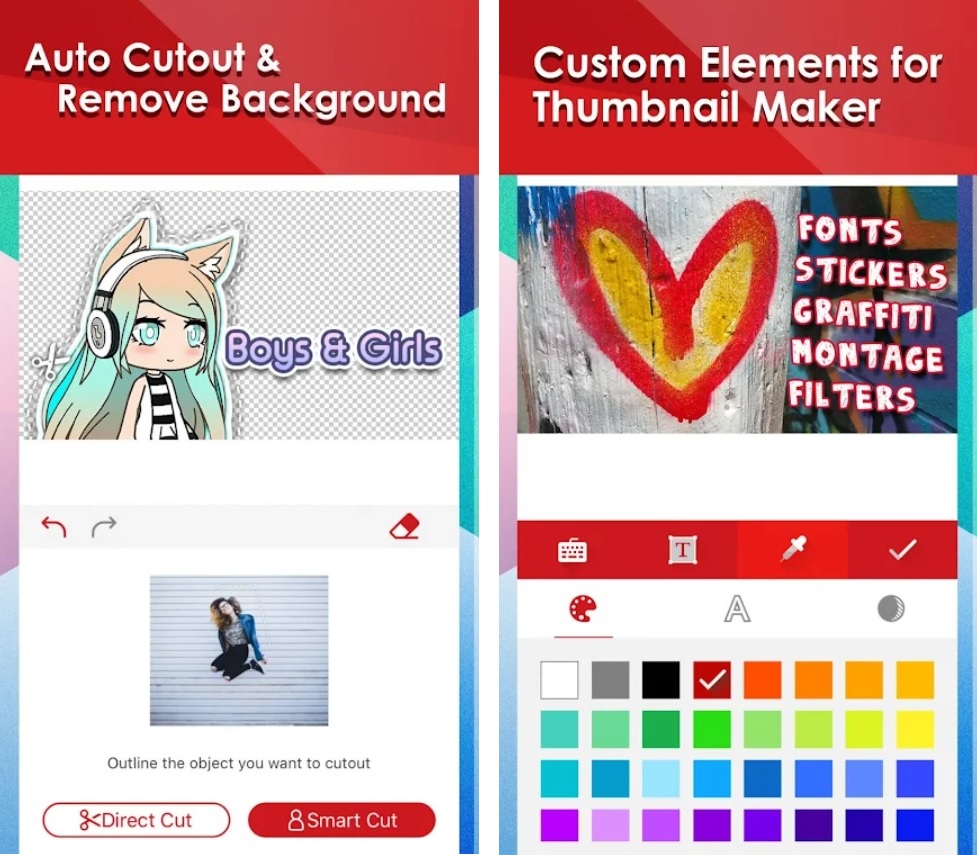 Banner Maker, Thumbnail Maker
There are so many fine Banner and Thumbnail Makers out there that sometimes it's hard to come up with any choice – however, this app stands out for its versatility and abundance of forms and fonts.
To be more precise, here you can create images of any shape – whether you want them to be vertical or horizontal. Since we are talking about YouTube here – we pay attention to the latter category.
Just upload the app and pick up what you want to add – a sticker, a design, or maybe, a text? Then select the style and then the size and the color of it. Experiment with forms, play with colors until everything looks really harmonic and logical.
However, if you would like to go for something more specific, this might not be your best choice. Moreover, the majority of features are only available in the "Pro" version that is paid for.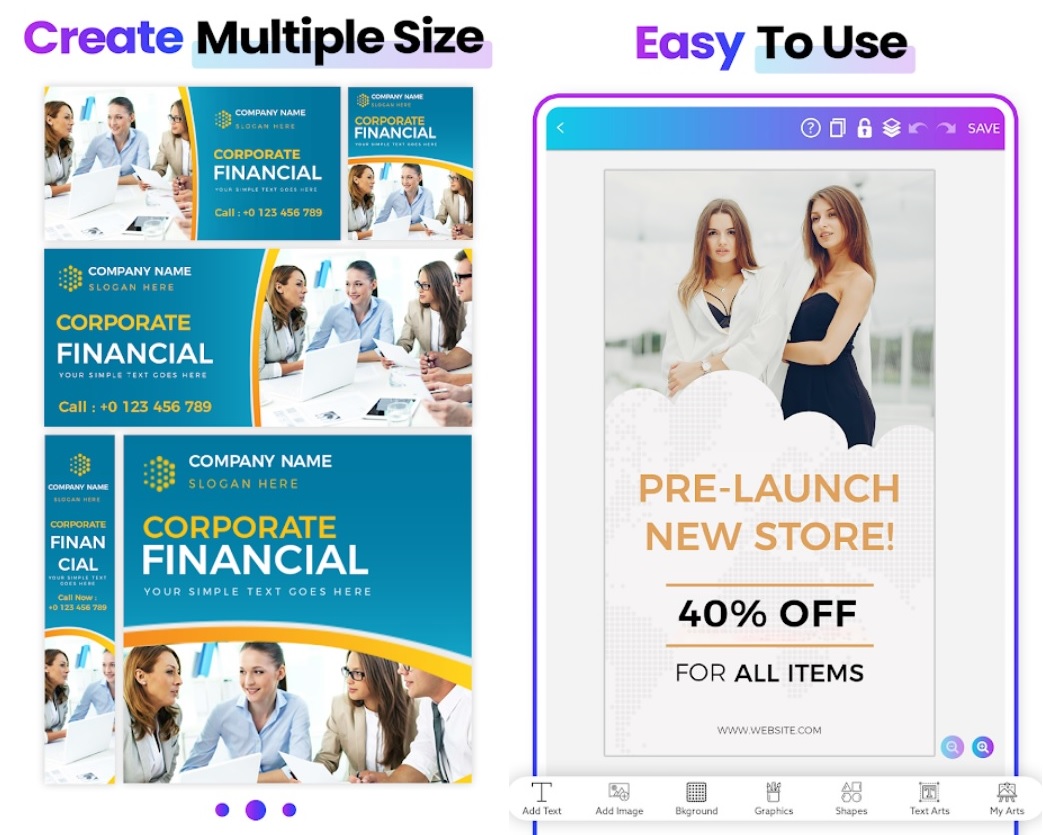 Fotor
You can even get something outstanding out of perfectly ordinary content without much effort because Fotor provides all the advanced features and covers attractive themes from around the world.
Fotor gives you the opportunity to rediscover your creativity and skills without any limitations.
This application offers all fast editing services online. It is a very interactive and easy to use tool with all the features you need.
Thus, even beginners who have never created video covers before will easily be able to make a preview of their video with it.

Logopit – Thumbnail Maker
Instead of buying expensive graphic design software, installing this thumbnail maker on your Android devices is a much better option.
The best thing about this app is its user-friendly interface that helps people to easily edit thumbnails if they don't know a word about designing.
With this app, you can choose a base design for the YouTube thumbnail and modify it to make it visually appealing.
This app comes up with a variety of fonts and a full-color scheme that allows you to add text on thumbnails as you like.
The import feature of this app allows you to add images stored in your smartphone's gallery.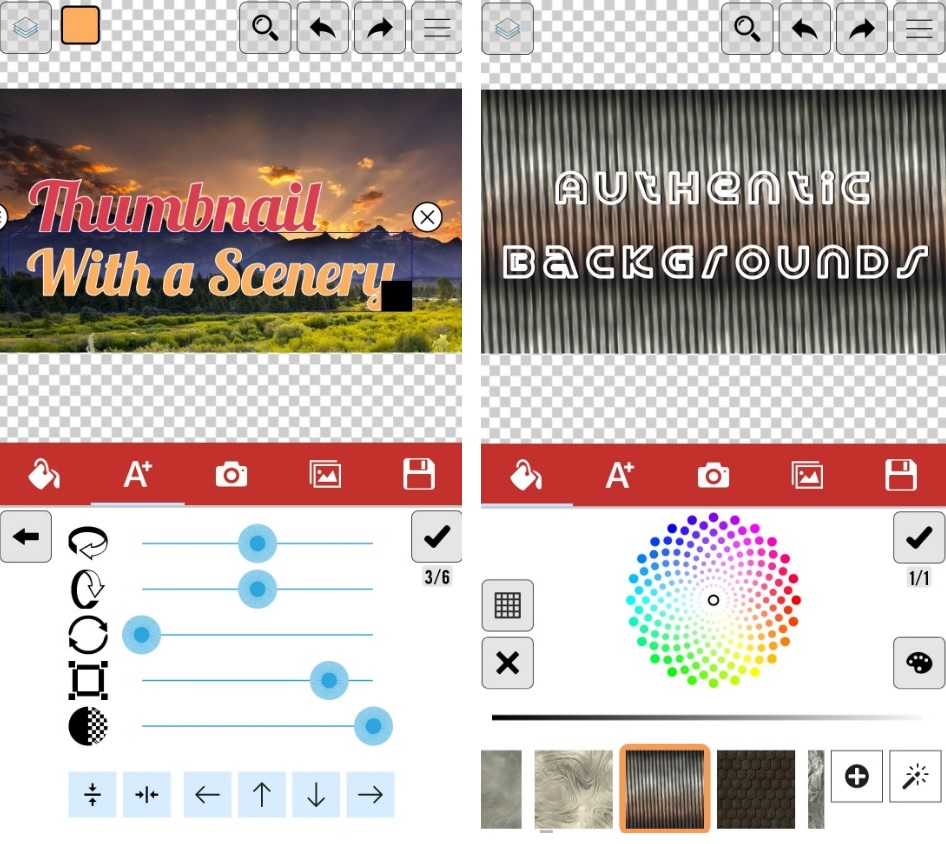 You can also check: 11 Best vlogging apps (Android & iOS)
Pixlr
It is a specially designed application that is a version of the famous Pixlr website where you can freely add overlays to your covers.
You'll also find an excellent selection of high-resolution filters, which sets Pixlr apart from other available apps.
You can get all types of editing features that can make your thumbnails look beautiful.
This app is offering several thumbnail templates that can make work easier for YouTubers.
With this app, you can access beautiful text design templates that can add value to your thumbnails. You can edit the thumbnails as you desire with this amazing video thumbnail maker.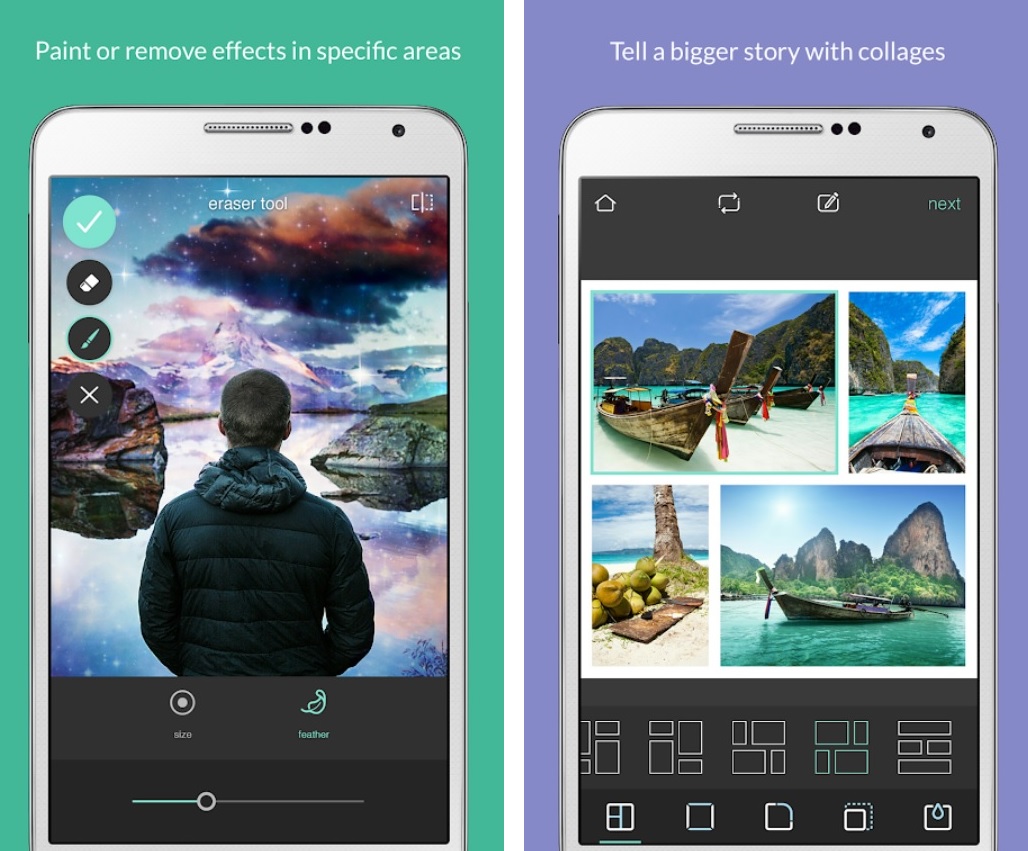 Ultimate Thumbnail Maker & Channel Art Maker
Another super popular app for creating Thumbnail Makers for your YouTube videos.
The algorythm of functioning here is quite the same as in all the previous apps – you upload an image to the editor and then add any touches as you wish.
It's nessesary to mention that this app will mainly suit those who make the reviews of games, let's play's or walkthroughs, since the style of fonts and filters is typical for those that the gamers usually choose. However, there is also something fotr those who make lifestyle videos as well.
The colleciton of stickers here is impressive – the quality is HD and there is almost any topic possible. Morever, Ultimate Thumbnail also contains the background templates in its gallery.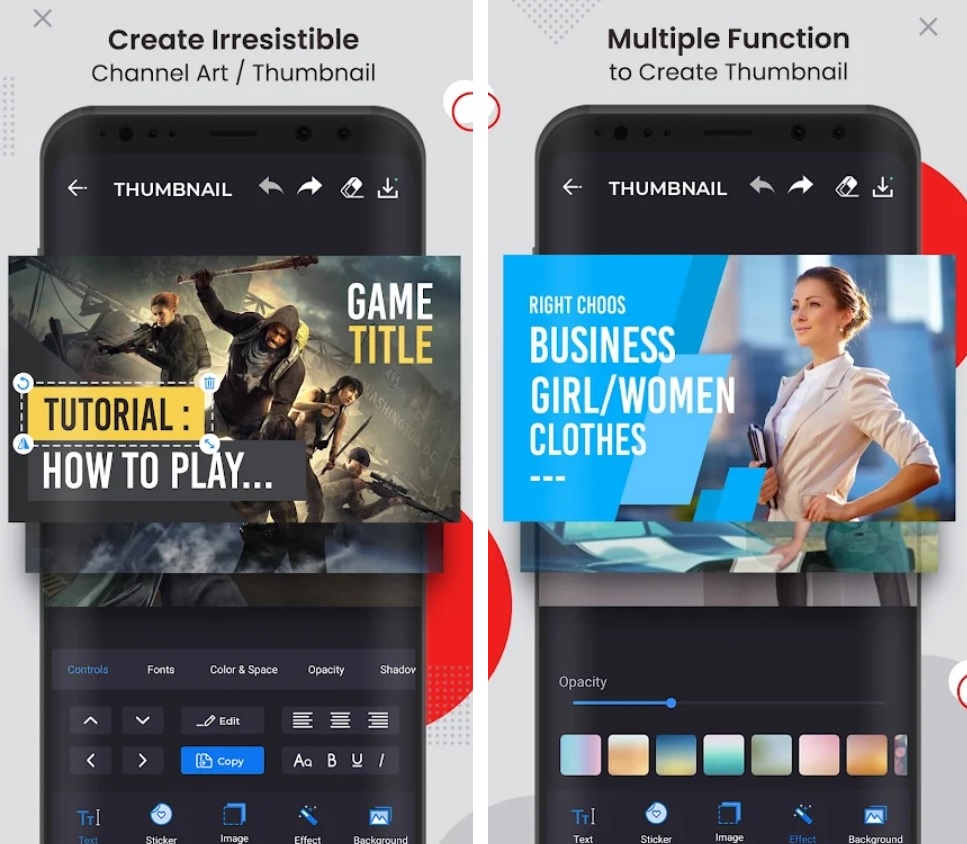 Canva
The Canva app for Android provides a streamlined performance of the web-based platform, allowing users to create stunning graphics for their social media profiles, YouTube channels, and other purposes.
One of the key nuances of the Canva app is the variety of design templates available, from social media posts to YouTube thumbnails to business cards and more.
These templates are customizable with a variety of fonts, colors, and design elements, making it easy to create a unique design for any purpose.
The graphics on the Canva app are generally high-quality and visually appealing, although some users have noted that there are occasional glitches or issues with loading images or fonts.
However, these seem to be relatively rare occurrences, and overall the app functions smoothly and efficiently.
Although, some users have found the pricing structure for certain design elements to be frustrating or confusing.
While the app itself is free to download, certain design elements, such as premium fonts or graphics, may require payment.
Advantages:
Easy-to-use.
Versatile.
Wide range of templates and design elements.
Drawbacks:
Limited functionality compared to desktop design software.
Requires a stable internet connection to access all features.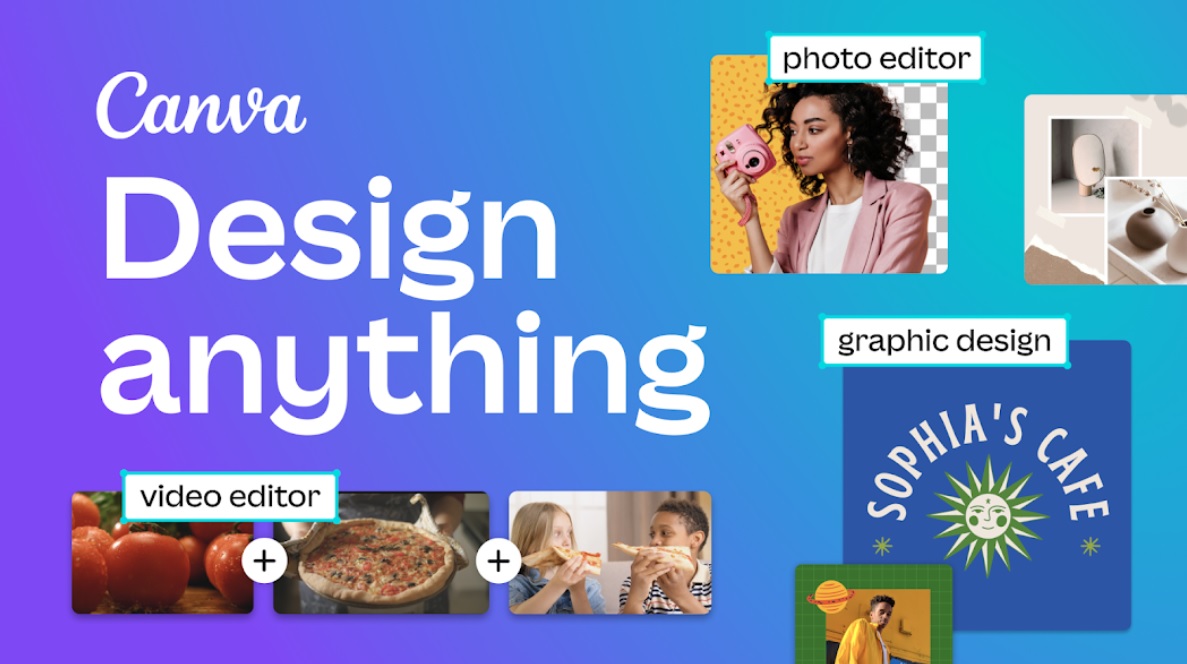 You can also check: 9 Best Apps to Enhance Video Quality on Android & iOS
Thumbnail Maker: Banner Art
Thumbnail Maker: Banner Art is a decent app that can be useful for creators and influencers looking to create custom thumbnails and banners for their social media accounts.
The app's gameplay is relatively easy to navigate, with simple tools that allow users to create and edit their thumbnails and banners.
The app offers a wide range of customization options, including a large selection of templates, fonts, and graphics. These customization options allow users to create personalized designs that reflect their brand or style.
Some users have reported experiencing crashes or glitches when using the app, which can be disappointing when trying to create a thumbnail or banner on a tight deadline.
Moreover, the app's free version is quite limited, with many of the most useful features only available with a paid subscription.
Advantages:
Easy to use.
Wide range of customization options for creating custom thumbnails and banners.
Drawbacks:
Occasional bugs and glitches.
Limited free version.
The graphics quality could be better.