Muve Music: Meeting the Customers' Needs
According to Cricket's research, Muve Music customers are deeply engaged with the service. Their Muve Music-capable phones have replaced MP3 players, iPods and computers as the primary music device in customers' lives.  With Muve Music, customers are downloading tracks and listening to music on the phone that's with them all the time, wherever they go.
Muve Music, created by Cricket, is an unlimited music service for music fans. It is exclusively designed for mobile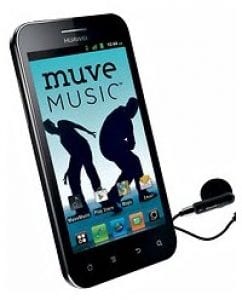 phones. There are no subscriptions, fees and credit cards. Muve Music allows download music for free and without limits.
The service delivers a robust mobile music experience that includes unlimited full track downloads, ringtones, and ringback tones.
Muve Music was launched in December 2010. Now it is available on the following devices: the Samsung Vitality (R720), ZTE Chorus, HTC One V, Huawei Ascend Q, Huawei Mercury (M886), Huawei Ascend II (M865). More coming soon…
The Android 2.3 Gingerbread platform offers users integrated features, including the Android Market, Google Maps, Gmail and Google Talk. Also, there are some other additional features offered:
3G Web browsing
3.5-inch HVGA touchscreen display
social networking capabilities
3.2 MP camera/camcorder
SanDisk flash memory card
32 GB of storage
Suggested $219.99 M.S.R.P.*
Wi-Fi Certified
For $65 a month, Cricket offers an inclusive unlimited wireless rate plan that includes unlimited music. Muve Music is available across Cricket markets, with plans to launch nationwide later in 2011. Additional unlimited features include:
nationwide calling
 nationwide text, picture, and video messaging
email
data back up
full track downloads
ringtones
ringback tones
Muve Music is among the fastest growing music services in the U.S. It's growing music library features the hottest artists from hundreds of record labels, including those owned by Universal Music Group, Warner Music Group, Sony Music Entertainment and EMI Music.

"We're very pleased with Muve Music's first-year results" announced Doug Hutcheson, president and chief executive officer of Cricket Communications. "Muve Music has become a leading digital music service in a very short time and Cricket is seeing subscriber growth, ARPU increase and a positive churn trend on the back of this unique new product idea."
Cricket announced that Muve Music had surpassed 500,000 customers and 100M downloaded songs. On average, customers download more than 400 songs a month and listen to music two to three hours a day. More than half of Muve Music customers are new to Cricket, contributing to unprecedented customer engagement.
Muve Music is optimized for your phone. You needn't a computer. No cables, streaming, buffering is needed. You are not to wait for a long time to get your music. Downloads are super-fast over Wi-Fi or Cricket's 3G network!
Unlike streaming music services, Muve Music does not drain battery life.
With Muve Music service your favourite music is always with you! You can have your phone & music wherever you go. Listen anywhere, anytime – even when offline. You can even connect your Muve-enabled phone to your car or home stereo. You can download all your favourite tracks without any limits. You will have an access to millions of songs! There are new releases every week. It is also possible to create your own ringback or ring tones.
Shazam recognition service is also built in.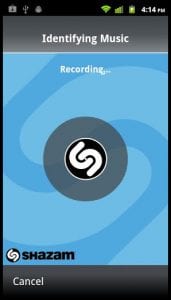 Press Release:
"Cricket was the first to introduce an unlimited wireless rate plan and now we are the first to introduce a new unlimited wireless rate plan that includes unlimited music. With Muve Music, Cricket is bringin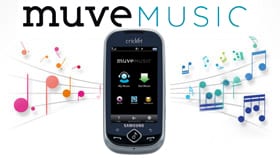 g together the best of wireless and music in a way no one has ever done before," said Doug Hutcheson, president and chief executive officer of Cricket Communications. "Our recent experience with smartphones has shown us that the right products offered at the right price will be successful with value-oriented customers. We are excited and confident that Muve Music will provide a superior mobile experience for customers who want to create a personal music experience without being tethered to a computer. The result of our collaboration with the music industry during the past two years allows unlimited music downloads, ringtones and ringback tones to be included in a wireless service for a flat monthly rate. We believe the high-quality Muve Music experience is the right product at the right time for value-oriented customers."
"When we first began working with Cricket to model this new service, we quickly realized what a great opportunity it was to develop the first-ever US unlimited music service that comes bundled with a mobile voice, text, and web plan and is fully integrated into the phone itself," stated David Ring, executive vice president of business development and business affairs for Universal Music Group, eLabs. "There has been nothing like this product or business model ever attempted in this country."
"Muve Music is a truly new kind of mobile music experience, and we're excited about its potential to connect fans to the artists they love in a unique and innovative way," said Mark Piibe, executive vice president of global business development, EMI Music.
"Muve Music from Cricket is a game changer for everyone," said Ben Bajarin, director of Consumer Technology Practice at Creative Strategies. "By tightly integrating the music service into the handset and the billing plan everyone in the value chain benefits and consumers have a complete music service where the phone is the hub, not the PC."
For more information about Muve Music visit www.muvemusic.com and for Cricket's dynamic device lineup, please visit www.mycricket.com.
You will hardly meet someone who doesn't love listening to music. Nowadays we are used to listening to music on our mobile phones. We listen to music everywhere.  That is why many of us are searching for free download apps. We have collected all the best free apps for downloading in this article. Read and choose the best for you!