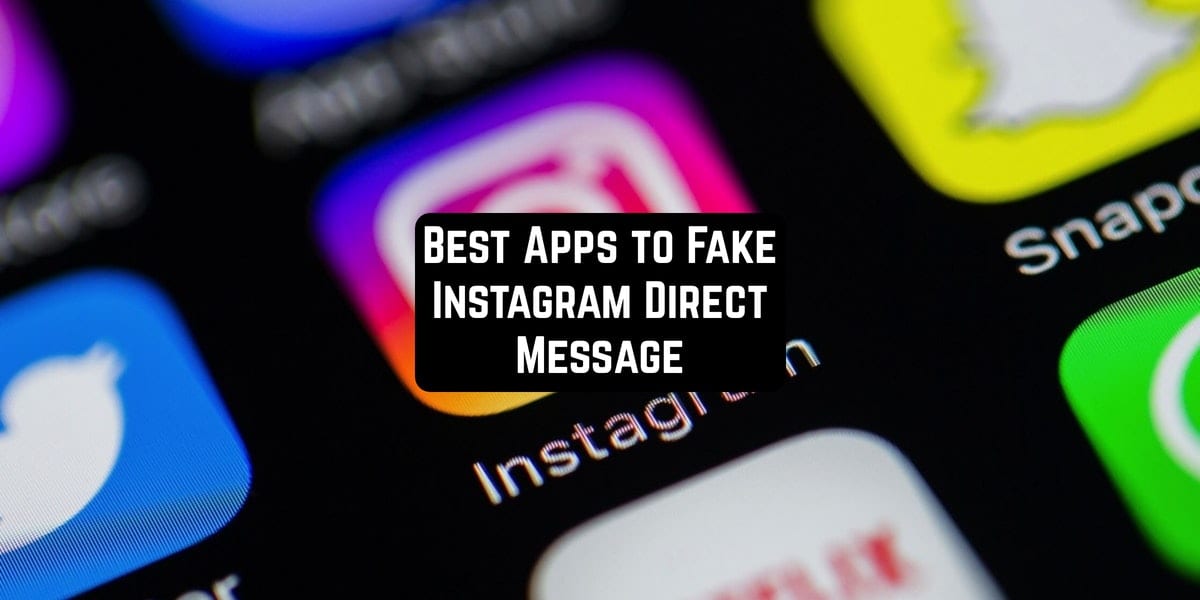 Instagram has become the most popular social network, which continues to grow. Constant updates, innovations – the developers make all the efforts to ensure that the social network does not only remain popular, but also becomes even more popular.
Accounts with millions of subscribers, advertising campaigns, native advertising in the application itself, bloggers also participate in the promotion of various things.Even every morning we cannot miss updating Instagram feed. At breakfast in the morning, during lunch break in the afternoon, before bedtime – all our free time is captured by social networks.
We watch the lives of rich and famous people or simply popular people. Sometimes we wish they would pay attention to us! Imagine logging into Instagram, and you got a message from Kim Kardashian or Ed Sheeran.
You can brag about it to your friends, take a screenshot and post it on social networks. Or just trick someone. We decided to collect a few applications for you, with the help of which it will become common for you to get a message in Instagram Direct from a celebrity!
InstaFake
"God, do you two know each other?!" This is exactly how your friends will exclaim when you show them your correspondence with Michelle Obama or Eminem. Your friends and family will not even guess the trick. InstaFake changes dialogues so realistically that for a moment you will believe that you are communicating with idols!
How it works: the application itself looks like a chat in Direct Instagram. You can edit both sides of the dialog, both your own messages and those of your imaginary interlocutor. In the settings of the dialog you specify the nickname in Instagram of the desired person, photo of his profile and all that! Each message can be edited separately: sending time, reading status, message text itself.
Just like in the real Direct Instagram, you can send photos, videos and put a "Like". It looks absolutely identical in appearance.
Make fun of your friends by sending them your correspondence with their idol! Imagine how much emotion you will see on their faces.
You can also check: 15 Free Instagram followers apps 2019 (Android & iOS)
back to menu ↑
Funsta – Insta Fake Chat Post and Direct chat
Funsta is not only an application for creating fake correspondence in Instagram Direct. It has a bit more advanced functionality: for example, here you can create a false post, attach the same fake comments to it, post fake Instagram Stories. Functions are the same as the original version of the application – it is amusing, right?
In Direct itself, you can not only create dialogs, but whole chats as well. There is a function of adding a false participant or even several of them to the chat! Create a whole chat room of celebrities – your friends will be surprised.
Screenshots of dialogs, chat rooms and posts look absolutely identical to those in Instagram!
Developers pay special attention to the fact that you should not use the application features in anything other than jokes and pranks. But now you can always boast about your family's correspondence with the president, for example.
back to menu ↑
SocialPrank – Prank App For Instagram

Would you like to get a comment on your photo from a world famous person? Or to let your friends see that you are invited to become a model of the Victoria's Secret or to act in a Hollywood movie? Now it can become a reality!
Edit your comments, post on behalf of celebrities, write to the direct and take screenshots of all your tricks. Your friends will not even suspect that you are joking about it!
We do not think that they will immediately run to verify the truth of your joke – so you can convince them that Brad Pitt really published your picture.
And if you also own a Photoshop, you can post edited photos. For example, in the photo you can be hugged not by your father at the prom, but by a celebrity and put this post in your profile.
SocialPrank already warns you that this is just a joke. But sometimes you want to brag and play with someone!
back to menu ↑
Yazzy (Fake Conversations)

Yazzy is a multifunctional application where you can create a dialogue with someone in one of several social networks. That is, Yazzy gives you the opportunity not only to create Direct Chat, but also dialogs in Telegram, Twitter, Facebook and other social networks.
Now you can chat with a celebrity in several social networks at once. This will convince your friends or family even more of the truthfulness of your words!
Initially, the application looks like a simple screenshot. It can even mislead you – have you installed something wrong?
But no! If you take a closer look, you will find that all this is easily editable. That is, you can fully customize the image of the dialog.
There is also a possibility to create a joke post. So Yazzy is obviously not limited only to Instagram Direct. Create conversations, send them to your friends and have fun!
back to menu ↑
insJoke – Fake Chat (Direct)

Have you ever imagined that you would have a conversation with Adele or any other popular person? And your friends certainly could not even imagine such events! Now you can play them and get a little closer to the world of rich and famous people.
insJoke Allows you to completely fake Instagram Direct. Besides the standard messages, you can send photos, likes and share videos in a fake dialog. But that's not all! Now you can even send voice messages!
That is, it will be another reason for your friends to believe you – because from the screenshot you can not listen to the voice message, and the presence of it in your pocket for unknown reasons, only makes people believe in your honesty.
The insJoke app requires permission to take photos and videos, record audio, and access the gallery to save your screenshots. Do not worry, your data will not be stolen, insJoke works absolutely honestly (if, of course, you can say so about the application that creates fake messages).
back to menu ↑
IFakeIt – fake text messages & chat conversations

"I faked this conversation!" You can directly tell your friends the name of the application in a practical joke. Someone will say it is cruel to joke like that, but we do not think so!
Now you can use IFakeIt to "chat" with your idol. For example, you have been watching movies with a certain actor since childhood. Do you want to feel closer to a certain person?
Someone buys posters with signatures, while you can collect messages. You should agree that this is an interesting hobby option.
IFakeIt has functions of creating conversations in the most popular networks – such as Facebook or Telegram. But we are interested in Instagram Direct. The most interesting thing about IFakeIt is that no matter what platform your smartphone is on – Android or iOS.
You can save a screenshot in any form. So, if you have Samsung, you can even create correspondence with your iPhone. Play friends and family, but be careful – in case they are offended by the trick.
back to menu ↑
FakeStory – Story Maker For Instagram

If Instagram Direct is not enough for you, the developers' fantasy has gone further. FakeStory is an application in which you can create a story for Instagram that will look like a real one! The only difference from the real Instagram Stories is that only you will have access. But you can always make a screenshot and send it to your friends or relatives.
You can post a story on your own behalf or on behalf of another person. Simply set up everything comfortably for yourself! You need to enter a username of a person in Instagram and that is almost all you need to do.
Next, you only need to download the necessary content and take a screenshot of the resulting joke. Everything looks absolutely realistic: even a running line with the time of viewing Stories – it really moves. Let Eminem post your photo to you – can you imagine how surprised your friends will be?
In addition to conversations and Stories with celebrities, you can use accounts of your friends and acquaintances in each application. For example, you can create a chat with a friend's girlfriend or create a chat room where all your friends are present.
But we warn you: in case of fake conversations with real ordinary people, be careful. Every day you come across your family, walk and meet with friends. They may simply be offended by you, especially if you make a very evil joke. Be careful.
Use all of the applications presented only for the purpose of harmless jokes and pranks. Make sure that other people's reputations are not hurt, and then you will definitely have fun with your friends.
You can also check: Free Likes on Instagram Apps