Instagram likes have recently become one of the main popularity metrics in modern society. So it's not a surprise that many people would like to boost activity on their profiles by getting more likes.
There are lots of free likes on Instagram apps 2023 (Android & iOS) that will increase the number of likes you usually get on your posts.
The number one rule in boosting likes is to get them from real people and not just some fake accounts and all the apps from our list can cope with that. Plus, these apps will help you pick the perfect tags for your pics attract new subscribers to your account.
In case you're looking for a nice IG auto-posting tool, check out this article: 9 Free Auto Post Instagram Apps for Android & iOS
Here's the list of the 8 best apps in that category you should try. Have a look!
Real Followers & Likes for Instagram from Ins Tags
This app will help you increase activity on your Instagram profile.
The main way that this service offers is to use quotes to sign your photos. They will catch the eye and raise your audience's interest in your posts. They are all divided into different categories, which makes it easier to find them.
The quotes can be designed to your liking. Choose layouts, backgrounds, and fonts that you like. If you think they are eye-catching for your audience, you should definitely use them.
All new subscribers will be 100% real and active. Keep an eye on the growing stats and enjoy a big increase in subscribers.

You may also like: 6 Free Apps to Watch Instagram Stories Anonymously
Top Tags: TagsForLikes app
As its name supposes, Top Tags is an app that helps you to gain a number of IG supporters by putting the right tags under your posts.
Although many people think that IG hashtags is not that big of a source anymore and they can't get you likes and follows, it's not true.
Well, the hashtags might not work when you're placing them randomly without analyzing and picking the right ones. And that's what this app is here for — it has various tag collections that will pop up your pics and get you the desired hearts.
All the tags are sorted by them so it's not that big of a deal to find the ones that suit your pics. And if you sustain a certain theme in your acc you can save the collections that suit you the most or even make your own collections from individual tags.
These collections can automatically be added to all your upcoming posts which saves lots of time. It also needs to be said, the app considers the country most of your audience is from and the language you write your pics in before offering you keywords.
Thus, you will only get the tags used in your area and your pics will be shown to the public that will understand them.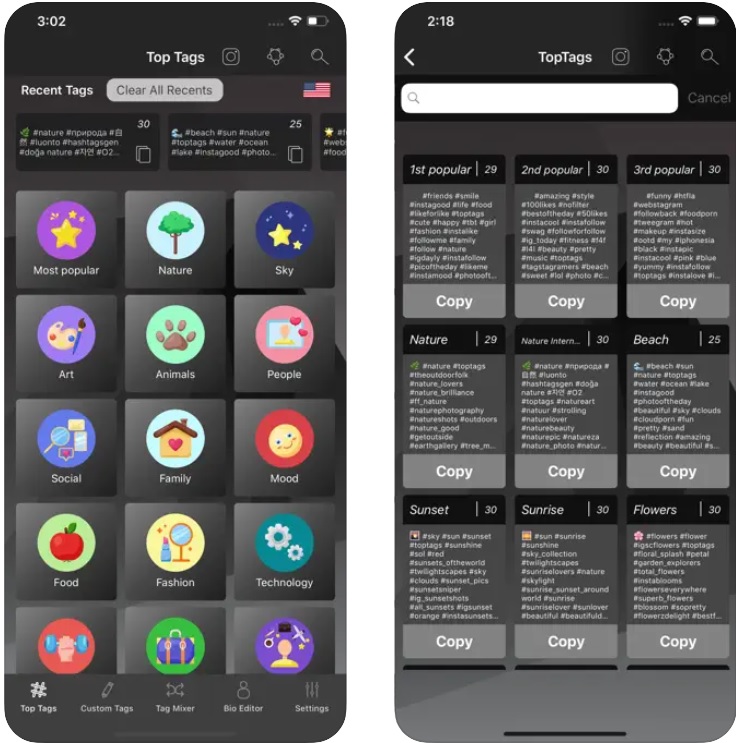 Followers for Instagram likes+
This app can be useful if you find a simple way to get more likes on your Instagram photos.
Once you download the app, you can select the photo you want to boost the likes on and choose the number of likes you want to add.
The app then generates a list of hashtags related to your photo, which you can copy and paste into your social media post. The app also suggests users who may be interested in your post and provides an option to follow them.
The user interface is cluttered, and the app feels outdated. However, this does not significantly affect the app's functionality.
Additionally, some users have reported that the app does not deliver on its promises, and their likes and followers did not increase.
There are negative comments from some users who claim that the app did not work as advertised or that their accounts got flagged by social media platforms for using the app.
Advantages:
Claims to increase likes and followers on social media.
Generates hashtags related to your photo.
Drawbacks:
Requires access to social media login credentials.
Mixed user reviews and reports of the app not delivering on its promises.
Concerns about privacy and safety.
A simplistic design and cluttered interface.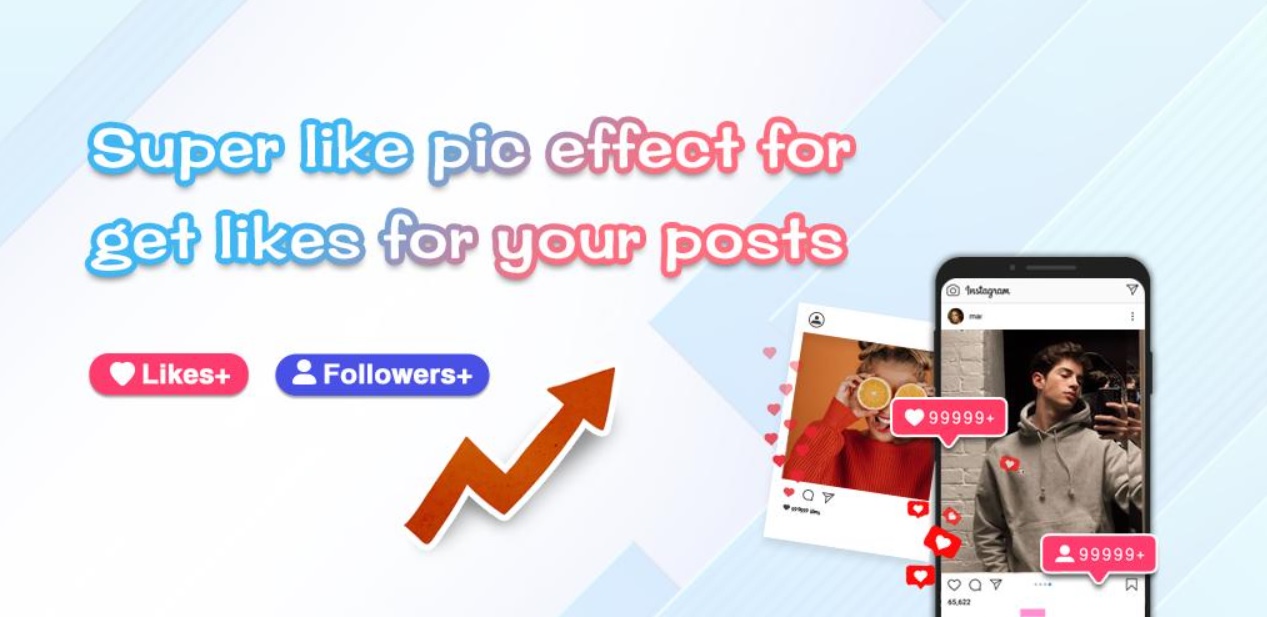 Likes More for Social Boost
This is an app that claims to help users get more likes on their Instagram posts by suggesting relevant tags to use.
One of the first things that users notice about the app is its popularity. The app has been downloaded thousands of times, and its user base continues to grow.
However, many users have reported that the app is not as effective as it claims to be.
Users simply input a hashtag, and the app suggests similar tags that they can use on their Instagram posts to increase their visibility. However, many users have found that the suggested tags are not always relevant or effective.
Advantages:
Provides suggestions for Instagram tags.
Simple and easy to use.
Drawbacks:
Ineffective suggested tags.
The app crashes frequently.
Repetitive and unhelpful suggestions.
Cluttered and difficult to navigate interface.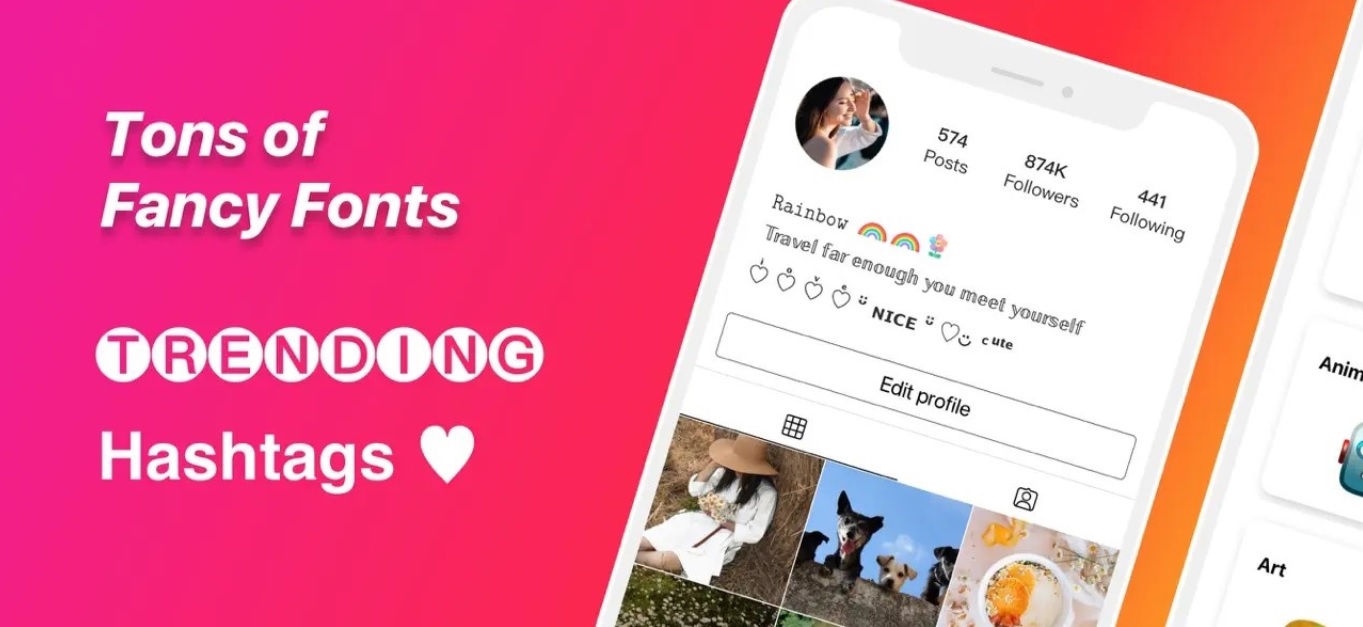 Super Likes – Hashtags & Captions is a mobile app that aims to help Instagram users increase their reach and engagement by providing them with the best hashtags and captions for their posts.
The main screen of the app displays different categories of hashtags, such as Popular, Trending, and Featured. Users can choose from these categories and select the hashtags that they want to include in their posts.
Another great feature of the app is its caption generator. The app provides users with a range of caption ideas that they can use for their posts. These captions are divided into different categories such as Love, Friendship, and Motivation.
Advantages:
User-friendly interface.
Helpful features.
Clean and modern design.
Drawbacks:
Occasional crashes and freezes.
Slow loading times.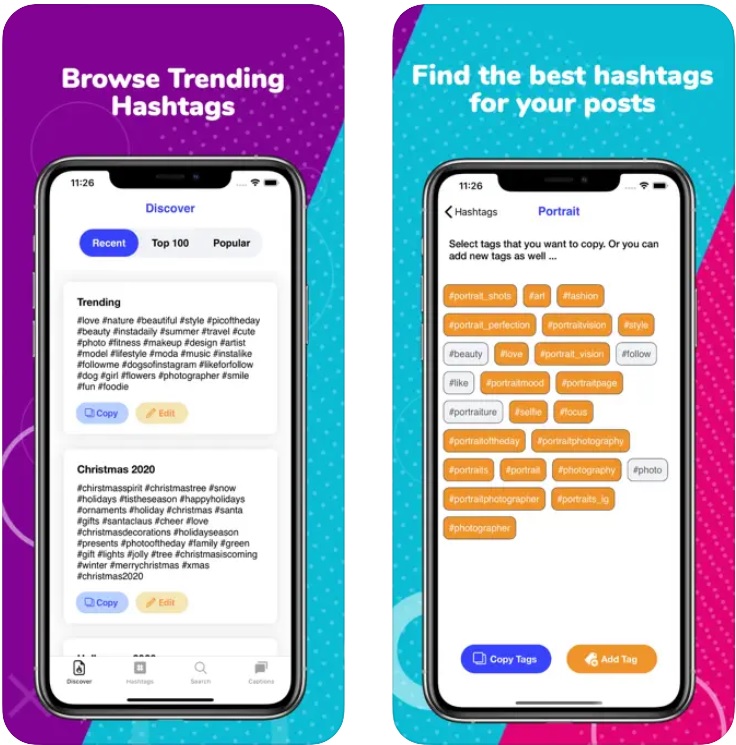 Check also: 11 Best Instagram Highlight Covers Apps (Android & iOS)
AI Get Followers & Boost Likes
AI Get Followers is an app that will help you raise the number of your IG supporters and get more hearts.
This app also uses tags as the central instrument for raising your visibility on IG. Just like the other apps on our list, this one has a catalog of hashtags that can help your pic to appear on the recommendation page.
Therewith, all the keywords are split into categories by themes so you can quickly find the one that suits your post.
Apart from basic categories like animals or food the app also has the packs with the most common tags of the week, month, and so on. Plus, you can make your own collection from scratch – just copy all the tags you like.
Once the pack will be finished you will be able to copy it with one tap and then paste it on your IG. Besides, the app doesn't ask for your IG login or password so you can be sure none of your private info gets in the wrong hands.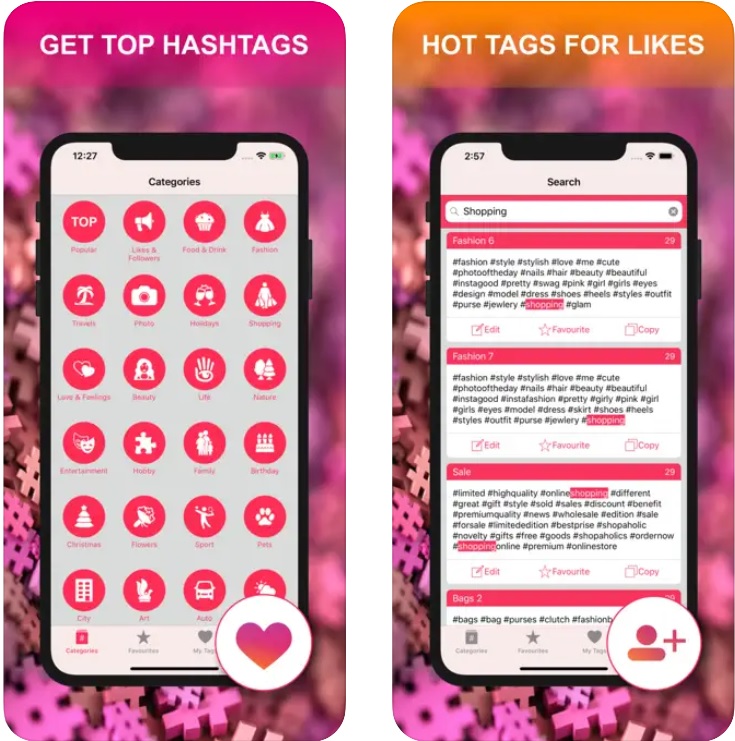 HashBoost
HashBoost is a mobile app designed to help users increase their likes on social media platforms.
Users can choose from a variety of hashtags to add to their posts, which will increase their visibility and potentially attract more likes. The app also allows users to create custom hashtags and save them for future use.
Users can spend in-app currency to activate power-ups, which will boost their post's visibility even further.
This adds an element of strategy to the game and can be a fun way to experiment with different approaches to social media marketing.
The design is simple and clean, with bold colors and easy-to-read text. However, some users may find the interface a bit cluttered and overwhelming, particularly when using the power-up features.
One issue with HashBoost is that it is not always effective at increasing likes. Some frustrated comments in the app's reviews suggest that users have not seen a significant boost in engagement despite using the app regularly.
Additionally, some users have reported issues with the app crashing or freezing during use.
Advantages:
Helps increase social media likes.
Offers a variety of hashtags and custom options.
Includes power-up features for strategic gameplay.
Drawbacks:
Not always effective in increasing likes.
A cluttered interface may be overwhelming.
Potential for crashing or freezing issues.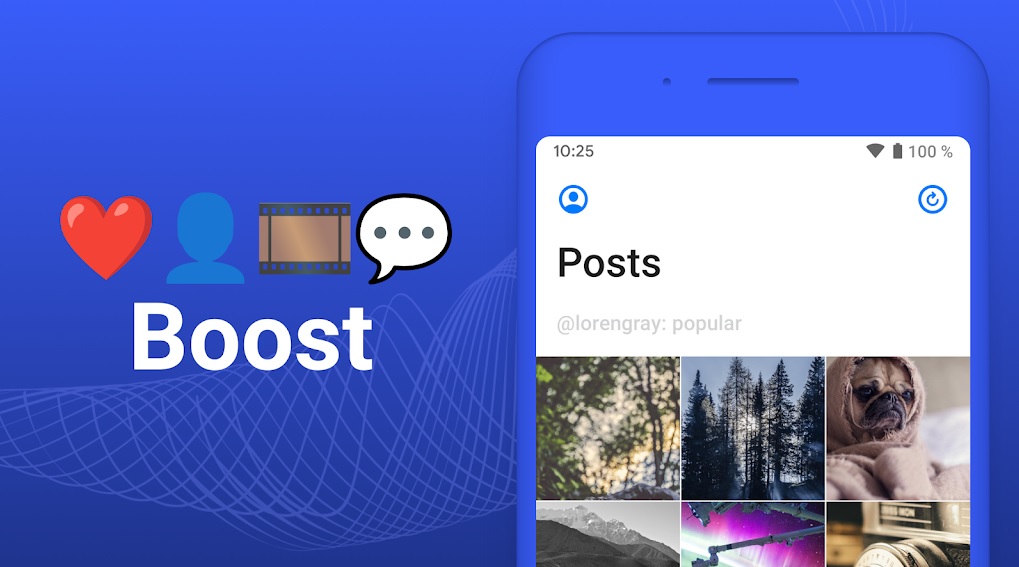 Real Followers & Likes
The Real Followers & Likes app allows you to create unique publications to increase activity on your Instagram profile.
Now your goals in terms of the number of followers on your profile will become really achievable. Promoting your content for free seems almost impossible, but this service will solve all your problems.
It offers the right hashtags to help new people become familiar with your content and find it easily. All of them are sorted into special categories that help you navigate through the great variety. The same goes for captions, which you can copy and add to the description of your publication.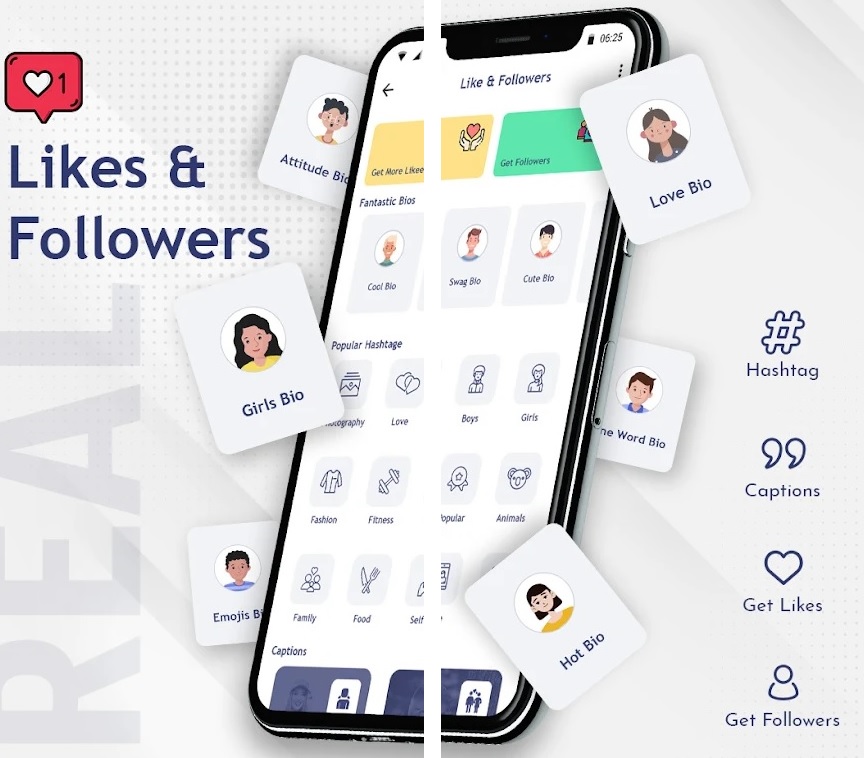 You may also check: 11 Best Instagram layout apps for Android & iOS
SocialPlus – Get Likes Counts
This service can be a great alternative to get more likes on Instagram if you would like to become popular.
You should just follow the instructions and then you have a chance to have millions of likes on your posts and photos.
However, the app is clunky and slow, with frequent crashes and bugs that make the experience frustrating at best. Moreover, the gameplay quickly becomes repetitive, and after a while, it feels more like a chore than a fun activity.
One of the most significant flaws of the app is the lack of transparency. It's not entirely clear how the app works, and there are no guarantees that the likes and followers you get are genuine or organic.
Advantages:
Allows users to earn credits for liking other people's posts.
Can use credits to get likes and followers on their posts.
Drawbacks:
Clunky and slow gameplay with frequent crashes and bugs.
Lack of transparency and unclear how the app works.
Many frustrated comments suggest it is not effective in boosting engagement.